My most anticipated lounge visit of the year. A visit to the brand new Cathay Pacific First Class Lounge at London Heathrow Terminal 3. Being a big fan of the new The Pier lounges in Hong Kong, and given that this is a miniature version of The Pier First Class Lounge, I have to say this is a fabulous lounge with a very stylish interior.
Also the business class lounge has been fully renovated and is really not bad either with a very nice noodle bar. Snacks are available at "The Food Hall" and there is a manned bar offering champagne and cocktails.
Back in the first class lounge there is now also an a la carte restaurant in the lounge called "The Dining Room" offering a good selection of food and snacks made to order and served at the table.
The interior of The Dining Room is indeed very similar to The Dining Room in The Pier First Class Lounge in Hong Kong with a decor in wood and with sofas and armchairs in dark green.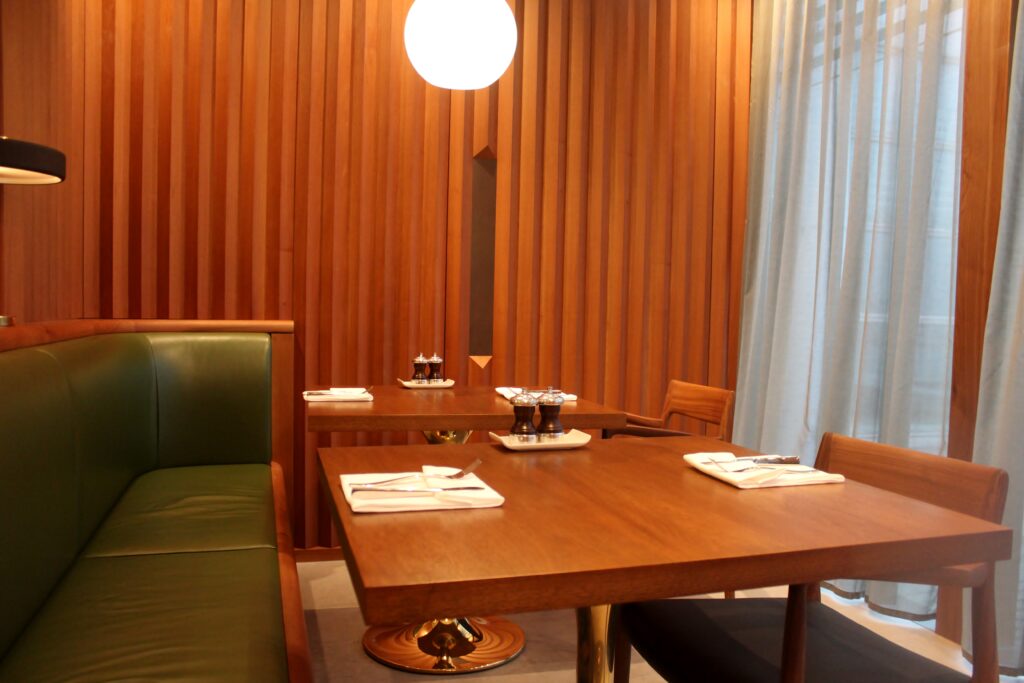 I was greeted by a waitress and shown to an empty table where I was also given the menu.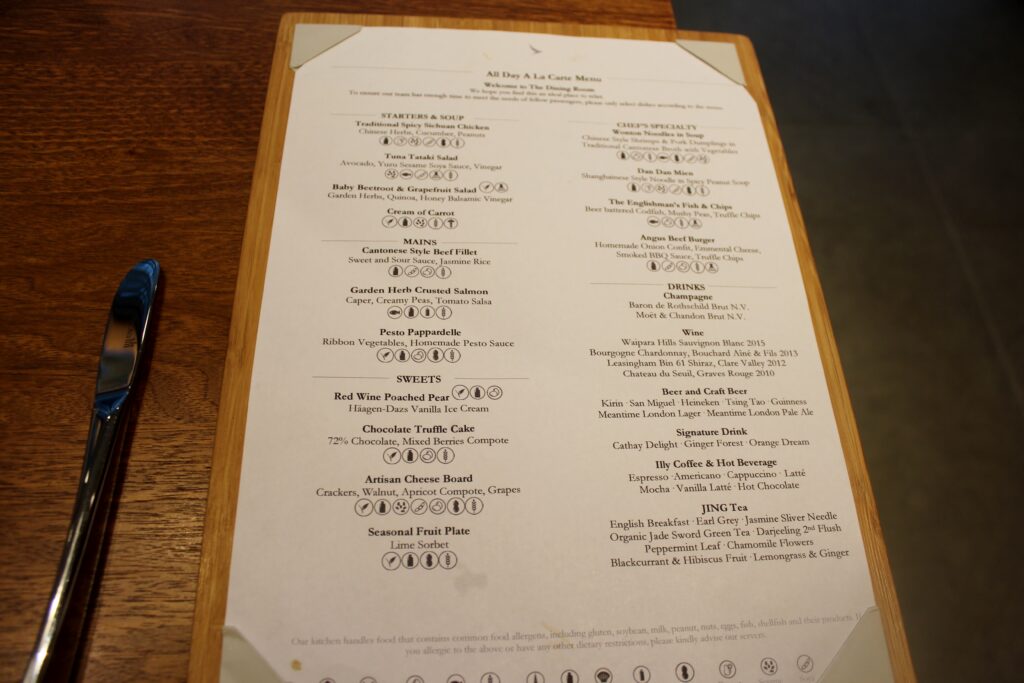 I ordered a glass of the Baron de Rothschild champagne while having a look at the dinner options before finally placing my order.
For starter I ordered the Traditional spicy Sichuan chicken with Chinese herbs, which was good but quite spicy indeed.
And for main course I ordered the Garden herb crusted salmon with caper, creamy peas and tomato salsa. And a glass of the Waipara Hills Sauvignon Blanc 2015 white wine to drink. The presentation of the main course was rather pleasant.
And finally a red wine poached pear with Häagen-Dazs vanilla ice cream and a double espresso for dessert.
Overall this was a very nice dinner with a very attentive service from the staff. The service was perfect in speed but I guess they need to keep a certain speed as all guests obviously have flights to catch.
A selection of snacks and drinks is also available for self service in the main lounge so after the dinner I had another glass of champagne from the bar counter and had a seat in one of the armchairs with a footstool enjoying the fantastic view of the apron and the southern runway.
Cathay Pacific really continue to impress with their lounges and I look forward to coming back here many more times in the future.