Departure experience
I arrived at Stockholm Arlanda airport 90 minutes before scheduled departure at 6.25 pm. The departure hall was virtually empty, both at the baggage drop counters for economy class passengers and in the priority check-in area.
In Stockholm Lufthansa is handled by Star Alliance partner SAS and there were two desks open in the priority check-in area – one desk for business class passengers and one desk for first class and Star Alliance Gold passengers. There was no one in line for any of the desks and I was quickly checked in by a friendly young woman. My bag was tagged with a red priority tag and I received a boarding pass for all three upcoming flight.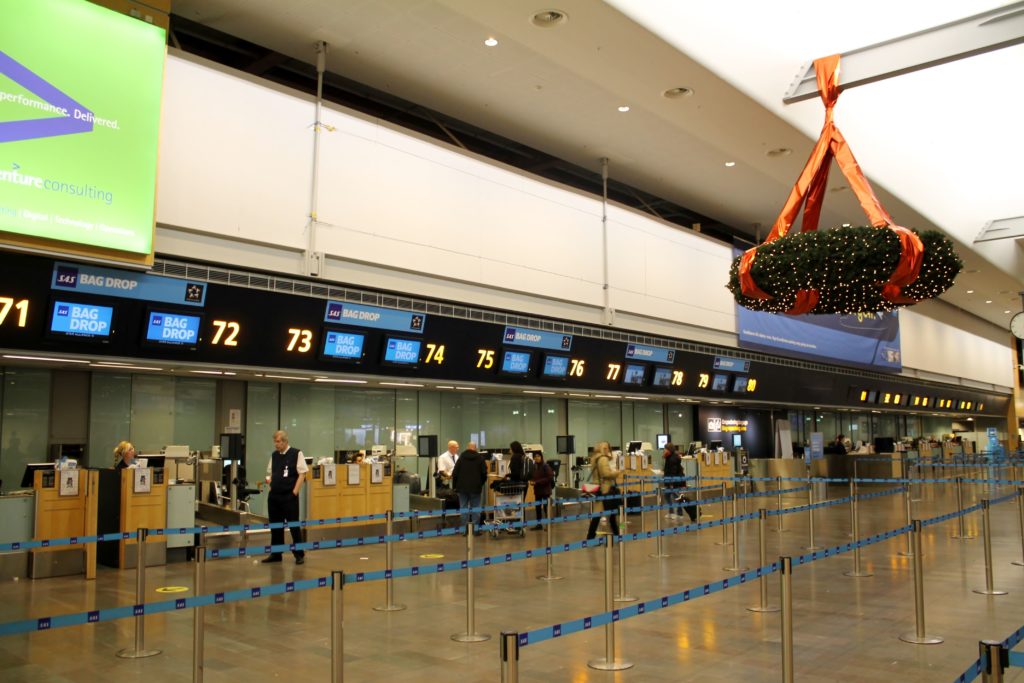 As a Lufthansa business class passenger I could use the fast track channel through security which was very quick. Afterwards I proceeded to the SAS Gold Lounge, located between the A and B piers in terminal 5. The lounge was renovated during the summer and had now reopened. There is very little left of the old lounge, and most importantly it has been significantly enlarged and now occupies an area which previously did not exist on top of the roof.
The new lounge is a major improvement with several new seating areas and a new design. Also the food and drinks have improved and the self service buffet area is much larger than before. This evening there was pasta with chicken, salmon and vegetables on offer, but unfortunately still no hot food.
The flight
Stockholm Arlanda-Munich
Lufthansa flight LH 2419
Departure: 18.25
Arrival: 20.35
Airbus A320
Seat 01F
First impression
Boarding started at 6 pm with priority boarding for Star Alliance Gold (and Miles & More equivalents) as well as business class passengers to the right of the podium. At the gate Swedish, German and English newspapers were available to all passengers from a rack.
The aircraft used to Munich was an Airbus A320 with three rows used for business class. Standard intra-Europe configuration with the same seats as in the back but with the middle seat blocked in business class which meant 12 seats in total in the forward cabin, of which 8 were occupied. However in this aircraft there was no cocktail table used for the middle seats, which is the case on some aircrafts.
After boarding was completed German and international magazines were offered in business class.
Despite an almost fully booked flight we managed to pushback a few minutes ahead of timetable. Flight time to Munich was expected to be one hour and 45 minutes.
Food and drinks
The meal standard in Lufthansa business class has varied considerably over the years. From a rather basic cold meal, to an effort to offer something hot, with a small menu on the meal tray. Now it's back to a cold meal again, and the menu is gone.
The meal consisted of three small plates with cold cuts, including shrimps, ham and an egg with sauces and vegetables. Bread rolls were offered from a basket and finally a box with chocolate pralines and a custard dessert were served as dessert.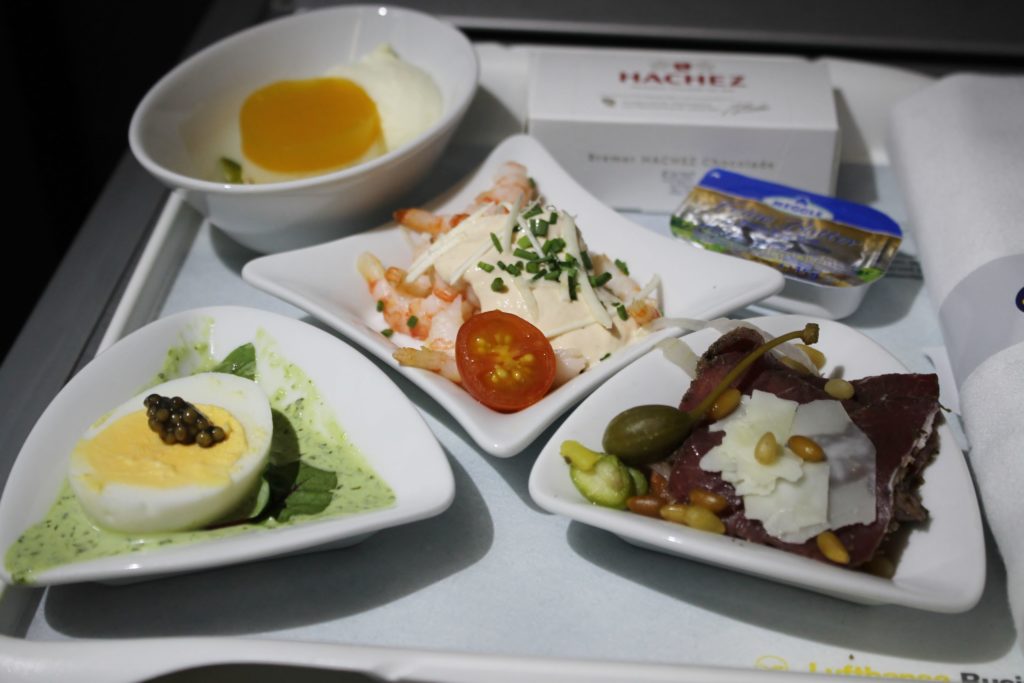 I asked for a glass of red wine to drink. The wines are served from large bottles and the brands are the same as in economy class, however in business class the wine is served in proper glasses. I also asked for a cup of coffee.
The service
The service was very friendly from the female purser who addressed each passenger by name when serving the meals. Several refills were also offered. The staff did a good job, nothing to complain about, but no real surprises either.
Arrival experience
We landed in Munich 15 minutes ahead of timetable which meant we managed to park at the gate five minutes ahead of scheduled arrival time. Terminal 2 in Munich is used exclusively by Lufthansa, Star Alliance and Lufthansa partners and it is a very efficient terminal. At the gate a monitor displayed all relevant connecting flights from Stockholm, showing connecting gates and in what direction to proceed to each gate. Very useful. With the early arrival there was plenty of time to enjoy a lounge visit before the connecting flight.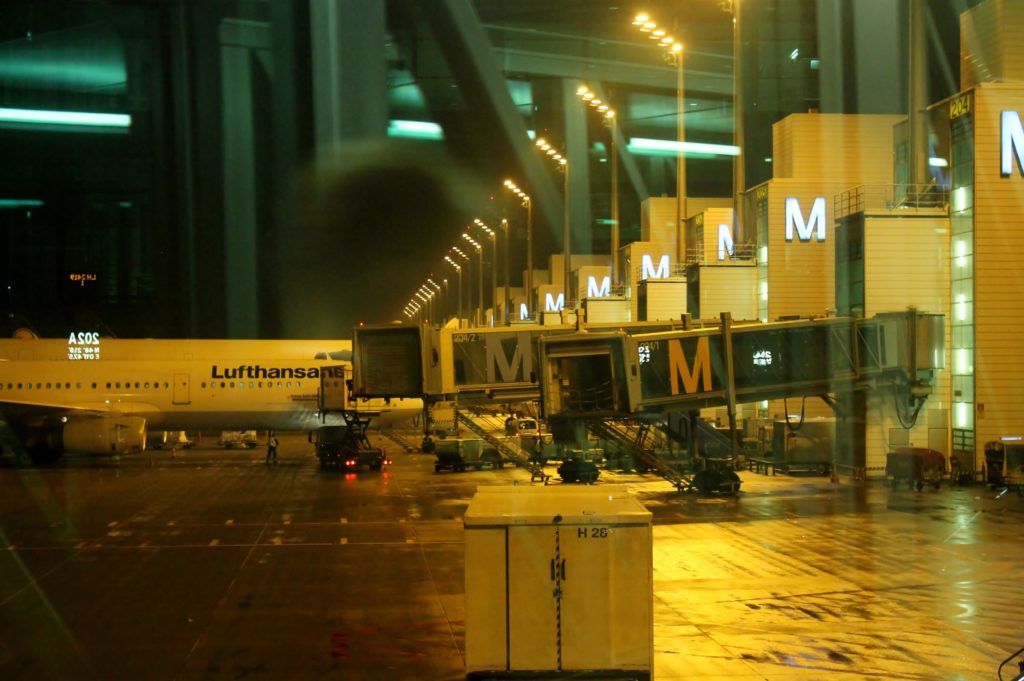 Final impression
I did miss something hot to eat in business class for this longer intra-Europe flight departing at dinner time at 6 pm and the meal could have been slightly more extensive. But the staff were very friendly and a big plus for making the effort to address each passenger by name.