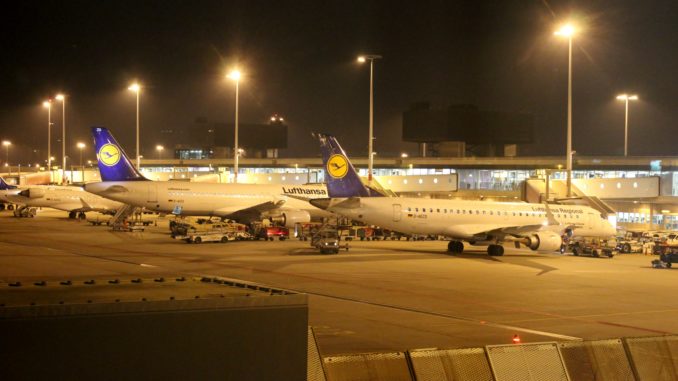 Departure experience

I was only in transit at Amsterdam Schiphol airport, having already checked in online and downloaded my boarding passes to my mobile phone. As I was connecting between two Schengen flight and only had hand luggage there was no need to visit a transfer desk and no need to pass through transfer security.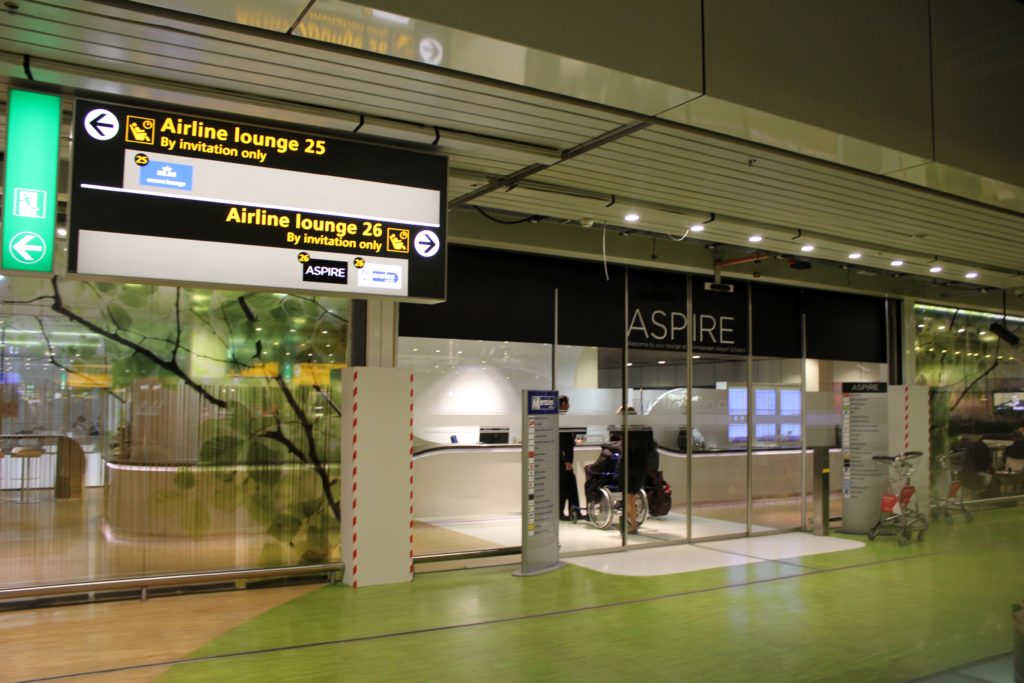 There are two lounges in the Schengen area at Schiphol airport. The KLM lounge is used by KLM, KLM partner airlines and Skyteam carriers. All other airlines use the Aspire Lounge nextdoors, including Lufthansa.
The Aspire Lounge is a sad excuse for a lounge at a major airport like Schiphol. It is usually crowded, the interior is anything but inspiring, and there is very little to eat, and frankly not much to drink either. With so many Lufthansa Group flights it is quite strange there is no Lufthansa lounge at the airport.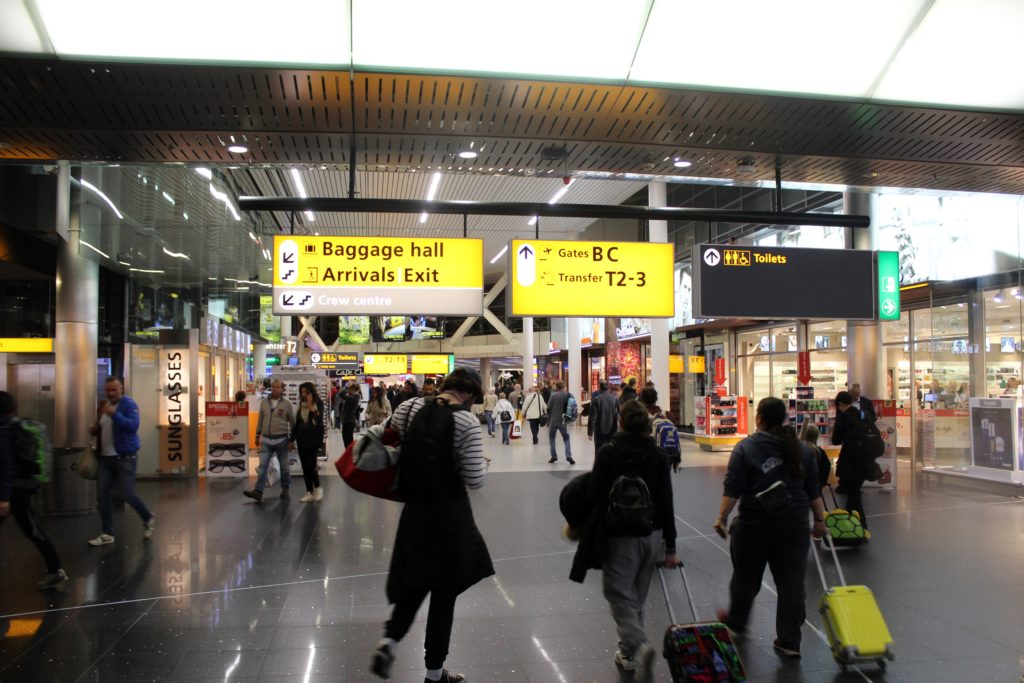 40 minutes before scheduled departure time at 7.45 pm the screens indicated it was time to head to the gate. The gate used to Frankfurt was gate B17, in concourse B a rather lengthy walk from the lounge. Schiphol is an important airport for the Lufthansa Group, there were no less than three Lufthansa aircrafts parked next to each at the pier followed by aircrafts from fellow Lufthansa Group members Swiss and Austrian.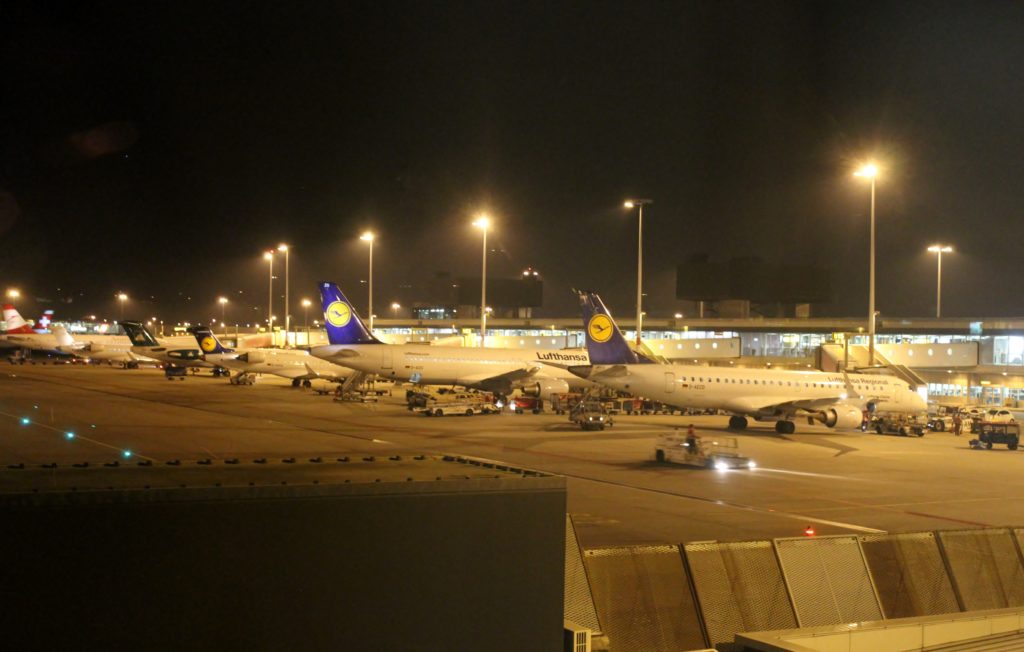 The flight
Amsterdam-Frankfurt
Lufthansa flight LH 999
Departure: 19.45
Arrival: 20.50
Business Class
Airbus A320
Seat 02F

Boarding started early, already 25 minutes before departure and based on the number of passengers waiting at the gate the load seemed to be quite light to Frankfurt this evening. Proper priority boarding was offered for business class passengers, Miles & More Senator and HON Circle members, and Star Alliance Gold.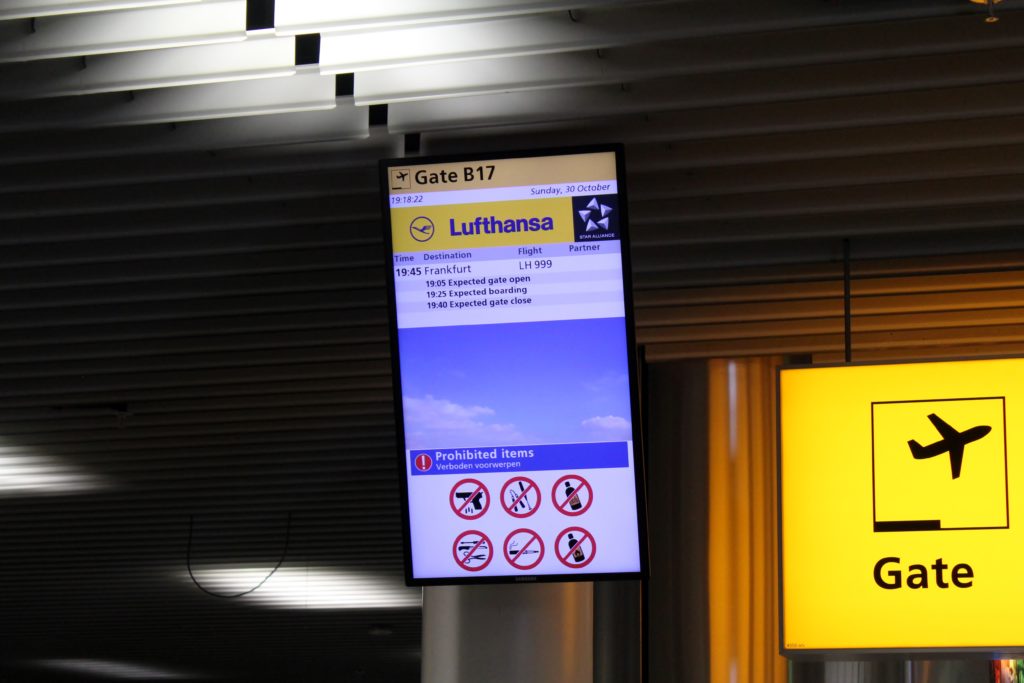 First impression

The aircraft used to Frankfurt was an Airbus A320 with only four passengers in business class. Overall the load onboard was quite light and the boarding process was completed well ahead of our scheduled departure time.
After boarding had been completed newspapers and magazines were offered in business class, a selection of German and international titles. The English ones included Time and Newsweek but unfortunately it seemed like they have stopped offering The Economist on intra-European flights.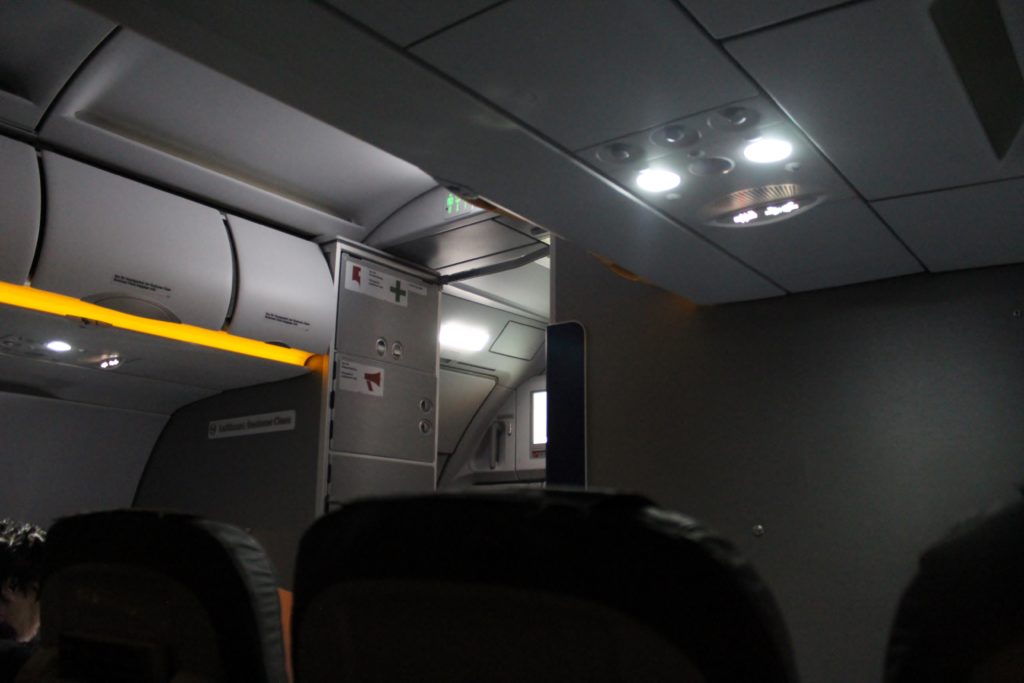 We pushed back ten minutes before departure time with an estimated flight time to Frankfurt of 40 minutes. The early departure would most likely also mean an early arrival.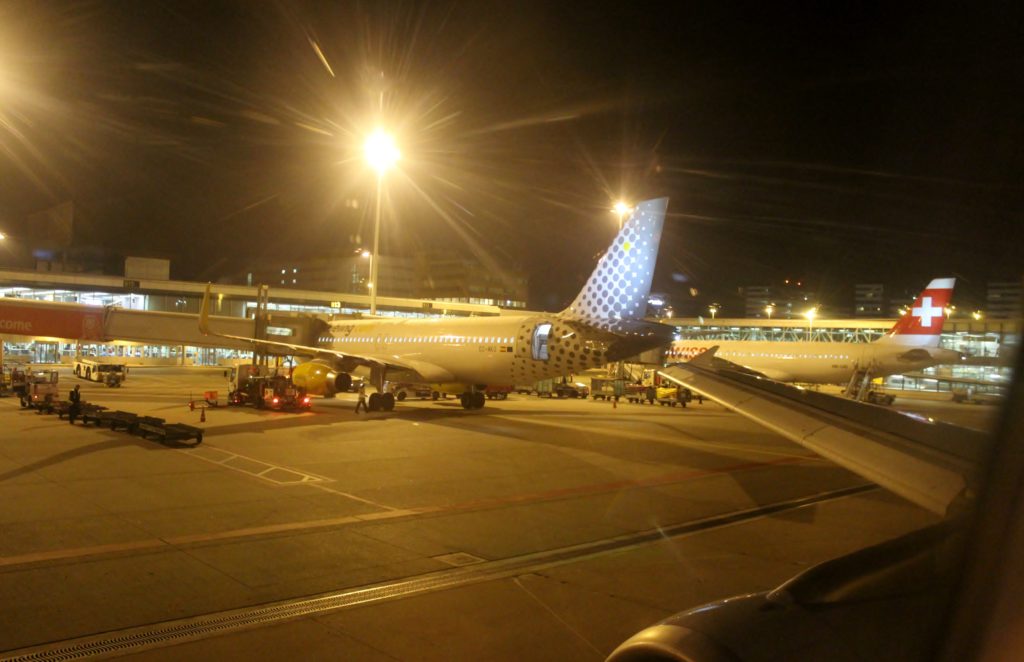 Seat and cabin

The seats onboard were the standard Lufthansa Recaro seats with a seat pitch of 30 inches. The seats do their job and they work just fine on an intra-Europe flight of an hour, but the thicker seats used by some other airlines are usually more comfortable to sit in. Also the Lufthansa seat design is not very appealing to the eye with the rather depressing grey colours.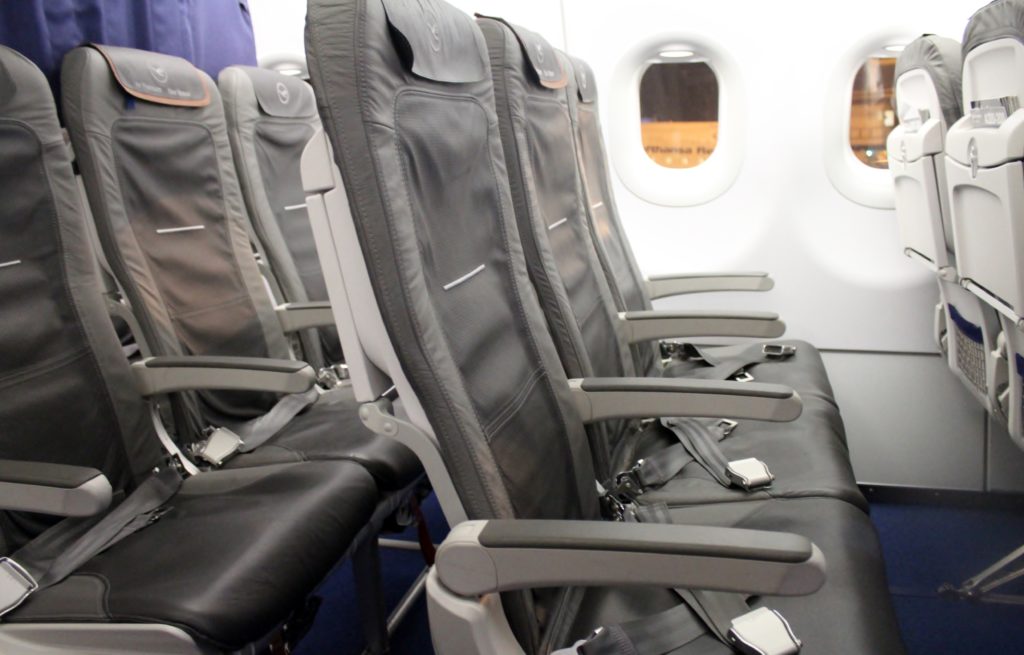 In business class the middle seats are kept free, giving a 2-2 configuration instead of 3-3 in economy class. The middle seats in business class have special headrests with the text "Ihr Freiraum, Your Space" written on them.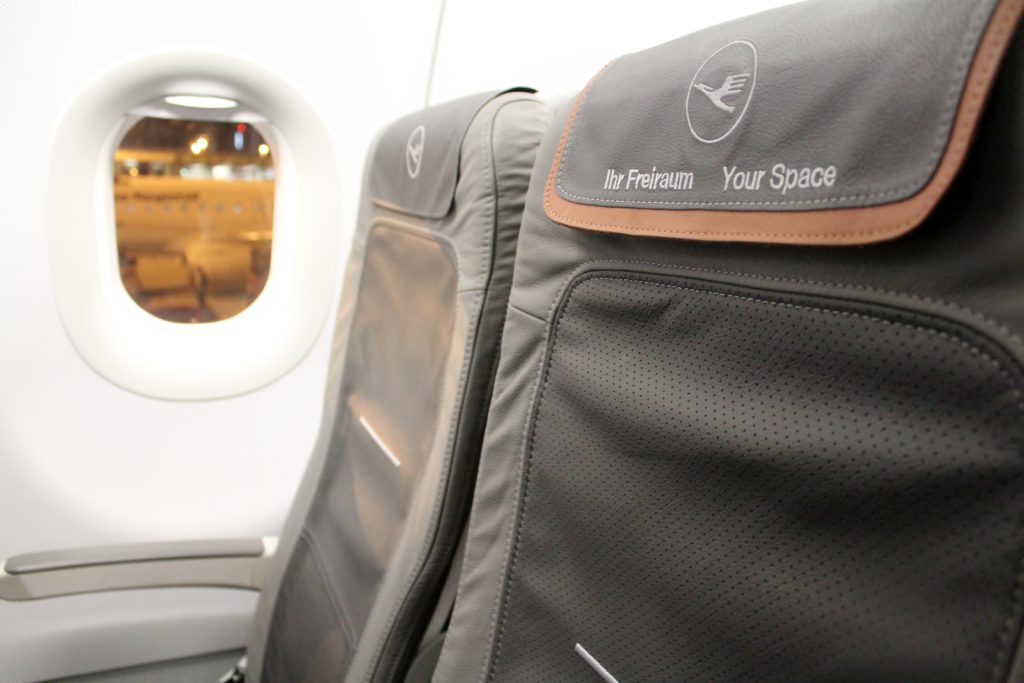 Food and drinks

With a short flight time of only 40 minutes the inflight service started almost immediately as we became airborne. Business class passengers were served first before the crew who worked in business class continued to economy class to assist their colleagues.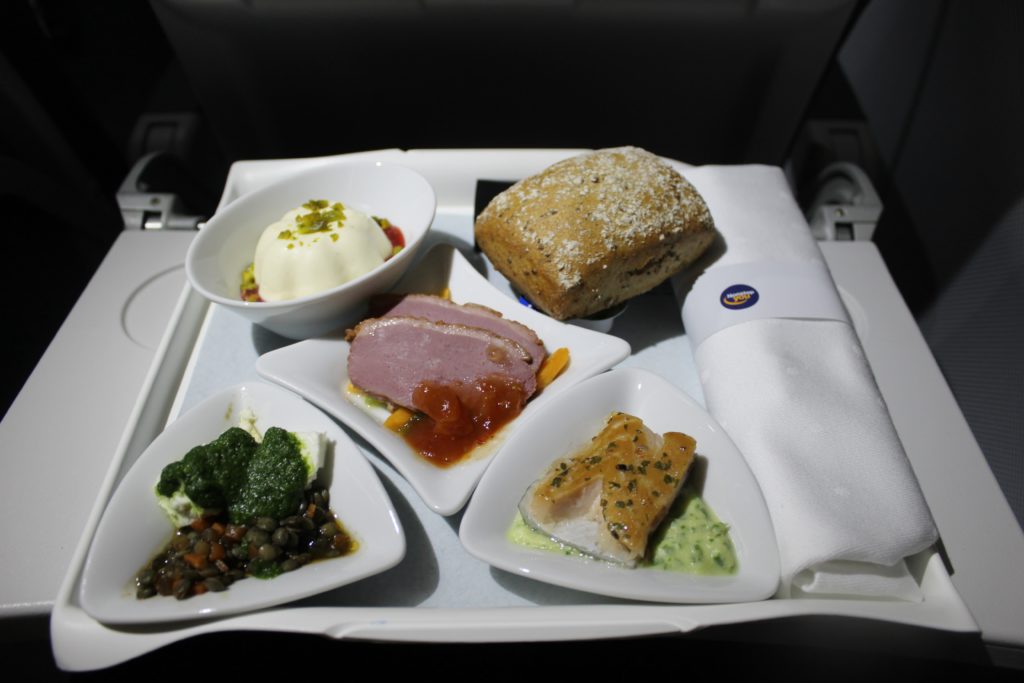 A cold dinner was offered in business class, the standard Lufthansa concept on shorter European routes. The concept is rather strange as it basically consists of a number of appetisers but there is no real main course, mostly cold cuts with vegetables and different sauces. Bread rolls were also offered by the crew.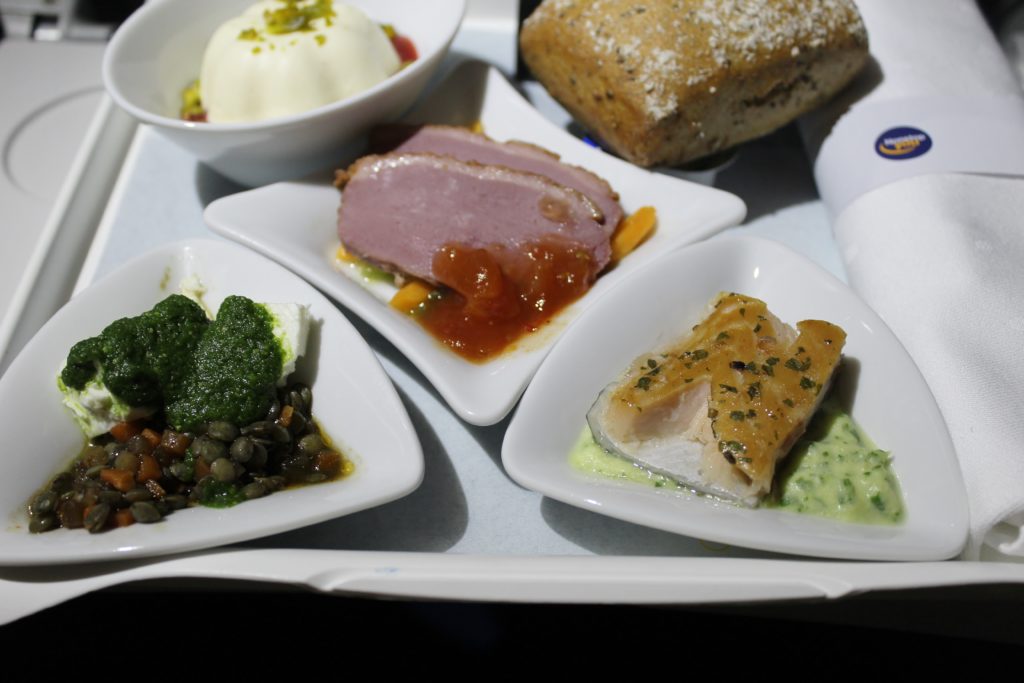 Eventually there was a jelly mousse for dessert.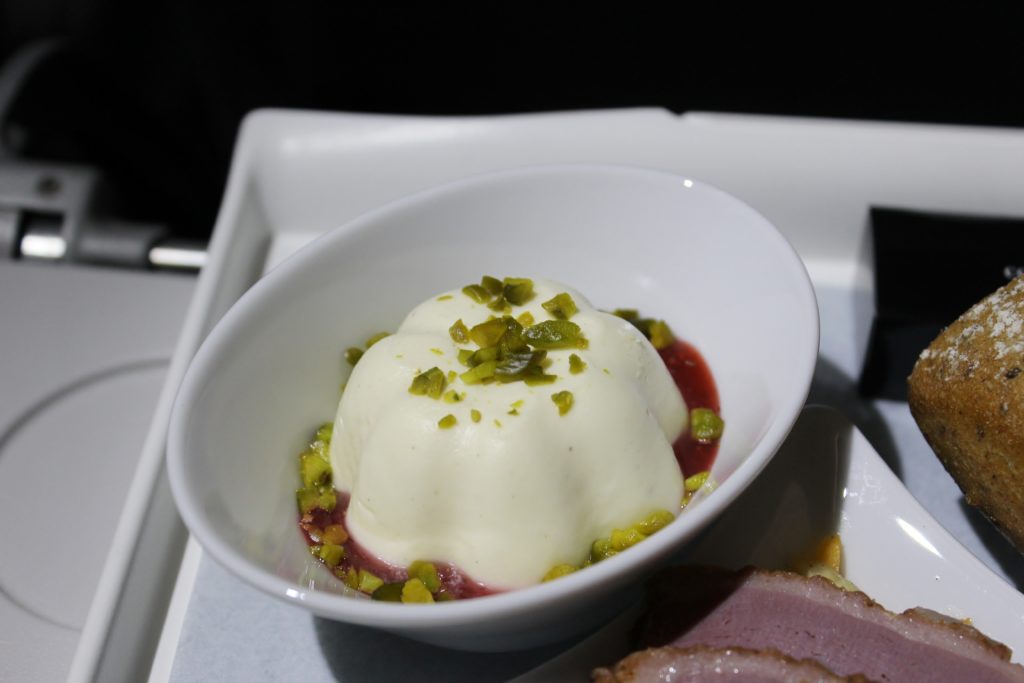 Alcoholic beverages and soft drinks were also offered by the crew. I asked for a glass of white wine and a glass of water. The beer and wine selection is the same as in economy class but spirits are only offered in business class.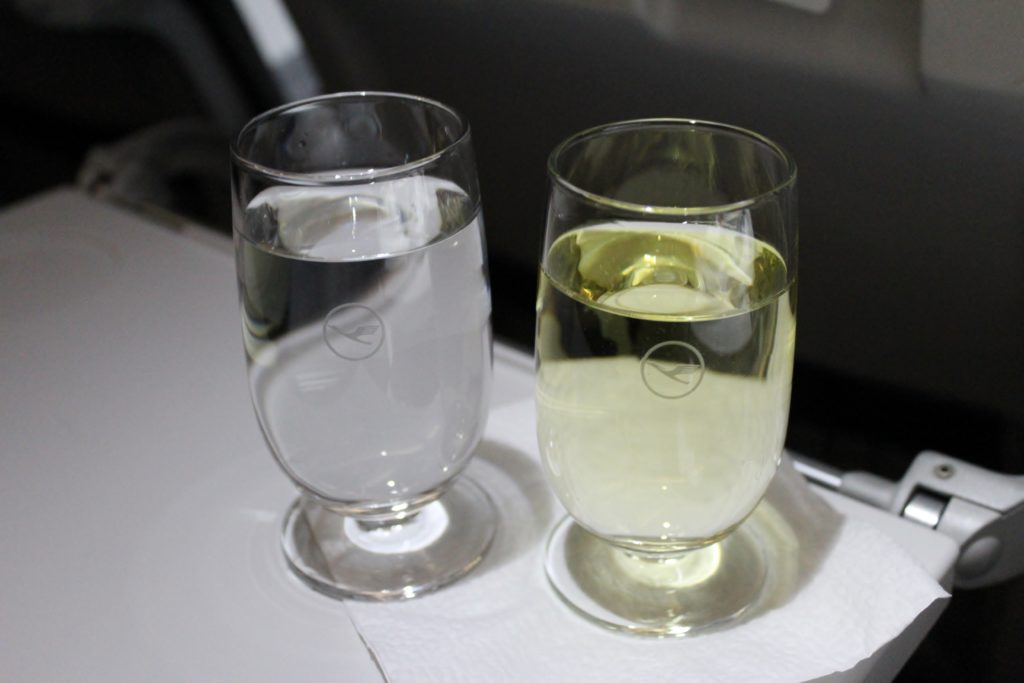 On the way back from economy class the crew offered refills and I asked for a second glass of wine. Coffee and tea were also offered, served in paper cups. Normally coffee and tea should be served in proper cups in business class, but I guess the crew simply ran out of time. Just as I had received my coffee we had already started our approach to Frankfurt.
There was also a small box with chocolate pralines on the tray.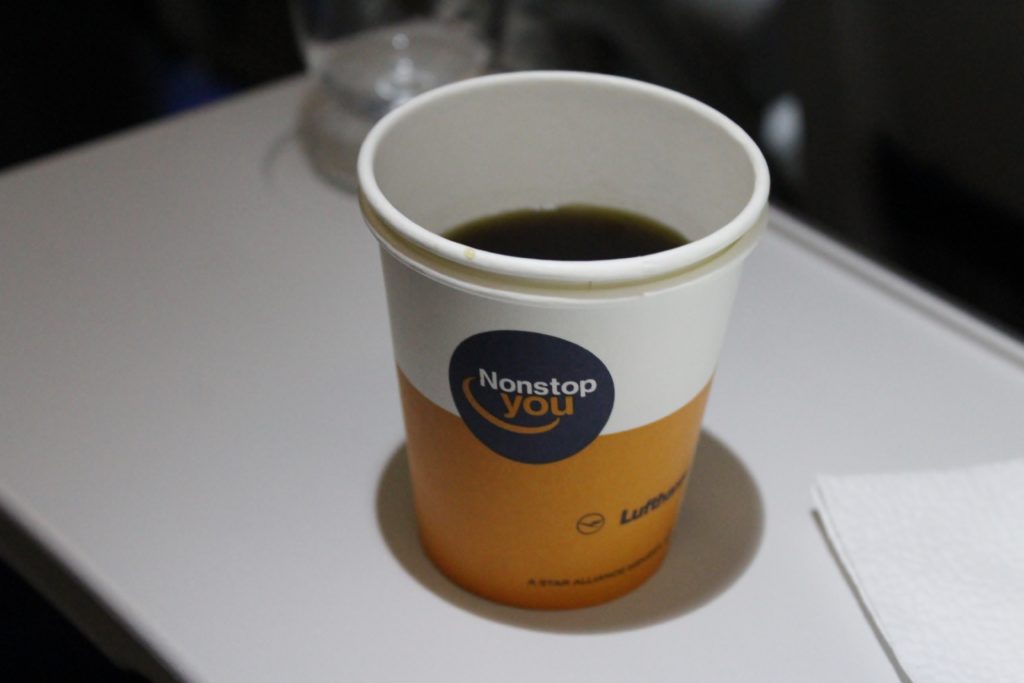 The service

The service was friendly but efficient. With a flight time of only 40 mins the crew had to work really hard to manage two cabin classes and in all fairness there was little time to do anything but the ordinary. However I only wish there would be a flight attendant specifically assigned to business class as it was a rather lengthy wait to get a refill of the wine glass, by the time I had already finished my meal.
Arrival experience

The early departure also meant an early arrival in Frankfurt. The incoming traffic flow was quite good and we managed to land 15 minutes ahead of timetable. The second good news was announced by the cabin crew just before landing, we had been assigned a gate position, gate A38. Although I only had 50 minutes until the next flight the early arrival in connection with the gate position meant there would be enough time for a proper lounge visit during the short layover, which I had not expected.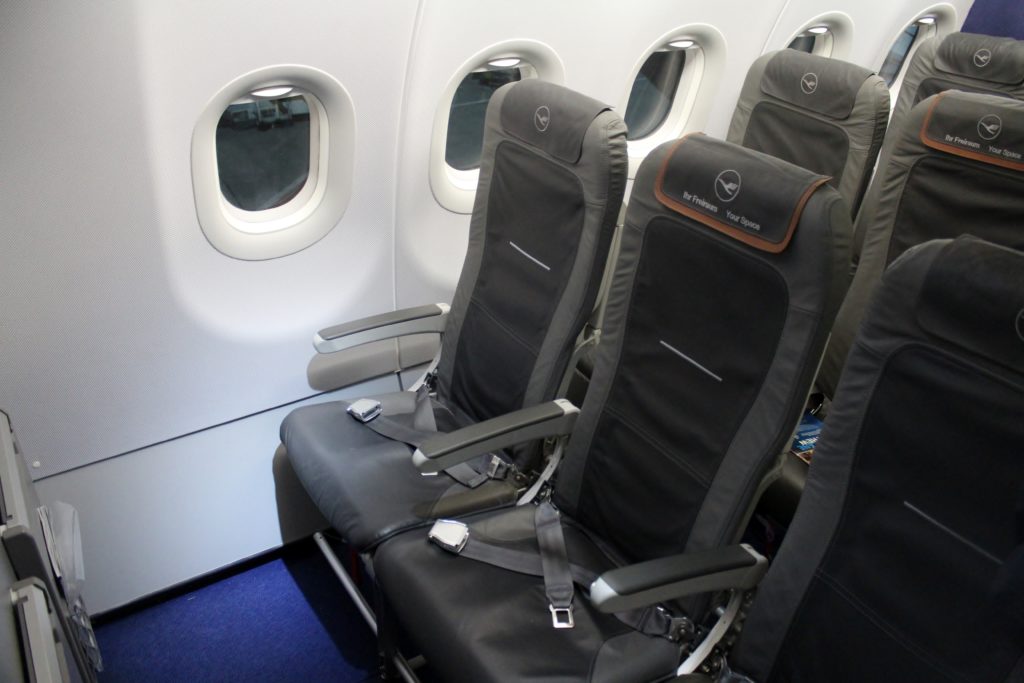 Final impression

A short flight with an inflight service pretty much as expected. But I wish they would offer a more extensive meal service with a proper main course, and also a cabin crew member assigned to business class, with would have improved the service level significantly.