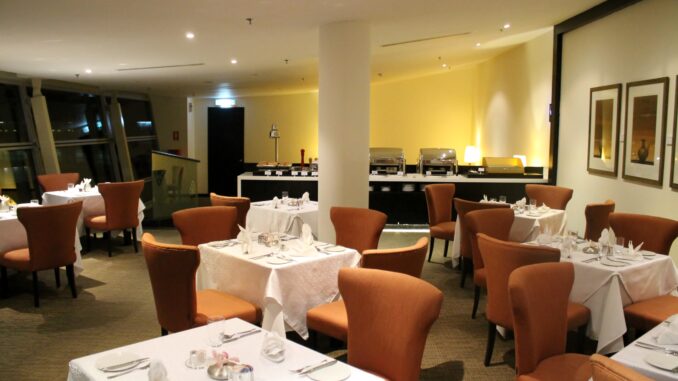 Very early morning in the Malaysia Airlines Lounge in Kuala Lumpur, connecting from Sydney on Malaysia Airlines and then onwards to Doha on Qatar Airways. The incoming flight from Sydney arrived at the ungodly hour of 4.30 am but fortunately the main Malaysia Airlines Golden Lounge in Kuala Lumpur is open 24 hours, so it was possible to get access already at that time, to get some more rest and a well-needed cup of coffee. As OneWorld Emerald I could also enter the first class side of the lounge, usually quieter with a better selection of food and drinks, including an a la carte restaurant, however the restaurant did not open until 6 pm.
There were some snacks, fresh fruits and drinks available in the self-service buffet already upon arrival at 5 am, and of course some hot drinks and soft drinks.
Being rather hungry I was one of the first guests in the restaurant when it opened at 6 am. I took a table and was approached by a waitress who handed me the menu and I decided to order an omelette with ham and cheese.
The a la carte restaurant, although a nice concept as such, was really starting to show its age when having a look around. The interior and the furniture have probably been around for some time and generally the restaurant would do with a facelift.
Other than the a la carte menu they had some hot and cold dishes as well as some bread rolls and pastries available for self service at the buffet.
This was my first visit to the first class a la carte restaurant in Kuala Lumpur. Overall the service was friendly, swift and attentive and the food was tasty. Nothing to complain about And hands up to Malaysia Airlines for even running a first class lounge, even though they do not have many flights with a first class cabin.
But the interior leaves a bit to be desired. It is a far cry from the a la carte restaurants in the Qantas First Class Lounges in Sydney and Melbourne and the Cathay Pacific The Pier and The Wing First Class Lounges in Hong Kong.