Where is it?

The Primeclass Lounge is located airside in the transit hall. After exiting from security control, take one of the escalators to the right or to the left to reach the upper floor and you will find the entrance to the lounge just around the corner, next to the cafe and next to the Lufthansa Business and Senator lounges. The transit hall is small and the entrance is hard to miss.
How do I get in?

The lounge is the contract lounge for Turkish Airlines available to their business class passengers and top-tier frequent flyers.
It is also possible to enter using various lounge cards such as Priority Pass, Dragonpass and Diners Club.
Furthermore it is possible for all passengers to pay at the reception desk to enter the lounge, currently at a price of 19.90 euro (April 2018).
What's it like?

The lounge is small, basically just an average-sized room with a couple of sofas and armchairs in green, blue and black. But although it is not really a hip and modern lounge it is very tidy and well-maintained with friendly and helpful staff working inside.
Just after the entrance there is a small reception desk followed by the self-service buffet area on the right and a small work area on the left with newspapers and magazines.
Food and drinks

The buffet area offers a reasonable selection of sandwiches, salads, desserts, pastries and also some hot items such as German sausages and pasta. There are also fresh fruits available as well as various snacks such as peanuts and crisps.
Unfortunately some of the food available in the fridge is served in plastic containers. Although there is definitely nothing wrong with it it does not really create much of a premium feeling.
The drinks selection includes German beer as well as red, white and sparkling wine, in miniature bottles rather than from larger bottles. There is also a standard selection of spirits, various soft drinks in a fridge and naturally there is a coffee machine and various teas.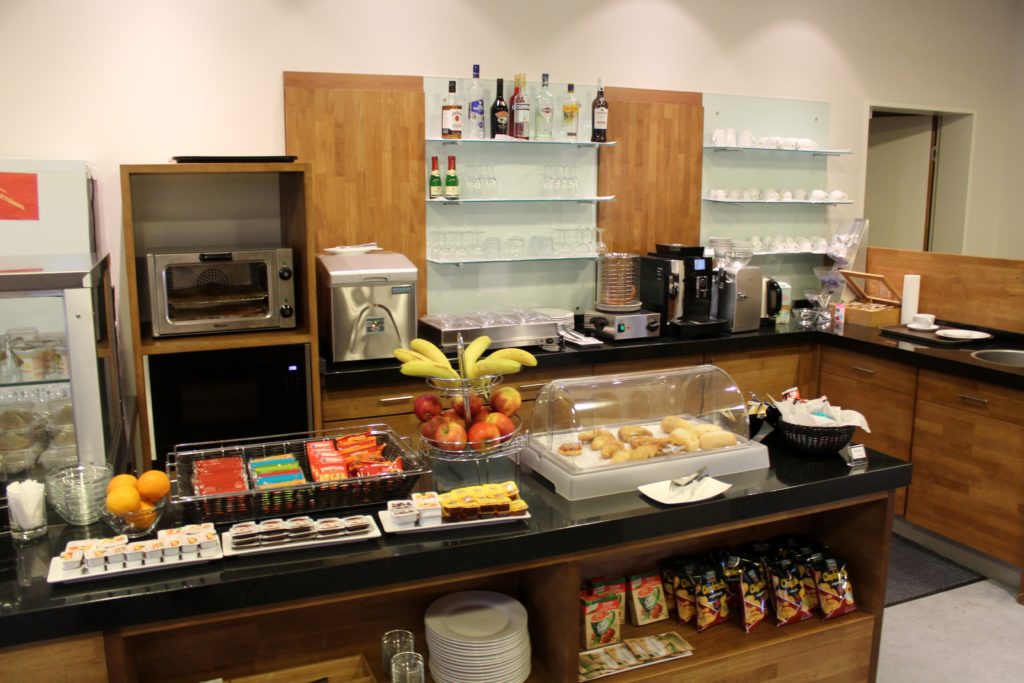 Facilities

Free wireless internet is available, there are several TVs and there is a good selection of newspapers and magazines on the desks opposite the buffet area.
Restrooms are located right outside the lounge in the transit hall.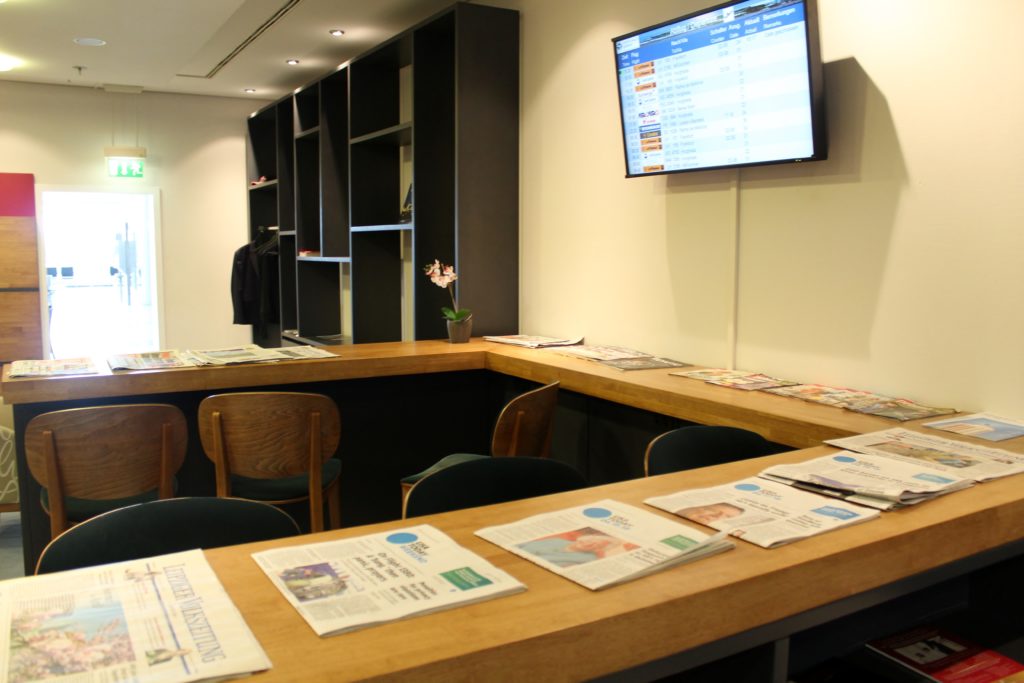 Final impression

A small third-party lounge with a traditional and somewhat old-fashioned design and a reasonable selection of food and drinks. But a big hands up for the friendly and helpful staff.