Where is it?

The Lufthansa lounges are located airside in the transit hall. After exiting from security control, take the escalator to the right to the upper floor and you will find the entrance on the right hand side just around the corner.
The transit hall is small and the entrance very hard to miss.
How do I get in?

The Lufthansa lounge in Leipzig is divided into a Business Lounge and a Senator Lounge.
The Business Lounge is accessible to passengers travelling in business class the same day with Lufthansa or another Star Alliance member carrier. In Leipzig this means flying on for example Lufthansa, Austrian Airlines, Swiss and Turkish Airlines (although the latter has also contracted the Primeclass Lounge nextdoors).
Access is also provided to Miles & More at the Frequent Traveler level and it is also possible to access the lounge flying on a full-fare (Best) ticket with Eurowings.
Passengers holding a Star Alliance Gold card or a Miles & More Senator or Hon Circle card can also enter the lounge when flying Lufthansa or Star Alliance but also have access to the superior Senator Lounge to the right of the reception desk.
What's it like?

The Business Lounge is located to the left of the reception desk (the gold card lounge, the Senator Lounge, is to the right) and is quite small with seating for around 25 guests but still significantly larger than the Senator Lounge.
The lounge has the latest Lufthansa lounge design with armchairs in blue, brown and black. It also has the relaxing forest wall.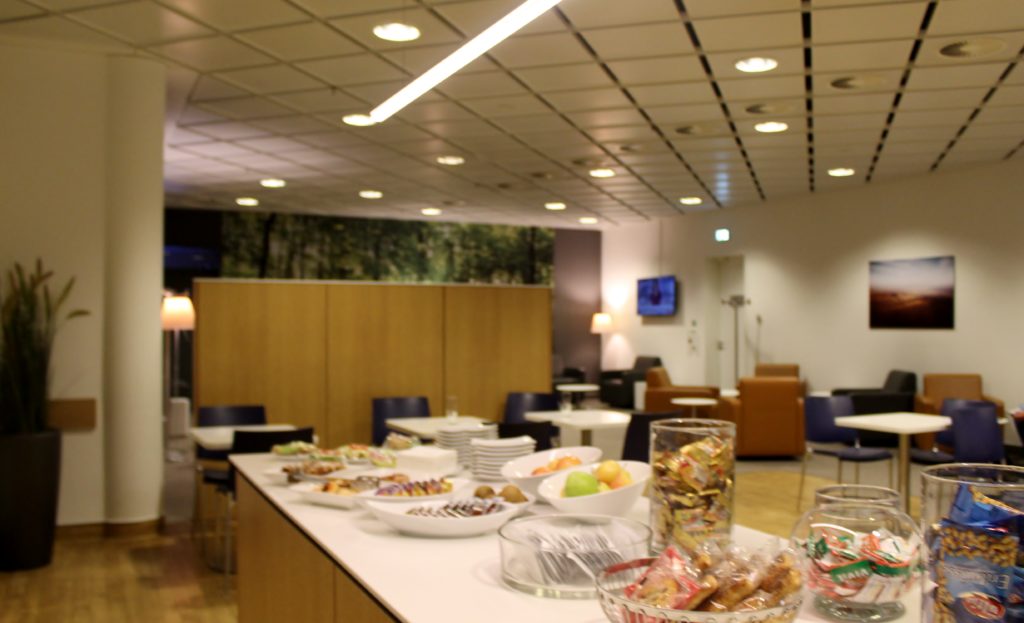 Food and drinks

A small self-service buffet is available next to the reception area.
The food selection includes sandwiches, bread rolls, fresh fruits and cocktail snacks. The drinks selection includes beer, red and white wine, a small selection of spirits and various soft drinks, coffee and tea.
Facilities

Free wireless internet is available. Restrooms are located outside the lounge in the main transit hall, just around the corner from the entrance.
The reception desk should be able to assist with requests such as check-in and rebookings. They also make announcements in the lounge when it is time for boarding.
Final impression

A small business lounge but with the modern Lufthansa lounge design. Small selection of food and drinks.