Where is it?

The Sheltair Lounge is located in airside in the transit hall after the security control in terminal 2D. The entrance is in front of gate D56 in the Schengen area.
Passengers travelling to a non-Schengen destination can also use the lounge before passing through passport control.
How do I get in?

The Sheltair Lounge is the only in terminal 2D and is used by all full-service airlines operating out of the terminal, including Austrian Airlines, Air Serbia, Czech Airlines, Finnair and Croatia Airlines.
Access is also given to Priority Pass cardholders.
What's it like?

The lounge used to be located landside for many years, opposite the check-in desks, which meant that passengers had to allow time for security control and possibly also passport control after the visit. The lounge itself has not moved, but the reception desk has. The entrance is now located airside, which is a major advantage. The lounge is also just around the corner from passport control, which makes it very convenient also for non-Schengen departures.
The Sheltair Lounge is run by ground handling company Sheltair (part of Servair) but although the lounge has been modernised you can still easily notice this used to be an Air France lounge, which was the case until Air France moved out of terminal 2D to centralise their operations to terminal 2E, 2F and 2G. You can still notice the old Air France buffet area, a very familiar design from other Air France lounges.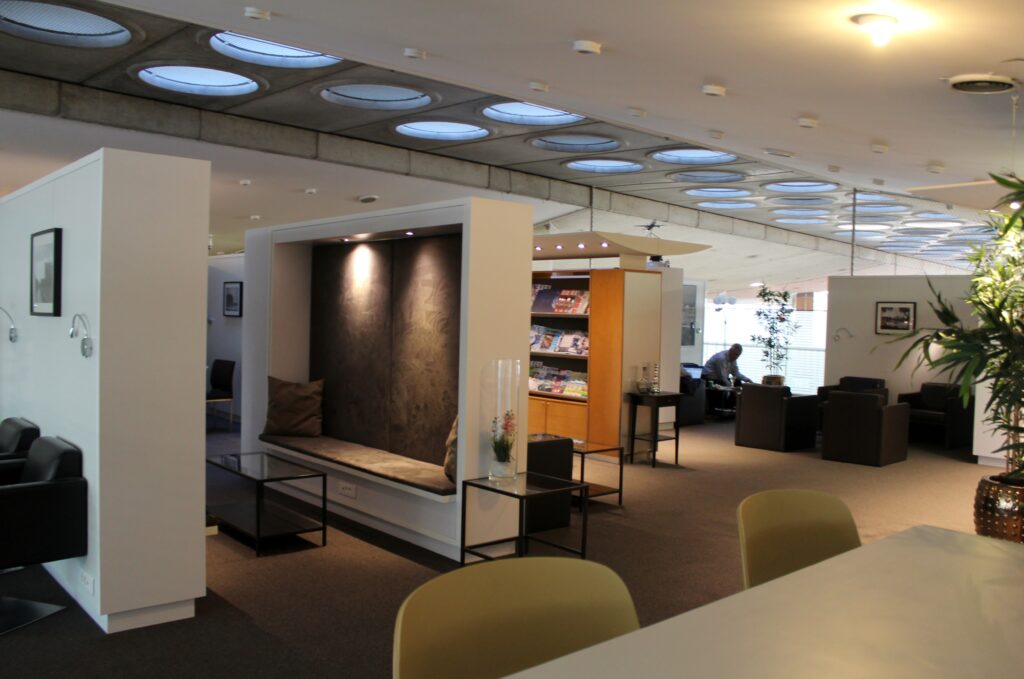 Since the lounge was recently modernised (at the same time as the entrance was moved) it has a much more modern and contemporary design now, which is actually quite innovative.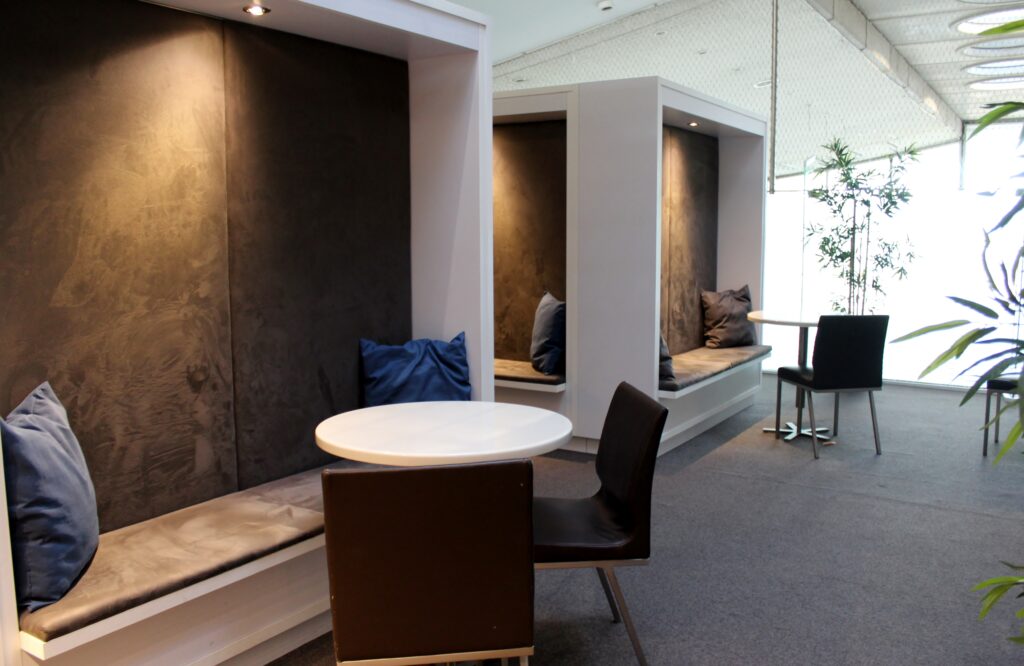 There are several different seating areas, with different types of seating, including the bookcases you sit inside, bar areas with barstools, and some more living room-inspired seating areas with comfortable sofas.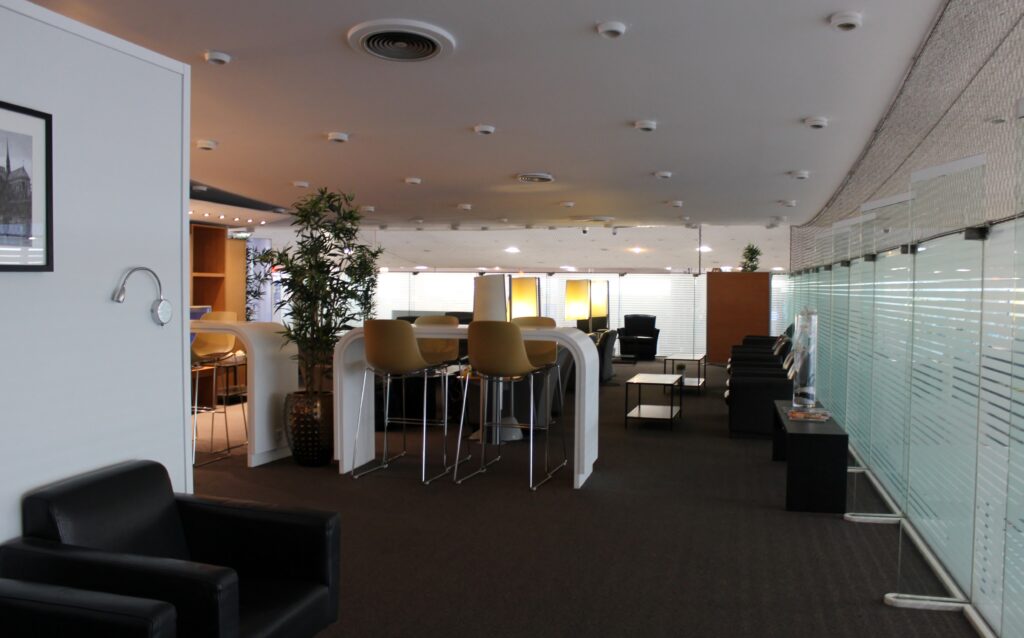 The rather odd-looking concrete ceiling in some parts of the lounge makes the lounge feel fairly dark but after the modernisation it is brighter than it used to be, which also makes if feel more spacious.
Food and drinks

A selection of food and drinks is available from the small self-service buffet area.
The food selection is limited to some cold cuts, bread rolls, pastries, yoghurt, fresh fruits and cookies.
The drinks selection is reasonable with red and white wine, beer, spirits, two coffee machines, juices and soft drinks.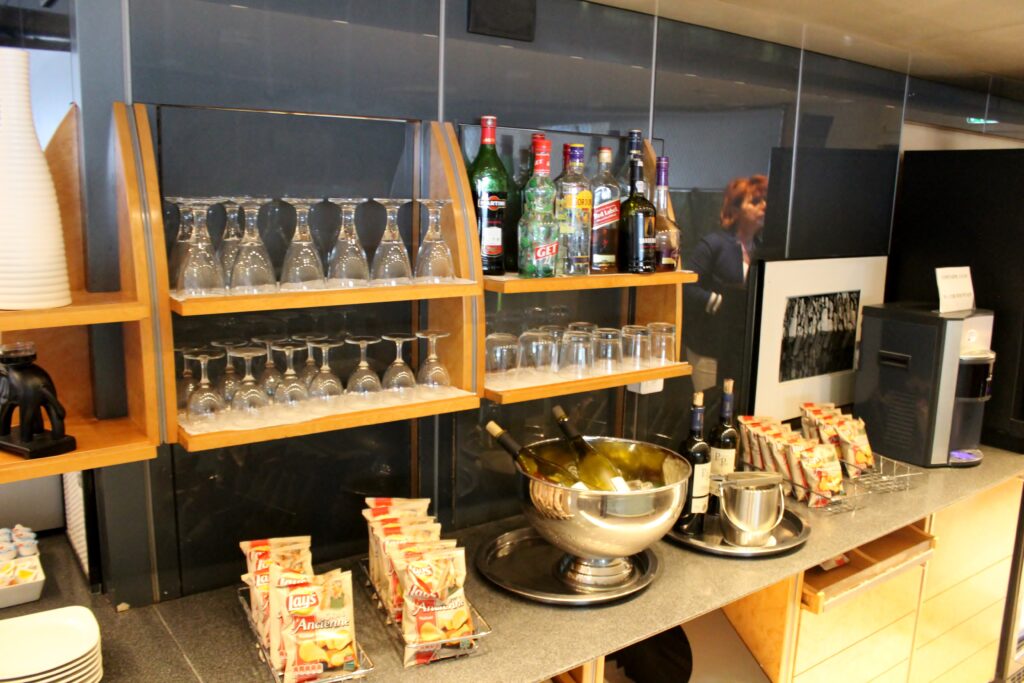 Facilities

There is a good selection of French and international newspapers and magazines in a bookcase. Free wireless internet is provided and there are several TVs inside the lounge. There are also several work desks for those who need to get some work done.
Restrooms are provided in the basement but there are no showers.
Final impression

The lounge was recently modernised and is significantly nicer now with a contemporary design and some fun and innovative seating areas. Reasonable selection of food and drinks.