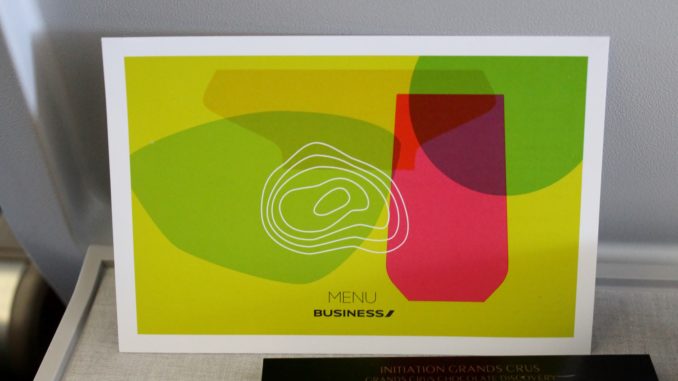 Departure experience
I was only in transit at Munich airport. My checked luggage had been tagged all the way but I did not have a boarding pass for the onward connecting flight to Paris.

Terminal 1 is the original terminal at Munich Franz Joseph Strauss airport which was the main terminal until the Lufthansa and Star Alliance terminal, terminal 2, opened. It is divided into five different modules named A-E, some of them used for Schengen flights and some for non-Schengen flights. Air France uses module D. All modules are connected to the airport plaza, where the railway station is located, using an underground corridor.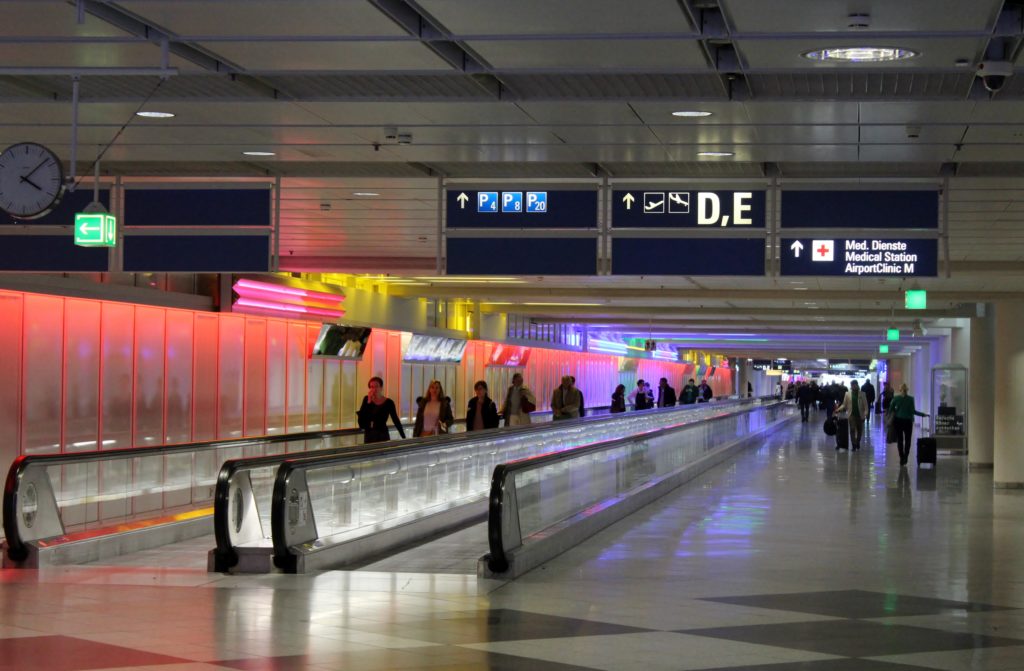 There were several desks open for Air France and KLM in module D with one Sky Priority desk accessible for me as a business class passenger and gold card holder. The check-in process was very swift, it took less than 30 seconds all-in-all to find the booking, enter the baggage number and print the boarding pass, which had both the two connecting flights on the same boarding pass. I was also informed I was invited to use the Air France lounge in the transit hall.
There was a fast track channel at the security control, but it was really not needed this afternoon as the regular line was almost empty. The process was friendly but thorough, they even asked me to turn on the camera to see that it was working properly.
Terminal 1 is a huge difference compared to terminal 2, it feels ancient compared to the much more modern Star Alliance terminal on the other side of the airport. How Lufthansa managed to have their full Munich operations here, together with all other airlines at the airport before terminal 2 opened, is beyond me.
The Air France Lounge is located on a balcony in module D, next to the Europa Lounge, the latter accessible using several lounge cards and credit cards.
The lounge has the new Air France lounge design, which is actually quite modern and elegant. But the lounge is also fairly small and this late afternoon the lounge was packed with passengers waiting for the evening flights to Amsterdam and Paris.
Food and drinks were available at the self-service buffet with proper sandwiches, cookies, cakes and soup. There was a standard drinks selection with red and white wine, beer, a standard selection of spirits, soft drinks, tea and coffee.
Read the full lounge review here!
The flight
Munich-Paris CDG
Air France flight AF 1823
Departure: 18.20
Arrival: 20.00
Business Class
Airbus A318
Seat 03D

First impression
Boarding started very early, almost 40 minutes before scheduled departure time at gate D12. Priority boarding was probably offered but I arrived too late to make any use of it. For some reason there were also two armed police officers at the gate, supervising the boarding process. No explanation was ever given for their presence.

The aircraft used to Paris this evening was an Airbus A318 which seemed to be completely full. The aircraft had the new cabin interior with the red seat covers and pillows in business class.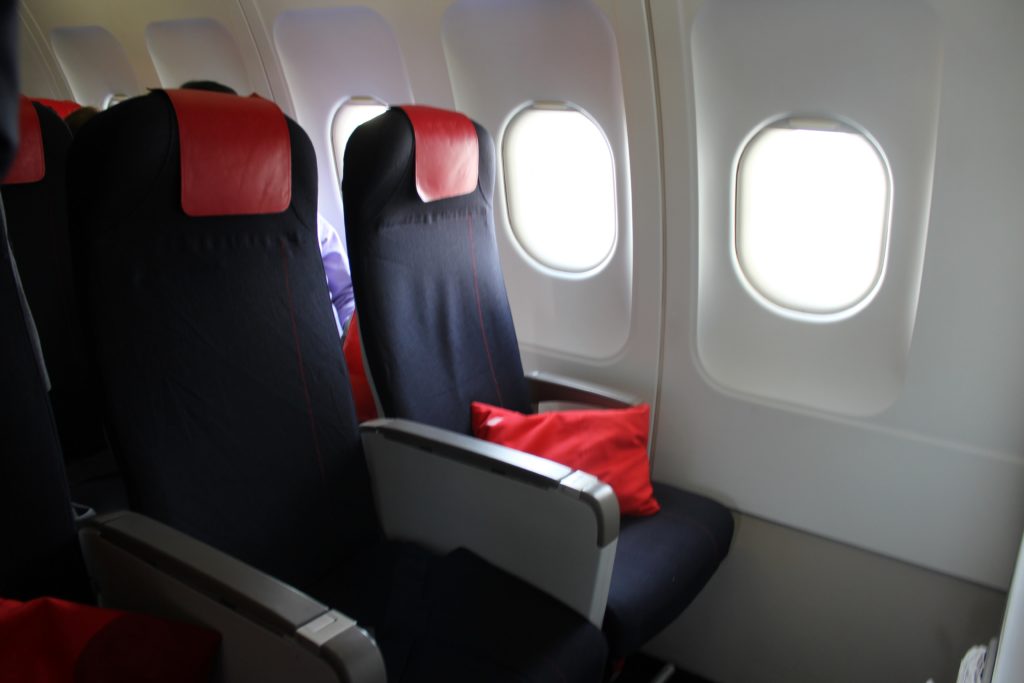 With an early boarding and a swift boarding process with many frequent travellers on the flight who knew what to do, boarding was completed well ahead of timetable and we pushed back ten minutes before scheduled departure time. Estimated flight time to Paris was one hour and 15 minutes.
Seat and cabin
Five rows were assigned to business class this evening and the standard 3-3 configuration had been made into a 2-2 configuration in business class with the middle seats empty for more space and better comfort. The seats were the standard Recaro seats, the regional version with the smaller tray tables and cup holders. They work fine for shorter flights but are not optimal for longer flights with a more extensive meal service.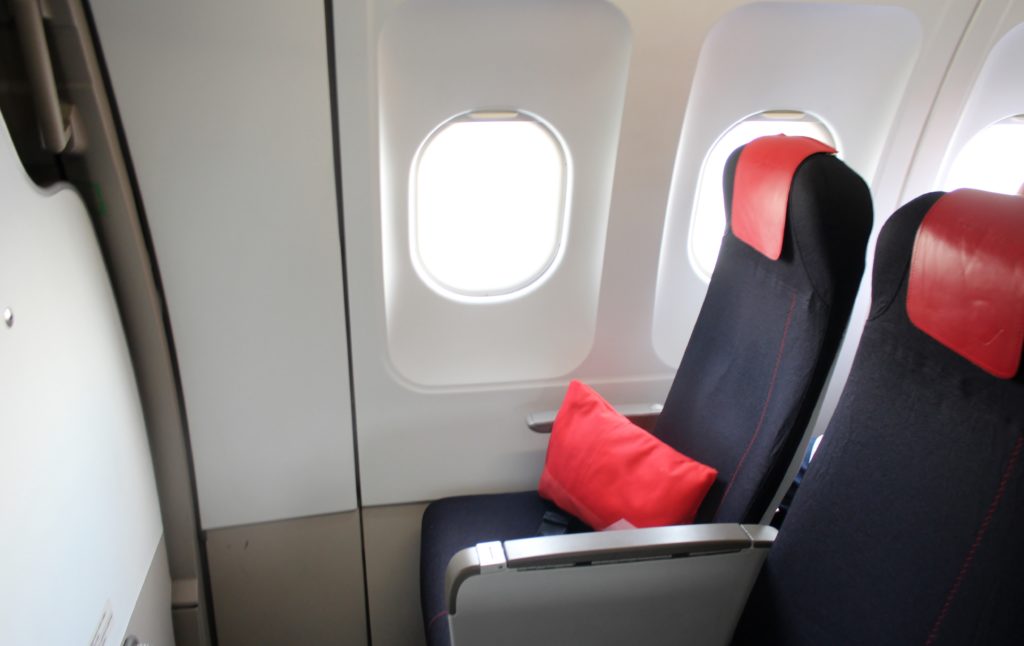 Food and drinks
Once in the air the dinner trays were handed out, which also included a very nice-looking printed menu.

Drinks were also offered, including champagne from a large bottle. Red wine and white wine in small bottles were also offered as well as spirits, soft drinks, coffee and tea.
The light meal to Paris included a shrimp sautéed with sesame seeds and a mini brioche sandwich with tomato, olives and goat cheese. The snack tray also included also a mini chou pastry, a mini French macaron and a chocolate lava cake. For dessert a light cream, apricot compote with peaches and spéculoos was offered.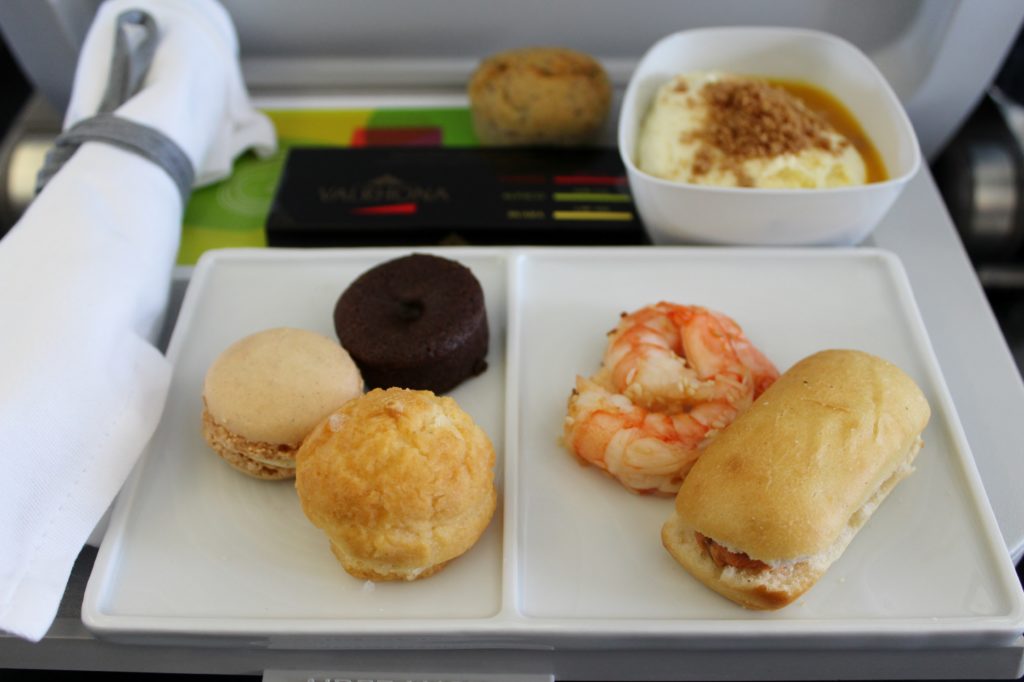 The meal was nice with a nice presentation on the new business class tableware by Jean-Marie Massaud, but it was too much on the sweet side with only a tiny sandwich and some shrimps to count as some kind of proper dinner. However the service was attentive and later a refill of the champagne was offered.
The service
The flight was short and the cabin crew had to work hard to serve a full cabin. But the service from the crew was friendly and attentive and many passengers were immediately addressed in English, rather than in French, which typically would not have been the case a few years ago.

Arrival experience
With the early departure from Munich we also arrived early in Paris, 20 minutes ahead of timetable. The aircraft parked at terminal 2F, used by most intra-Europe flights. The passport check that was introduced after the Paris attacks seemed to have been removed now so the arrival experience was swift. Flying onwards from terminal 2C I decided to go landside and walk to the terminal rather than wait for the transit bus.

Final impression
A short but nice and efficient flight. Overall I like the new meal concept in business class. The tableware is very nice and there is a printed menu. But I really missed something more substantial to eat on this flight, like a larger sandwich or some cold cuts. But thumbs up for the early departure and arrival, which gave me some extra time in the lounge for the connecting flight.