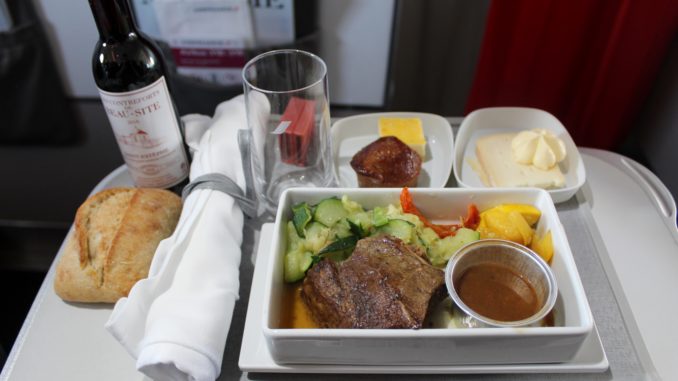 Friday evening and sometimes you get positively surprised. Four days of bad weather in Amsterdam meant that many KLM transfer passengers were rebooked on Air France via Paris to avoid flying into the chaos at Schiphol airport. The last flight of the day to Stockholm at 8 pm was full to the very last seat and as a consequence a handful of passengers were upgraded to business class, including me thanks to the Flying Blue Gold card.
Rather interestingly the upgrade was done already six hours before departure and I noticed it by a pure coincidence in the Air France app that the original 05D had been changed to 01C.
Departure experience

I was in transit at Paris CDG airport, transferring between two intra-Europe Schengen flights at terminal 2F. Although the incoming flight was slightly late, giving me a transfer time of just 40 minutes when the incoming aircraft touched down, I still had plenty of time to make the connection, even though I had to change pier at terminal 2F.
As a Skyteam Elite Plus member I would have had access to the Air France lounge in terminal 2F but obviously there was no time for a visit. The flight was already boarding when I entered the terminal building.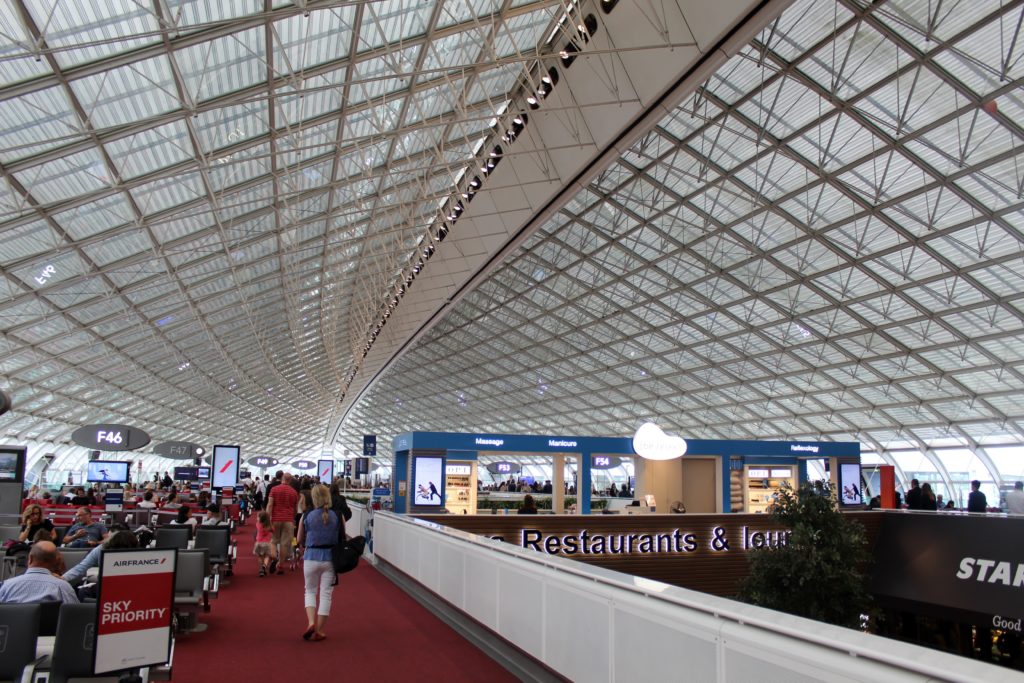 The flight
Paris CDG-Stockholm Arlanda
Air France flight AF 1462
Departure: 20.35
Arrival: 23.05
Business Class
Airbus A320
Seat 01C

Proper priority boarding was offered at gate F51 with a special lane for Sky Priority customers, including business class and Skyteam Elite Plus passengers. I was immediately processed with less than 10 seconds of waiting.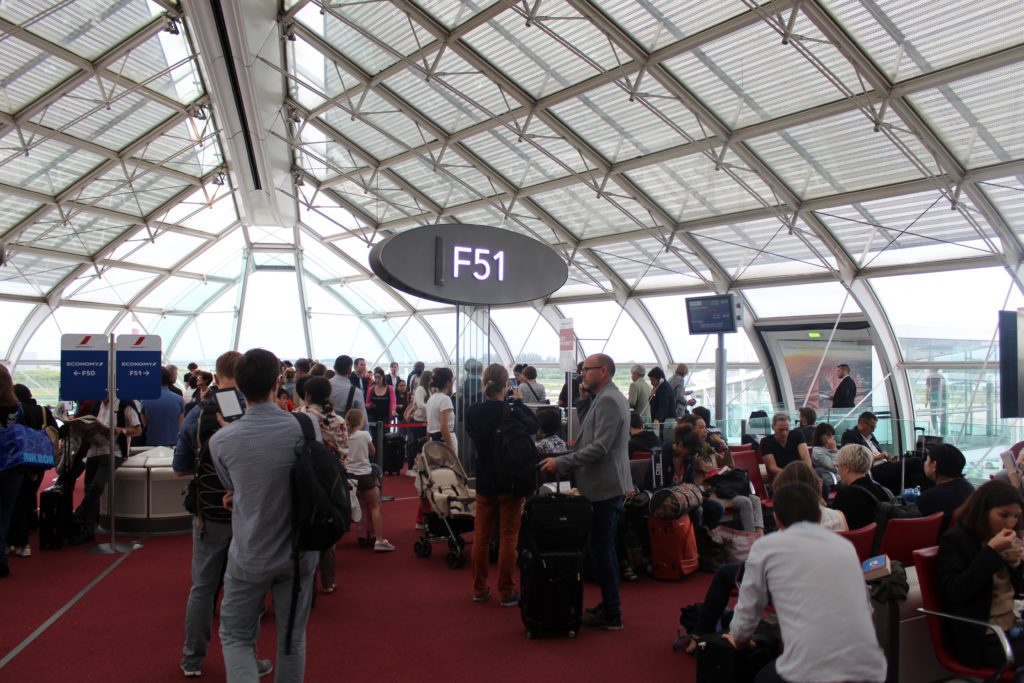 First impression

An Airbus A320 was used to Stockholm with the newest Air France shorthaul business class cabin design in black and red. As expected the flight was completely full. I was seated in 01C on the first row which meant that the cabin luggage had to be placed in the overhead bin during takeoff and landing.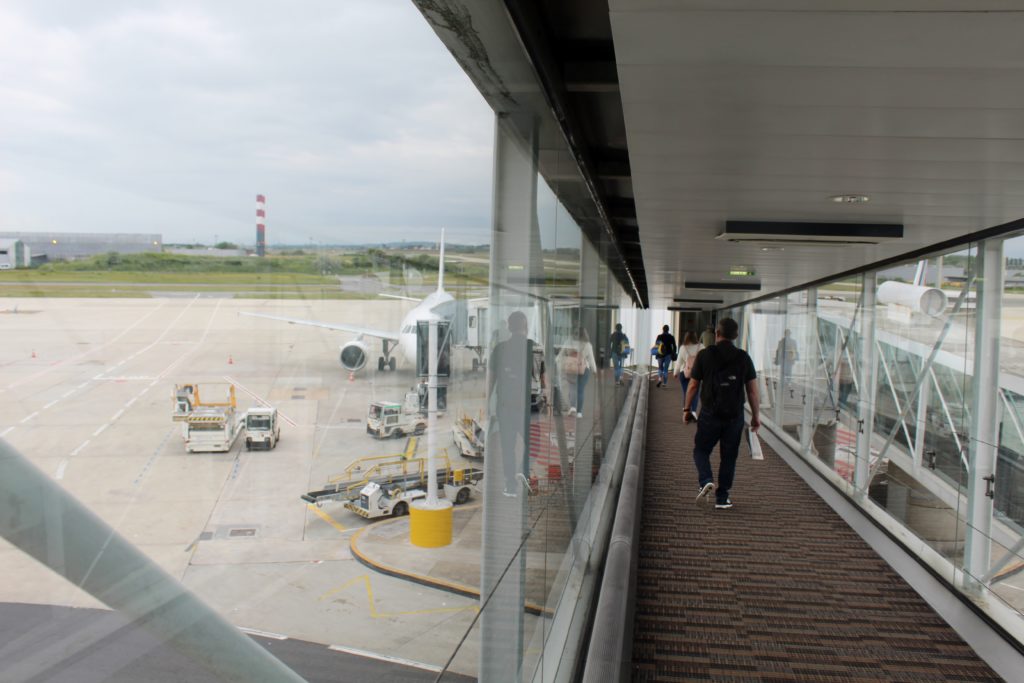 No pre-departure drinks are offered in Air France shorthaul business class and newspapers and magazines nowadays need to be downloaded before departure using the Air France media app. However cold towels were offered before departure.
We pushed back right on time with a flight time of two hours and ten minutes to Stockholm.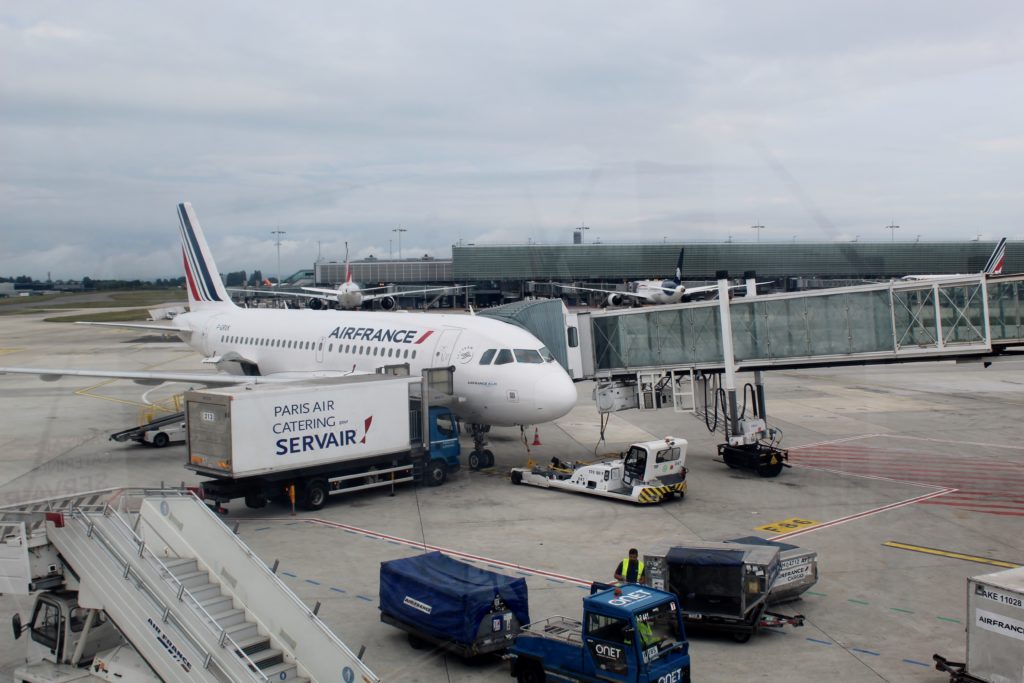 Seat and cabin

Standard intra-Europe layout in business class with the same seats as in economy class but with an empty middle seat, which meant a 2-2 configuration. Three rows were assigned to business class and they were all occupied, which meant 12 passengers in total.
Overall the new Air France shorthaul cabin design is quite elegant with the business class pillows and headrests in red.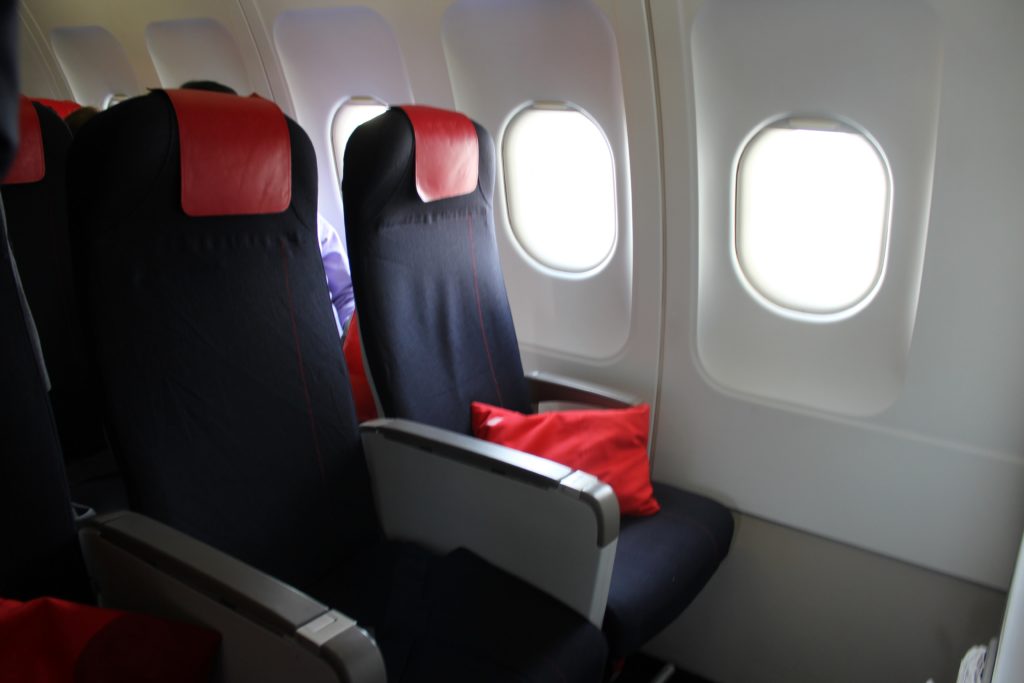 Food and drinks

After takeoff menus were handed out in business class with the dinner menu and the drink list.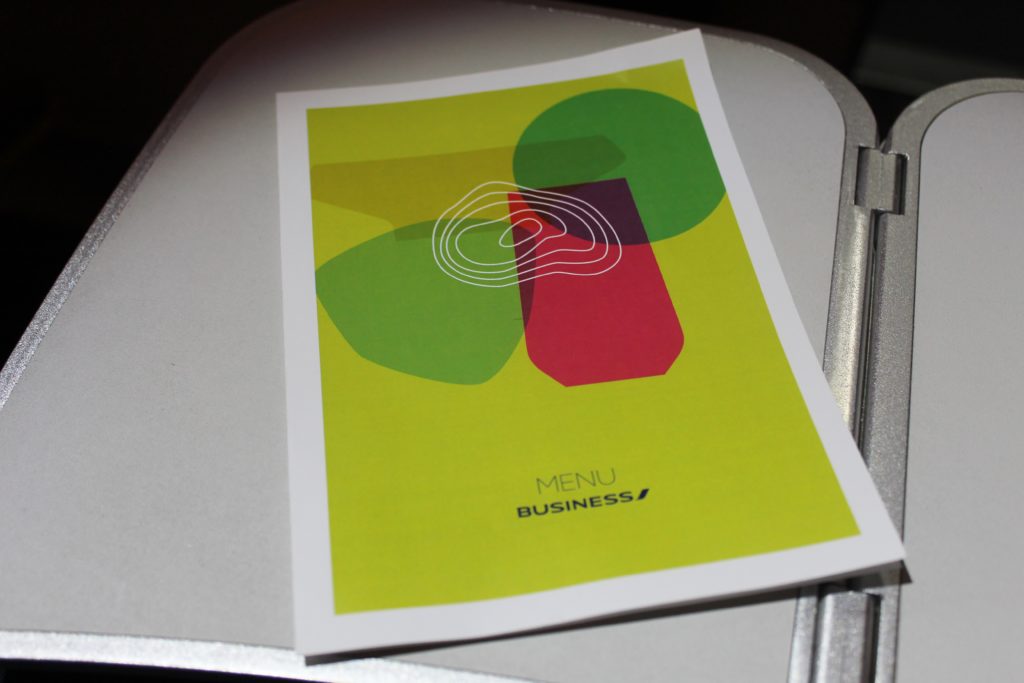 Unfortunately the meal concept on the Paris-Stockholm route has been reduced. It used to be one of the best in Europe on mediumhaul flights (flights above two hours). Nowadays there is no starter on the Stockholm route and there is no choice of main course. Also the tray is smaller than it used to be. But it is still a decent concept and above average compared to many competitors on similar flights.
The wines on Air France are also fairly good, even on shorthaul flights. All of them French, of course. And there is proper champagne available.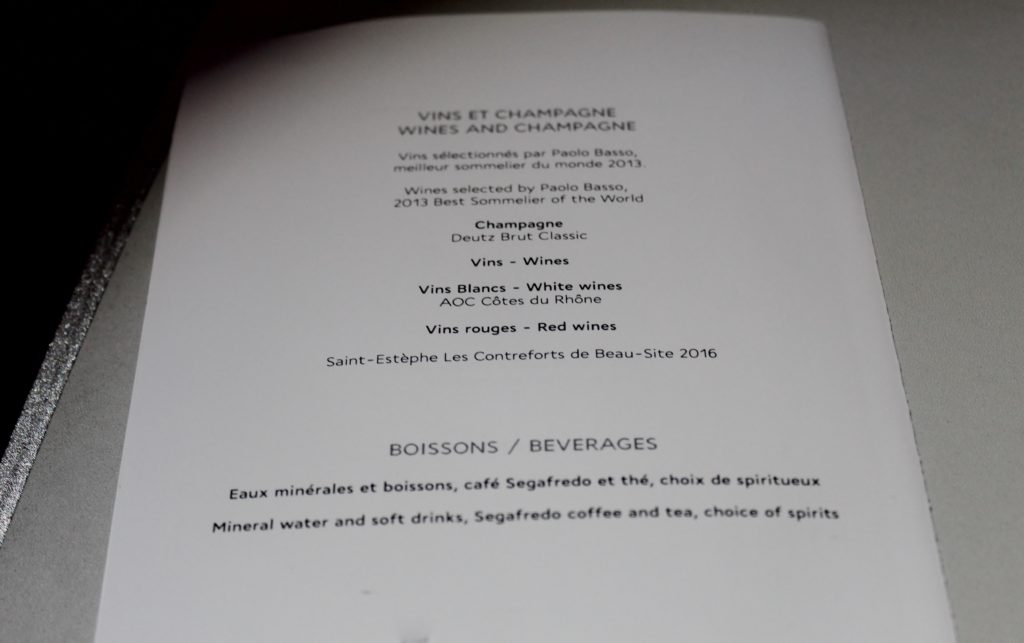 It took a bit of time before the dinner service started. It would have been nice with a cocktail service after takeoff to have something to drink while the food is being prepared, perhaps a glass of champagne, as they do on longhaul flights. Now it took over 30 minutes with nothing on the table.
Eventually the trolley appeared though for the dinner service and the meal was served using the very elegant Massaud tableware.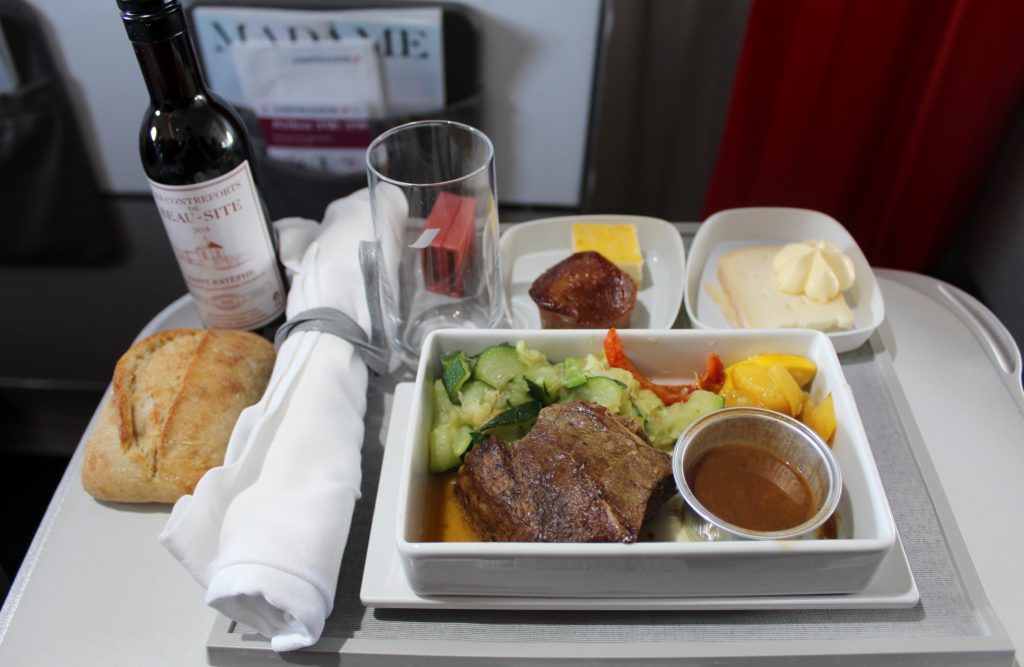 The dinner consisted of veal chuck with zucchini. Bread rolls were offered from a basket and for dessert there were some French cheeses, a mini muffin and a panna cotta with mango coulis. The main course was excellent, very tasty, as were the cheeses and the desserts.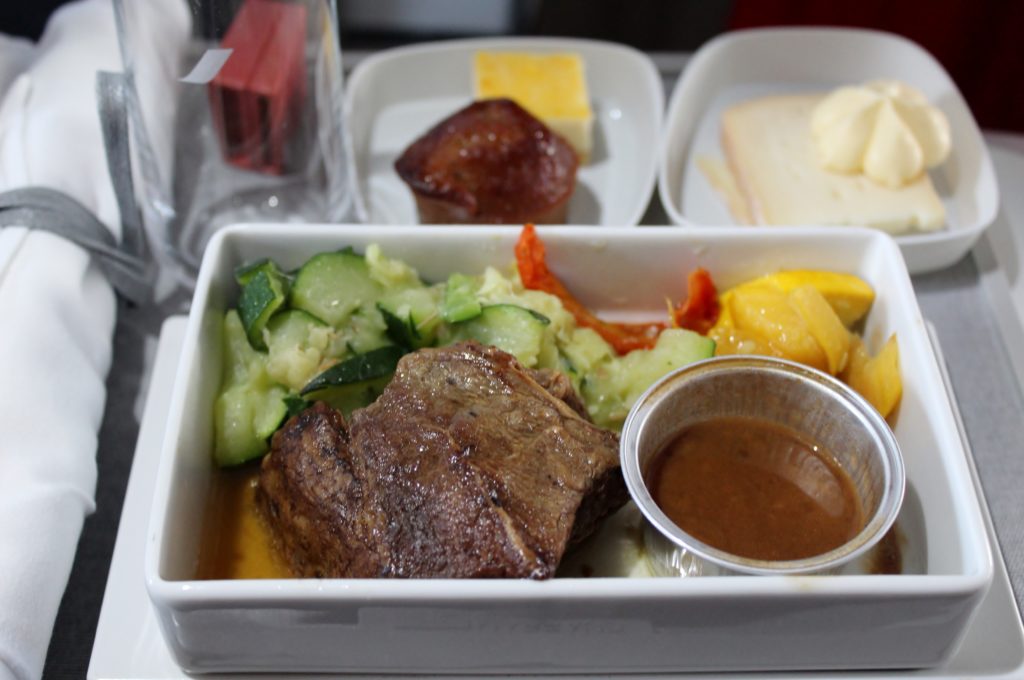 A full bar service was offered and I asked for a bottle of red wine, which was a Bordeaux wine. The wines seem to change from time to time, it was a different red wine five months ago. From experience the red wines mainly seem to be wines from the Bordeaux region.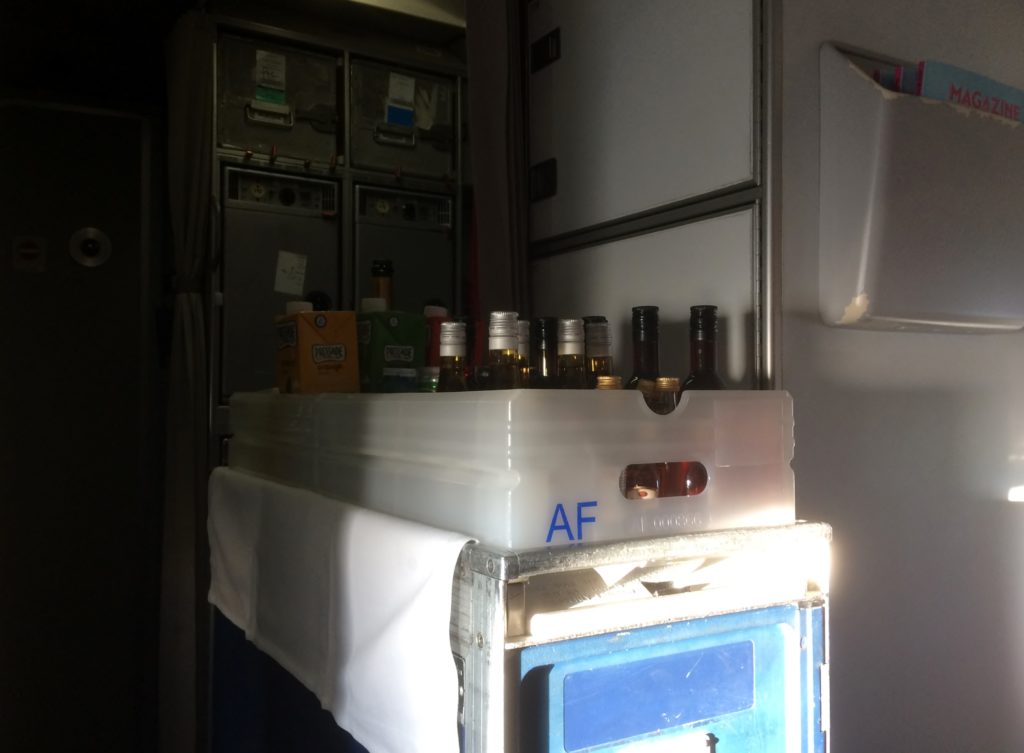 There was also free-flowing champagne in business class, served from large bottles, but it was not the Deutz brand, as was written in the menu, but rather Taittinger. Nevertheless both are excellent champagnes and especially for shorthaul business class where many competitors do not offer champagne at all.
After the meal trays had been collected coffee, tea and liqueurs were offered from the trolley, including a rather good selection of liqueurs. They had a pear liqueur on the trolley for example.
A signature concept in shorthaul business class is also to offer chocolates and petits fours from Fauchon from a basket. They are delicious.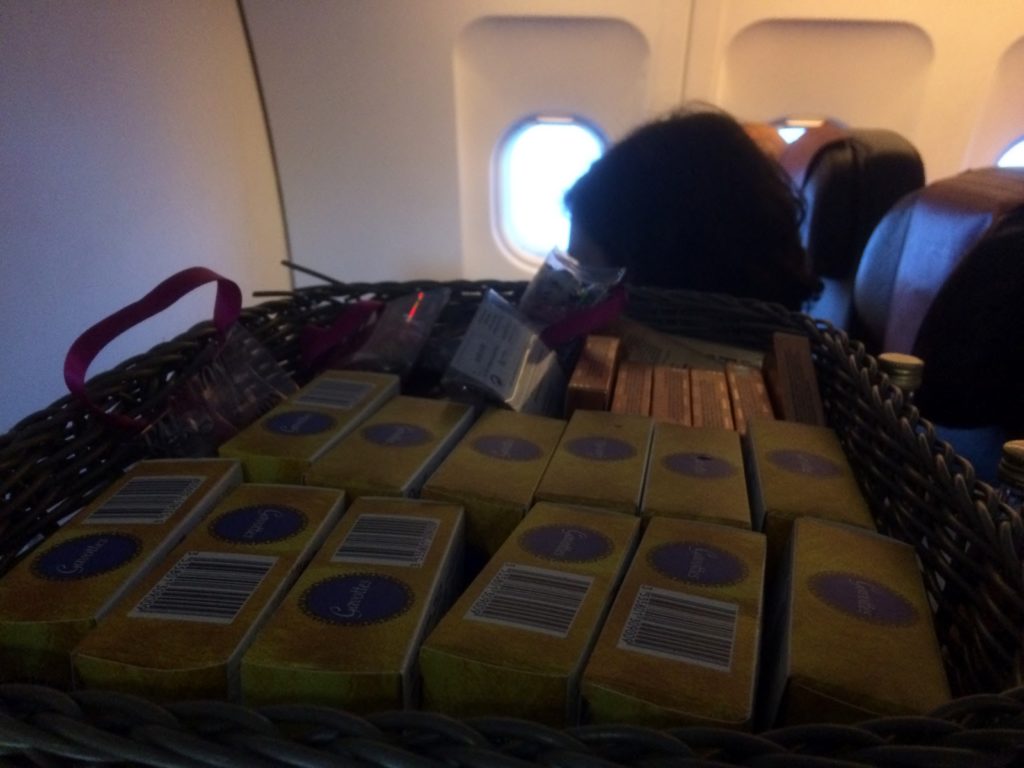 I asked for a black coffee and also ordered a gin & tonic. They serve the Gibson's gin onboard together with Finley tonic water.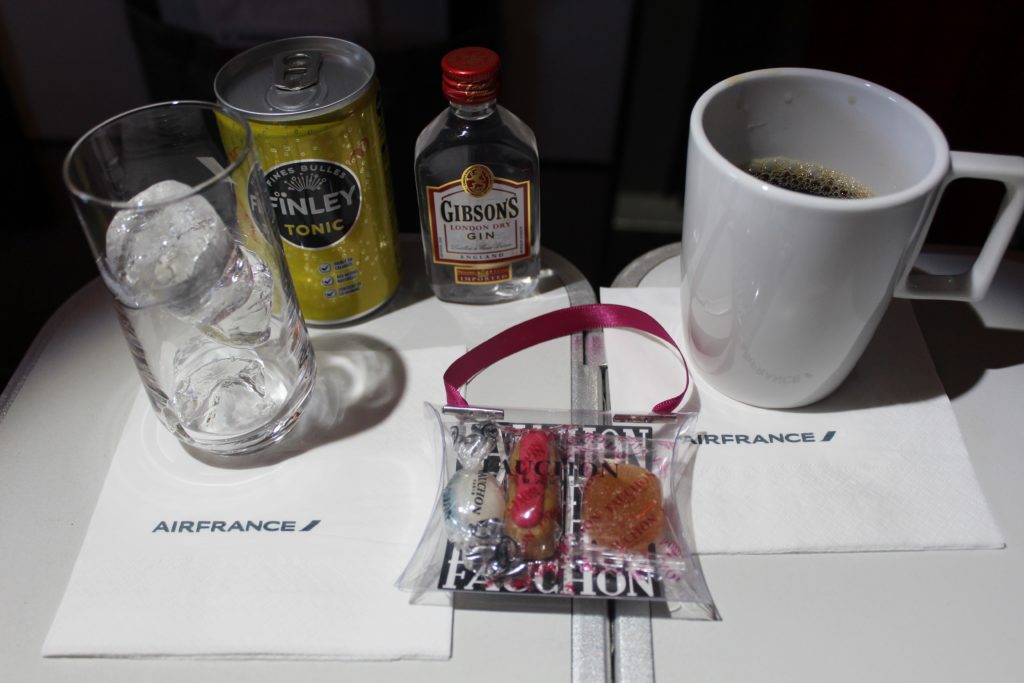 From the basket I picked a small bag (which even had a handle) with some delicious petits fours.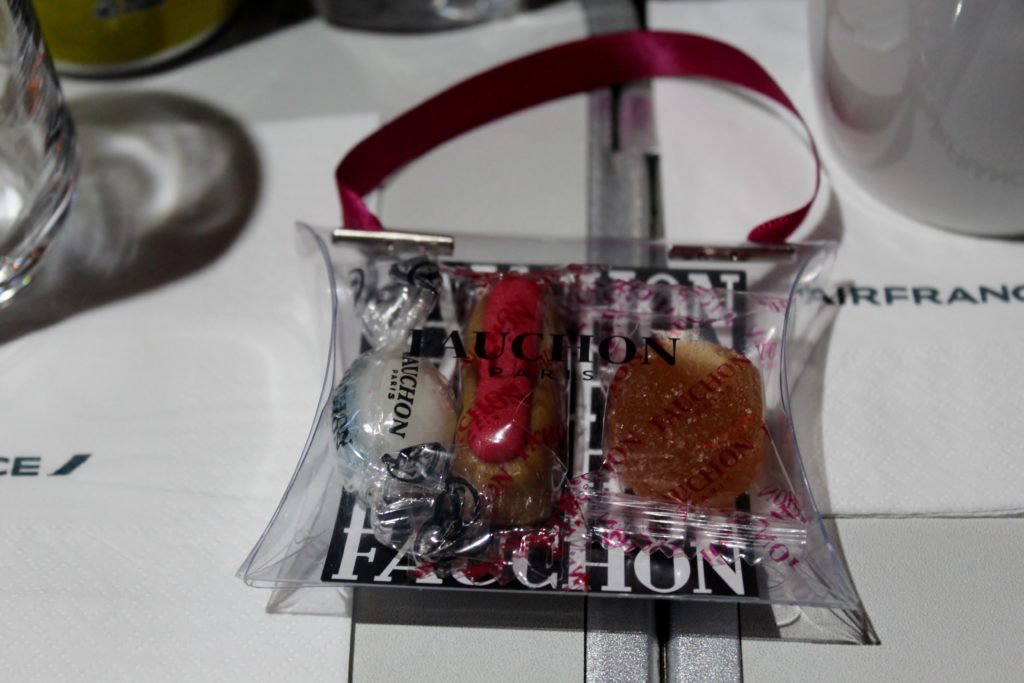 The service

The male purser served in business class and with 12 passengers to serve and a rather extensive meal concept he had a lot of work to do, especially on a Friday evening when many passengers order drinks. But he did an excellent job. The service was very friendly, polite and attentive, just the way it should be in business class. He spent most of the flight serving in business class or preparing food and drinks in galley and did not get much time to sit down for a break.
Arrival experience

We landed right on time in Stockholm at 11.05 pm. Air France uses terminal 2, the smaller of the two international terminals, but a very compact and convenient one. Sitting in business class with only hand luggage you can usually make it to the taxi stand within ten minutes of touching down on the runway.
Final impression

A very nice surprise to be upgraded to business class a Friday evening. Very nice meal service and fantastic service from the purser. Air France still provides a solid and quite luxurious shorthaul business class product.