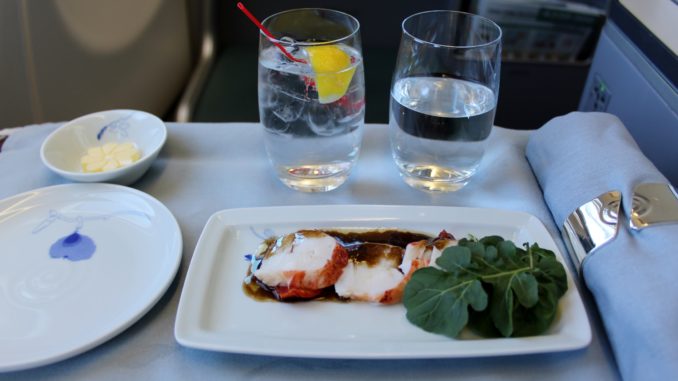 While many airlines have decided to scrap first class onboard, either on shorthaul flights, on low-density longhaul routes, or all together throughout the network, the national airline of Korea, Korean Air, seems to be determined to keep it. First class is still offered on the vast majority of their international flights which are operated using widebody aircrafts such as Airbus A330, Boeing 747, Boeing 777 and Airbus A380.
Seoul Incheon-Taipei is one of the routes where you can still fly first class and it also proved to be an excellent opportunity to try the new Korean Air first class services in the newly-opened terminal 2 at Incheon airport at a reasonable price.
Departure experience

I arrived at terminal 2 by bus around two hours and 30 minutes before the flight, very excited to see what the brand new terminal 2 would look like. Terminal 2 surely does feel very new but otherwise it is really not much different in terms of design from the older terminal 1. Overall it is a smaller but newer and slightly improved and modernised version of terminal 1.
But what really has improved are the premium facilities. Since terminal 2 is basically only used by Korean Air and some of their Skyteam partners the airline was probably highly involved in the design process and the premium facilities are significantly better than the ones in the old terminal 1.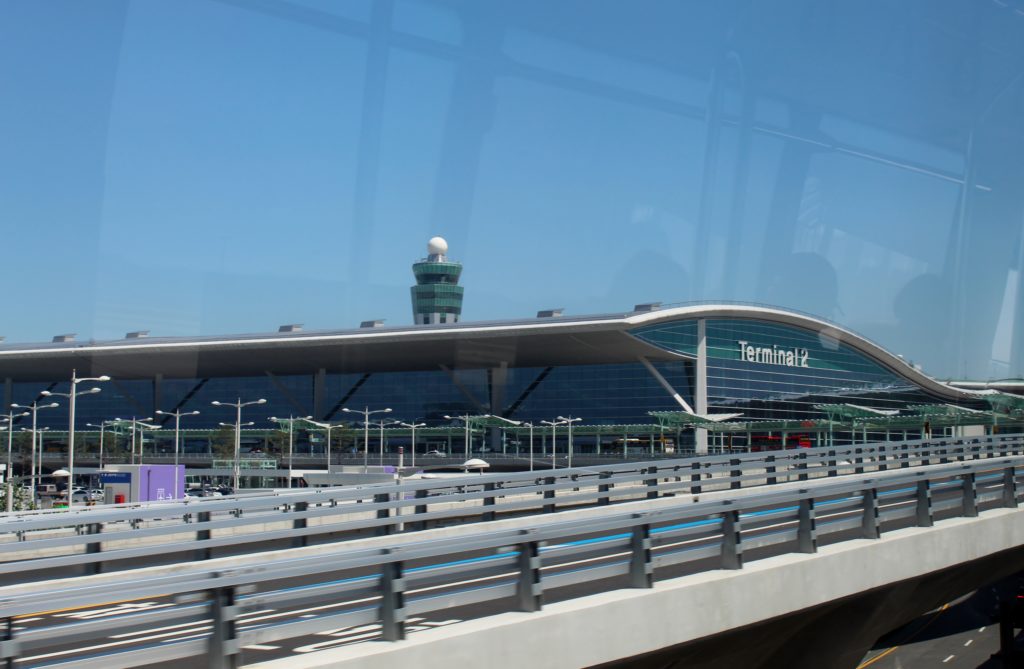 I found the Korean Air premium check-in area to the right after entering the terminal building, at the far end of the departure hall.
As I entered the check-in area I was immediately greeted by a young man at a counter who asked me where I was flying, with what airline and in what cabin class. After I told him I was flying Korean Air first class to Taipei he checked my name on a list and then escorted me inside the first class check-in area, which is a separate room next to the larger check-in area used by business class passengers and Skyteam Elite passengers.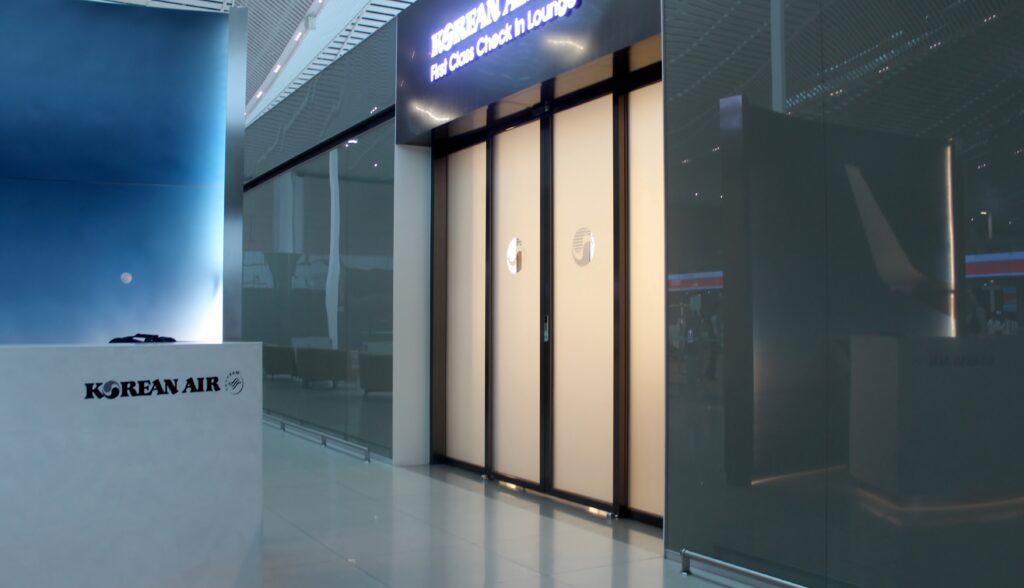 Once inside a friendly woman asked for my passport and travel documents and then invited me to have a seat in the rather pleasant first class check-in room, which looked more like an upscale hotel lobby with armchairs, reading materials and a TV. There was nothing whatsoever in there that even gave the slightest hint this was in fact an airline check-in area. There was not even a scale in the room, at least not visible to me as a passenger.
Moments later another woman arrived and asked me if she could get me something to drink. I asked for some water, which was promptly delivered together with a cold towel. I watched some TV while the check-in formalities were taken care of. Apparently they even prepare name tags for all departing first class passengers, which were waiting on a table.
My suitcase was through-checked all the way to Hong Kong but she could only issue a boarding pass for the first flight, as the second one was on Cathay Pacific, which is not a partner airline. Just like on previous flights in Korean Air first class I was asked if I wanted to be escorted to the lounge. As I knew this would include using the staff channel through security I happily accepted.
I was taken to the new Korean Air First Class Lounge, which is now only available to first class passengers. The old first class lounge in terminal 1 was also available to Korean Air top-tier frequent flyers but in terminal 2 they use a separate lounge.
There was only one other passenger when I arrived, who left shortly afterwards, so during most of the visit I was the only passenger and there was definitely no lack of space. The new first class concept can best be described as modern and stylish but at the same time comfortable and minimalistic. It is functional rather than over the top luxurious.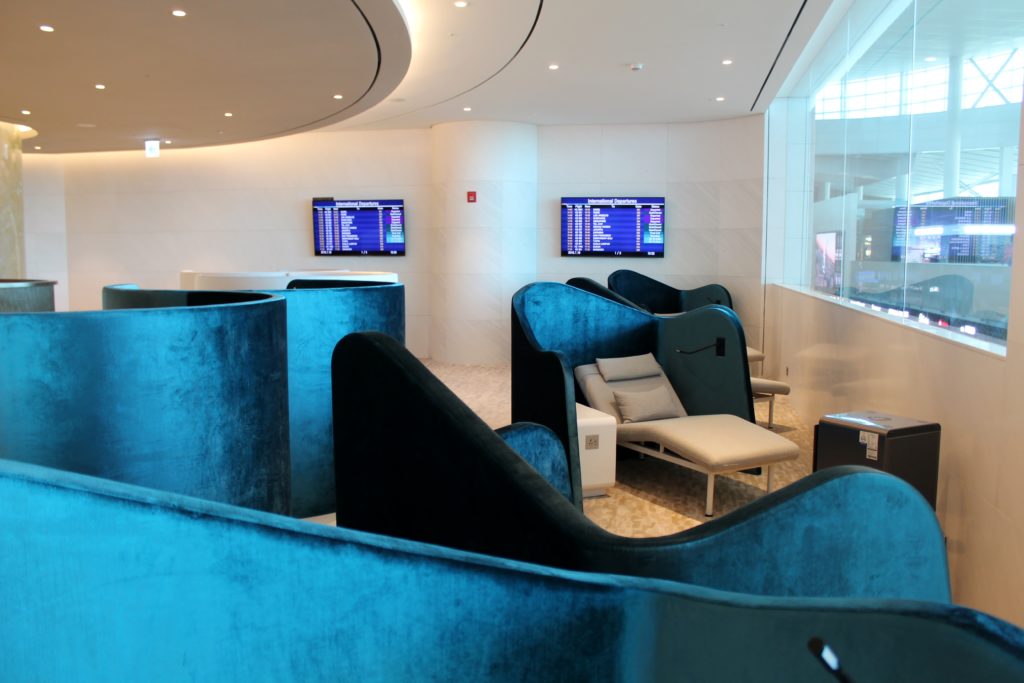 After I had picked a seat a waitress arrived with a tablet showing the different meals available to order. I decided to try the steak. They also have a self-service buffet with hot and cold dishes and snacks. Just like in the old first class lounge the drinks selection is the weakest part. No champagne and a fairly ordinary selection of wines and spirits.
A table cloth was placed on the small table next to my seat and seconds later the tray arrived with the meal. It was excellent. I got some red wine from the bar counter and later had a coffee and some Häagen Dazs ice cream.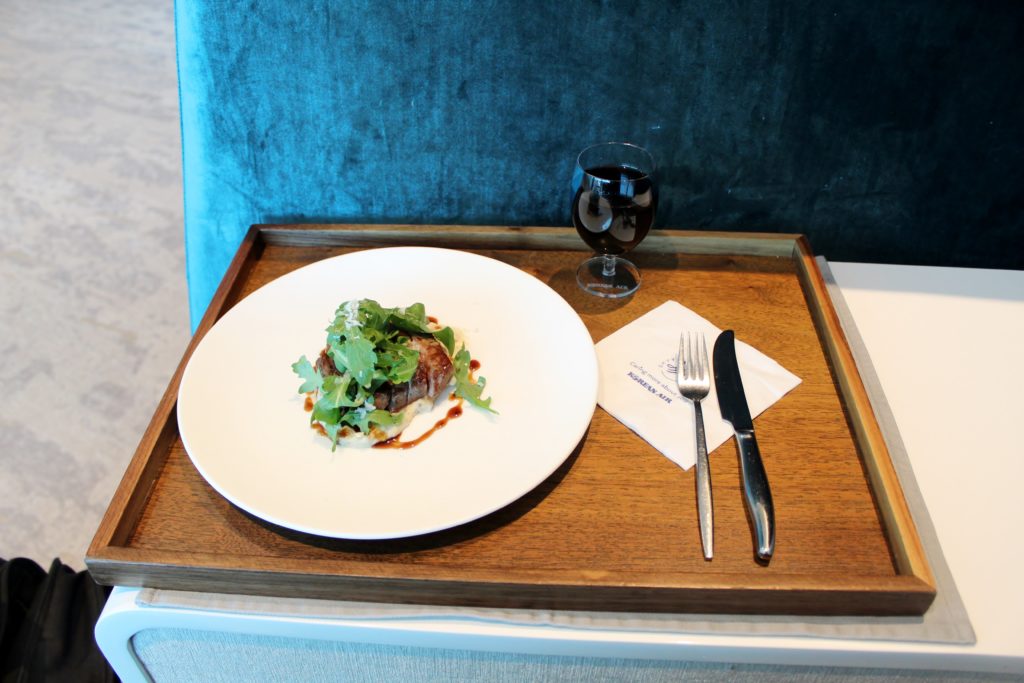 The flight
Seoul Incheon-Taipei
Korean Air flight KE 693
Departure: 16.05
Arrival: 17.40
First Class
Airbus A330
Seat 01A

The woman who escorted me from check-in to the lounge mentioned that first class passengers could order a buggy from the lounge to the gate. As I really enjoyed the visit and wanted to maximise my time in the lounge I decided to give the buggy service a try. I spoke to the woman at the reception and we agreed she would arrange a buggy to pick me up 30 minutes before departure. And at 3.35 pm a buggy was waiting right below the lounge to take me to the gate.
Ordering a buggy turned out to be a good decision. The gate was the furthest possible from the lounge and although I would have had no problems getting there by foot it would have taken a few minutes.
Boarding had already started at the gate with a separate line for premium passengers with no line.
First impression

Only one passenger bridge was used for door 02L, which meant a left turn to get to the business class and first class cabins. When the flight attendant at the entrance saw my boarding pass she immediately called for a colleague who escorted me through the business class cabin and to my seat 01A in first class.
This was one of their regional aircrafts where also the first class seat is a regional version. In fact on the Airbus A330 the seat is really the same seat as in business class right behind, possibly with some more legroom and a few other details.
There was only one row of first class and I was the only passenger, which was expected though.
Very quickly the purser arrived to greet me, to introduce herself and to welcome me onboard. I was offered the menu and the drink list and she also asked if I wanted something to drink before departure. I ordered a glass of orange juice, which was served with some nuts. After the Korean Air nut incident a few years ago, which made the headlines all around the world, it was nice to see the nuts being served in a bowl this time.
A hot towel was also offered as well as newspapers. A pillow and a blanket were already waiting at the seat.
We pushed back right on time and took off to the north with an expected flight time of just over two hours to Taipei. The weather in the Seoul area was excellent and I got a nice view of the airport just after takeoff.
Seat and cabin

There was just one row of first class in a 2-2-2 configuration. The seats are very much the same as in business class on the Airbus A330, placed in some sort of staggered configuration. However it seems like you get slightly more legroom in first class.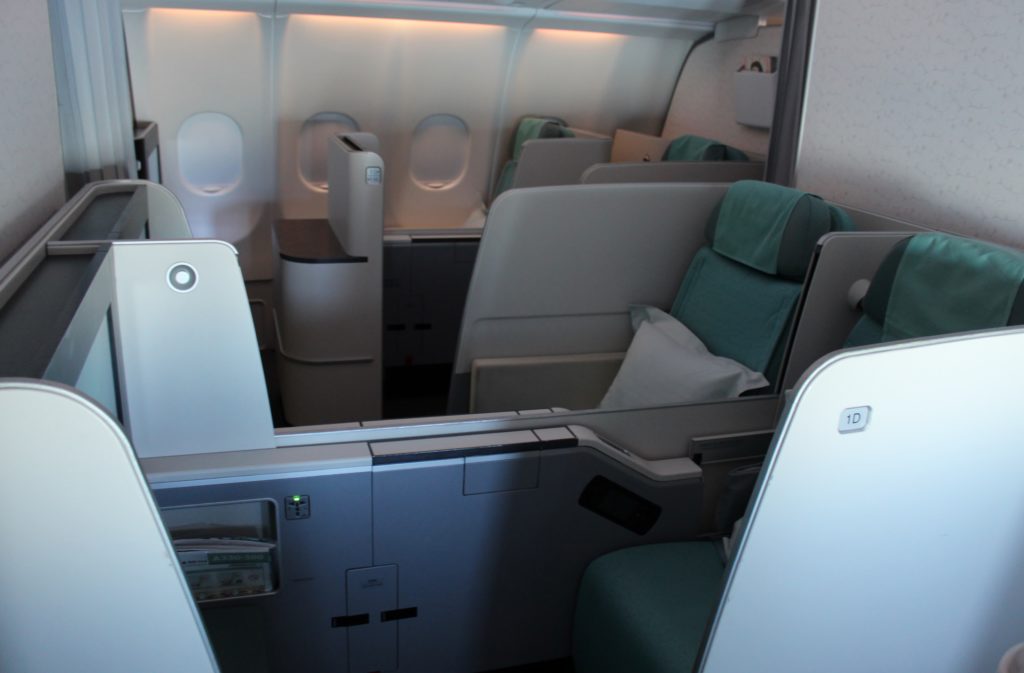 The seat was fine for a two-hour flight but was nothing like the excellent suite available on their Airbus A380 aircrafts. The seat becomes fully flat when reclined and has a seat pitch of 83 inches. The main drawback of the seat is that with six seats abreast it is fairly narrow. I really would have appreciated more seat width.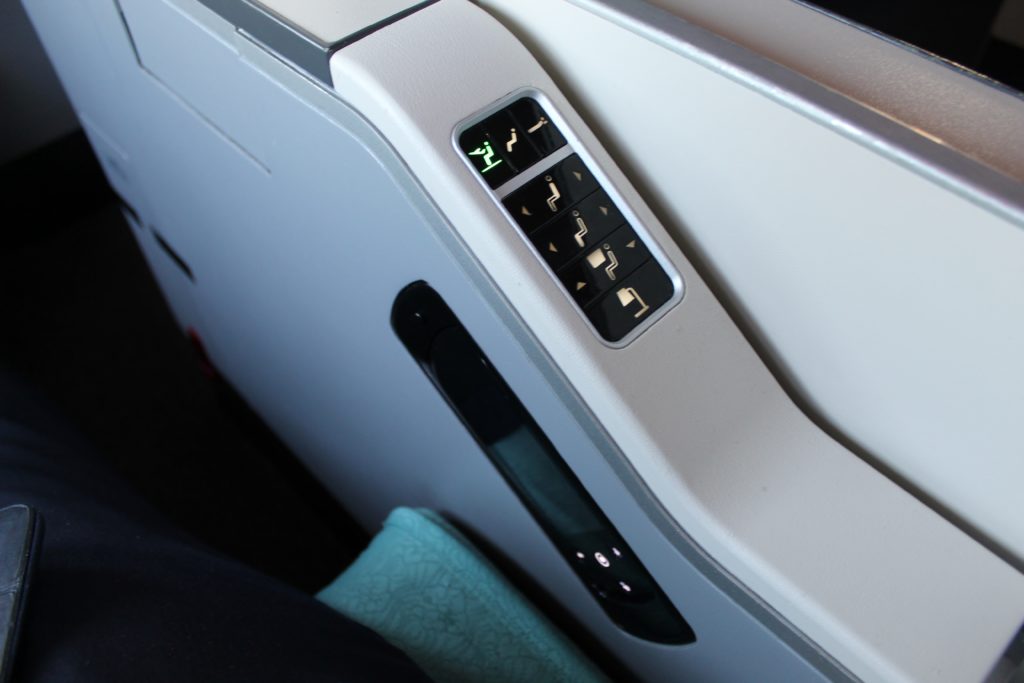 Food and drinks

The menu and the drink list were handed out already on the ground and the meal order was also taken before departure, to save some time during the short flight.
The menu is specific for each flight but the drink list is the same on all first class flights. However not all drinks are available on all flights, so you need to read the information carefully to find out exactly what is available on your flight. Some of the wines for example are only available on longhaul flights and some drinks are only available on flights to Japan.
I started off with a gin & tonic, with ice and lemon of course, however I barely had time to taste it before the flight attendant was back with a table cloth and the meal tray with the starter. The starter was lobster with arugula lettuce. Although I have never been a big fan of seafood it was actually rather tasty. A selection of bread rolls was also offered from a basket.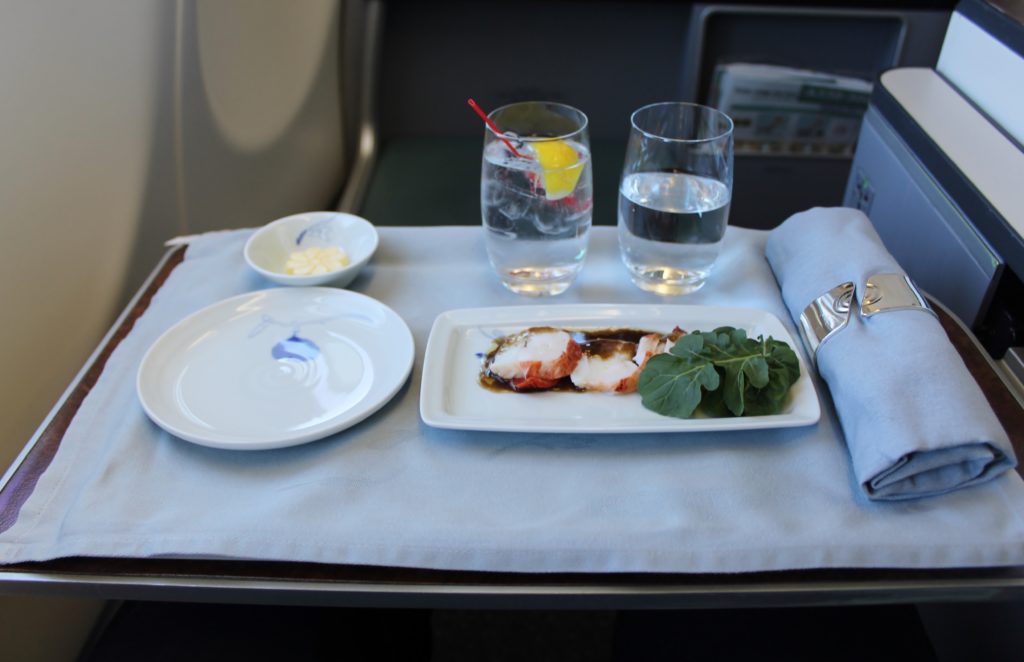 There were two choices of main course. Either Korean-style black sesame seed noodle soup served with side dishes, or Stir-fried beef with hot bean sauce served with Chinese noodle and mixed vegetables. So basically either a Korean main course or a Chinese main course, which makes sense on a flight between Seoul and Taipei.
I decided to go for the second option, the noodles with beef, and was at the same time served the red wine I had ordered, Château Branaire Ducru 2007. More bread rolls were also offered. The main course was tasty but rather heavy, especially as I also had a proper meal in the lounge.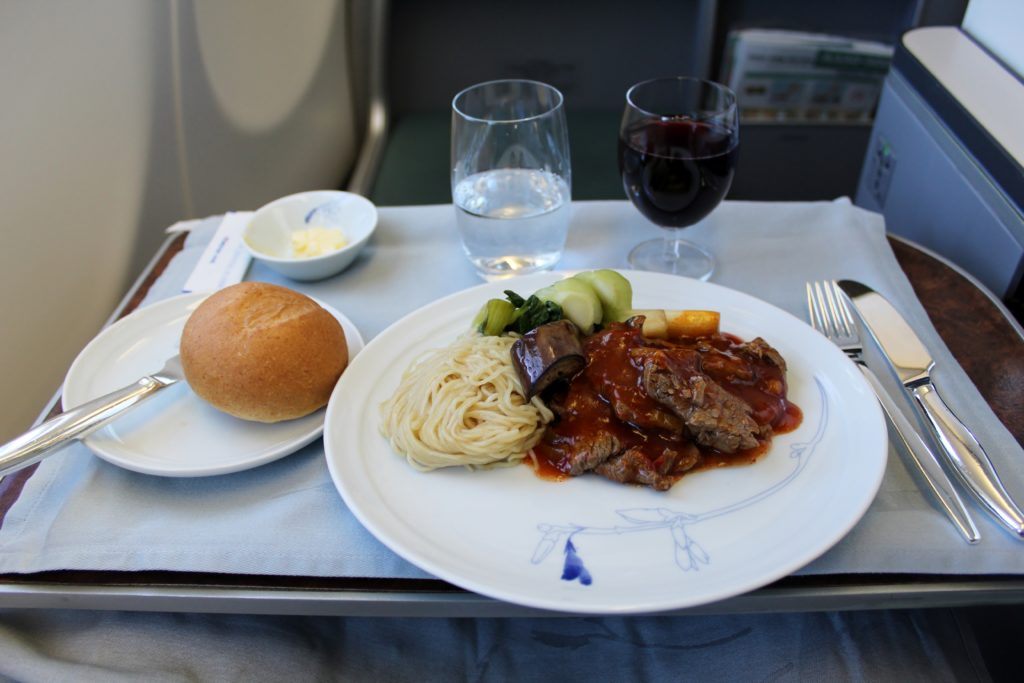 The meal tray was cleared and eventually some fresh fruits were offered for dessert, which seems to be fairly common on shorter flights in the region. I also asked for a cup of coffee and was offered a refill of the red wine.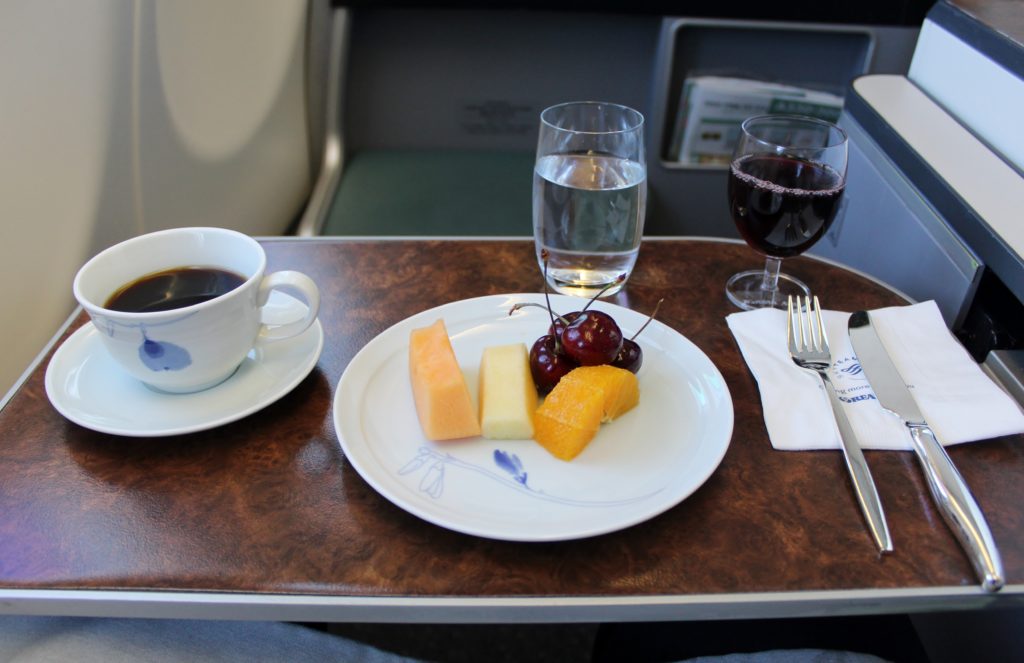 One of the nice things about Korean Air First Class is that they also have the Johnnie Walker Blue Label onboard, so I decided to order a glass as well as a second cup of coffee.
Inflight entertainment
A full AVOD inflight entertainment system was available onboard with movies, documentaries, music albums, games and information about the flight. The same system available on most Korean Air  international flights operated by widebody aircrafts. Noise-cancelling headphones were provided in first class.
Given the short flight time there was not enough time to watch a full movie so I mostly browsed through the selection and watched an episode of Friends followed by a documentary.
The service

As expected on a Korean airline the service was rather formal but still friendly. The flight attendant serving in first class also had an adequate level of English, so there were no real language barriers.
However Korean Air first class is not the place for some chitchat or the place to become best friends with the crew. Korea is a very hierarchical country and as a first class passenger you are on top of the hierarchy on the flight, so you do get a very formal, attentive and polished service where you are treated with a good amount of respect but also with some distance.
Being the only passenger in first class, from a passenger point of view, might be seen as highly desirable given the level of personalised service you can get, and in first class in particular. But it also comes with some challenges.
I actually noticed that the flight attendant from time to time was standing in the second aisle in the first class cabin, just by seat 01K, as far back as she could just by the curtain, almost trying to be invisible while keeping a discreet eye on me and my meal. When there are several passengers in first class there is a reason to enter the cabin frequently when you can also check on the other passengers at the same time. When you are the only passenger it gets to a point when it becomes ridiculous to enter the cabin and pass the seat every two minutes to see if you have finished the food or need a top-up of the drink. But at the same time you should not have to press the call button in first class to get some attention, many airlines would even consider that a failure.
I guess this was the best way to do it. She did not want to be intrusive and she was so discreet that I hardly noticed she was actually standing in the cabin. As I had finished my main course she was back at my seat within 30 seconds to clear the plate.
All in all the crew did a very good job and there was nothing whatsoever to complain about regarding the service level.
Arrival experience

Although we left Seoul on time the heavy traffic at Taipei airport meant we were directed to not just one holding pattern but to two subsequent holding patterns. Fortunately this meant I had time for another whisky and as the weather was bright and sunny I got a good view of both downtown Taipei and later the airport.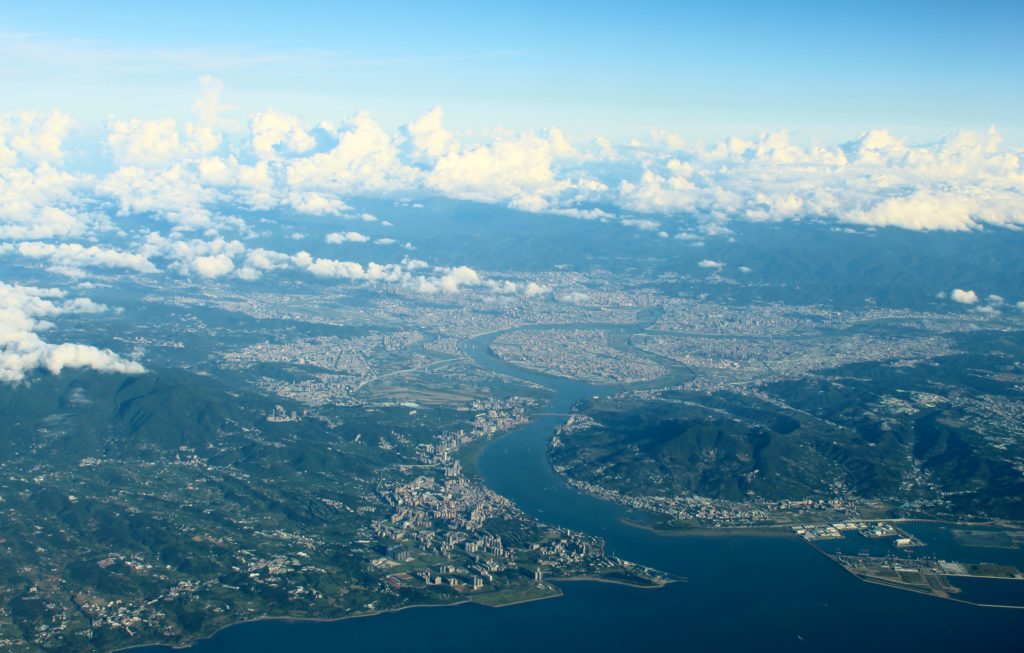 We eventually landed at Taipei Taiwan Airport 25 minutes behind timetable.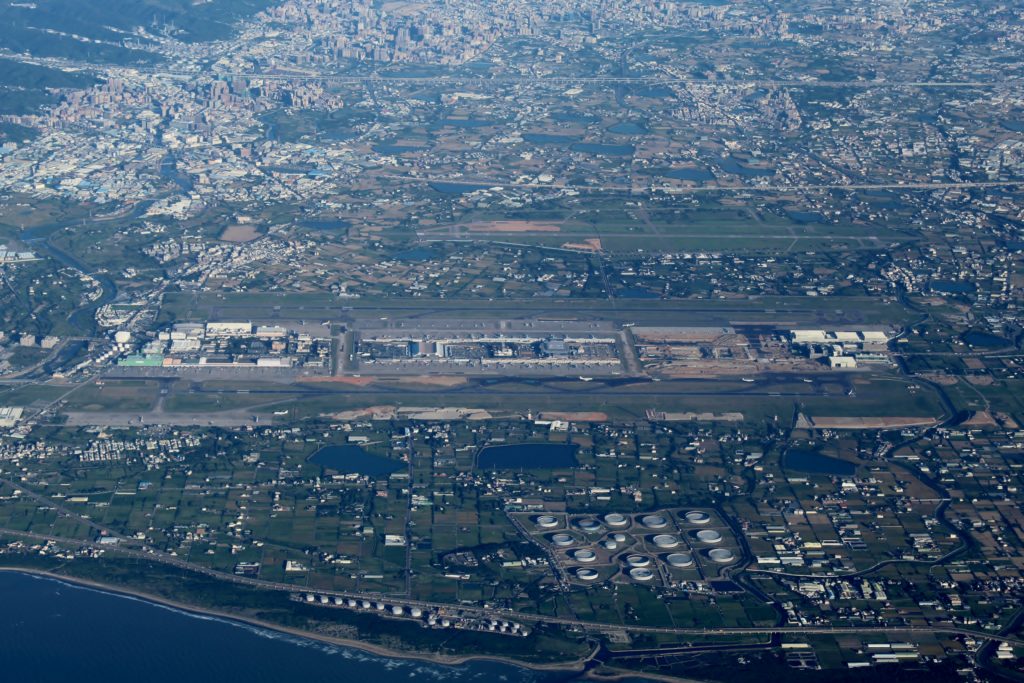 As we parked at the gate one of the flight attendants immediately rushed inside the cabin to close the curtains between first class and business class so I could get off through door 01L without anyone pushing from behind. Not sure if they opened the curtain after I had left to let business class passengers pass through the same door, or if all passengers in business class used the second door.
Inside the jet bridge a ground agent was waiting and he told me I should make my way as quickly as possible to the Cathay Pacific transfer desk where they were waiting for me. With 65 minutes between flights I was a bit concerned about the connection but it turned out the heavy traffic had also caused some delays for the incoming aircraft from Hong Kong, which would be half an hour late. Nevertheless there are flights between Taipei and Hong Kong every hour and there were at least three more flights leaving this evening, so there would have been plenty of options for a rebooking.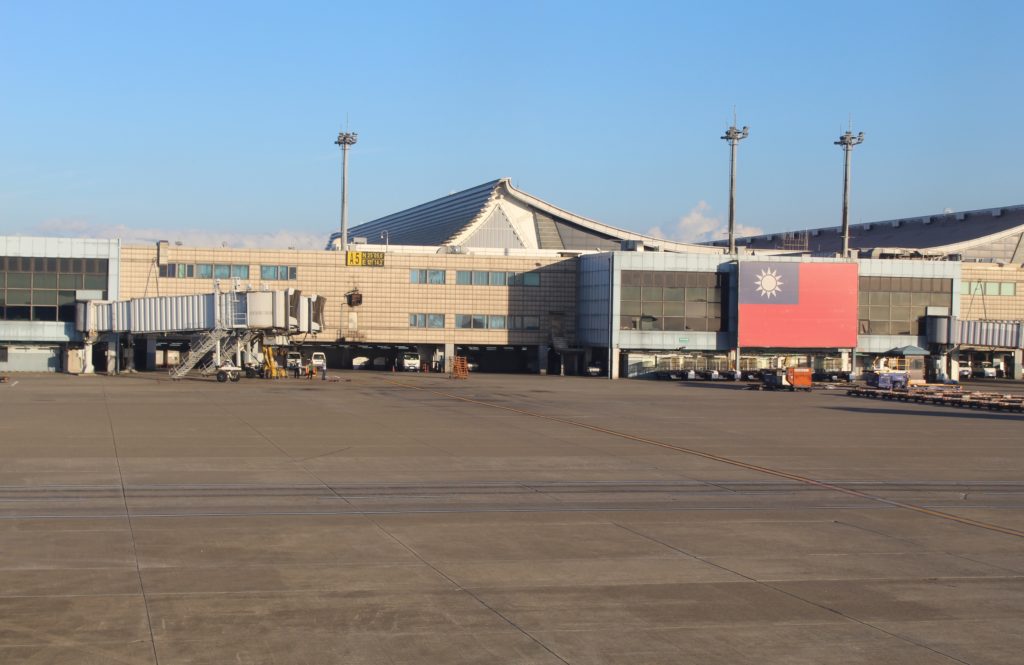 Final impression

The new Korean Air first class check-in and lounge services at Incheon terminal 2 are brilliant and the service, food and drinks onboard were not bad either for a flight of two hours. However the seat comfort left a bit to be desired. Even though this was a regional product they could have removed two of the seats for a 1-2-1 configuration instead. Although the comfort was perfectly fine for the short flight the seat was rather narrow, especially for first class.