Terminal 3 at London Heathrow is a great airport if you travel on a OneWorld airline and especially if you travel in first class or hold a OneWorld Emerald card as you have access to no less than three first class lounges – British Airways, American Airlines and Cathay Pacific (which all have business class lounges as well for business class passengers and OneWorld Sapphire members). And on top of that Qantas recently opened a business lounge in the terminal.
The Friday afternoon is spent with a bit of OneWorld first class lounge hopping in the terminal before boarding the late British Airways flight to Lyon, the last BA shorthaul flight of the day from the terminal.
The American Airlines Lounge is located in lounge area H and is divided into a business class section, to the right of the reception, and a first class section, a rather discreet door opposite the reception desk.
The first class lounge, interior-wise, is the least pleasant of the three OneWorld first class lounges. It is rather dark, fairly uninspiring and it is starting to look old and worn. It is a far cry from some of the newer first class lounges available at various airports around the world now.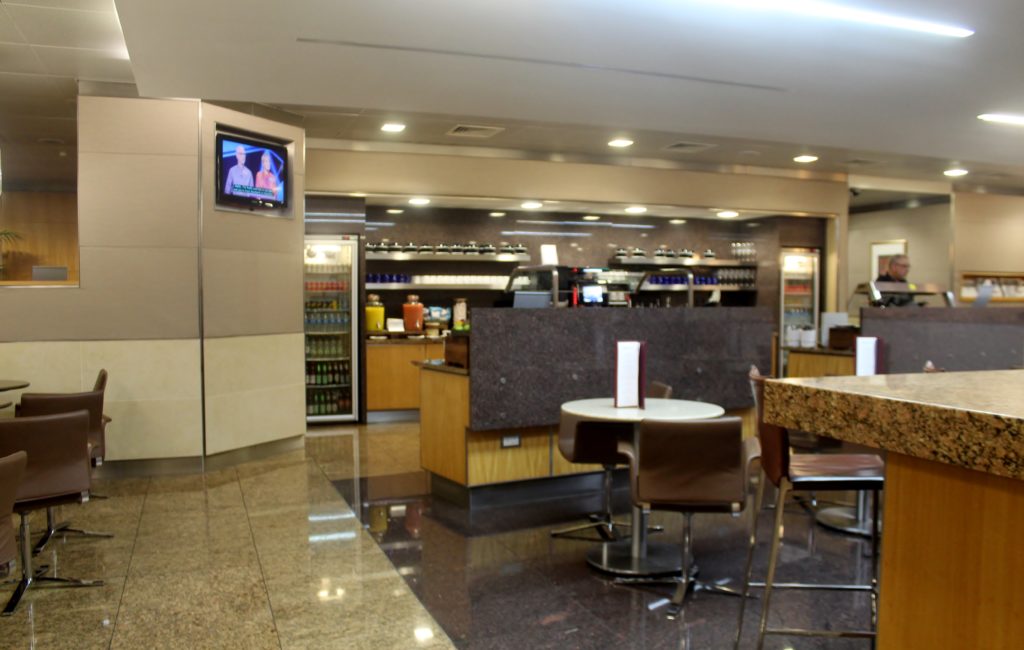 But on the positive side the snacks on offer are not bad at all. There is a very nice snacks buffet with sandwiches, canapés, salads, desserts, vegetables and cheeses and a few other things that change depending on the time of the day. There is also a (limited) à la carte menu to order from if you fancy something hot.
I was just making a short visit so I picked a canapé, a salmon sandwich and a very tasty chocolate dessert to eat from the buffet. A perfect late afternoon snacks. I saved the proper dinner for the Cathay Pacific lounge later.
A friendly lounge attendant noticed I was looking around in the bar area. She asked me if she could get me anything to drink and I asked for a glass of champagne. It was available chilled on a separate table and she happily poured a glass for me and brought it to my seat.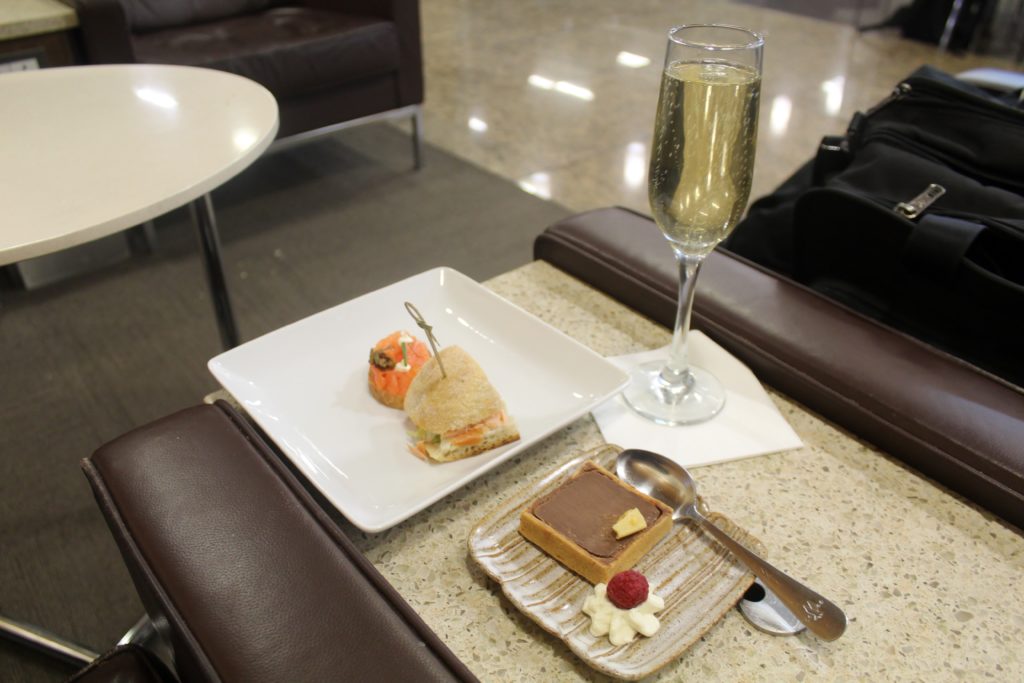 Otherwise the drinks selection is not really best in class for a first class lounge, neither the wines nor the spirits. But the snacks selection is in fact not bad at all.