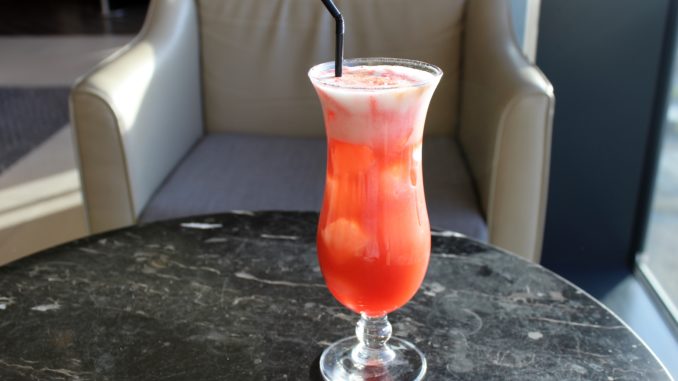 The new Singapore Airlines Lounge at London Heathrow terminal 2, which opened when Singapore Airlines moved to the new Star Alliance hub "The Queen's terminal", does not only have the newest Singapore Airlines lounge design, which is quite elegant. It also has a full manned cocktail bar where you can order various drinks and cocktails.
There are currently eight different cocktails which can be ordered from the bartender and among these you will of course find the national cocktail of Singapore, the Singapore Sling, invented at the Raffles Hotel in the Lion City. On top of those eight cocktails there are of course several wines, champagne, different spirits, beer (including the Singapore-based brand Singha, of course) and all kinds of soft drinks.
I ordered a Singapore Sling, very nicely served and decorated in an appropriate glass. And as a fun surprise I actually found an ice cream freezer in the buffet area, with among the flavors a Singapore Sling ice cream. A perfect end to a nice lounge dinner.