Departure experience

Check-in was done on the Lufthansa webpage 23 hours before departure. It was all very straight-forward and once completed I could download the boarding pass to my mobile phone. However as I logged in to my booking the evening before departure, just before going to bed, I made a seat change to get an empty row, but for some reason it was not possible to issue a new boarding pass afterwards, instead I got an error message informed me that due to a 'special request' I should go to a check-in desk at the airport to get my boarding pass.
I stayed overnight at the Park Inn by Radisson hotel at Oslo Gardermoen, conveniently located less than a five minutes walk from the airport terminal. This meant I could set my alarm call just about an hour before departure and even have time for a quick cup of coffee in the breakfast restaurant before heading to the terminal.
Inside the airport, as expected, check-in for Lufthansa was handled by home carrier and fellow Star Alliance member SAS. There were two check-in desks open for premium passengers in check-in island 5 and it was easy for the staff to print a new boarding pass.
Next to the check-in island SAS also had a dedicated fast track channel through security, but when scanning my boarding pass the machine indicated access was not allowed. I tried two more times but the machine still refused, despite having both a gold card and a business class ticket. A member of staff came to assist and it turned out Lufthansa did not use the SAS fast track but the general fast track channel in a different part of the transit hall. Just four passengers in front.
There was no time to visit a lounge and as I had a first cup of coffee and a sandwich in the hotel and was expecting a breakfast service onboard it did not matter. Lufthansa uses the SAS lounges in Oslo with the SAS Lounge for business class passengers and the SAS Gold Lounge for gold card holders.
The flight
Oslo-Frankfurt
Lufthansa flight LH 865
Departure: 06.20
Arrival: 08.35
Business Class
Airbus A320
Seat 03F

Boarding started early, nearly 30 minutes before departure, and when I was through security boarding to Frankfurt was already well underway at gate D5. Priority boarding was offered for business class passengers and gold card holders but as I arrived at the gate, as one of the last passengers, it made no difference.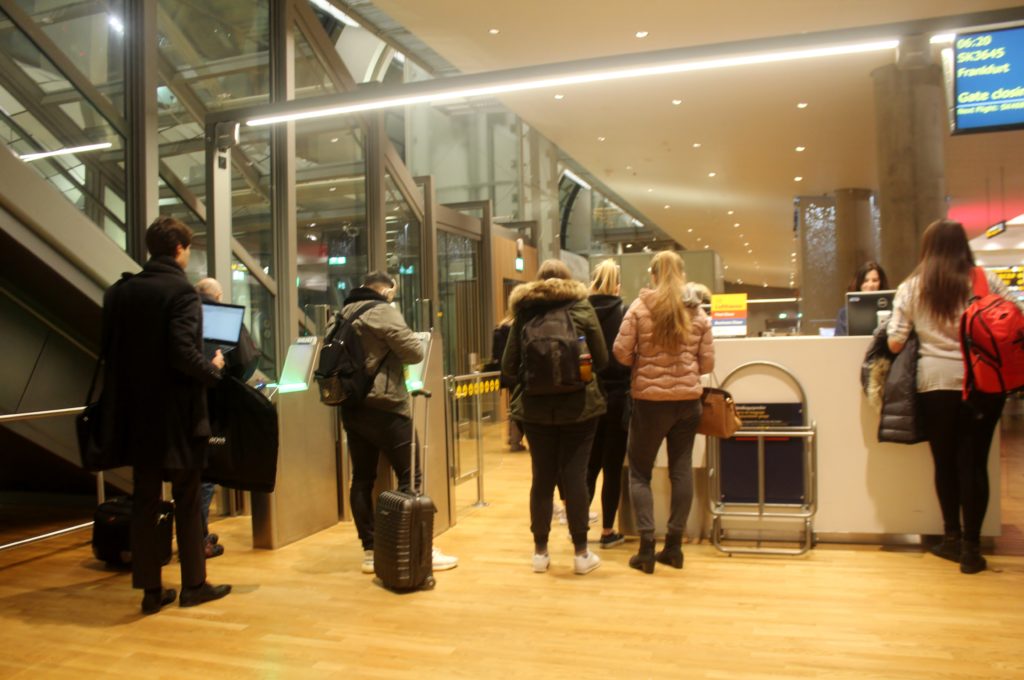 First impression

Three rows were assigned to business class on the Airbus A320 and we were eight passengers in total. Economy class seemed to be very full. The night before I had switched seat to 03D, hoping 03F would stay empty, which it did. So I got an empty row, which was great later during the flight when I wanted to get some sleep.
After the standard greeting by the crew at the aircraft door there was little attention given to us in business class. Just about two years ago they used to offer newspapers and magazines in business class also on intra-European flights, now any reading material should be downloaded using the app. And there were no pre-departure drinks.
Punctual pushback at 6.20 am and after de-icing we left Oslo with an expected flight time of one hour and 45 minutes.
Seat and cabin

The seats onboard were the standard Lufthansa Recaro seats. They are becoming pretty much standard on intra-European flights. The seats do their job and work just fine on a shorter flight within Europe, but the thicker seats still used by some other airlines are usually more comfortable to sit in.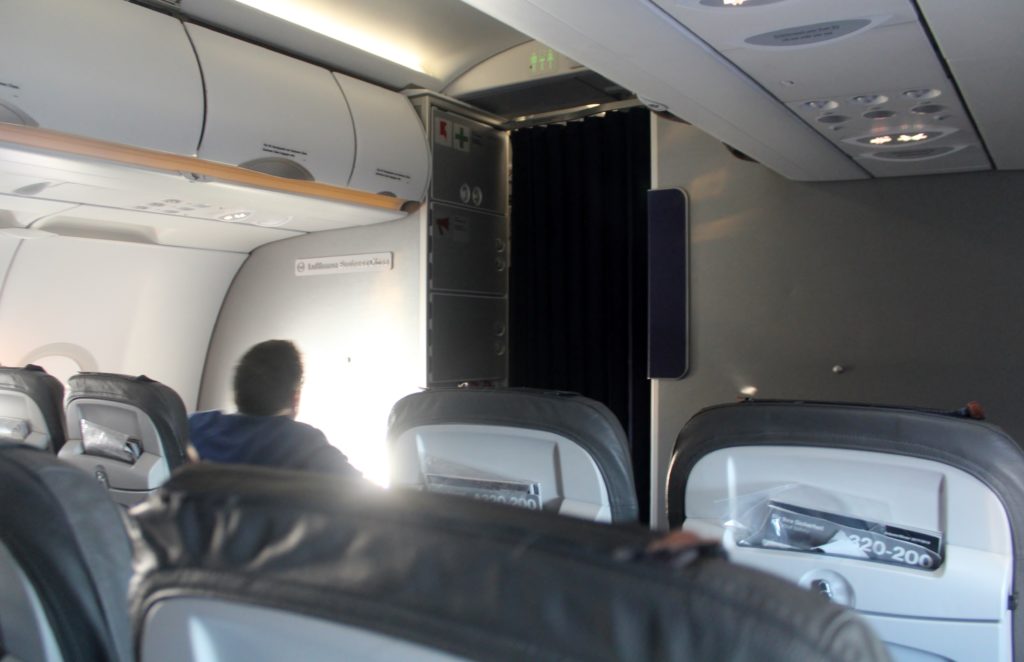 In business class the middle seats are kept free, giving a 2-2 configuration instead of 3-3 in economy class. The middle seats in business class have special head rests with the text "Ihr Freiraum, Your Space" written.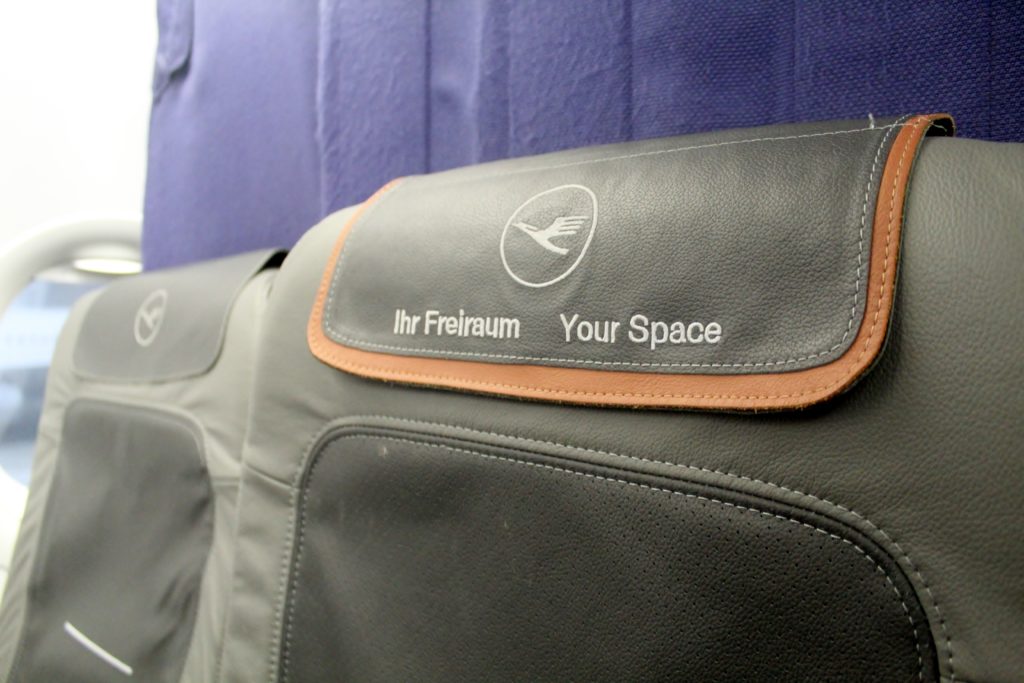 Food and drinks

Once airborne the inflight service started. With a departure time at 6.20 am breakfast was naturally served onboard with a cold continental breakfast offered in business class.
The breakfast consisted of a bowl with granola and some kind of chocolate cereals with a milk jar on the tray to pour over it. There was also a small bowl with ham and cheese as well as butter and marmalade. The cabin crew offered warm bread rolls and croissants from a basket followed by hot and cold drinks including coffee, tea and juices.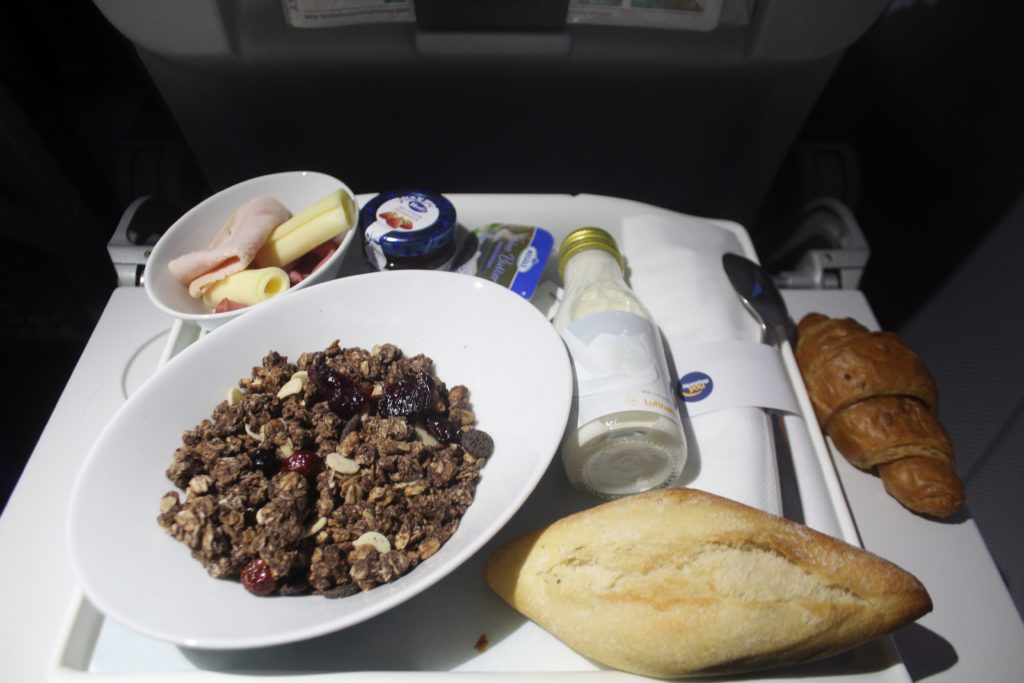 The breakfast felt a bit uninspiring for a two-hour flight in business class and I have to admit I have had this exact breakfast on Lufthansa in the past. The cereals were very sweet and if you do not fancy a sugary breakfast in the morning there was not that much left to eat on the tray. Something hot would of course have been excellent, like an omelette or some scrambled eggs, or at least a bowl with some fruit salad or some yoghurt.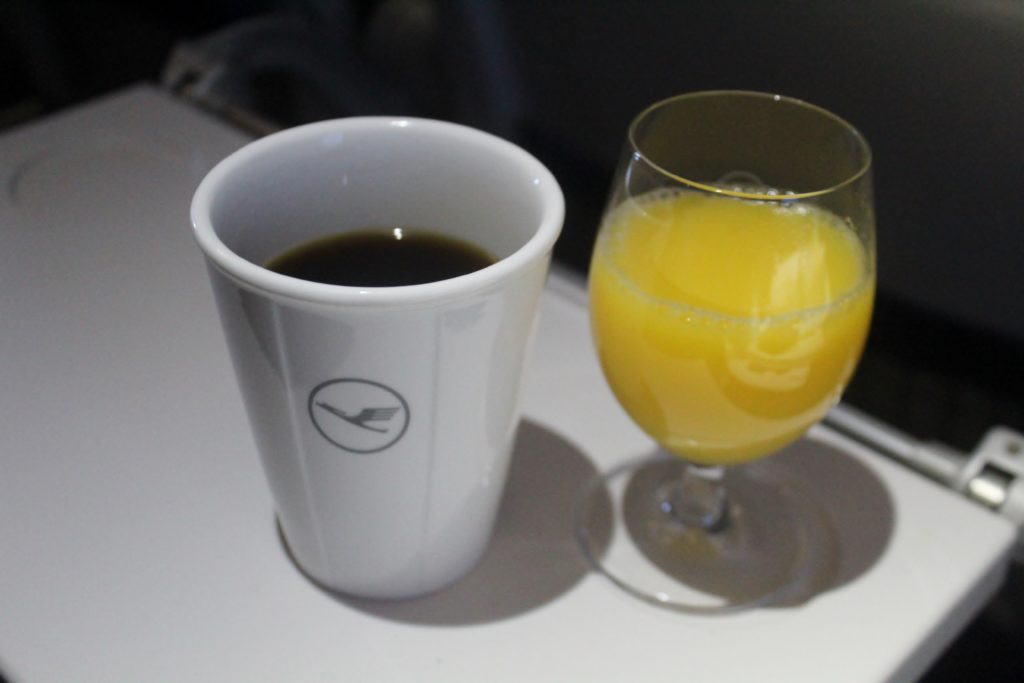 The service

The service was the standard Lufthansa affair. Business class passengers were served first and afterwards the crew continued to serve in economy class and eventually more drinks were offered in business class on the way back to the forward galley. Pretty much by the book, no more no less. Of course this was an early morning flight so it did not matter that much. It was all very unremarkable and uneventful.
Arrival experience

I spent the remaining flight trying to get some rest after the very early start of the day. I had brought my own eye shades and lowered the window blinds.
We landed ten minutes early in Frankfurt and were assigned a terminal stand this time, gate A36, which meant no bus transfer was needed. Before landing the cabin crew announced a few gate changes for connecting flights.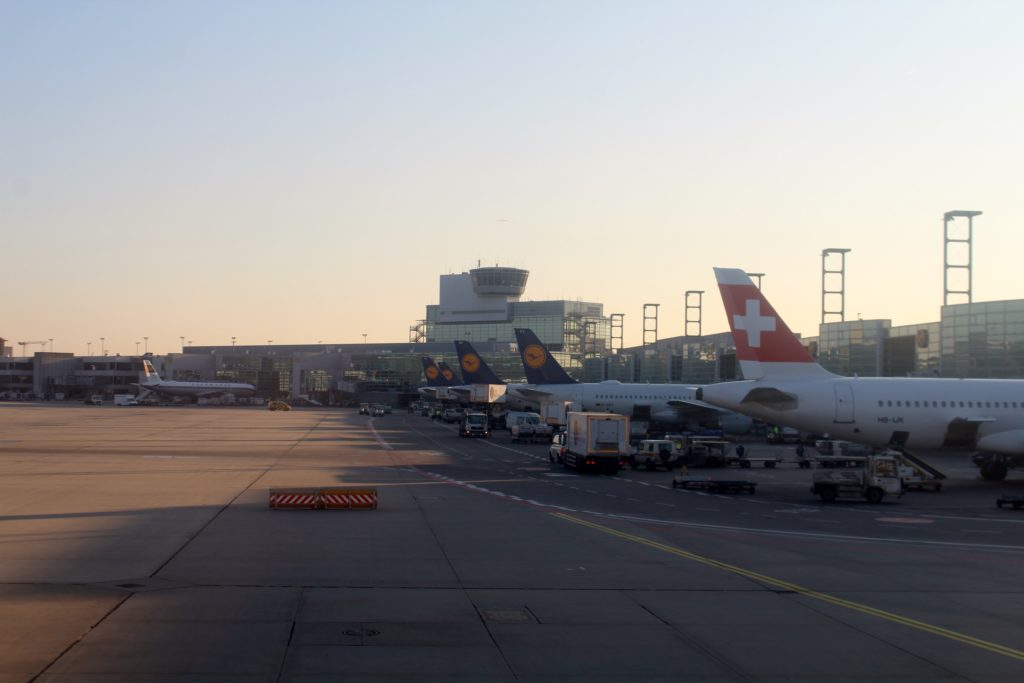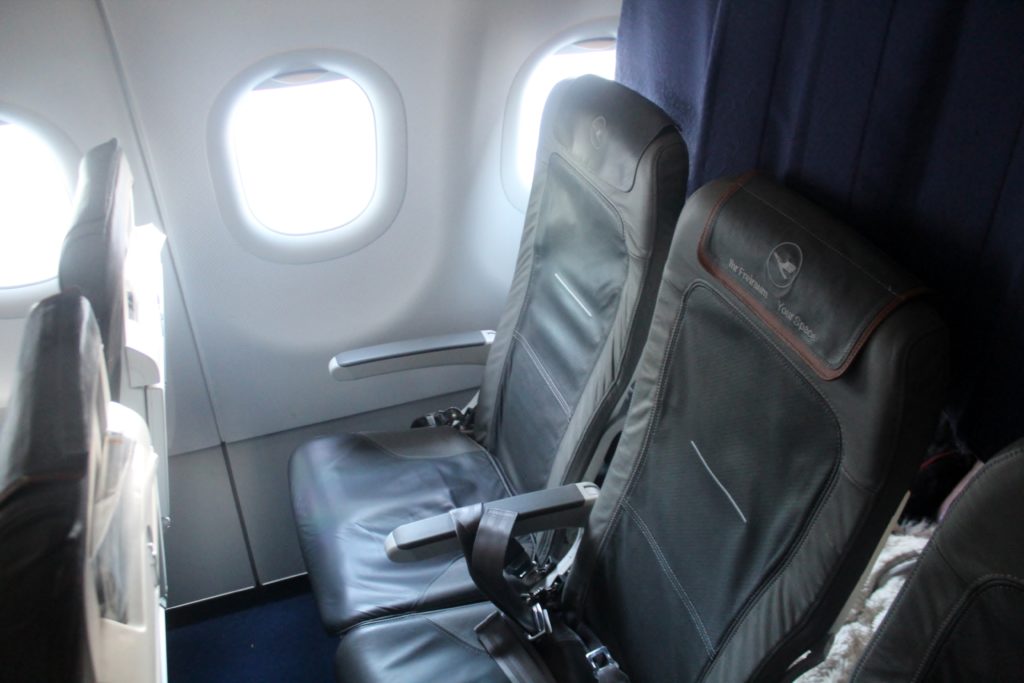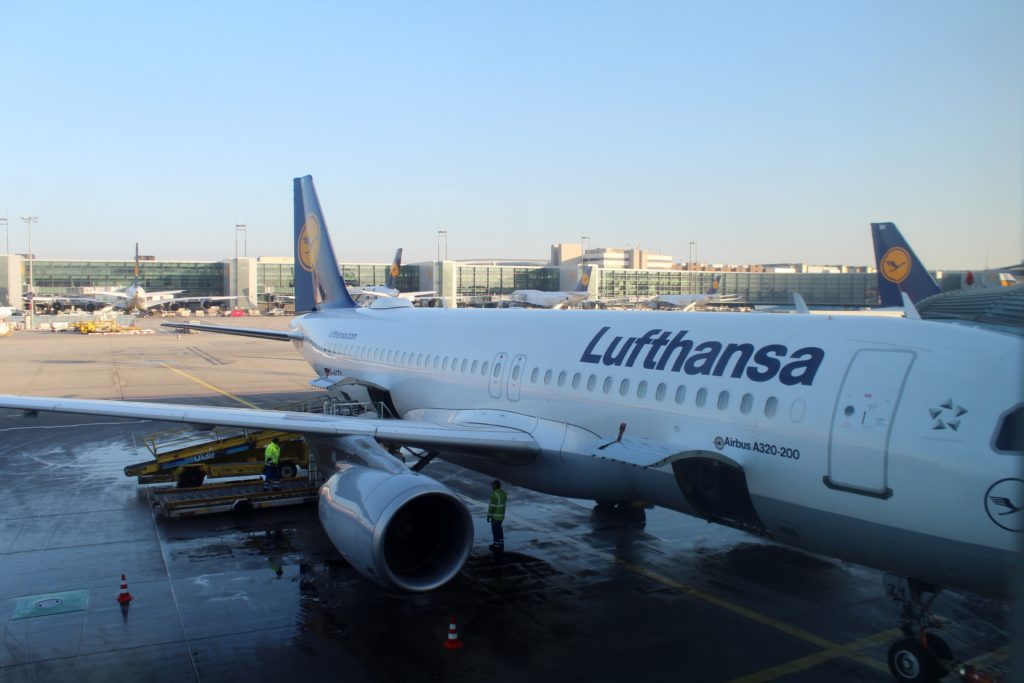 Final impression

An unremarkable Lufthansa flight, no more no less. I just wish there would have been something more for breakfast like a fruit salad or a yoghurt, or preferably something hot like an omelette. But the flight departed and landed on time and I was happy to get my own row.