Wizz Air is a European low-cost airline with central and south-eastern Europe as focus areas. The headquarters is in Budapest but they also have several more bases throughout Central Europe. The airline has a fairly large fleet of nearly 90 aircrafts, all of them Airbus A320 or Airbus A321. The destinations are spread all over Europe as well as Israel and Dubai in the Middle-east.
This was my first experience with Wizz Air, a flight from Stockholm Skavsta to Cluj-Napoca in Romania.
Departure experience

There are four airports in and around Stockholm which are all marketed as Stockholm in the reservation systems. Wizz Air operates at Skavsta airport which is the main low-cost airport of the city. It is by no means located in Stockholm, not even in Greater Stockholm, but just outside the city of Nyköping, some 100 km south of the capital. The word Stockholm has really just been added for marketing purposes as most non-swedes have probably never have heard of Nyköping.
There are airport buses to and from the Stockholm 'City Terminal', located right next to the main railway station in Stockholm. The buses run in connection with all departures and arrivals. The airport bus works quite well and makes the journey to the airport in roughly 80 minutes with no stops on the way. The travel time is far greater than to the main international airport though, Arlanda airport, which can be reached in 40 minutes by bus or in 20 minutes by express train.
My flight from Skavsta departed at 8.40 am and the only suitable bus left downtown Stockholm at 5.40 am. Well at least there were not that many people on the bus so there was plenty of space to spread out and get some rest.
We arrived at Skavsta airport at 7 am, one hour and 40 minutes before departure. This was much earlier than I would have preferred, especially for a morning flight when I usually try to be at the airport about an hour before departure to maximise the sleep, but there was no alternative.
I had already checked in on the Wizz Air webpage and printed my boarding pass at home and was only travelling with hand luggage. There were two check-in desks open for the flight to Cluj for those who had luggage to check.
As a Priority Pass card holder I was planning to visit the lounge at the airport. A good thing about the lounge is that passengers who have purchased lounge access (or have Priority Pass) also get fast track through security. In order to use it you need to collect a fast track voucher from the information desk in the departure hall, which is shown at the security checkpoint together with the boarding pass. It took less than a minute.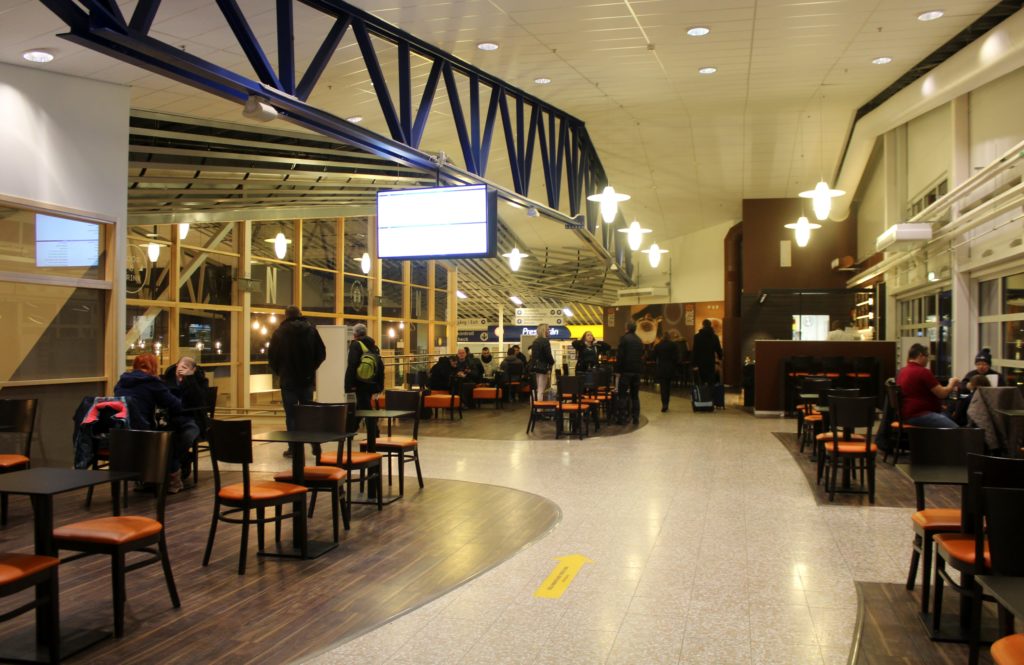 The airport is quite small and compact. There is a restaurant and a news kiosk landside and after security there is a duty free shop and a combined bar and restaurant. The business lounge is managed by the restaurant so all passengers have to register at the bar first to get access as the door to the lounge is locked.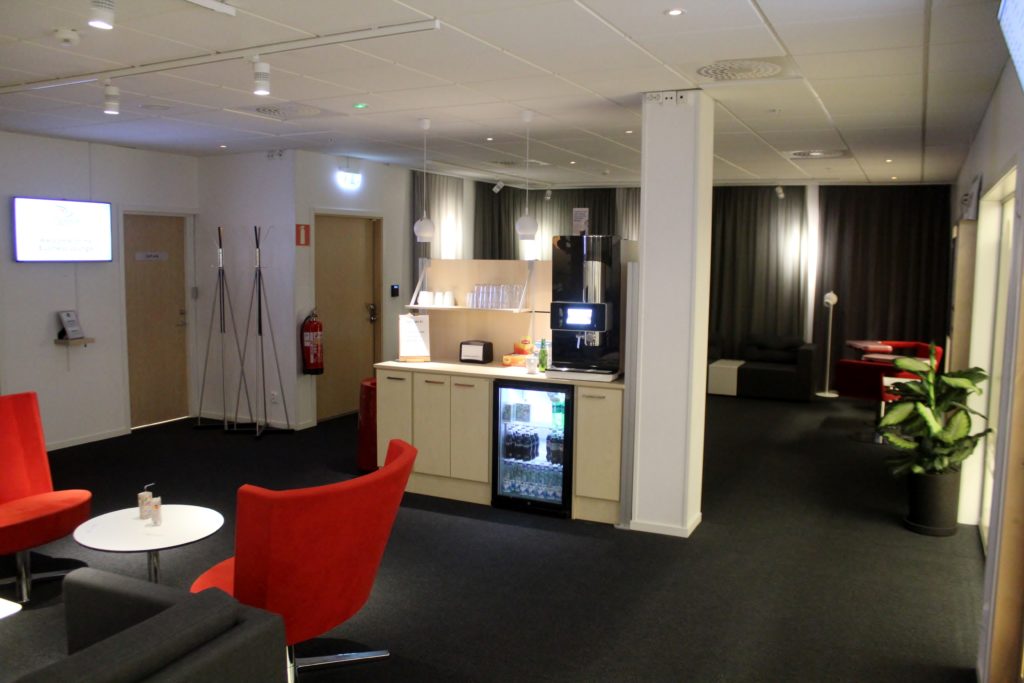 The lounge itself is actually very well-appointed with a stylish interior and modern designer furniture. A fairly pleasant place. There were two more guests this morning but they left after just a few minutes as they were departing on an earlier flight. The main drawback of the lounge is the lack of food and drinks. Soft drinks, coffee and tea are available for self-service and beer and wine can be ordered at the bar outside, free of charge. But there is no food whatsoever other than potato crisps. Not even any croissants in the morning, or cookies, or fresh fruits. Sandwiches and snacks are available at the bar outside and these can be brought into the lounge, but they are of course subject to payment at airport prices.
Read the full lounge review here!
The flight
Stockholm Skavsta-Cluj-Napoca
Wizz Air flight W6 3432
Departure: 08.40
Arrival: 12.05
Economy Class
Airbus A320
Seat 16F

I checked the status of the incoming flight myself on the internet and noticed it would be about 15 minutes late, but still 'Go To Gate' was flashing on the monitors 25 minutes before scheduled departure time and shortly afterwards an announcement was made that boarding was to begin in 5 minutes, even though the aircraft had not even landed.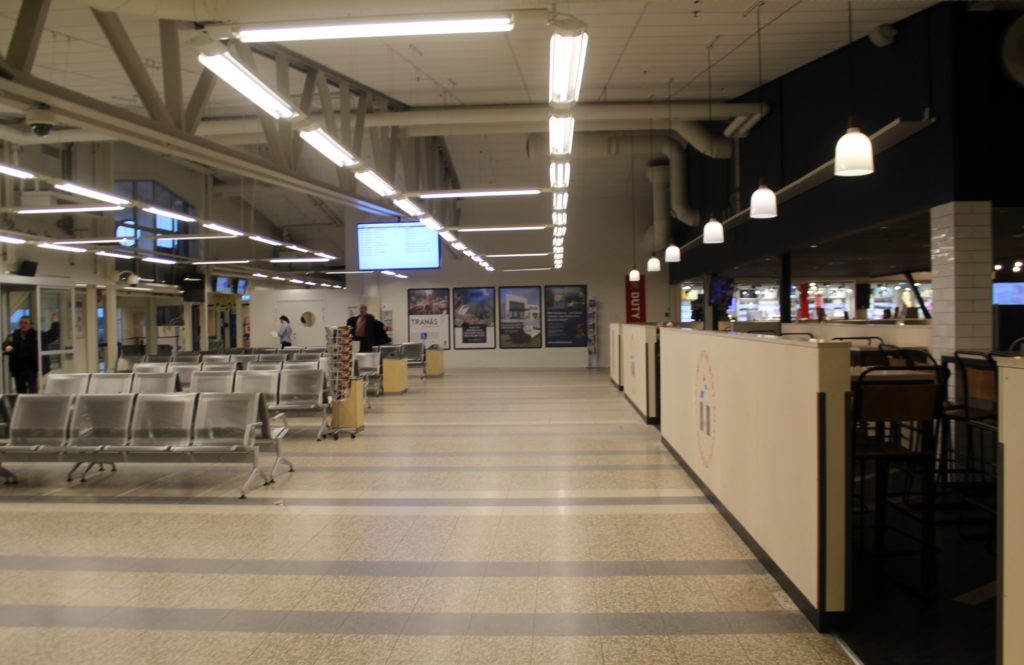 As I did not know how everything worked at the airport I left the lounge anyway, went through passport control around the corner and to the gate in the non-Schengen area. And indeed boarding did start about 5 minutes later, but not to the aircraft but into a small waiting area, or rather two waiting areas, one for those who had purchased priority boarding and one for all others. All hand luggage was carefully checked at the gate.
The aircraft eventually parked at the terminal 20 minutes late, 10 minutes before departure time, so we just ended up standing there in the small waiting area for a very long time. If I had known about this I could have stayed in the lounge at least 20 more minutes.
First impression

Eventually boarding began. Priority passengers were allowed to board first and then immediately afterwards the rest of us were allowed onboard. As the aircraft was parked on the apron the priority boarding made very little difference, but perhaps the experience would have been different on another day when the flight is on time and there are more passengers.
On Wizz Air flights there is no free seat selection unless you pay for it, which I decided not to. I was automatically assigned seat 16F and the boarding pass indicated I should use the rear door. A friendly flight attendant greeted me at the entrance and it turned out I had a seat right in the middle of the cabin, just behind the emergency exits. These seats cost extra but as they were empty some passengers were asked to move there anyway.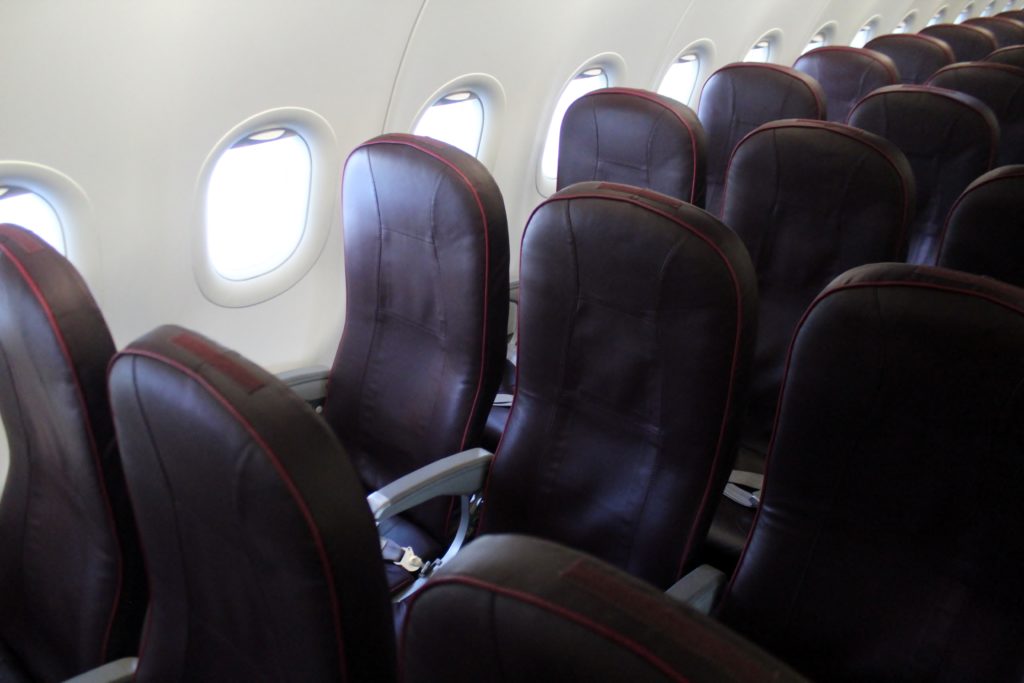 The Airbus A320 felt tidy and quite modern with the interior in brown and purple. The load to Cluj was very light, we were no more than about 40 passengers onboard. Still a young couple had been assigned 16D and 16E next to me, even though there was no lack of empty rows. Fortunately the crew did not seem to mind passengers switching seats so after takeoff they also moved to an empty row and we all got some more space.
It took a long time before we eventually left the gate. Apparently there was a runway inspection so we were asked to wait at the terminal for start-up clearance. As we reached the runway we were asked to hold again for another Wizz Air flight just about to land from Belgrade. We were already delayed and the incoming flight was the only one arriving within an hour. Sometimes thing really do not go your way.
The flight time to Cluj was expected to be one hour and 55 minutes.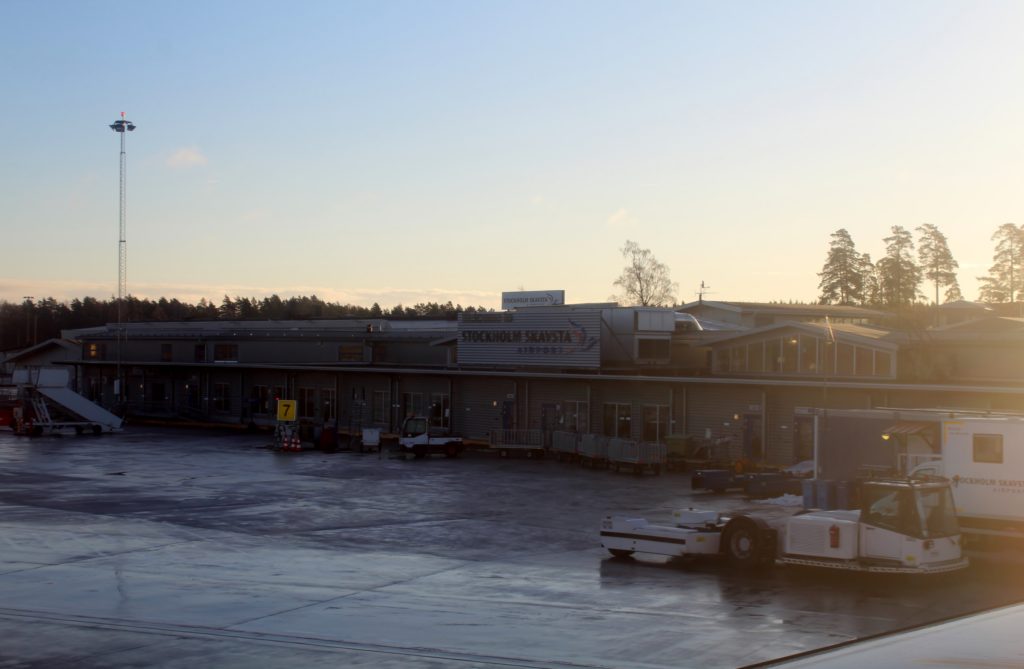 Seat and cabin

The seats were in purple leather in a 3-3 configuration. The seat type is the same used by a few other low-cost airlines and the interesting but less fun part about it is that the seatback does not recline. The legroom was also fairly tight. This was not a major problem on this flight as I got my own row and plenty of space, but they use the same aircraft for the five-hour flight to Dubai (it was actually heading there afterwards) and on a full flight that would be cramped.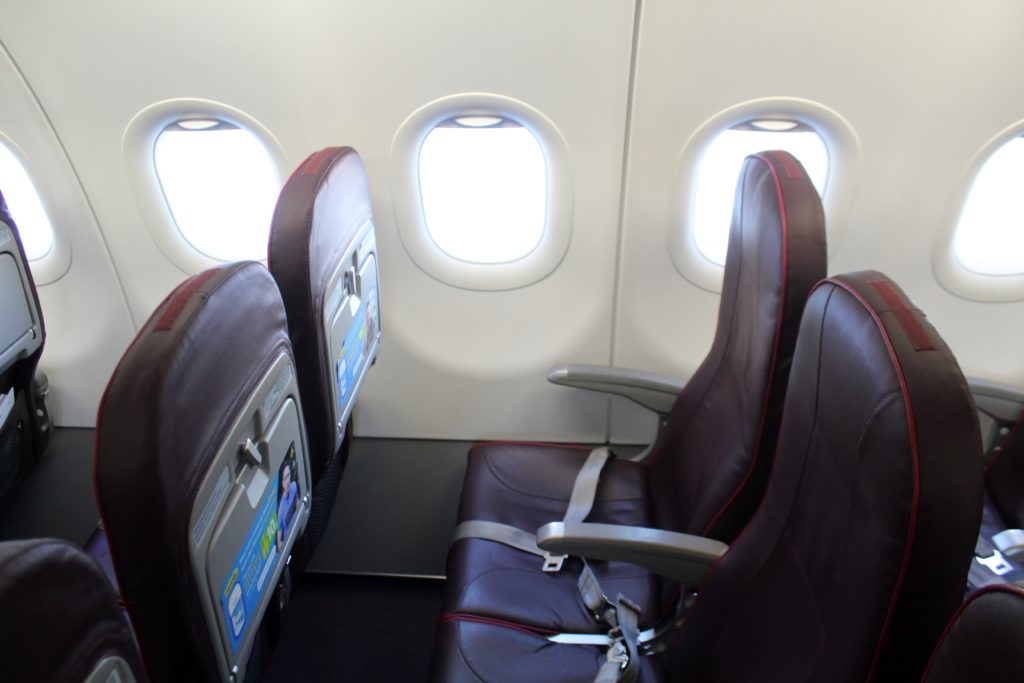 Another interesting aspect with the Wizz Air seat is that the tray table has been placed much higher up on the seat back than normal. There was absolutely no way it could be used for a laptop, at least not if you want to get some work done.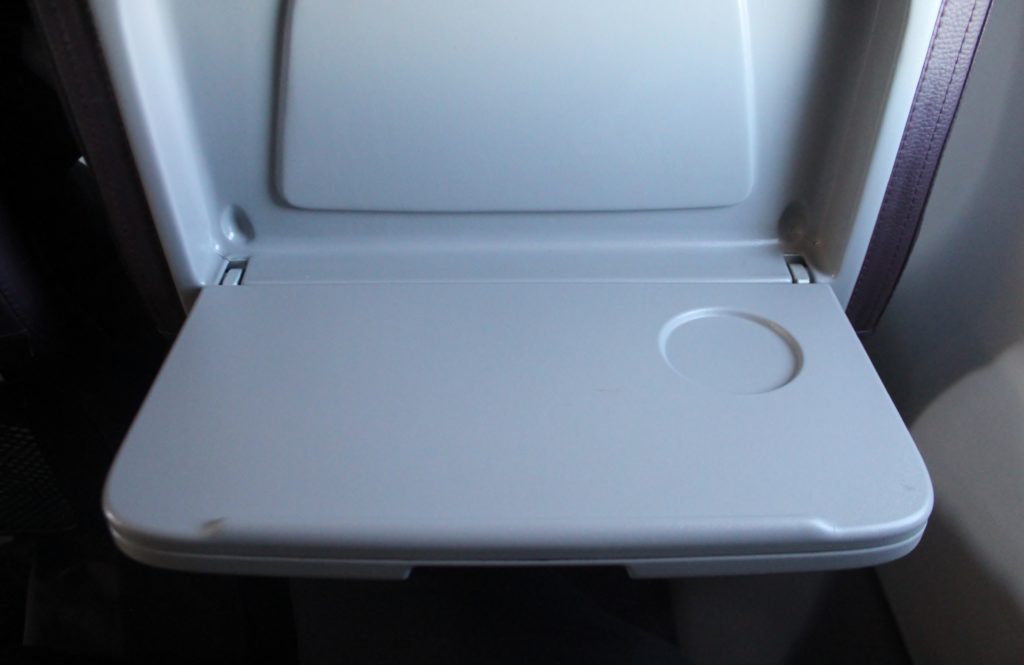 Food and drinks

Being a low cost carrier all food and drinks were available for purchase. Once airborne the trolley passed through the cabin offering food, drinks and snacks. I bought a chicken sandwich and a cup of coffee. Apparently they had a sandwich menu and together with a hot drink I could also pick a chocolate bar from the trolley. For 6.50 euro in total this was not too bad.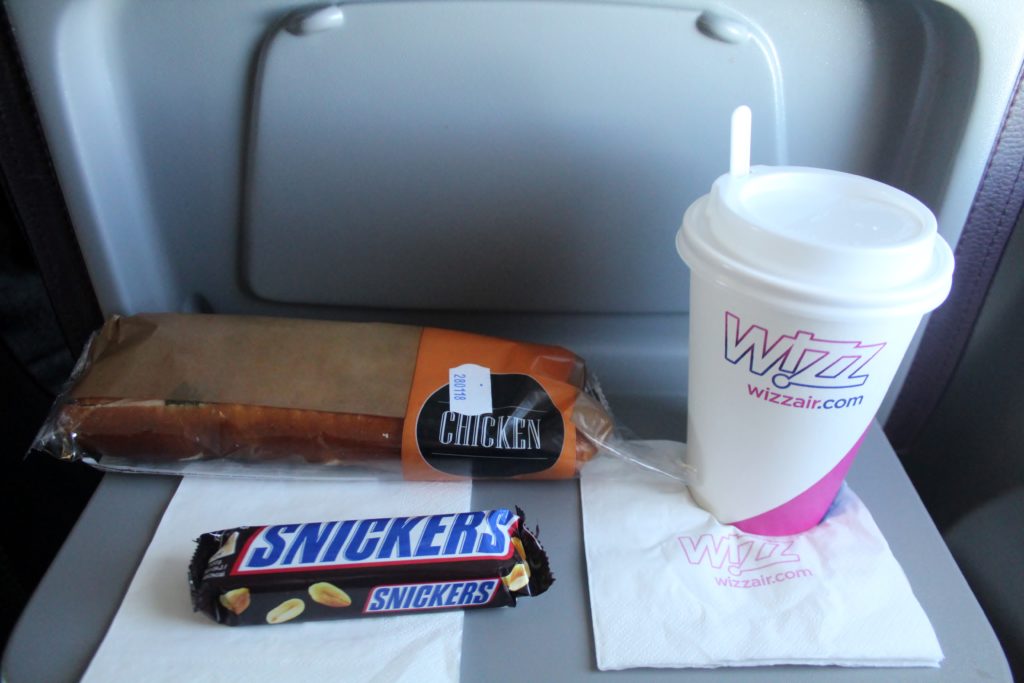 The service

The service onboard was friendly from the all-female cabin crew, all of them from Romania where Wizz Air has several bases. They spoke fairly good English, language was not an issue during the flight. It was also interesting to notice that all the flight attendants were quite young, no one probably aged more than 35.
Arrival experience

We enjoyed a rather nice view of the snowy mountains in Slovakia and Hungary before commencing our descent to Romania. Fortunately we made up some time during the flight and landed just 15 minutes behind schedule at Cluj Napoca Avram Iancu airport.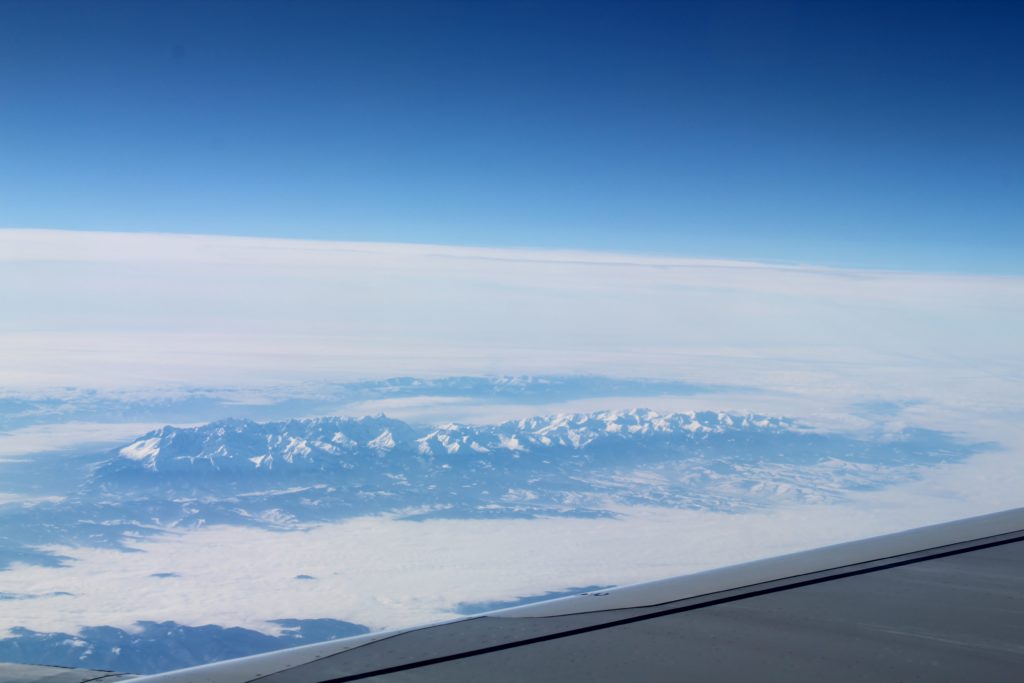 There are no passenger bridges at the airport, not even any terminal parking positions, so all passengers are taken to and from the terminal by bus. With few passengers on the plane and no other aircraft arriving at the same time both the bus ride and passport control were quick I was landside within 15 minutes after landing.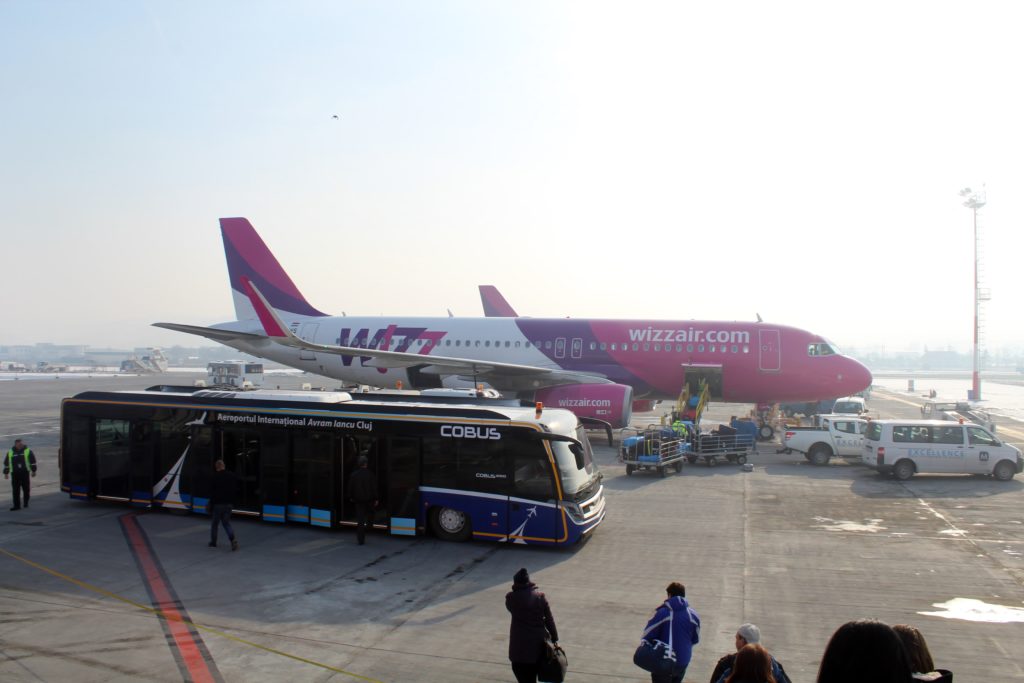 Final impression

A no-frills experience but everything worked surprisingly well. The ticket was dirt cheap, the cabin modern and tidy (although with limited legroom), the coffee and sandwich from the trolley were not too expensive and the staff friendly. But of course flying from a low-cost airport located far from the city takes a lot more time, the shiny plastic cards in the wallet were of no use during this part of the trip and of course there was nothing called frequent flyer points flying Wizz Air. Overall, flying low-cost is more about transportation than experience. But for the very affordable price I paid for the ticket it was all definitely allright!