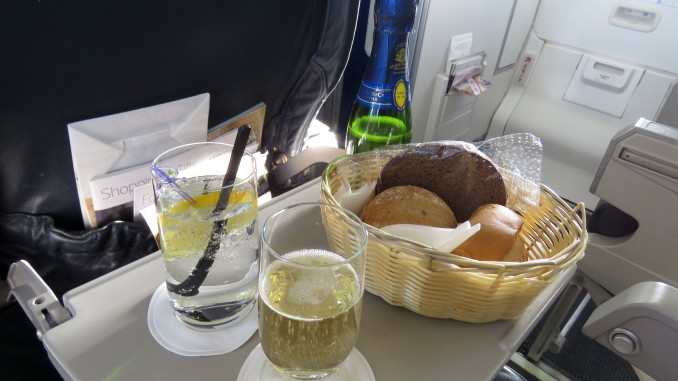 Departure experience
I arrived very early at the airport. The assigned check-in desks for Air Baltic were not open yet but as I had checked in online and was only travelling with hand luggage it was very easy to print the boarding passes using one of the self-service machines. Air Baltic has its own frequent flyer program and does not cooperate with any other major airlines in terms of point earnings when booking directly with Air Baltic with an Air Baltic flight number. However for some reason the machine also gave the option to enter an Etihad Guest number, so I did just that. The boarding pass displayed my Etihad Guest Silver status properly but unfortunately there were no point earnings for my ticket.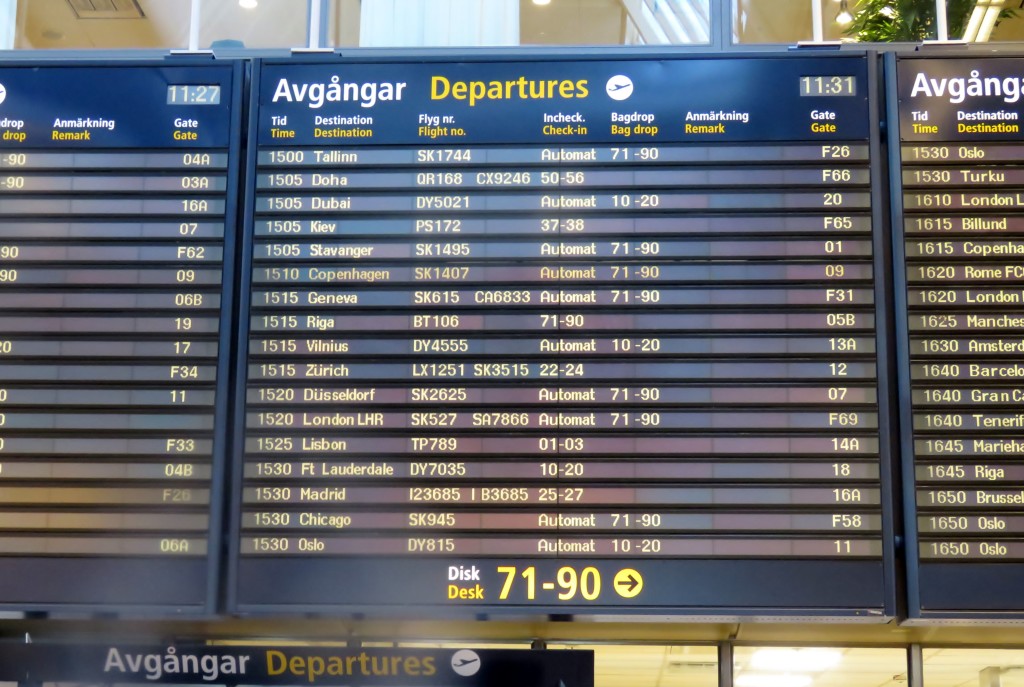 The sign at the fast track entrance did not list Air Baltic but I tried anyway and was allowed access. Not that there were any lines to speak of at the regular security control.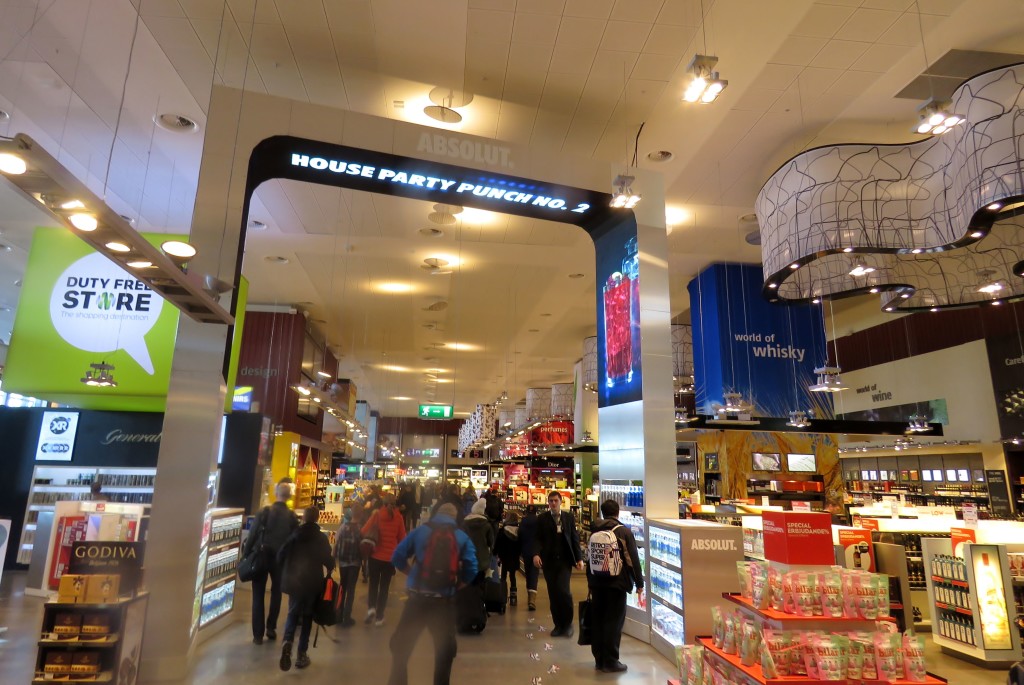 Air Baltic uses the SAS lounge in Stockholm and there are two sections, a business lounge and a gold lounge. Technically speaking I should probably have been directed to the business lounge, but as I have a gold card with SAS they were nice enough to let me inside the gold lounge.
The gold lounge is much larger, with different furniture and a better and wider selection of drinks. The food offerings are usually the same in both lounges. The lounge was packed when I arrived, this was the beginning of one of the major holidays and many frequent travellers had brought their families inside the lounge. There were plates and empty glasses on literally every table and the staff simply did not manage to keep up with the cleaning.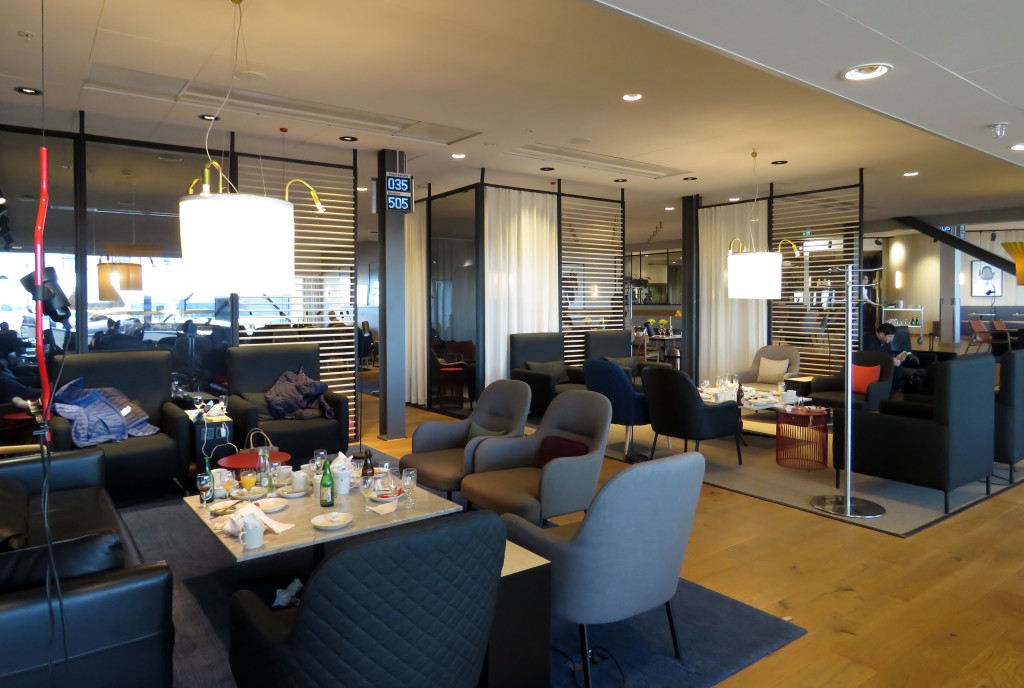 The food offerings this afternoon consisted of a cold buffet with salmon, pasta and vegetables as well as some soup and bread rolls.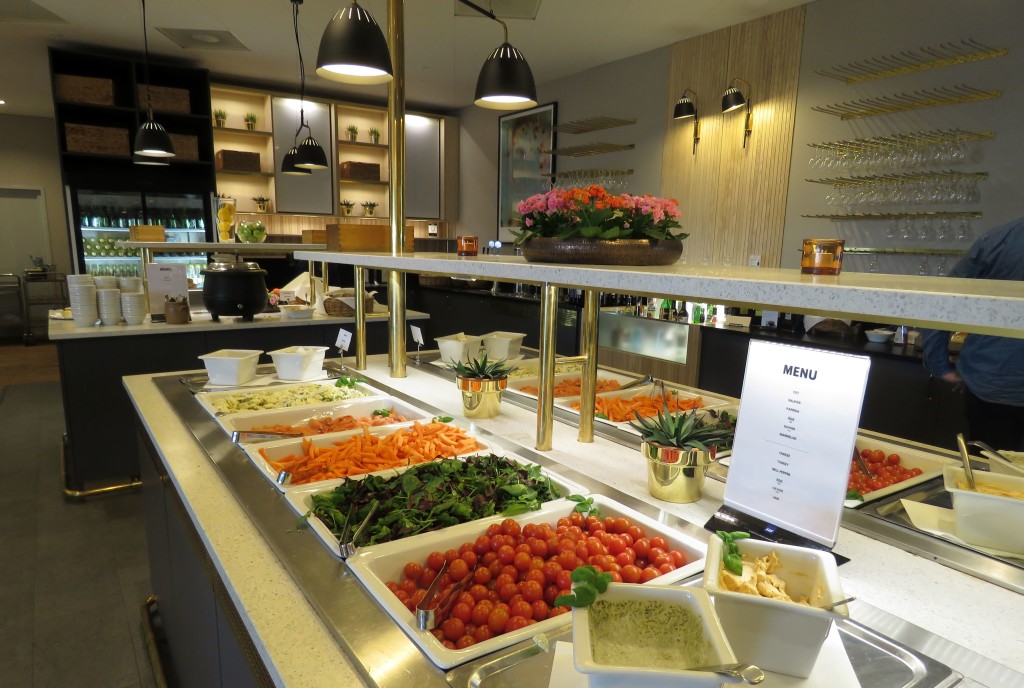 The weather was excellent this afternoon with no clouds and plenty of activity on the apron. One of the reclining lounge chairs were available with an excellent apron view.
Boarding started 20 minutes before departure at gate 5B. No priority boarding for business class was announced, all passengers were invited to board at the same time.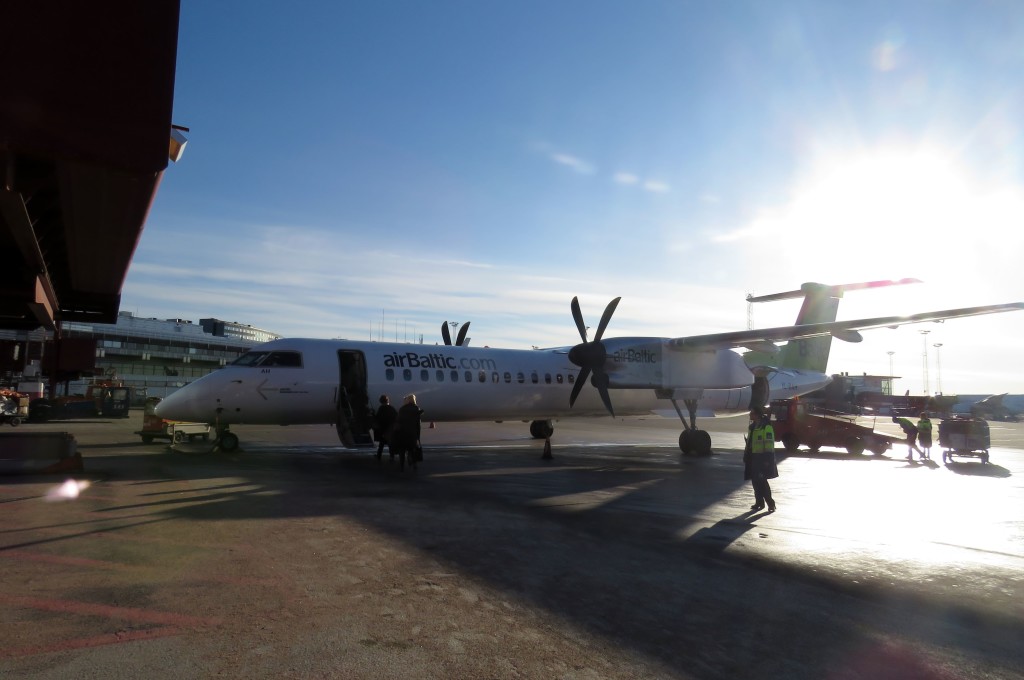 The Dash-8 Q400 was parked at the terminal building which meant we could walk to the aircraft door. No bus transfer this time, which is too often the case when travelling on turboprop aircrafts to or from major airports.
The flight
Stockholm Arlanda-Riga
Air Baltic flight BT 106
Departure: 15.15
Arrival: 17.30
Business Class
Dash-8 Q400
Seat 02A

First impression
The flight was around 70-80 percent full but it turned out I was the only passenger in business class. The cabin felt tidy and modern with leather seats in dark blue leather. With only me in business class there was plenty of space for the coat and hand luggage.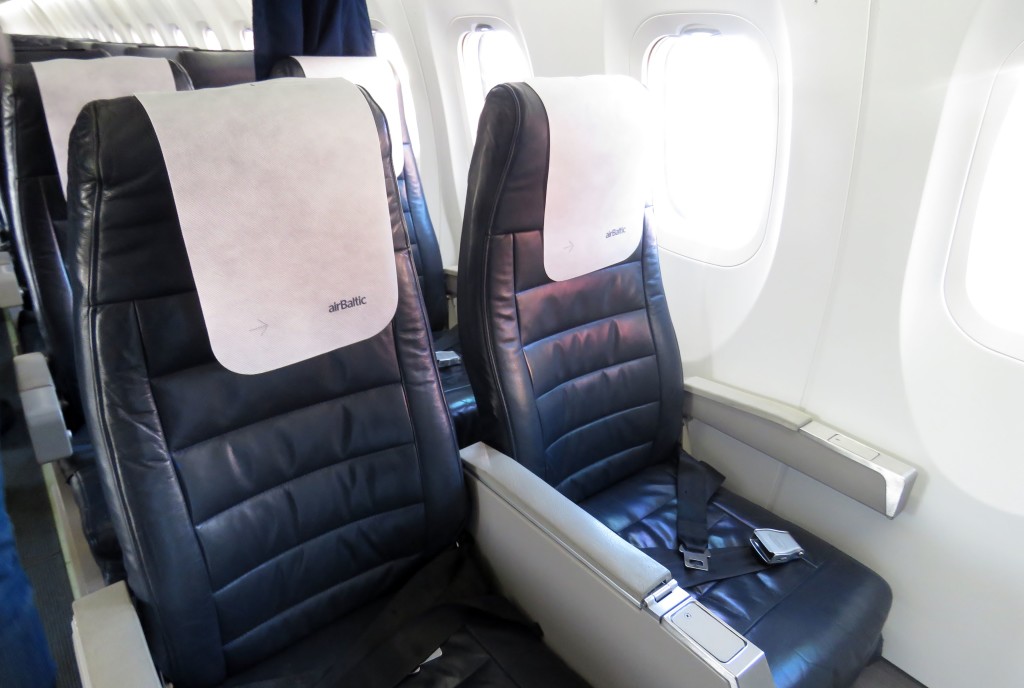 When most passengers had boarded newspapers and magazines were offered by the purser, including Latvian ones and International editions such as Financial Times and The Economist. But there were no local Swedish newspapers on offer. The menu and drink list for the flight were also handed out, but surprisingly there was no pre-departure drink, which used to be the cases in Air Baltic business class in the past, even on very short flights. A few years ago even sparkling wine was offered before departure, then it was reduced to something non-alcoholic to drink such as orange juice. This time nothing was offered.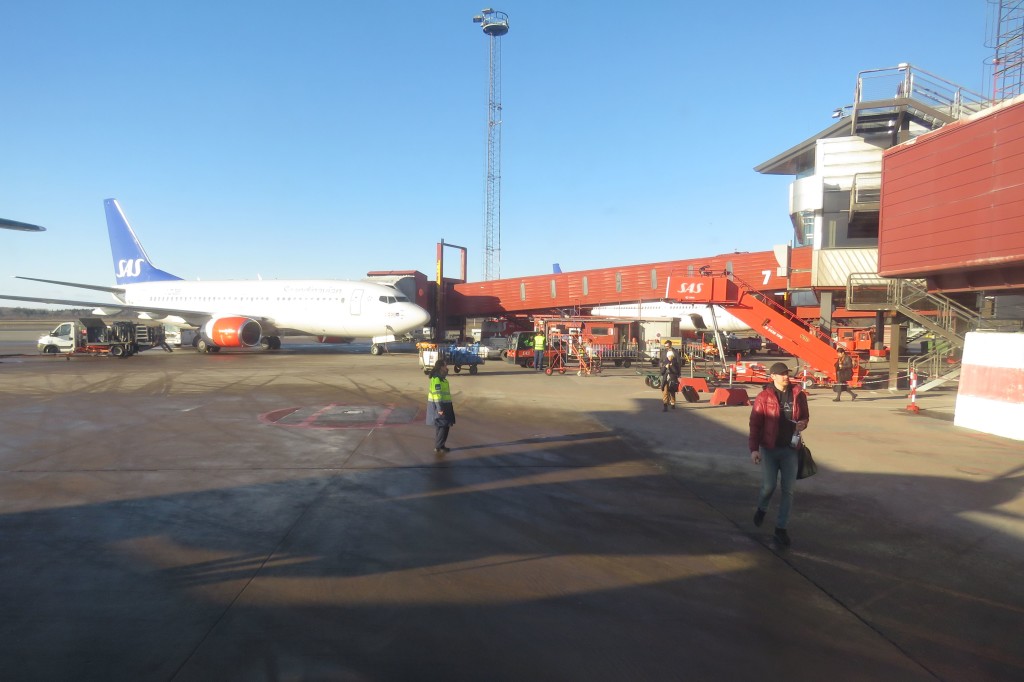 We pushed back right on time with an expected flight time of an hour to Riga and with a beautiful view of the archipelago and the Baltic sea minutes after takeoff.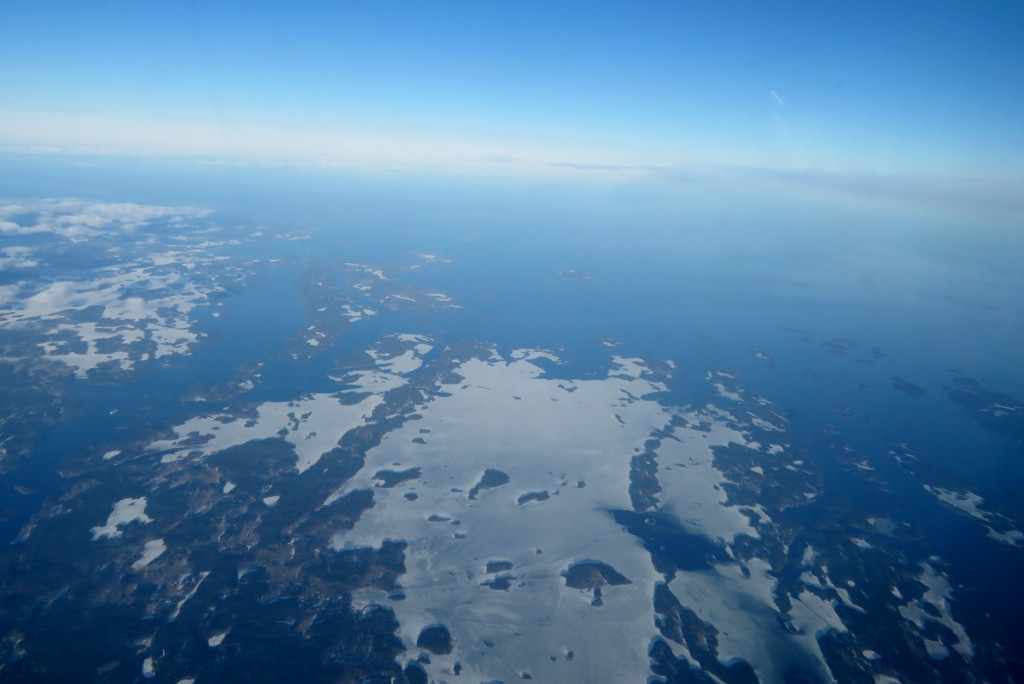 Seat and cabin
With only me in business class the partition between business class and economy class had been placed to get the smallest possible business class cabin with only two rows on the left side of the cabin and one row on the right side. Surprisingly I was not able to select a seat in advance, neither during the booking process, nor during the online check-in. I was automatically assigned seat 02A. This however turned out to be a good thing as it is the only seat in business class which is not a bulkhead seat, requiring all hand luggage to be placed in the overhead bin and leaving the passenger with a smaller table located in the armrest. The 02D seat is also an emergency exit seat.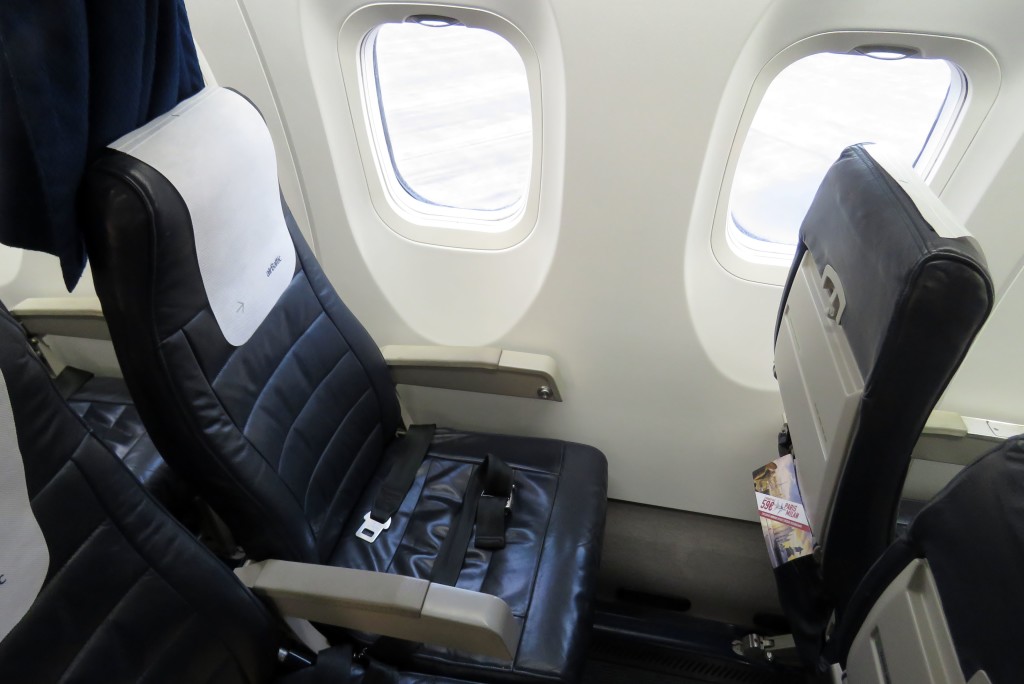 But for a one-hour intra-European flight the comfort was perfectly satisfactory with plenty of space, storage and legroom. Even though the configuration onboard is 2-2 the adjacent seat in business class is always kept empty.
The seats were in dark blue leather and were quite comfortable. In the seat pocket there were an inflight magazine and a shopping catalogue.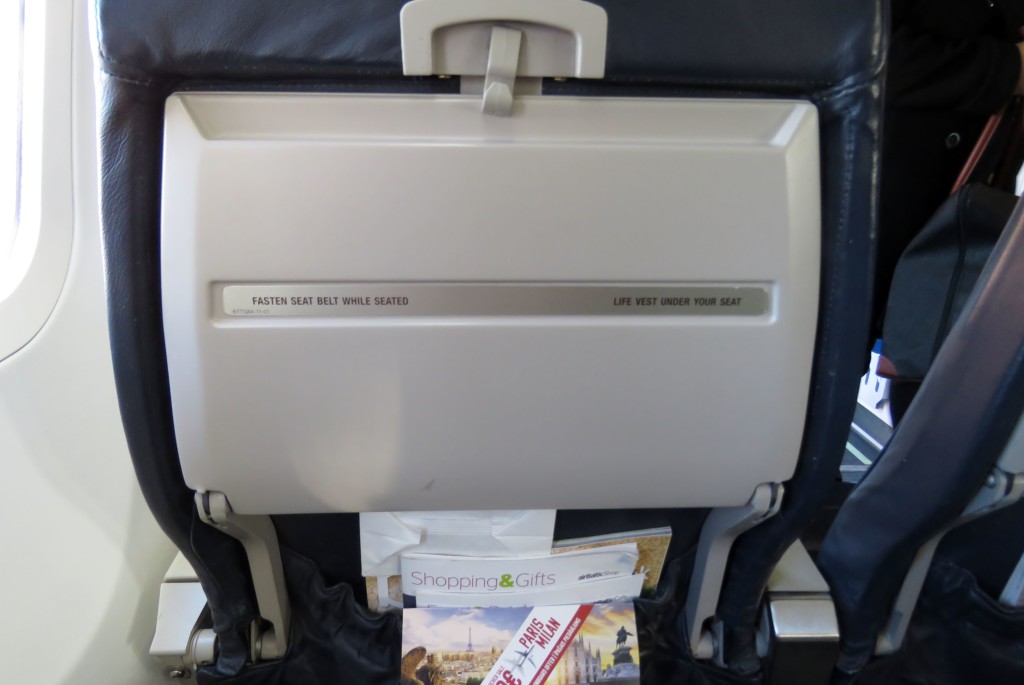 Food and drinks
One of the highlights in Air Baltic business class is the proper menu and drink list. This is quite unusual on intra-European flights these days, especially on shorter ones.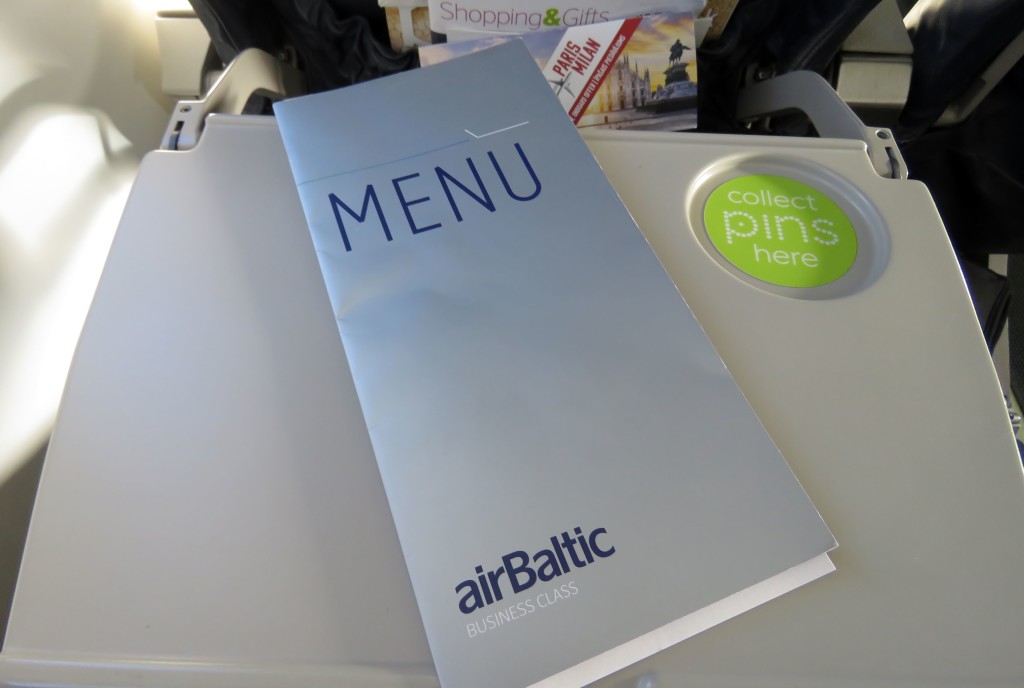 A cold dinner was offered to Riga with a starter, main course and dessert, which were described in the menu in English, Latvian and Russian. The drink list included two white wines, two red wines, champagne (Heidsieck Brut Monopole), sparkling wine, a standard selection of spirits and non-alcoholic beverages.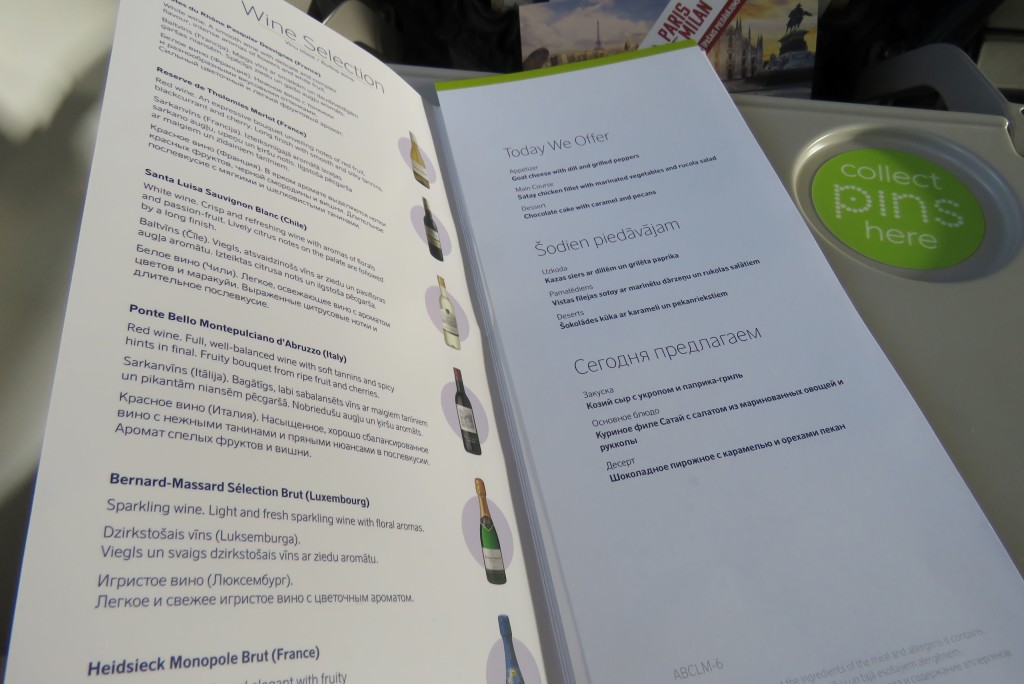 The meal was handed out on a single tray with the signature light green Air Baltic china, and it was all very tasty, and filling, with a nice presentation.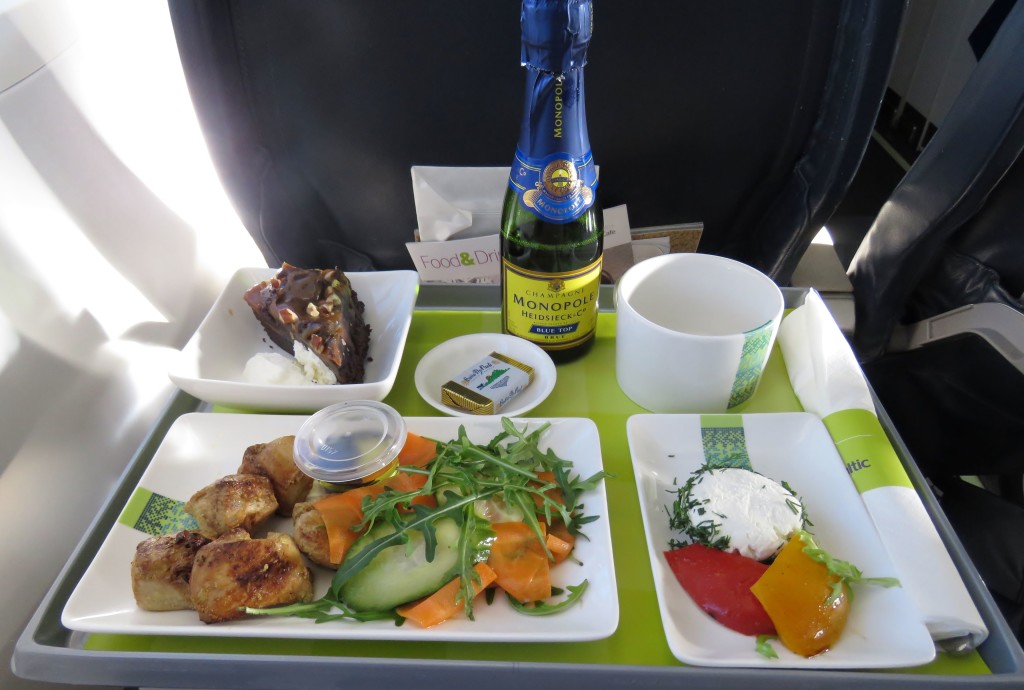 The appetiser was goat cheese with dill and grilled peppers.
Satay chicken fillet with marinated vegetables and rucola salad was served as main course.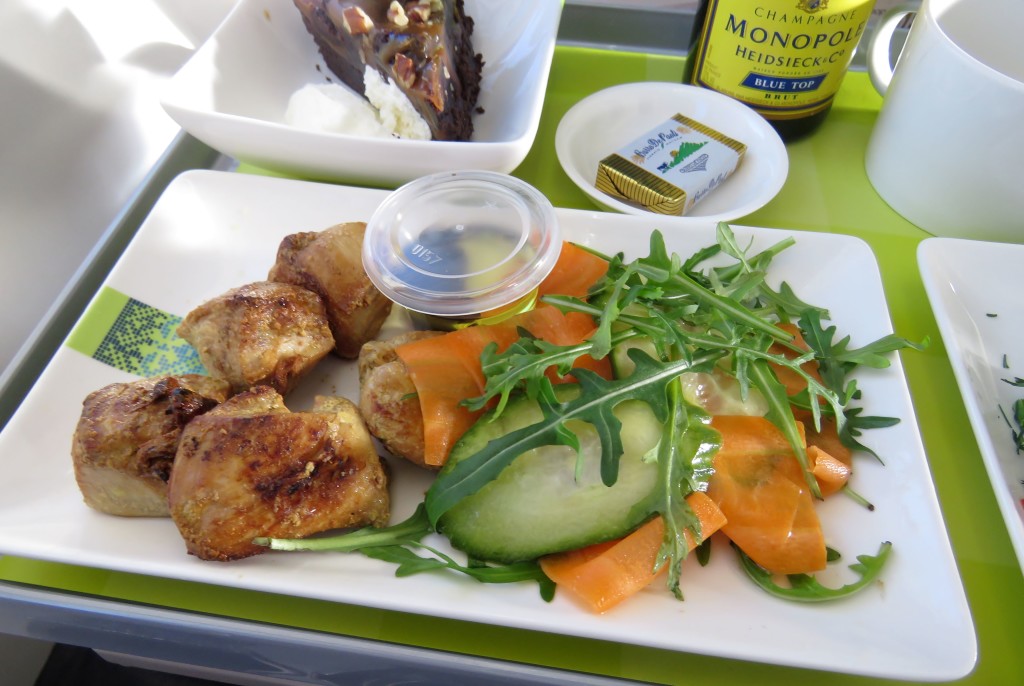 And for dessert a chocolate cake with caramel and pecans was offered.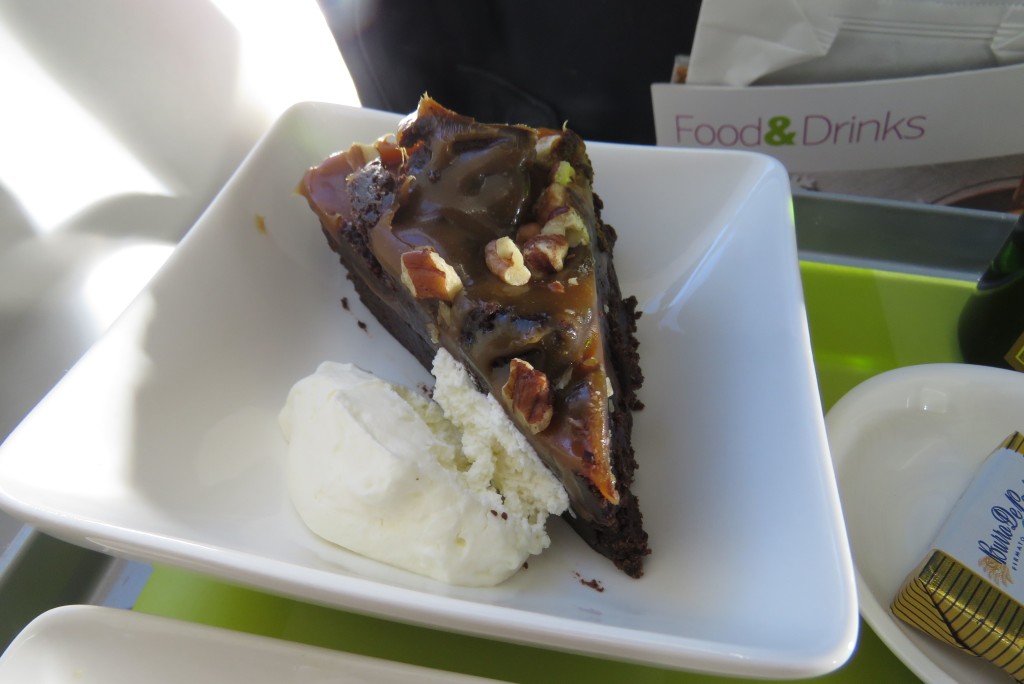 Three types of bread rolls were also offered in a basket, a very nice touch and which really improved the experience. I asked for a gin & tonic to start with and later ordered a bottle of champagne with the meal. Later coffee and tea were offered as well as more drinks, but with a flight time of only an hour there really was little time for anything more to drink. The coffee was apparently brewed in the back so it took a bit of time for my cup to arrive.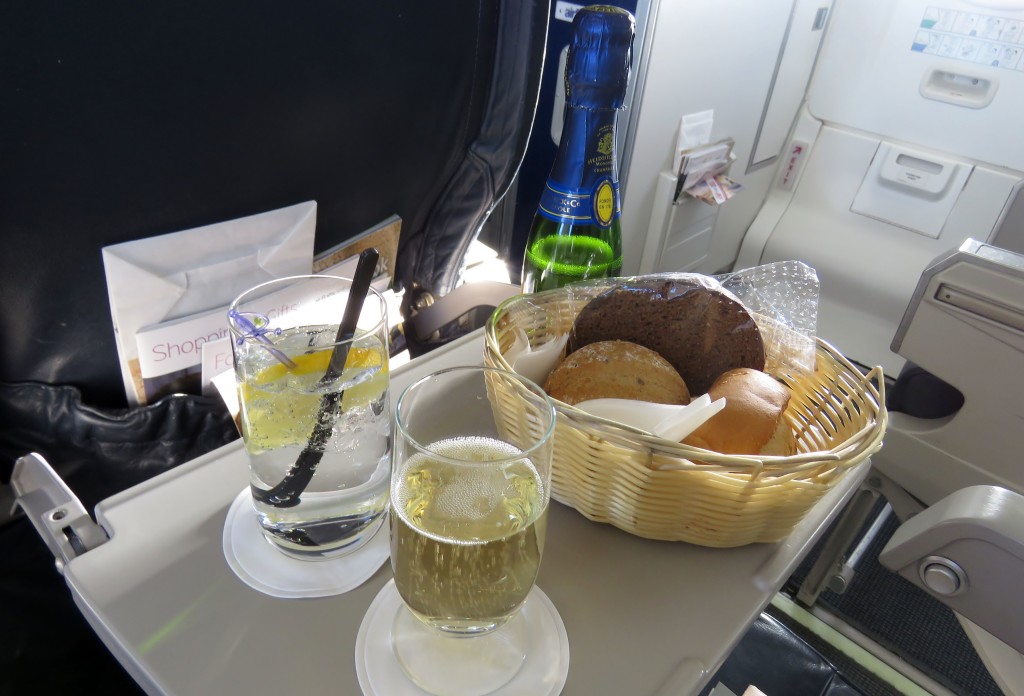 The service
Two female flight attendants worked in the cabin with the purser seated in the front during takeoff and landing who also took care of the service in business class. After she had served me she assisted her colleague in economy class but kept an eye on me from time to time, in case I needed something.

The service was very friendly and polite and overall very elegant. For example all drinks were delivered on a black tray from the small galley to my seat, rather than just being given to me. These small gestures really do make a difference in the premium experience.
Arrival experience
We landed right on time at 5.30 pm in a sunny but snowy Riga, enjoying a nice view of the city centre and the river during the approach. Several passengers had onward connections and before landing some of the departure gates were announced by the cabin crew.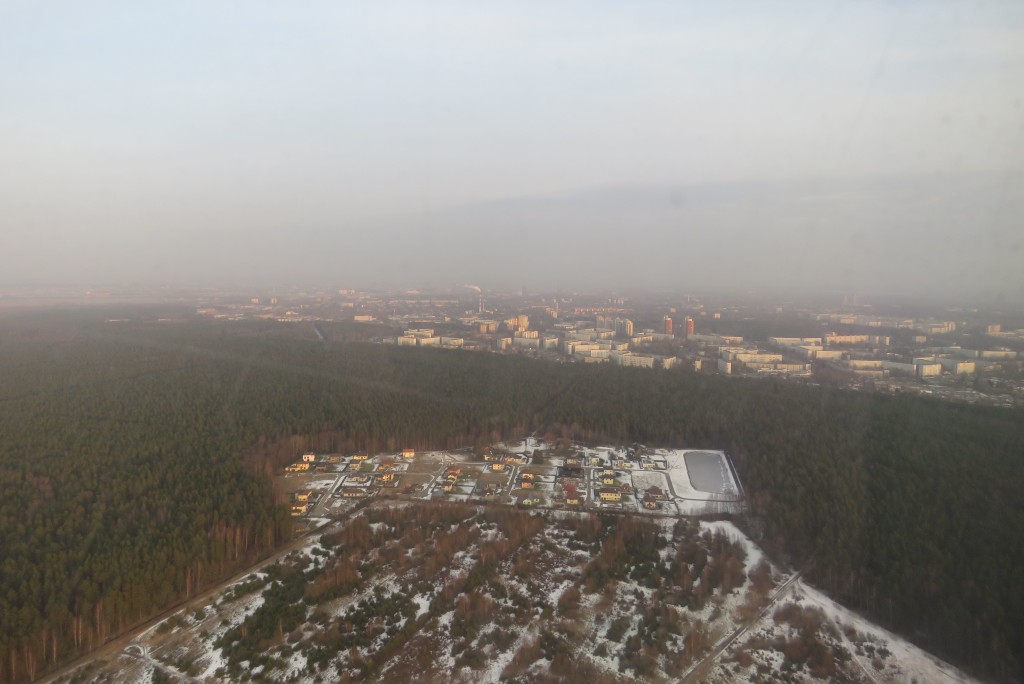 Riga is a small but efficient airport. Although it may not be the largest of airports in Europe they manage to keep a minimum transfer time of just 30 minutes, even 25 minutes in some cases, which is impressive. Although some flights require a bus transfer, once inside the terminal it rarely takes more than a minute to reach the next departure gate.
We parked just by the terminal building with just a short walk to the arrivals hall. For me having an onward connection I followed the transfer signs with a left turn and an escalator to get to the transit hall on the upper floor. Although I only had an hour between flights this turned out to be more than enough for a proper lounge visit and some shopping.
Final impression
Air Baltic keeps a very high standard in their business class with a printed menu and drink list and a very extensive cold meal for a flight of just an hour. This is significantly better than what most airlines offer today in business class on similar flights. The service was polite and elegant with the bread basket and all drinks served by the cabin crew on a tray.

The drawback is that Air Baltic business class is quite expensive on many routes. Another drawback is that it is quite hard for the occasional Air Baltic traveller to earn any points. Air Baltic does have a frequent flyer program called Baltic Miles, but they do not cooperate with any other airlines in terms of point earnings. They do, however, offer codeshare flights with a large number of airlines, mostly airlines who do not fly to Riga themselves. Depending on the structure of the frequent flyer program is may be possible to earn points on Air Baltic flights but this would require the passenger to book the flight as a codeshare. Air Baltic has also previously cooperated with SAS but this cooperation has been reduced after SAS launched its own routes to Riga.