Departure experience
The day started early as I stepped into Heathrow's terminal 5 at the ungodly hour of 5.40 am, one hour and 15 minutes ahead of the 6.55 am departure to Munich.

Although there are a fair number of morning departures only a few British Airways flights leave before 7 am and the departure hall at terminal 5 was quite empty.
As a business class passenger I could obviously use the premium check-in facilities in the southern part of the departure hall, where you can always check in at a desk, however as I also hold a British Airways Gold card/OneWorld Emerald card I proceeded even further to the first class check-in area, which I am entitled to use.
The first class check-in area is located at the far end of the departure hall, a secluded area which not only consists of some check-in desks but also of a lobby with armchairs and sofas where it is possible to have a seat to relax, for example while your travel companion checks in, or while waiting for the ground staff to return with more information to any questions or problems you may have. There is also a reception desk at the entrance to the first class area, but it was unmanned this early morning.
There were no less than four check-in desks open with not a single passenger in the area except for me. Needless to say the check-in process was instant, but I guess this is one of the great benefits of having an Emerald card, and as I had not had any breakfast yet this was appreciated as it would give me more time in the lounge.
A middle-aged woman checked me in, she was very friendly and polite but also did everything very thoroughly, for example checking passport requirements for the final destination, even though she could have left that to an agent at the transfer desk at a later stage. My suitcase was also tagged all the way and and a yellow priority tag was also attached, but as expected she could only print a boarding pass to Munich. But all-in-all it was everything I had hoped for.
The fast track security channel around the corner was swift and I made my way to the British Airways lounges. There is a door on the immediate right after the security control, but only for first class passengers with access to the Concorde Room. A pity as it is quite a walk to reach the lounges.
As a business class passenger I had access to the British Airways Galleries Club lounges. There are two in the main terminal and one in the Satellite building for B-gates. As an Emerald card holder I also had access to the superior Galleries First lounge.
The lounge can be very crowded at peak times but this early morning it was very quiet and enjoyable. The interior with the partitions and the lighting effects are actually quite stylish at dawn/dusk and I simply love the large leather armchairs with the footstools. I can easily spend hours in those.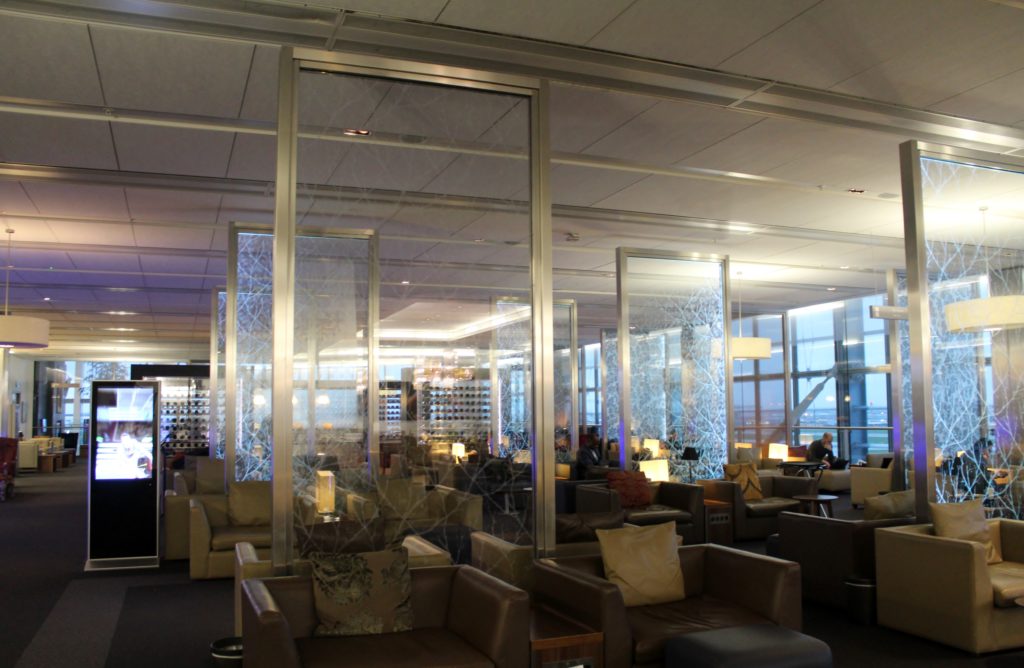 A full English breakfast was offered in the restaurant with scrambled eggs, sausages, hash brown, tomatoes, beans and everything else you would expect. There was also a continental breakfast buffet with fresh fruits, yoghurt, bread rolls and croissants. Naturally there was also a full drinks selection available, with a few passengers who indulged in a glass of bubbly already at 5.50 am.
The hearty breakfast tasted very good and the cup of strong black coffee was definitely needed.
The monitors indicated "Go to gate" already an hour before departure, which was partly because the flight was leaving from a B-gate in the satellite building, which requires a short train ride. However it only takes maximum a few minutes to get there and they certainly do not start boarding for an intra-Europe flight 45-50 minutes before departure time. I stayed a few more minutes in the lounge to finish my breakfast without any rush.
The flight
London Heathrow-Munich
British Airways flight BA 948
Departure: 06.55
Arrival: 09.45
Business Class (Club Europe)
Airbus A319
Seat 01F

Boarding started 20 minutes before departure at gate B44 with proper priority boarding for business class passengers as well as British Airways Silver and Gold card holders using a separate lane. There seemed to be many premium passengers onboard, especially a lot of business travellers going to Munich during the day.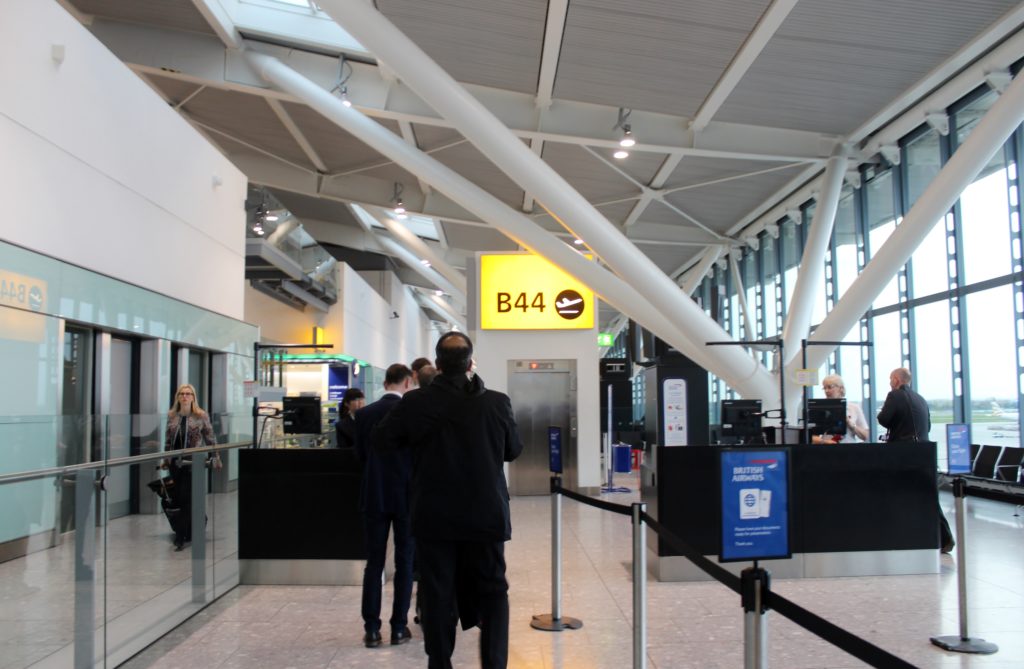 First impression
British newspapers were available from a rack just before entering the aircraft where the purser and her colleague greeted all passengers. I had prebooked seat 01F on the first floor, just around the corner from the galley. Row 1 obviously requires all hand luggage to be placed in the overhead bin during takeoff and landing but it usually does have a bit more legroom.

Boarding was completed well ahead of departure time with meant an on-time pushback. The flight time to Munich was expected to be one hour and 30 minutes.
Seat and cabin
The cabin had the new British Airways shorthaul cabin design which is available on most of the Airbus fleet nowadays. It is elegant, but the seats are somewhat harder than the old seats and the seat pitch is also slightly tighter than what used to be the case.

Business class, normally referred to as 'Club Europe' on intra-Europe flights, had five rows assigned on this Airbus A319. As per standard European configuration the middle seats were kept free and had a cocktail table attached, which meant a 2-2 configuration instead of 3-3 in economy class. The cabin load in business class was around 70 percent this morning.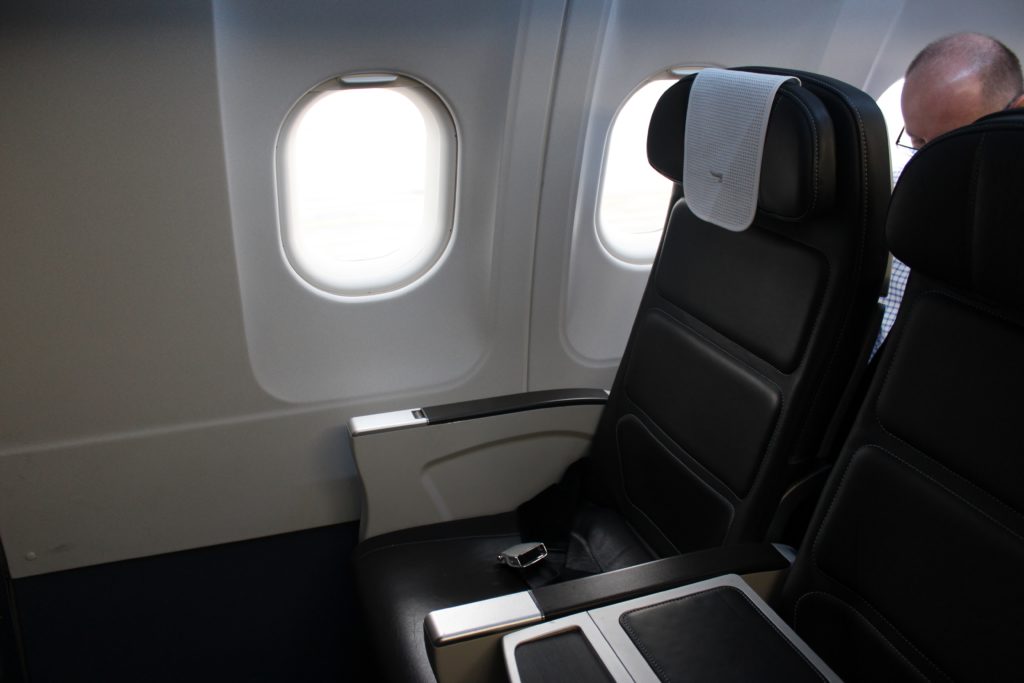 Food and drinks
As soon as we reached cruising altitude the cabin crew started preparing for the breakfast service in the galley and a few minutes later the first trolley entered the cabin. There were three choices of breakfast: a hot full English breakfast, a cold Continental breakfast, and a vegetarian breakfast. There only seemed to be one vegetarian breakfast loaded, which was taken by the very first gentleman in 01A, so that option was already gone when it was my time to order.

Being on a British airline I chose the full English which consisted of an omelette, sausages, bacon, tomatoes and mushrooms. There was also a plate with some fresh fruits on the tray. The flight attendant offered bread rolls and croissants from a trolley followed by jam and marmalade.
Behind her a second trolley passed through the cabin offering drinks. I asked for a glass of orange juice and a cup of black coffee. The orange juice was nicely served with ice, however I have never been very impressed with the coffee served in Club Europe, it just testes a bit weak and bland. Later refills were offered by the crew. I still have to give some crew to British Airways for offering hot breakfast on morning flights lasting only 90 minutes, most European airlines would only serve a cold breakfast on a flight of this length.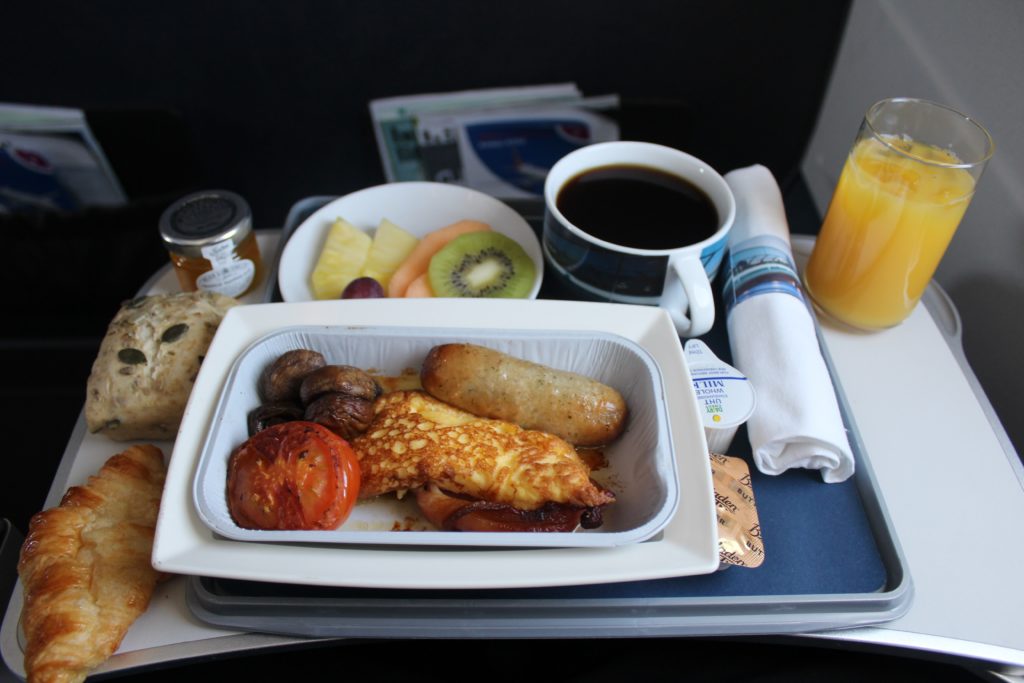 The service
The service was friendly and polite but not fantastic. They did what they had to do, by the book, no more no less. There was no recognition of me as a BA Gold card holder during the flight, however for some reason they decided to greet the man sitting next to me in 01D. I really have no idea what the crew tablet said about him.

Arrival experience
The flight was fairly quick and the descent to Munich provided a nice view of the airport followed by some beautiful views of the Bavarian countryside, with the weather being the best possible. It was plain joy to look out of the window as we made the final descent on a surprisingly low altitude over some very charming villages in the region.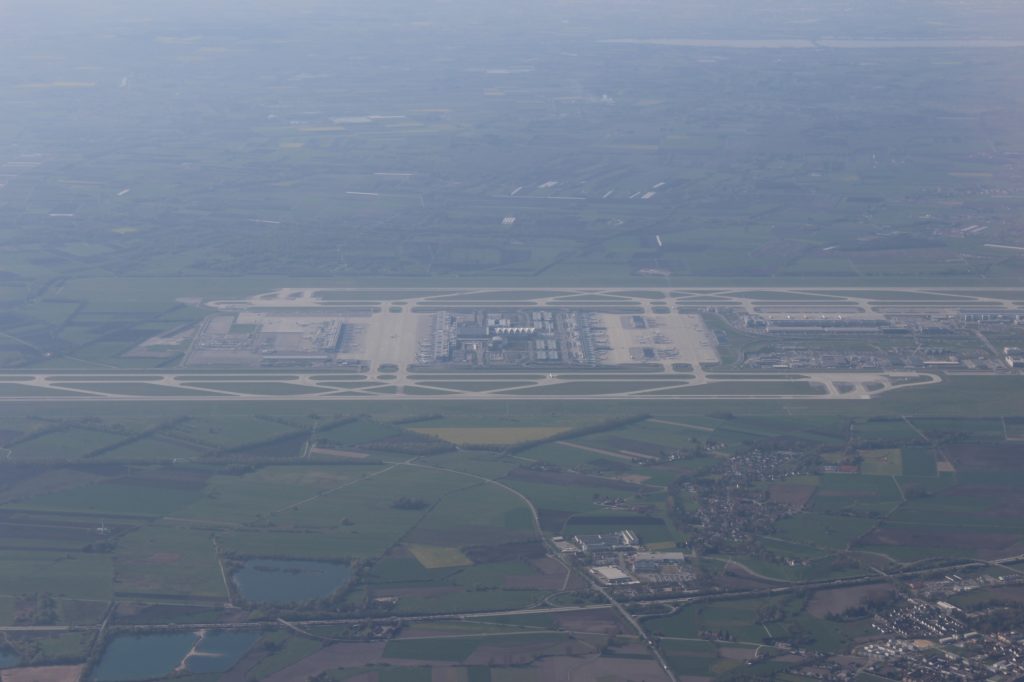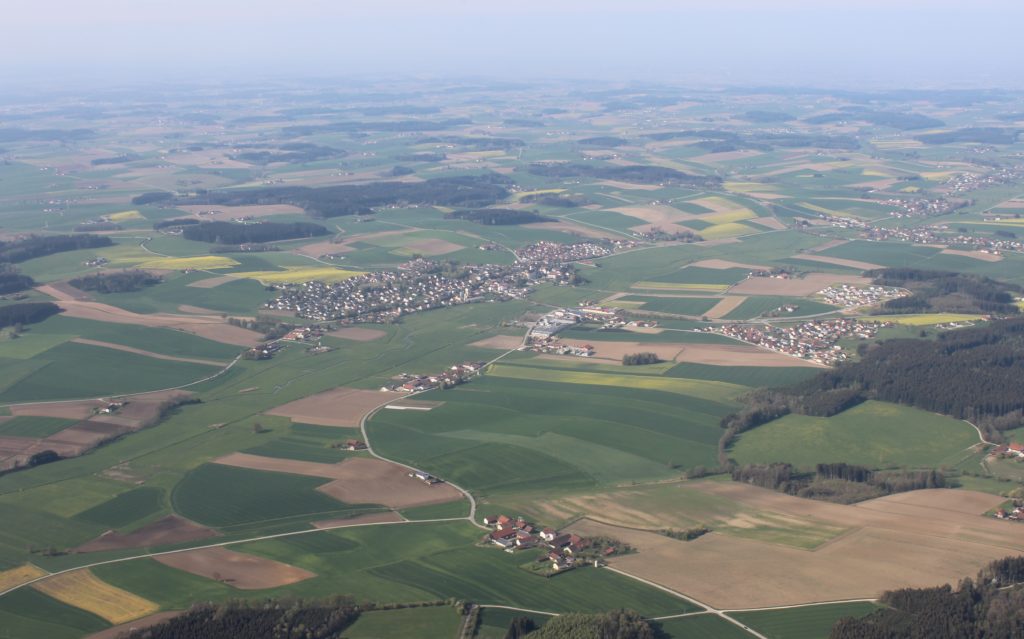 We landed a few minutes ahead of timetable at Munich Franz Joseph Strauss airport. British Airways uses terminal 1, the original terminal used by virtually all airlines except for Lufthansa, the Lufthansa Group and Star Alliance. We were requested to hold a few minutes on the apron while the previous aircraft vacated our parking stand.
Terminal 1 is really a big contrast to the larger and much more modern terminal 2. Terminal 1 is divided into five modules named A-E, which all have separate check-in areas, transit areas and baggage reclaim halls. The small immigration area was very crowded with an Emirates flight arriving at the same time and there were long lines. For passengers with machine-readable EU passports there were automatic gates to speed up the process, which I could make use of. The positive thing about terminal 1 though is that the walking distances are short.
Final impression
A standard British Airways experience. Very good ground experience in London with a very helpful check-in agent, fast track and an excellent lounge. The service onboard was friendly but not extraordinary and especially the recognition was lacking. It is rather unusual to get any kind of recognition onboard nowadays, even as a gold card holder. But thumbs up for offering a hot breakfast on a 90-minute flight, which would not happen on most airlines in Europe nowadays.