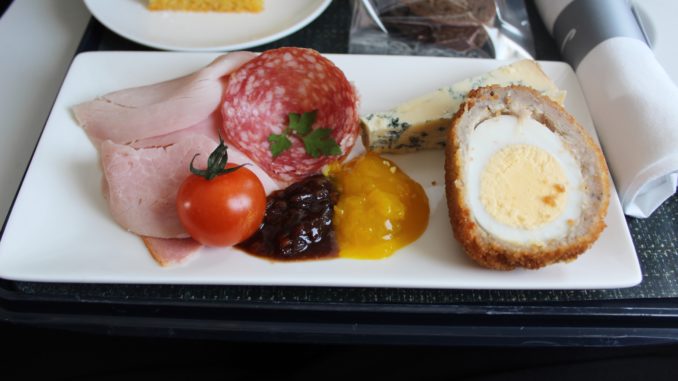 Departure experience

Check-in was done on the British Airways webpage where I had already pre-booked a seat, which as a BA Executive Club gold card holder can be done for free at the time of booking. It also seems like British Airways tries to block the adjacent seat for gold card holders. When I checked the seat map for the flight on Expertflyer the night before the adjacent seat was blocked for no apparent reason.
I arrived at Amsterdam Schiphol airport at 1 pm, two hours before the departure to London. With so many flights per day to London, to Heathrow, Gatwick and London City, British Airways has a rather sizeable check-in area in departure hall 3, but quite surprisingly it was almost completely empty.
As a business class passenger I had access to the fast track channel at security control which was pretty quick with just a handful passengers in front. The passport control afterwards took significantly more time though. Although there were e-gates for passengers with EU passports many passengers needed a lot of time just figuring out how the machines worked and one or two machines also stopped working. I decided to join the line for the regular passport control instead, which at the end did not move much faster.
British Airways has a dedicated lounge at Schiphol airport, a fairly lengthy walk from check-in and security control, but at least it is located on the way to the gates (usually in concourse D, which is even further away). Although Schiphol is a very convenient airport in the sense that the terminal layout is very straight-forward and easy to grasp, the walking distances can still be significant.
The lounge opened in 2014 and has the latest Galleries lounge design. The design is quite simple in a way but at the same time fairly elegant. However the selection of food and drinks in the Amsterdam lounge is limited, especially the food selection, to say the least, which is unusual for a British Airways lounge. BA is usually quite good when it comes to the food and drinks in lounges. There was not much substantial to eat other than soup, bread rolls and various snacks and the drinks selection was also surprisingly basic for a British Airways lounge.
But the best part of the lounge is the fantastic view of the apron and two of the runways. If you enjoy watching the action on the apron this is probably the best spot at the entire airport.
Read the full lounge review here!
The flight
Amsterdam-London Heathrow
Lufthansa flight BA 435
Departure: 14.50
Arrival: 15.15
Business Class
Airbus A319
Seat 03D

Just as expected the flight was to depart from concourse D, gate D28, one of the gates at the very end of the long concourse. Boarding was announced in the lounge already 45 minutes before departure as it took nearly ten minutes just to get there, so there was not much time for a lengthy lounge visit.
At the gate boarding had already started with proper priority boarding for business class passengers as well as British Airways Silver and Gold and OneWorld Sapphire and Emerald members.
First impression

An Airbus A319 was used for the flight to London Heathrow and no less than seven rows were assigned to business class, Club Europe. The load in business class was around 70% and economy class also seemed to be quite full.
Newspapers are no longer offered onboard from outstations such as Amsterdam, not even in business class. However once all passengers were seated hot towels were offered in business class.
It took a bit of time before we were allowed to pushback due to air traffic restrictions and even though boarding was completed well ahead of scheduled departure time we took off nearly 30 minutes late. The flight time to London was expected to be around 45 minutes.
Seat and cabin

Standard British Airways intra-European seating with a 3-3 configuration in economy class and a 2-2 configuration in business class with the middle seat kept empty. On most flights there is also cocktail table above the middle seat to be used for drinks and storage during the flight.
I had pre-booked 03D on the third row and based on the information on Expertflyer it seemed like they had blocked 03F, and indeed it stayed empty. I later moved to the window seat to get some more space and a better view.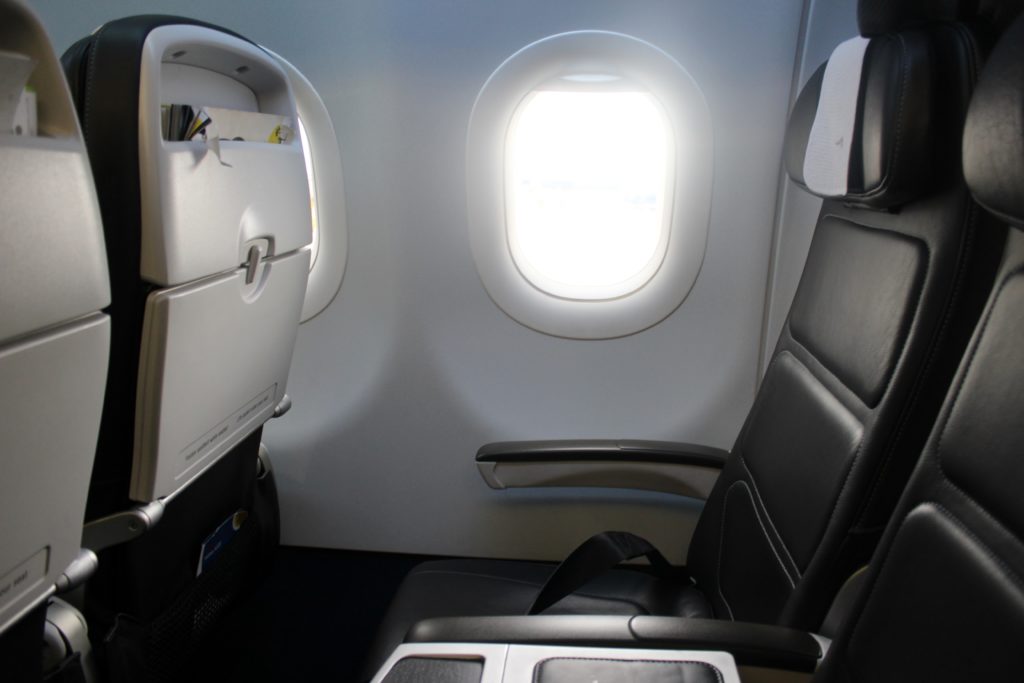 Food and drinks

A cold meal was offered during the flight with no less than two choices, which is not bad for a short flight of 45 minutes.
The first choice was the standard British Airways afternoon tea tray with finger sandwiches. The second choice a selection of cold cuts with vegetables, cheeses and a slice of rye bread. I chose the latter. For dessert there was an apricot cake. The cold meal was not bad at all, decent quality and quite filling.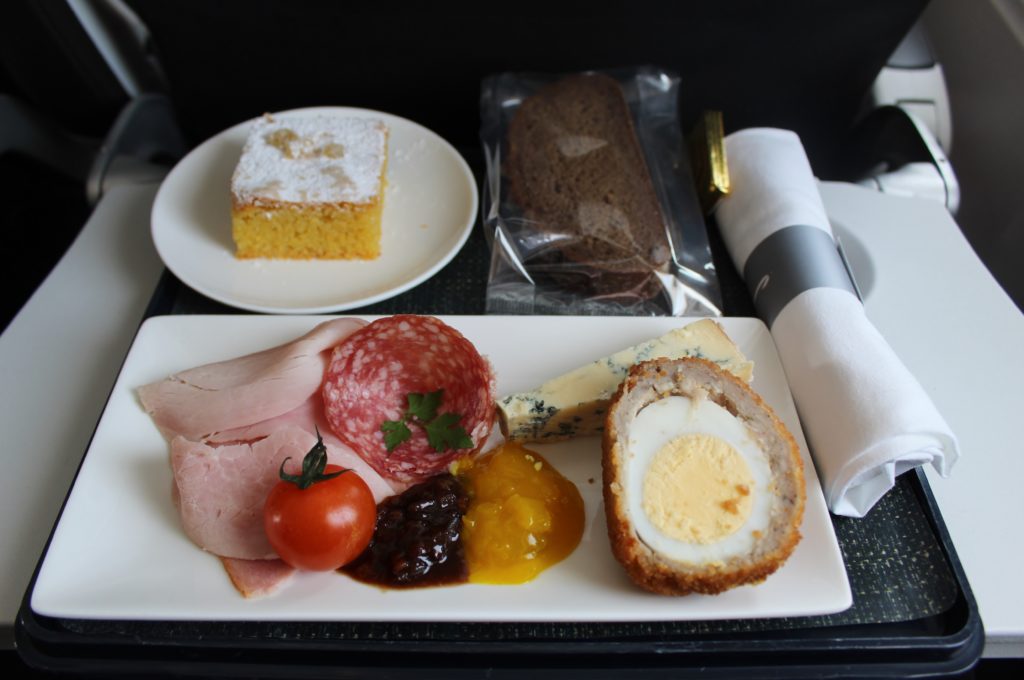 A full bar service was also available, I asked for a gin & tonic and a cup of coffee. With the short flight time there was barely enough time for a quick refill.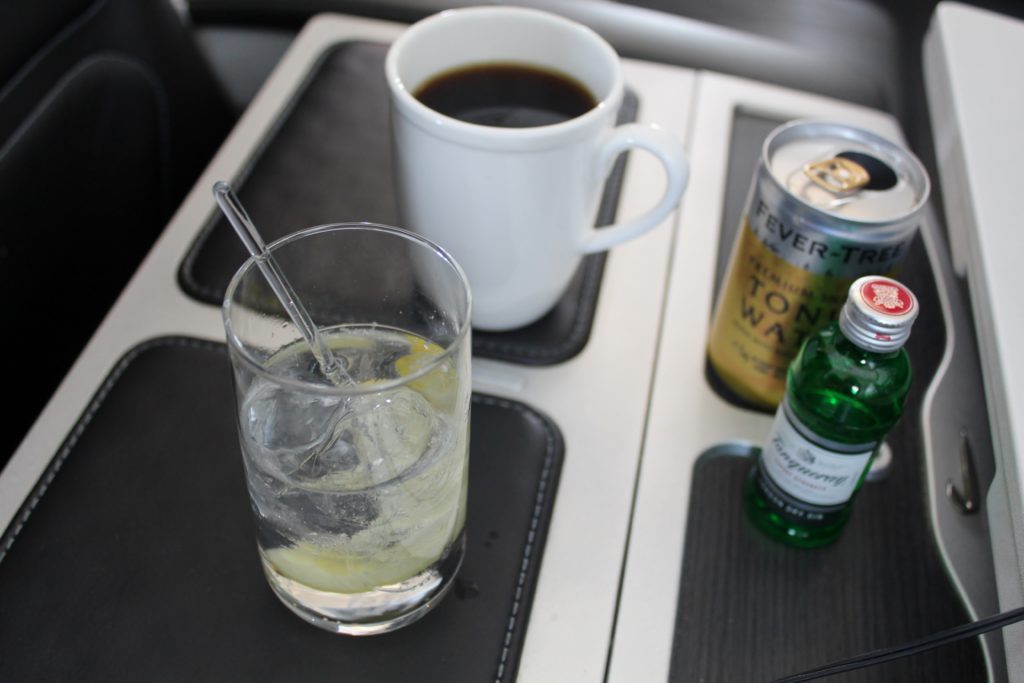 The service

The service was friendly but efficient, the crew had to work really hard to manage seven rows of business class with both food and drinks, but they did well. Quite obviously there was very little time for any small talk during the flight. Also there was no recognition whatsoever, not even on the ground where we had a fairly long wait before we were allowed to leave the gate.
Arrival experience

Despite the late departure from Schiphol we landed just five minutes behind timetable at Heathrow and fortunately we were assigned a terminal stand at concourse A at terminal 5, with just a short walk to passport control and flight connections.
Final impression

The British Airways Club Europe product has really improved during the past year. In spite of a short flight of just 45 minutes the meal service was surprisingly decent with two choices and a full bar service.