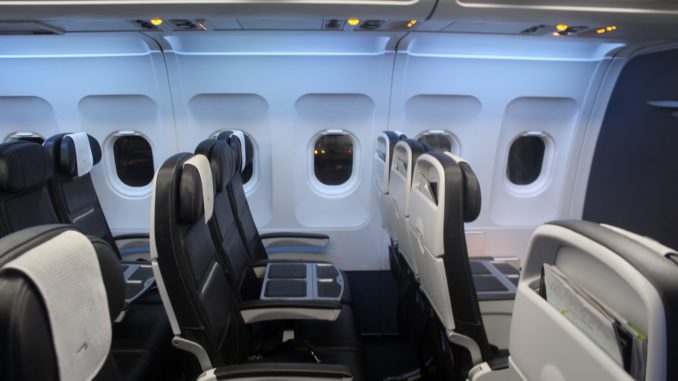 Departure experience

Transfer from a Qatar Airways flight at London Heathrow terminal 4 to a British Airways flight at terminal 5, one of the longest bus transfers at the airport which can take up to 12-13 minutes. Fortunately the transfer bus arrived almost immediately.
Upon arrival at terminal 5 I had around two hours until departure. The transfer security was very quick using the fast track channel with not a person in line and I made my way to the British Airways Galleries First Lounge, accessible to me as a British Airways gold card holder. Business class passengers without a BA gold card or a OneWorld Emerald card have access to one of the three business lounges in the terminal called Galleries Club lounges.
There were not many people in the lounge this evening. The Galleries First lounge is a very pleasant lounge when there are not too many passengers and the lighting effects make a good impression. I ordered a BA Burger from one of the lounge attendants and tried one of the red wines from the bar area. They had a very nice Châteauneuf-du-Pape for selfservice. Finally a cup of coffee and a small whisky. The Gold Bar had been made into a whisky bar and they had several interesting whisky brands to test.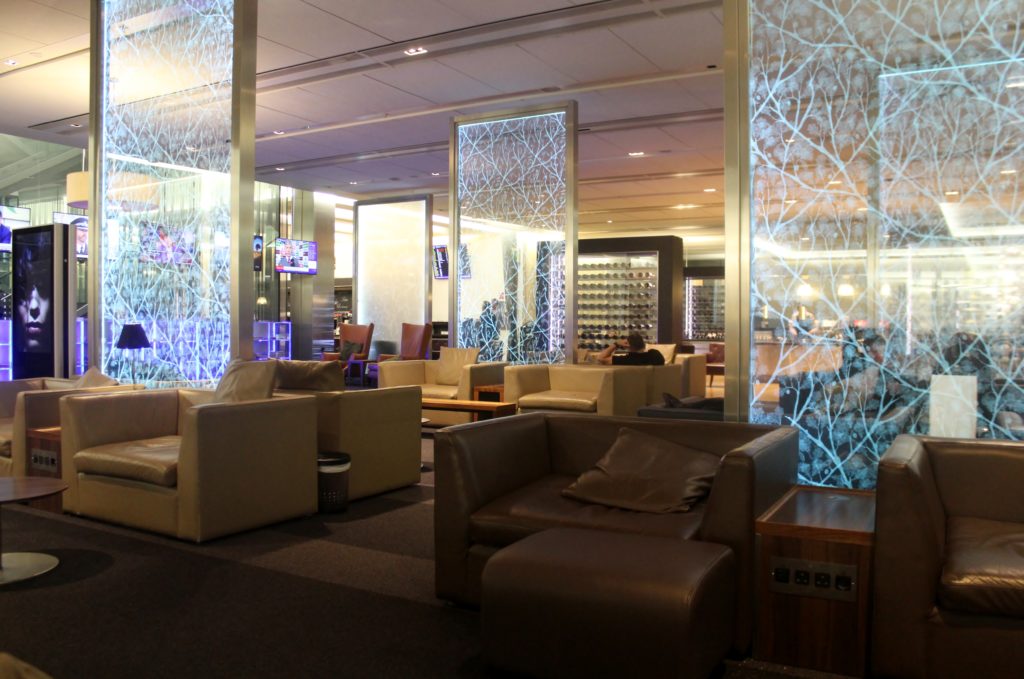 The flight
London Heathrow-Stockholm
British Airways flight BA 786
Departure: 19.50
Arrival: 23.25
Business Class/Club Europe
Airbus A321
Seat 02D

Boarding started quite early 25 minutes before departure at gate A18. British Airways are pretty good at priority boarding nowadays. They even divide it into two different priority groups with business class passengers, BA Gold cardholders and OneWorld Emeralds in the first group and then BA Silver and Bronze and OneWorld Sapphire and Ruby in the second group before general boarding starts.
Newspapers were available from a rack at the gate.
First impression

I had already noticed on the internet I would most likely be the only passenger in business class on the flight and once onboard this soon became obvious. I took my seat on the second row in the business class cabin but all other passengers continued further down the aisle. Eventually the boarding completed announcement was made, I looked around and all the other six rows were empty meaning I had 24 seats all to myself. And there was certainly no lack of storage for the hand luggage.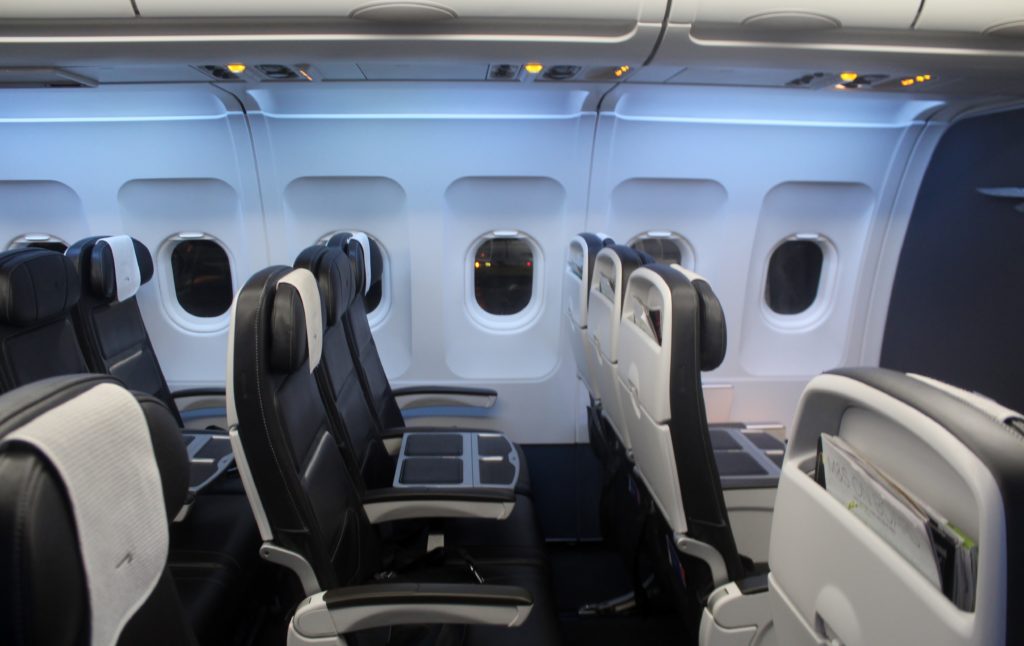 The purser came to greet me and confirmed I had indeed the whole cabin to myself. With a light load also in economy class boarding was completed well ahead of scheduled departure time and we pushed back slightly early. The captain also expected a good tailwind on the flight giving us a very short flight time, well under two hours and a possible arrival time nearly 30 minutes before timetable.
Seat and cabin

The cabin had the new British Airways shorthaul product which is quite stylish in black with the blue neon lighting effects. However I do miss the old seats which were much more comfortable and had slightly more legroom, but of course they also took up more space and were heavier.
2-2 configuration in Club Europe with a blocked middle seat which has a cocktail table instead. Obviously none of this mattered much on this flight.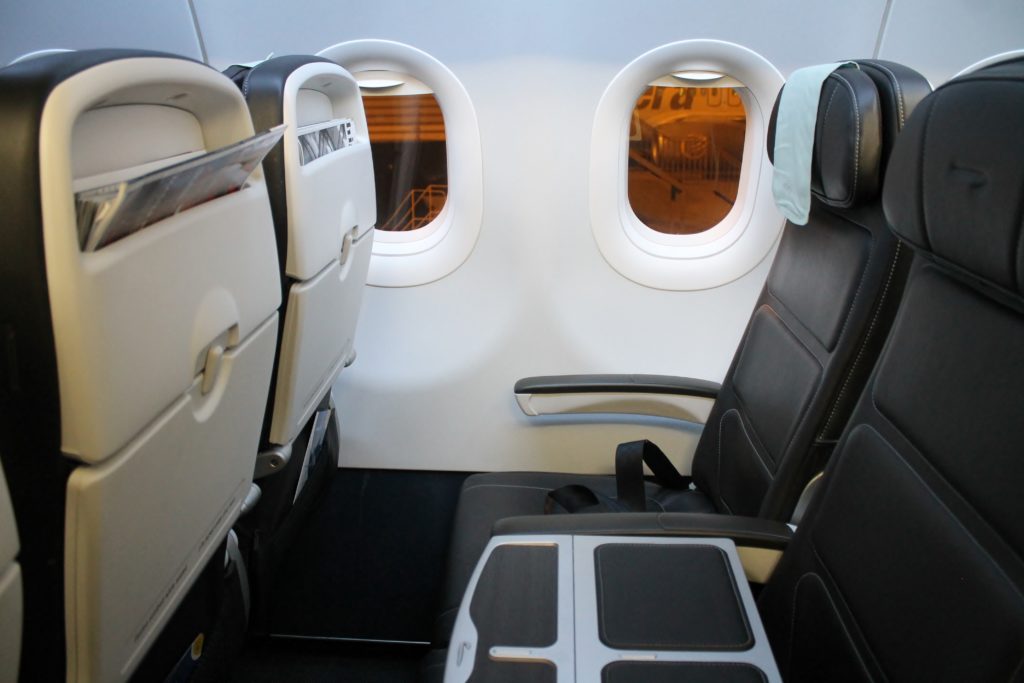 Food and drinks

After takeoff the printed menu was handed out, which is always a very nice touch on shorthaul flights. The new British Airways shorthaul business class concept is excellent, especially on longer flights above two hours where there is a cocktail service, starter, two choices of main course, cheese, dessert and finally coffee and liqueurs. And this was one of those flights. However there should be more rotation of the menu options, but it is slowly getting better.
I started with a gin and tonic, served with some peanuts. They have two gin brands in business class nowadays, Gordons and Tanqueray. Shortly afterwards the purser passed to ask about my choice of main course and also offered a second serving of G&T.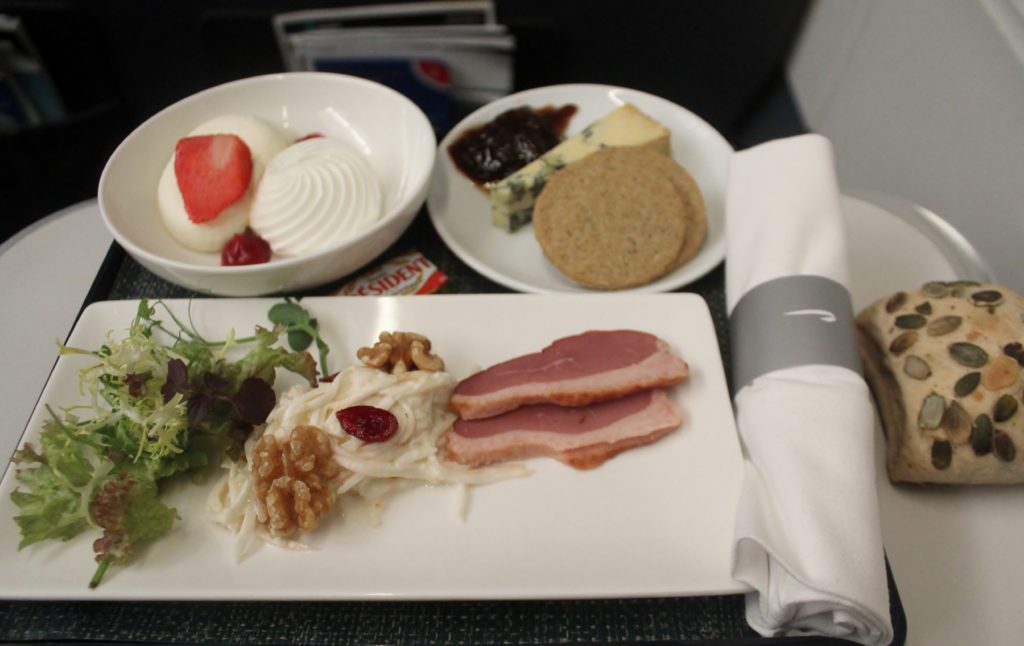 The meal tray was handed out with the starter as well as the cheese and dessert and I was offered bread rolls from a basket. The starter was smoked duck breast with creamy apple celeriac salad. Duck has been on offer on a few earlier flights but with Waldorf salad. Fortunately I love duck.
There were two choices of main course. Chicken tikka masala with saffron pilaf and gobi saag or traditional fish pie with salmon and smoked haddock. I chose the chicken which was rather tasty. I also asked for glass of white wine with the main course. They had two different whites available, served from large bottles. I went for the Italian one which was not bad at all. Surprisingly nice.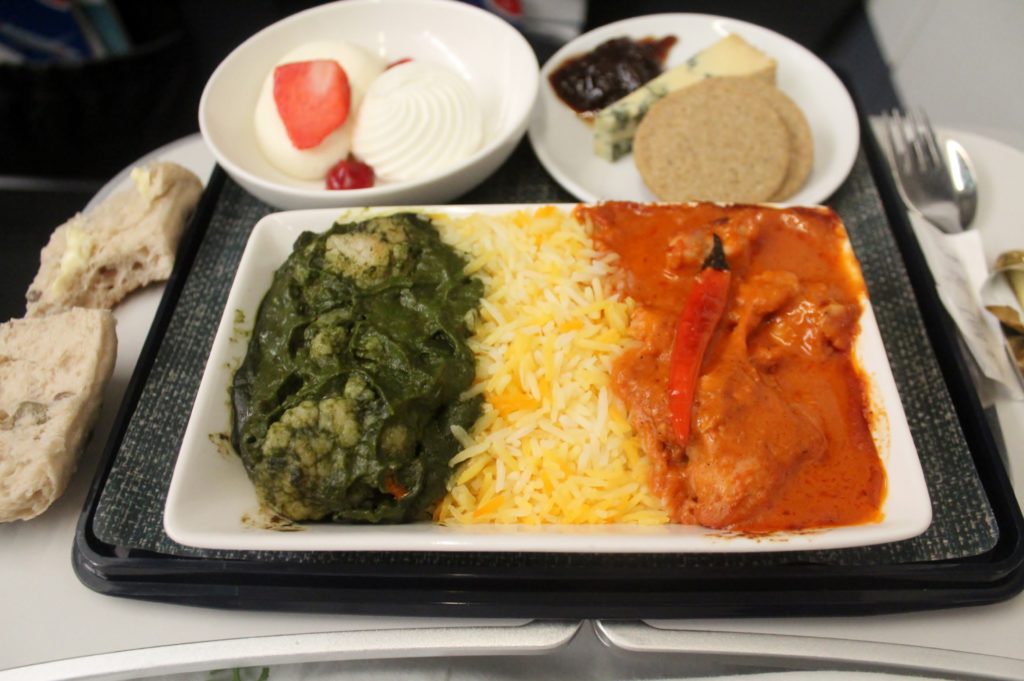 Finally Cropwell Bishop Stilton cheese was offered with red onion chutney and oat cakes, followed by a very tasty dessert, a fresh berry pavlova with vanilla cream. Coffee and tea were also offered, a refill of the wine glass and the some liqueurs, but due to the short flight time this evening there really was not time for much else as we started our descent just as I got my coffee.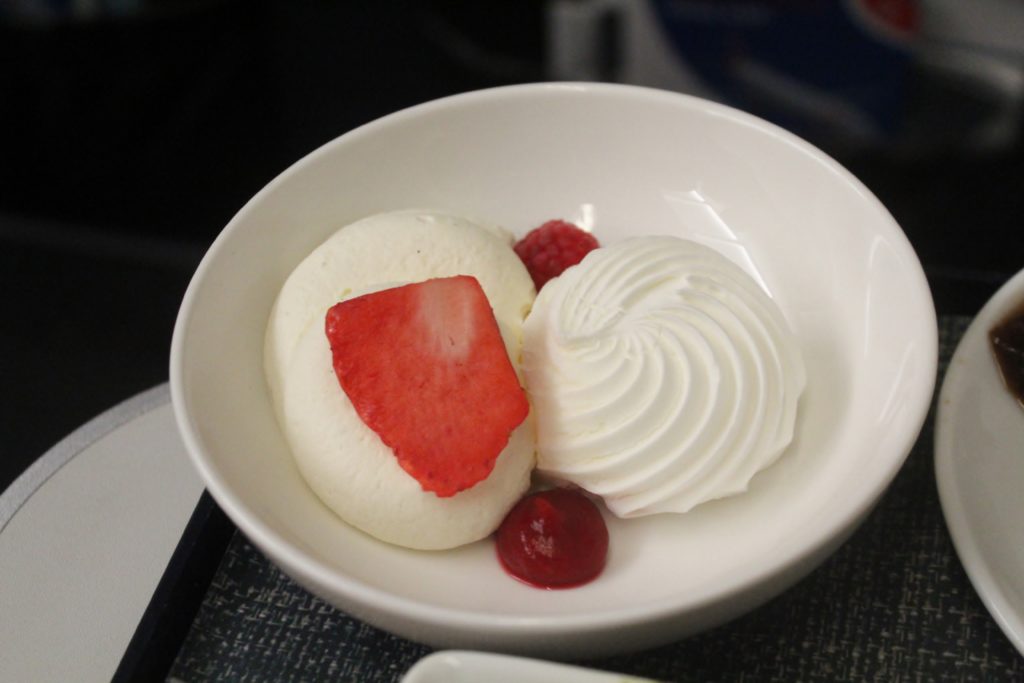 The service

The service on British Airways can vary quite a bit, from truly brilliant to fairly average, especially in business class. And on most flights it is really either or. Either you get a fantastic crew (and especially a fantastic purser) who spends most of the time in the cabin chatting with passengers, making jokes, taking initiatives and who provides a fun and laid-back approach to the service which makes you leave the aircraft at the destination with a smile. Or you get the much more average crew with no smiles, no initiatives, no small talk or particular interest in the passengers and everything is done by the book, no more no less.
Fortunately this flight was easily the first option. There were plenty of refills, some small talk about the previous flights, a very attentive service and even a small goodie bag to bring off the aircraft so I would not get thirsty on my way from the airport. Really nice and pleasant.
Arrival experience

As expected we landed at Stockholm Arlanda airport nearly 40 minutes before timetable. Seated in business class I was the first person to reach the empty passport control and caught the airport bus leaving 30 minutes earlier than the one I was hoping to take with no delays. Terminal 2 is such a compact and efficient airport.
Final impression

An excellent flight, especially being the only passenger in business class. Great service from the terrific purser, a very nice three-course dinner service and landing almost 40 minutes ahead of timetable. Not much to complain about this time.