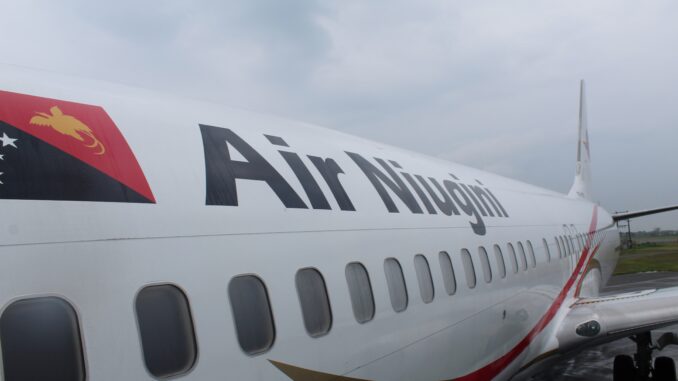 Air Niugini is the national airline of Papua New Guinea. From their hub at Jacksons International Airport in Port Moresby, the capital of Papua New Guinea, they fly to 12 domestic destinations as well as a number of international destinations in Asia, Australia och some islands in the South Pacific region. Among the international cities served are Sydney and Brisbane in Australia, Hong Kong, Singapore and Manila in Asia, and Nadi, Port Vila and Honiara in Oceania.
I had to travel from Honiara in the Solomon Islands to Sydney in Australia and has the choice between Solomon Airlines/Qantas via Brisbane or Air Niugini via Port Moresby. Since I had never set my foot on Air Niugini and was very curious about the airline it was an easy choice, even though I would not be able to earn any points in any of my frequent flyer member programs. On top of that the ticket was actually cheaper than flying via Brisbane and the timetable was perfect with just about two hours in Port Moresby.
I was very tempted to book business class to Sydney but the quote I got was six times higher than the price for the same ticket in economy class, and it was simply very hard to justify, especially when it would not even give me any points or miles.
However a week before departure I received an e-mail with an invitation to bid for an upgrade to business class. Both my flights were eligible for a bid but the lowest bid for the slightly longer Port Moresby-Sydney sector was quite high and a bit more than I was prepared to pay, but the situation for the first flight Honiara-Port Moresby was much better.
I decided to submit a bid of 100 USD (around 90 euro) for Honiara-Port Moresby, just over the minimum bid, and five days later, two days before departure, I received an e-mail that my upgrade bid had been successful. I even received a personal e-mail from a booking agent in Port Moresby confirming the upgrade with a new booking confirmation. I was thrilled!
100 USD was really not too bad for a flight of two hours, on an airline I would most likely not get the chance to fly on again for some time.
Departure experience

I took a taxi from the hotel in downtown Honiara to the airport where I arrived around 9.15 am with plenty of time for the flight at 10.50 am. The aircraft I was to fly on was operating Port Vila (Vanuatu)-Honiara-Port Moresby this morning with a stop in Honiara to pick up more passengers. Based on the number of passengers in the departure hall it seemed like not too many passengers were to board in Honiara.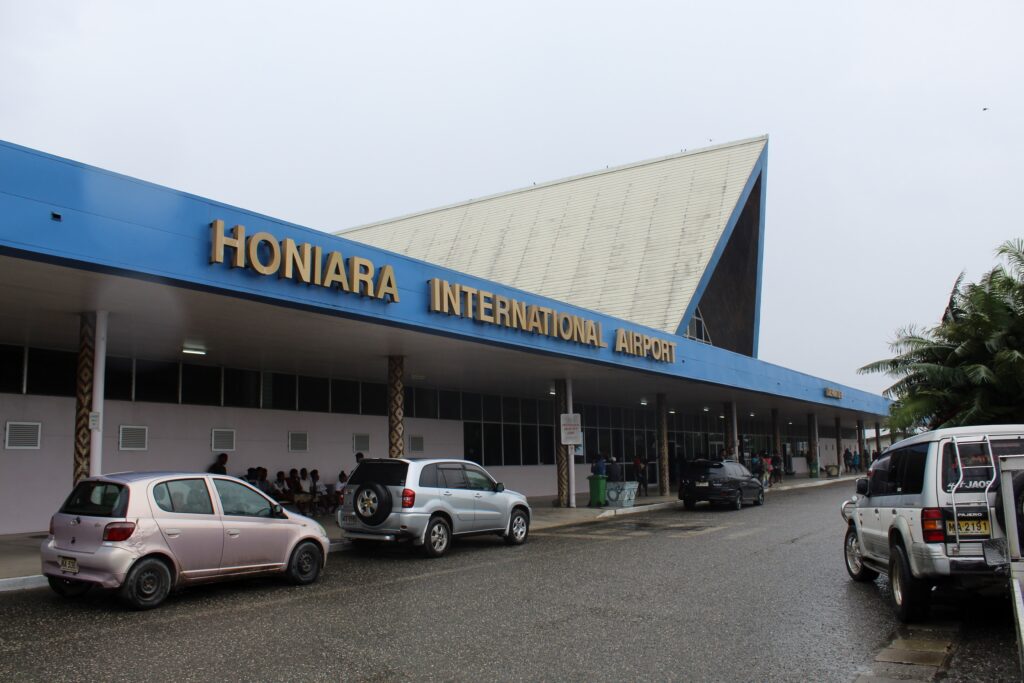 The rather exotic departure hall was quite empty but on the positive side there was a premium check-in desk for Air Niugini which I could obviously use flying in business class.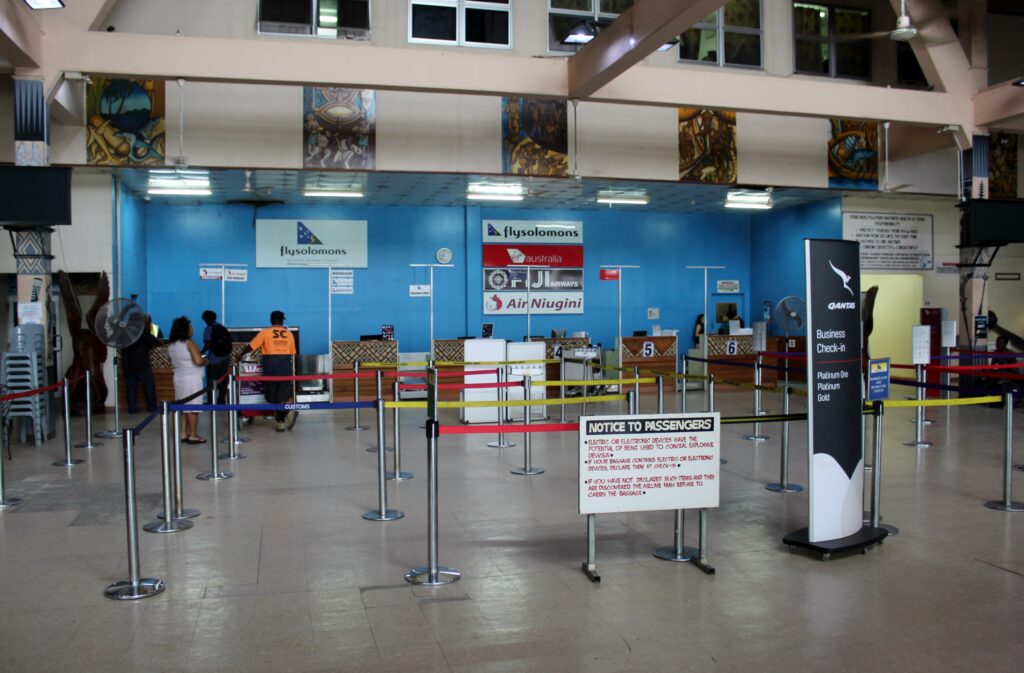 I was checked in all the way to Sydney, my suitcase was also tagged all the way and as the first segment was in business class the word 'Priority' was printed on the tag, and it did actually appear among the first bags in Sydney, even making it quicker to the baggage hall than me.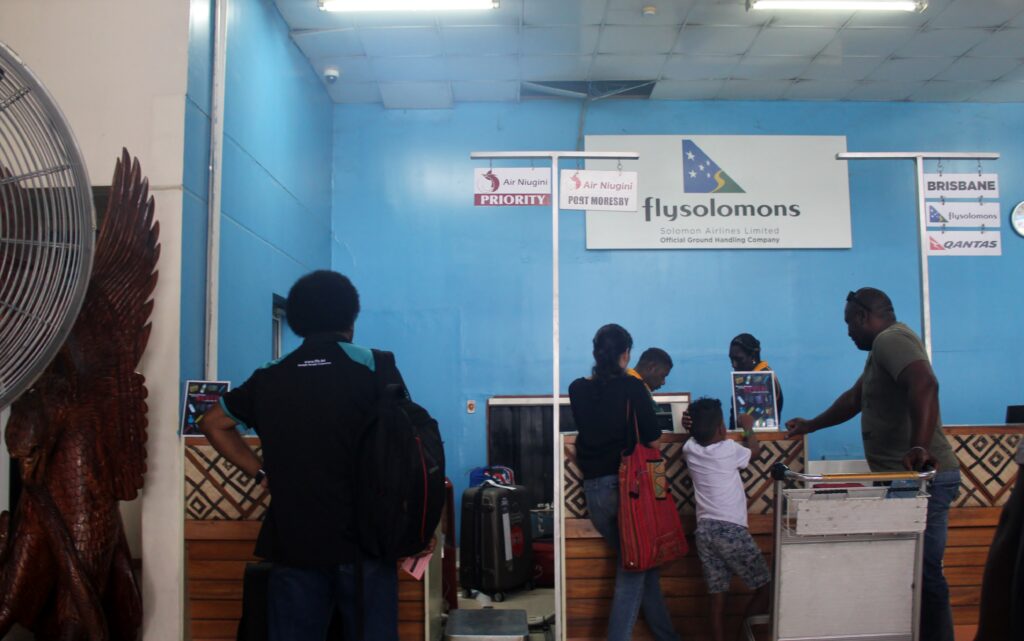 However the check-in agent was far from talkative, he pretty much did not say a word. No explanation was given about what had just been done (through-check of luggage etc), no question was asked if I was happy with my seat assignments, no mention of a business lounge, gate or boarding time. I receive my passport and boarding passes and that was it. This time I would actually have appreciated a brief explanation of what to expect.
Security control and passport control were quick and I entered the small transit hall which consisted of a taxfree shop, a souvenir shop and not much else. There might also have been a small cafe, not sure.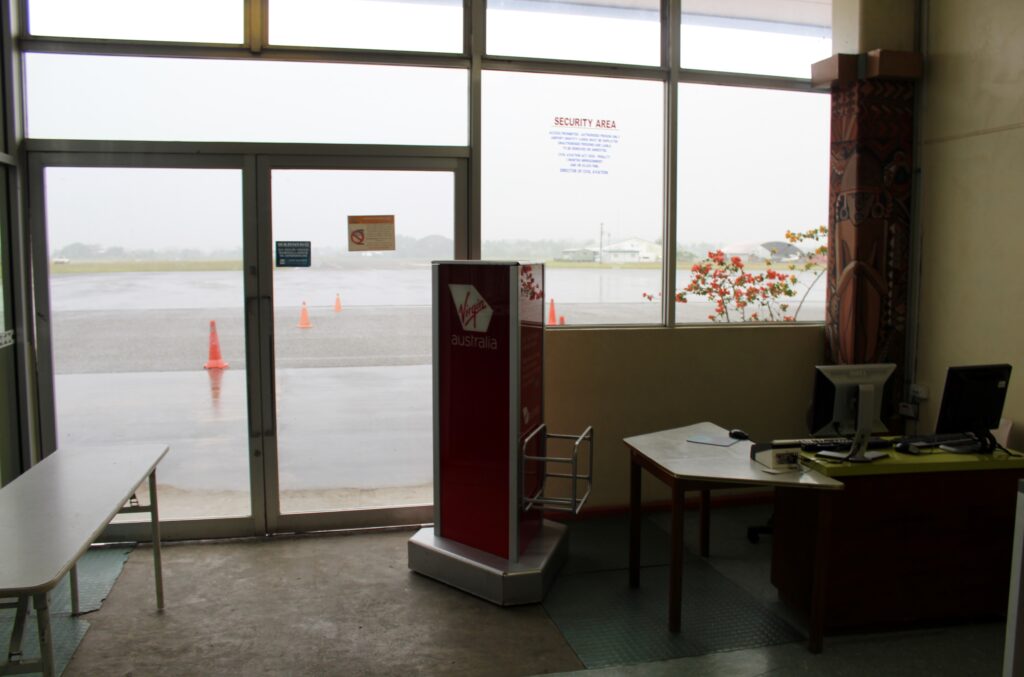 However interestingly there is a lounge at Honiara airport. I had read about it on the Solomon Airlines webpage but I was not sure if Air Niugini had contracted it. There was nothing mentioned about it on their webpage and the check-in agent did not mention it, but on the other hand he did not mention anything about anything.
I immediately noticed the door to the lounge just around the corner from passport control, and there was a note on the door saying business class passengers on Air Niugini did have access. Brilliant.
The lounge, called Belama Club, was not too bad for such a small airport. There was no one at the reception desk when I arrived so I just went inside and look a seat, but a few minutes later a female lounge attendant arrived and registered me on a sheet.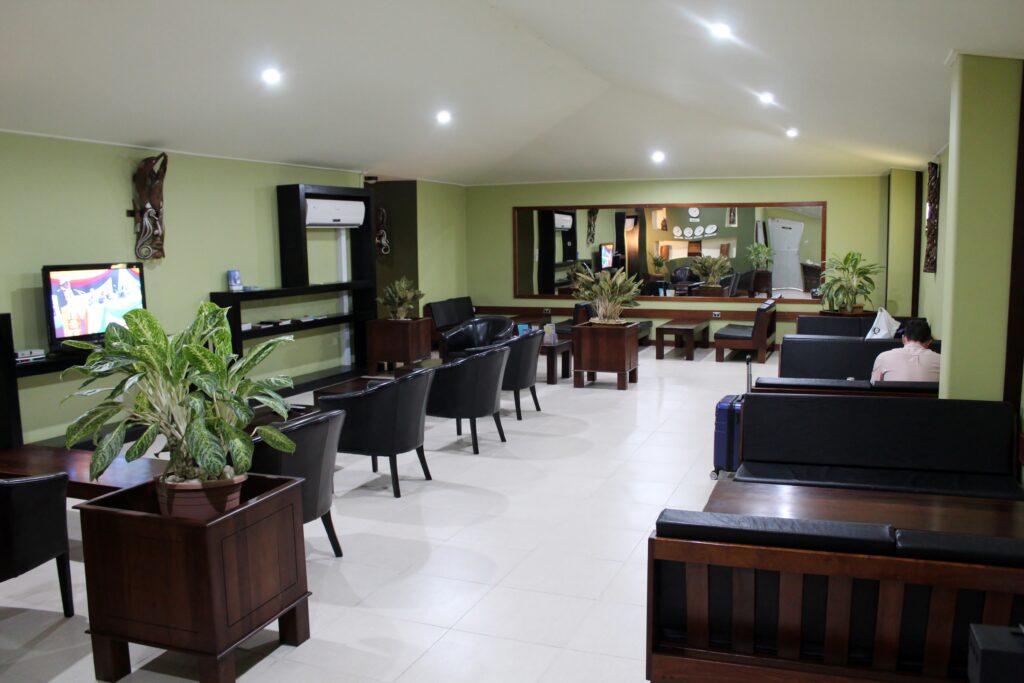 The Belama Club had a rather elegant design combining the traditional culture of the Solomons with wooden benches and local art, together with modern amenities such as the world time in five different cities displayed on the wall. And the lounge had air conditioning, really appreciated on this very hot and humid day. We were only two visitors waiting for the flight to Port Moresby.
The self-service buffet was reasonable with some fresh fruits, sandwiches and snacks as well as beer, wine, soft drinks, coffee and tea to drink.
Read the full lounge review here!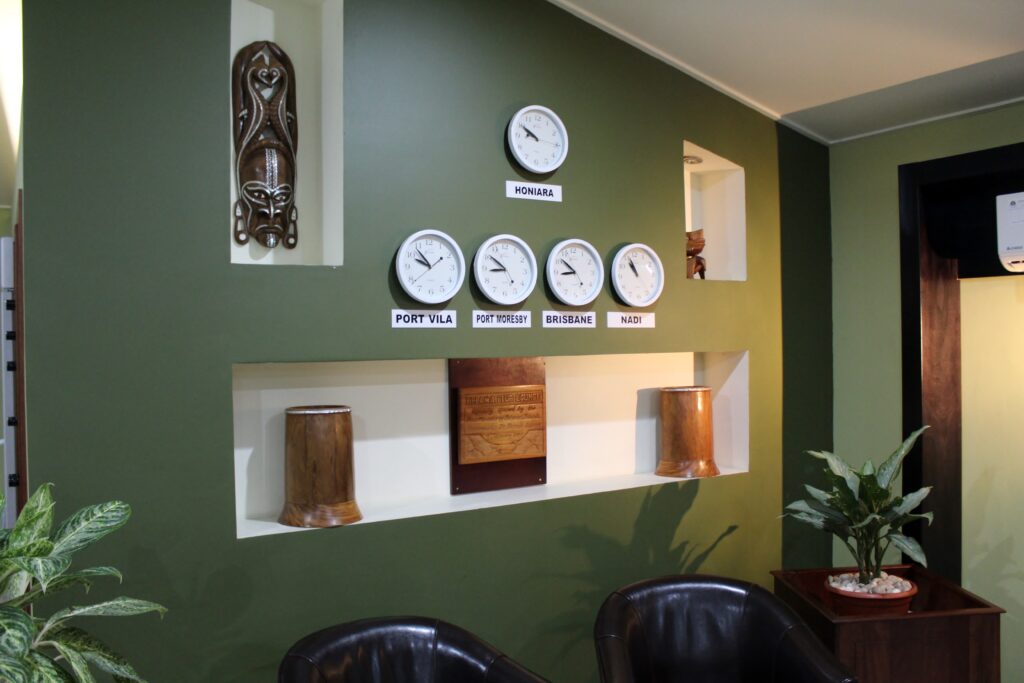 The flight
Honiara-Port Moresby
Air Niugini flight PX 83
Departure: 10.50
Arrival: 12.10
Business Class
Boeing 737-700
Seat 02F

There were no departure screens in the lounge, not sure if there were any screens at all at the airport, but when it was time for boarding the lounge agent simply came inside the lounge to inform us boarding had started at gate 1, just opposite the lounge.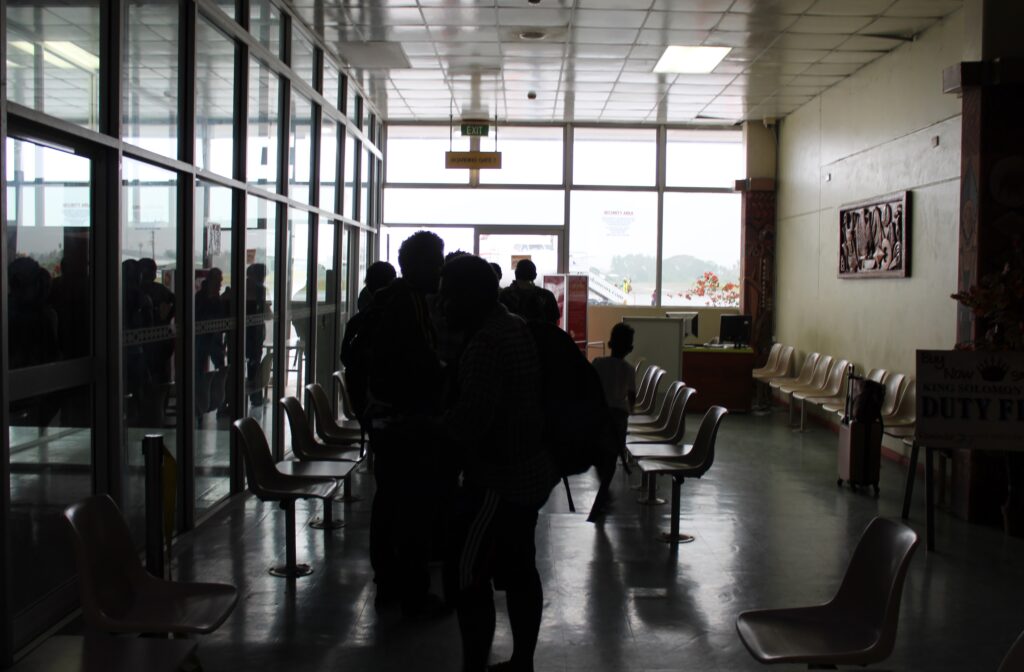 No priority boarding or priority lane at the gate. Not sure if they offered it, but boarding had started anyway as we both got to the gate, and there were not many passengers on the flight anyway.
There are no passenger bridges in Honiara so instead we were treated to a leisurely walk on the apron to the aircraft stairs. The weather was grey but fortunately it had stopped raining, at least temporarily.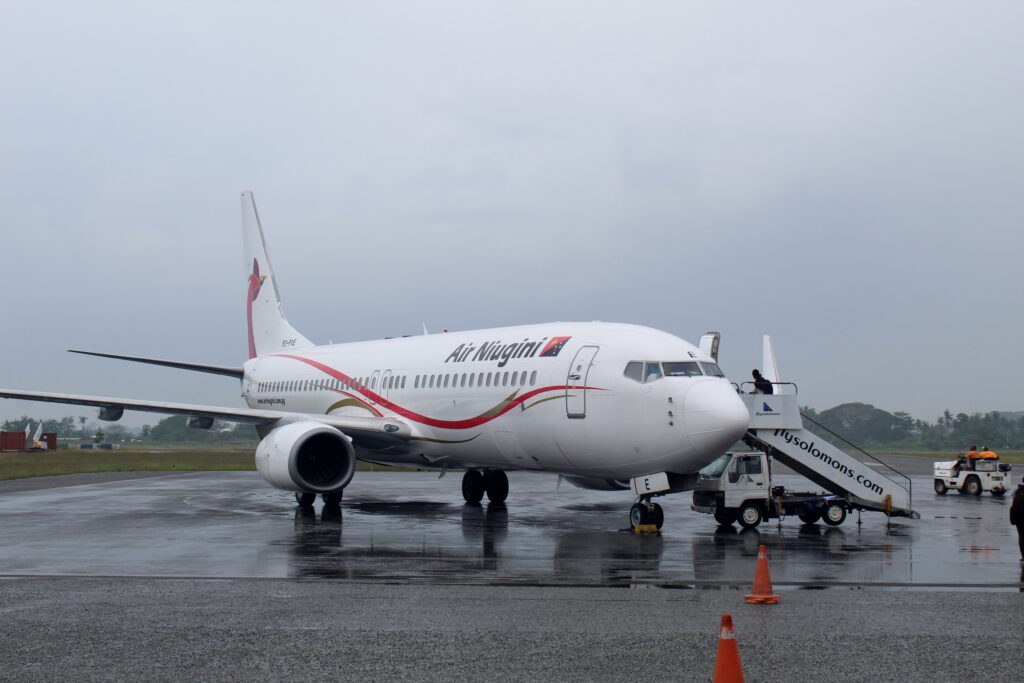 First impression

A Boeing 737 was used for the flight to Port Moresby and it turned out I was the only passenger in business class.
I had little idea what to expect onboard, most photos on the Air Niugini webpage showed the Boeing 767 used on longer flights, but I was delighted to see that the Boeing 737 had proper business class seats onboard and that the comfort was excellent. This was really much better than expected.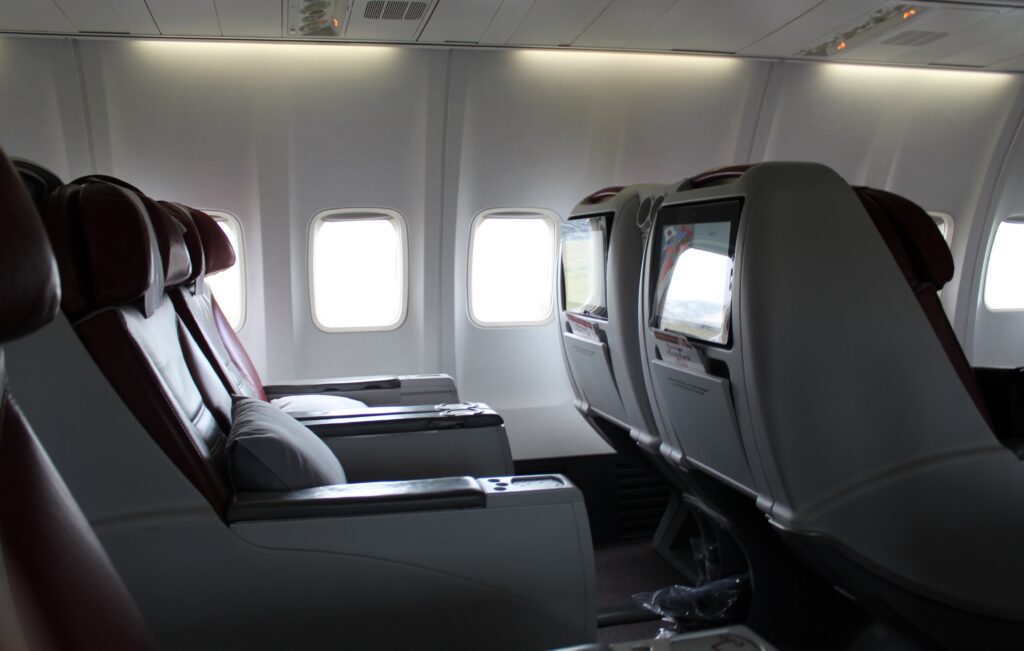 As I had stowed my hand luggage and settled in my seat I was offered newspapers, noise-cancelling headphones and a pre-departure beverage. Champagne was an option but I was happy with a glass of orange juice this time.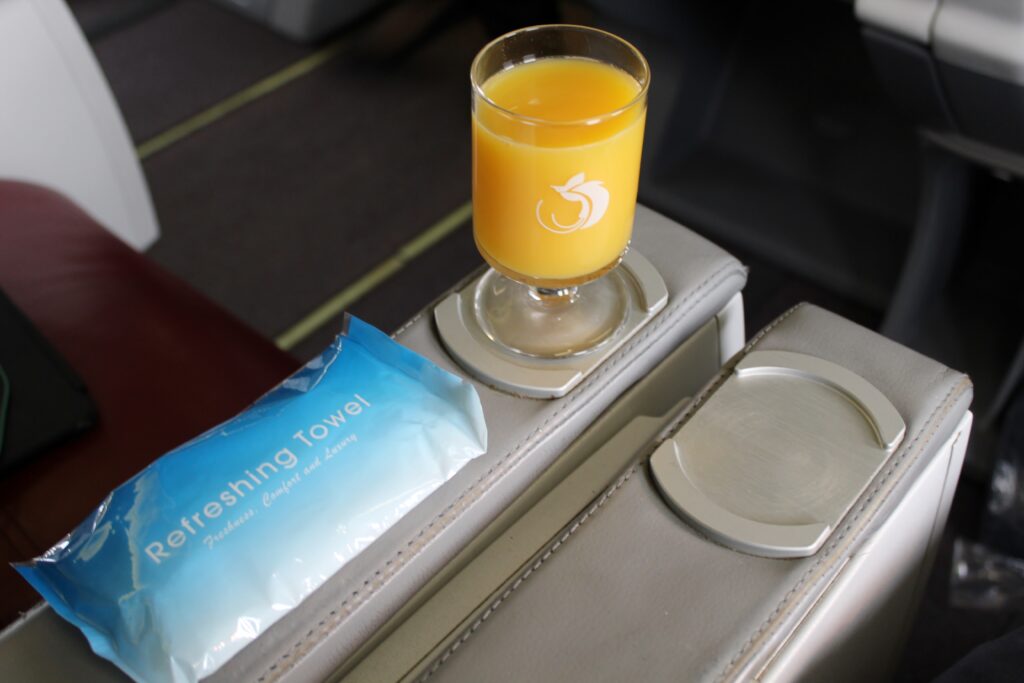 It had started raining again as we started our engines to prepare to leave Honiara. By a coincidence I noticed they had an outdoor terrace on the upper floor of the terminal building and it was packed with people who were there to send people off, or perhaps aviation enthusiasts.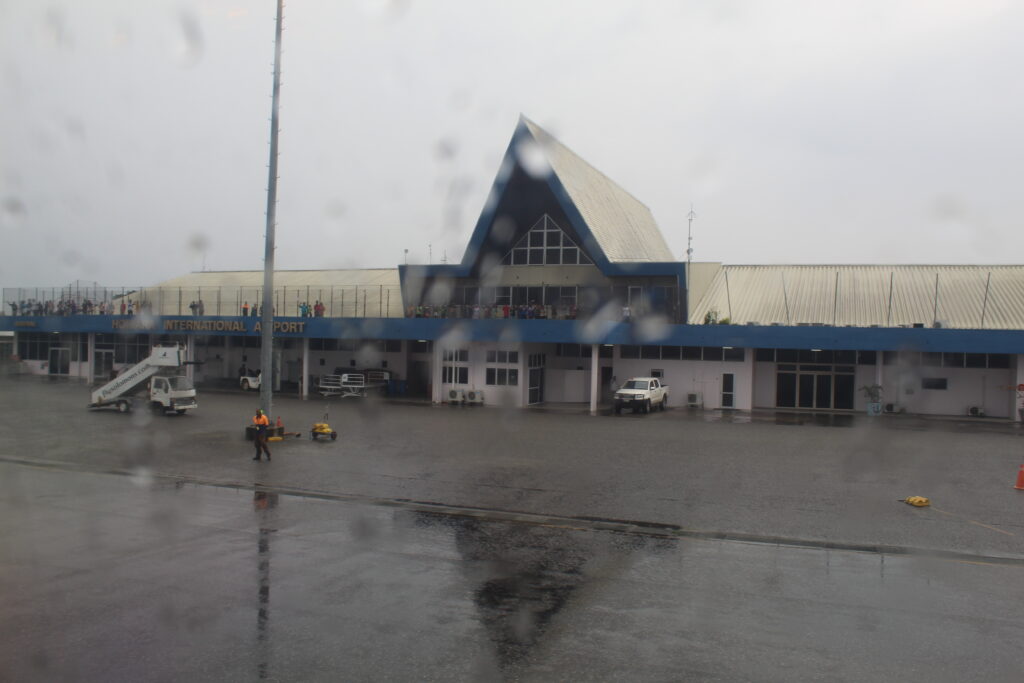 After the standard safety demonstation we took off to the north with an expected flight time of just under two hours.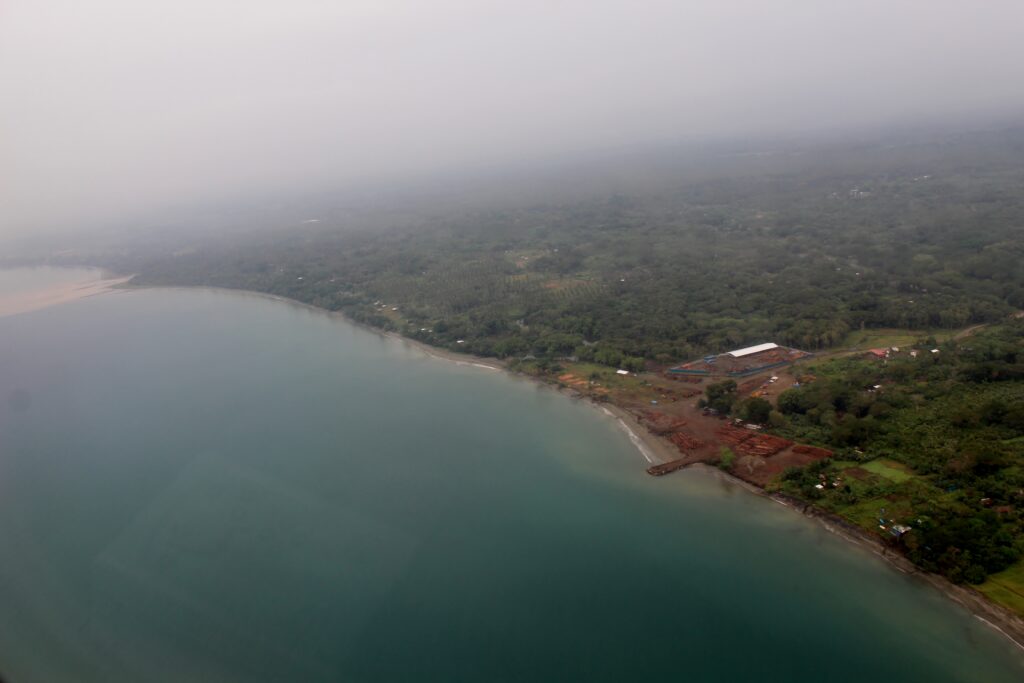 Seat and cabin

The comfort in business class turned out to be much better than expected with proper business class seats, in fact it was the same seats as on the Boeing 767 aircrafts, used on longer flights to Asia and in some cases Australia. So in hindsight it was a very wise decision to submit an upgrade bid for Honiara-Port Moresby, rather than the much more expensive Port Moresby-Sydney, since I got to experience the full hard product anyway.
There were four rows of business class in a 2-2 configuration. I had selected 02F on the second row and was the only passenger. I have not managed to find any information about the seat pitch, but it was decent for a shorthaul narrowbody aircraft. On the Boeing 767 aircrafts the configuration is 2-1-2 in business class.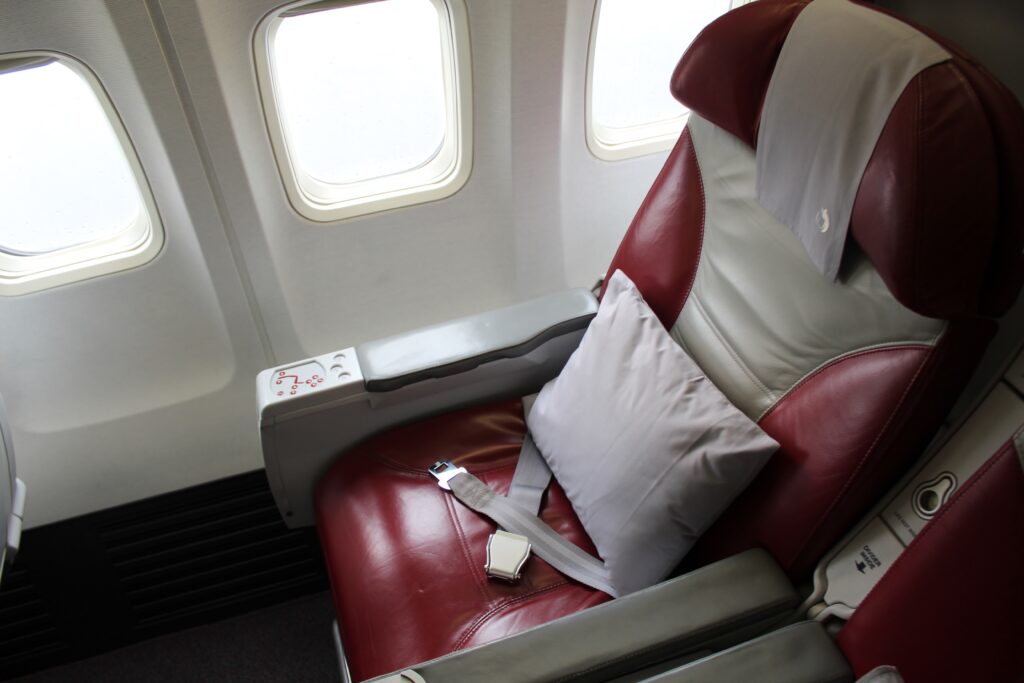 The seat was controlled using the rather advanced remote control placed on the armrest and when reclined the seat was lie-flat.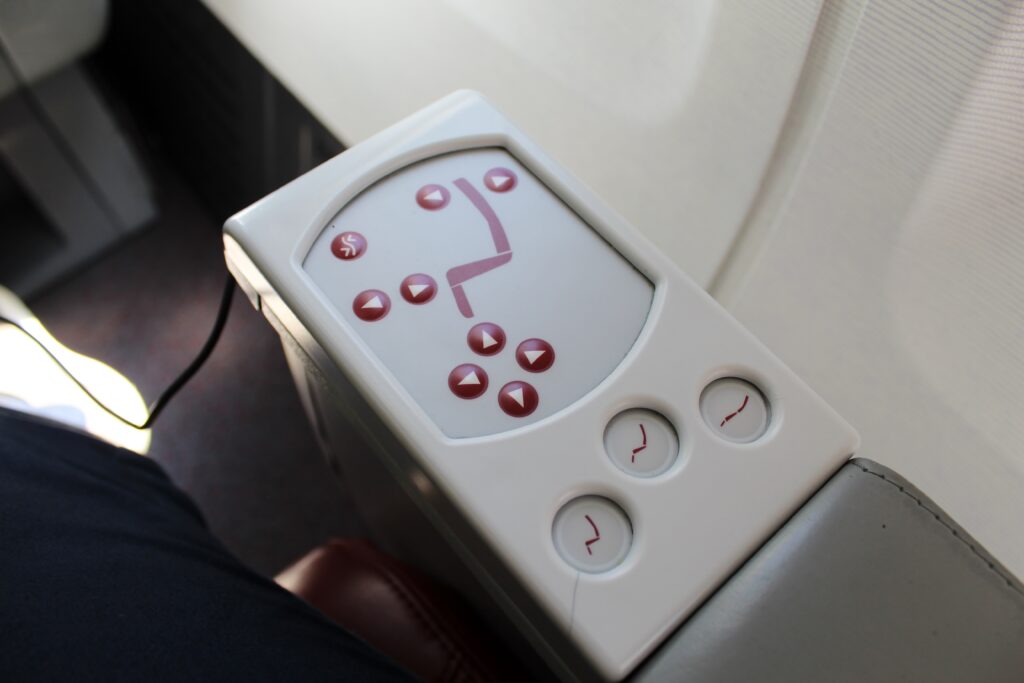 Food and drinks

As soon as the seatbelt sign had been switched off the purser came to my seat and asked me if I wanted some lunch, I happily accepted. Given that this was a flight of around two hours in length leaving at 11 am I had expected some kind of hot lunch to be served onboard. Also from my experience most South Pacific airlines keep a very decent inflight service level onboard, not just in business class but also in economy class.
So I was rather disappointed when the white table cloth was laid on my table and the purser handed me a tray with a cold snack. Nothing hot whatsoever, no choice, not even a proper cold meal.
The 'lunch' consisted of two chicken wraps with some salad and a bowl with some fresh fruits. And that was it. I wondered for a while if there would be something else served afterwards, but that was not the case.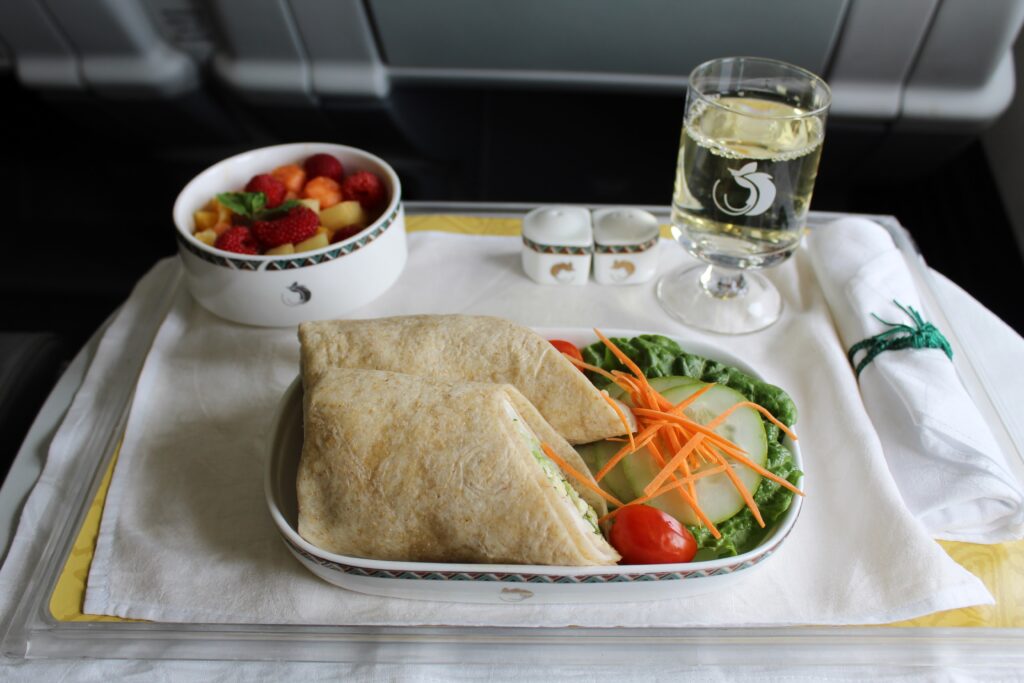 In all fairness the chicken wraps were decent and honestly I was not that hungry after having had a very extensive breakfast three hours earlier. I asked for a glass of wine to drink and had two reds and two whites to choose between. All wines were of Australian origin.
A refill of the wine glass was offered (several refills were offered during the flight) and finally a cup of coffee before my table was cleared. And I have to give Air Niugini some credit for their presentation. Both their glasses and china are really elegant with the bird-of-paradise logo on them.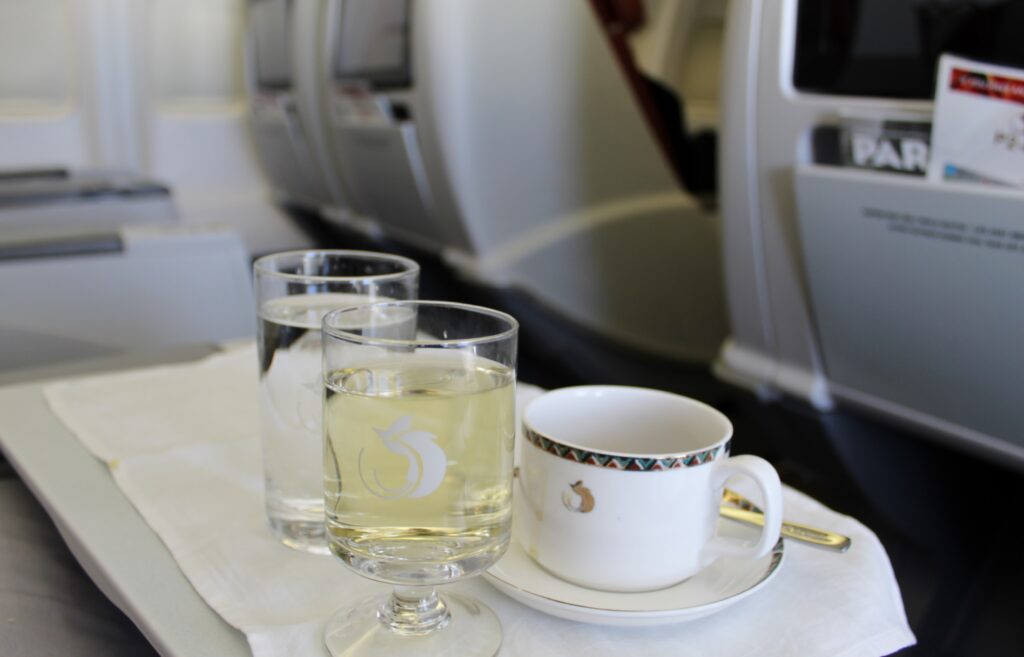 My only other complaint is that they had no gin onboard so it was not possible to order a gin and tonic. Also the table, hidden in the armrest, was rather low and kept pressing against my waist, which was not very comfortable.
Inflight entertainment
A full Audio Video On-Demand (AVOD) inflight entertainment system was available onboard with various movies, TV-series, documentaries, music albums and information about the flight. The quality was decent even though it turned out to be necessary to lower the window shades to avoid getting reflections in the screen.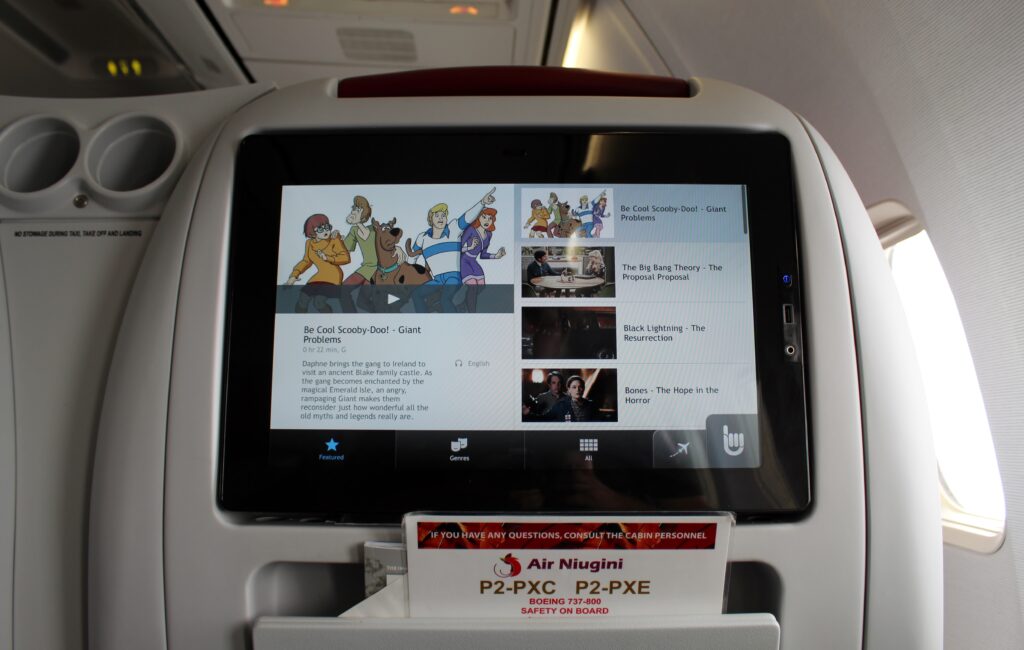 There was also a decent flight map available.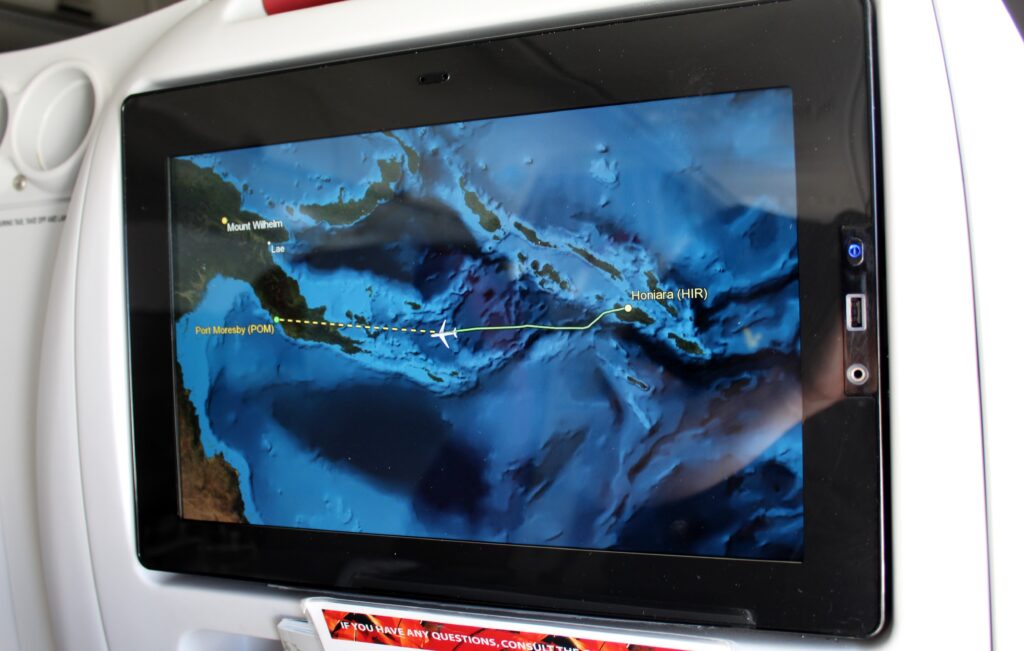 The service

The service was perfect by the female purser who was very elegantly dressed in a white jacket and looked almost like a head waitress at an upscale restaurant. The service was very attentive and kept a high standard and all in all there was very little to complain about. I was well taken care of.
Arrival experience

The final hour of the flight provided some magnificent view of Papua New Guinea and the beautiful landscape. Just stunning.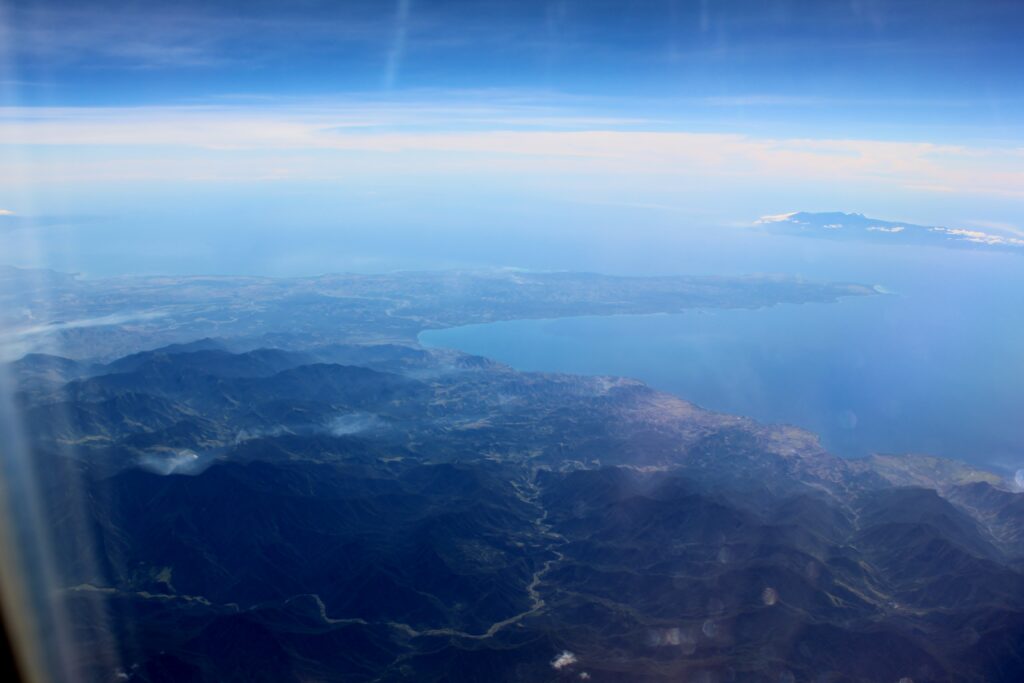 We approached Port Moresby from the east and landed from the west, which meant we flew along the coast and parts of the city centre and then made a 180 degrees turn for a visual approach to the airport, which is just a few kilometres from the city centre. Fortunately I had picked a window seat on the right hand side of the cabin.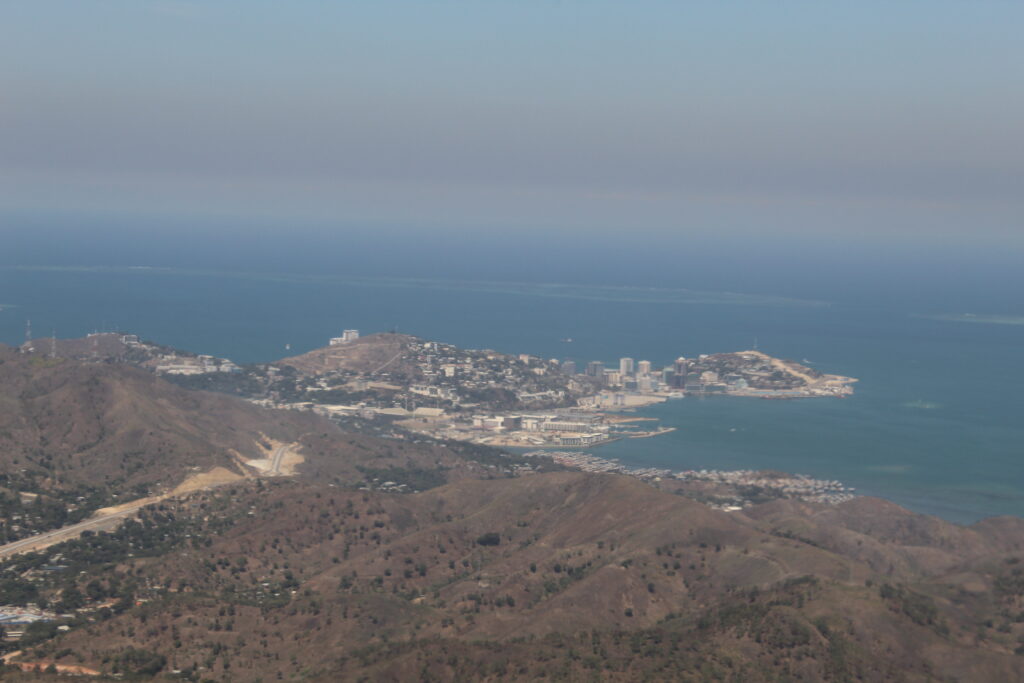 If was very interesting to get a glimpse of Port Moresby, which looked very pleasant from the sky, beautifully located just by the coast. Visiting it is a different story though as it can be quite dangerous due to the high crime rate. Carjackings are not unheard of and especially along the road to and from the airport in Port Moresby. You need to take proper security precautions if visiting the city, possibly with a security escort and especially after dark. Just too bad as all the locals I met at the airport in Port Moresby (and the airline staff of course) were lovely, very friendly and accommodating.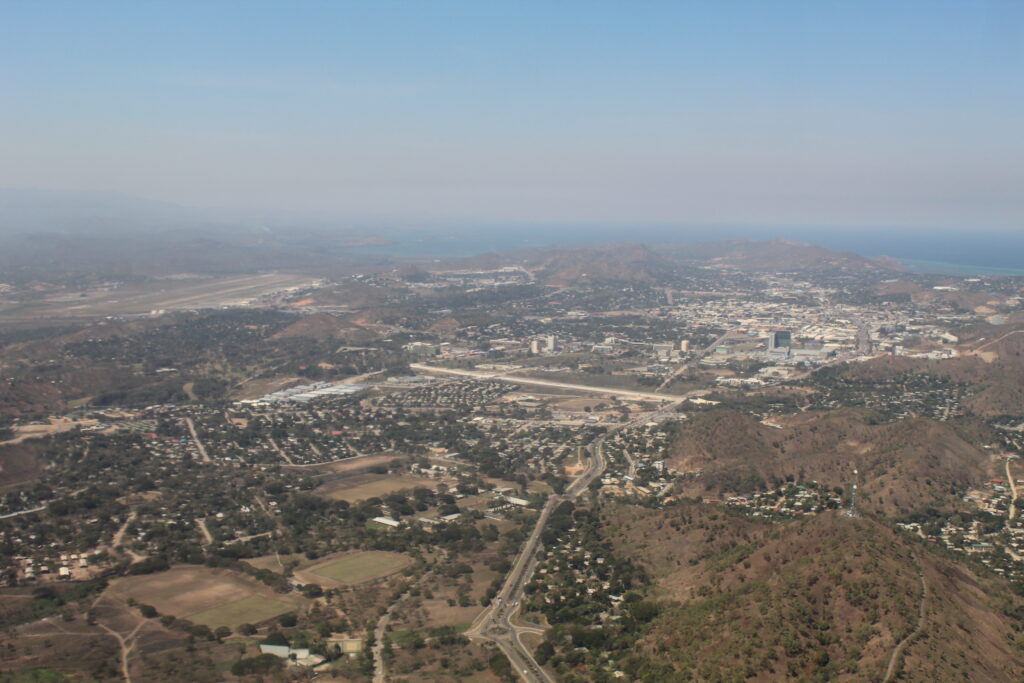 We landed a few minutes early at Jacksons International Airport where the weather was bright and sunny.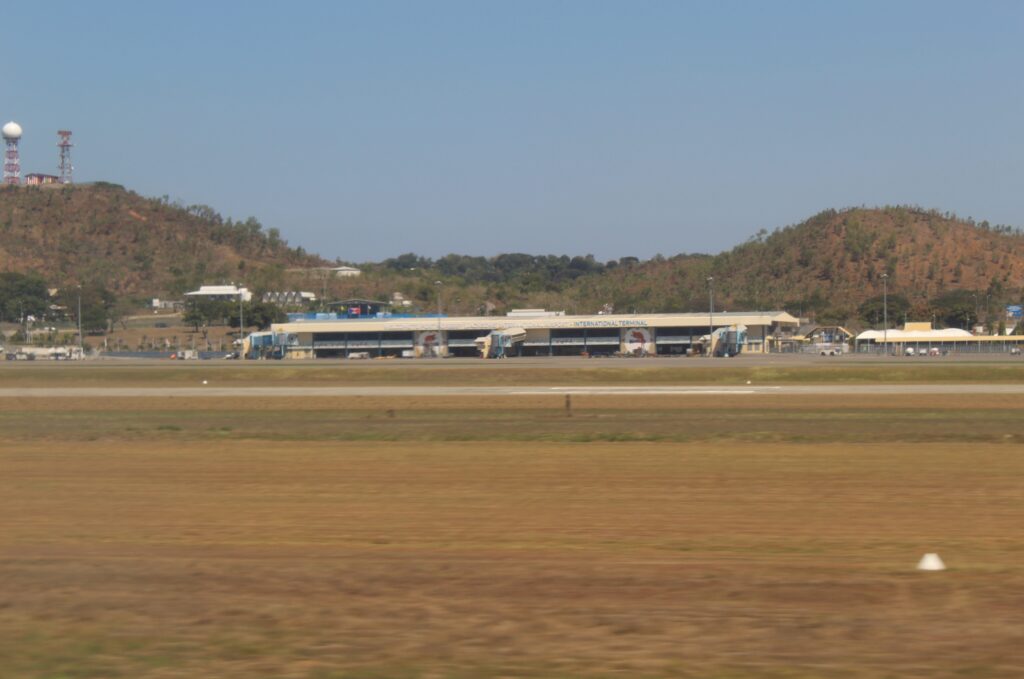 The domestic and international terminals are located right next to each other but the international terminal is far more modern with three jet bridges. Making a transfer there also turned out to be very easy and straight-forward.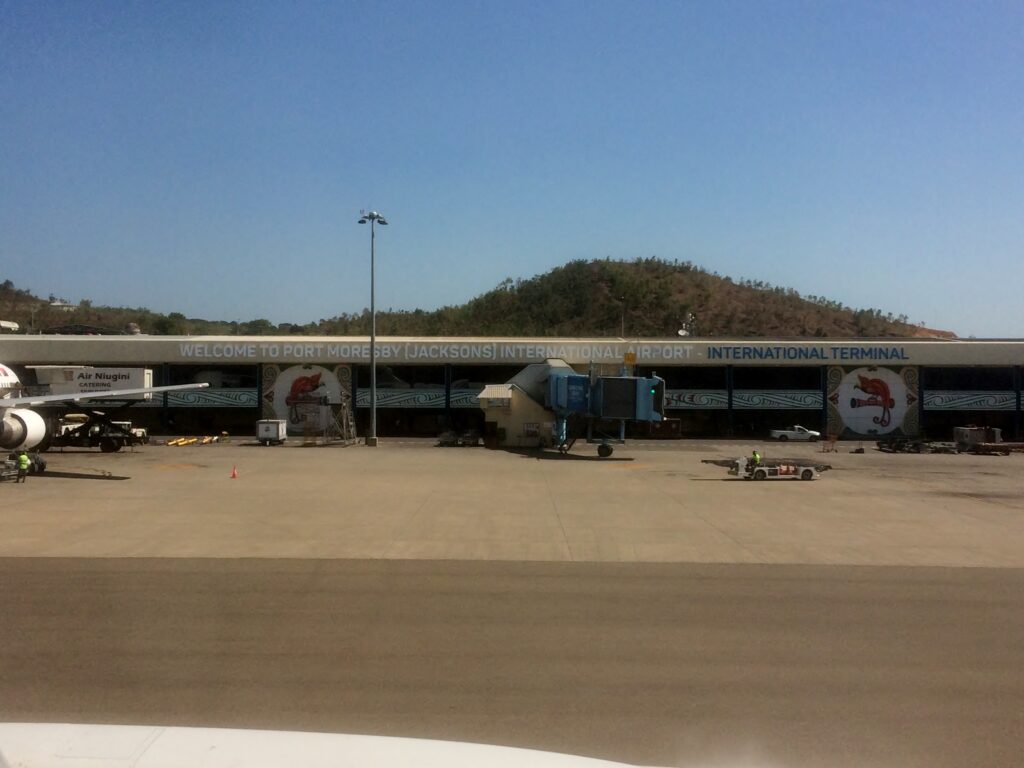 Final impression

Excellent seat comfort with proper business class seats and a full AVOD inflight entertainment system. The purser also provided an excellent service level, I liked the elegant glasses and china and there was a nice little lounge in Honiara. Just a bit disappointed to only be served a cold snack on a lunchtime flight of two hours.