Air Namibia is the national airline of Namibia with its base in the Namibian capital, Windhoek. They operate domestic flights within Namibia, shorthaul flights to mostly destinations in southern and western African as well as one single longhaul route, from Windhoek to Frankfurt in Germany. Perhaps not all too surprising as Frankfurt is one of largest and most important airport hubs in Europe but also given the fact that Namibia used to be a German colony for many years and there are still many cultural ties between the two countries.
This was my second flight with Air Namibia having been very impressed with the airline on my previous flight. This is a review of a flight from Cape Town in South African to Walvis Bay, located along the west coast of Namibia.
Departure experience

I arrived at Cape Town just before 9 am. The timing was perfect as check-in opened exactly two hours before departure at 9 am.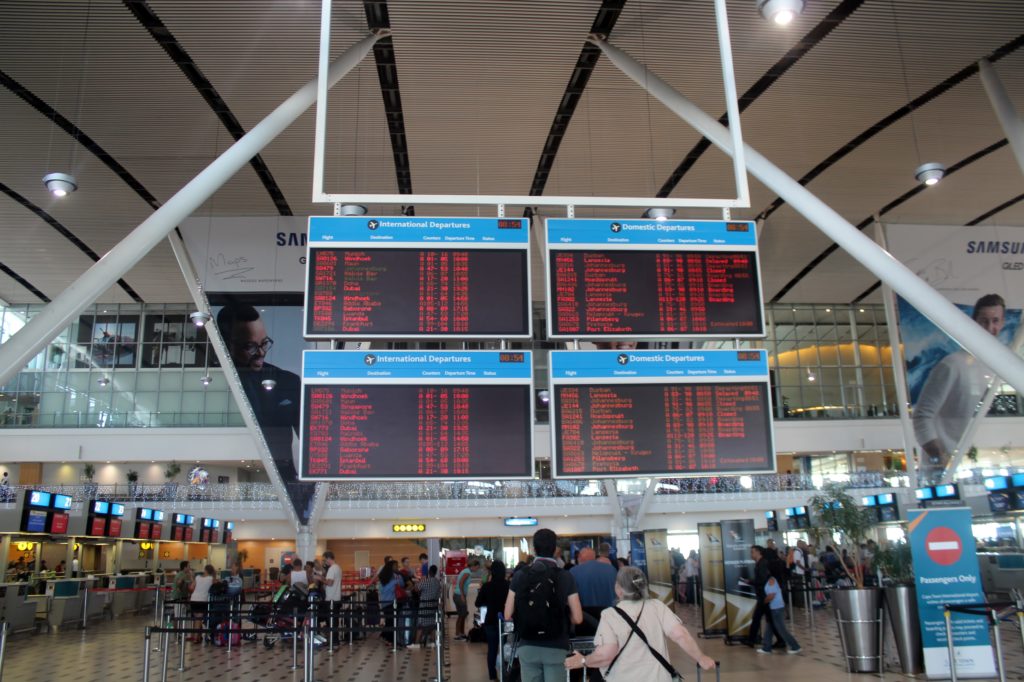 There were three check-in desks open for the 11 am departure to Walvis Bay and Windhoek, one for business class and frequent flyers in the Air Namibia frequent flyer program (Air Namibia is not part of an alliance) and two for economy class passengers. I had already checked in on the Air Namibia webpage but for some reason I was not able to select the seat I preferred, it had been automatically assigned by the system and could not be changed on the webpage. I also needed help to print a boarding pass.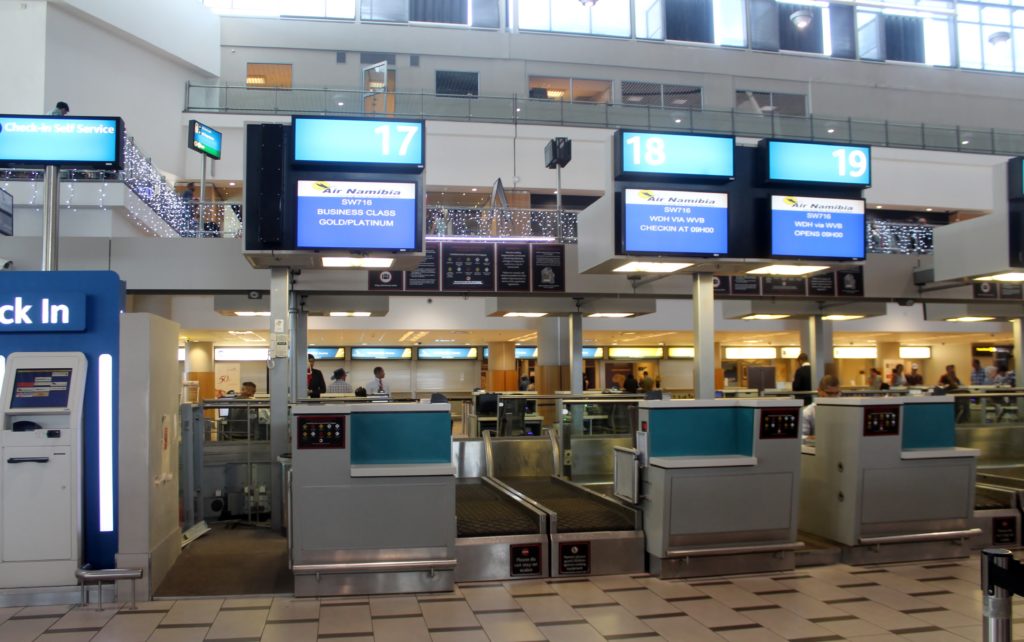 I was the very first passenger to be served when check-in opened at 9 am. Check-in was swift and efficient, especially as I had only hand luggage, but the agent was very quiet and I had to ask most questions myself. But she moved me to a window seat, which was appreciated as I was hoping to get a good view of the coastline during the flight.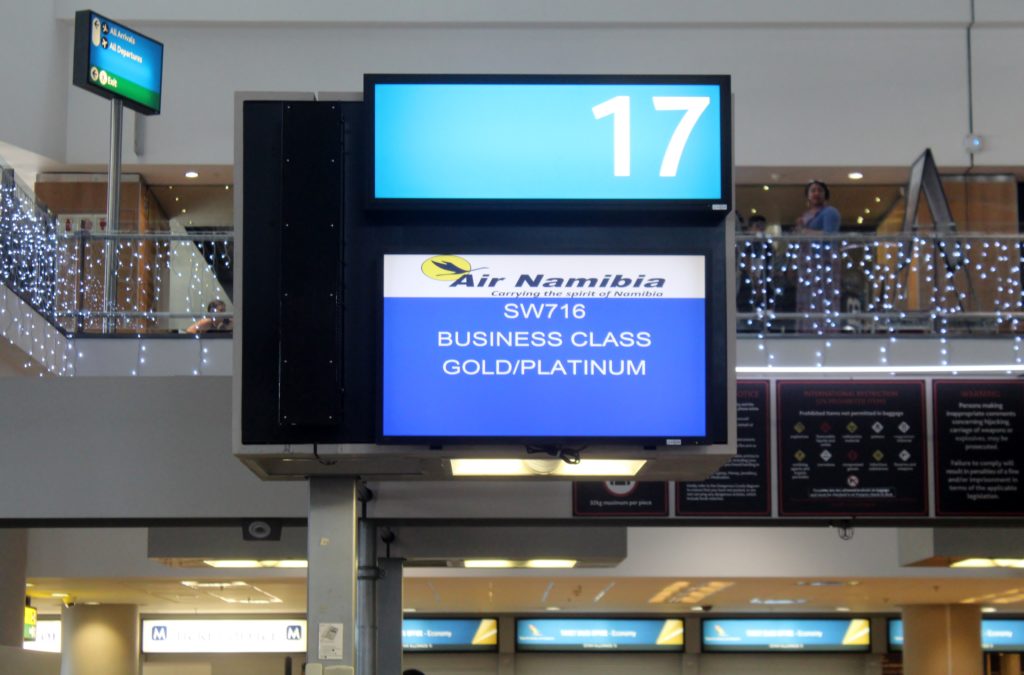 Both security and passport control were very quick. There are three lounges in the international transit hall at Cape Town airport. British Airways and Emirates run their own lounges while all other airlines use the Bidvest Lounge. With both a Singapore Airlines and a Lufthansa flight leaving around 10 am the lounge was fairly crowded but it got much better when boarding for these flights started.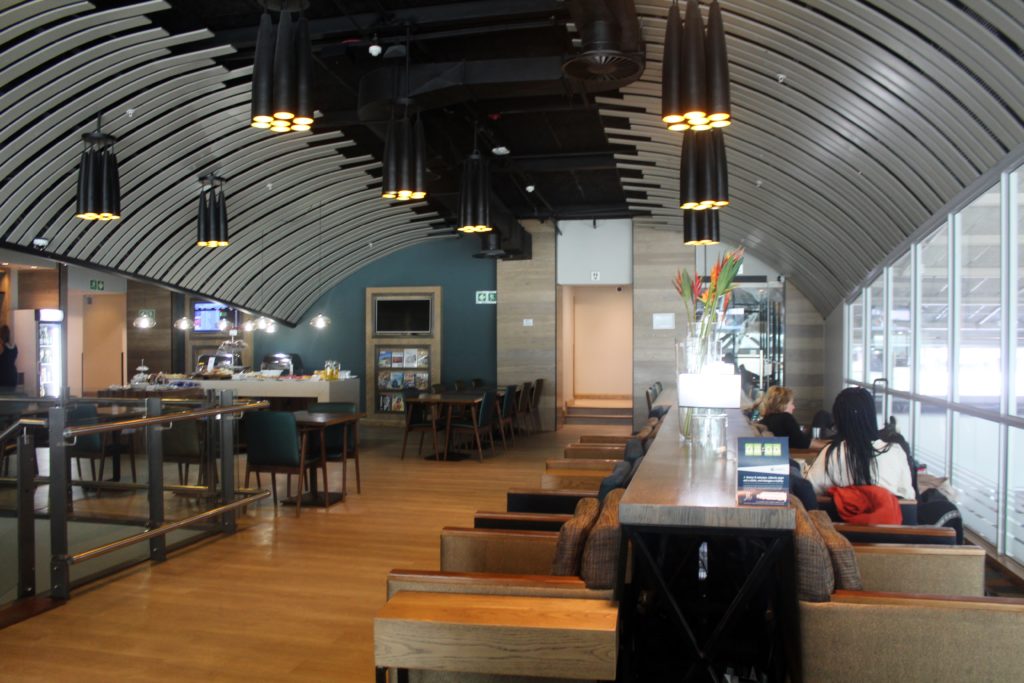 The Bidvest lounge is not bad, just like most lounges in South Africa. It is located on a balcony overlooking the departure hall and parts of the apron. A full bar was available for self service and there were plenty of breakfast dishes including both hot and cold items.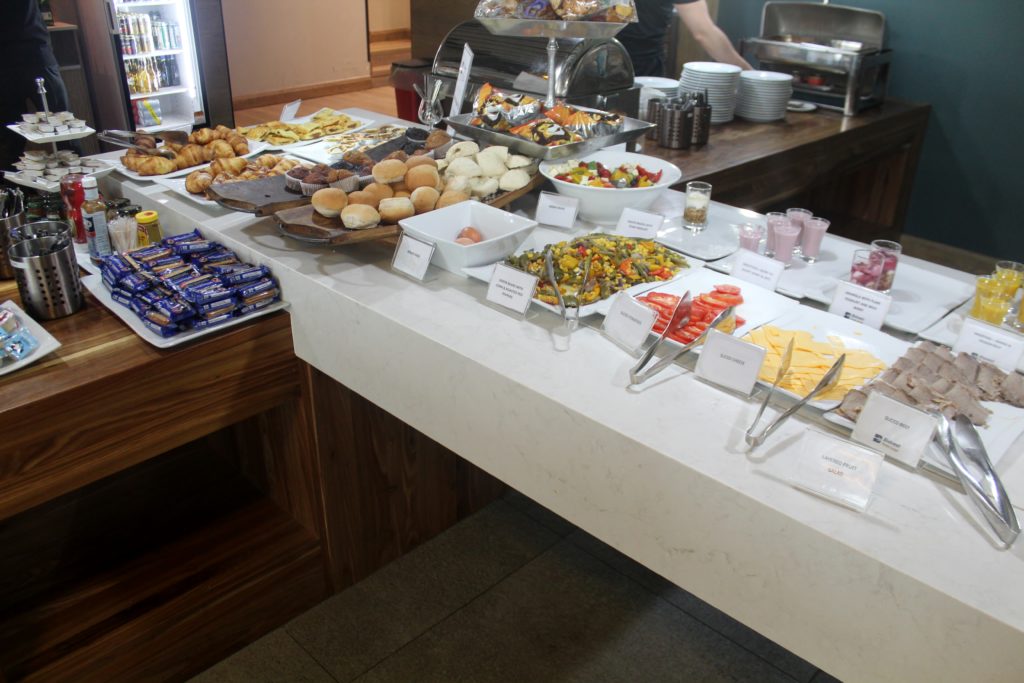 The flight
Cape Town-Walvis Bay
Air Namibia flight SW 716
Departure: 11.00
Arrival: 13.10
Business Class
Airbus A319
Seat 02A

Boarding started 20 minutes before departure at one of the bus gates in the basement. Interestingly the aircraft had been assigned an apron position even though there were several empty stands at the terminal building.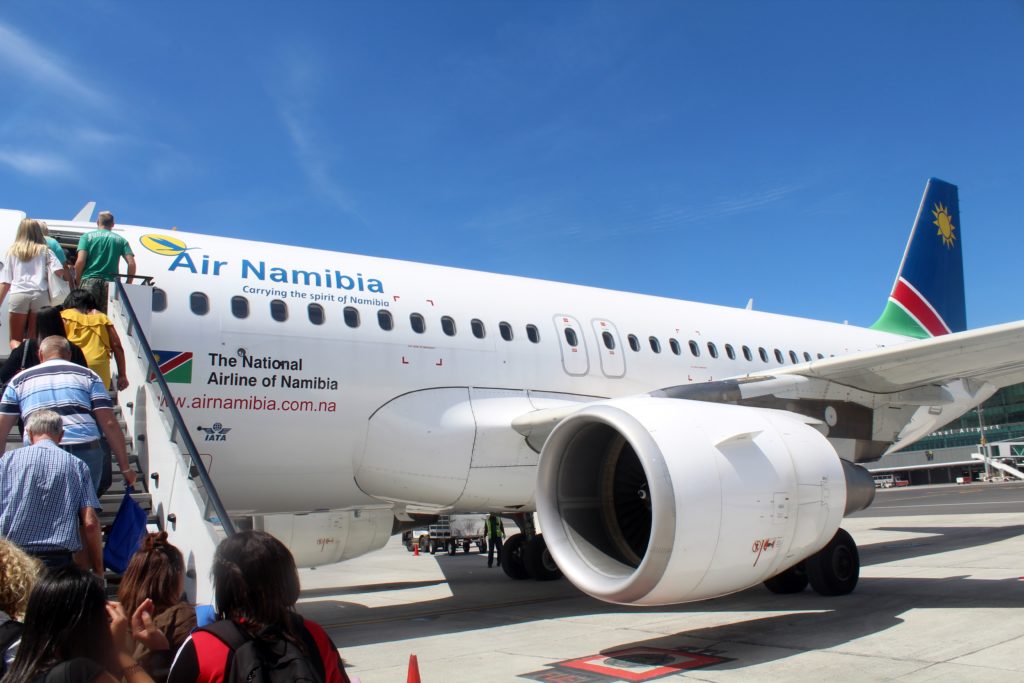 First impression

Lovely weather in Cape Town this morning with a pleasant stroll from the bus to the aircraft in the sun. Two very friendly flight attendants greeted me at the entrance and the cabin gave an excellent first impression. Very modern and in an excellent condition with large and very comfortable business class seats with lots of legroom. The same good first impression I got last time.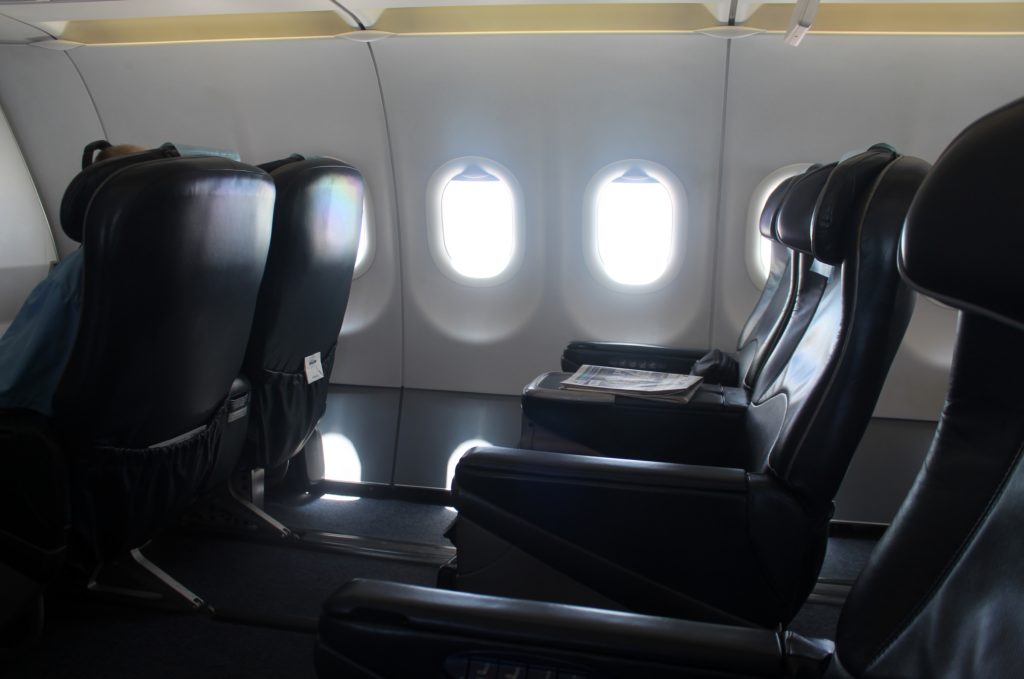 A pre-departure drink was offered, which included water and different juices but no alcoholic drinks. Newspapers in English and Afrikaans were also offered. As we waited for the pushback clearance one of the flight attendants also passed through the cabin to take a first drink order after takeoff.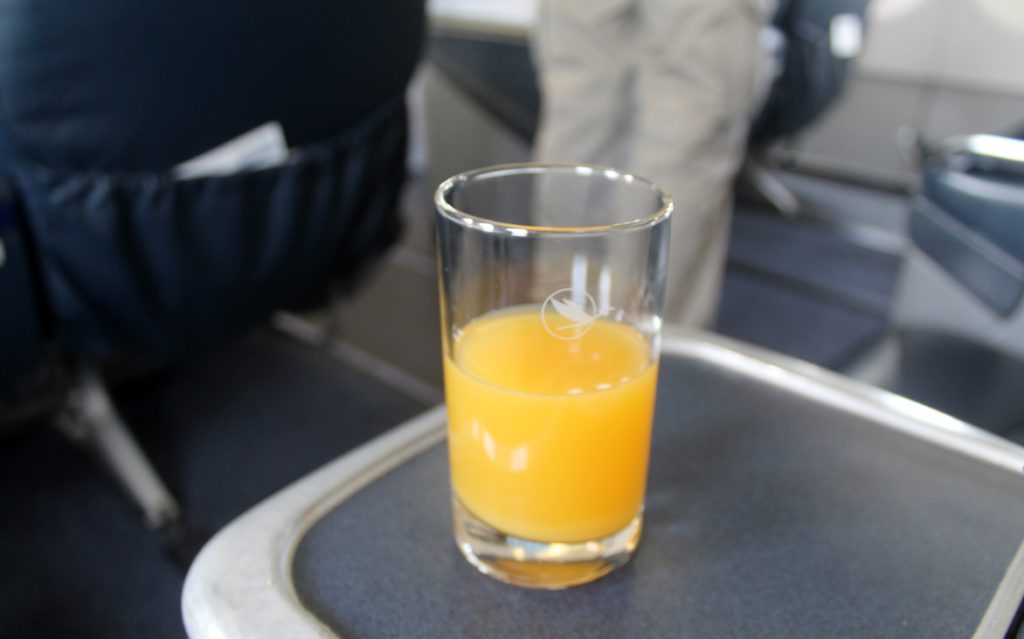 The load in business class was quite good with 11 of the 16 seats taken.
Punctual pushback just after 11 am with a flight time of two hours to Walvis Bay, the first stop of the flight which would then continue from Walvis Bay to Windhoek 30 minutes later. Tickets are sold for all segments of the flight, Cape Town-Walvis Bay, Cape Town-Windhoek and Walvis Bay-Windhoek, which would be regarded a domestic flight for passengers only flying that part.
We took off to the south and as we made a 180 degrees turn towards Namibia we got a fantastic view of Cape Town,  Table mountain, Robben island and the bay.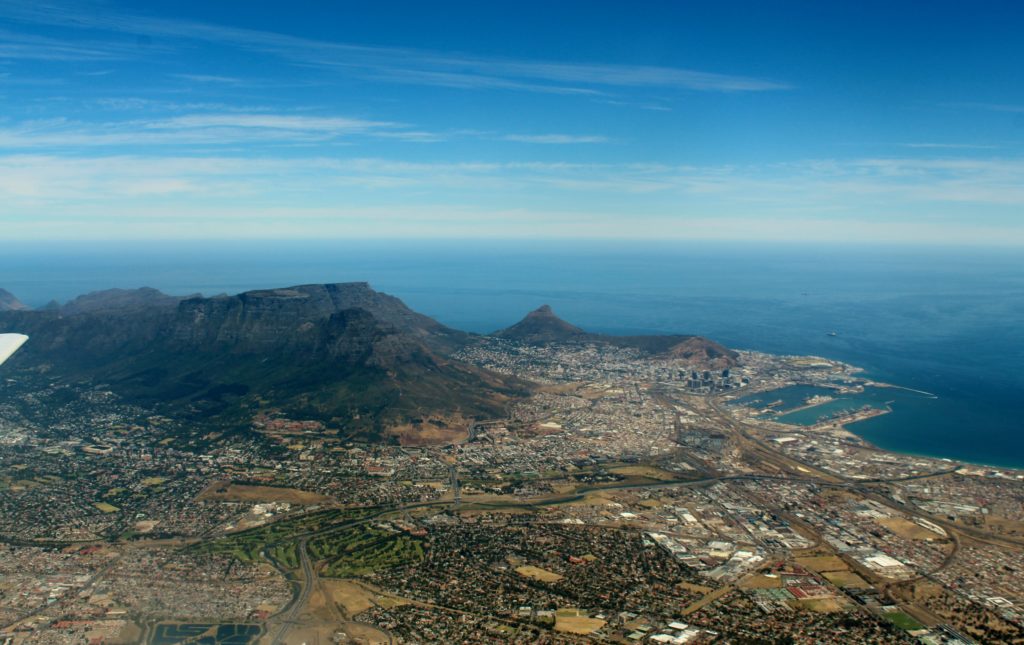 Seat and cabin

The Air Namibia business class is a very impressive product for a shorthaul flight. There were four rows with a 2-2 configuration on the Airbus A319 meaning 16 seats in total.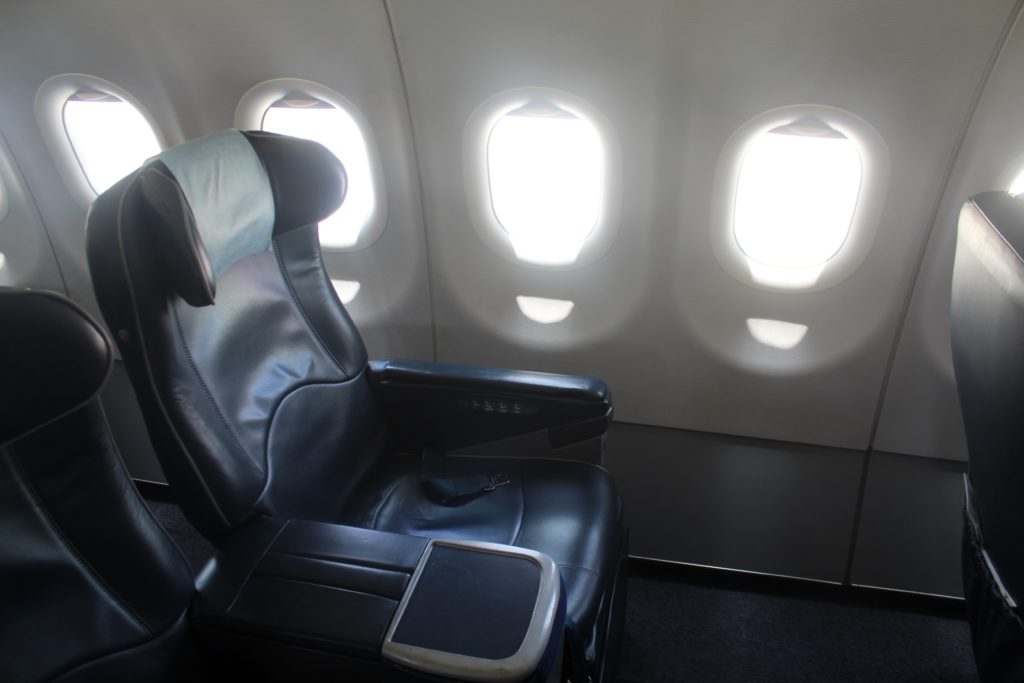 The seat was very comfortable and there was a decent recline, but the best part of the seat was probably the legroom, it is massive. This must be one of the most generous legrooms on any commercial shorthaul narrowbody aircraft in the world. If you sit at a window seat you can easily reach the aisle without your seat neighbour having to stand up.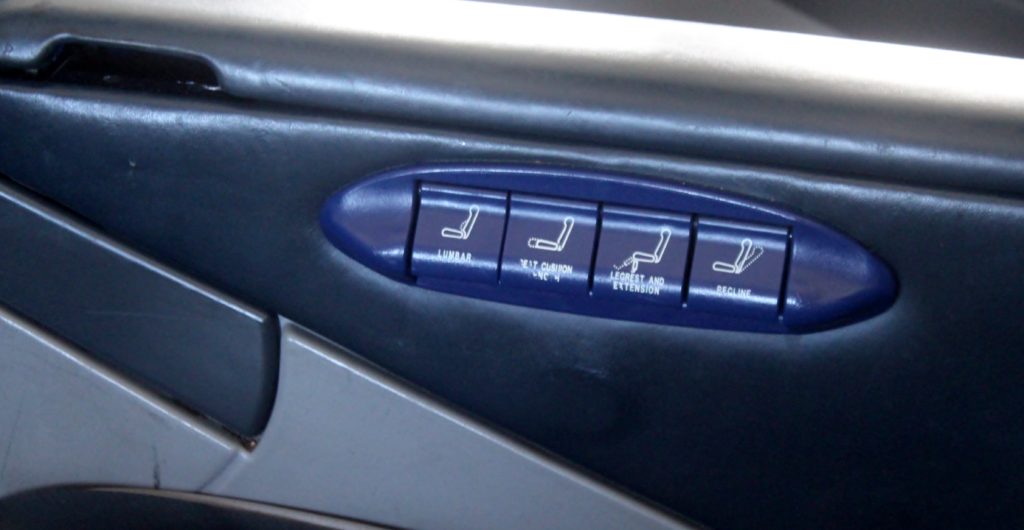 Food and drinks

Once airborne a first cocktail was served, the one we had ordered before takeoff. I had asked for a gin and tonic which was served with ice and lemon in a very stylish cocktail glass.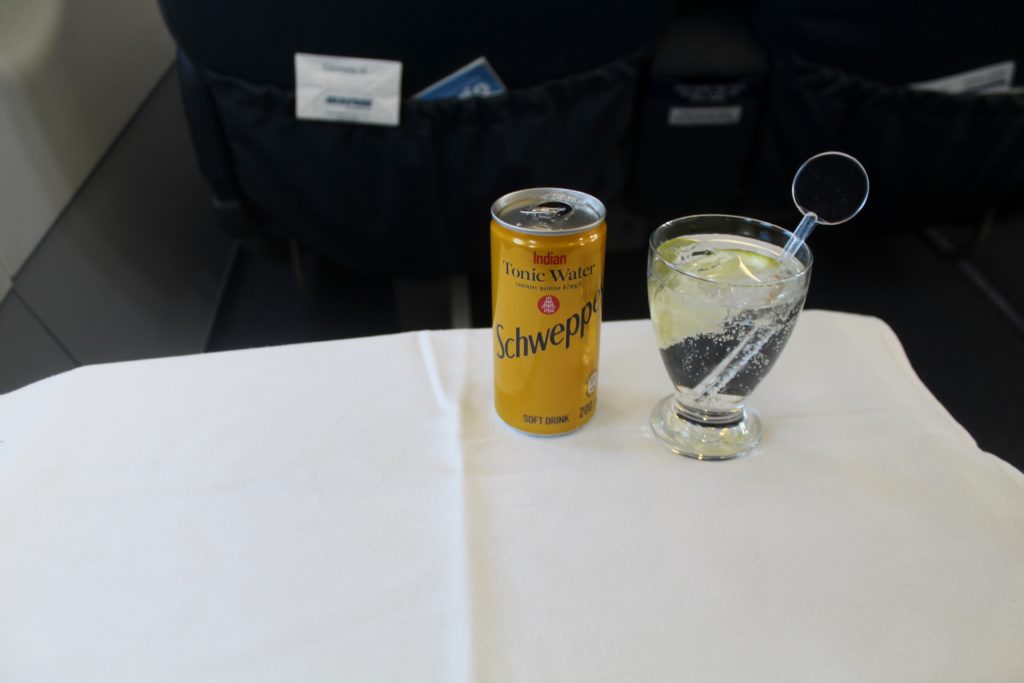 A few minutes later a table cloth was laid on the table and the starter was served, chicken with potato salad and vegetables. There was also a bread roll on the tray.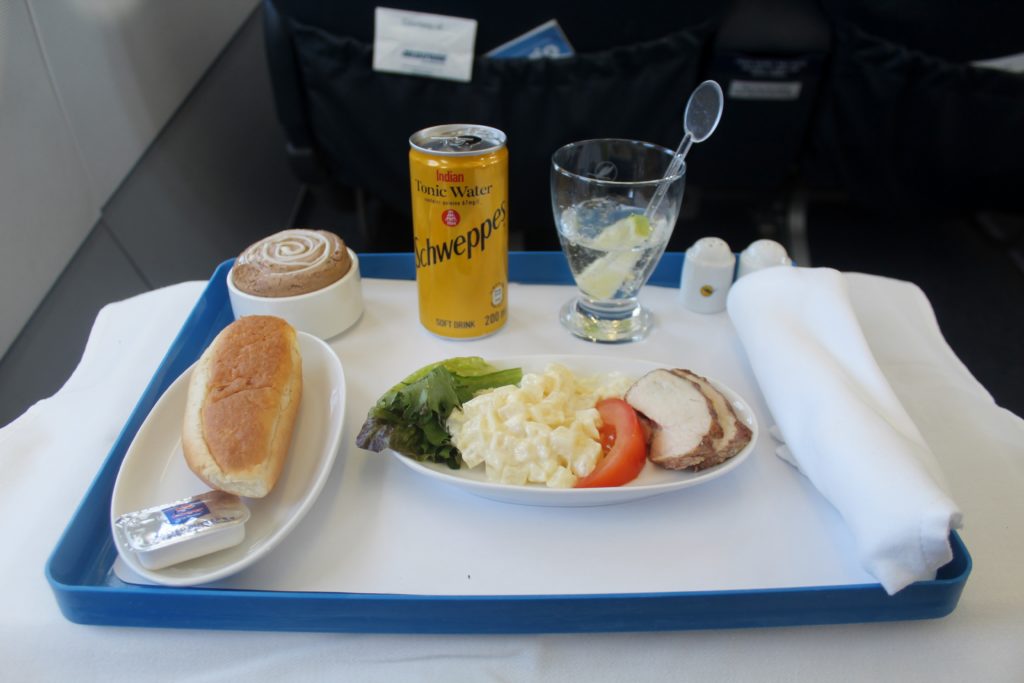 There were three choices of main course, all three offered individually at the seat from a tray so we could have a look. The three choices were chicken, fish or beef. I chose the beef which was served with potatoes and vegetables.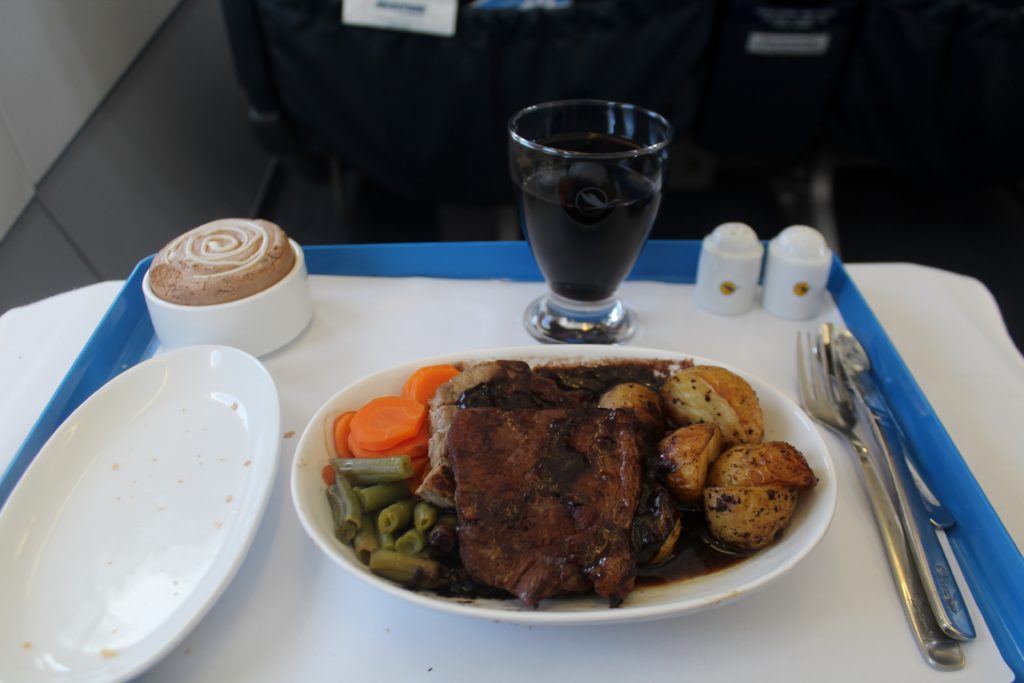 I also ordered a glass of wine to drink. They had four wines available, two reds and two whites, served from large bottles. Most wines seemed to be South African. I was very properly asked if I wanted to test the wine first, which I did. All bottles they opened were decorated with a napkin and the wines were always served on a silver tray at the seat so you could see the bottle. It was all very elegant and classy.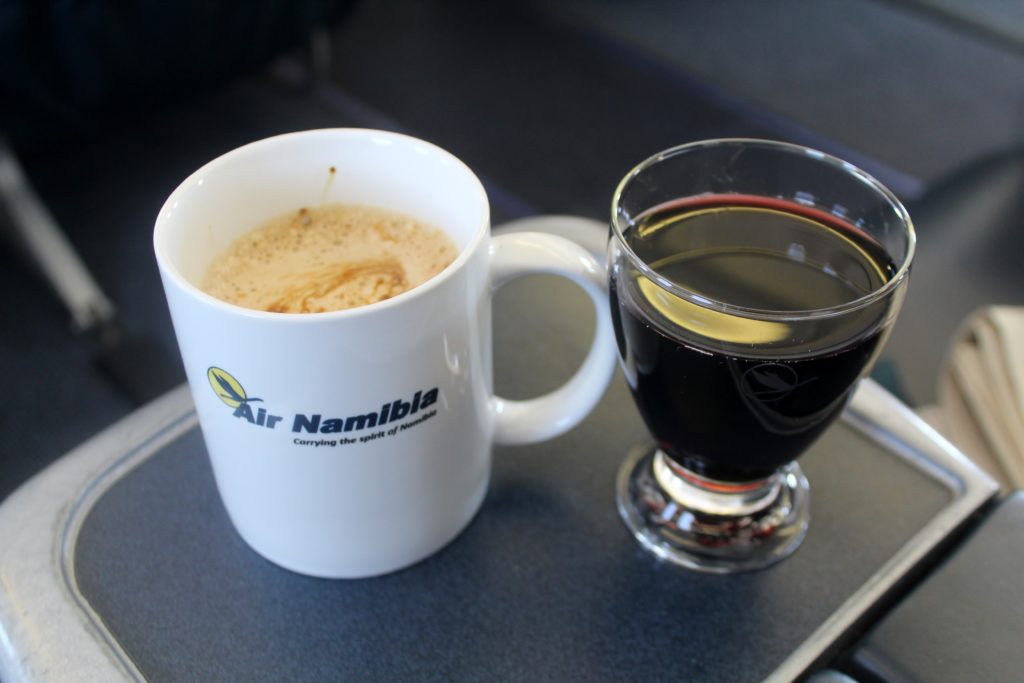 Finally coffee and tea were served and there was a chocolate mousse dessert on the tray. The coffee was served in a nice Air Namibia mug with the logo on it and I was also offered a refill of the red wine.
The service

The service was brilliant, just perfect in almost every possible aspect. Two male flight attendants served in business class but even though we were 11 passengers the service was very attentive and absolutely perfect in length and speed. Everything was served with a smile and the service never felt rushed. The coordination between the two was perfect.
Also a big hands-up for not using any trolleys, all food and drinks were served directly from the galley, usually on a silver tray with a napkin on it. It requires a bit more work but makes the passenger experience so much better. The service was very elegant, just the way it should be in a premium cabin.
The only thing they did not do was to address passengers by name, but that is just a very minor detail in what was otherwise a perfect experience.
Arrival experience

We flew along the coastline during most of the flight but there was not much to see, or rather, the scenery was nice there was not much down there, just desert, desert and more Namibian desert.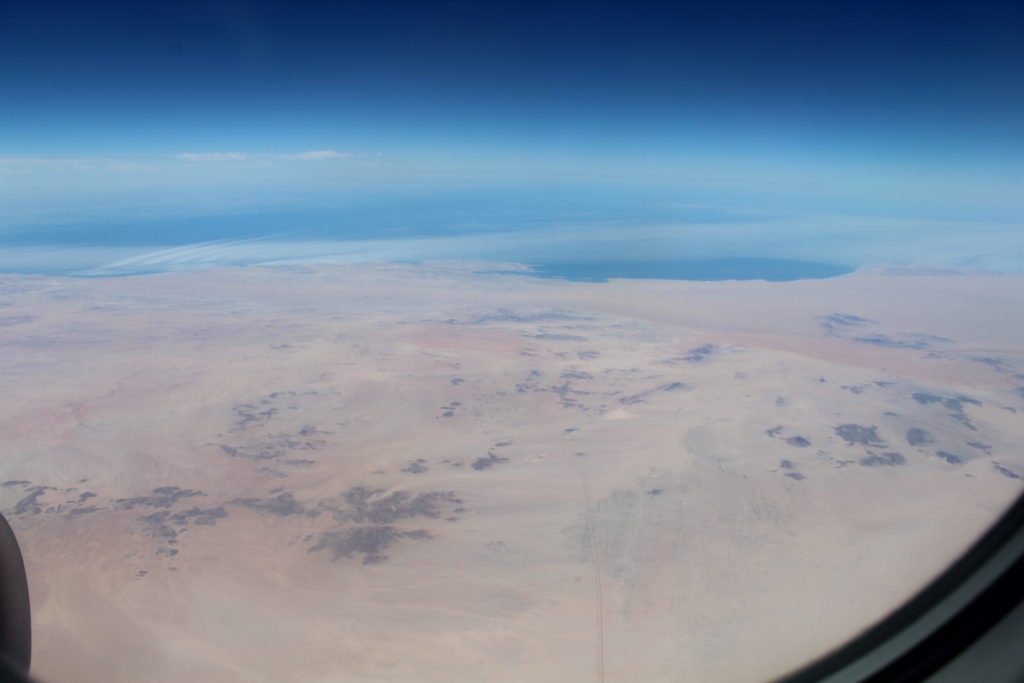 As we made our final descent and the captain announced "two minutes to landing" there was still nothing outside the window but an endless dessert, and well, a small tiny road with no cars.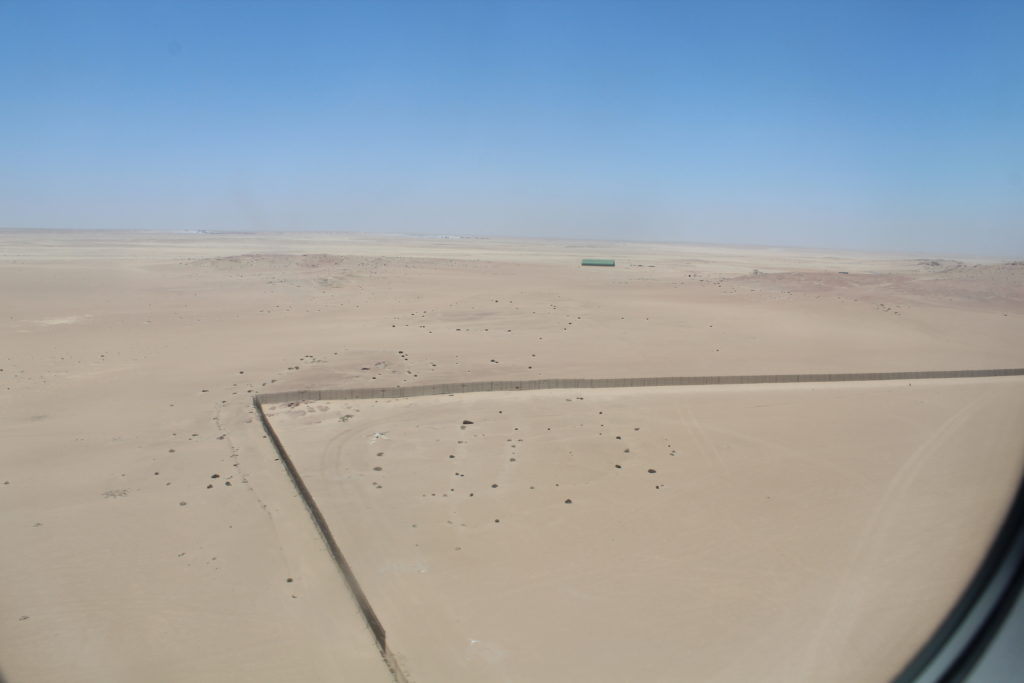 Eventually there was a fence in the middle of all the sand, a few approach lights appeared and finally…a runway. A very punctual landing at Walvis Bay airport at 11.10 am. Looking around it felt like we had landed in the middle of nowhere.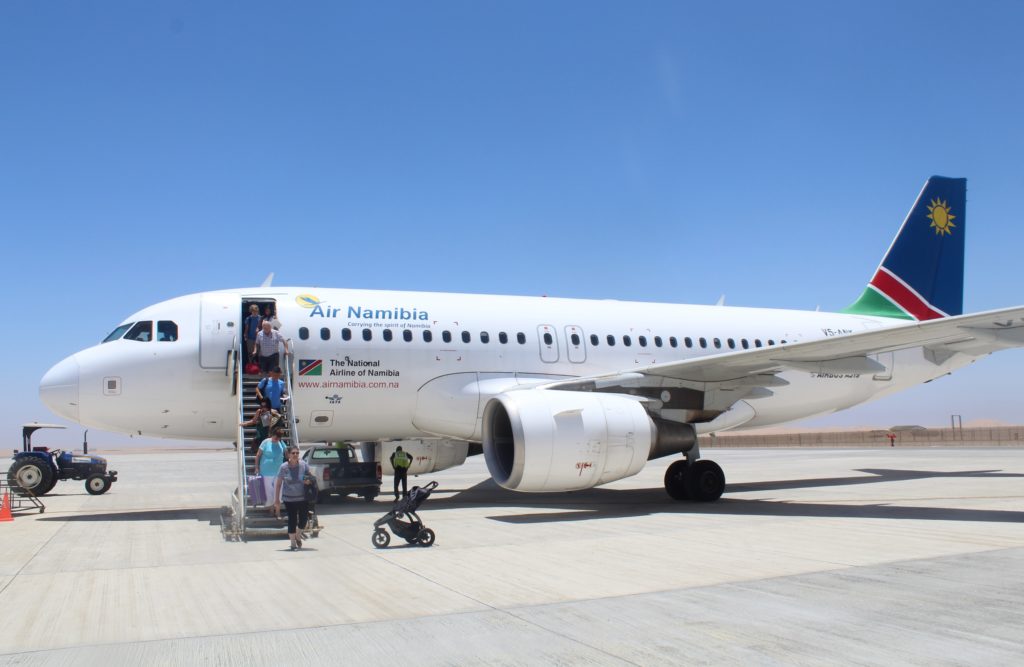 We parked at the small apron with a very pleasant (but slightly lengthy) walk to the small terminal building in the sun. The weather was really the best possible also after landing. Sitting in business class and being one of the first passengers off the aircraft meant a quick passport control and I was on my way from the airport with the pre-booked transfer within a few minutes after landing.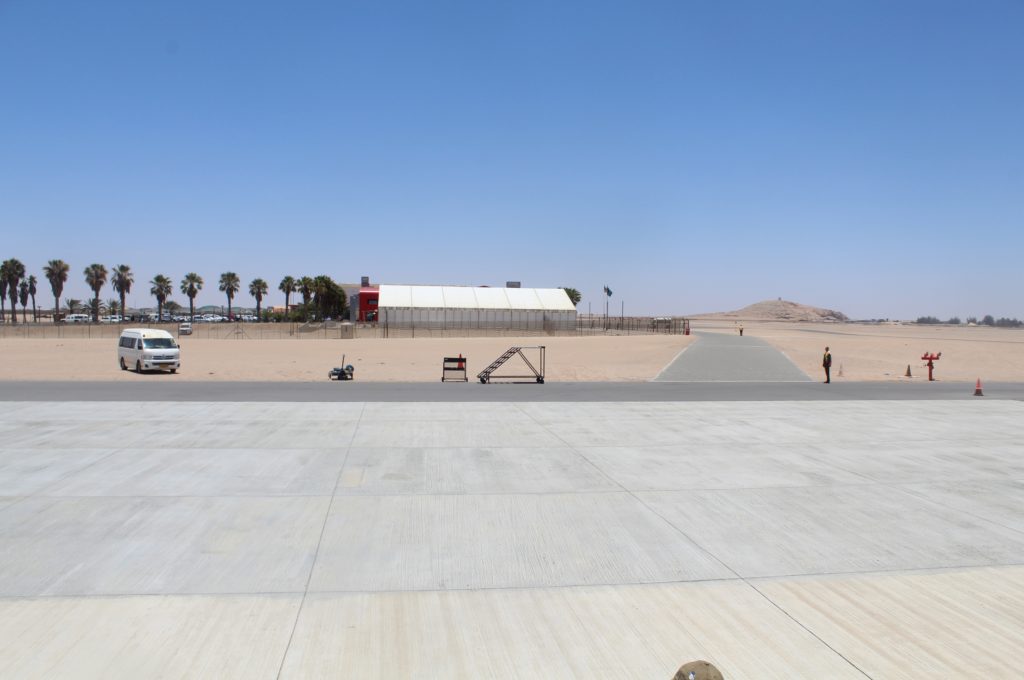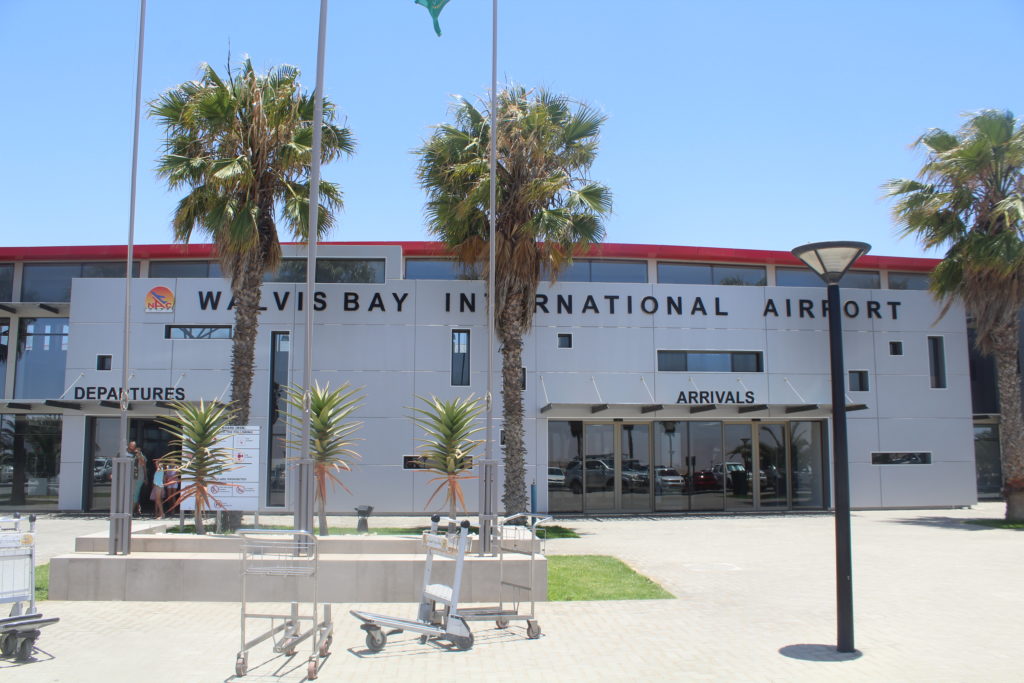 Final impression

An excellent flight. Very friendly crew offering a flawless and very attentive service with a perfect coordination. A nice three courses lunch was served, enjoyed in a very comfortable business class seat with a massive amount of legroom. An excellent experience in pretty much every possible aspect. Air Namibia is a real gem in Africa.