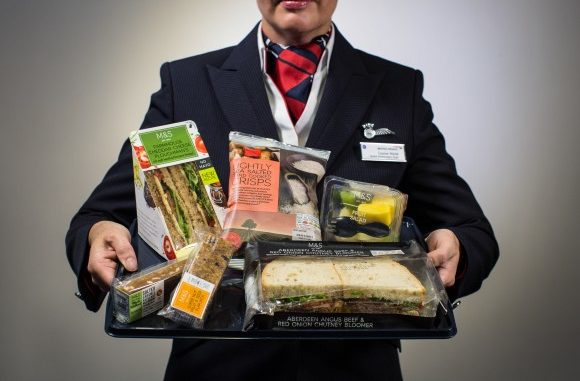 Starting 11 January 2017 British Airways will introduce a buy-onboard menu on shorthaul and domestic flights out of Heathrow and Gatwick followed by the flights from London City starting in the summer. Let's have a look at what will be on offer.
Marks & Spencer
Marks & Spencer will provide the food offered in British Airways shorthaul and domestic economy class. Or as British Airways puts it "Two great British brands partner to provide Food on the Move for short-haul fliers". The menu has been developed following customer feedback and will also include Marks & Spencer customer favourites.
All food on the menu will be priced under 5 GBP, ranging from 1 GBP for hand cooked crisps to 4.95 GBP for a chicken with quinoa and rice salad. There will also be vegetarian, gluten free and healthy options.
Sandwiches
The sandwich selection will include the Aberdeen Angus beef and red onion chutney bloomer at 4.75 GBP and the Classic cheese ploughman's with nine-month aged farmhouse mature cheddar and vine ripened tomatoes, pickle and mixed salad at 3 GBP.
Breakfast
Breakfast options will include Greek style natural yogurt with summer berry compote and granola (1.95 GBP), classic fruit salad with pineapple, melon, mango, apple, kiwi and blueberries (3.10 GBP). Hot options will be the M&S Café bacon roll with pork from British farmers (4.75 GBP) and a tomato and mozzarella focaccia (4.75 GBP).
Snacks
The snacks selection will include  a nut assortment of almonds, brazil, cashew and hazelnuts (1.60 GBP), wasabi peas (1.60 GBP), salted cashews (1.60 GBP), Oriental snack mix (2 GBP), super fruit, nut and seed flapjacks (1.45 GBP), salt & vinegar and lightly salted hand-cut crisps (both 1 GBP).
Chocolates
For the sweet tooth there will be a wheat salted caramel hazelnut millionaire bar (1.45 GBP), a grab-bag sized milk chocolate covered popping popcorn and pretzels (2.45 GBP), packs of mini oat biscuits (1.10 GBP), Swiss milk chocolate mountain bars (1.70 GBP), the famous Percy Pigs (1.80 GBP) and "The Whippy One" (1 GBP).
The drinks
A full bar bar service will be offered onboard. No details have been given about this so most likely the selection will look about the same as today. Soft drinks will be priced from 1.50 GBP and alcoholic drinks starting at 4 GBP.