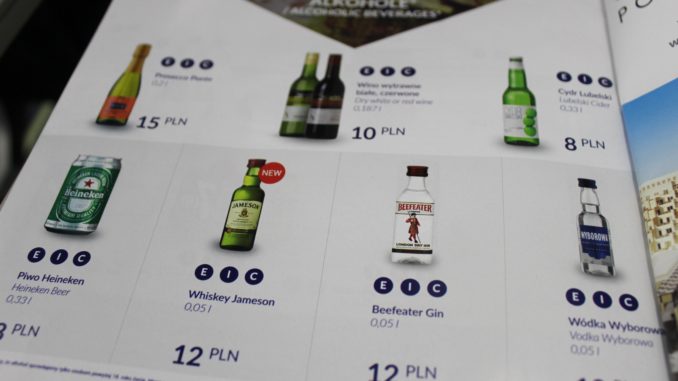 If you decide to LOT in economy class within Europe you can look forward to free coffee, tea and water (still or sparkling) as well as the signature Prince Polo chocolate bar. But that's about it. The free sandwiches are now long gone, just like the free wine and beer.
But the good news is that LOT has one of the cheapest buy-onboard menu on any airline in Europe. It is incredibly cheap, dirt cheap, with products around 50% cheaper than on other airlines, or possibly even more. Perhaps the very tough competition from low-cost carriers like Ryanair and Wizzair, which also have bases in Poland, has forced LOT to keep a low price level.
For example a bottle of red or white wine is 10 zloty (2.40 euro/2.20 GBP/3 USD), many airlines in Europe would easily charge at least 6 euro for the same bottle, while a miniature bottle of spirits on LOT is slightly more expensive at 12 zloty (2.90/2.50 GBP/3.50 USD) including gin, vodka and whisky.
For the same price, 12 zloty, you can also get a rather proper sandwich, a ham sandwich or a chicken sandwich, or even a chicken salad or a hot meal like gnocchi with chicken. However these are not available on some short flights to and from Warsaw.
Snacks are priced between 5 and 10 zloty, with most chocolate bars at 5 zloty. Soft drinks such as sodas, juices and bottles of water (if you want more than a glass) are also priced at 5 zloty.
And of course coffee, tea and the standard chocolate bar are served for free.