Aircalin is the national carrier of New Caledonia. They operate a fairly large network from their hub at Noumea La Tontouta airport to destinations in Australia, New Zealand and several islands in the South Pacific, naturally with some focus on the French-speaking islands since New Caledonia is a French territory. They also operate flights to Japan. Aircalin has a close partnership with Air France and uses their Flying Blue frequent flyer program. The timetable for the flights to and from Japan are synchronised with the Air France flights to and from Japan to enable smooth connections between Paris and New Caledonia.
Wallis and Futuna is another French territory in the South Pacific. Aircalin is the only airline flying to Wallis (which is the main and the largest island) three times per week. On Wednesdays these flights also make a stop in Nadi in Fiji during the outbound flight, and this is where I boarded.
Departure experience

I arrived at Nadi airport around two hours before departure just before 10 am. There were not many flights at this time of the day so the departure hall was virtually empty.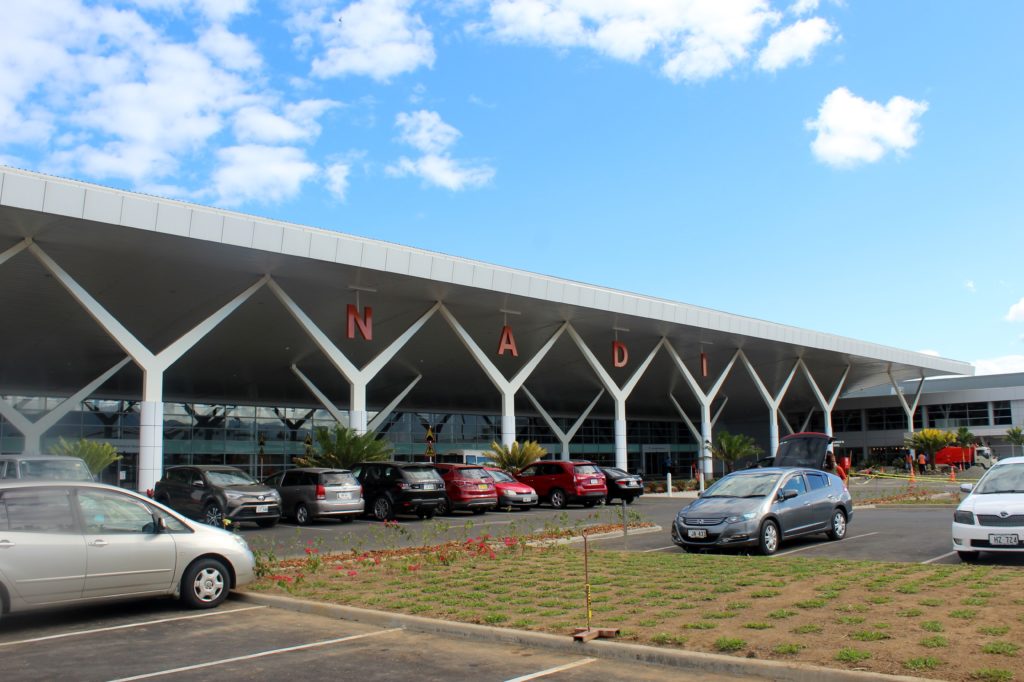 The departure hall and check-in areas have been fully renovated and look completely different now compared to my last visit to Fiji two years ago. Nadi is now a modern airport which looks more like a holiday airport somewhere in Spain rather than an outstation airport in the South Pacific, which is both a positive and a negative thing. The facilities are vastly better than they used to be but the airport has lost a bit of its old charm.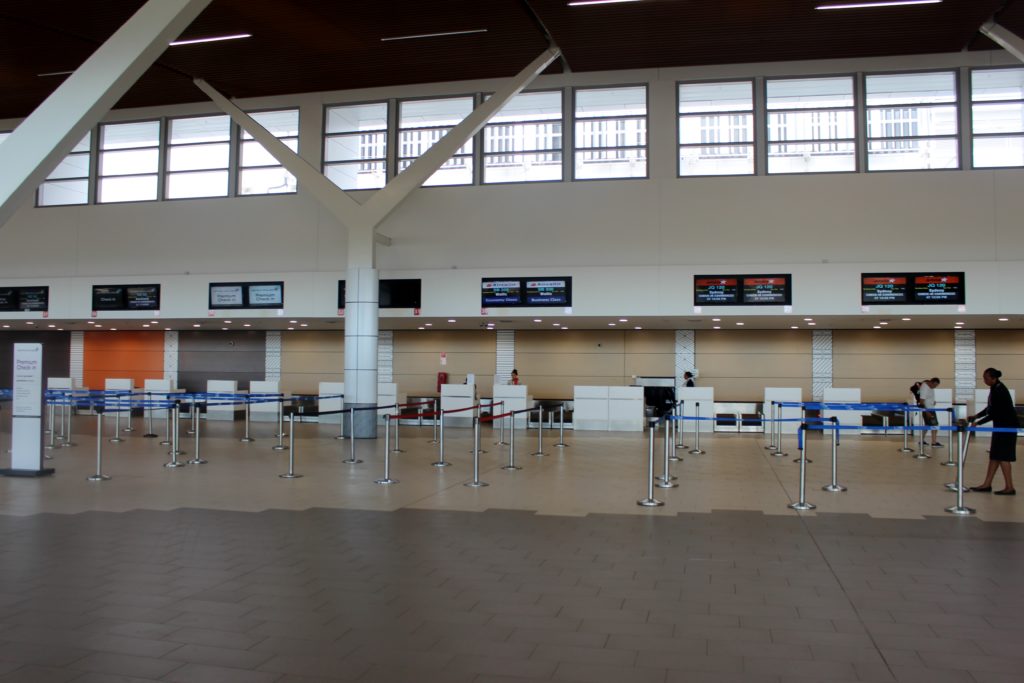 Two check-in desks were open for the Aircalin flight to Nadi, one desk for economy class and one desk for business class and top-tier frequent flyers. As a gold member in the Flying Blue program I could use the premium desk, although they were both empty anyway.
My suitcase was tagged with a priority tag, I received a boarding pass with my pre-booked seat 05C and an invitation to the lounge.
The international transit hall had also been fully renovated and is now fairly modern with several shops and restaurants. The Fijian authorities really focus hard on attracting holidaymakers to Fiji.
Given that Air Calin has a cooperation (albeit a limited one) with Air New Zealand I was hoping they would have contracted the brand new Air New Zealand lounge in Nadi, which opened just a few weeks earlier. Unfortunately it turned out not to be the case. Instead I was directed to the Fiji Airways Lounge. Their normal lounge is under renovation so I was directed to the temporary lounge, just opposite the Air New Zealand lounge.
The last passengers for the Korean Air morning flight to Seoul were just about to leave and as there were no other flights in the late morning I was even alone in the lounge for a while.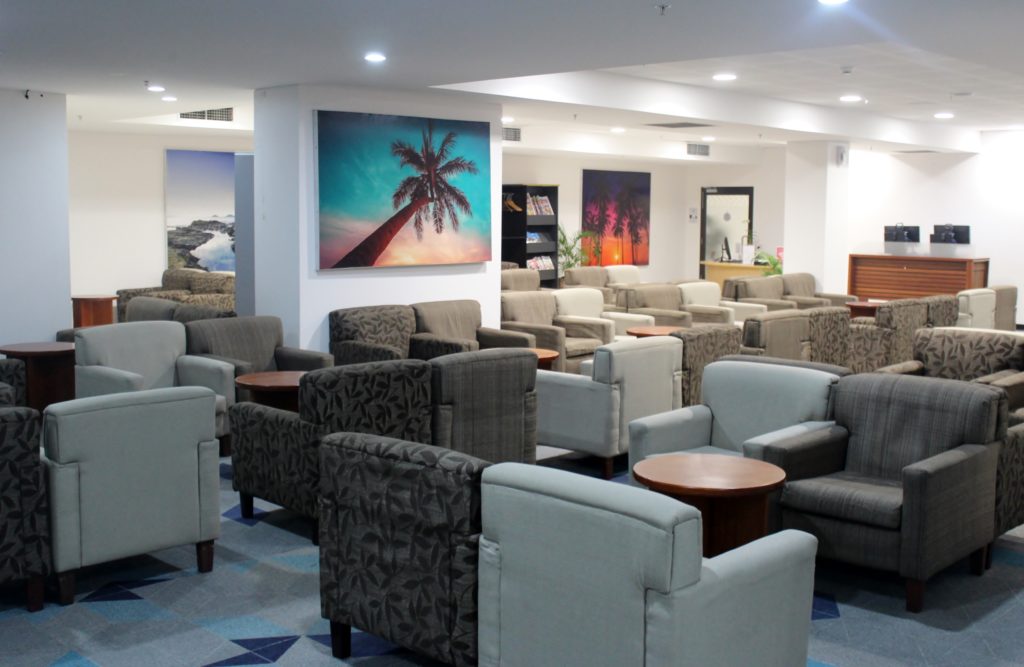 Of course this was a temporary lounge so the design was not the best and neither were the facilities, but it worked just fine for a shorter visit of 45 minutes. The furniture seemed to be the same as in the old lounge.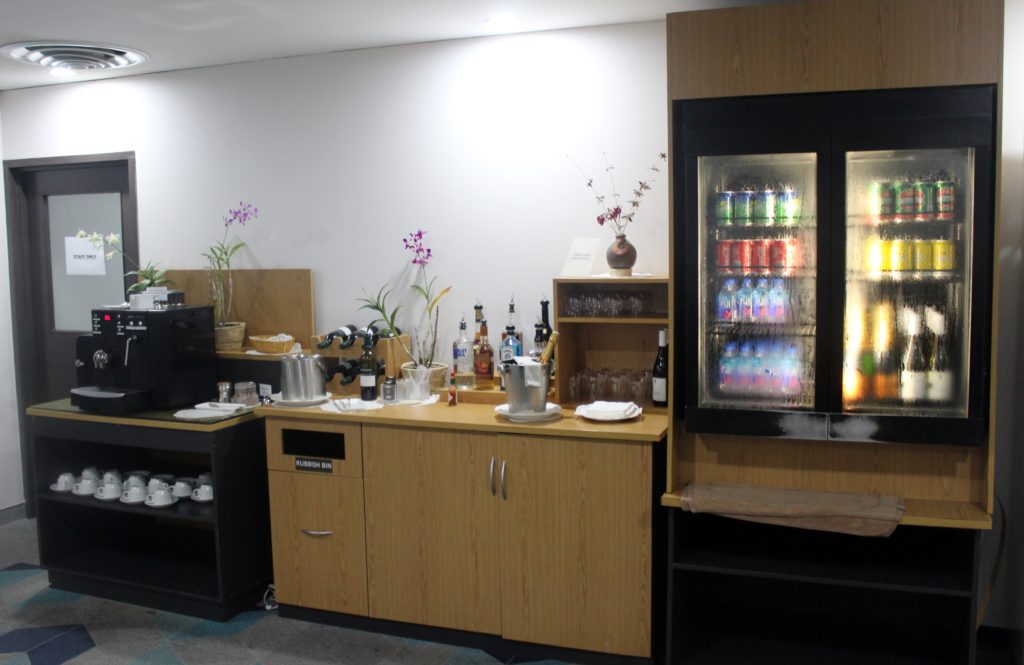 They still had breakfast dishes on offer including scrambled eggs, bacon, croissants and fresh fruits. Although I already had breakfast in the hotel I helped myself to a smaller second breakfast.
The flight
Nadi-Wallis Island
Aircalin flight SB 330
Departure: 11:55
Arrival: 13.25
Economy Class
Airbus A320
Seat 05C

The incoming aircraft arrived at 11 am and had an hour of turnaround time in Nadi. Apparently all passengers in transit from Noumea to Wallis had to leave the aircraft during the stop and pass through transfer security.
Boarding started 25 minutes before departure. There was no special priority line and no announcement for priority boarding either, but I was one of the first to board anyway.
Boarding in Nadi nearly always includes a short walk outdoors (although under cover) which is quite nice during the day when the sun is shining. Apparently the transfer passengers were still being processed at transfer security when boarding started, so those few of us who started our journey in Nadi were invited to board a couple of minutes before the others came onboard.
First impression

An Airbus A320 was used for the flight to Wallis, which is the standard aircraft type for all Aircalin shorthaul flights in the region. The number of flights in the South Pacific is very limited, especially when travelling between several smaller islands, and to make my trip work with both dates and tickets there was no other option but to book a single ticket from Nadi to Wallis, and the ticket was very expensive. This both indicated there really is no competition whatsoever on the route but also that the flight most likely would be very full.
And indeed the flight was packed, full to the very last seat. Aircalin even has special baggage allowances for flights to and from Wallis Island, which are slightly more restrictive than on other flights as they simply would not be able to carry all the luggage and all the cargo otherwise.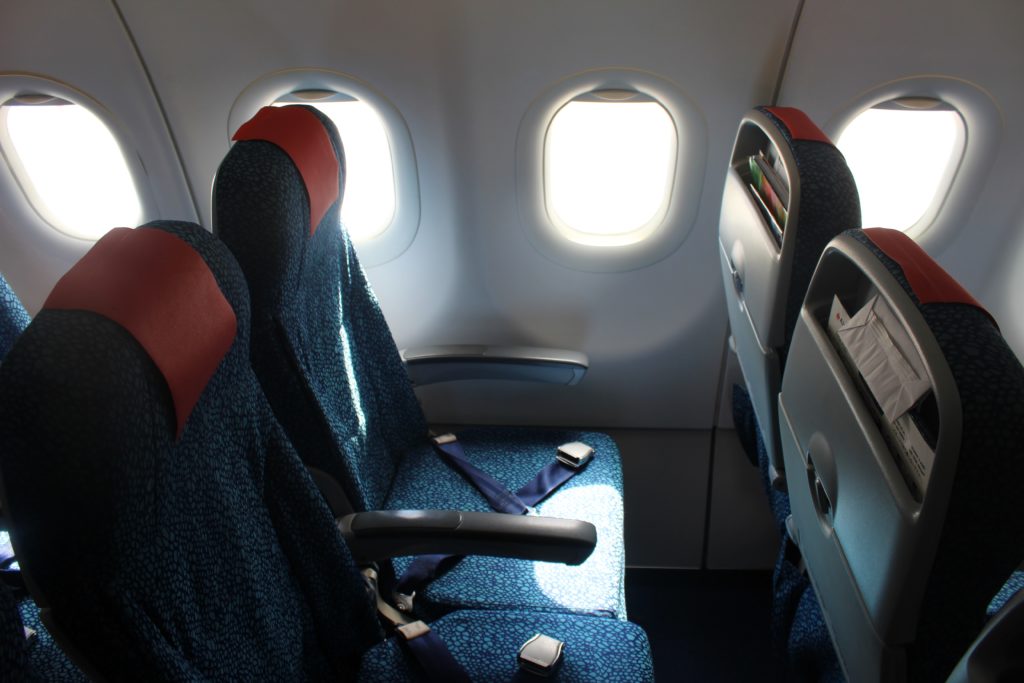 The Airbus A320 gave a good first impression. Blue seats with a red headrest and acceptable legroom. But of course if a flight is completely full it is generally not a very enjoyable experience anyway.
Punctual pushback with a flight time of one hour and 20 minutes to Wallis island.
Seat and cabin

Business class had two rows with proper business class seats in a 2-2 configuration and with more legroom. In economy class the configuration was 3-3, fairly standard on an Airbus A320.
As a Flying Blue Gold member I could pre-book a seat free of charge and chose an aisle seat on row 5.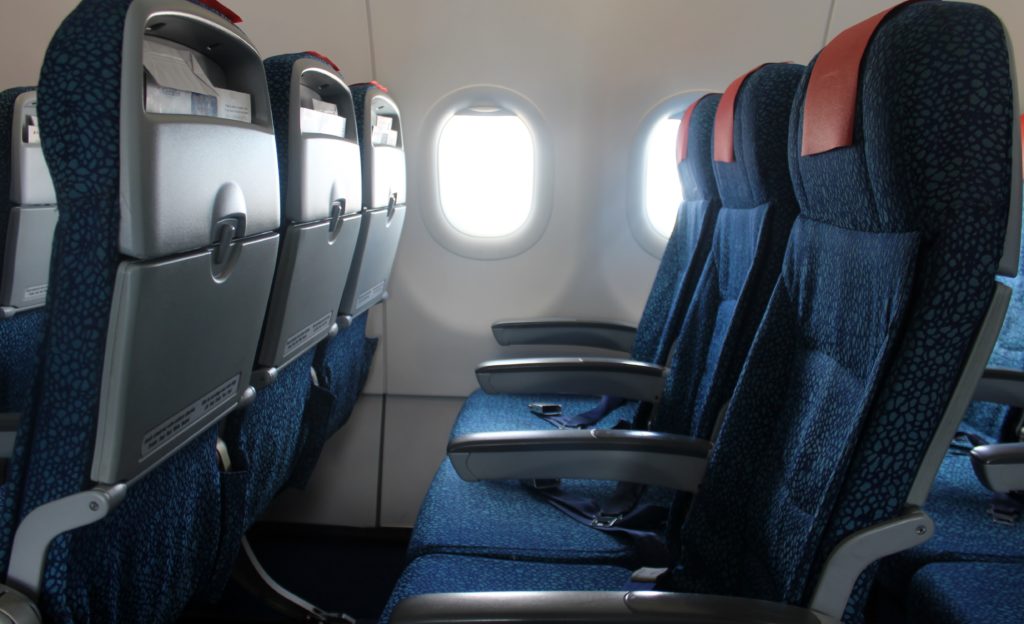 Food and drinks

The inflight service started fairly quickly after takeoff. A sandwich was offered in economy class followed by a full bar service with coffee, tea and soft drinks as well as wine and beer. Perfectly adequate for a flight of 80 minutes.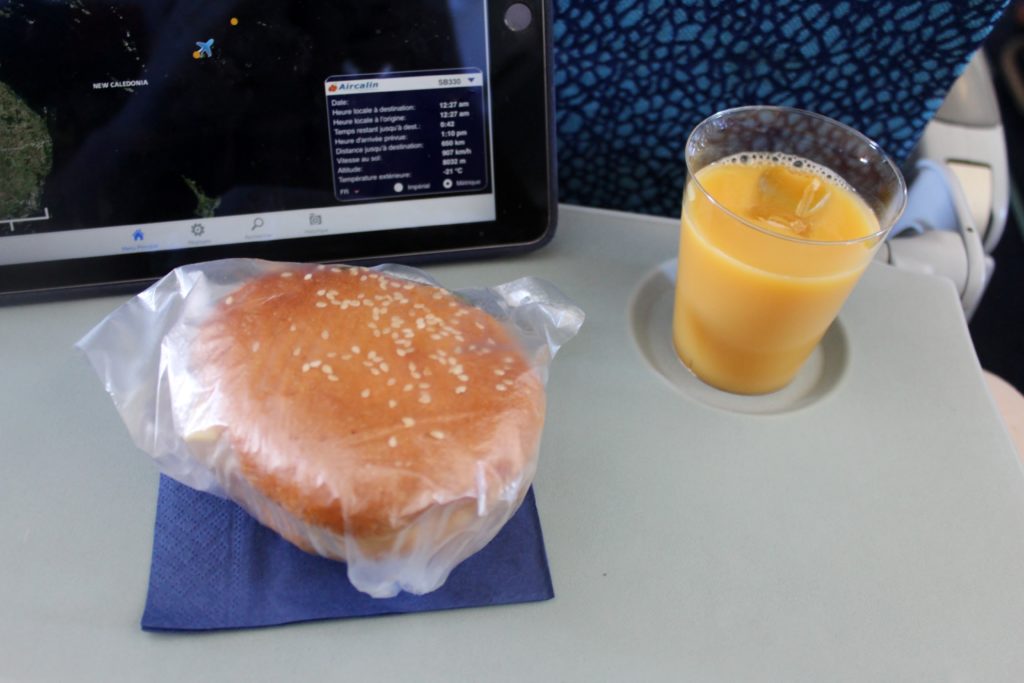 Inflight entertainment
Interestingly they had an inflight entertainment system onboard which was switched on also on the flight to Wallis. However it required that you had downloaded the Aircalin app on your mobile phone or tablet before departure, which I fortunately had done. In business class you can borrow a tablet from the cabin crew to access the system.
The selection was not bad at all for a shorthaul flight with a couple of movies, documentaries and TV-series and a nice selection of music albums, including some traditional music from New Caledonia. Most enjoyable.
In the app you could also access a live flight map with information about distance and cruising altitude.
The service

The service from the cabin crew was friendly but fairly standard for economy class. No special recognition of me as Flying Blue Gold. However the crew had to work hard during the flight. After the inflight service taxfree products were offered, including cigarettes, and possibly half the passengers wanted to buy something. In combination with a full cabin and people wishing to use the lavatories it was nearly chaos.
At the end the cabin crew had to stay in the galley with the taxfree cart and people formed a line in the aisle to make their purchases, like in a supermarket. The crew also made an announcement to ask people to move to the side so others could pass.
Otherwise the flight was a memorable experience as there were hardly any tourists or foreign visitors onboard. It was far from taking a flight from Australia to one of the major Pacific island with most passengers being holidaymakers. The number of foreigners onboard travelling for leisure could probably be counted on one hand.
Instead around 80 percent of the passengers were locals from Wallis and Futuna, most of them dressed in wonderful traditional clothing. Most others seemed to be French people from mainland France who were living and working in Wallis and Futuna. Most of the official functions on the islands such as the police force, customs, health care and so on are managed by officials from France who are sent to the islands on a contract.
Arrival experience

We landed right on time at Wallis Hihifo airport. The island is small and appeared just about two minutes before touchdown. With only three international flights per week and a couple of local flights between Wallis and Futuna there is definitely no holding before landing in Wallis.
The small terminal building at Hihifo airport was most charming with its lush surroundings. This is what an arrival in the South Pacific should be like.
Immigration at the airport was also managed by officials from mainland France. There was also a nurse checking the temperature of all arriving passengers to detect fever as they had a dengue breakout in the region.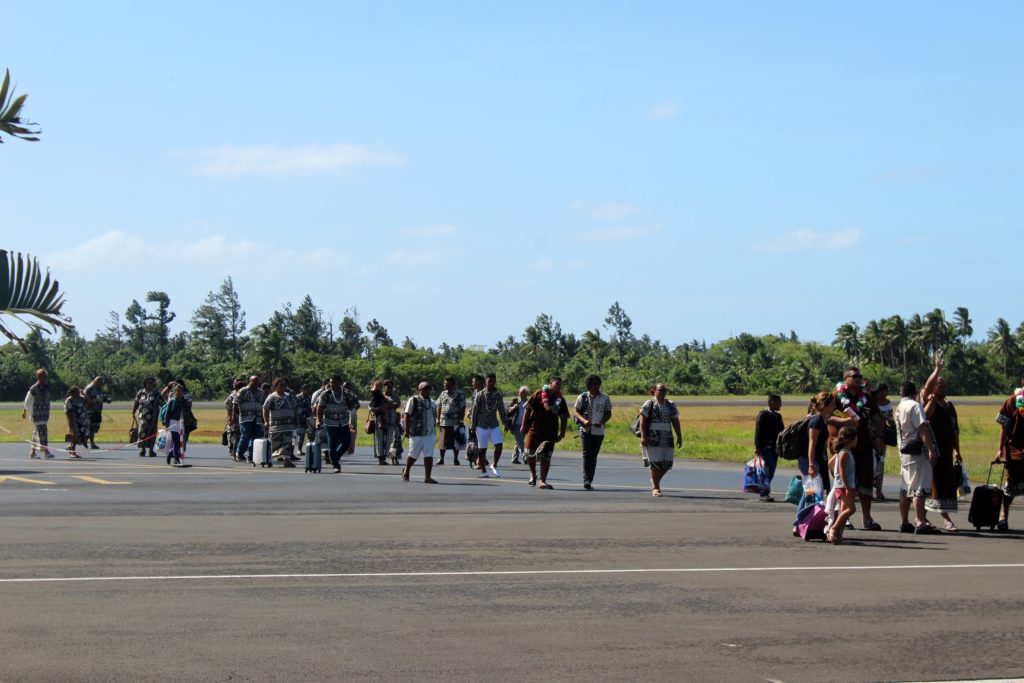 The baggage reclaim area was both small and basic but did its job. You could either call it primitive or exotic. You could actually see the baggage carts arriving and the baggage handlers loading the bags on the belt. At least the priority tags worked surprisingly well with my suitcase being among the first.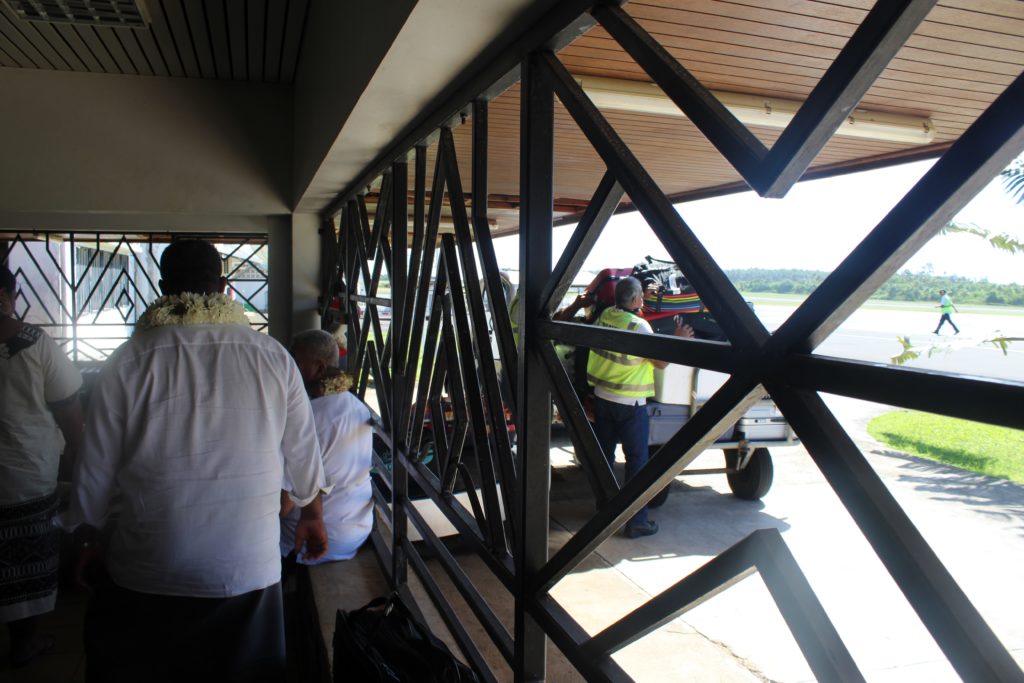 There is no public transportation on Wallis & Futuna. No buses, no trains, no airport buses, not even any taxi cars. So having airport transportation arranged is vital unless you want to try to hitchhike from the airport (which is definitely possible) or if you rent a car. There are not even any bicycles on the island.
I had arranged airport transfer through the hotel however it took a bit of time before I found the woman from the hotel. The three weekly flight departures and arrivals are like social happenings on the island and many locals take it as an opportunity to meet others and have a chat with friends and family at the airport.
Final impression

Aircalin is a decent airline to fly with. Friendly staff, well-maintained aircrafts and a reasonable inflight service for a flight of 80 mins with free snacks and drinks. And as Flying Blue Gold I got the full priority package with priority luggage delivery and lounge access.