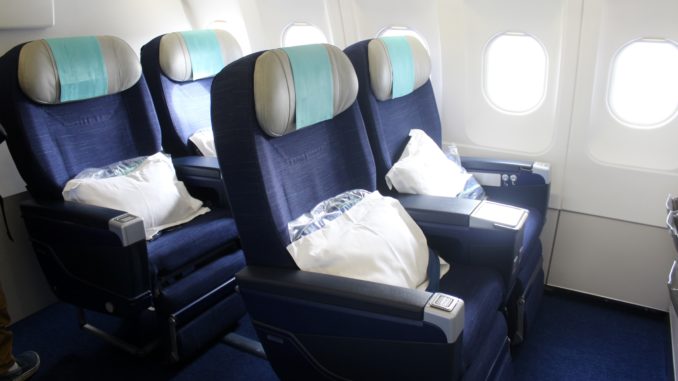 Aircalin is the national carrier of New Caledonia. They operate a fairly large network from their hub at Noumea La Tontouta airport to destinations in Australia, New Zealand and several islands in the South Pacific, naturally with some focus on the French-speaking islands since New Caledonia is a French territory. They also fly to Japan where passengers can connect to Air France flights to Europe. On top of this they also use the Flying Blue frequent flyer program.
This is a review of a flight in their business class, called Classe Hibuscus, from Noumea to Sydney.
Departure experience

There are two airports in Noumea. The domestic airport is very conveniently located right in the city centre, almost within walking distance from some districts of the city, whereas the international airport, called La Tontouta, is located over 50 km north from the city centre.
There is a bus company in Noumea called Arc en Ciel operating a bus service between downtown Noumea and the airport in connection with all flight departures and arrivals. They even offer pick up at most hotels and also some local addresses. However it is quite expensive for an airport bus transfer, but on the other hand everything is expensive in New Caledonia.
I was picked up just before 6 am from the Hilton hotel in Anse Vata in the southern part of Noumea. Incredibly early but at least it was very convenient to be picked up at the hotel. I booked and paid for the transfer when I arrived at Noumea airport a day earlier so it was also very convenient to have everything sorted out in the morning. They ticked my name on a list and that was it.
After picking up a few more passengers at nearby hotels the ride to the airport took about an hour.
There is a brand new terminal building at La Tontouta airport which opened just a very few years ago. The terminal and the facilities are very modern and overall the terminal is surprisingly spacious considering the small number of flights at the airport per day. On some days there are no more than three international departures and there are rarely more than five or six per day.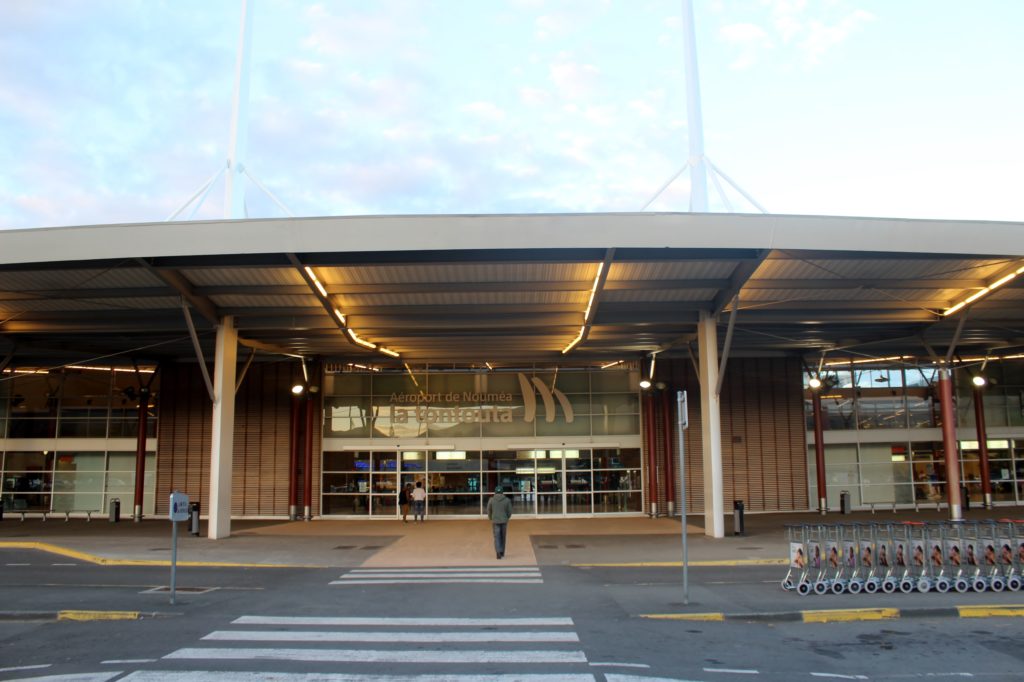 There was a large check-in area open for the Aircalin morning departure to Sydney with dedicated desks for economy class, business class and online check-in. As a business class passenger and gold card holder in Flying Blue I could check in at the premium desk with no line.
A very polite and helpful man was manning the business class desk. I enquired if it would be possible to have my suitcase through-checked to my final destination. I was connecting in Sydney to a Cathay Pacific flight to Hong Kong, albeit on a separate ticket. I had already checked that there was an interline agreement between Aircalin and Cathay Pacific. He had a look in the system and confirmed that it should not be a problem. I had three hours between flights but of course not having to pass through immigration and customs in Sydney would be a major advantage.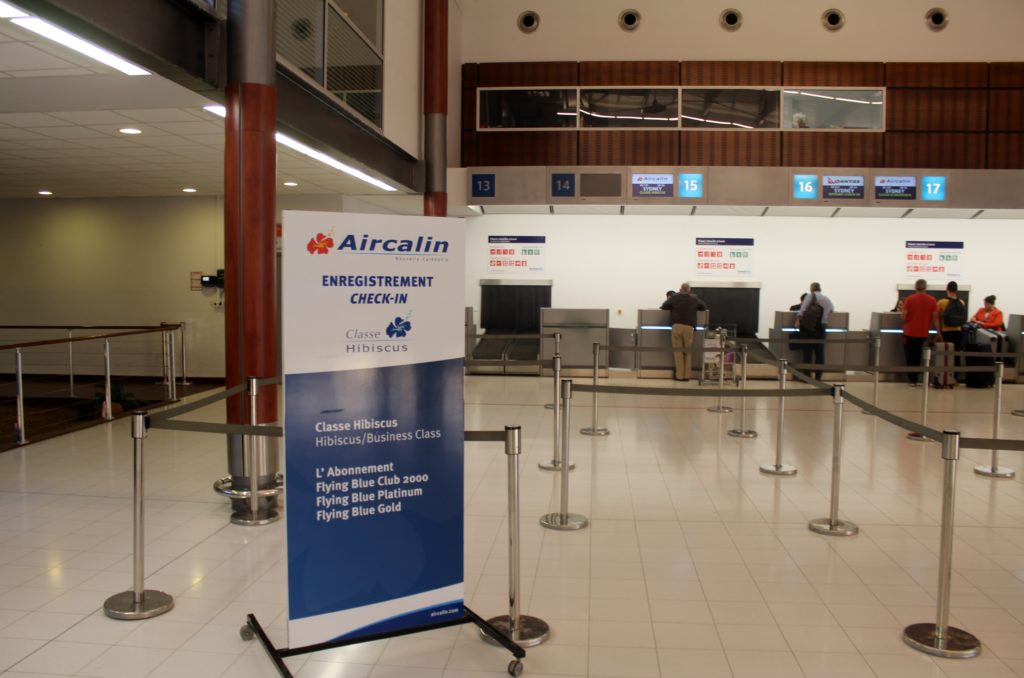 The suitcase was tagged to Hong Kong with a yellow priority tag but naturally he could not print a boarding pass for the connecting flight, being on a separate ticket, which was not a problem.
With just one morning departure both security control and passport control were quick. In the transit hall there was a cafe and a few taxfree shops, which were all open. The only drawback, again, is the price level in New Caledonia. Everything is very expensive.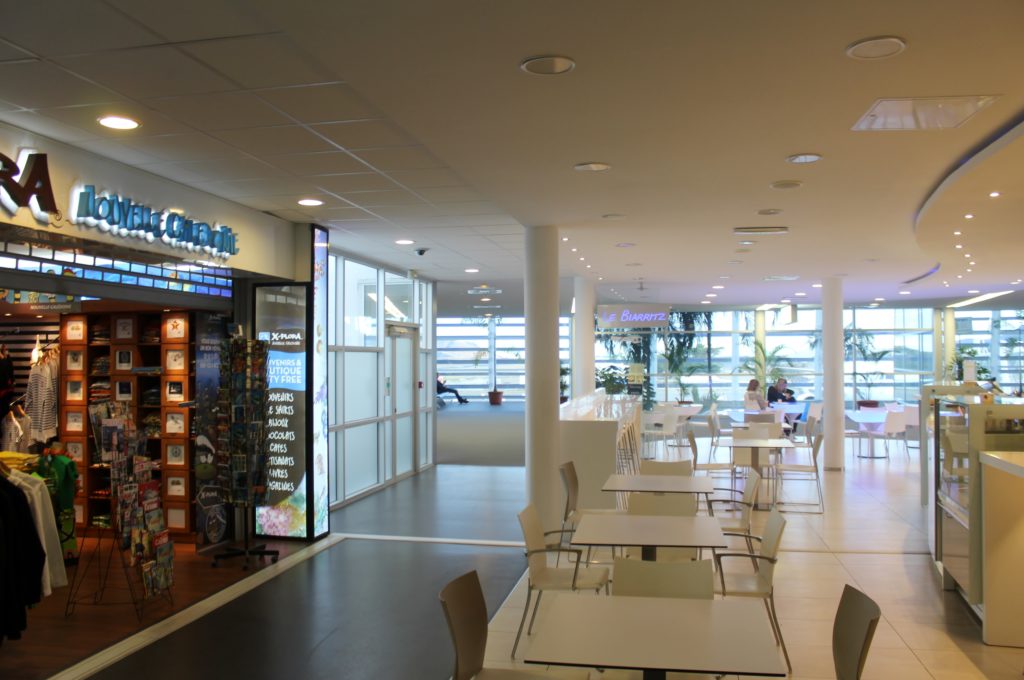 Aircalin has its own lounge at La Tontouta airport, Hibiscus Lounge, which is also quite new. It opened at the same time as the new terminal building and is located one floor above the main transit hall.
For a small airport this is a surprisingly nice lounge with a stylish interior. It even has some local elements from New Caledonia. There is also a fairly good view of the small apron and the surroundings.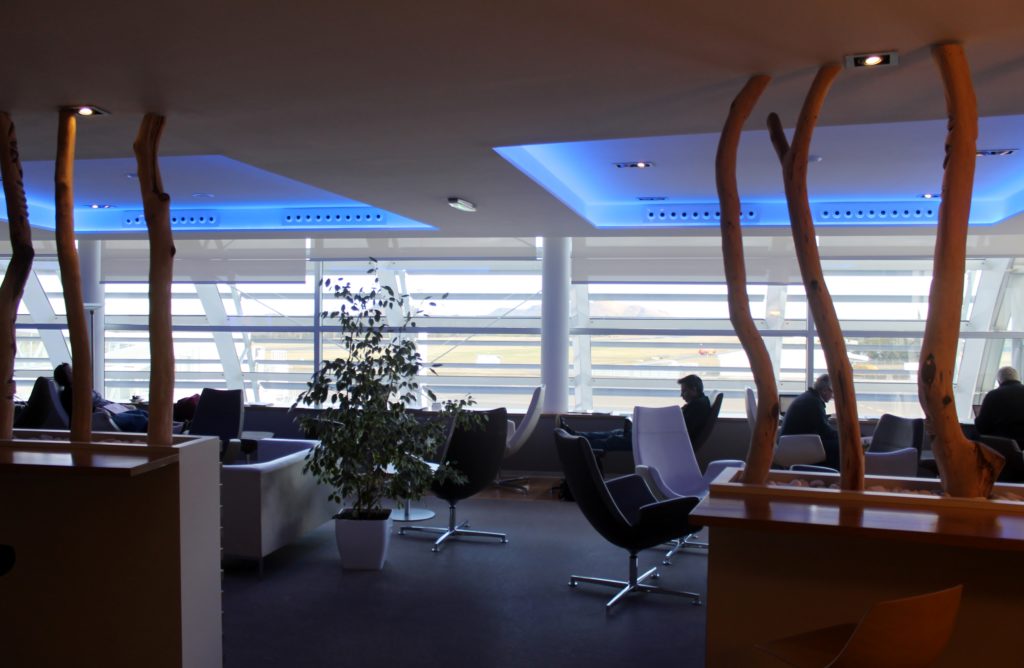 A self-service buffet with breakfast items was on offer. Very nice quality and presentation of the offerings but with no hot food available. The breakfast spread was very French, of course with croissants and pains au chocolat.
With a very early start of the morning and a long bus journey of 80 minutes I was happy to finally be able to get something to eat and a large cup of coffee.
Read the full lounge review here!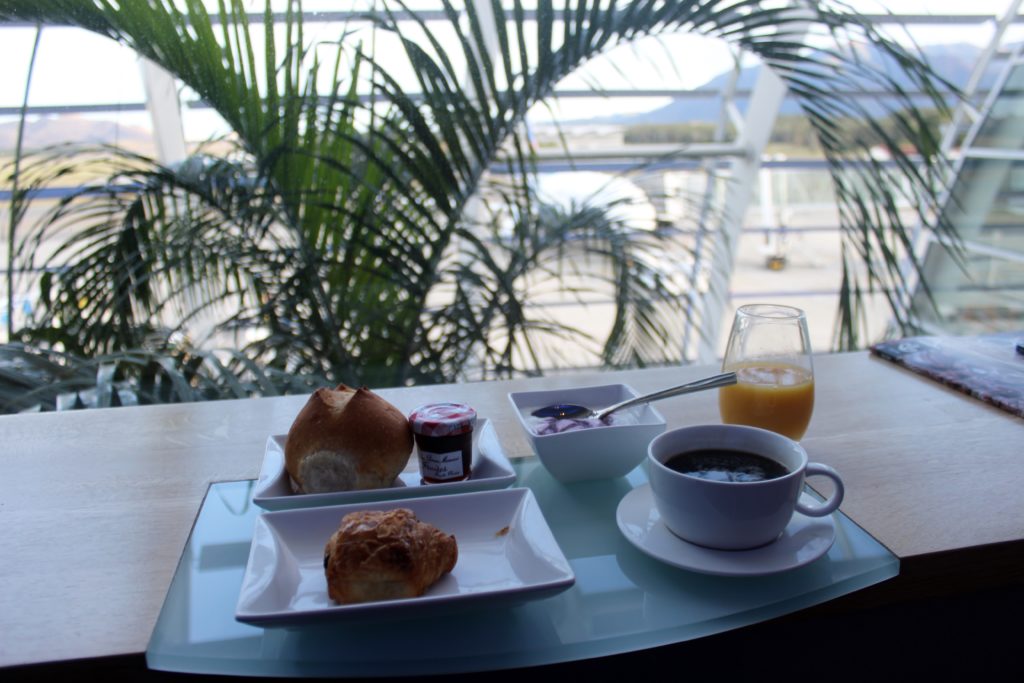 The flight
Noumea-Sydney
Aircalin flight SB 140
Departure: 08.35
Arrival: 11.00
Business Class
Airbus A320
Seat 01F

First impression

Boarding started well ahead of the scheduled departure time with priority boarding for business class and Flying Blue top-tier passengers using a dedicated lane.
I was warmly welcomed by the friendly purser at the door and found my seat 01F in business class just around the corner.
In Aircalin shorthaul business class on the Airbus A320 there are proper business class seats with more seat width and more legroom. The cabin gave a good first impression with a rather exotic design and various shades of blue used for the interior. A pillow and a blanket were waiting at the seat.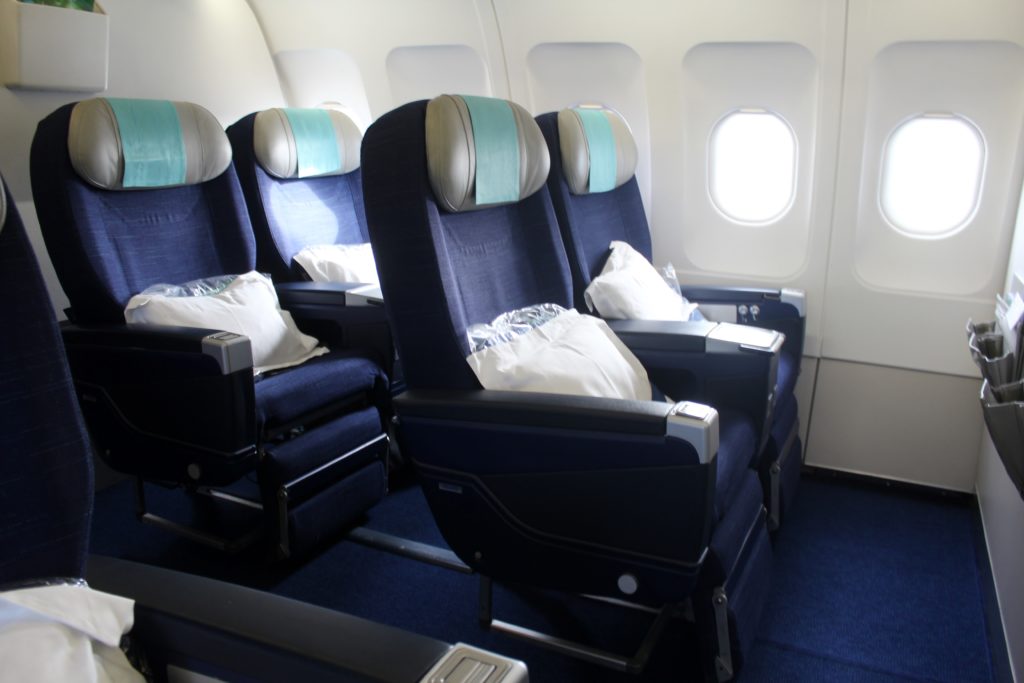 After I had taken my seat I was offered a pre-departure beverage and some newspapers and happily accepted a glass of orange juice and the latest copy of Les Nouvelles Calédoniennes, the main newspaper in New Caledonia.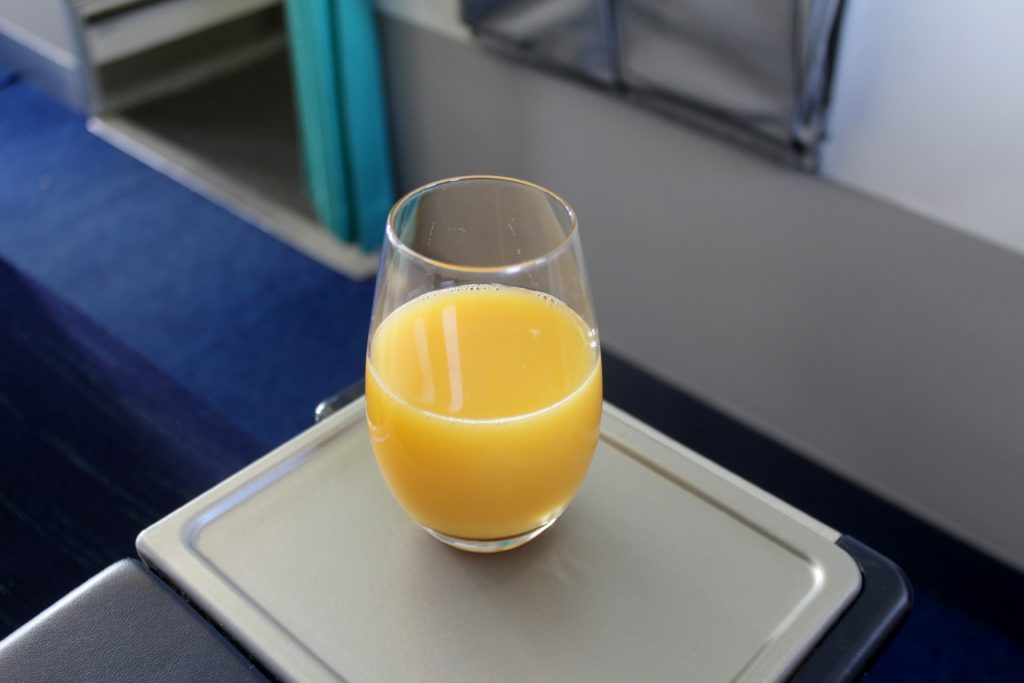 We were only three passengers in business class to Australia so there was plenty of space and I got my own row.
Punctual departure with a flight time just under three hours to Sydney.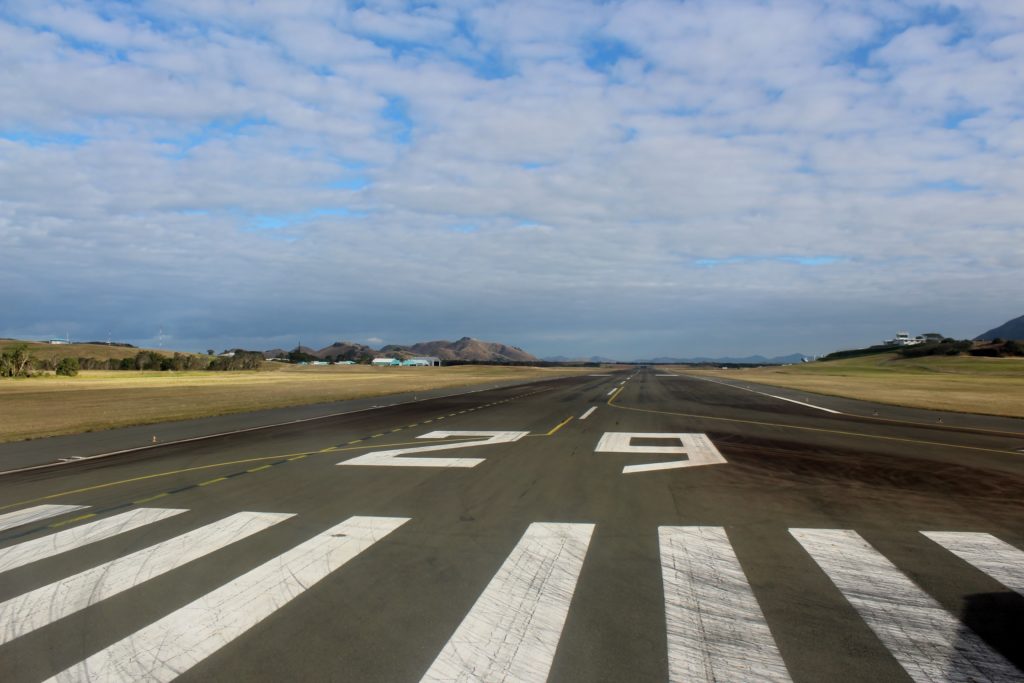 Seat and cabin

The Aircalin business class cabin is called Hibiscus Class (or Classe Hibiscus in French) and offers proper business class seats in a 2-2 configuration, also on shorthaul flights using the Airbus A320. The seats are wider and offer more legroom. A perfectly comfortable experience for a flight of just under three hours. The seats also offer a far better recline, although they are pneumatic rather than electrical and hence not as advanced as some newer seats.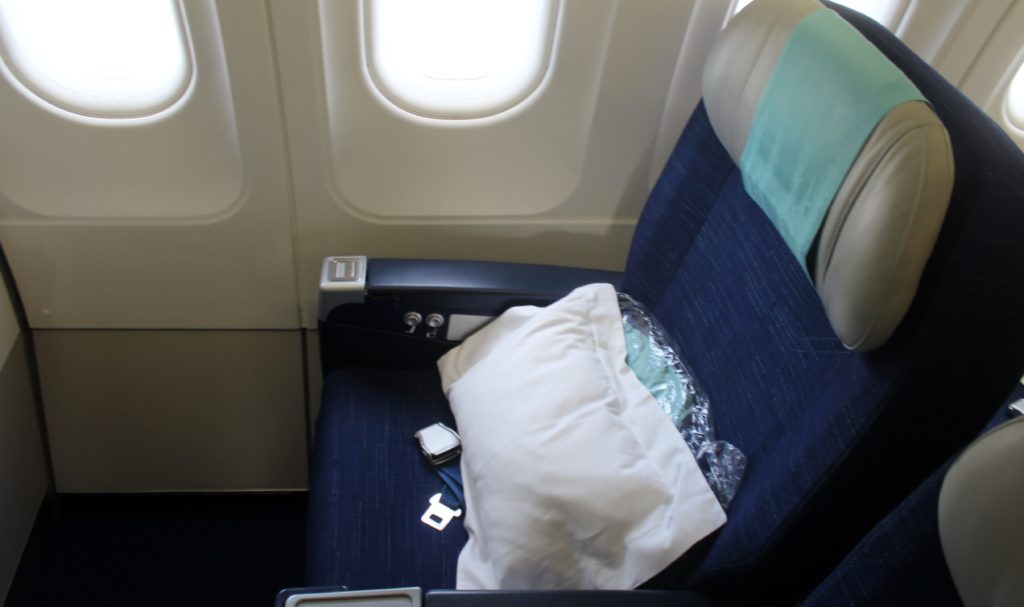 There were two rows of business class with a 2-2 configuration which meant eight seats in total. We were only three passengers.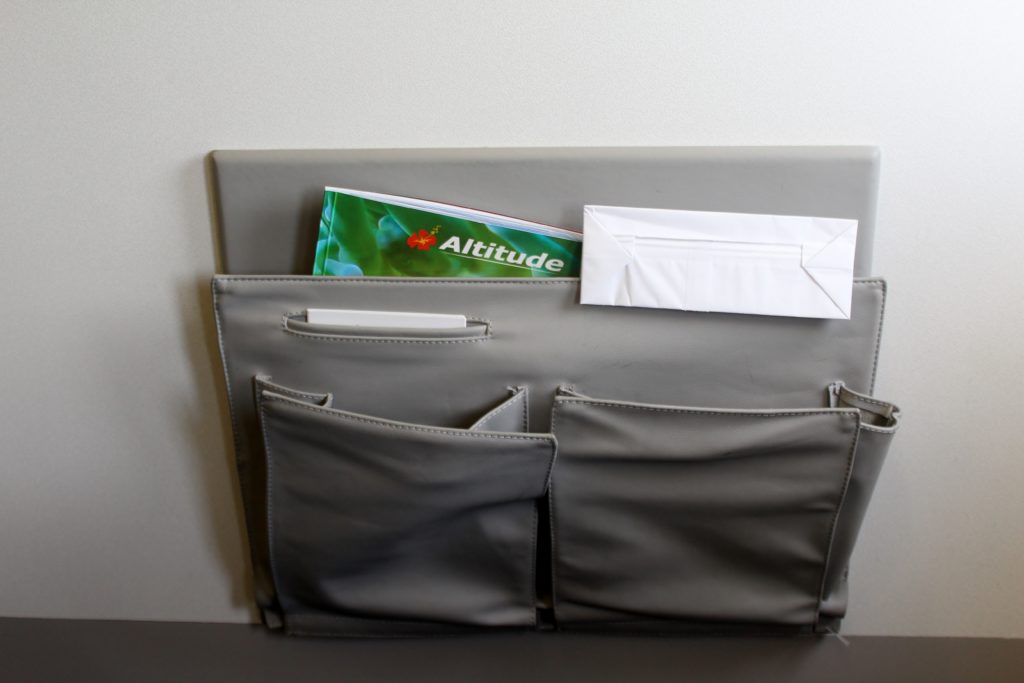 Food and drinks

With a departure time at 8.30 am a breakfast service was offered on the flight. After takeoff a menu was handed out with the menu options in English and French.
There were two options of main course, either traditional English breakfast with an omelette or a ham and spinach pancake. Having tried the omelette on the previous flight from Wallis to Noumea I went for the pancakes this time.
The female purser served in business class and she did an excellent job with the breakfast service, doing everything very properly such as removing all the plastic from the tray, providing a table cloth and generally trying to make the whole inflight experience feeling a bit more premium.
After the breakfast tray had been handed out with the pancakes, yoghurt, cereals and fresh fruits she also offered bread rolls and pastries from a basket. She also offered a few other extra things such as honey from New Caledonia in a small container, which was a very nice touch.
More coffee, orange juice and bread rolls were offered before the tray was cleared.
Later during the flight more drinks were offered.
Inflight entertainment
There was an inflight entertainment system on the Airbus A320 which could be accessed using the wireless network onboard.  Passengers in economy class (and of course also in business class) can download an app to their tablet or smartphone to access the system during the flight, but this needs to be done on the ground before departure.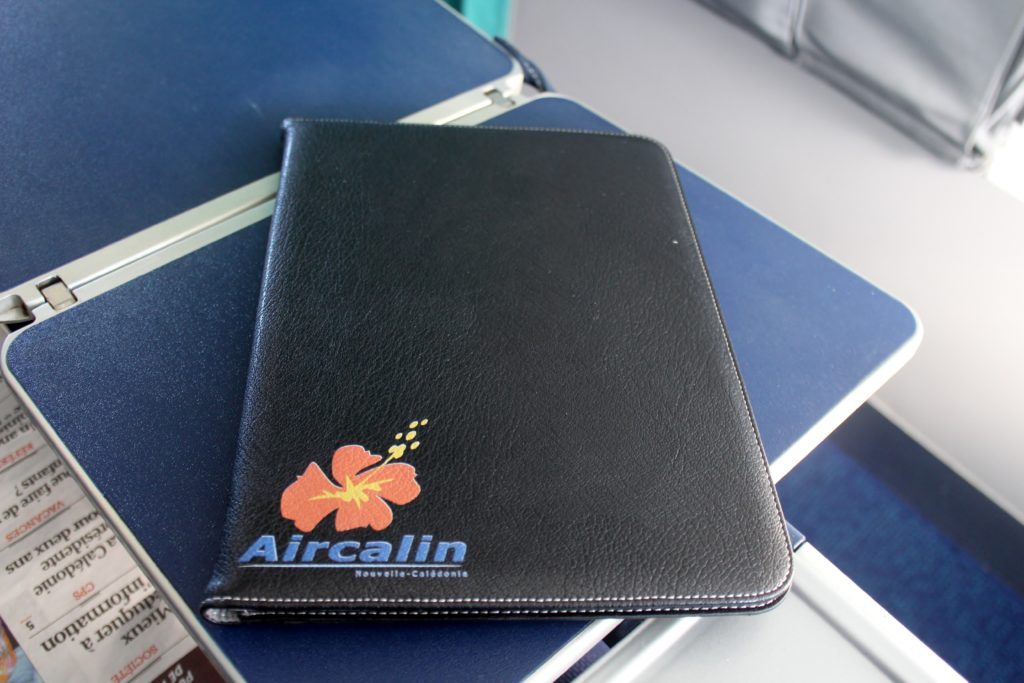 If travelling in business class you can also borrow tablets from the cabin crew and I was offered one proactively by the purser after departure, delivered in a nice leather folder.
The selection was not bad at all for a shorthaul flight with a couple of movies, documentaries and TV-series and a nice selection of music albums, including some traditional music from New Caledonia. I found a very nice album from a local band in New Caledonia called Koulnoué Boys Band. Quite nice!
The service

The purser working in business class did an excellent job with the service. She did everything very properly and really did her best to create a premium experience. A breakfast is always a breakfast and there is really not much you can do with it, in any cabin class. Naturally the situation is very different during lunch and dinner.
She was also very persistent not to let passengers in economy class use the forward lavatory which would mean having to pass or wait in the business class cabin. A middle-aged woman tried to do this but was promptly stopped by the purser. The woman tried to explain there was a long line at the back and that it took such a long time but the purser stood her ground. At the end the conversation developed into a heated argument, but the purser was firm and the woman, visibly irritated, had to return back to economy class.
I really have to give my appreciation for her effort, not many cabin crew members would go this far to adhere to the rules. Throughout the entire flight she really did her best to make this shorthaul flight into a premium experience, in any ways she could, and this was one initiative. But on the other hand I actually did feel a bit sorry for the woman. I really would not have had any problems making one or two exceptions.
Arrival experience

The weather in Sydney was wonderful and we got the full scenic approach of the city during the approach, arriving from the East, flying along the coast and then over the northern suburbs.
Finally a 180 degrees turn was made with a wonderful view of downtown Sydney, the opera house and the harbour bridge during the final approach to the airport. Unfortunately I was sitting on the wrong side of the cabin, but as there was no one in 01A I very quickly unfastened my seatbelt and as quickly as I could moved to the other side.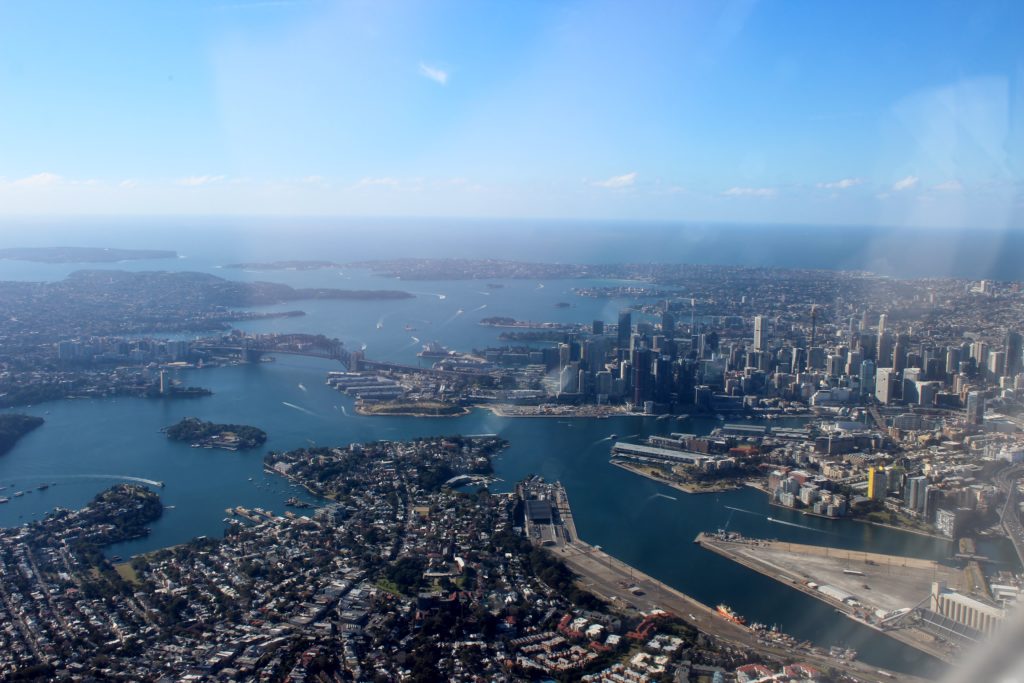 The purser noticed my move and came into the cabin for two seconds to check I was seated and once again had the seatbelt fastened. Of course you are not supposed to move around the cabin 3-4 minutes before landing but she understood the reason and did not comment. Again she was definitely more lenient and understanding with me as a business class passenger.
Fast track cards for the immigration at Sydney airport were handed out to us in business class but as they through-checked my luggage in Noumea, even on separate tickets, I could go straight to transfer security in Sydney, which saved me a considerable amount of time.
Final impression

A decent shorthaul business class experience with Aircalin. The purser did an excellent job trying to create a premium experience. Proper business class seat, tasty breakfast and a surprisingly nice little lounge in Noumea.