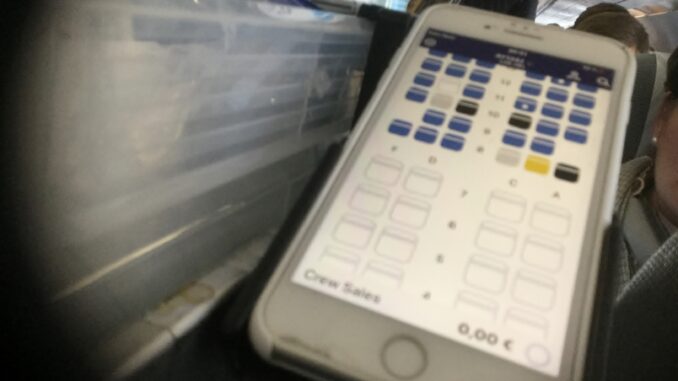 I think it is safe to say that most, if not all, frequent flyers appreciate some recognition onboard every now and then. Not that the flight attendants should overdo the whole thing and frankly if it happened too often it would not feel genuine But let's be honest, it is nice to be addressed by name every now and then, get a "welcome back" and perhaps something extra. A newspaper, a drink or perhaps a refill you would normally not get.
Some airlines are better at this than others. The company culture and company values definitely have an impact, just like proper training, but the cabin crews also need proper technical tools for this to work.
One European airline which is quite good at recognition is Finnair. As Finnair Platinum or a OneWorld Emerald you get a free drink in economy class but sometimes you may also see the purser coming to greet you personally after boarding has been completed, if there is time for it.
But how do they keep track?
Well all flight attendants have kind of an individual smartphone where they can access information about the flight, including the passengers and those with status. The same information is available on the payment machines placed on the trolley when they pass through the cabin offering food, drinks and snacks for sale. So as they pass through the cabin, if they do it properly, they instantly know where the status passengers are sitting.
On a Finnair flight a few days ago I managed to sneak a peek on the screen to see what it looked like, and it is actually very straight-forward.
Rows 1-7 are business class and the passengers seated there are not shown on this screen which focuses on economy class.
The blue dots starting at row 8 are occupied seats in economy class where the passengers do not have status.
The silver-coloured dots, for example seat 08C, are passengers with Finnair Silver or a OneWorld Ruby status.
The gold-coloured dots, for example seat 08B, are passengers with Finnair Gold or a OneWorld Sapphire status.
And the black dots, for example 08A, are passengers with Finnair Platinum or OneWorld Sapphire status.
Then there is a fourth colour for those with a Finnair Lumo card, their top level. But presumably there were none onboard.
I was sitting in seat 10C, with a black dot on the screen due to my Emerald card. When the crew passed my seat during the inflight service they already knew my status and that I was entitled to a free drink. I did not have to ask about it and I did not have to show my frequent flyer card or boarding pass.
The system works very well but then again training is just as important as the technical tools, so using these tablets, smartphones and payment machines properly becomes a natural part of the daily work in the cabin.