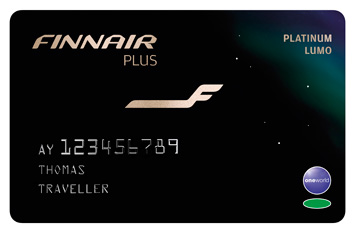 On 1 February Finnair introduced a brand new top-tier status level in its frequent flyer program Finnair Plus, an ultra-platinum card for their most loyal customers which requires more than three times more flights or points during the qualification year than Finnair Plus Gold.
The card is called 'Finnair Plus Platinum Lumo'. Lumo in Finnish means enchantment and the name should reflect the feeling you get when flying and travelling.
It takes a serious amount of travelling to get there though. 450,000 level points during 12 months, of which 350,000 need to be from Finnair flights. Or 150 qualifying flights on a OneWorld airline during the 12-month qualification year, of which 100 need to be on Finnair.
However once you get there there are a few rather nice perks. Other than the standard Finnair Plus Platinum/OneWorld Emerald benefits with extra luggage, lounge access to OneWorld first class lounges around the world and priority boarding and baggage delivery you get no less than 12 upgrade vouchers to business class on Finnair. 4 upgrade vouchers to use on Finnair longhaul flights and 8 upgrade vouchers to use on Finnair shorthaul flights.
Platinum Lumo cardholders also get access to the Finnair Lounges in Helsinki irrespective of airline flown, so you get lounge access even if not flying on Finnair or a OneWorld airline. They can also bring up to four guests into the lounge.
Another nice benefit is that as Platinum Lumo you can give away two Finnair gold card during the year.