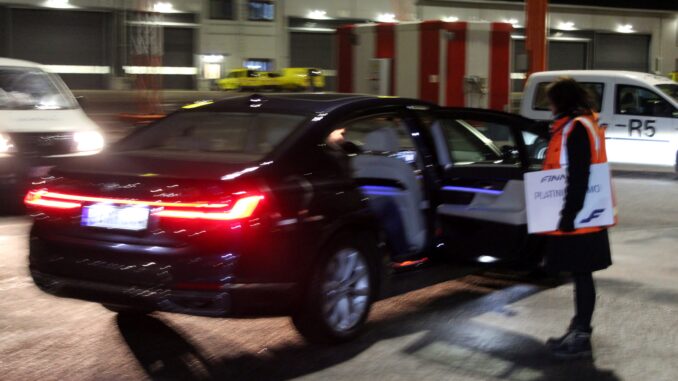 This is a great service is you are a Finnair Plus Platinum Lumo member and travel through Helsinki Vantaa airport. If your flight to or from Helsinki airport parks at a remote stand you will be taken to or from the aircraft by a chauffeur-driven BMW.
Upon landing the car will meet you by the aircraft door and the driver will hold a sign where it says Platinum Lumo. This means you do not have to wait for all the other passengers to get off the aircraft and during the winter you do not have to wait inside a cold transfer bus. If you arrive from a domestic destination with no need to pass through customs and you only have hand luggage, in some cases the car may even be able to take you landside, for example to the airport parking area where you have parked your car.
Upon departure the same service is available, although it requires some coordination, either by the check-in staff or the lounge staff.
Of course there is no guarantee that the car service will always be available. There is not an unlimited number of cars and drivers and sometimes they simply do not have the capacity to meet and greet all Platinum Lumo members if there are several members departing or arriving at the same time on different flights. The service is never guaranteed. Also with the new regional concourse at Helsinki airport more ATR-72 aircrafts now get a terminal parking stand.
My experience
Upon arrival from London I got to see the chauffeur service in full action. For some reason, although arriving on an Airbus A321 and with plenty of available terminal positions, we were assigned an apron position. There was a Platinum Lumo member onboard in business class, seated on the third row. He got a lot of attention from the cabin crew and especially the purser so it was quite obvious he had some kind of higher status. Upon arrival in Helsinki a car was waiting by the aircraft stairs where a driver was holding a sign saying Platinum Lumo. As soon as he had taken his seat they left the parking stand, long before the regular bus.
Another nice benefit of Platinum Lumo is that there are reserved seats in the Finnair Schengen Lounge. Not really needed at non-peak hours and during weekends, but at busy times on weekdays they could be useful.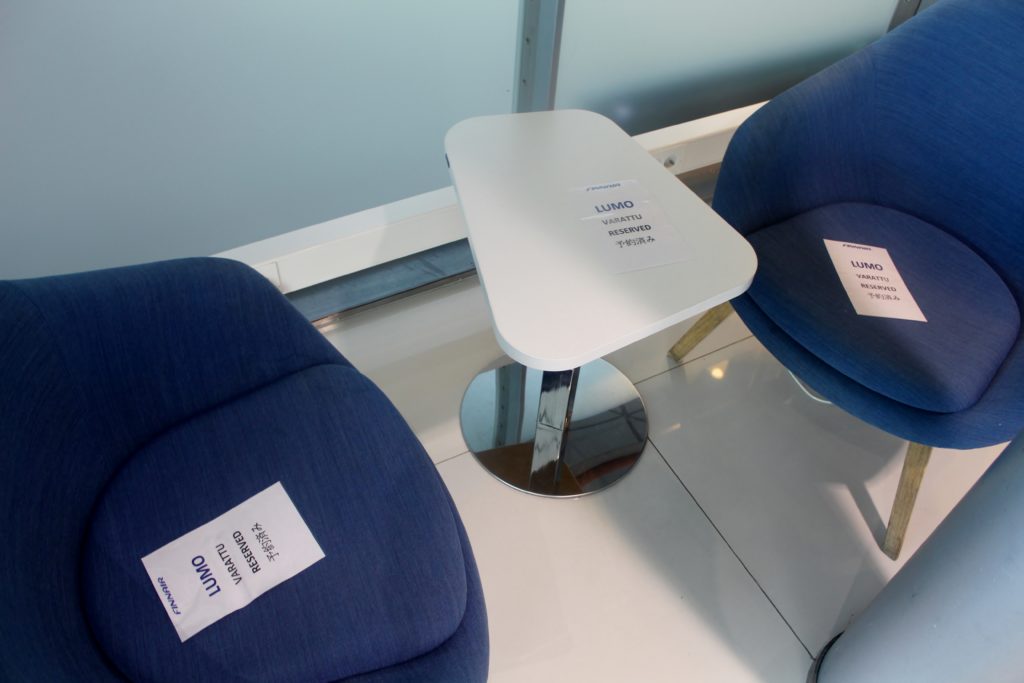 Requirements for Finnair Plus Platinum Lumo
In contrast to some other top levels offered by other airlines the Platinum Lumo level is an official level with formal requirements. It is not a by-invitation level where the airline decides if you have travelled enough or have spent enough money with the airline. The rules here are crystal clear and anyone could reach this level.
To become Finnair Plus Platinum Lumo you need to earn 450,000 points during 12 months, of which 350,000 need to be on Finnair. Or you need to take 150 qualifying OneWorld flights during the qualification year, of which 100 need to be on Finnair.