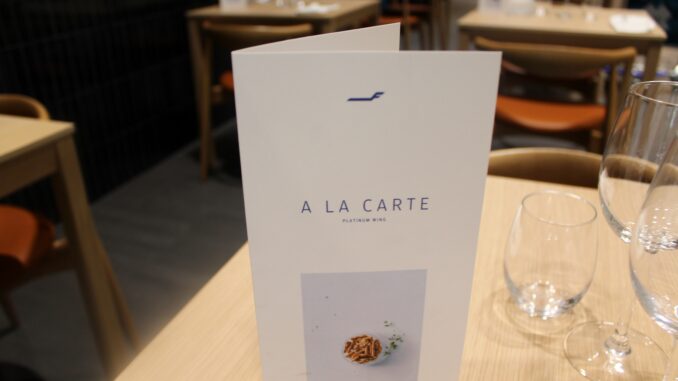 Late lunch in the Finnair Platinum Wing in Helsinki, which opened just four days ago, before boarding the afternoon flight to London. The lounge has a proper restaurant section with a buffet area and a dining area.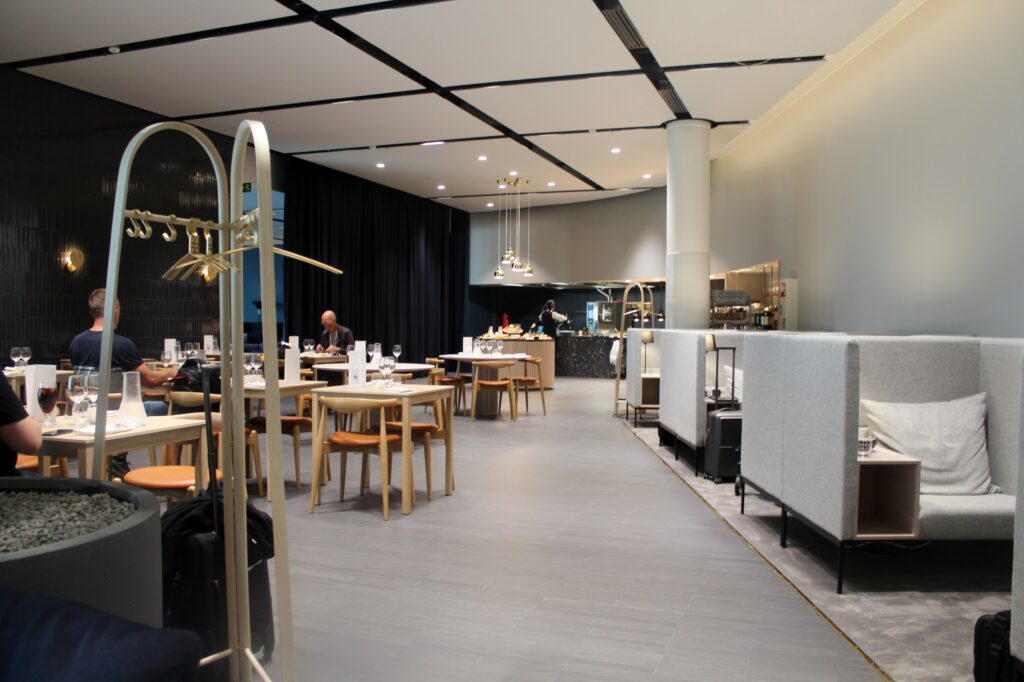 In the afternoon there is also an a la carte menu available white a proper table service and wine service. From what I understand it is only offered in the afternoon, a few hours prior to all the late afternoon departures to Asia, most of them leaving around 5 pm.
When the a la carte service is offered there is also a proper and rather nice table setting on each table, including an Iittala water carafe.
During the rest of the day hot food, cold cuts and snacks are available from the self-service buffet area.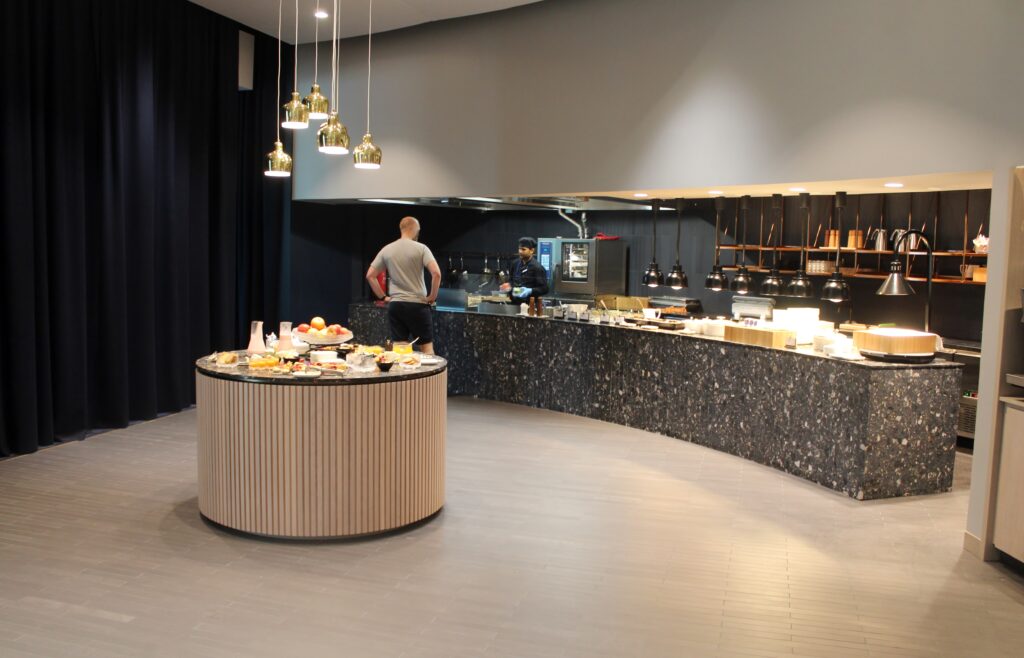 After a relaxing sauna bath I had a seat at one of the tables where there was an a la carte menu waiting.
There were three choices of main course and two choices of dessert. After two minutes one of the lounge attendants arrived, asked me if she could get me something to drink and also if I had decided what to eat. The order was subsequently taken.
While my main course was being prepared I was invited to help myself to some starters from the buffet. Among the starters were smoked salmon with wasabi mayonnaise and BBQ-beef with sriracha-mayonnaise. There were also different salads including green salad, Caesar salad and Asian kale-cucumber salad.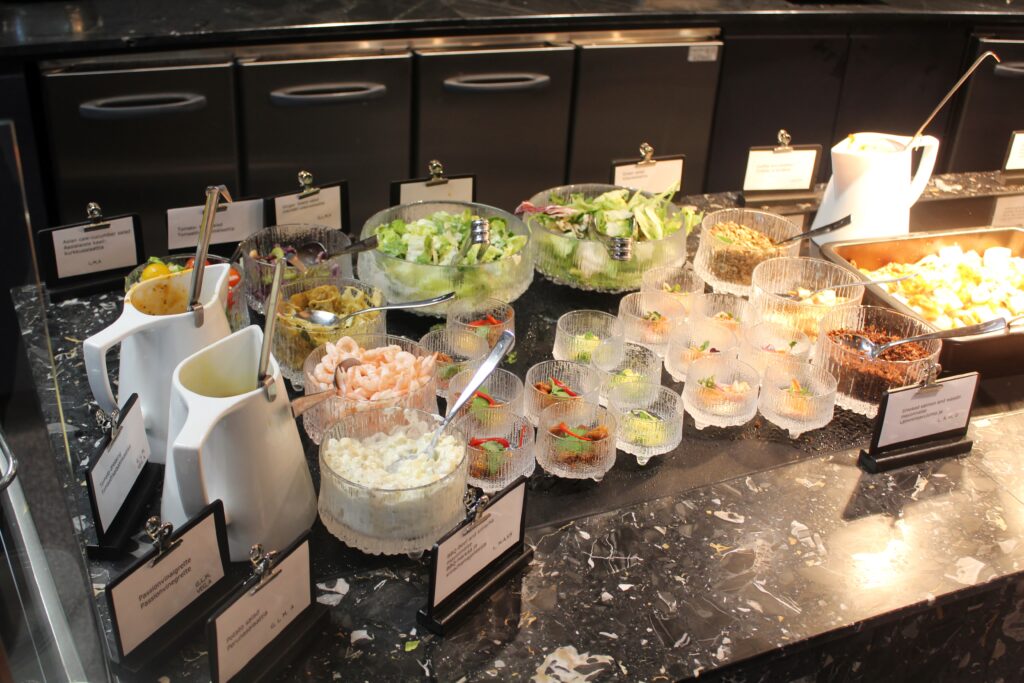 The starters are served in small but rather nice Iittala bowls and are fairly small, each one more like an amuse bouche, so you can easily have two or three different ones.
My glass of wine was also delivered to my table by the attendant. They had two reds and two whites and I chose the Margaux red wine. The selection of wines is better at the bar where there are usually 5-6 wines of each. The Margaux wine was excellent though and I happily accepted a refill later.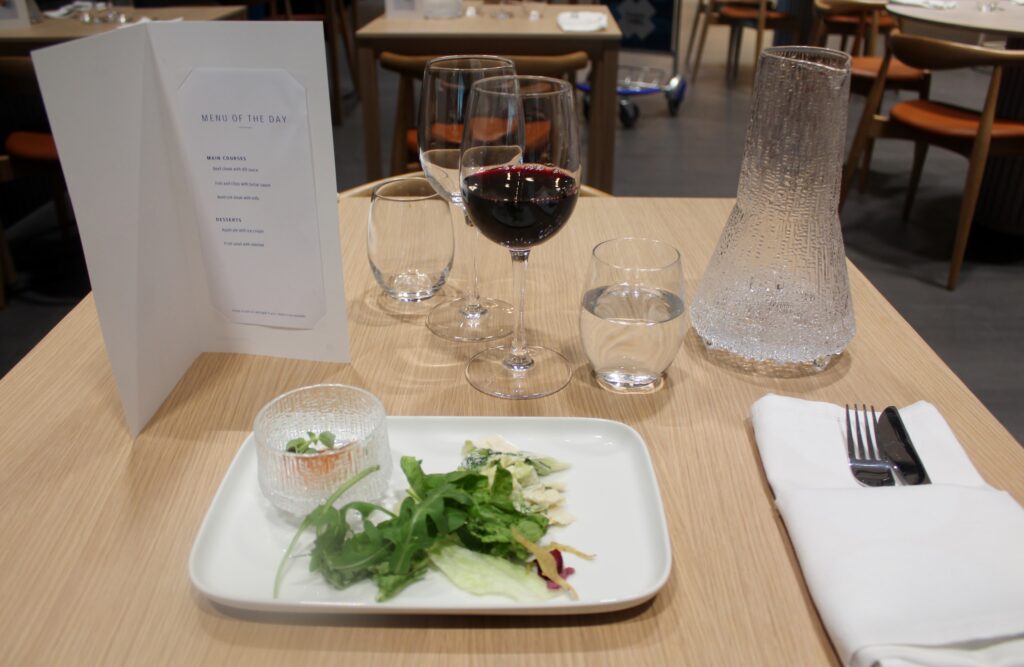 After a few minutes my choice of main course was delivered, the beef cheek with dill sauce. It was tasty but not extraordinary.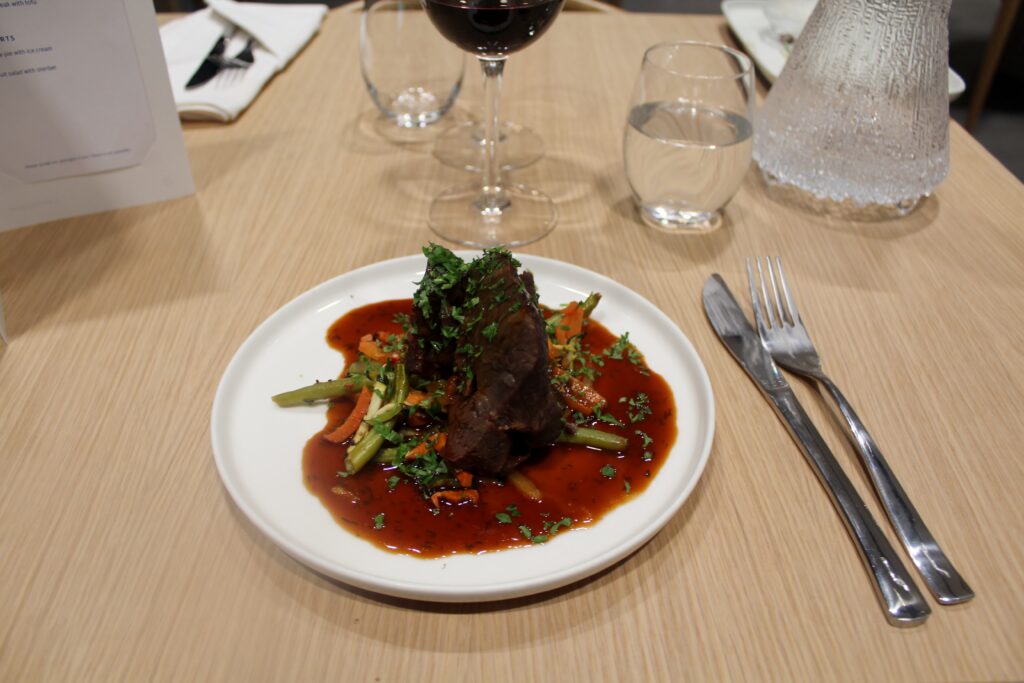 There are also a number of hot dishes available in the buffet area.
Eventually my dessert was delivered, the apple pie with ice cream. The second dessert option was fruit salad with sherbet. And what a great presentation, very nice. You might be able to also order a cup of coffee or tea at the table from the lounge attendant, but it is quite easy to help yourself since the coffee machine is just a few metres away.
Other than the two desserts in the menu there is also a desserts table in the buffet area with petits fours, smoothies, cheese and crackers and fruit salad. Again with a very nice and attractive presentation.
Overall this was a very pleasant experience. The new Finnair Platinum Wing is a really terrific lounge.