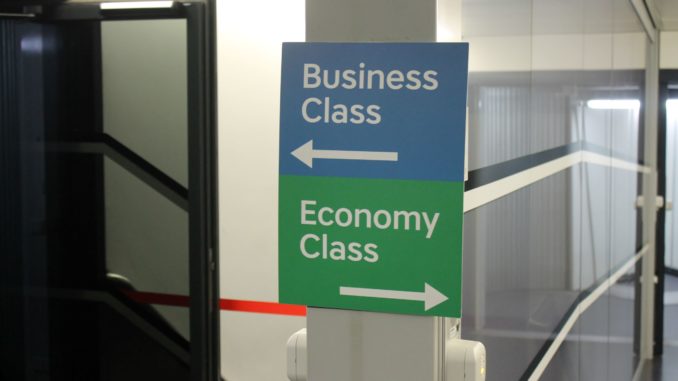 We all love that famous beep at the gate, the red light on the boarding pass reader indicating "seating issue" on the display, which hopefully does not mean you have been moved to a middle seat but rather that there is a much nicer seat waiting for you, and a new boarding pass. These upgrade surely do happen, they happen every day of the year in most places in the world. Here are a few tips how upgrades generally work and how to maximise the changes of getting one.
Three types of upgrades
First of all there are three types of upgrades.
Operational upgrades: These are the ones we usually refer to when talking about "free upgrades". These happen for mostly unplanned operational reasons. It could be a change of aircraft, a cancelled flight, a missed connection or any other kind of last-minute change, which was not planned. These could also happen because an aircraft or a cabin class was oversold and more passengers showed up at check-in than there are seats, which means a few passengers need to get new seats. An airline can also decide to deliberately oversell a cabin class, for example during major public holidays when there are often fewer business travellers but far more economy class travellers. Rather than flying with empty business class seats and get no revenues at all for these an airline may decide to sell a few extra economy class seats and then upgrade passengers.
Complimentary upgrades: These are upgrades given complimentary by the airline, even if there are no operational reasons. These are very rare nowadays but a few airlines still give complimentary upgrades to top-tier frequent flyers when there are seats available. These are very rare though. Some airlines also give upgrade vouchers when qualifying for gold or platinum in their frequent flyer program which can be used for a free upgrade.
Paid upgrades: Nowadays most airlines give the option to upgrade using frequent flyer points. If an airline is part of an alliance it may also be possible to upgrade flights on other airlines in the alliance using points. Sometimes there are restrictions though such as not being able to upgrade very cheap tickets. On longhaul/intercontinental flights it may also be possible to buy a cash upgrade at the airport on the day of departure, subject to availability. Some airlines offer this, some do not and some only at selected airports. Prices are usually advertised at the check-in desk.
What can I do to improve my chances of an upgrade?
There are a few things you can do to improve your changes of getting a complimentary upgrade, or more likely an operational upgrade. Although all airlines are different and you are never ever entitled to anything more than you have paid for, these are a few things to take into consideration which may help.
Join the frequent flyer program and be loyal!
When a cabin is oversold and the airline needs to upgrade someone they will always prefer to upgrade a loyal customer who has reached some kind of status in the frequent flyer program, which makes good sense. Most companies will prefer to reward their loyal customers.
So if the airline does this correctly they will start by upgrading platinum members followed by gold and then silver members. If the airline is part of an alliance and you have gold status there (from another member airline) this may also help, although most airlines will start by upgrading their own gold card holders.
Travel on paid tickets, preferably expensive ones, and not on award tickets!
Upgrades will rarely happen when you travel on award tickets, these are nearly always excluded from upgrades no matter the colour of the plastic card. However flying on a full-fare/flexible economy class ticket can give you some priority above people travelling on a discounted ticket, especially if there are many top-tier frequent flyers onboard.
Travel alone!
If the airline only needs to upgrade one passenger they will probably select a single traveller. In practice that means someone travelling on a booking with only one passengers in it. They will obviously not want to upgrade more passengers than needed and for that reason they may avoid families or passengers travelling with a travel companion, not wishing to split the family or the group.
Travel during public holidays!
Christmas, Easter, New year and other public holidays are excellent times to get an upgrade. Most top-tier frequent flyer will be at home with their families enjoying a few days without travels and there will be fewer business travellers with expensive tickets onboard. And the demand for cheap tickets from seasoned travellers will be much higher.
This means the planes will be fairly full while the competition from other gold and platinum cardholders and other full-flex passengers on the flight to get the upgrade will be much smaller .
Do not order a special meal!
If you have ordered a special meal, for example a vegetarian meal, and they upgrade you to business class it means the special meal you ordered for economy class will most likely have to be thrown away. It also means there is a risk they may have no vegetarian meal to offer you in business class. And of course if you have ordered something even more advanced like a low-fat or a kosher meal it will be even more complicated.
So for quite obvious reasons the airline will prefer to upgrade someone without a special meal.
Dress nicely!
This is much less of an aspect now than it was a few years ago. Nowadays many people check in using a self-service machine, a mobile app or the airline webpage and thus never actually meet an airline employee. Most upgrades are consequently done by airport staff who have never seen the passengers and will only pick passengers based on the information available in the booking system (frequent flyer status, type of ticket etc).
However sometimes upgrades do happen last minute at the gate, when you stand in front at the podium in front of an airport employee, and having a good appearance may help at least a little bit. Although there is very rarely a dress code onboard nowadays the airlines probably do what they can to make their first and business class cabins feel a bit premium.
Do not push, but do be nice!
Forget all the traditional tips of trying to talk your way into the business class cabin, they will not work. Most employees are immune to any kind of talk involving free upgrades without any form of valid reason for it, so you will rather ruin your chances by even mentioning it.
But just like the previous tips regarding the may you dress, being nice, friendly and courteous to the staff may give you an advantage, especially in combination with something else. After all the airport employees are no more than regular people who will rather be appreciative of a nice, friendly and perhaps patient customer than a rude and very demanding one.
And of course, if the airlines has screwed something up it can also be used as an argument. But again, do not push.
Have a bit of luck!
Pretty much all the tips above are based on the airport staff having a good amount of time to do the upgrade work properly. Print the passenger manifest, go through the list of frequent flyers and pick passengers in order of status and then booking class, avoiding large families and award ticket holders, and so on.
This is the way it should be done in one way or another following the internal rules and regulations of the airline. But in practice on a busy day with delays and cancellations, bad weather, rebooked passengers that were not planned for and last-minute aircraft changes, and then the flight is about to leave in 25 minutes, there may simply not be time to do it properly. Then a good appearance may help, a friendly approach and plenty of luck. After all the most important goal for all airlines is to make their flights depart on time and avoid delays, which cost a lot of money.
If you really REALLY want an upgrade?
Upgrades are never guaranteed and are always subject to space and given at the discretion of the airport staff. Even if you follow all the tips, you have the highest possible frequent flyer card and you book yourself on the fullest possible flight (and follow every other advice) you may still find yourself at the gate just to find out there were passengers who did not show up for check-in and all of a sudden there are two or three empty seats in the cabin, on that flight which was completely sold-out just an hour ago. Two empty seats means no upgrade is needed.
If you really, REALLY, want an upgrade, then buy a ticket for that particular class of travel. There are so many business class and first class campaigns nowadays, especially if you can book well in advance and stay a few days at the destination. Then you are guaranteed to get that larger seat, the nicer food, the better wines and the much more comfortable sleeping experience.
Also keep in mind that regular paid tickets in business class or first class give you significantly more miles/points for the trip than if you would when travelling in economy class. So even after just one longhaul trip in business class you may actually have enough points for a free shorthaul award trip. This should also be taken into account.