Where is it?
There are no less than six Louis Tavern lounges at Bangkok Suvarnabhumi airport, this lounge is located in the international transit hall, in Concourse F on level 3 very close to the transfer desks at transit area West.

How do I get in?
Louis Tavern has agreements with several airlines not operating their own lounges at the airport, in particular airlines not part of one of the three major alliances. It is also possible to enter by paying at the reception as well as using different lounge cards such as Priority Pass.
In case access is provided by the airline an invitation is usually issued at check-in which can be used to enter any Louis Tavern lounge at the airport.
What's it like?
The lounge recently underwent a complete renovation and now has a new design. Although still referred to as "Louis Tavern Lounge" the sign above the entrance now says "Miracle Lounge". On some webpages the lounge is referred to as "Louis Tavern CIP First Class Lounge" but this is very deceiving as there is certainly nothing first class about it by normal international standards.
The lounge in Concourse F is the smallest of the Louis Tavern lounges at the airport, it is basically just one small room. However the new design has given the lounge a major facelift, from being very dark to something much more pleasant and appealing to the eye. The lounge now has comfortable grey sofas and armchairs with yellow cushions and the overall feeling is significantly better than in the past.
But other than a self-service buffet in a separate room and a reception desk in the corner there is not much else to mention regarding the facilities.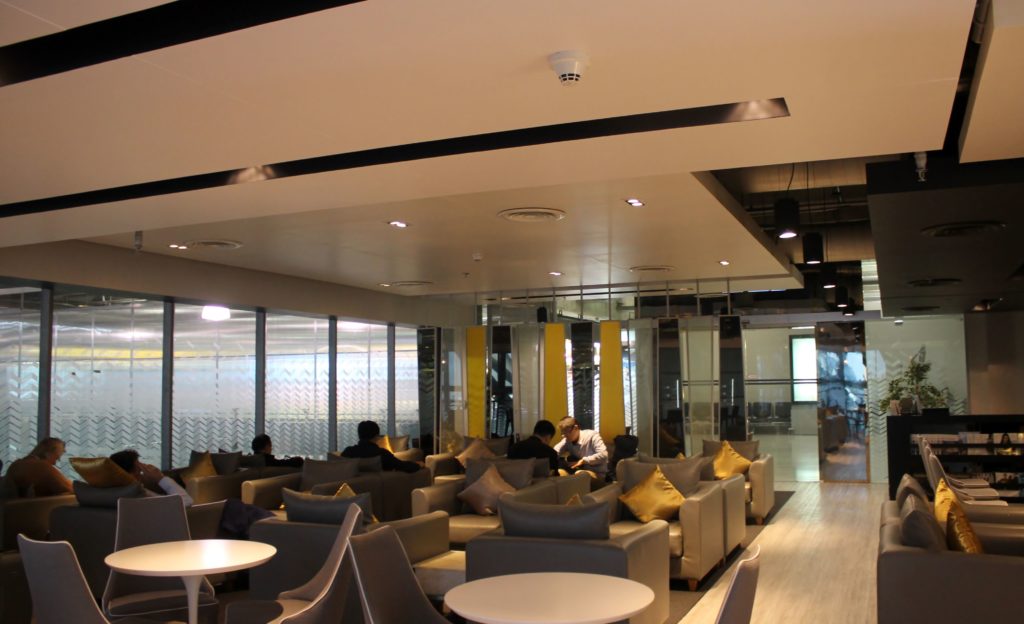 By the window on the opposite side from the entrance there are some bar stools and tables where guests can sit down and eat properly, next to the small adjacent room with the self-service buffet. The bar tables offer a limited view of the aprons at Concourse F and G.
Food and drinks
A standard selection of snacks is offered including sandwiches, bread rolls, fresh fruits, yoghurt and cereals, instant noodles, pastries and cookies. In the morning various breakfast items are offered while something hot is offered later during the day such as soup.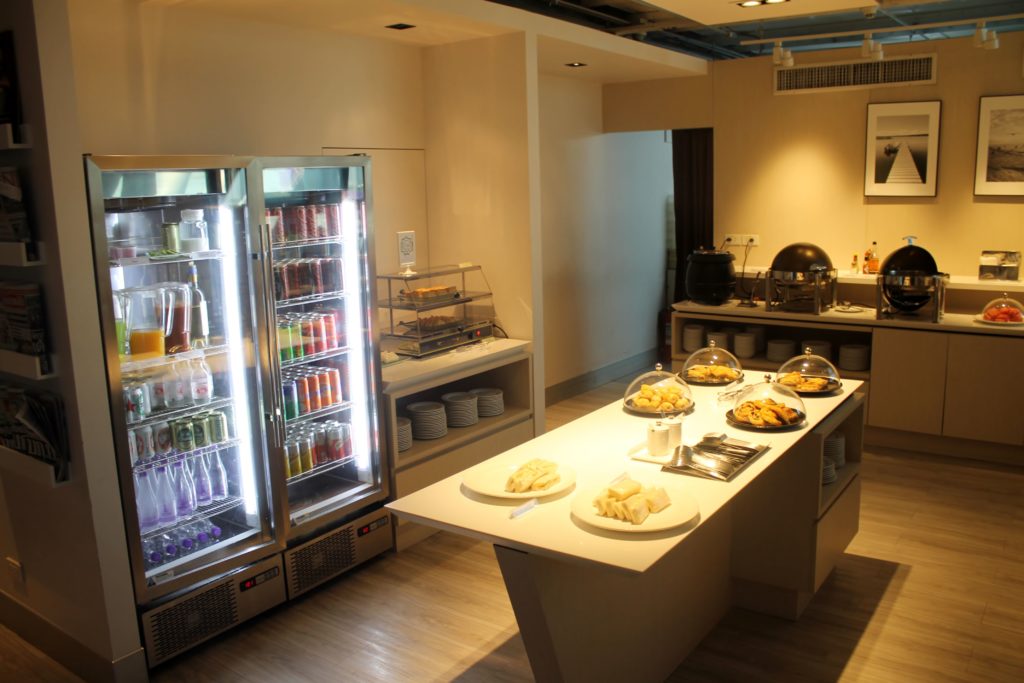 The drinks selection includes wine, spirits and a fridge with mineral water, juices, beer and sodas. There is also a coffee machine and of course tea.
Facilities
Free wireless internet is available and there is a small selection of newspapers. There are no restrooms in the lounge, but the public ones in the transit hall are just a few metres from the lounge entrance.
Final impression
This is a small third-party lounge with somewhat limited facilities. But the selection of food and drinks is not bad for such a small lounge and the recent renovation is a major improvement.