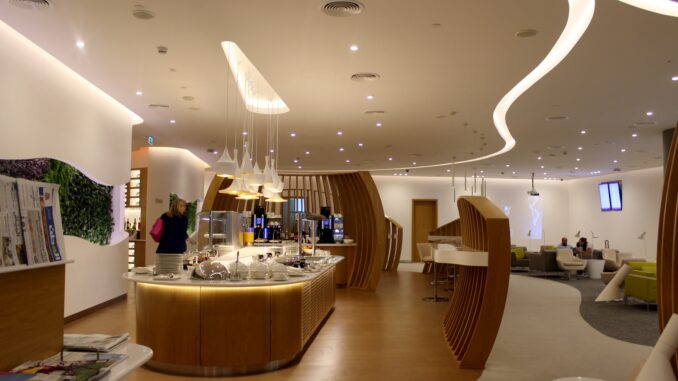 Where is it?

The Skyteam Lounge is located airside in the transit hall in Concourse D, in the corridor where all the other lounges are located. There are plenty of signs.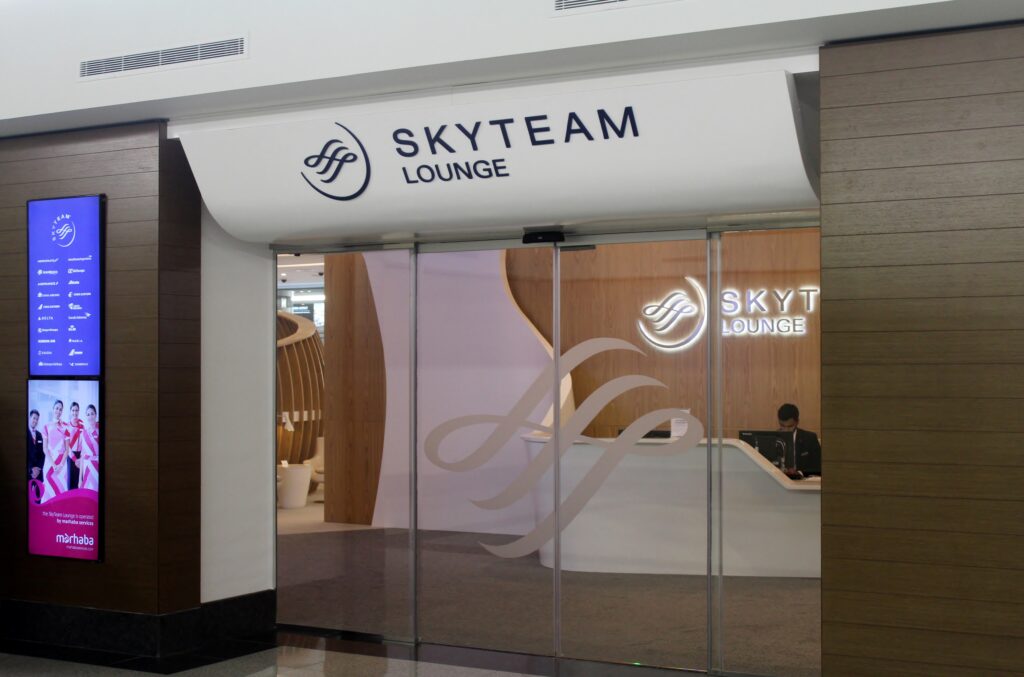 How do I get in?

The lounge is used by all Skyteam carriers operating from Dubai, currently ten airlines in total. Access is given to first class and business class passengers of all these airlines as well as to Skyteam Elite Plus passengers irrespective of Skyteam carrier.
Priority Pass also gives access.
What's it like?

The lounge opened in April 2016 at the same time as the new Concourse D in Dubai. It consequently became the fifth dedicated Skyteam Lounge in the world.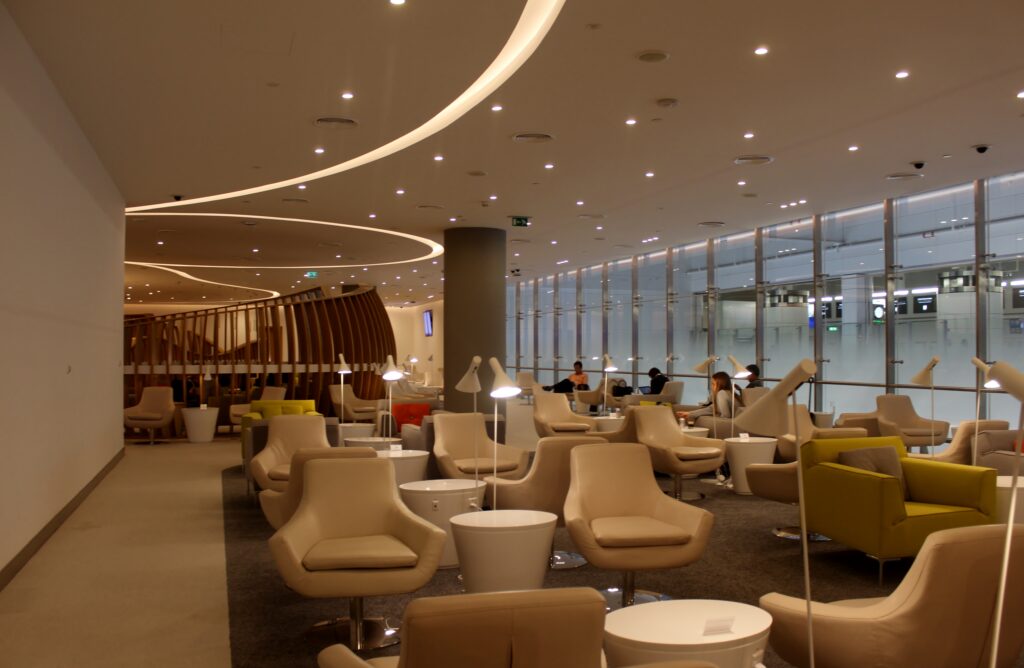 The lounge measures 960 sqm with seating for 180 guests and is open around the clock, 7 days a week. The design is very similar to the other Skyteam lounges with some by now rather familiar concepts. Those who have visited the Skyteam Lounges in London, Hong Kong, Sydney and Istanbul will recognize most of the interior.
Most of the design goes in mostly wood and various light colours with armchairs in white, grey, beige and green and with spotlights used to create a relaxed atmosphere. The lounge also has the signature Skyteam 'innovative curves' in both the ceiling and some of the walls and furniture.
You will also fine the signature Skyteam 'living wall' with plants.
Food and drinks

The self-service buffet area, straight after the reception lobby, offers hot and cold food depending on the time of the day, but always with a couple of hot items.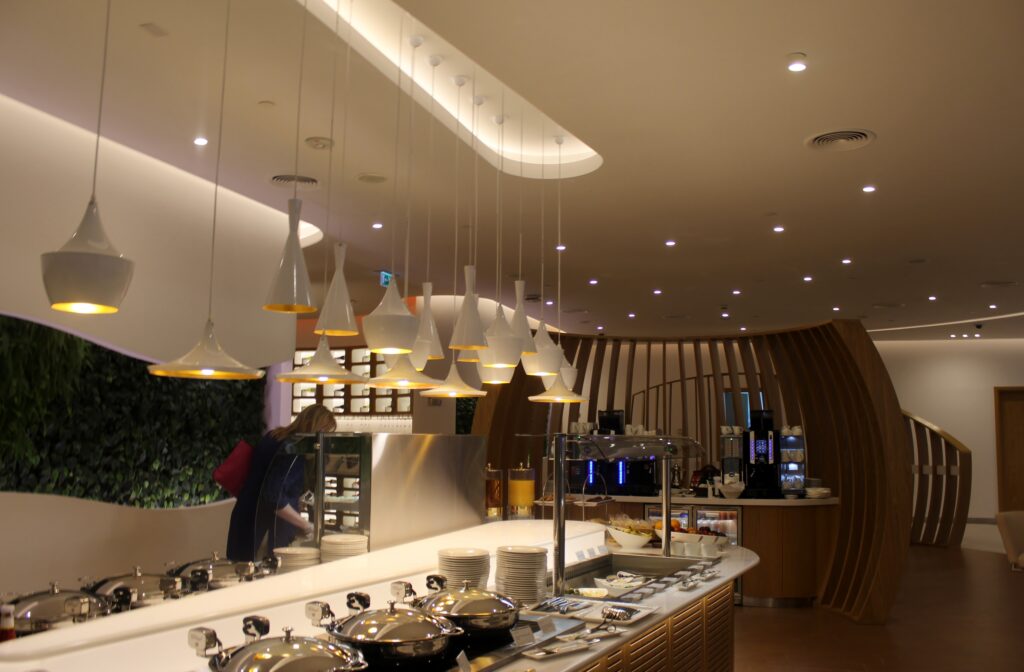 There are also all kinds of snacks, vegetables, desserts, pastries and fresh fruits available for self service.
The lounge also has the signature circular wine bar with various wines, beer and spirits. And of course there are juices, soft drinks, coffee and tea.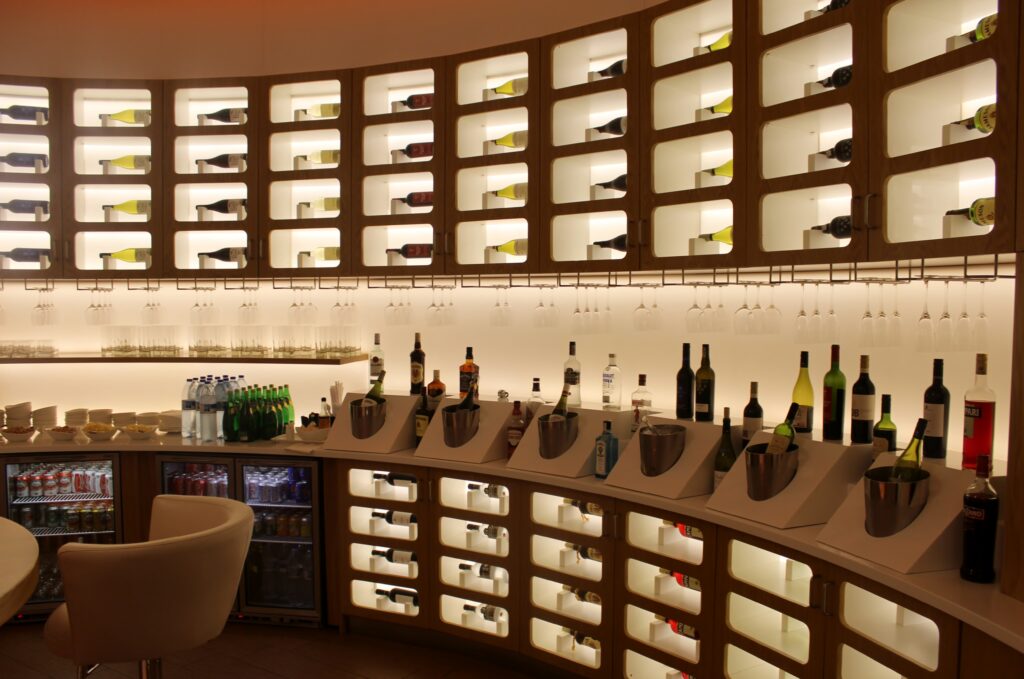 Facilities

There is a business centre with internet computers and printing facilities. Free Wi-Fi is available throughout the lounge.
There are restrooms and showers available. For those who prefer to relax, away from the busy lounge, there is a fairly secluded TV room. And for families with small children there is a playroom with toys.
Just bu the reception area there is a rack with newspapers and magazines.
Final impression

A standard Skyteam lounge with the standard Skyteam lounge concept. A lounge which offers most things you may need, including a good selection of food and drinks and all kinds of facilities. The lounge is stylish but still lacks that wow factor. But still a nice improvement compared the lounges previously used by the Skyteam carriers in Dubai.