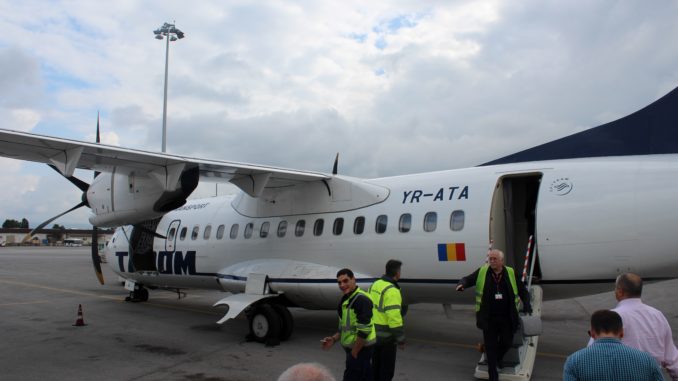 TAROM is the national airline of Romania, a member of the Skyteam alliance with its hub at Bucharest Henri Coanda Airport. They are still a full-service airline, also in economy, and a surprisingly good one. This is a review of a regional flight in TAROM economy class between Sofia and Bucharest.
Departure experience

TAROM check-in did not seem to be open when I arrived at Sofia airport just about two hours before departure, or at least the one indicated on the monitors was unmanned. Check-in probably opened two hours before departure or possibly 90 minutes before. There were no self-service machines for TAROM.
Fortunately I had been able to check in online on the TAROM webpage and I could download the boarding pass to my mobile phone. This meant travelling with only hand luggage I could go airside anyway.
Rather interestingly the boarding pass mentioned nothing about frequent flyer program or status. Even though I am a gold card holder of Flying Blue, the frequent flyer program also used by TAROM, there was no mention of it on the boarding pass and I could not even get an indication if the frequent flyer number had been registered at all.
Also the boarding pass mentioned nothing about fast track, lounge access or priority boarding and which lounge I could use at the airport as a premium passenger of TAROM, although I was planning to visit all three lounges anyway and all these three could be accessed with a Priority Pass.
Both security control and passport control were fairly quick even without a fast track channel. In contrast to the arrivals level, where there were e-passport gates for EU citizens, on the departures level there was only one manned passport control desk, which took slightly more time.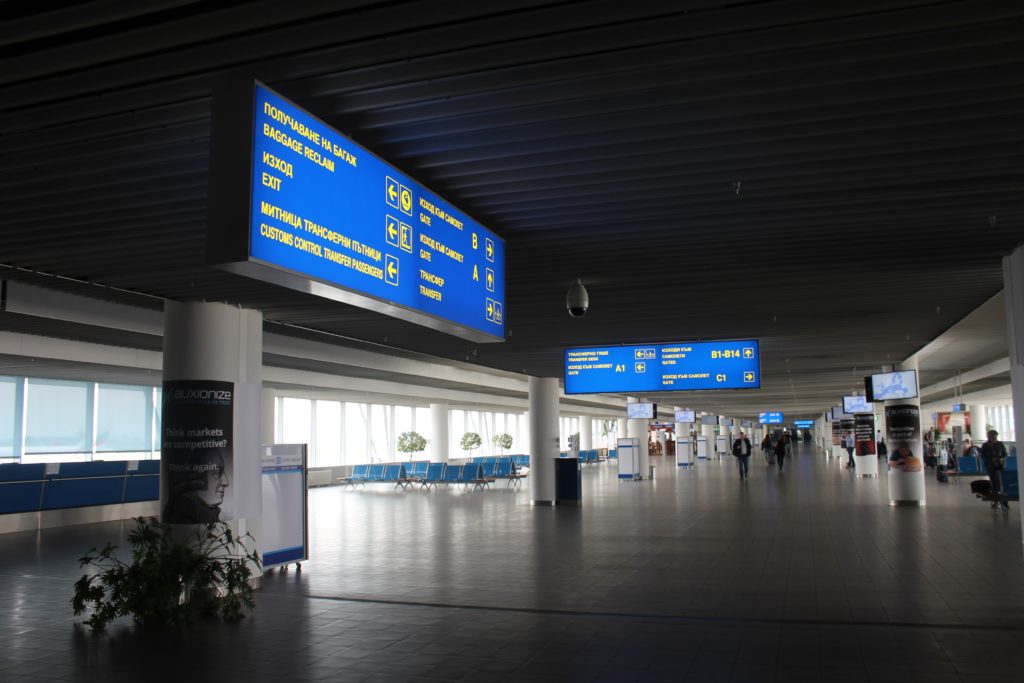 Sofia airport is small and there is not much to do airside other than looking in the few taxfree shops immediately after passport control. But interestingly there are no less than three lounges in the small international terminal, terminal 2. They are called Pliska Lounge, Preslav Lounge and Vitosha Aspire Lounge.
Pliska Lounge and Preslav Lounge are both run by the same company and use the same registration system. So if the airline has contracted any of these lounges you can visit either or, or both. At the entrance I could see on the signs that this was indeed the lounge/lounges used by TAROM.
The Pliska Lounge was located on the first floor, to the right after passport control just after the shopping area. The lounge was small but surprisingly nicely decorated with most of the interior in purple.
The selection of snacks was also perfectly adequate with mini pizzas, sandwiches, miniature desserts, yoghurt and crisps. A full bar was also available for self-service, I tried a rather nice Bulgarian red wine.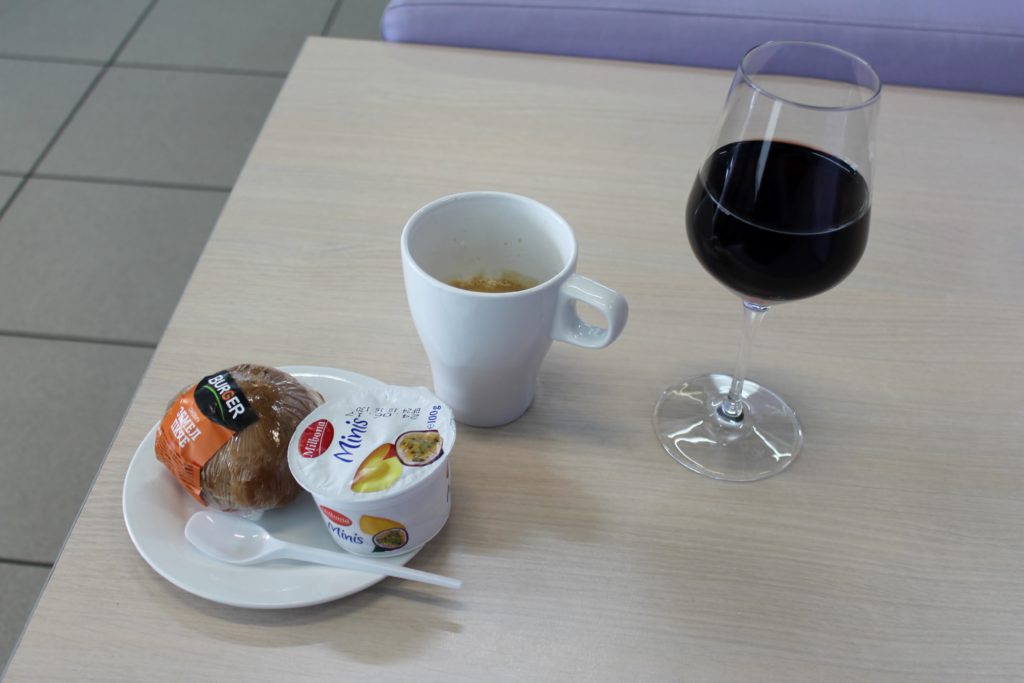 The second lounge used by TAROM was the Preslav Lounge. It was very hard to find, even though I was actively looking for it. There were hardly a single sign for the lounge and those very few that did exist were confusing and did not really help. Eventually I found the lounge in the basement, the only place where I had not been looking, after taking the escalator towards the arrivals hall. And even there the entrance was well hidden behind the escalator.
The Preslav Lounge was much more spacious than the Priska Lounge and was actually quite stylish with the entire interior in green and dark brown and with plenty of plants and even pictures on the walls of plants. It was all very green, but the design worked quite well. The selection of food and drinks was pretty much identical to the one in the previous lounge. On the positive side there were far fewer guests in the Preslav Lounge, most likely as it was much harder to find.
There was also a third lounge at the airport called Vitosha Aspire Lounge. It is used by the airlines in the Lufthansa Group and by the national carrier Bulgaria Air but it was not accessible to TAROM premium passengers. Definitely the most modern and contemporary lounge of the three, run by Swissport. But the food and drinks selection was not that different from the other two lounges.
The flight
Sofia-Bucharest
TAROM flight RO 296
Departure: 17.40
Arrival: 18.45
Economy Class
ATR-42
Seat 11A

Boarding started very early, nearly 40 minutes before departure. I did not expect such an early boarding and it took a bit of time before I had noticed that boarding was flashing on the screen and of course even more time before I had collected my belongings and reached the gate. I was one of the last passengers to make it to the gate, with 30 minutes still to go until the scheduled departure time.
The aircraft was parked at a remote stand and this meant a bus gate was used in the basement and we were taken from the terminal to the aircraft by bus.
First impression

An ATR-42 was used for the short flight to Bucharest. Just like on the ATR-72 boarding was done from the back and most frequent travellers prefer a high row number on these aircrafts rather than a low row number for speedy disembarkation at the destination. I had selected 11A with just one row behind.
There was a curtain in the cabin but it stayed open during the whole flight so there was probably no one booked in business class. The curtain was placed between row 1 and row 2 so I wonder if business class passengers are usually seated at the very front on TAROM flights rather than at the back, which is usually the case when travelling in business class or a premium cabin on an ATR.
The flight was almost completely full but luckily I was one of the few passengers to get an empty adjacent seat.
Punctual pushback with a flight time of 45 minutes to Bucharest.
Seat and cabin

There were 12 rows onboard with four seats abreast in a 2-2 configuration. The seats were in dark blue leather and quite comfortable but the legroom was somewhat limited. Of course this did not matter that much on a flight of 45 minutes.
Food and drinks

Once the seatbelt sign had been switched off the inflight service started with snacks and drinks offered free of charge starting from the front of the cabin.
A surprisingly large and very decent sandwich was offered with cheese and vegetables. Easily one of the largest sandwiches I have been offered free of charge in economy class for many years. It was served together with a Romanian chocolate cake.
Drinks were also offered free of charge, including soft drinks, beer and wine, coffee and tea.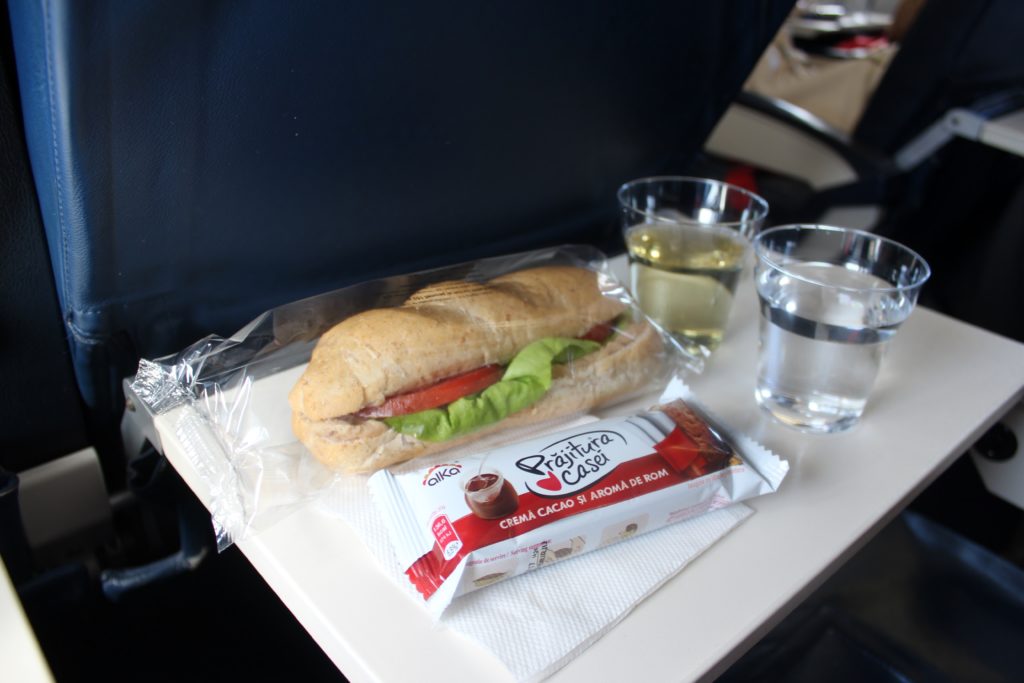 This was a lot better than expected and a surprisingly good service level for a flight of 45 minutes. Many airlines in Europe would not offer much more than a cup of coffee or a glass of water on a flight of a similar length, or nothing at all.
The service

Two cabin crew members worked onboard, the male purser and a slightly younger female flight attendant. The service level was very much standard for economy class, friendly but efficient. There was no special recognition of me as a gold card holder with Flying Blue, which would also mean gold card holder of TAROM.
Later during the flight, as I was sitting just a row from the galley, I got the purser's attention while he was stowing away some bottles and asked if it would be possible to get a refill of the white wine. He did seem a bit hesitant at first and I presumed he had either emptied the remaining wine or that they simply did not offer refills for some reason. But rather surprisingly five minutes later he arrived with a full glass, a smile and a cheery "enjoy!".
Arrival experience

We landed ten minutes early at Bucharest Henri Coanda airport and just like in Sofia we parked at an apron stand and were taken to the terminal by bus. Several passengers had connecting flights, just like me. All transfer passengers had to pass through transfer security but not just that, also through passport control, for some reason.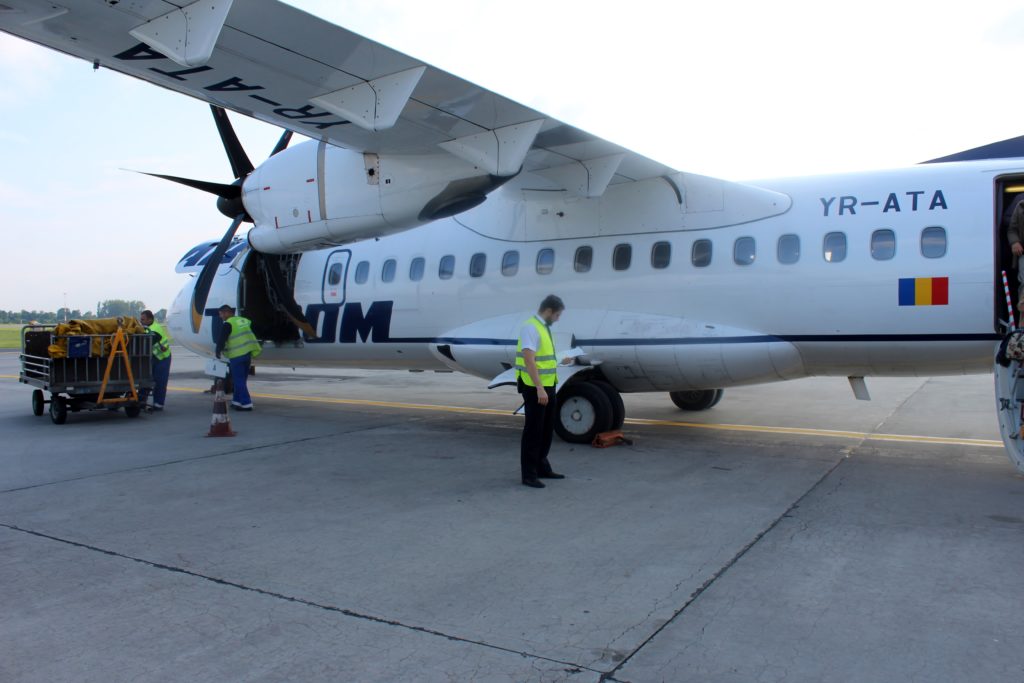 Final impression

A very impressive inflight service for such a short flight with a very large sandwich, a chocolate cake and free drinks including beer and wine. Friendly service and punctual departure and landing. Also quite impressive to find no less than three lounges at an airport like Sofia.