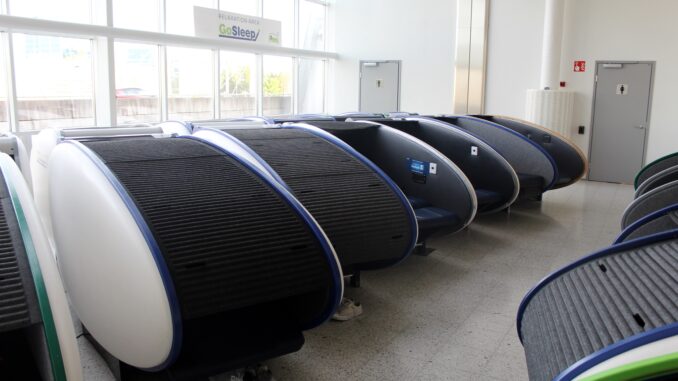 Something very different and possibly the complete opposite from premium travels, but sometimes you end up with an airport layover for just a few hours and it may neither be worth the money, nor the time and the hassle to book a room at one of the airport hotels.
Nine hours between flights at Helsinki airport, and with access to the Finnair lounge where I could have a shower and breakfast in the morning I decided to skip one of the regular airport hotels and give the GoSleep igloo pod a try instead. Not just did it save a considerable amount of money and the hassle of going landside to the hotel and then back again in the morning, it was also a rather fun and refreshing experience.
GoSleep is now available at 16 airports around the world and one of them is Helsinki Vantaa airport. And in fact the igloo pod is a Finnish invention. At Helsinki airport it is located airside in what is frequently referred to as terminal 1, the gates mostly used by SAS and Star Alliance, although you can access it irrespective of airline flown.
If you arrive from a non-Schengen you will need to pass passport control and then follow the signs for the Schengen gates. For people starting their journey in Helsinki the people at security control will let you through the night before your flight but it may be a good idea to bring a printed confirmation to show. However if travelling with checked luggage it may be tricky to use the GoSleep as the check-in or the baggage drop for the airline may not be open the evening before the flight.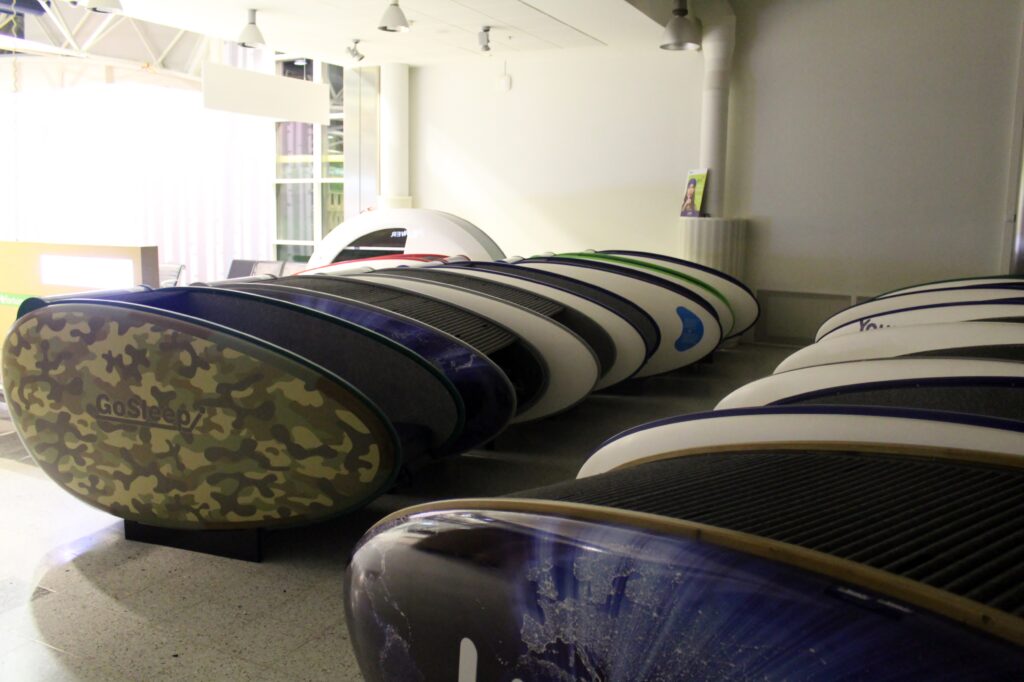 The booking was made through Booking.com, which is the official booking channel for GoSleep in Helsinki, and if you go to their own homepage and click on 'Booking' you will be sent there. You can also book upon arrival in the evening, but this is subject to availability.
There are different packages available but the maximum price is 45 euro and then you get to keep your igloo from 9 pm until noon the following day. From 9 pm there is also a manned reception desk in the area, so you check in as usual, complete a short form with your name, contact details and flight details, and they also offer you a wake-up call so you do not miss your flight. And of course it means that there is at least one member of staff available if there are any problems. There are restrooms in the same area but there are no showers available.
The price includes a pillow (a large one or a small one), a sheet, a blanket and ear plugs. Given the summer heat sweeping across Europe right now I had brought a bedcover from home and fortunately the ventilation was just a metre away.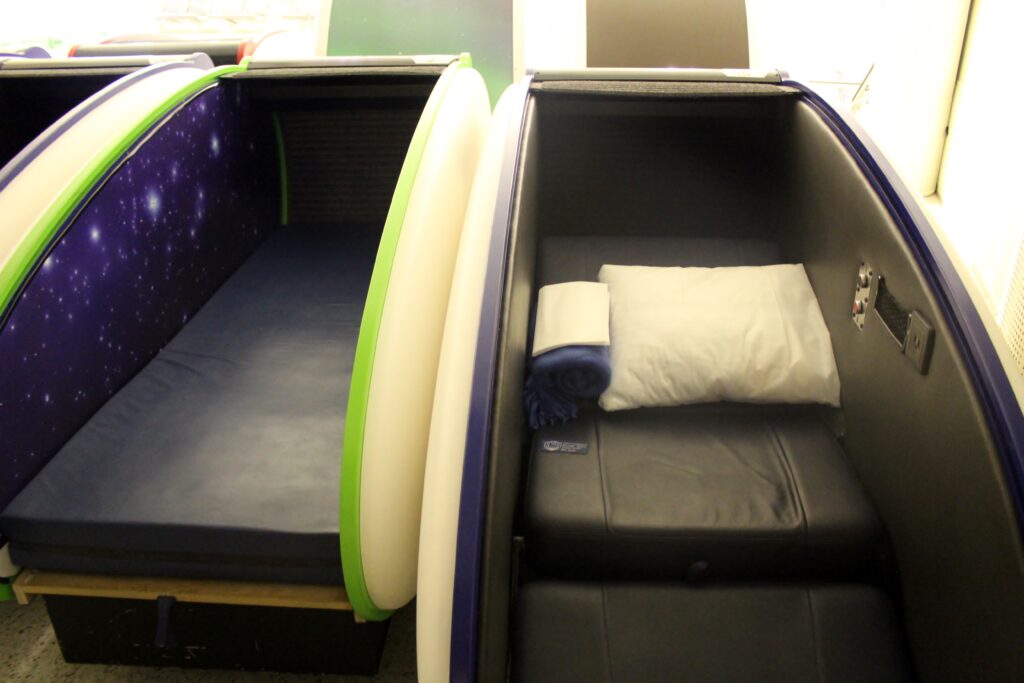 Most people who see the igloo may wonder what to do with the hand luggage and if it is really secure during the night. And it most definitely is. The hand luggage is actually placed inside the igloo, as you lift the mattress there is a rather sizeable storage compartment below for your personal belongings, and since you sleep on top of the mattress it would be impossible for anyone to reach your belongings as long as you are in the igloo yourself.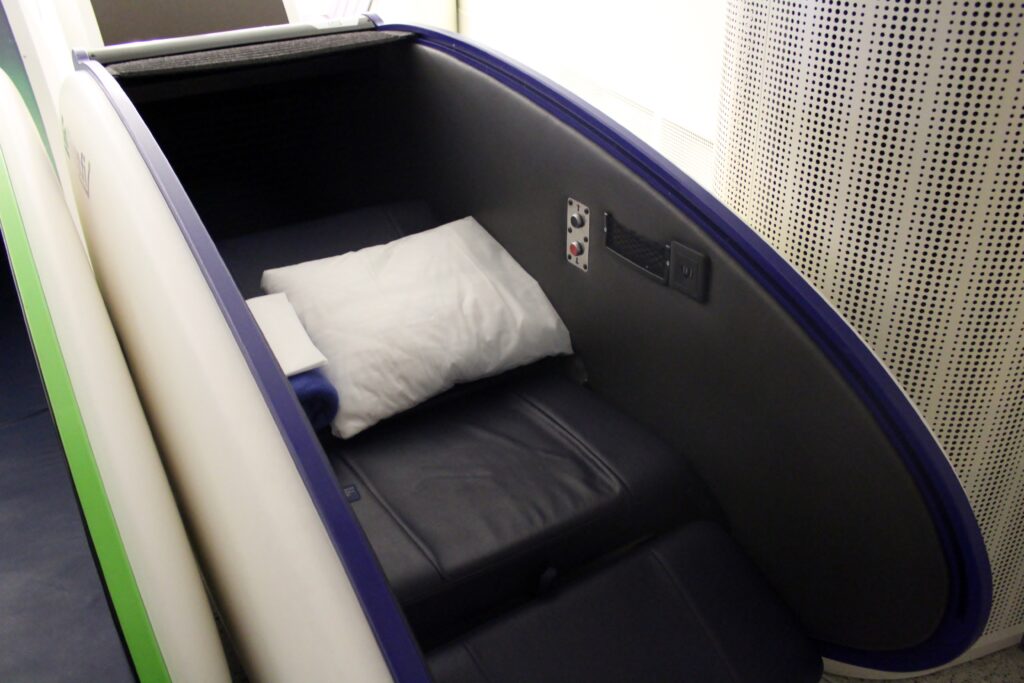 When you are ready to go to sleep you press a button and the igloo changes from being some kind of armchair to a bed. You then lower the blind. There are also two USB-ports inside if you want to charge your mobile phone during the night.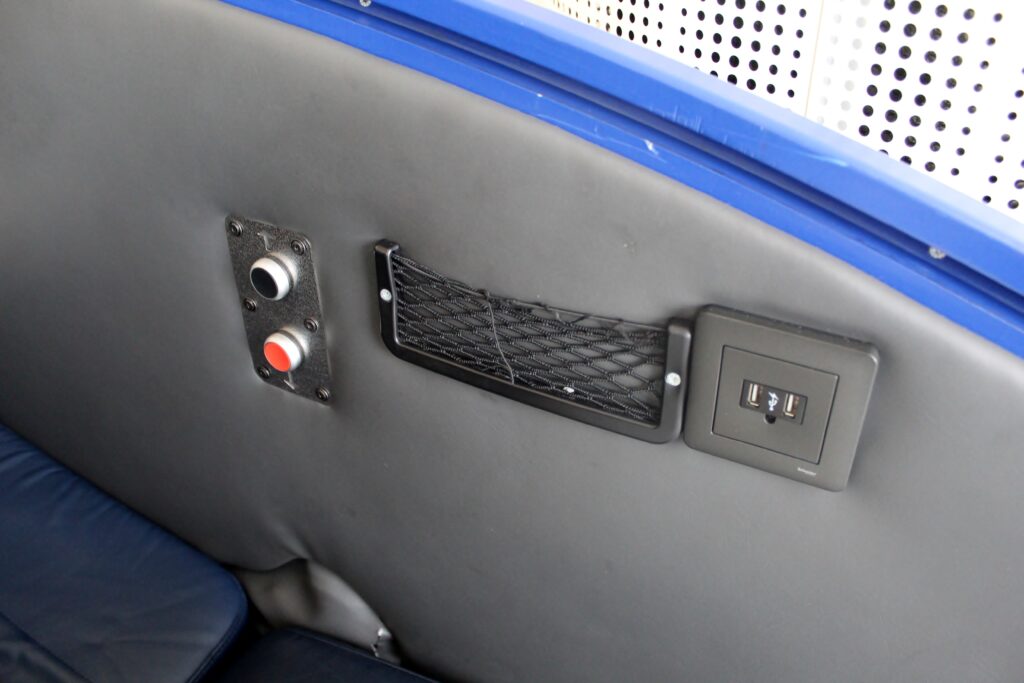 All-in-all the experience was better than expected. It is actually rather cozy inside, surprisingly spacious and the mattress was fairly comfortable. Also, in contrast to what you may think, it is not completely dark inside as there are many tiny holes in the blind. Even if you fully close it you will still be able to navigate inside.
However during the hot summer it became unbearable to have it fully closed due to the lack of ventilation when you close it all the way down. I ended up sleeping with the igloo slightly open by the feet to get some cool air inside. Presumably that part is much less of an issue during the winter.
However it may be a good idea to use the ear plugs given at check-in. I was woken up at 6 am by the announcement of the priority boarding for the Lufthansa morning flight to Frankfurt leaving from gate 11 just around the corner.
Verdict
With access to an airport lounge where you can take a shower and have breakfast in the morning I would consider the GoSleep pod again for a similar shorter layover. You really make very good use of your time between flights by staying airside and I really got to maximise my sleep in a way I would never have been able to if going to a landside hotel. And although not luxurious by any means the sleeping experience was perfectly acceptable and it was not cramped inside.