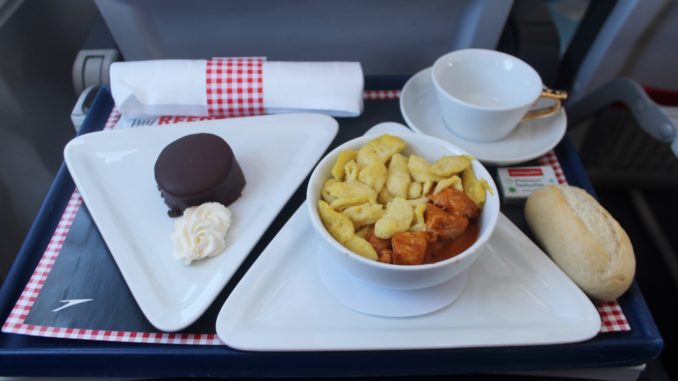 Departure experience

Getting a terminal stand in Frankfurt can be a bit of a hit or a miss. Even with the new A-plus pier many shorthaul aircrafts are still directed to an apron parking position and if you travel on a regional aircraft you can be quite certain there will be a bus for you. I was just in transit in Frankfurt this early morning and fortunately for a change both the incoming flight and the connecting flight were assigned gates at the terminal, and both in terminal A. Actually the gates were right next to each other, gate A38 and gate A40.
With 75 minutes between two Schengen flights and having already checked in there was plenty of time for a lounge visit. As the incoming flight arrived at gate A38 and the next flight was departing from an equally high gate number I decided to skip the lengthy walk all the way to the Lufthansa Senator Lounge and instead went to the Lufthansa Business Lounge close to gate A26, located on top of the escalator.
This was once the Lufthansa first class lounge in the Schengen area and much of the old first class interior is still there, including the old bar (which is still in use and manned, but with a much smaller drinks selection), the cigar room (now the business centre) and the restrooms (which are still the same and far more spacious than in other Lufthansa lounges). Even though this is only a business lounge it is actually quite a decent place and perfectly fine if this lounge is closer to the departure gate than the larger Business and Senator Lounges just after the main taxfree area.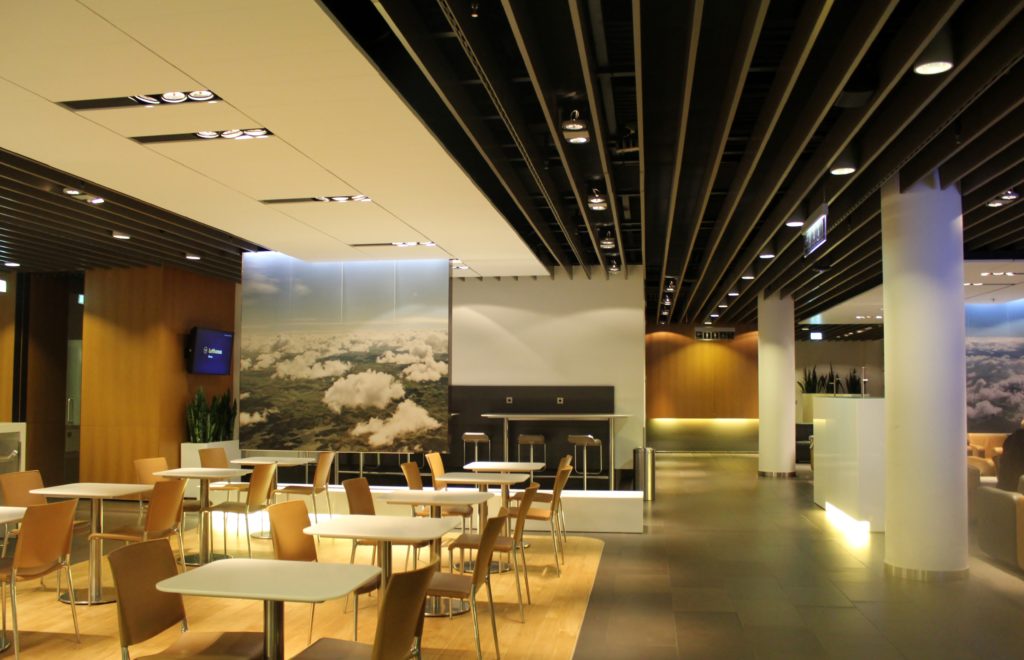 There were plenty of people in the lounge around 9 am and somewhat hard to find a seat. A fairly good breakfast spread was available for self-service in the restaurant room with both some hot dishes (including scrambled eggs) and various cold options.
The flight
Frankfurt-Vienna
Austrian Airlines flight OS 122
Departure: 09.50
Arrival: 11.15
Business Class
Airbus A320
Seat 02C

Boarding started at 9.25, well before scheduled departure time, with priority boarding for business class, Star Alliance Gold and families with children using the lane next to the podium, and it seemed to be reasonably well enforced by the gate agent.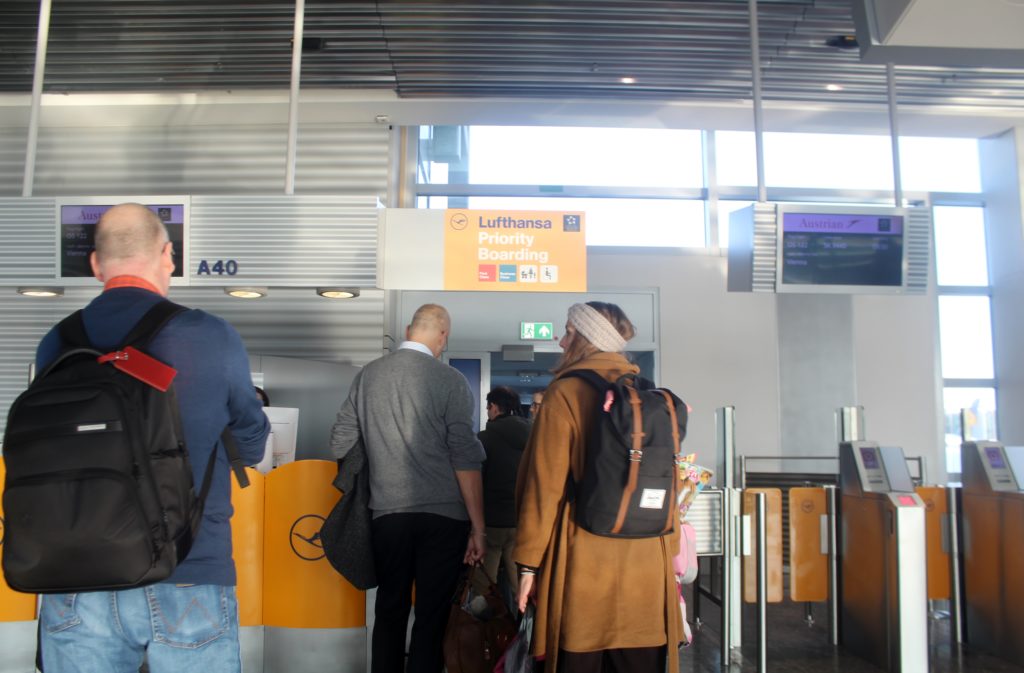 First impression

I had prebooked seat 02C for the flight, the second row of business class. During online check-in the day before it looked like the cabin would consist of three rows with most of the seats occupied. Upon boarding it turned out that the business class cabin had been extended to five rows and there were two passengers already seated, but no one else arrived. At the end we were only three passengers in business class, a completely different situation from what the seat map had looked like the night before.
And it was a very interesting mix of passengers in business class. The man seated in 01A turned out to be an HON Circle member, the top tier level in Miles & More which requires a lot of paid travels in business class and first class on airlines in the Lufthansa Group. He was warmly greeted by name by the purser who apologised for not being able to hang his coat as they had no closet and no hangers onboard. He was also offered a pre-departure drink and got a glass of orange juice served from the galley while the economy class passengers were still boarding. Very nice status recognition.
The woman seated across the aisle in 02D turned out to be a US diplomatic courier. She was travelling wearing a large reflective vest with 'Diplomatic Courier' printed on it and spent a good part of the flight with paperwork. Upon arrival in Vienna she was met at the gate and escorted to a waiting car and in Frankfurt I never saw her at the gate so she was probably driven to the aircraft there as well.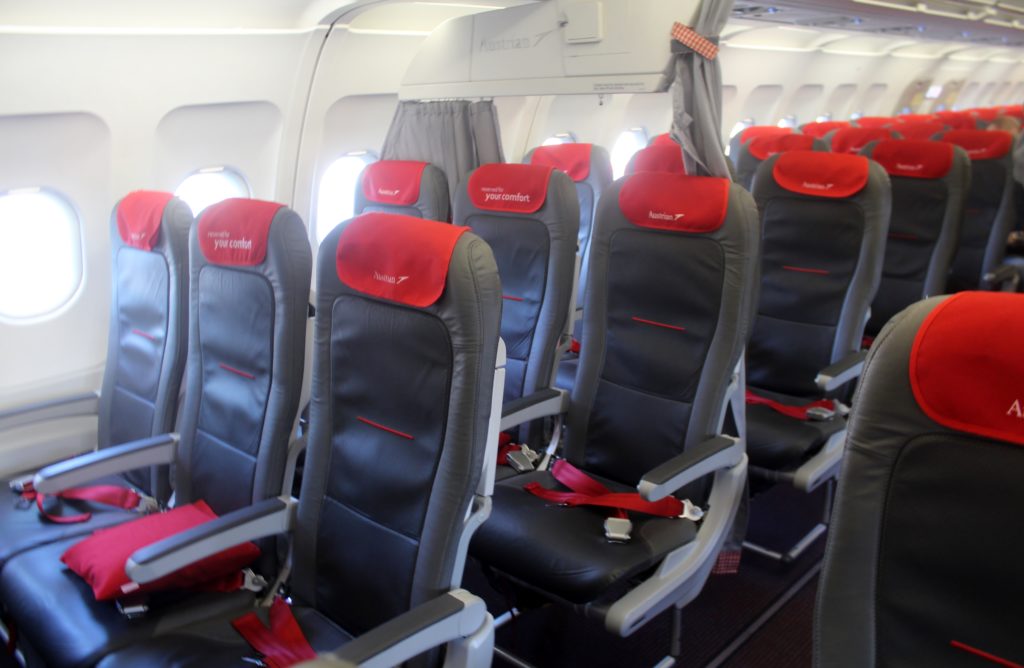 Boarding was completed well ahead of timetable. Unfortunately no newspapers and magazines were offered (as has been the case in the past) and as expected no pre-departure drink.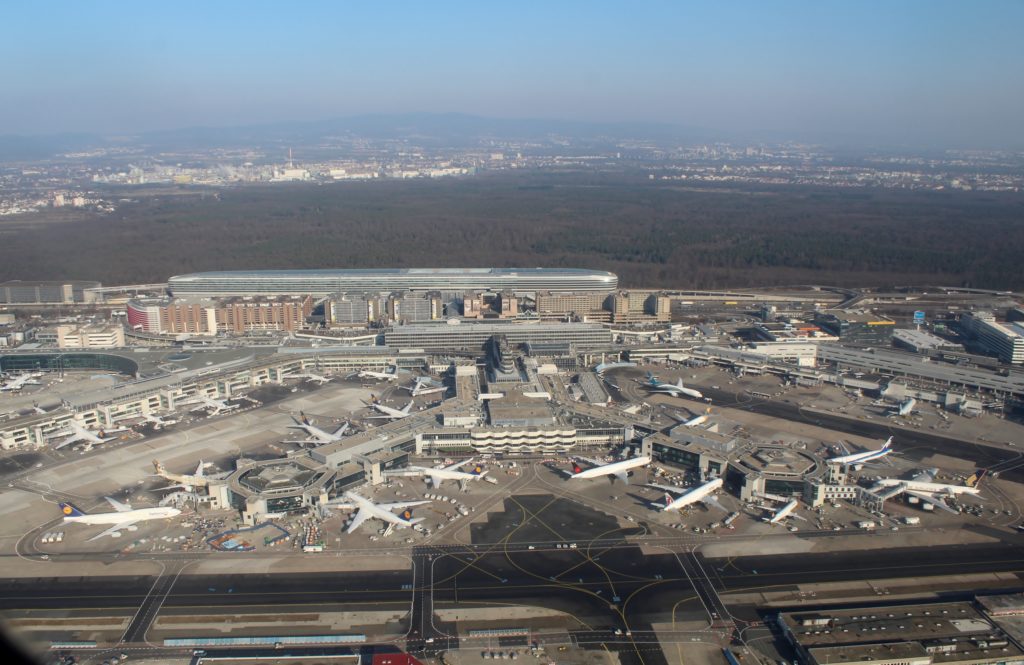 The takeoff provided a great and very sunny view of Frankfurt airport followed by downtown Frankfurt. The flight time was expected to be one hour and five minutes from Frankfurt to Vienna.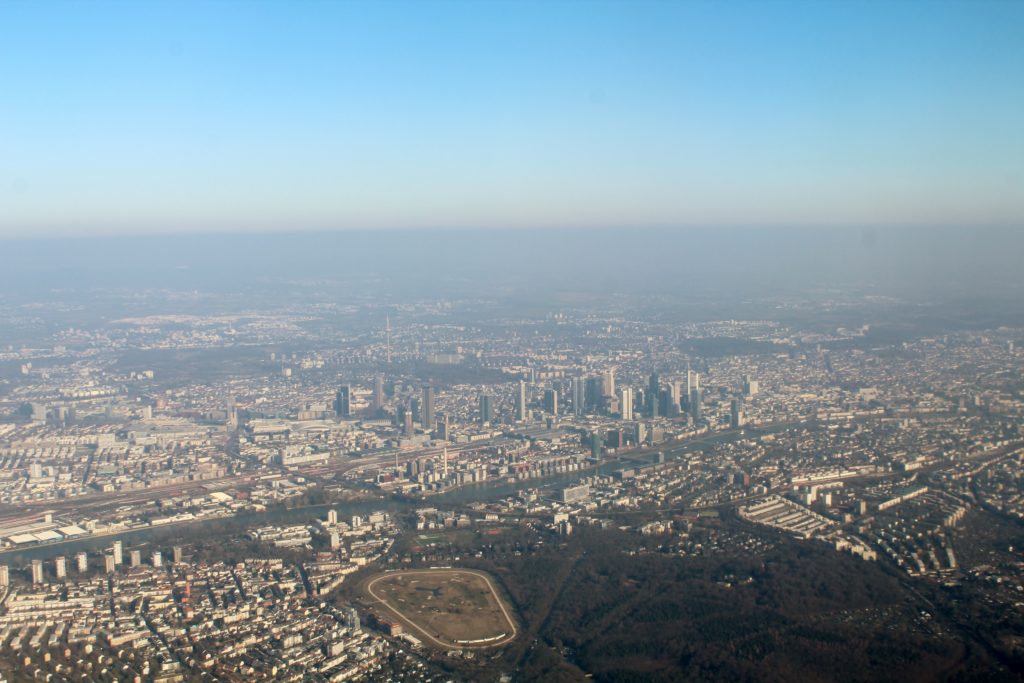 Seat and cabin

The Airbus A320 was equipped with Recaro seats which are becoming more and more standard on intra-European flights. The configuration onboard was 3-3 but in business class the middle seats are blocked, giving a 2-2 configuration. There was no cocktail table above the middle seat though but all seats had nice red pillows.
As mentioned there were five rows of business class with only three passengers, so there was plenty of space. I had prebooked 02C but got my own row and moved to the window seat.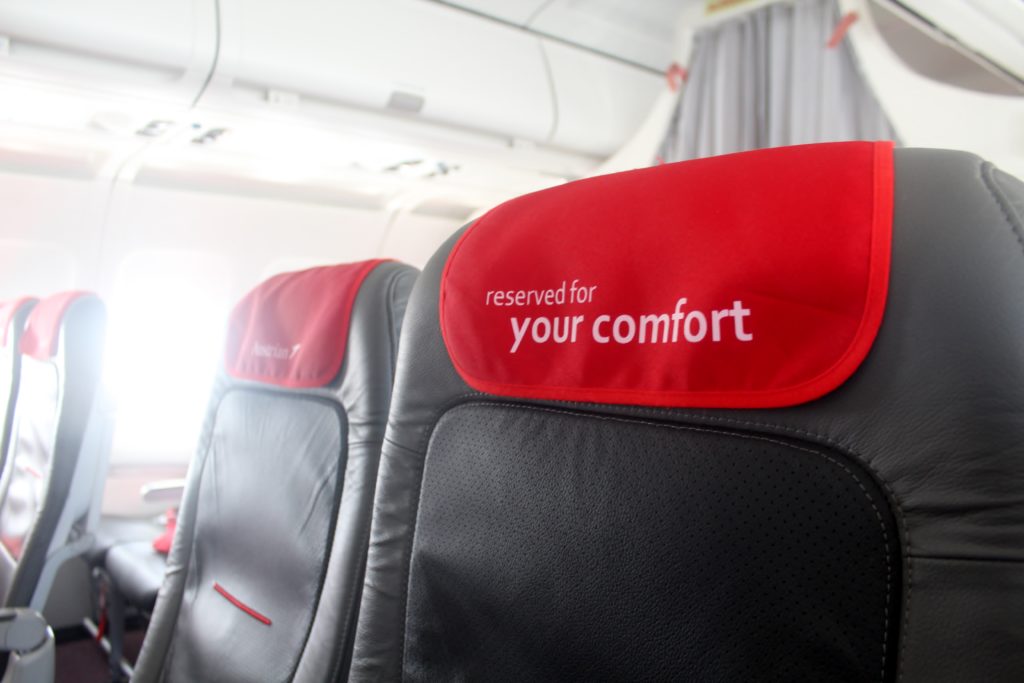 Food and drinks

As we reached cruising altitude the meal tray was handed out and rather impressively a hot meal was offered on the one-hour flight to Vienna, which is surely very rare in Europe. The food was provided by the excellent catering provider Do&Co who always seem to provide decent food of good quality and usually with a nice presentation as well.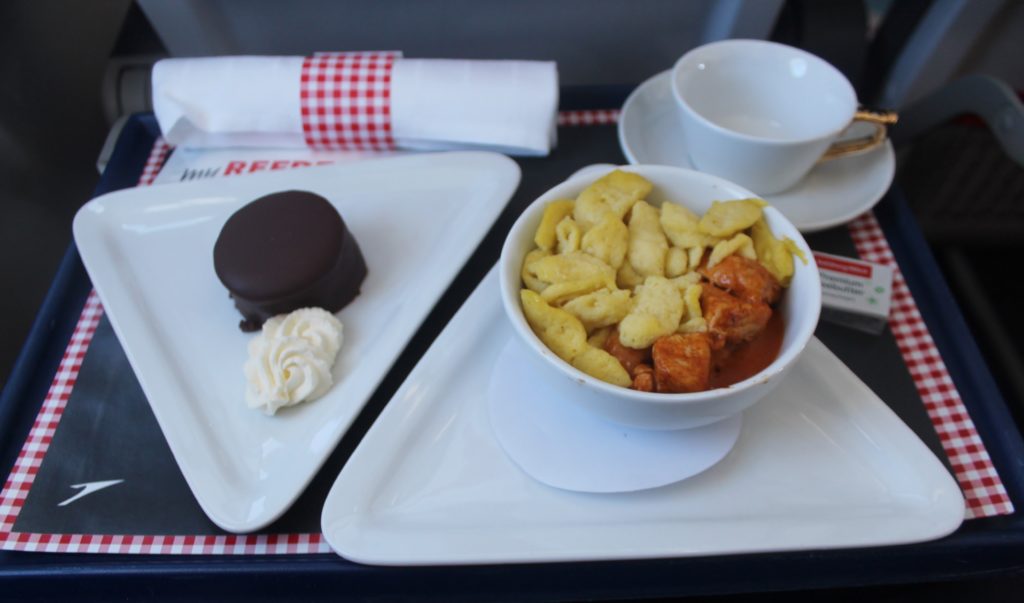 The hot course was a bowl with pasta and chicken in some kind of sauce. It was quite tasty. Warm bread rolls were offered from a basket and there was butter on the tray.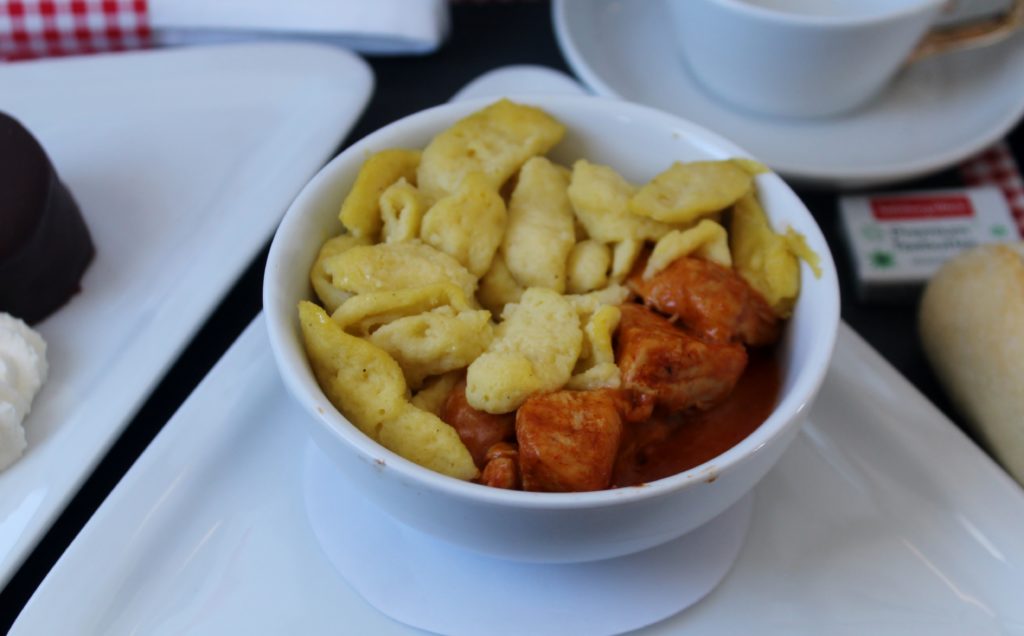 The dessert was a chocolate cake with whipped cream, a signature dessert in Austrian Airlines business class as Austria is world-famous for its desserts and in particular its cakes. It was exquisite.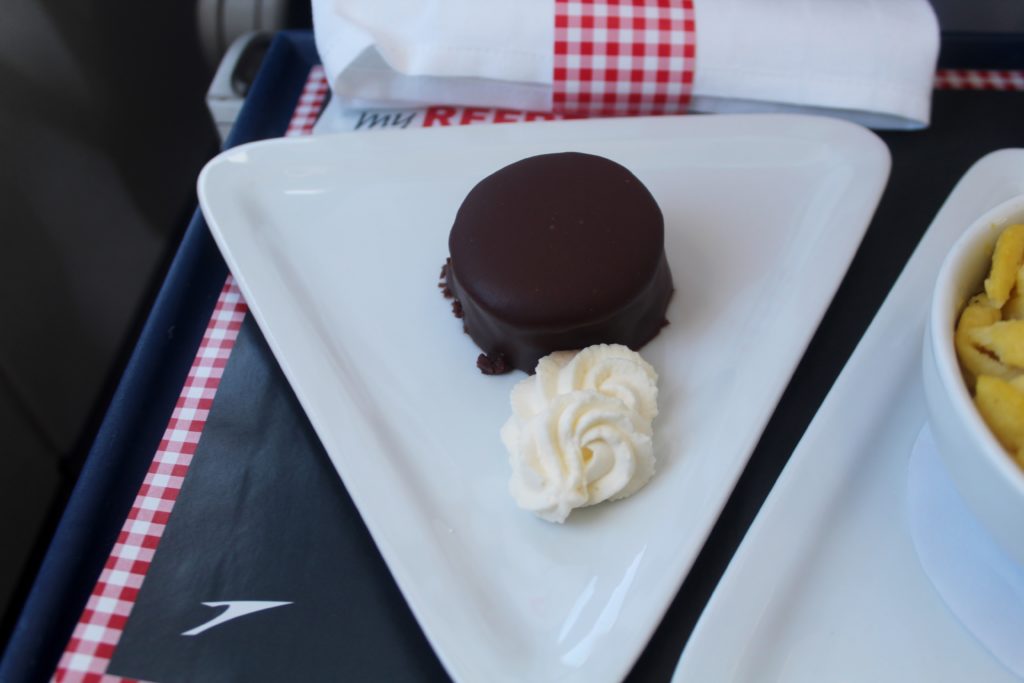 I ordered a glass of white wine to drink and was offered an Austrian Chardonnay together with a glass of still water. Later during the flight several refills were offered. Finally I ordered a cup of coffee, served in the very elegant white and gold-coloured cup available on the tray.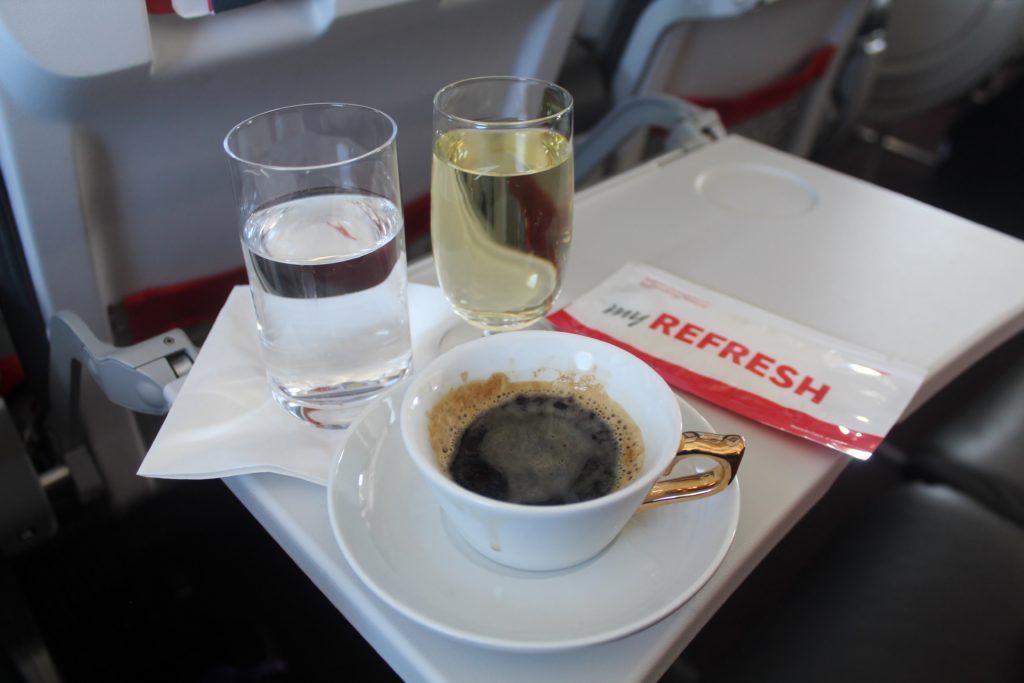 The service

The service on the flight was perfect from the purser who served in business class. Of course having only three passengers in business class, of which one was a HON Circle member and one a diplomatic courier, probably made some difference. But I honestly think it would have been equally good with other passengers onboard as she really seemed to be enjoying what she was doing.
When the meal tray was offered I was addressed by name and during the flight the purser passed several times with the bottle of wine offering refills and by the end of the flight she asked me if I was happy with the flight and the service, or if there was anything else she could do. I most certainly was. She was a very charming lady providing a great service to all of us in front of the curtain and with a lovely Austrian accent.
Arrival experience

We landed ten minutes early at Vienna Schwechat airport where all the snow were creating some problems with low visibility and a long line for de-icing.
The aircraft parked at what is now called terminal 3, the home of Austrian Airlines and the terminal used by most other Star Alliance carriers flying to Vienna. Sitting in business class I was one of the first passengers off the aircraft and had plenty of time for a lounge visit before the next flight.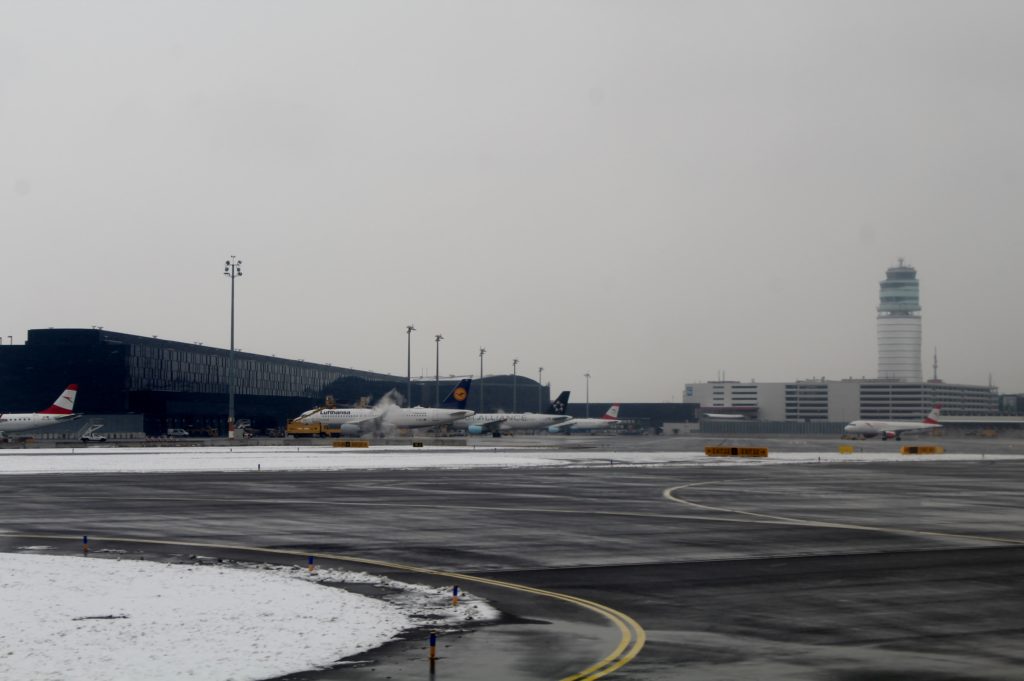 Final impression

An excellent flight. Really impressive to be served a hot meal on a one-hour flight and both the food and drinks were excellent. Great attentive and personalised service from the purser and a punctual departure and landing. This was a truly superb experience with Austrian.