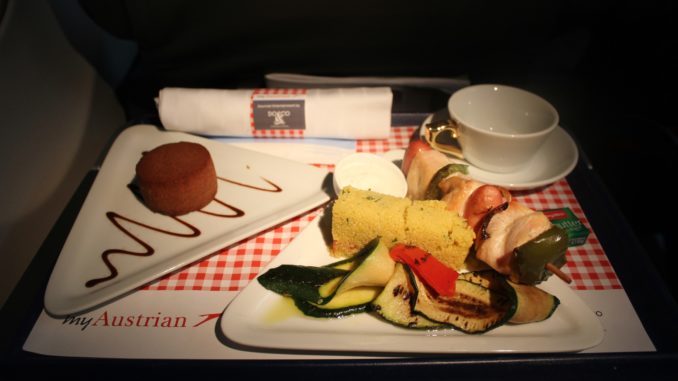 Departure experience

Austrian Airlines nowadays use the Skylink terminal at Vienna Schwechat airport together with the airlines in the Lufthansa Group and most airlines in Star Alliance. This is a brand new terminal which opened just four years ago next to the original terminal complex with its two satellites. The Skyink terminal was purpose-built for Austrian Airlines and in particular it should allow very quick transfers, in many cases with a minimum connecting time of just 25 minutes.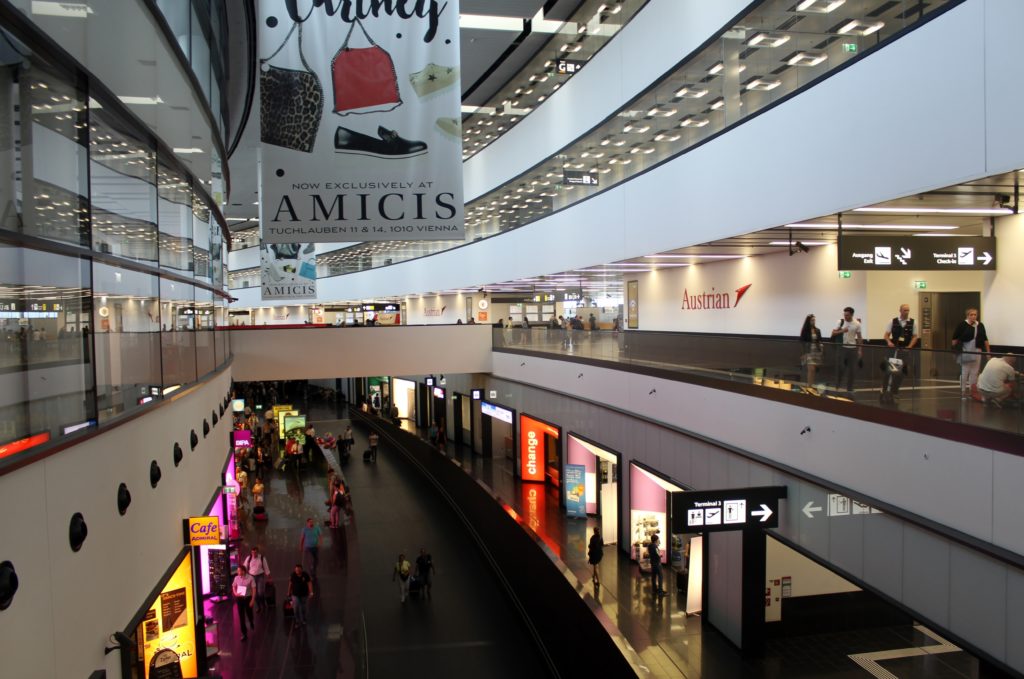 I arrived at the airport in good time for the evening departure at 8 pm. The check-in area in the Skylink terminal was quite spacious with different aisles for different categories of passengers with separate sections for economy class, business class, gold card holders and HON Circle members.
With a Star Alliance Gold card I could check in at the Senator section where the check-in desks had red carpets. The premium check-in area was almost completely empty and there was no wait whatsoever.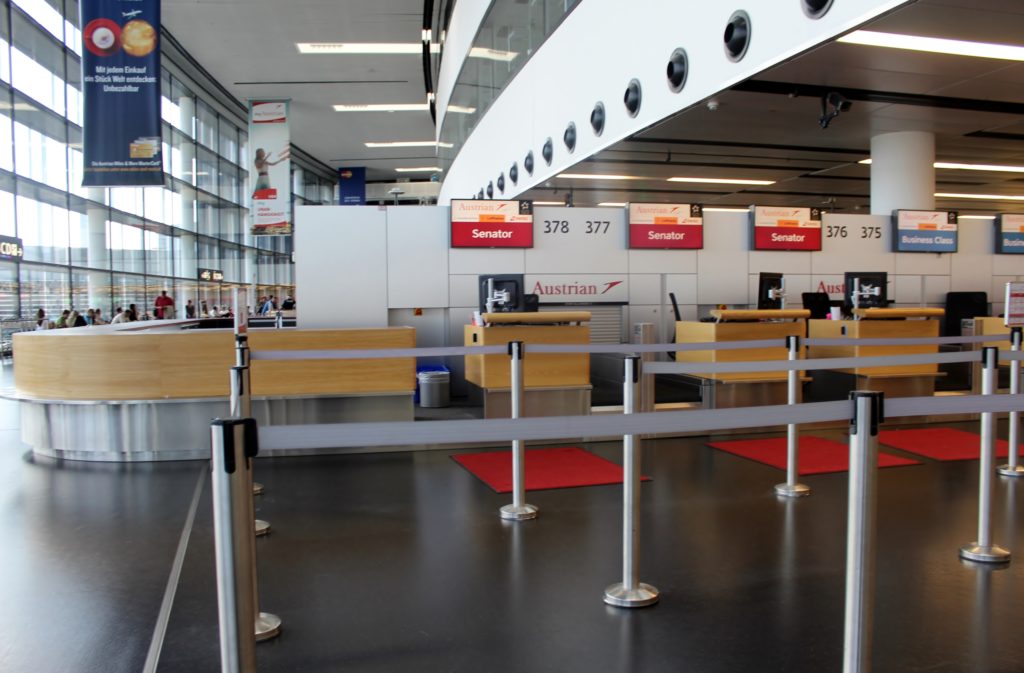 Business class passengers and gold card holders can also use the fast track channel through the security control, which is straight after the check-in area. Afterwards I headed to the lounge.
There are five Austrian Airlines lounges in the Skylink terminal. Two business lounges and two Senator lounges (for gold card holders), one of each in the Schengen and the non-Schengen zones. Then finally there is a HON Circle/First class lounge in the Schengen zone for Miles & More Hon Circle members and passengers connecting to a first class flight with Lufthansa or Swiss in Frankfurt, Munich or Zürich.
As a gold card holder I had access to the Senator Lounge to the left of the reception desk. The interior is slightly different compared to the business lounge nextdoor with nicer furniture and larger armchairs. But it is not an exceptional lounge in any way and it is really not that large.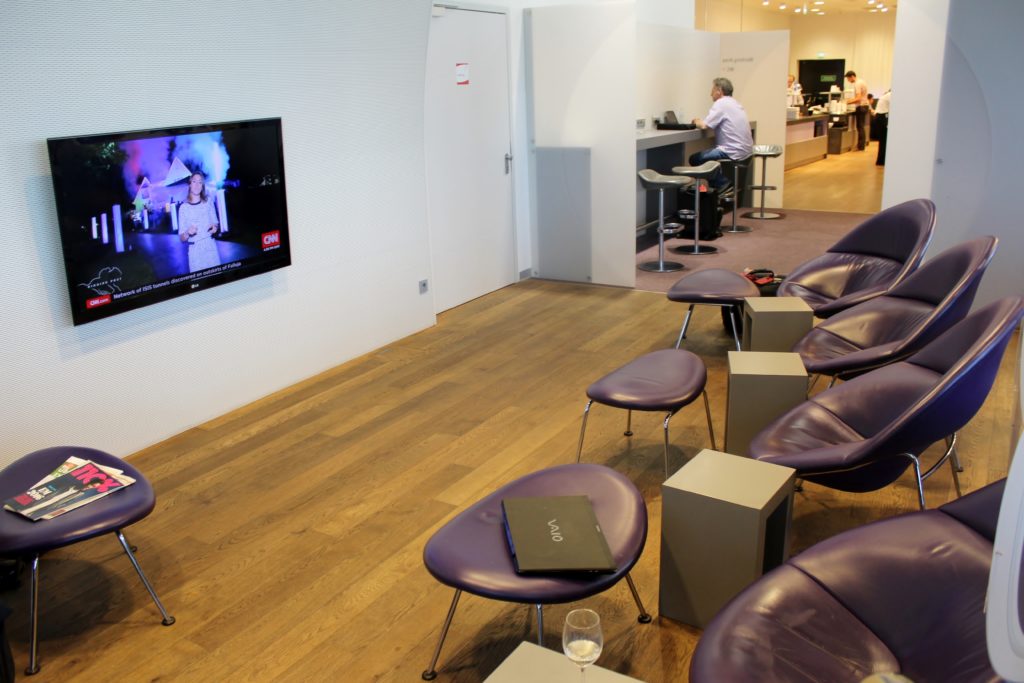 The Senator Lounge also has slightly better food, including some hot food, and a better selection of snacks, as well as a wider selection of drinks.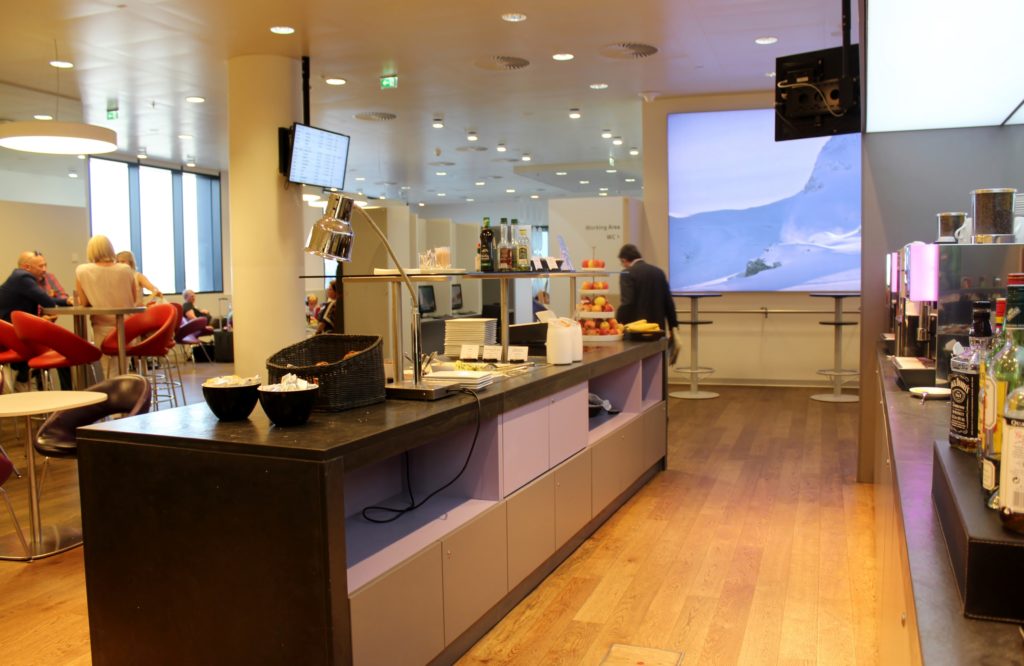 The lounge also has a very good view of the apron and the Eastern runway at the airport.
Read the full lounge review here!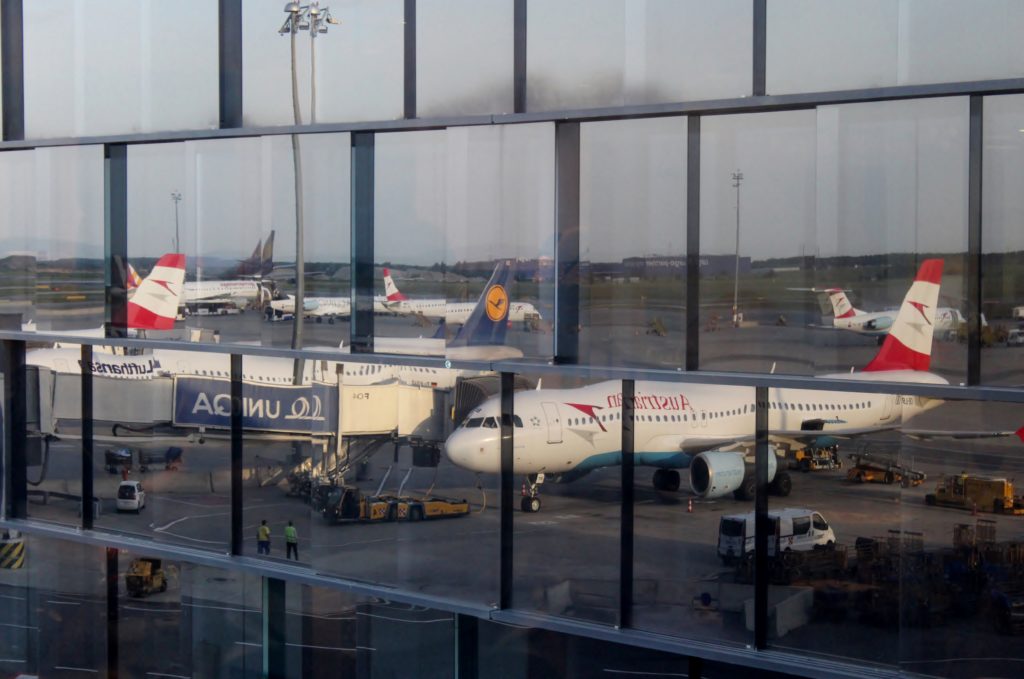 The flight
Vienna-Stockholm
Austrian Airlines flight OS 317
Departure: 20.20
Arrival: 22.35
Business Class
Fokker 100
Seat 03A

The Skylink terminal is divided into three floors with the non-Schengen gates on the upper floor and the Schengen gates on the lower floor. Right between there is a transfer floor with passport control points and transfer security checkpoints.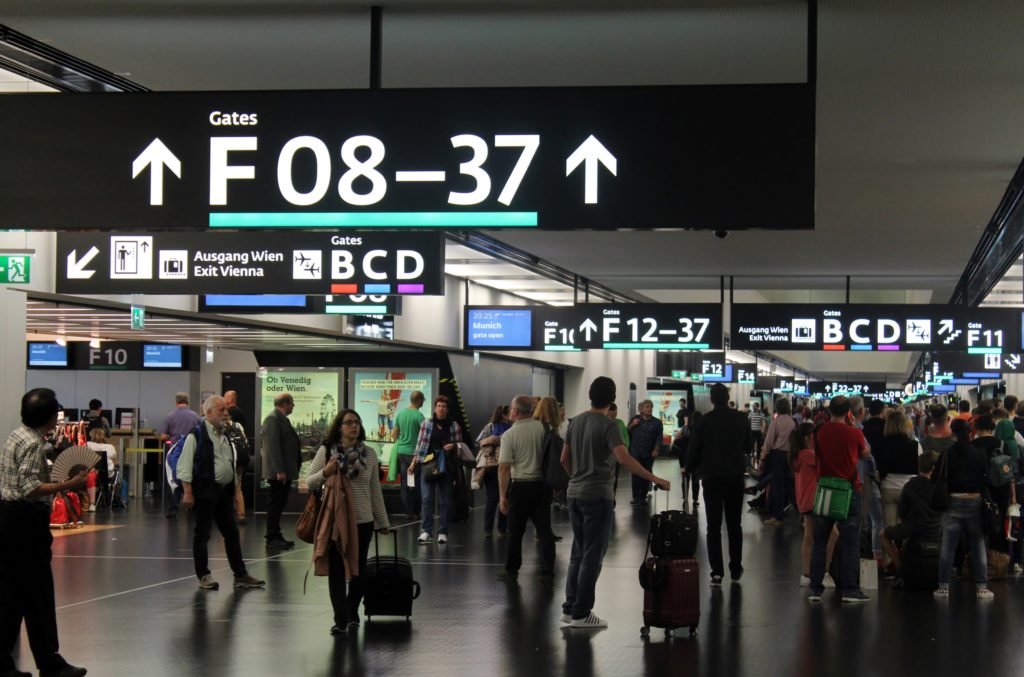 The flight to Stockholm was to depart from gate F35 in the Schengen area on the lower floor but was flagged early as 20 minutes delayed due to a late incoming aircraft.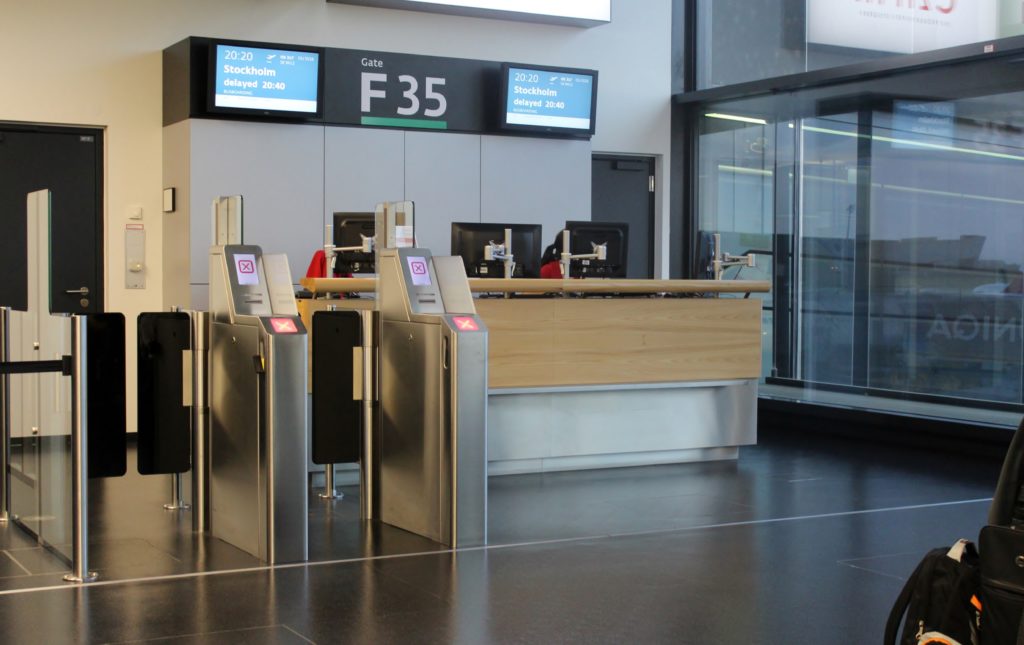 Once boarding started it turned out the aircraft was parked at a remote stand, and we were to be taken there by bus, which meant the boarding process would take even longer.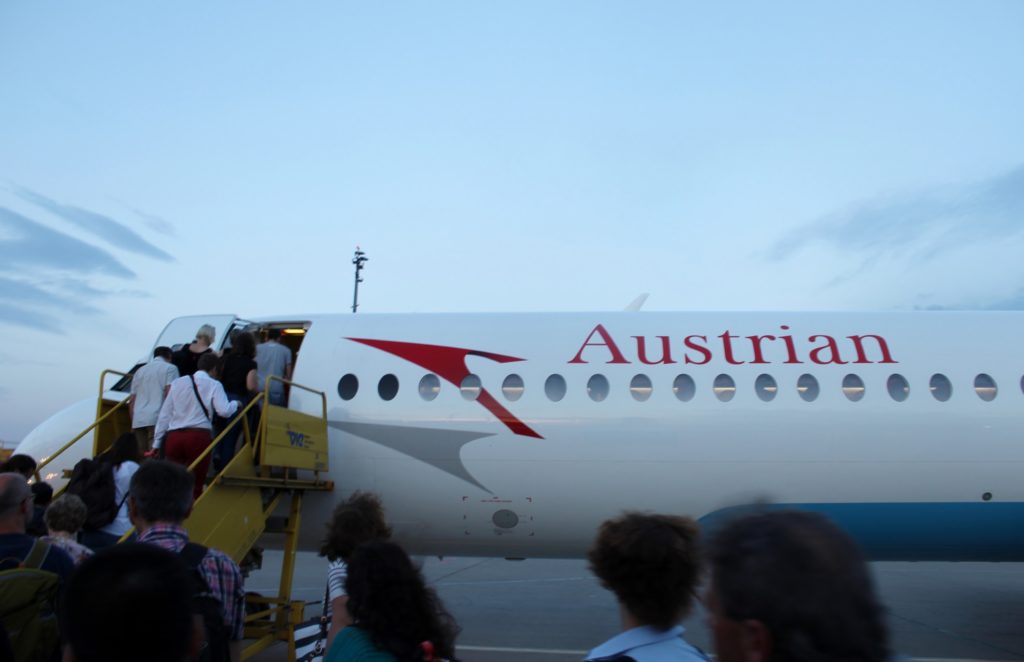 First impression

A Fokker 100 was used for the evening flight to Stockholm, an aircraft which will soon retire and which will be replaced by some newer Embraer aircrafts.
However Austrian Airlines recently upgraded the cabin interior on their Fokker 100 aircrafts, which now has one of the latest seats and the latest Austrian Airlines cabin interior in grey and red. Although the Fokker 100 aircraft had obviously been around for some time the cabin gave a fairly good first impression.
No pre-departure drinks are offered on Austrian on flights within Europe, but we were offered newspapers.
The late incoming aircraft in combination with the aircraft being parked at a remote stand meant a late departure from Vienna. We pushed back 30 minutes late and joined a long line of aircrafts waiting for takeoff towards the south.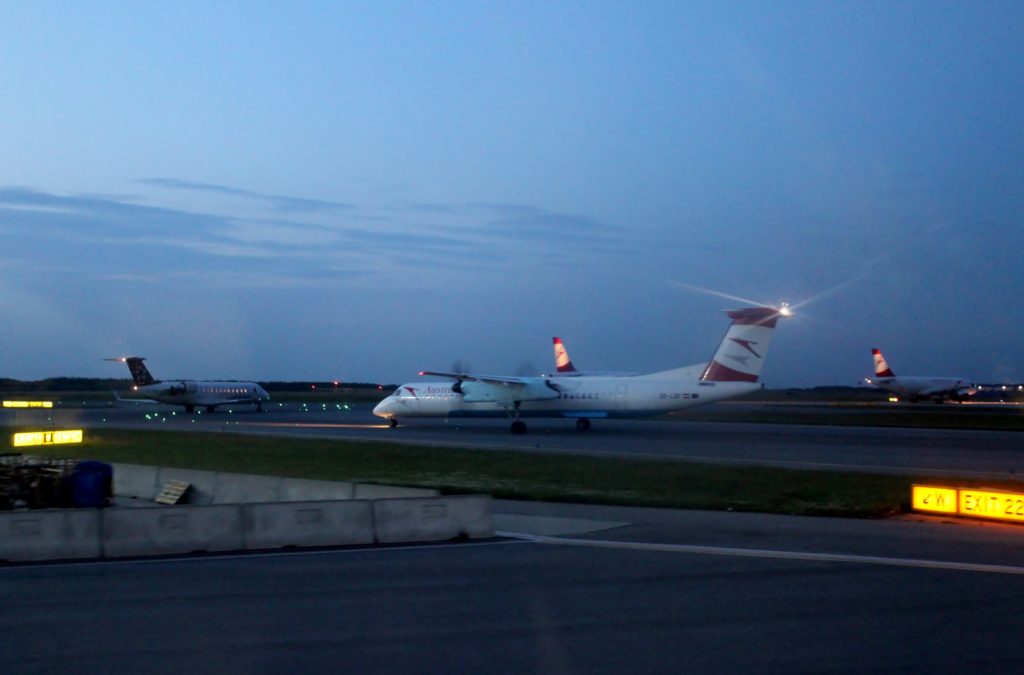 We eventually took off from Vienna airport just after 9 pm, more than 40 minutes behind timetable with a flight time of just under two hours to Stockholm.
Seat and cabin

The Fokker 100 had a 2-3 configuration onboard, however in business class the adjacent seat is always kept free on intra-European flights, irrespective of aircraft. This meant that there was a 1-2 configuration in business class on the Fokker 100.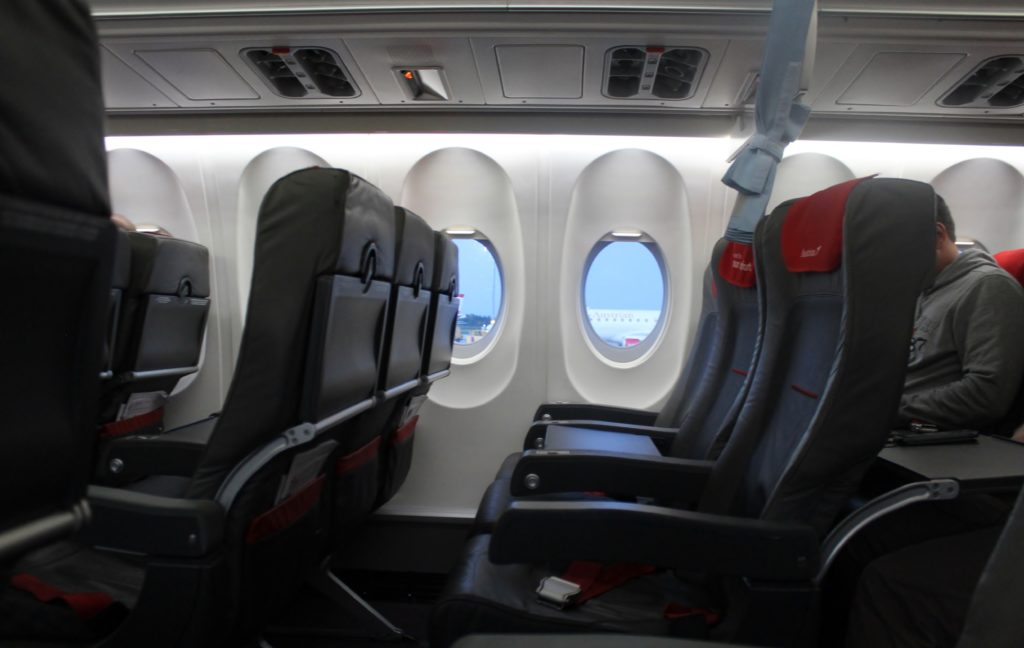 There were three rows assigned to business class on the flight to Stockholm and I had pre-booked seat 03A on the last row. There were only three more passengers in business class so there was plenty of space.
Given that the adjacent seat is always kept free it is generally better to pick a seat on the left hand side of the aisle if you are a single traveller, which would mean an A or C seat. If you are two people travelling together two seats on the right hand side of the aisle would be a better choice, a D and F seat.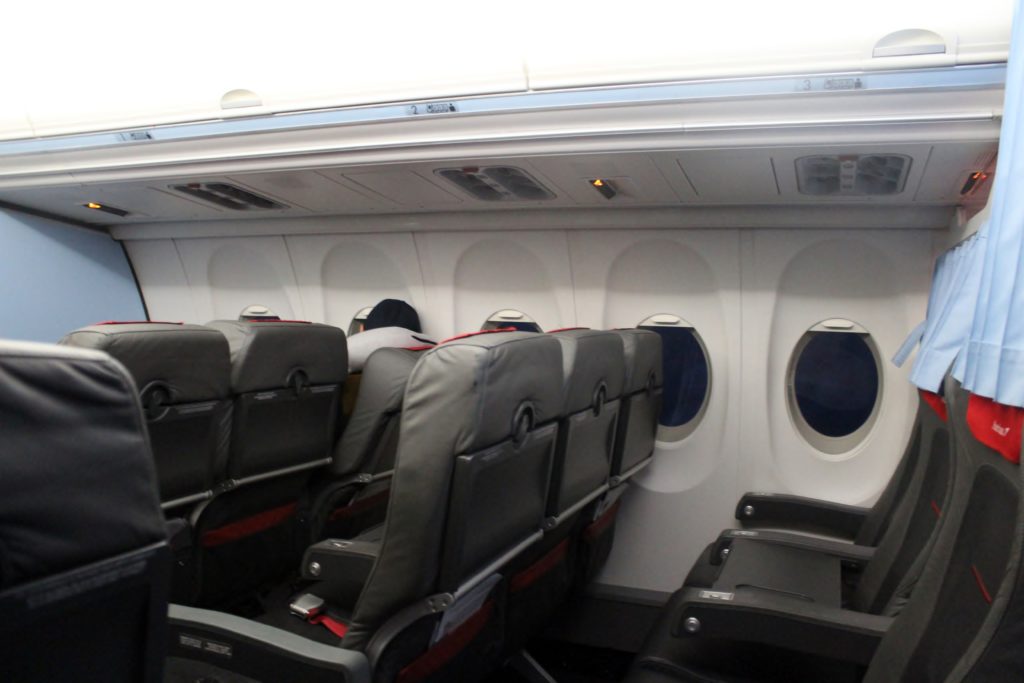 The blocked seats were also equipped with cocktail tables where you could place glasses to get some more space. Interestingly on the left hand side the cocktail table had been placed above the C seats on rows with an odd row number and above the A seats on rows with an even row number.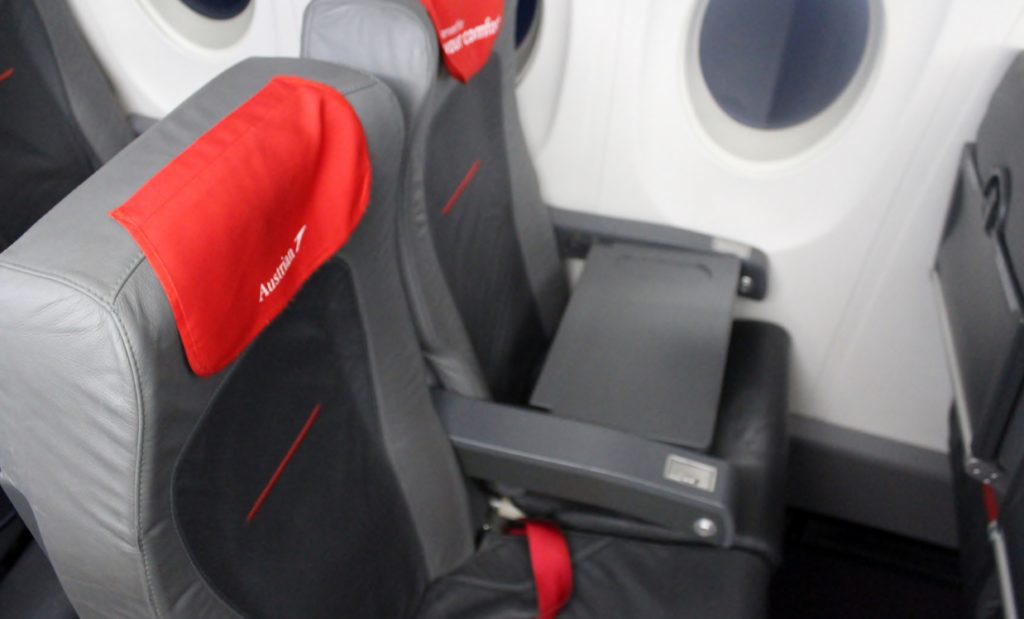 The blocked seats also had a special headrest with "Reserved for your comfort" written.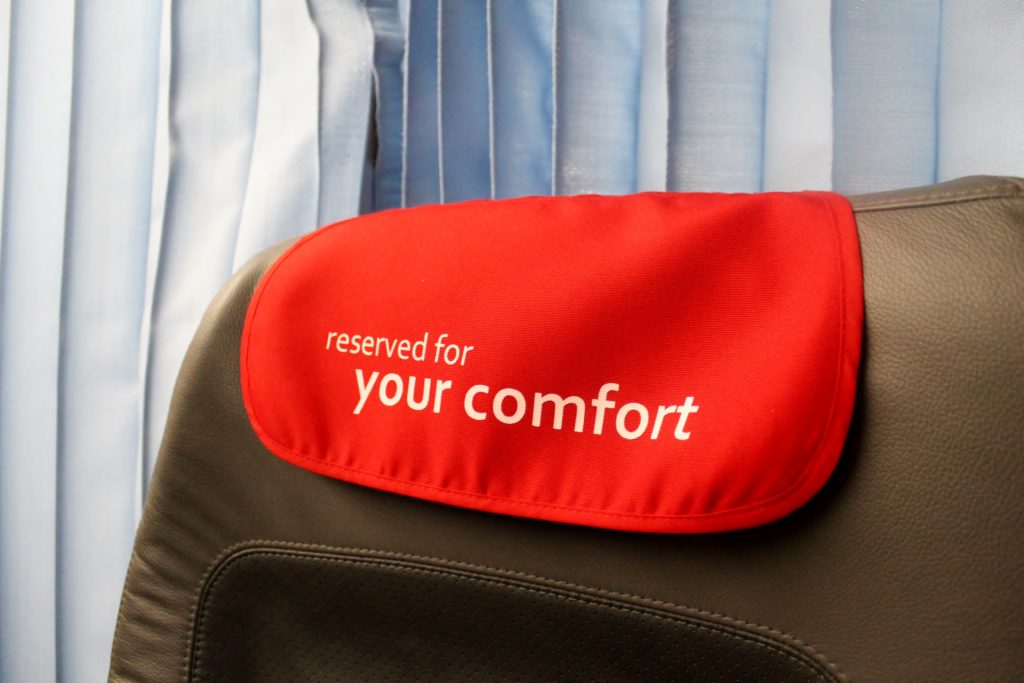 Food and drinks

As we reached cruising altitude the inflight service started with a full dinner service. The catering firm Do&Co usually provides the catering for Austrian Airlines and they are often brilliant. Austrian Airlines is well-renowned for its excellent food onboard, in particular in its longhaul business class.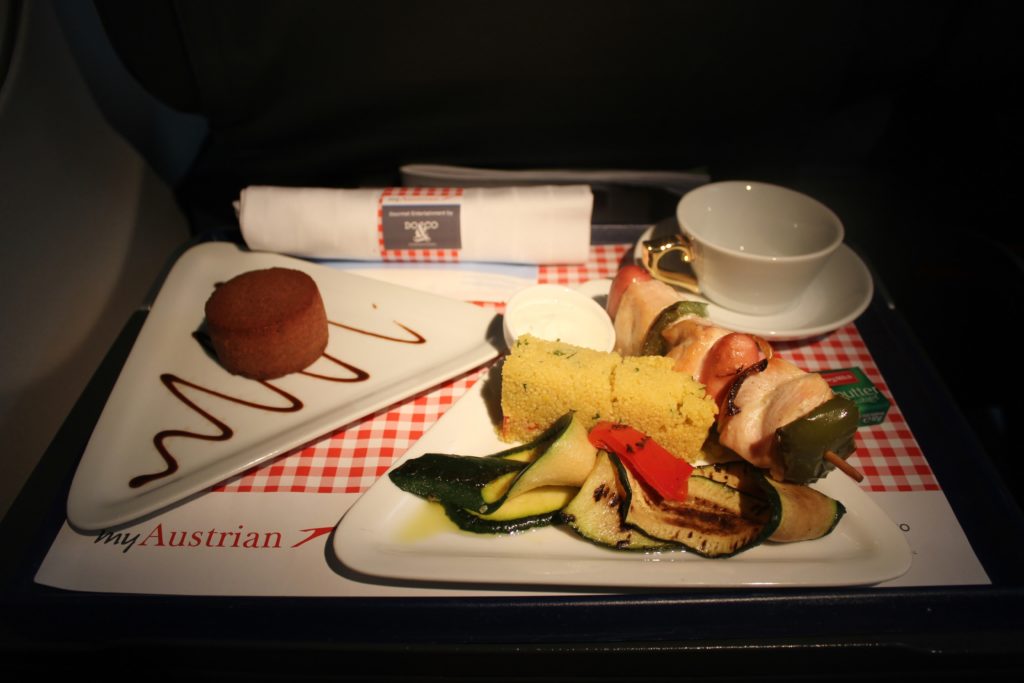 After a few minutes the meal tray was handed out. Dinner this evening consisted of a chicken skewer with vegetables, couscous and aioli. The food was very nice and quite tasty although it was a bit tricky to handle a skewer on the small tray. Bread rolls were also offered by the crew from a basket.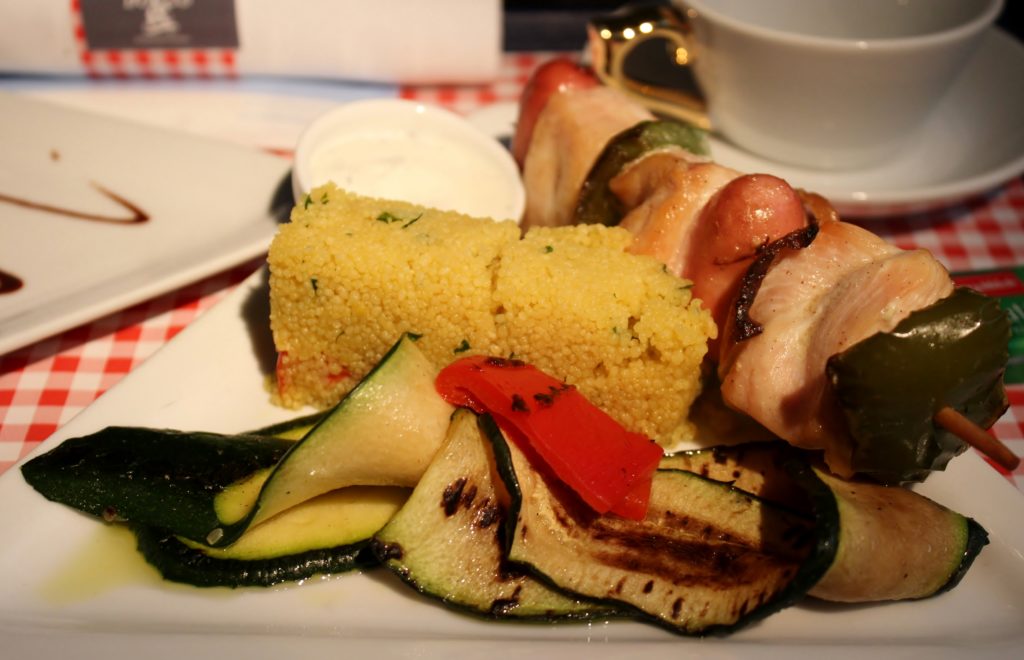 For dessert there was a chocolate cake with chocolate sauce, nicely decorated and presented on the signature Austrian Airlines triangular plate. They often seem to serve some kind of chocolate cake onboard Austrian Airlines.
A full bar service was available and I asked for a glass of white wine to drink with the meal. There were two different white wines to choose between, both of Austrian origin.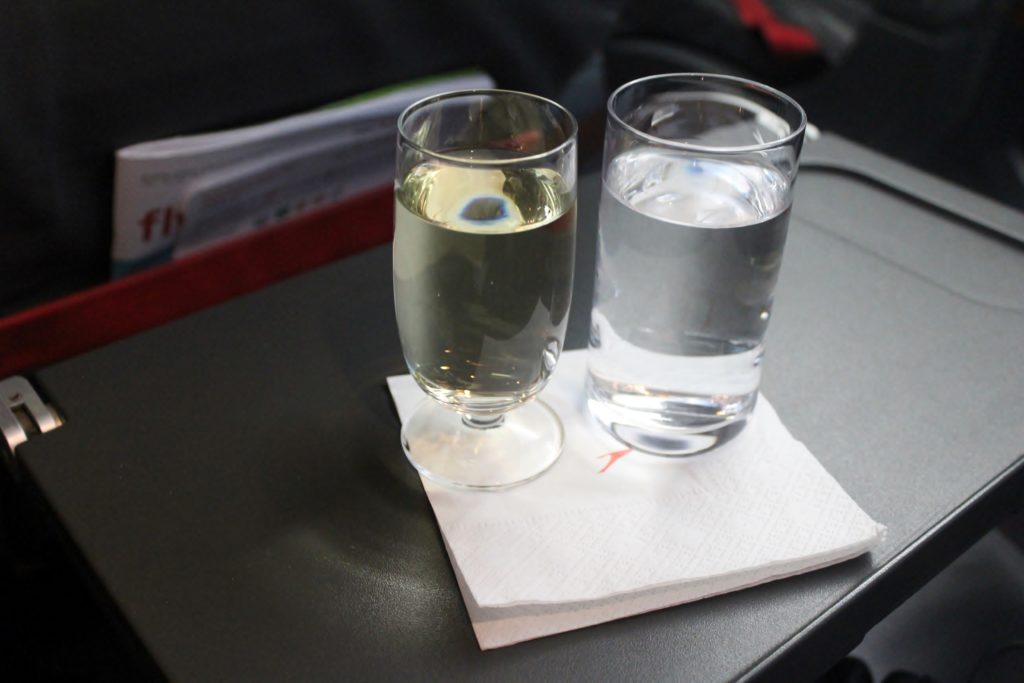 More wine was offered and later on coffee and tea were served, poured in the rather nice coffee cup with a gold handle used in business class.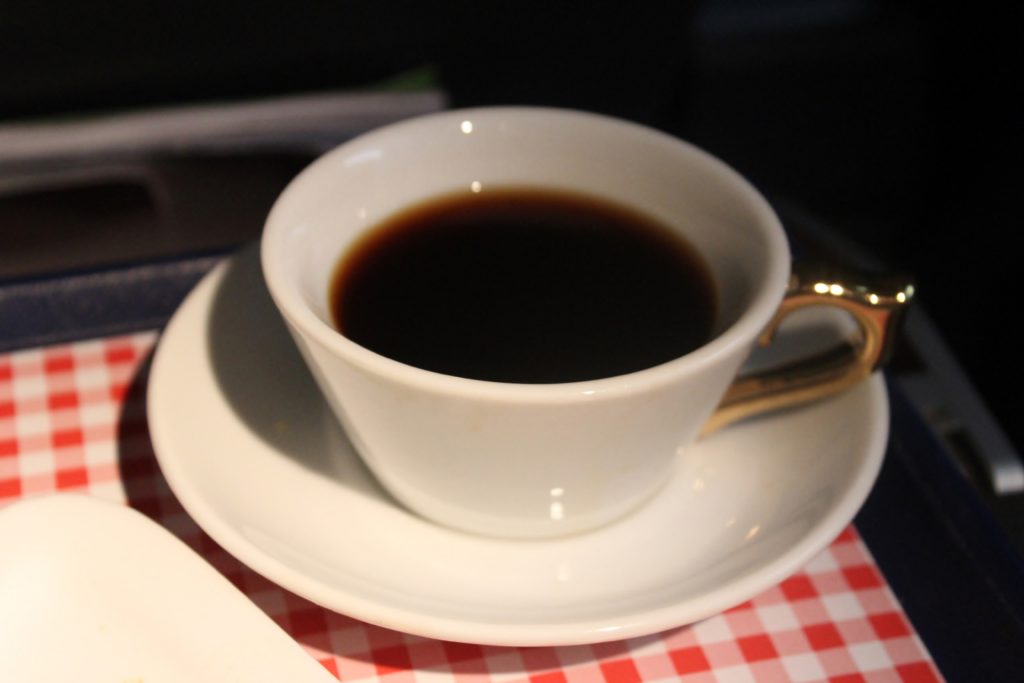 After the meal I ordered a gin & tonic to drink. Interestingly they serve the tonic water in proper glass bottles, rather than in cans. That is quite unusual nowadays.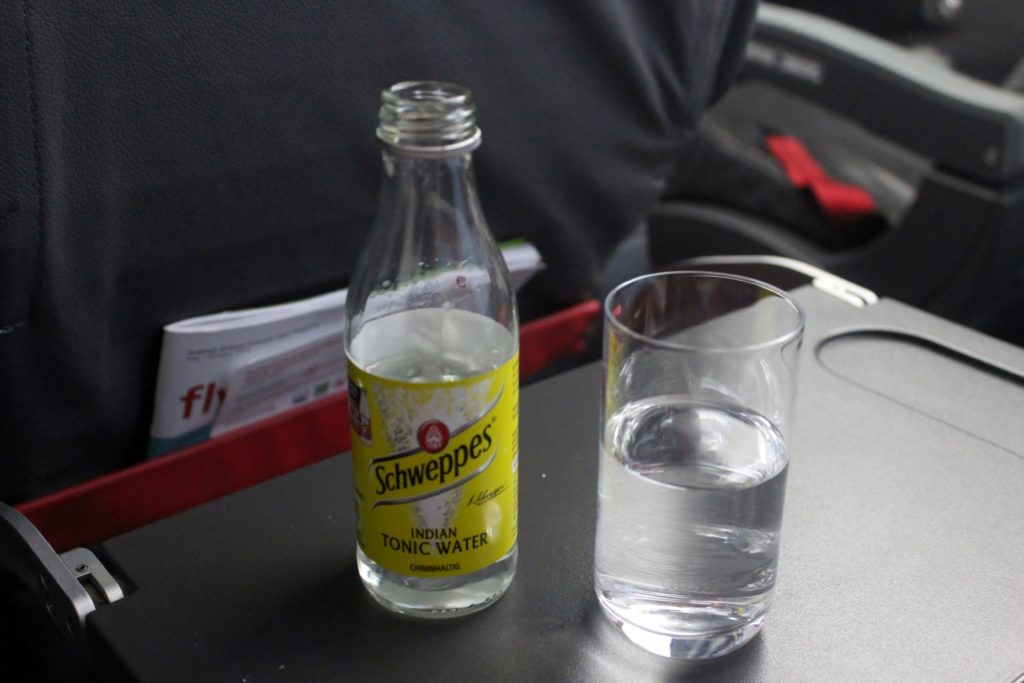 The service

The service was polite but not as friendly and attentive as is usually the case on Austrian Airlines. After the meal service the crew completely disappeared and stayed in the galley with the curtain closed during the rest of the flight.
They did no more checks on the cabin until just before landing and as they did not offer any more drinks or refills and I had to press the call button to get their attention, which was not really met with a smile, rather a feeling that I was disturbing then.
Sure the load in business class was light and it was a Sunday evening when people are less likely to indulge in the bar offerings onboard, but this was not really the standard I had expected as a paying business class passenger.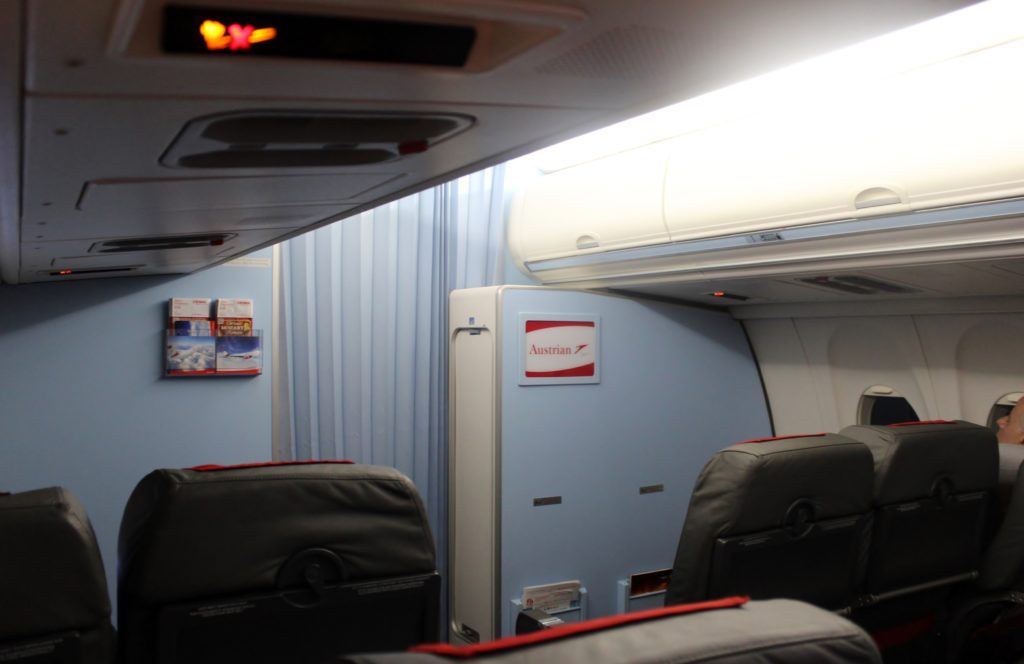 Arrival experience

With the late departure from Vienna we also landed half an hour late in Stockholm. Not a good thing on a Sunday evening. At least the baggage delivery started fairly quickly.
Final impression

Excellent dinner from Do&Co with chicken skewers, a tasty dessert, nice wines, and interesting to fly on a retrofitted Fokker 100. But the service left a lot to be desired.