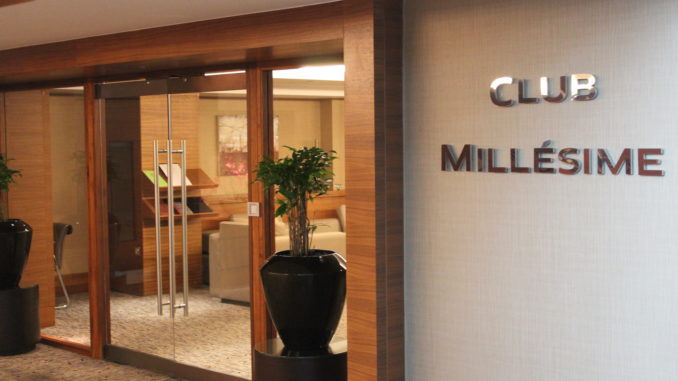 Priority Pass has signed an agreement with the Sofitel London Heathrow Hotel which means Priority Pass cardholders can use the Club Millesime executive lounge before or after a flight. And you do not need to stay at the hotel.
Sofitel London Heathrow is located next to Heathrow terminal 5, it is the only hotel with direct access to the terminal, which means you do not have to take a hotel shuttle bus to get between the airport terminal and the hotel. If you have a flight departing from or arriving at terminal 2, 3 or 4 you can use the Heathrow Express to get between the terminal and the hotel, which is free to use for intra-terminal journeys.
Once in terminal 5, to get to the hotel, go to the arrivals level and take the lift to level 1. There are many signs for the hotel. Then follow the corridor. The lounge is located on the ground floor, on the same floor as the lobby and the reception. In order to get access to the executive lounge you first need to register at the Guest Relations desk in the reception area to obtain access.
The lounge is available from 7 am in the morning until 9.30 pm in the evening, all days of the week. Maximum stay is four hours and the number of guests are limited to four.
Complimentary food is offered from 7 am to 10.30 am, from 3 pm to 4.30 pm and then again from 6 pm to 8 pm. Complimentary alcoholic drinks are offered from 5 pm to 10 pm. During the rest of the day fresh fruits and cocktail snacks are available but there is also an a la carte menu available, subject to payment.
According to the Priority Pass website you also get complimentary access to the shower facilities and the gym, open from 8 am until 9 pm (from 9 am on Saturdays and Sundays).