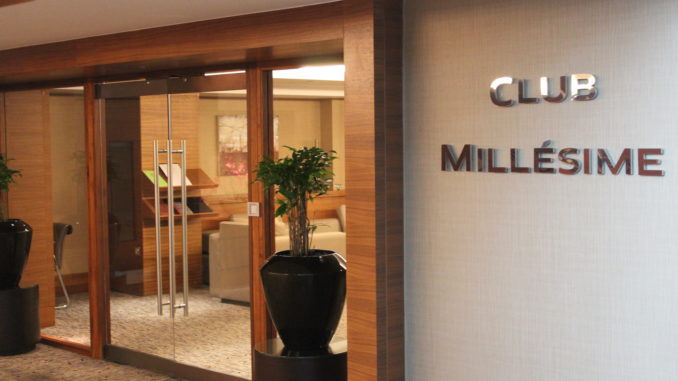 This is not a traditional airport lounge, but since June 2016 the Club Millesime Lounge at the Sofitel London Heathrow Hotel is also open to Priority Pass cardholders. This is in fact the regular executive lounge at the hotel, but since it is open from early morning until late evening it now also accepts passengers with Priority Pass, who do not stay at the hotel. And as there is no pay-in arrivals lounge at Heathrow terminal 5 this is a nice addition.
Where is it?

The Sofitel London Heathrow Hotel is located at Heathrow airport next to terminal 5. The hotel is connected directly to the terminal building and is easily accessible from both the arrivals hall, the underground station and the Heathrow Express. The hotel is clearly signposted from the arrivals hall.
Once inside the passenger should visit the reception desk first to register, a guest relations officer will then escort you to the Club Millesime lounge which is located at the far end of the lobby.
How do I get in?

A valid Priority Pass will get you in. You do not need to stay in the hotel or present a valid boarding pass.
The lounge is open from 6.30 in the morning until 22.00 in the evening.
What's it like?

The Club Millesime is basically a large room with different seating areas, including armchairs, sofas and bar stools, decorated in the standard Sofitel colours in dark wood, brown and beige.
Food and drinks

At the opposite end from the entrance there is a self-service buffet area. Most likely there is breakfast served in the morning and canapés in the evening and also various alcoholic drinks during the happy hour in the early evening. However as this visit took place in the afternoon the selection of food and drinks was quite disappointing and limited to coffee, tea and soft drinks as well as fresh fruits. Nothing else to eat.
However according to the webpage, there is an a la carte menu to order from, at an extra charge.
Facilities

Free wireless internet and newspapers are offered and there are several TVs. Restrooms are located outside the lounge.
Showers and spa treatments are available but subject to payment.
A lounge attendant is working in the lounge throughout the day to assist guests.
Final impression

This is a nice lounge addition at the airport for passenger who have some time to kill landside at terminal 5, for example when arriving early in the morning after a longhaul flight. You can get some work done in a relaxed and quiet environment, but do not expect too much to eat or drink.