Virgin Trains is a British train company part of the Virgin Rail Group, founded by no other than Sir Richard Branson. They operate train services from London to several regions in the United Kingdom including West Midlands, North West England, North Wales and Scotland. Consequently they some of the largest cities in the country such as Birmingham, Manchester, Liverpool, Glasgow and Edinburgh.
This is a review of a trip in Virgin Trains First Class from London Euston to Liverpool.
Departure experience
I arrived at Euston Station in London about an hour before the 6.33 pm train departure to Liverpool. The station hall was packed with people waiting for their trains home. They usually do not announce the platforms until 10-15 minutes before the departure time, so for obvious reasons people end up waiting in the station hall, closely watching the departure board until a platform has been announced.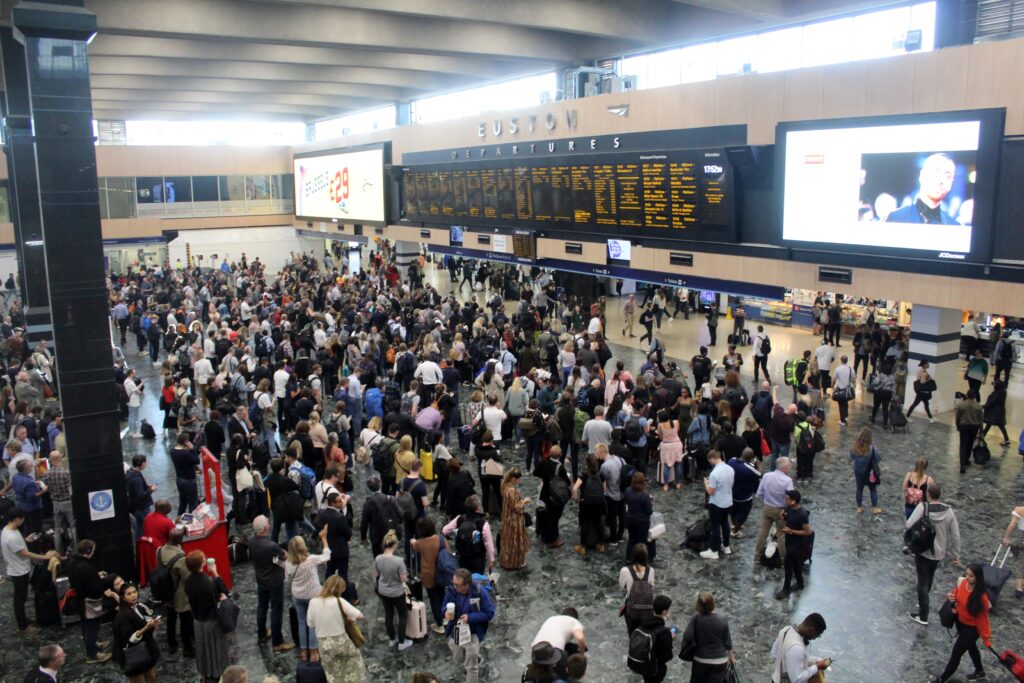 Travelling in first class I had access to the Virgin Trains First Class Lounge, located on the first floor on a balcony in the station building. On Advance tickets, which I was travelling on, access is only provided one hour before scheduled departure time. On flexible tickets you can enter earlier.
The lounge is nothing comparable to any airport lounges, but still a nice place to relax before the train departure. And perhaps most importantly at 6 pm, you get a seat. The lounge was fairly crowded when I arrived but I found an empty seat fairly quickly.
Coffee, tea and non-alcoholic beverages such as orange juice and apple juice are available free of charge. There are also some complimentary cookies and fresh fruits. There is also a manned bar in the lounge where you can purchase beer, wine and spirits. I decided to buy a glass of white wine. The price level was about equivalent to a regular pub or bar.
The train
London Euston-Liverpool Lime Street
Virgin Trains
Departure: 18.33
Arrival: 20.53
First Class
Pendolino train
The platform for my 6.33 pm departure to Liverpool was announced around 6.15 pm and I made my way to the assigned platform where our tickets were checked before we were allowed to proceed to the train.
If sitting in first class you can prebook a seat free of charge at the same time as your purchase your ticket. I was seated in Coach H, one of the last carriages of the train set.
First impression
The first class carriage gave a good first impression with a 2-1 configuration even though it was quite dark inside. The ambience got much better when we left the station and got some daylight and later when the lights were fully turned on.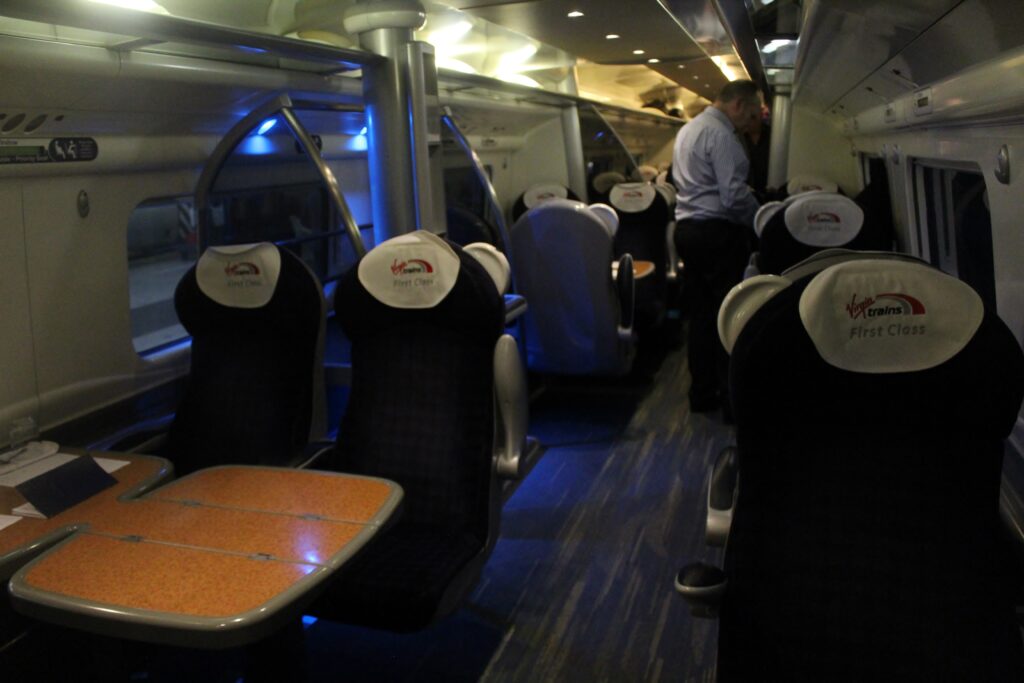 I had selected seat 01, a single seat facing the direction of travel to Liverpool. Based on the electronic displays above the seats it looked like there would not be anyone sitting in the seat opposite me, although there could naturally be last-minute passengers arriving with flexible tickets.
At the pre-booked seats where they expected passengers there was also a proper and rather nice first class table setting.
We left London Euston station punctually at exactly 6.33 pm with an expected travel time to Liverpool of two hours and 20 minutes.
Seat and comfort

The configuration in first class on the Virgin Trains Pendolino trains is 2-1 in contrast to standard class where there is 2-2 seating. All seats have proper tables for a proper dining experience, but on the other hand there is always a seat facing you. So there are no proper single seats. If the train is completely full there will be someone sitting opposite you.
However in Coach G and Coach H there is in fact one single seat, a proper one and just one, and that is seat 02. In this seat there is no one sitting next to you and no one sitting opposite you. On this evening train service to Liverpool both these seats were already taken when I made my booking but for some reason the passenger in Coach H never showed up, so that seat remained empty.
Another great thing about travelling in first class is that all seats have in-seat power sockets. And there is free wireless internet on the train. It worked perfectly at times but became very slow at other times, especially when passing through some rural areas. In some cases I actually got a better internet reception using my mobile phone as a Wi-Fi hotspot.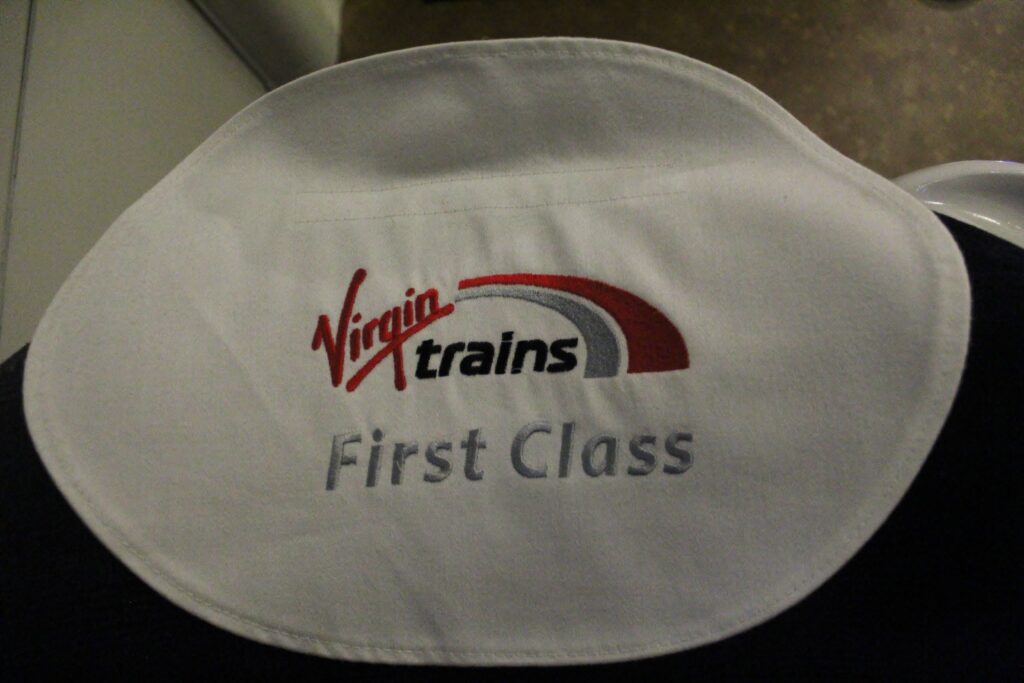 Food and drinks

There was a menu at the table upon boarding with included both food options and the drink list.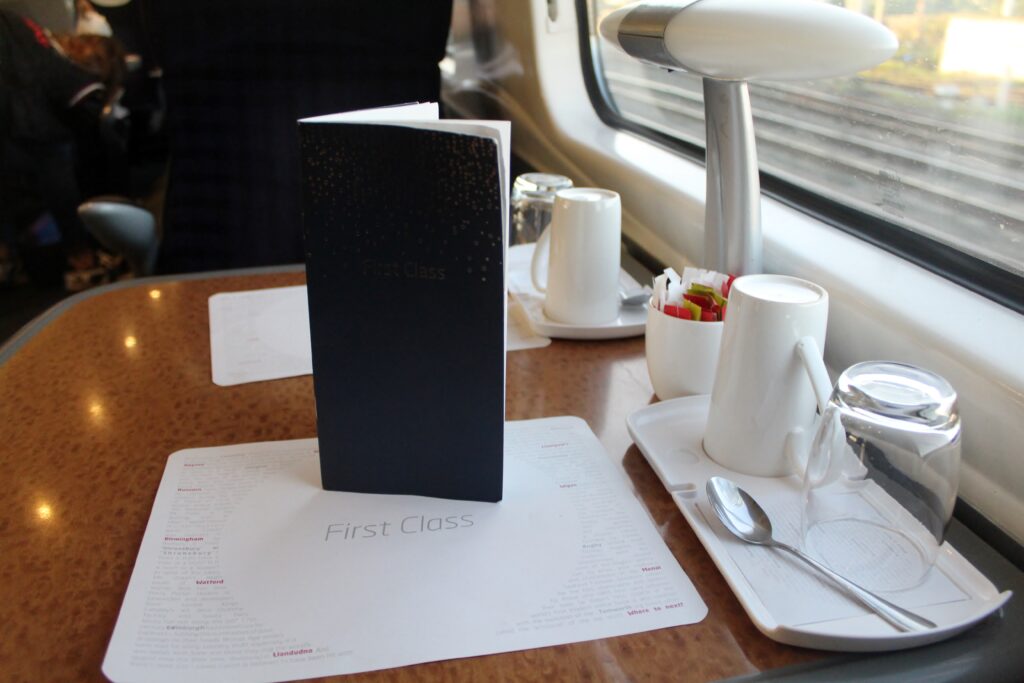 Usually there is a two-course dinner served in the evening on longer train services such as London-Manchester, London-Birmingham and London-Liverpool. On shorter journeys a lighter option is available. The dinner includes a main course and a dessert with different rotations.
However on Fridays the service is slightly different and during weekends there is only a snack service. Nevertheless it was interesting to see the full menu with all the options, even though many did not apply to me this evening.
The drink list included all the drink options and also listed all the local suppliers they work with.
The meal service started with a first drink from the trolley. They had beer, wine, spirits and all kinds of soft drinks but also Prosecco sparkling wine as this was a Friday evening.
I asked for a glass of white wine, which was poured from a large bottle in the glass I already had on my table. And they were rather generous with the drinks, but on the other hand it would take a fair amount of time before they would pass again offering more drinks.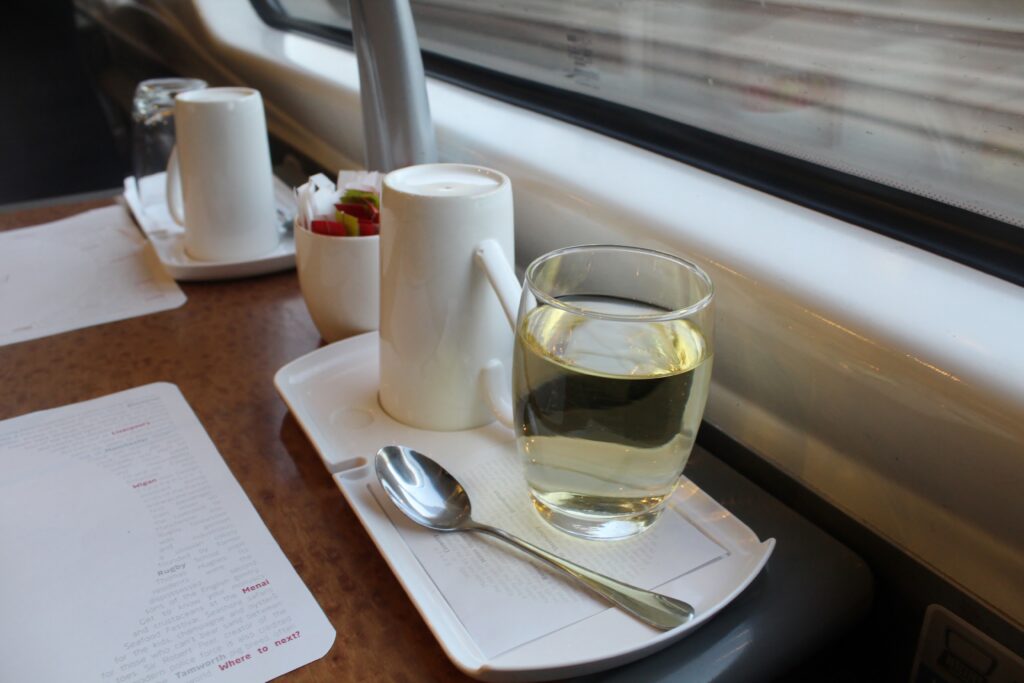 There were two options of main course, not really up to the standard offered on Mondays to Thursdays, but at least I got a warm pizza slice, which was quite tasty.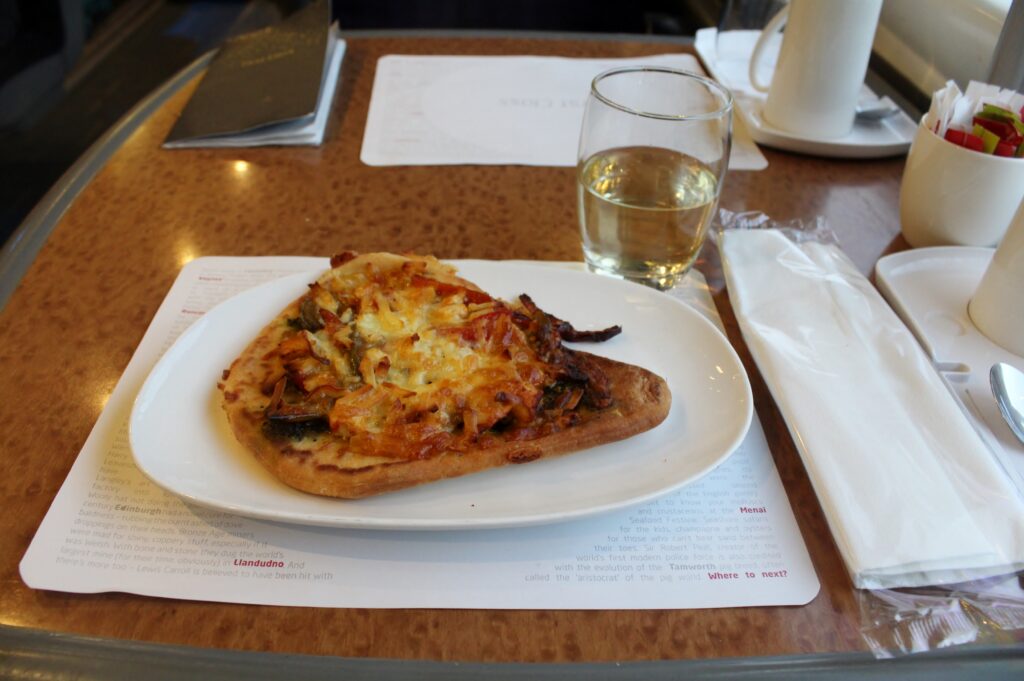 Finally coffee and tea were offered as well as some chocolate biscuits. Just like with the wine they used the mug already available on my table for the coffee.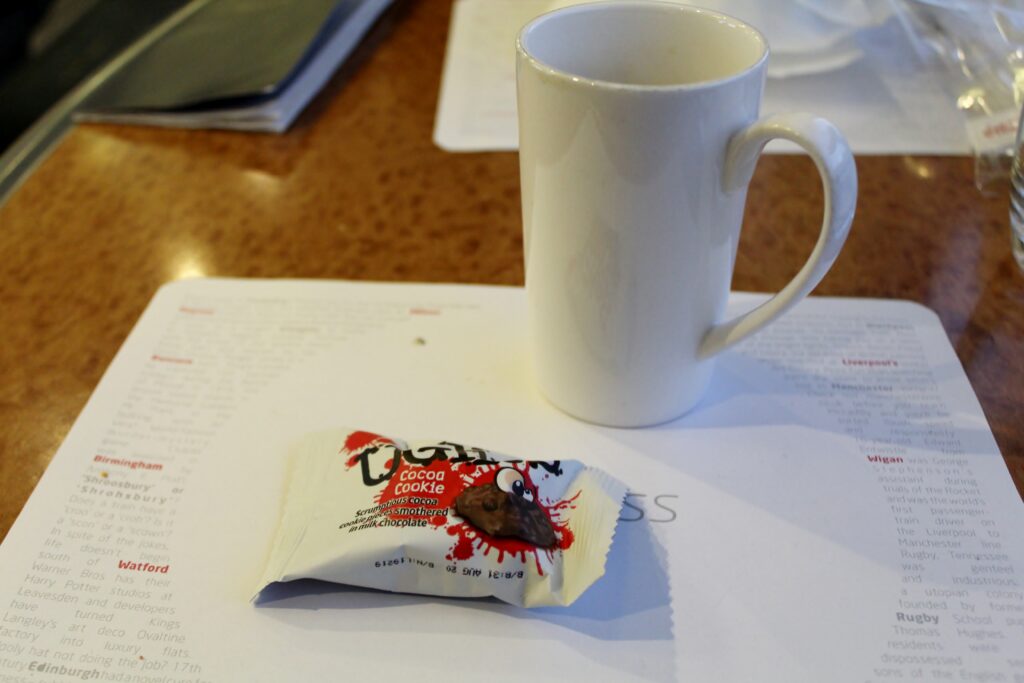 Around 90 minutes after departure from London they passed a second time offering more drinks from the bar. This time I went for a gin and tonic. They serve Beefeater on Virgin Trains. After this second drink round (third drink round if you include coffee and tea) no more drinks were offered.
The service

The service was friendly and attentive from the train crew but quite efficient. Absolutely nothing to complain about, the staff did a good job, but there was no small talk or such. Nothing extra. It was all very much by the book.
Arrival experience

We arrived at Liverpool Lime Street station right on time just before 9 pm. Friday evening meant plenty of passengers going home for the weekend and others going on a quick getaway, perhaps to escape from London. Overall the atmosphere on the train was very relaxed.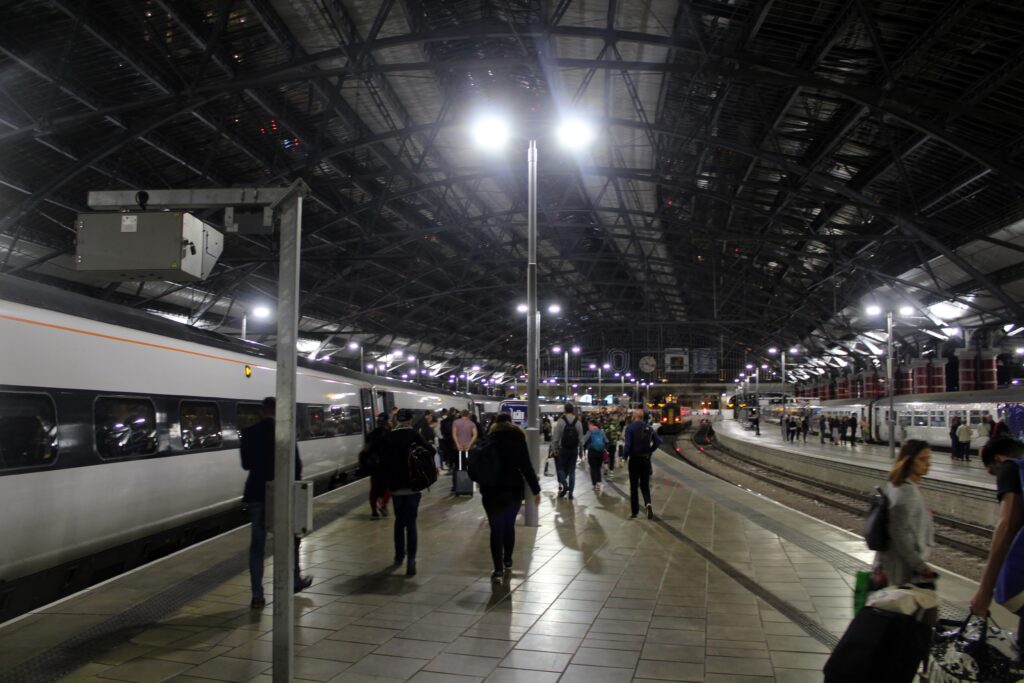 Final impression

A very nice train service with lounge access at Euston station, complimentary meal and drinks (including wine and spirits) served at the seat, in-seat power socket, Wi-Fi and friendly service. And the ticket was actually very affordable, even though it was booked quite late. Next time though I would like to travel on another weekday to try the meal options they have Monday-Thursday.