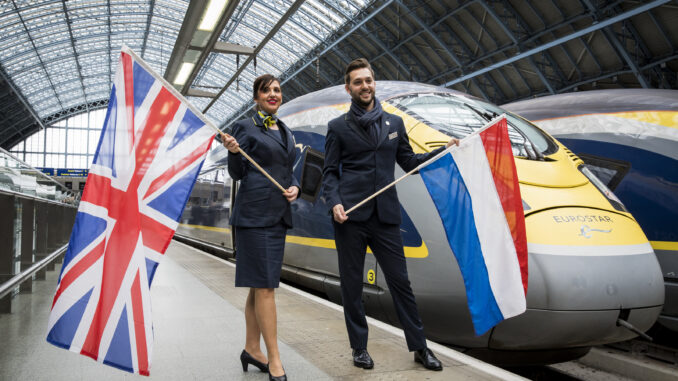 Yesterday Eurostar formally inaugurated its new direct train service from Amsterdam to London using the tunnel under the English channel. This will complement the existing services to mainly Paris and Brussels and the existing service from the UK to The Netherlands. The commercial services will commence on 30 April 2020 from Amsterdam and from 18 May 2020 from Rotterdam.
Eurostar have offered tickets to both Amsterdam and Rotterdam for many years but these have included a change of trains at Brussels South station to a Thalys train for the next part of the journey to The Netherlands. Since 2018 there have also been services to The Netherlands, but not from The Netherlands. Now the service will be direct in both directions which will both reduce the travel time and make the journey much easier.
There are currently three outbound services a day from London to Amsterdam and Rotterdam. The new direct inbound journey from Amsterdam to London will start with two services, with the aim of increasing to a third, and then a fourth. The travel time from Amsterdam to London will be just over four hours (four hours and nine minutes).
The inaugural service departed Amsterdam Centraal yesterday morning at 07:48, with Cora Van Nieuwenhuizen, Minister of Infrastructure and Water Management and Ankie Broekers-Knol, Secretary of State for Security and Justice in the Netherlands, at the station to mark the departure of the first direct Eurostar train from Amsterdam. It was welcomed four hours later at St Pancras station in London by Grant Shapps, Secretary of State for Transport in the UK.