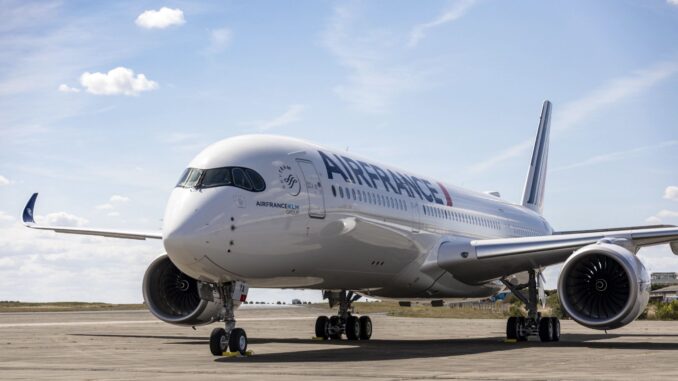 Yesterday Airbus passed a milestone when they delivered its 350th ever produced Airbus A350. The customer for the 350th aircraft is Air France and aircraft will soon be used on flights from Paris to Bamako in Mali and Abidjan in Ivory Coast.
The aircraft has been named Nice after the French Mediterranean city and will join the other three Airbus A350 aircrafts in the Air France fleet named Toulouse, Lyon and St. Denis de la Réunion. By 2025 there will be 38 Airbus A350 in the Air France fleet.
For the summer season the Airbus A350 will be used on flights from Paris CDG to Bamako, Abidjan, Bangkok, Atlanta, Boston and Washington.
Qatar Airways was the launch customer for the Airbus A350 and currently the aircraft is used by airlines such as Air France, Air Mauritius, Asiana, British Airways, Cathay Pacific, China Airlines, China Eastern, China Southern, Delta, Ethiopian Airlines, Etihad Airways, Finnair, Iberia, Japan Airlines, Lufthansa, Qatar Airways, SAS, Singapore Airlines, Thai Airways, Vietnam Airlines and Virgin Atlantic.
Some interesting articles about the Airbus A350:
Inauguration of the first SAS Airbus A350
Photos: Inside the new SAS Airbus A350 with SAS Business, SAS Plus and SAS Go
Photos: Onboard Finnair Business Class on the Airbus A350
Photos: Inside Qatar Airways Business Class on the Airbus A350