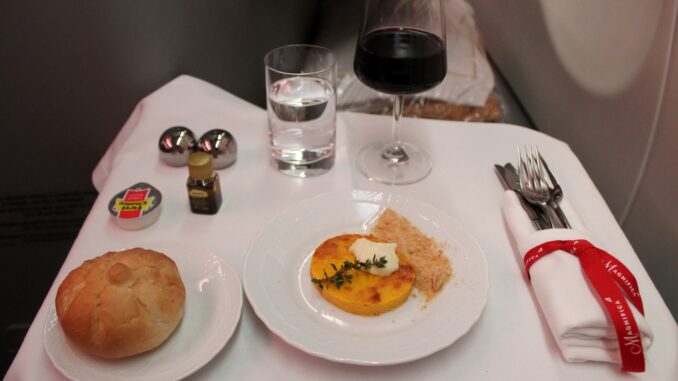 Alitalia is the national carrier of Italy with its main hub at Rome Leonardo da Vinci airport. It is a strange airline in many ways as it has been loss-making for years but still continues to make investments into its product, and its premium products and lounges in particular. The lounges were completely rebranded not too long ago into the new Casa Alitalia Lounges. And the business class products are certainly not bad either.
Trying out the Alitalia longhaul business class product had been on the bucket list for a long time, especially as I had always had been satisfied with the shorthaul business class experience. Eventually I got the perfect opportunity to give it a try, a flight from Johannesburg to Rome with an onward connection to Paris.
The booking was made on the Alitalia webpage where I could also prebook seats. By the time the booking was made, about three weeks before departure, only one other seat was taken in the cabin, so it was quite clear the load would be light.
Departure experience

I arrived in Johannesburg on a flight with LAM Mozambique Airlines from Maputo. The flight was on a separate ticket but since I was only travelling with hand luggage I could stay airside and use the flight connection corridor.
For some reason there is a passport control for international transfer passengers, not sure why. Afterwards there is a very spacious transfer area with transfer desks for virtually every airline operating at the airport. I had already checked in online but although the boarding pass for the flight from Rome to Paris could be downloaded to my mobile phone, it was not possible to do that for the first leg from Johannesburg. Everything was quickly sorted out at the Alitalia transfer desk where they also printed a lounge invitation. After the transfer area a transfer security checkpoint followed before I was able to enter the transit hall.
I was quite curious which lounge Alitalia was using in Johannesburg. The city was not mentioned on the Alitalia lounge page, neither in the Skyteam lounge directory. A few years ago Air France had its own lounge in Johannesburg, which would have been the obvious answer, but it is now closed.
I sent a message to Alitalia on their Facebook page but just got a rather embarrassing reply that there was no lounge for Alitalia in Johannesburg, which I obviously did not believe.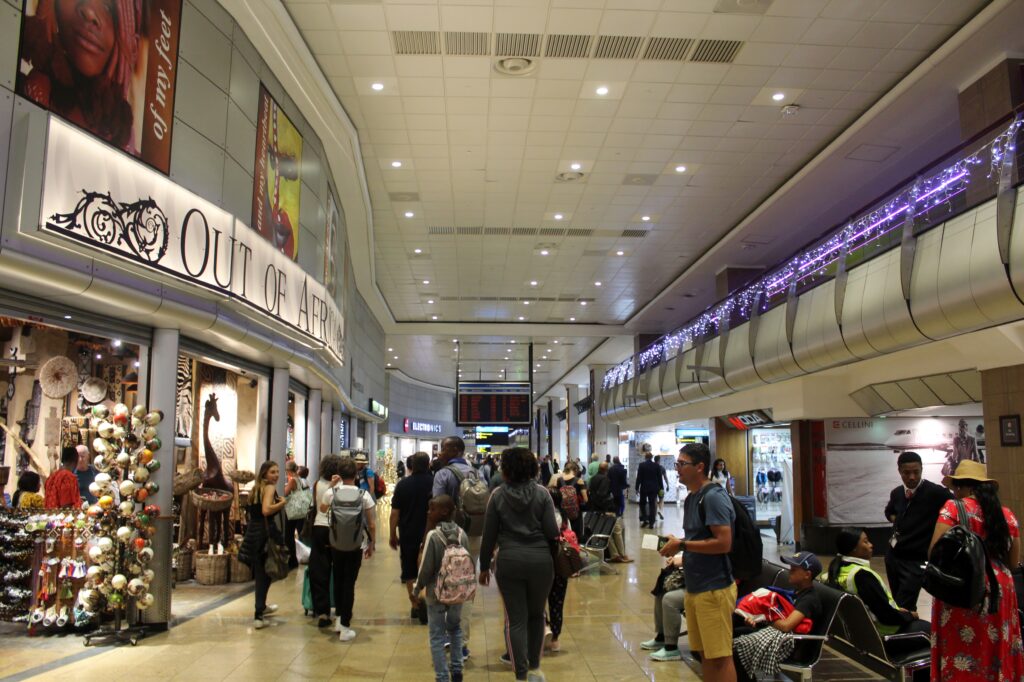 I knew Air France, KLM and Delta were all using the SLOW Lounge so my best guess was that the same would apply to Alitalia, since they are also a Skyteam member, and this turned out to be correct. I was quite happy about that since the SLOW Lounge was one of the few lounges in Johannesburg I had not yet visited and also the only SLOW Lounge in South Africa I had never visited.
And I just love the SLOW Lounges. There are domestic SLOW Lounges in Johannesburg, Cape Town and Durban. I had visited all of them in the past and always enjoyed the visits.
The international SLOW Lounge also turned out to be excellent and very similar to the domestic SLOW Lounge in Johannesburg in terms of design, facilities and concepts. The selection of food and drinks also seemed to be nearly identical.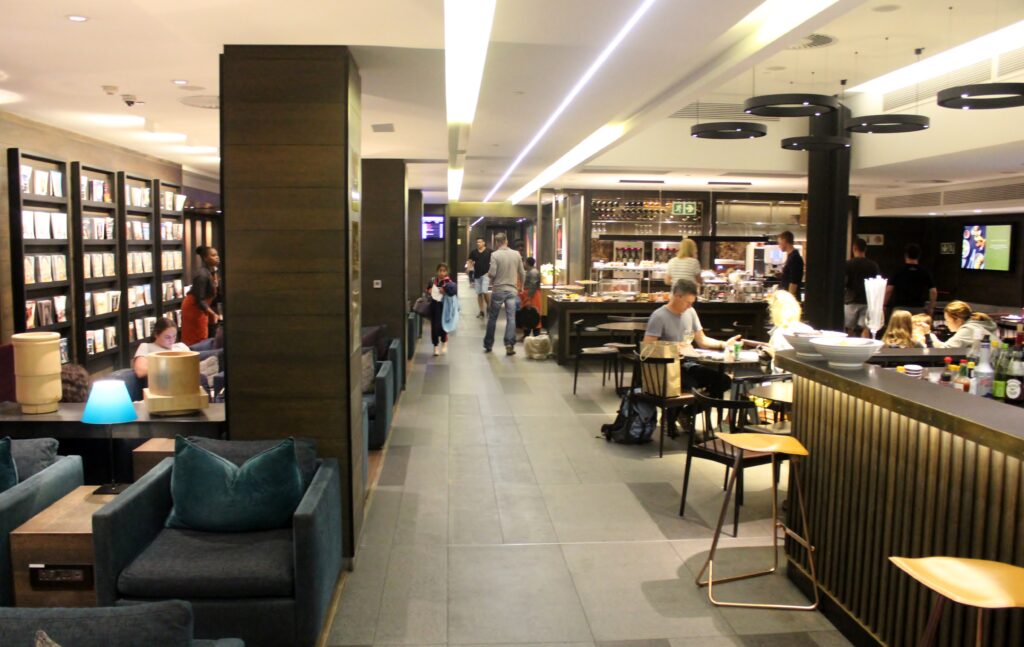 Just like the domestic lounge the interior was designed like a living room with bookshelves and plenty of design details. And another nice feature was the manned bar where you could order cocktails. It was rather crowded though upon my arrival as there were several Skyteam departures in the evening but by 8 pm most passengers had left and it got much more pleasant.
The flight
Johannesburg-Rome Fiumicino
Alitalia flight AZ 849
Departure: 21.50
Arrival: 07.05
Business Class
Airbus A330
Seat 02L

Boarding was supposed to start at 21.00 when they also displayed 'Gate open' on the departure screens. However by the time I reached gate A7 a couple of minutes later they had already changed the status from 'Gate open' to 'Boarding' to 'Final call' and I ended up being one of the last passengers to board, with still more than 30 minutes until scheduled departure time. It was once again clear to me that the load would be rather light.
Two passenger bridges were used for the Airbus A330 but by the time I boarded they had already closed the forward one for business class.
First impression

I entered the aircraft through door 2L, which meant a left turn to get to business class. The business class cabin on the Airbus A330 is quite small with only 20 seats and only about half of them were taken. I think we were 11 or 12 passengers in total.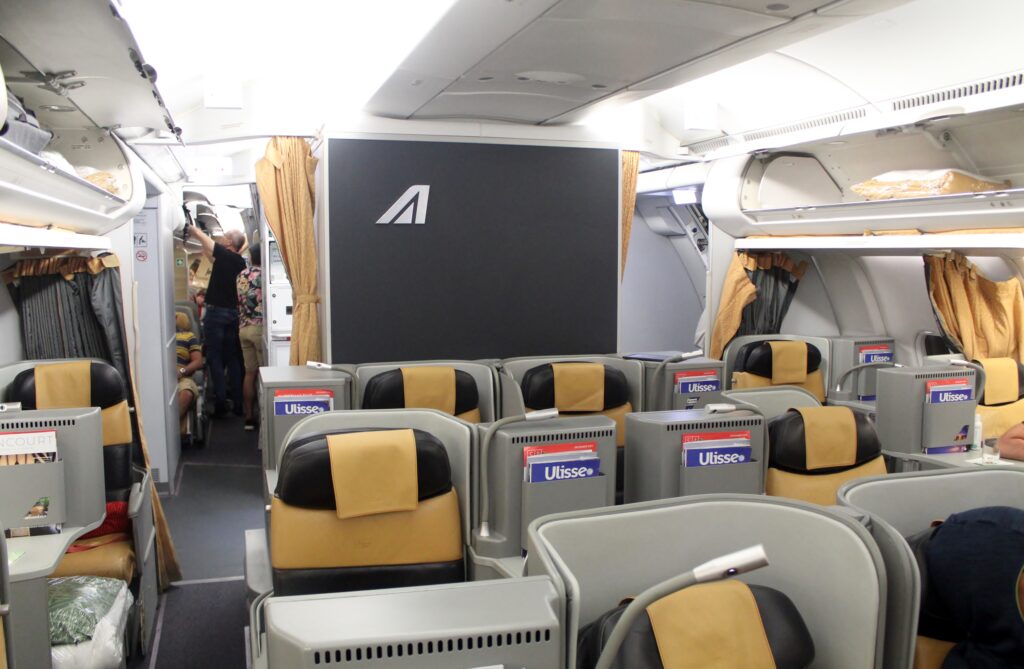 I quickly found my seat 02L on the second row. The single seats on rows 2 and 4 are the most desirable for single travellers since they use a staggered configuration in business class and these seats have the seats placed by the window with the side table separating the seat from the aisle, giving a bit more privacy.
On the negative side though it turned out there were no overhead bins above the middle seats and although the cabin was far from full the overhead bins above my seat were already quite full and I eventually had to rearrange some bags to fit my hand luggage, which was far from optimal.
I recognised the Alitalia business class seat type since it is the same one used by Etihad Airways in their Pearl Business Class. Perhaps not very surprising since Etihad is one of the major shareholders in Alitalia. And frankly I did not mind at all since the seat is a decent one.
The cabin interior was mostly in grey with the seats in yellow and black. Perhaps not the most modern of cabin interiors but it did give a reasonably good first impression.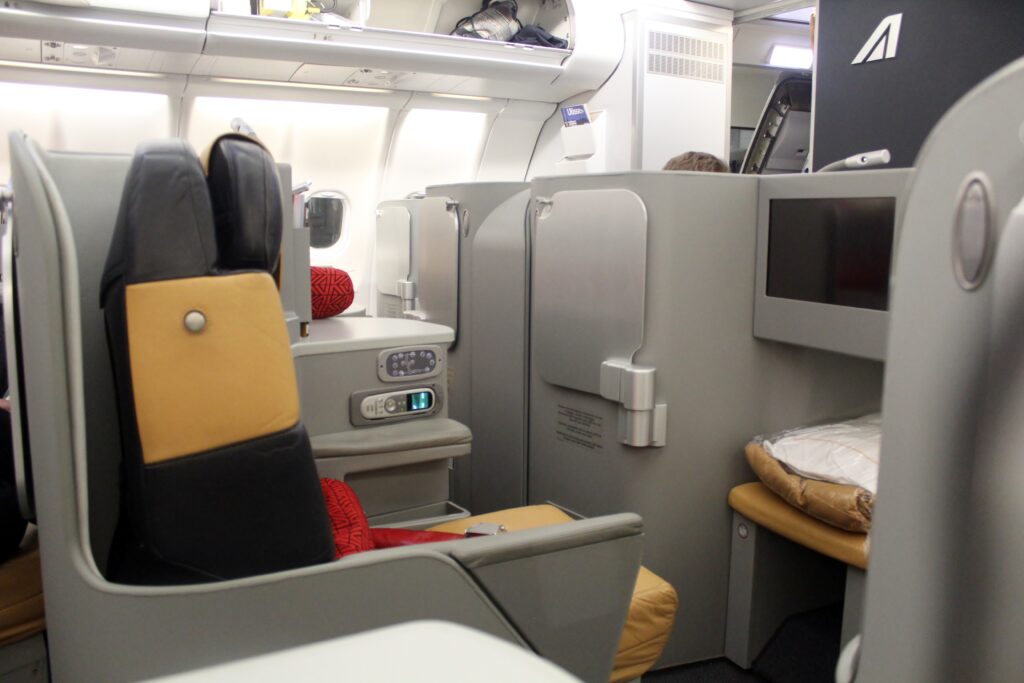 The welcome reception from the crew was not the best though. Although I was greeted by the door where they checked my boarding pass there was no one coming to greet me once inside the business class cabin. And there was no one offering to take my jacket or assisting me with the hand luggage. I had to sort all that myself.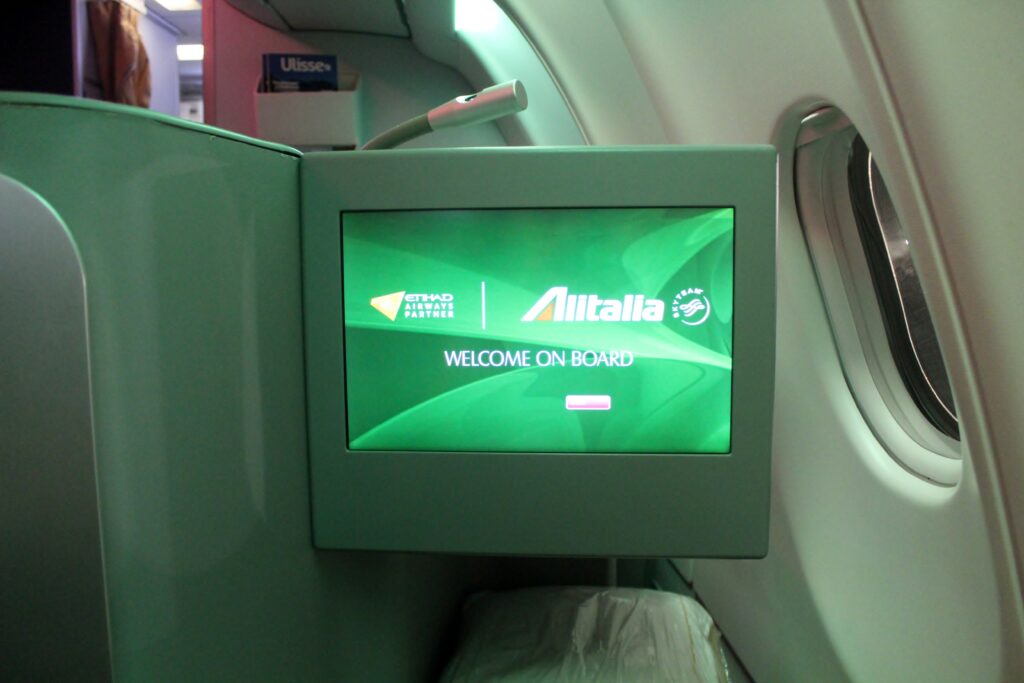 And no one came to offer me a pre-departure beverage. All other passengers in business class had already boarded and had already been served something to drink, but surely someone in the cabin crew could have noticed my arrival. It was still more than 30 minutes to go when I boarded.
At the end I had to stop one of the flight attendants when she passed to ask if I could get a glass of, what I presumed, Prosecco to drink. It was quickly brought to my seat without any fuss, in a rather nice-looking wine glass, but you really should not have to ask about these things. We were only about a dozen passengers and surely someone should have be able to notice of my arrival. Not the best start of the inflight experience.
Amenity kits were also handed out before departure, a rather nice black one from Salvatore Ferragano.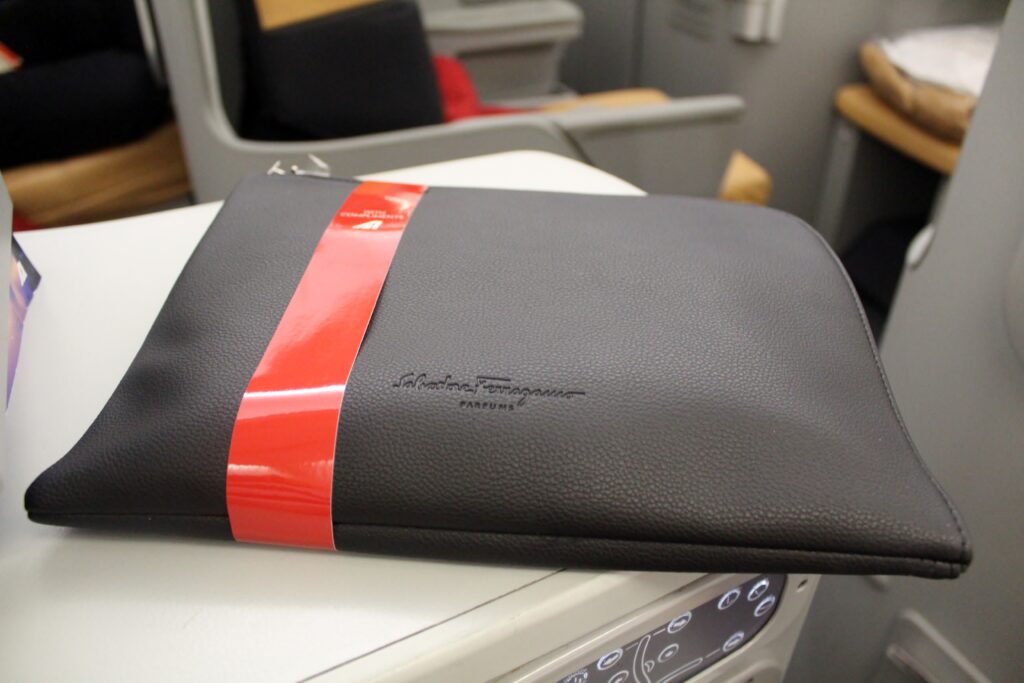 Pushback a few minutes before scheduled departure time with a rather nice safety demonstration shown on the screens, which included a virtual cockpit.
During taxi and takeoff some cool mood lighting effects were turned on in the cabin, in green, white and red, the colours of Italy.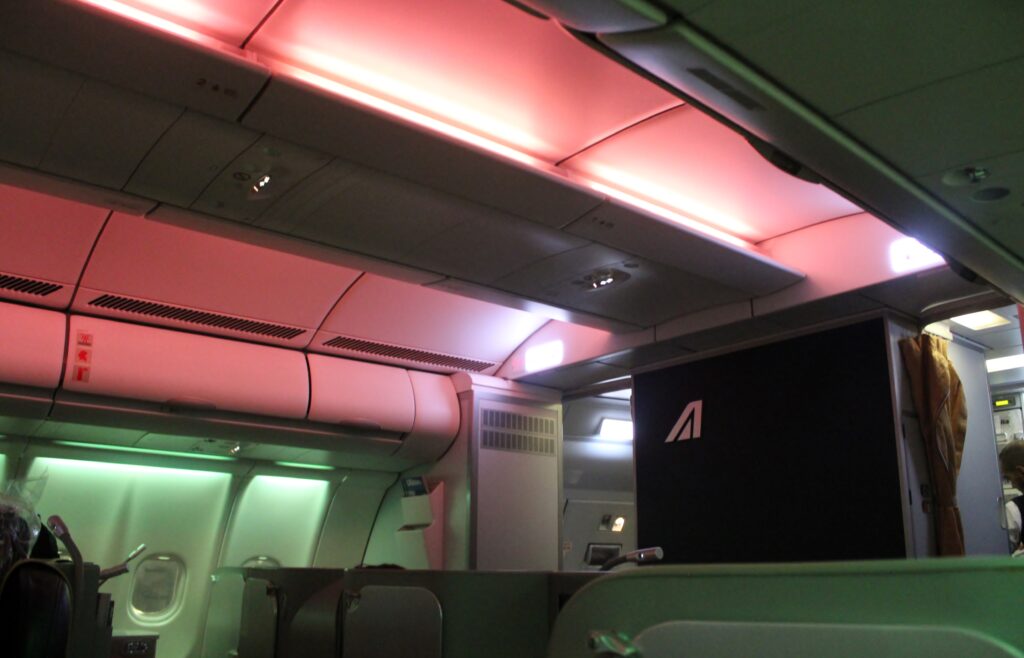 Seat and cabin

There were 20 seats in business class in a 1-2-1 configuration with staggered seating. I had selected 02L on the second row.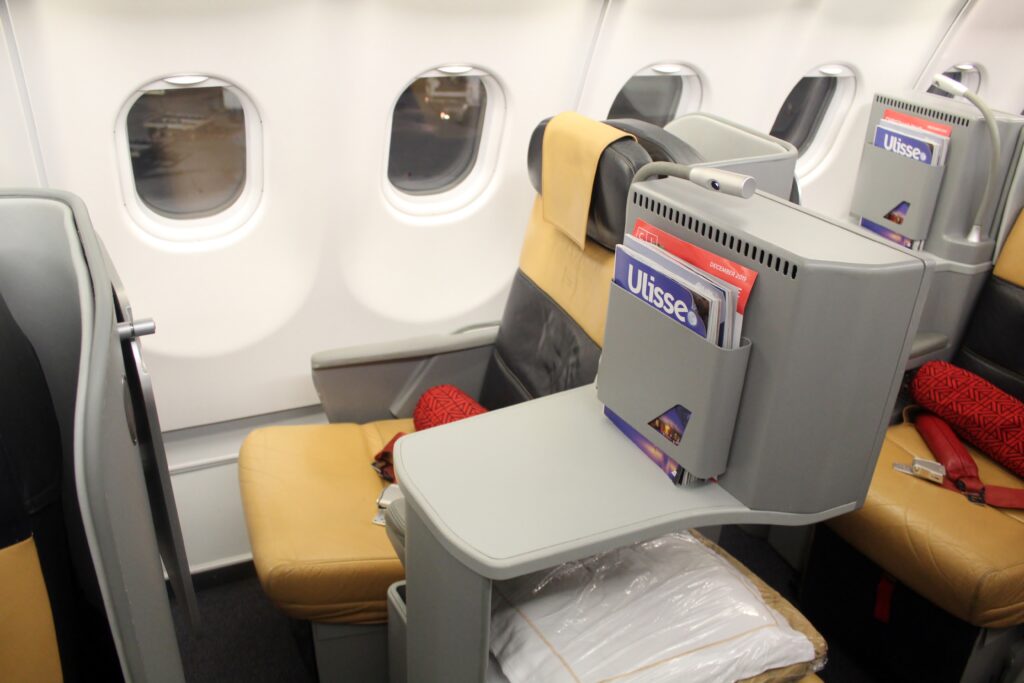 I was already familiar with the seat, which is used by several other airlines including Etihad Airways. Since Etihad is one of the major shareholders in Alitalia this is probably the main reason this particular seat type was chosen.
The seat pitch was 44 inches and the seat width 21 inches. When reclined the seat becomes fully flat. Another interesting fact is the leather of the seat cover which comes from Poltrona Frau, perhaps most famous for providing the interior to well-known brands such as Ferrari and Maserati.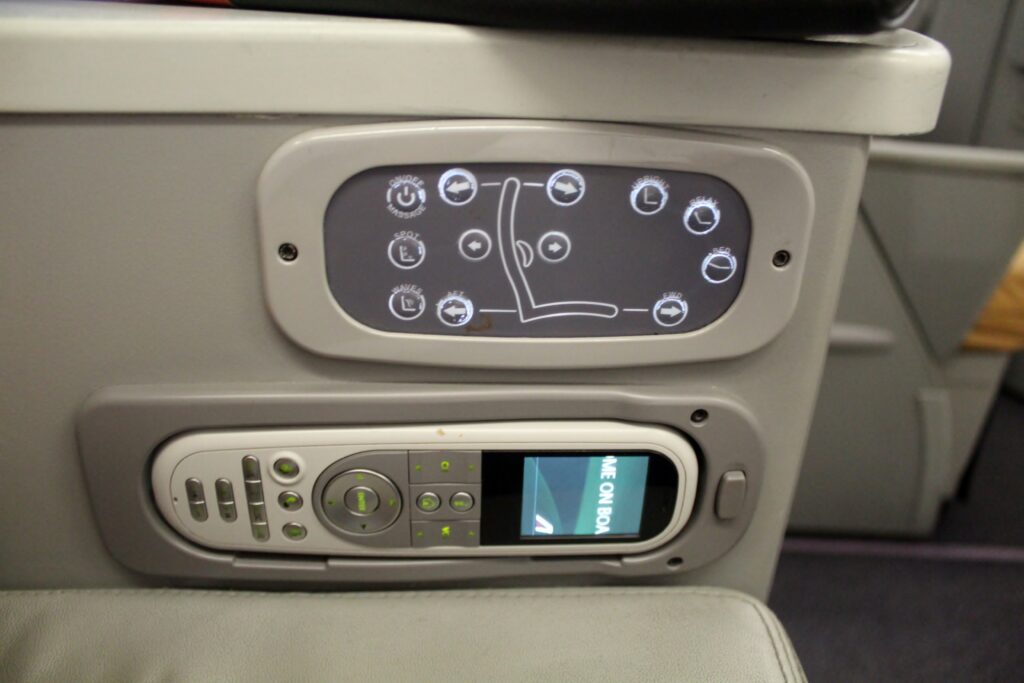 Food and drinks

The menu and the drink list were handed out already on the ground and as soon as the seatbelt sign had been switched off one of flight attendants passed through the cabin to take meal and drink orders.
The middle-aged man who took the meal orders on my side of the cabin also later served in my aisle, and I was rather happy about that since he was easily the best flight attendant onboard. Very friendly and always with a smile on his lips.
A dinner service was offered after takeoff from Johannesburg with what they called 'All day dining'. This included two appetisers, two first courses, two second courses (main courses) and then cheese and dessert. Of the two options for each course there was a traditional Italian option and a healthy option. A great thing about the menu was also that there was a wine recommendation for each course.
The drink list included a sparkling wine (Ferrari Prosecco), two white wines and two red wines. There was also a standard selection of spirits (but with some more unusual brands) and of course all kinds of soft drinks.
A white table cloth was laid on my table and I started with a gin & tonic and was positively surprised that they served the Bulldog Gin rather than one of the more traditional gin brands. I also got a plate with some nuts and even went for a refill later. And the glasses they use in business class are really stylish.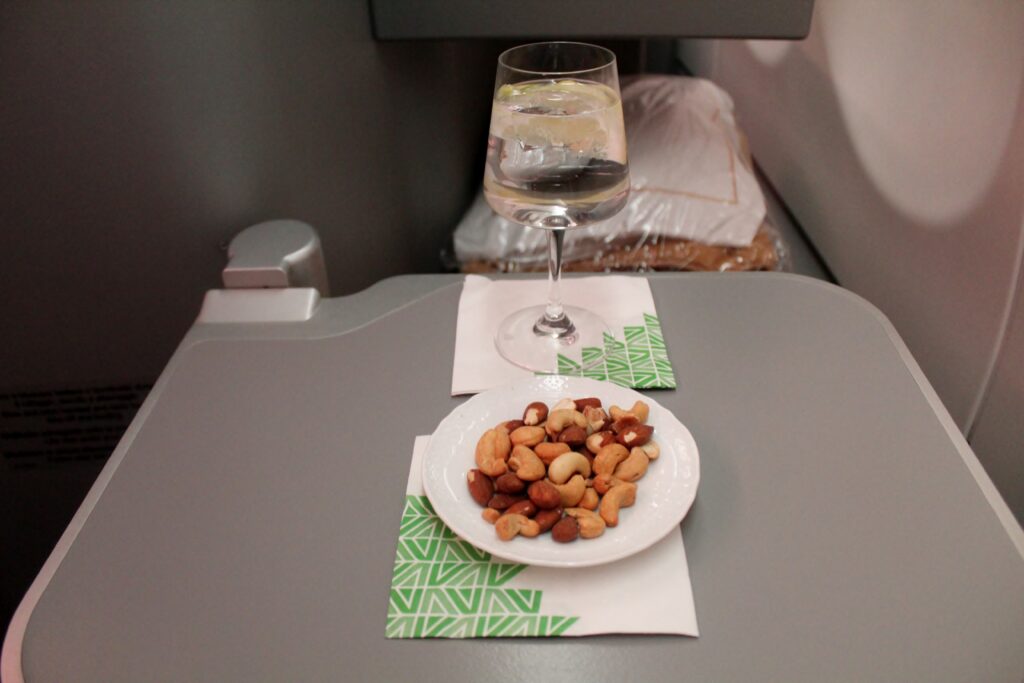 Next the table was prepared for the meal service and I was very happy to see that they did not use any trays. That is always something I appreciate. It requires a bit more job but also makes the experience much more pleasant. Overall I found the table setting very elegant.
There were two choices of appetisers. A pumpkin flan on parmesan and fresh thyme fondue accompanied with amaretto crumbs. Or a polenta flan with mushrooms served with a tomato basil sauce. I went for the first option.
Technically I should have ordered a white wine for both the appetiser and the first course but to avoid mixing too much I went for a red wine instead, the one recommended for the main course, the Chianti Rufina Nipozzano Riserva 2016. And although not optimal for the first two courses it was delicious nevertheless. And so was the pumkin flan appetiser by the way. And I liked the presentation.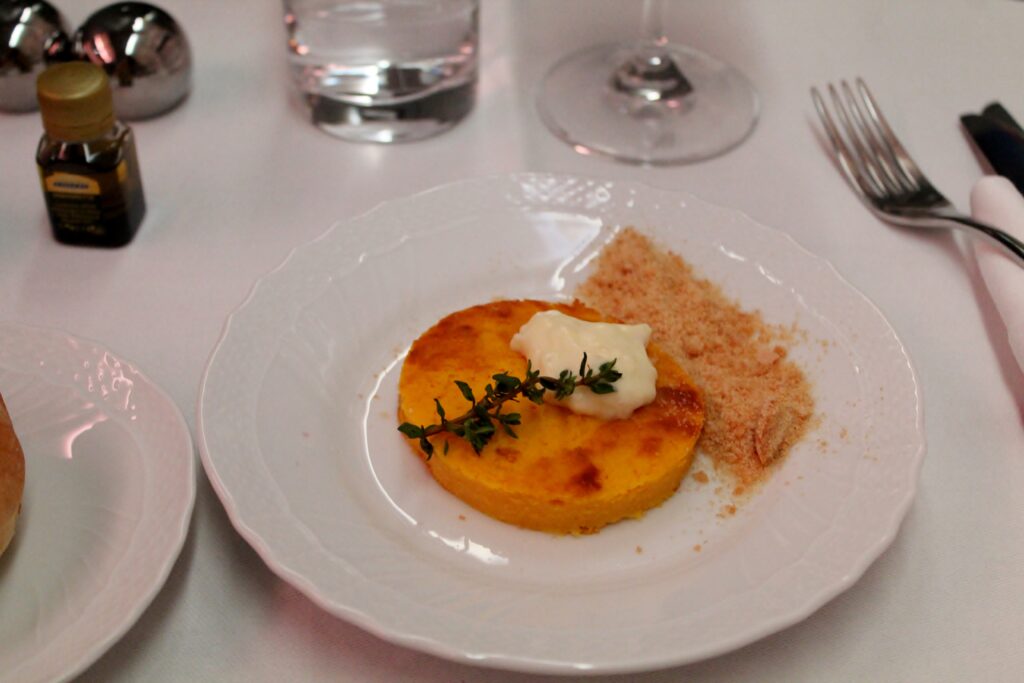 There were two choices of first course. Either rigatoni with radicchio and gorgonzola cheese mixed with dried nuts sauce. Or pasta with San Marzano tomato flavoured with bayleaf. I went for the first one. Perhaps not the nicest-looking presentation, but it was delicious and the flight attendant offered some extra parmesan cheese on the top.
There were also two choices of main course. Pork tenderloin medallions with pancetta prunes, served with balsamic vinegar sauce accompanied by roast potatoes and sautéed Swiss chard. Or seabass stuffed with bread, raisins and wild herbs served with sautéed Swiss chard and mushrooms.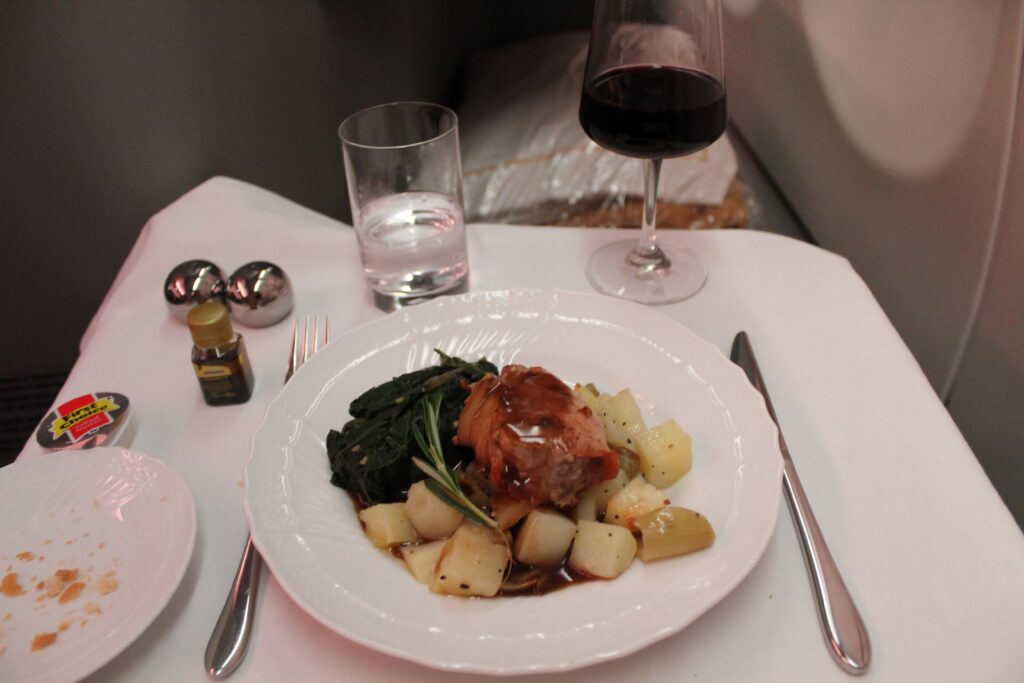 I went for the first option and it was once again excellent. Very delicious and the red Chianti wine was indeed a perfect match. By now I was really enjoying the inflight dinner service to the fullest, definitely one of the best meals I have ever had onboard an aircraft. Everything was simply perfect in every possible way.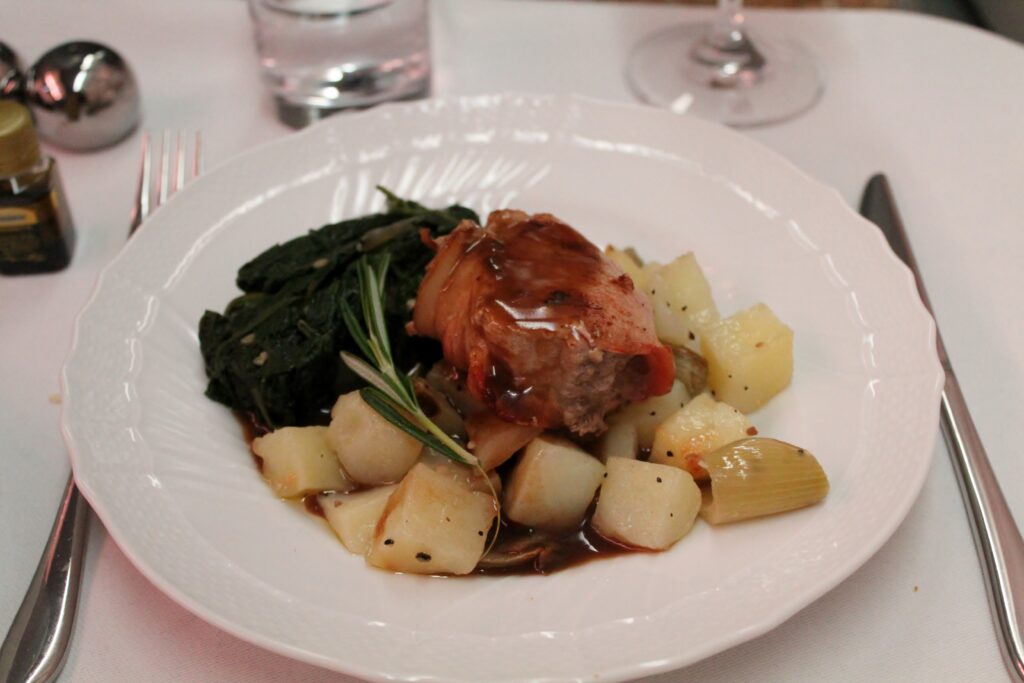 On most flights I tend to skip the cheese since I am usually rather full by the time I have finished the main course, but this time I decided to give also the cheese a try, especially given how much I enjoyed all the other dishes. And I was not disappointed. The cheese was served with dried fruits and confit and had a nice presentation.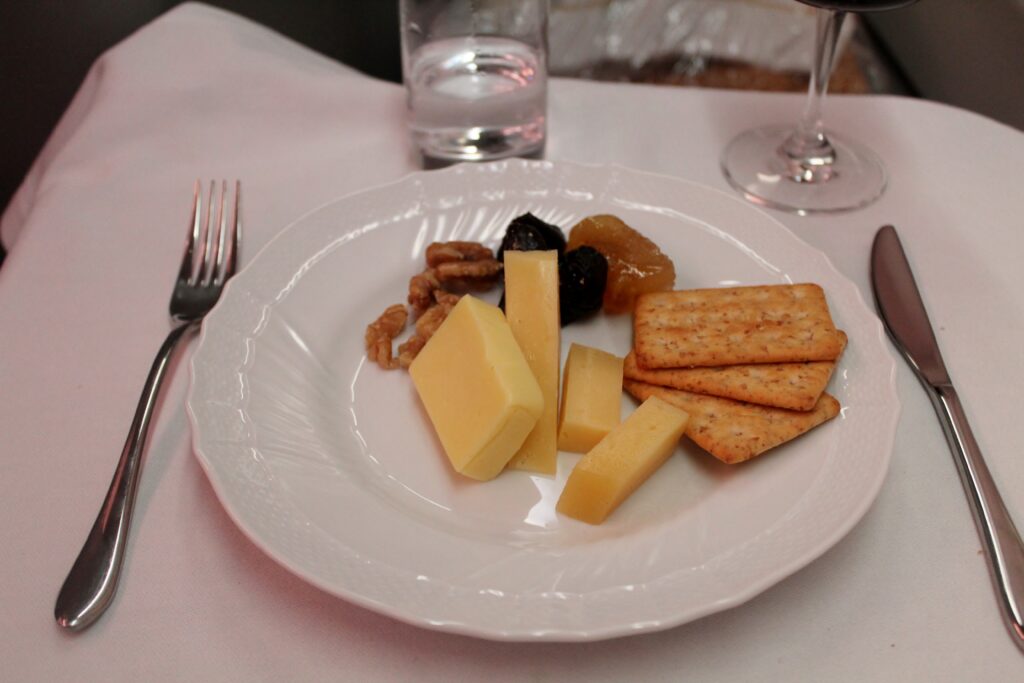 Eventually for dessert they served a Zuccotto, a dome-shaped dessert made of ricotta cheese and chocolate, served with a vanilla sauce. Once again it was delicious. They also had a liqueur specially selected for the dessert which was mentioned in the menu. Zighidì Pantelleria Passito Liquoroso – Cantine Florio.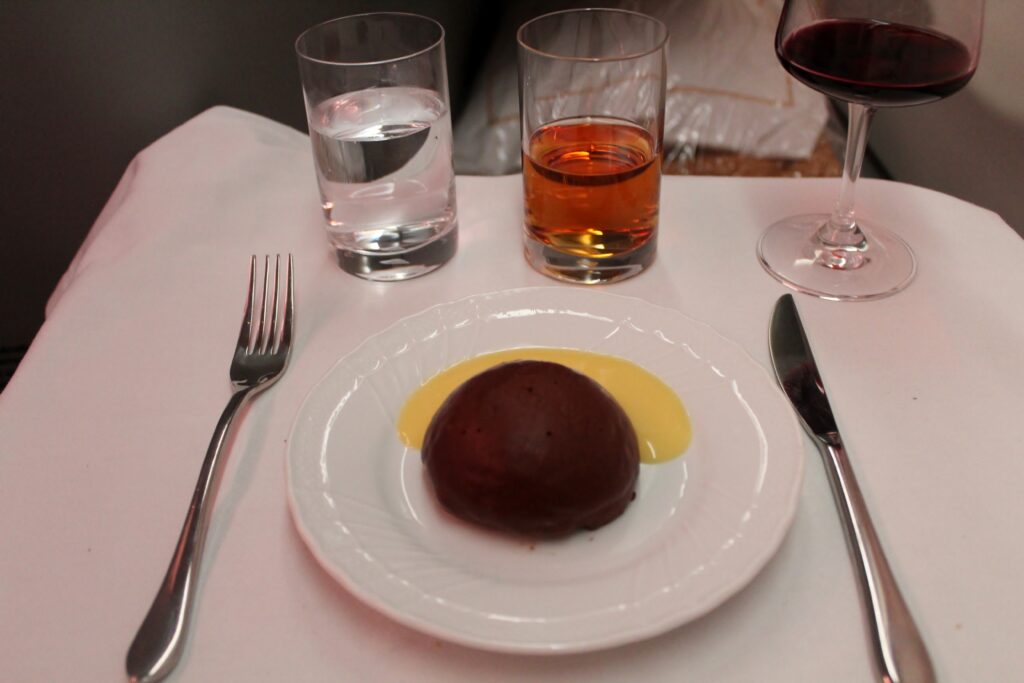 I asked for a small glass of the liqueur, and well, not sure what kind of definition they have of a small glass, but the liqueur was delicious nevertheless, just like the dessert, and they matched perfectly.
Way too late for a cup of coffee as I wanted to get some sleep, so I went for a cup of herbal relax tea instead.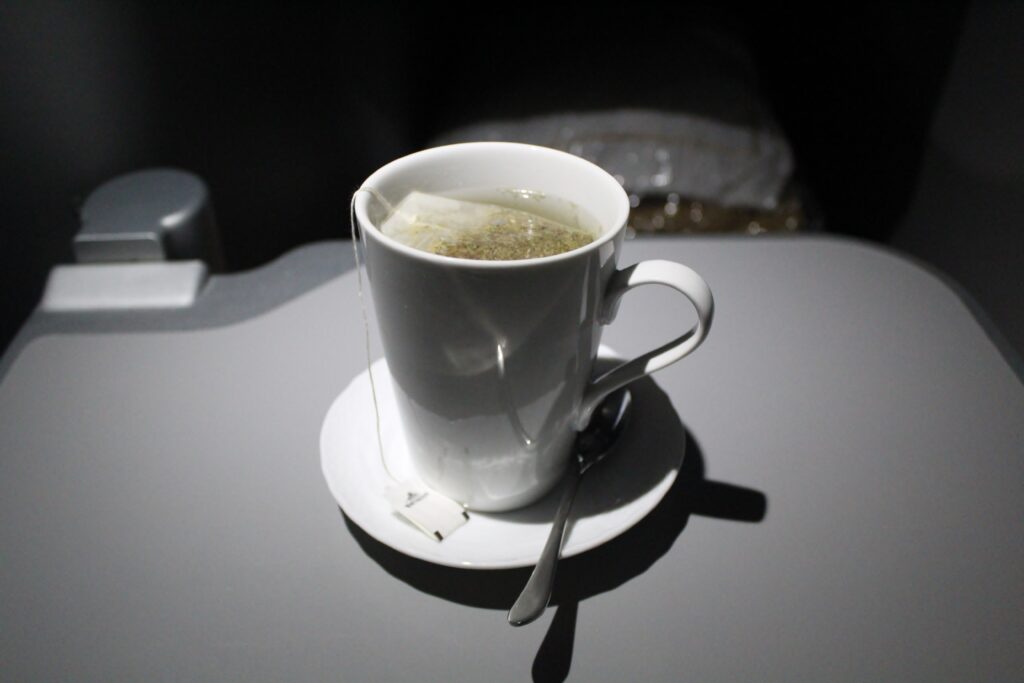 Overall the dinner was superb. One of the best meals I have ever had onboard an aircraft and I enjoyed every part of it tremendously. The wines were also superb, and the Ferrari prosecco is also a very pleasant one. And the male flight attendant serving me was great.
Inflight entertainment
An AVOD (Audio Video On Demand) inflight entertainment system was available onboard with movies, TV-series, documentaries, games, music and some information about the flight, including a flight map.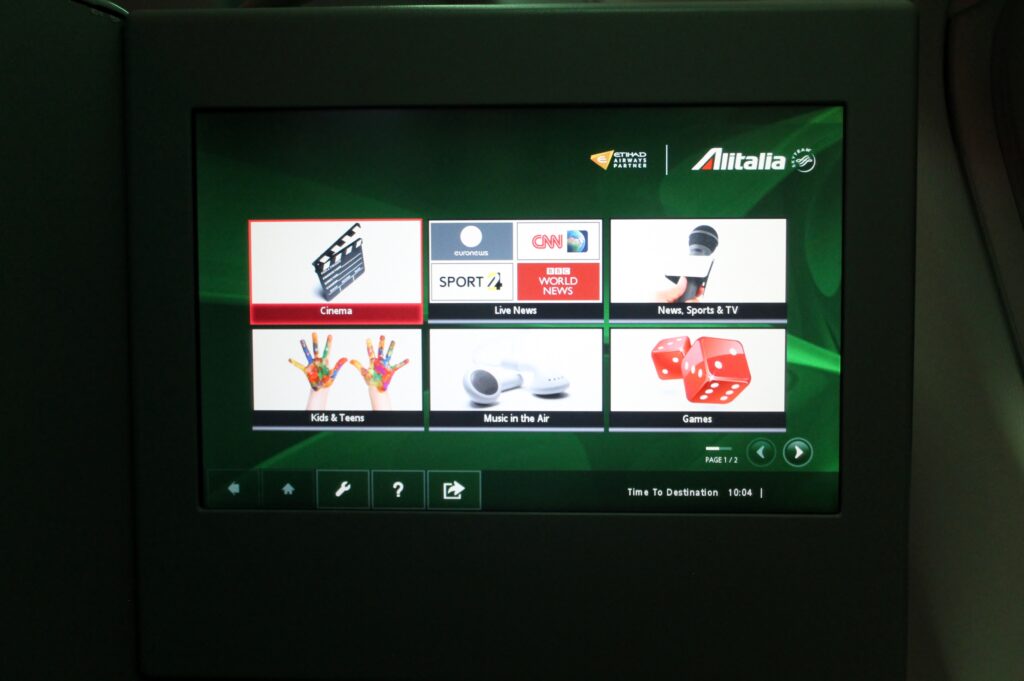 The selection was not extraordinary by any means but definitely more than adequate. Noise-cancelling headphones were provided in business class.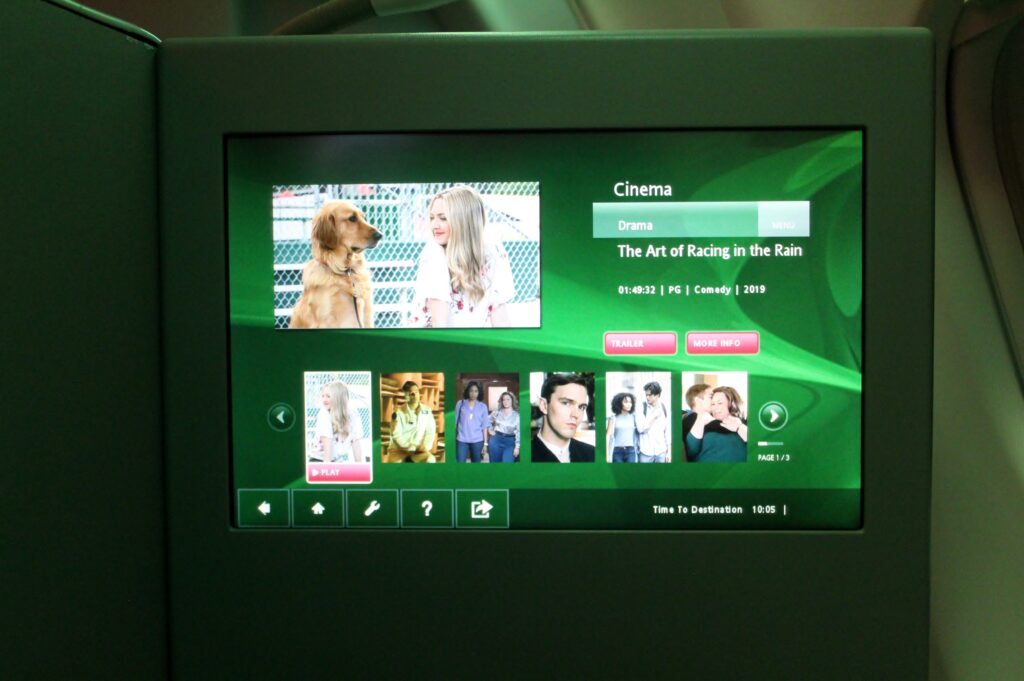 I watched the movie The Devil wears Prada during the dinner, starring Meryl Streep, during the dinner service.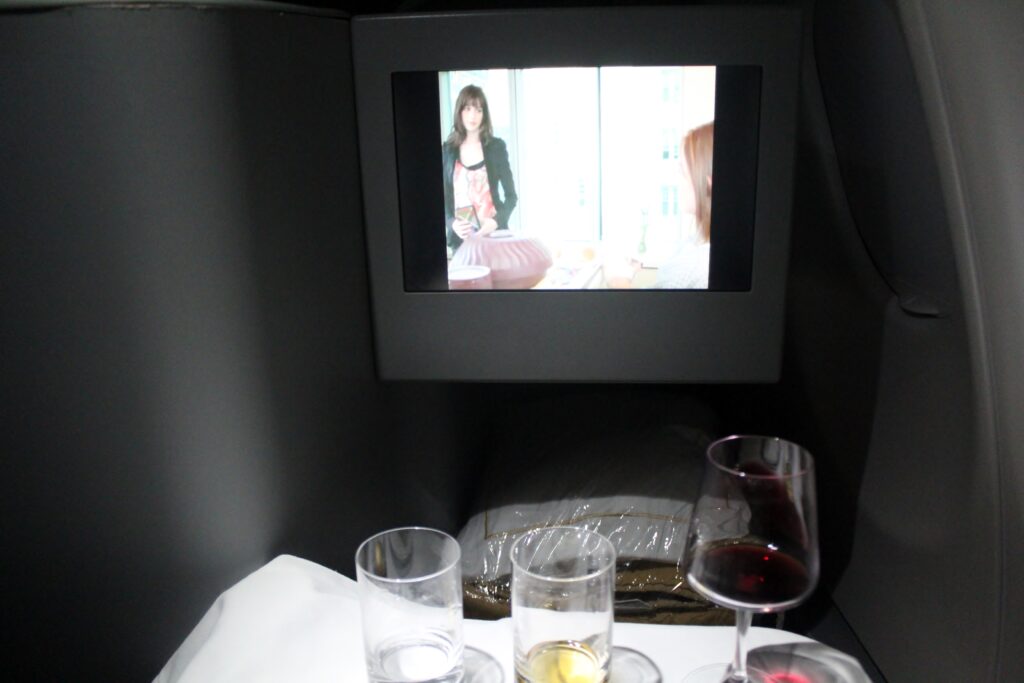 Wireless internet was also available onboard. I asked the flight attendant if it was free in business class, since it was not obvious, and a few seconds later he was back. Apparently in business class you get a voucher, valid for a few MB of Wi-Fi data.
Sleeping

By the time the meal service was over it was close to midnight and I was very tired after a very long day. The great thing about travelling between South Africa and Europe is that there is very little time difference, just one hour time difference between South Africa and Italy. And on top of that you have a rather long flight time of over ten hours.
This means you can have a proper dinner, a quick breakfast and still get 6-7 hours of sleep. And you will arrive in Europe in the morning and without any jetlag.
When reclined the seat gets fully flat. No mattress was provided in business class but you get a pillow and a rather comfortable yellow duvet. Overall I slept quite well onboard.
There was no buffet counter available during the night but according to the menu there were some snacks you could order, like some fresh fruits. They provided a small bottle of water for the night, but it was really on the smaller side. I actually missed being able to get something more to drink during the night without having to ask the cabin crew.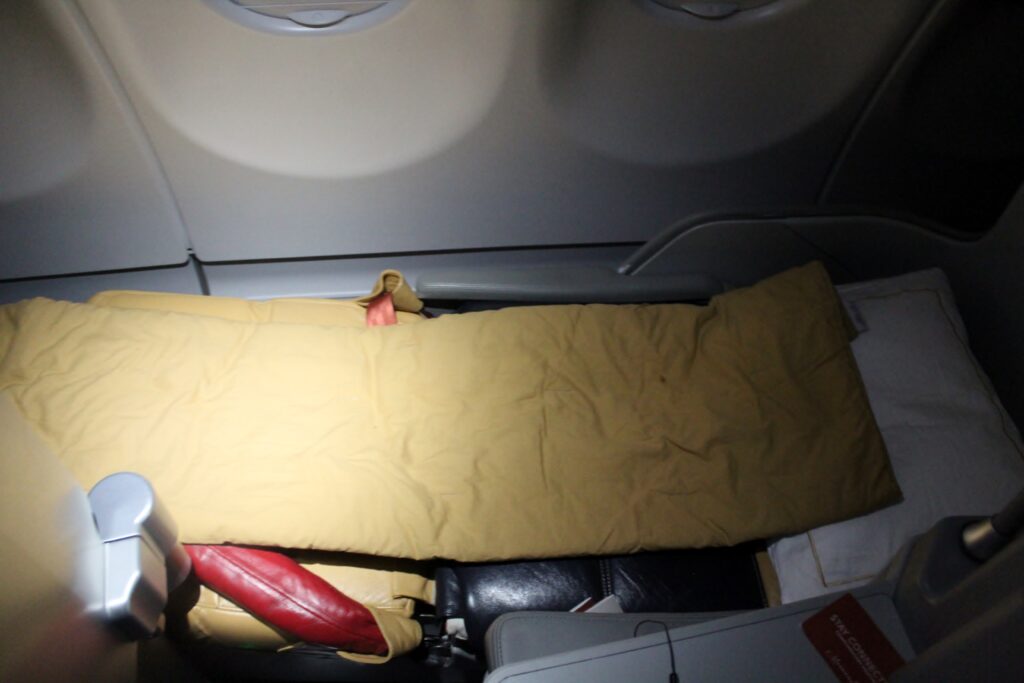 The service

From my experience flying Alitalia the cabin crew is their weakest point. A bit strange since I have nearly always enjoyed the Alitalia ground staff, at least at the main hub in Rome.
When I came onboard nobody took notice of me. No one came to greet me or offered to take my jacket or to help me with my hand luggage, when I really needed some help. I had to rearrange the overhead bins myself to find enough space. And generally the flight attendants just seemed rather uninterested and indifferent.
Of course there could be some cultural differences involved here, or rather, I am sure there are. I know from other Alitalia flights that an interest in the food, the wines and the service can make a big difference, especially as the Italians are very proud of their heritage and their cuisine. I also noticed that the Italian passengers in the cabin generally got a slightly better service. Perhaps some of the flight attendants felt more comfortable communicating in Italian than English.
No one was ever rude to me or so and whenever I asked about something it was delivered to my seat almost immediately, they never ever missed anything and there was never any comments about anything. But there was little proactivity and definitely no small talk.
However the middle-aged man who served me was great. He really seemed to enjoy serving me and I really enjoyed being served by him. Everything was perfect and the service was flawless, and I am sure he noticed how much I enjoyed the food and the drinks. He was very friendly and always had a smile on his lips and made my feel at ease, but again, there was never any small talk and certainly no use of any names.
Arrival experience

The arrival time in Rome was 7.05 am. Since I wanted to maximise my sleep and since I knew they had an excellent breakfast buffet in the Casa Alitalia Lounge in Rome my plan was to skip the breakfast onboard, perhaps just have a quick cup of coffee before landing.
At the end I woke up just after 6 am Italian time, less than an hour before estimated arrival time. I noticed most fellow passengers had already finished their breakfasts but I asked one of the flight attendants if it was still possible to arrange something, and it was, 45 minutes before landing.
The breakfast was an 'Italian breakfast' though, which meant it was nothing to write home about really. A bread roll, yoghurt, two pastries and some fresh fruits. And of course a very tasty Italian espresso. But there was certainly nothing hot, ordering some scrambled eggs or an omelette was not even an option, not even if I would have had a bit more time.
In my case it was no big deal since I would not have had time for it anyway, but given how fantastic the dinner was the breakfast was rather disappointing. But the best part was definitely the coffee. A strong Italian espresso is never a bad start of the day.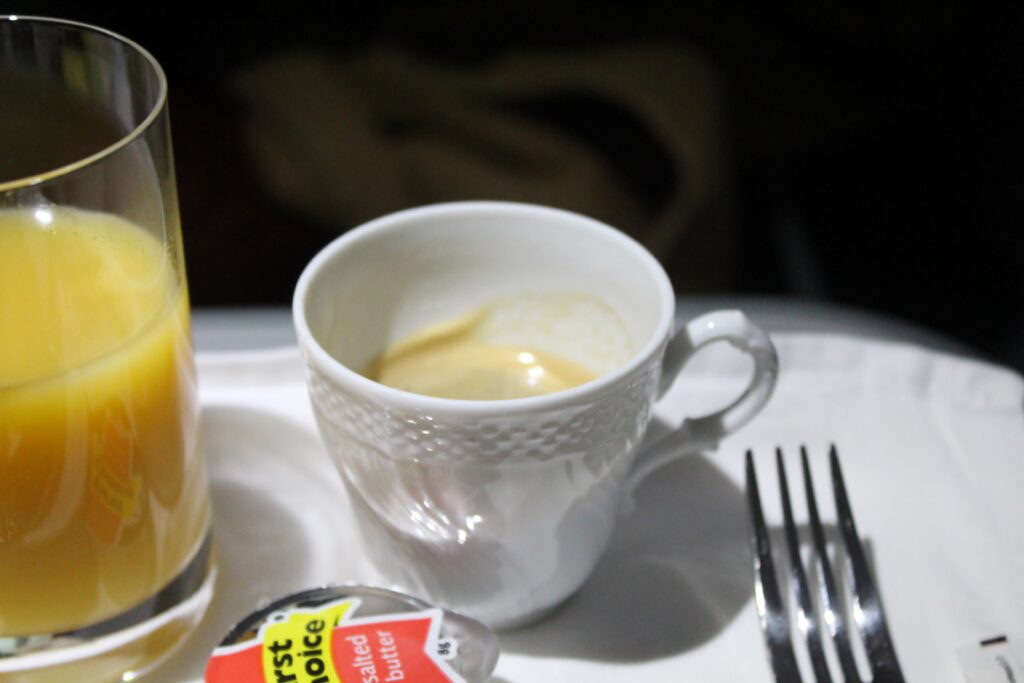 We landed a few minutes early at Rome Fiumicino airport, or Leonardo Da Vinci airport as it is called nowadays, enjoying a rather nice view of the sunrise and the coastline during the final approach.
We were assigned a gate at the satellite building of concourse E which means you need to take an automatic train to get to the main terminal complex. For some reason it took ages before someone showed up at the gate so we could open the doors. I think we waited nearly 15 minutes. Not sure if there was a technical problem with the passenger bridge or a staff issue, but the cabin crew seemed rather embarrassed about it.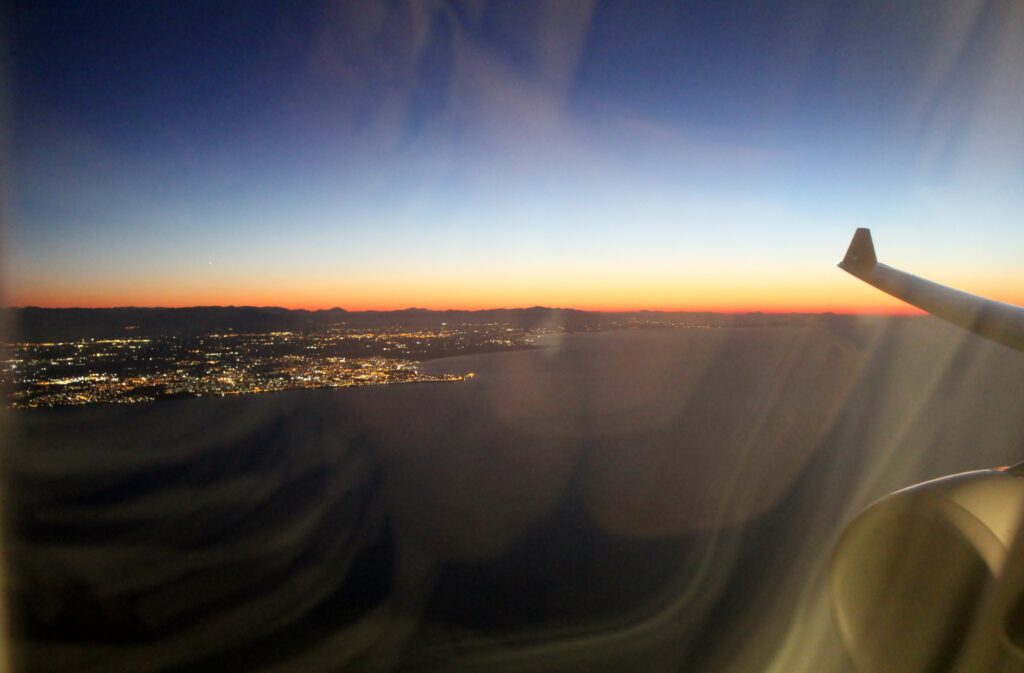 Arriving from South Africa connecting to a Schengen flight meant having to pass through transfer security, followed by passport control. If you arrive from a non-Schengen destination you can easily visit one of the non-Schengen lounges before heading to the Schengen area. And you should, at least if you have sufficient time (minimum 90 minutes between flights I would say) as the Casa Alitalia Lounges in the non-Schengen area are so much better than the Alitalia lounges in the Schengen area.
And doing so is actually very easy. After transfer security you end up in the transit hall for departing non-Schengen passengers and you just follow the signs for the Alitalia lounges. And afterwards there are very clear signs to follow to get to the passport control and the Schengen gates. The lounge staff will most likely inform you that you are in the wrong lounge but there was no issue to get in on this occasion, and I was very happy to have a shower and a decent hot breakfast.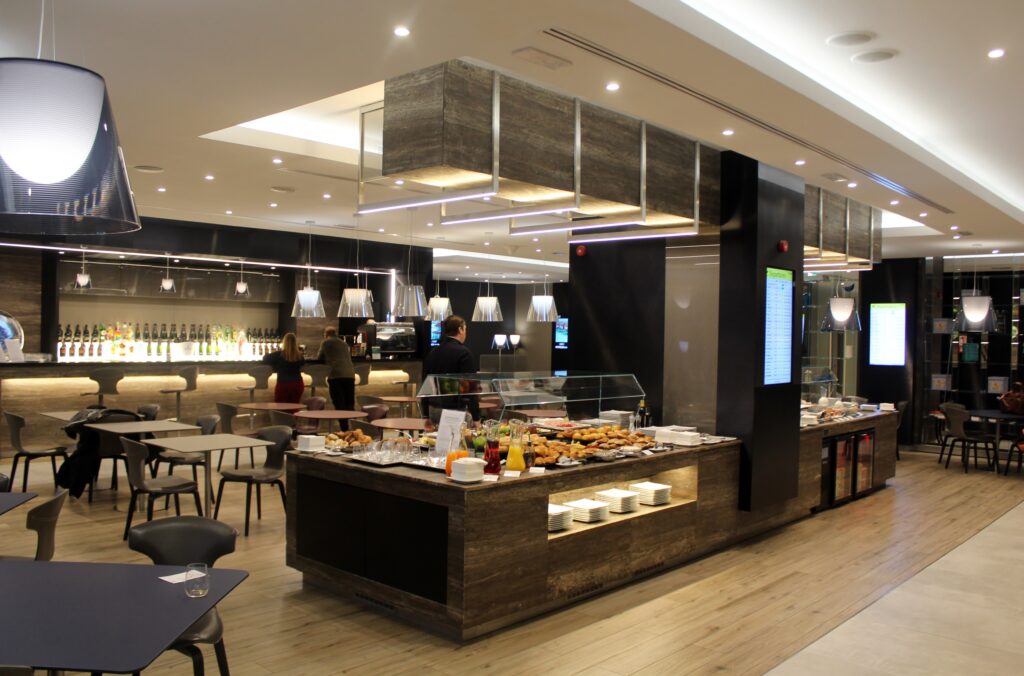 Final impression

Fantastic food, wines and drinks with one of the best dinners I have ever had onboard an aircraft. I enjoyed all of it tremendously. A reasonable business class seat and cabin but the cabin crew generally could have been a bit more proactive and personal. Punctual departure and landing and great Casa Alitalia lounges in Rome. But this experience was really all about the food and drinks.