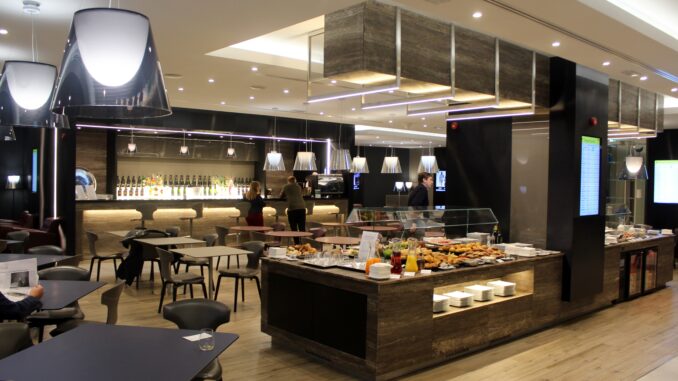 Another visit to one of the new 'proper' Casa Alitalia lounges in Rome. This time the Casa Alitalia Piazza Di Spagna Lounge located in the non-Schengen area in concourse E at Rome Fiumicino airport.
A few months ago I visited one of the non-Schengen Casa Alitalia lounges a late morning and was very impressive with the breakfast offerings, including a pancake buffet, so I was very excited to make a new visit.
An early morning visit this time, arriving a the lounge just after 7 am transferring from Johannesburg to Paris. Arriving from a non-Schengen destination obviously means having to pass through transfer security but afterwards you actually enter the non-Schengen transit hall for departing passengers and you can easily visit one of the non-Schengen lounges before proceeding to passport control and the Schengen departure gate. It is not particularly hard and there are plenty of signs to follow.
The woman at the reception desk informed me I was in the 'wrong' lounge and that there was another one in the Schengen area but had no issues letting me in, especially when she saw I had three hours between flights. She just advised me to leave the lounge about an hour before scheduled departure time to allow time for passport control and what seemed like a rather lengthy walk to the gate.
I asked here if they had showers in the lounge, which I was fairly sure they had (but not in the Schengen lounge) and she confirmed I was right and then personally showed me the way to the shower rooms before handing me over to one of the staff members working there, which was a very nice touch. Overall all the staff I have encountered in the Casa Alitalia lounges in Rome, and in the non-Schengen lounges in particular, have been most friendly and helpful.
After a refreshing shower I had a look in the buffet area and was once again very impressed with the offerings. The breakfast in business class before landing in Rome was an 'Italian breakfast' which means very little to eat and definitely nothing hot. Coffee, bread rolls, pastries and some fruits, and that was about it.
But the breakfast they offer in both the non-Schengen Casa Alitalia lounges in Rome, the Casa Alitalia Piazza Di Spagna Lounge and the Casa Alitalia Piazza Del Popolo Lounge, is superb, to say the least. And I was not to be disappointed this time either.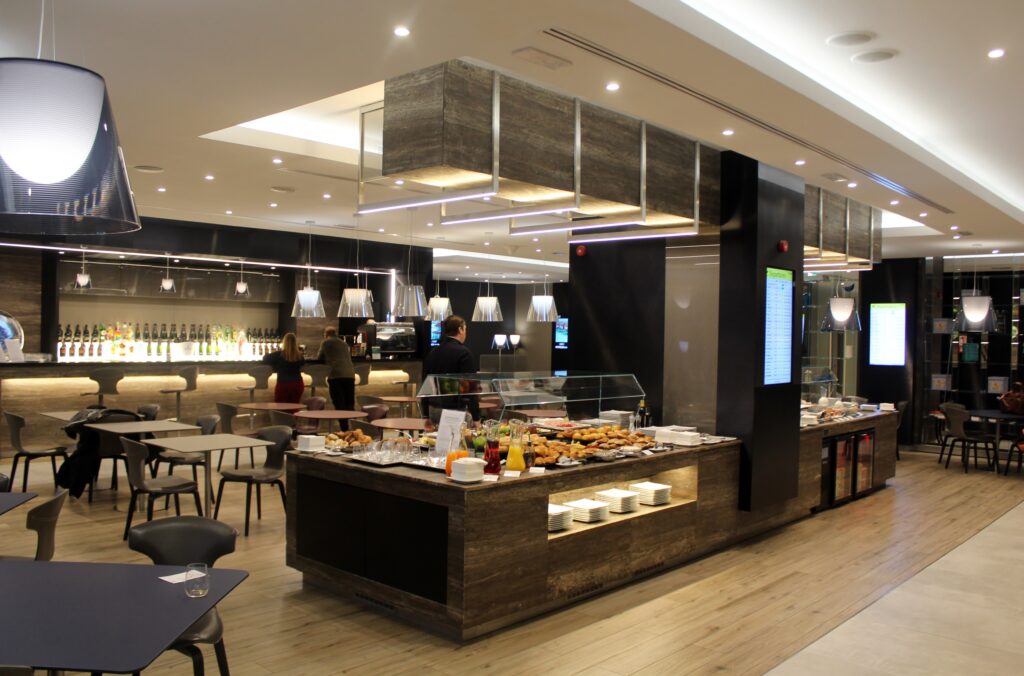 To start with, being in Italy, there was of course all kinds of bread rolls and pastries and on top of that pancakes (including some flavoured ones), a nice selection of vegetables and even Italian ham.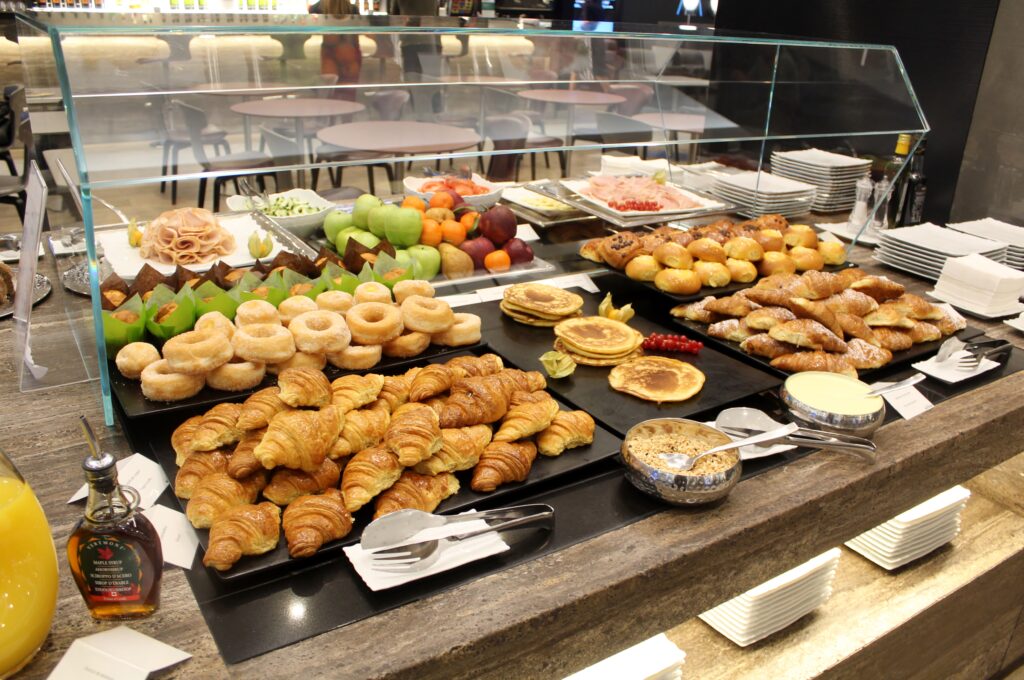 And you have two kinds of yoghurt to choose between, fruit yoghurt and natural yoghurt, and all kinds of cereals. And on top of that different types of milk, and various marmalades for your bread roll.
And of course some hot items, including bacon and scrambled eggs, and some more delicious pastries and desserts. And all of it with a beautiful presentation.
There is a manned bar in the lounge, which opens at the same time as the lounge. So you can order a glass of prosecco already at 6 am, but the bartender also works as a barista and will happily arrange a cup of freshly-brewed Italian espresso. Not a bad start of the day.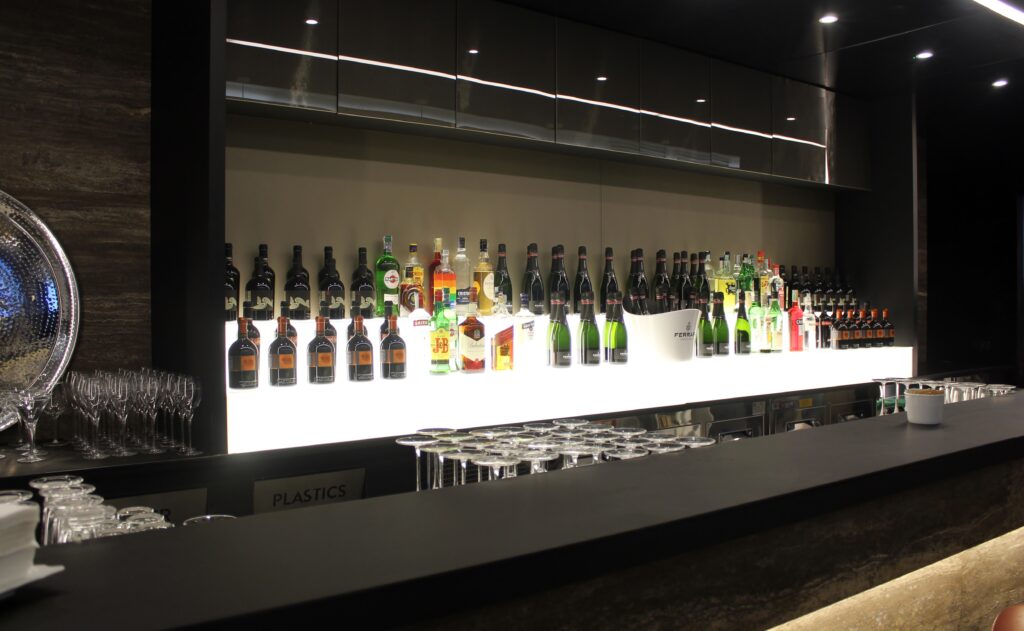 The new non-Schengen Casa Alitalia Lounges in Rome are nothing but terrific. A delightful place to kill some time before the flight with an excellent selection of food and drinks and not to forget a beautiful presentation of the food. The breakfast offerings are superb and the staff are very friendly and accommodating and they work hard clearing the tables. I will happily come back here many more times in the future.