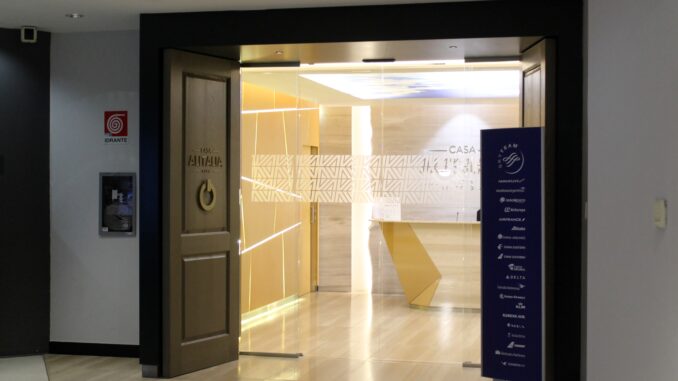 There are four Alitalia lounges at Rome Fiumicino airport. One located landside, one located airside in the Schengen area, and two located airside in the non-Schengen area.
Nowadays all lounges at the airport are called 'Casa Alitalia Lounge', which means that they have in some way been upgraded. However only the two lounges in the non-Schengen area have the full new Casa Alitalia lounge concept. The other two are definitely not bad but have an older, although improved and upgraded concept.
But which one is the best one? And what are the differences between the lounges?
Landside
Casa Alitalia Piazza Navona Lounge
This is something truly unique when flying Alitalia from Rome Fiumicino airport, there is a landside lounge. It is located in the departure hall, right next to Alitalia check-in. Grab a glass of prosecco at the Pilot Bar and some cold snacks from the buffet and have a seat in one of the armchairs to relax before proceeding airside.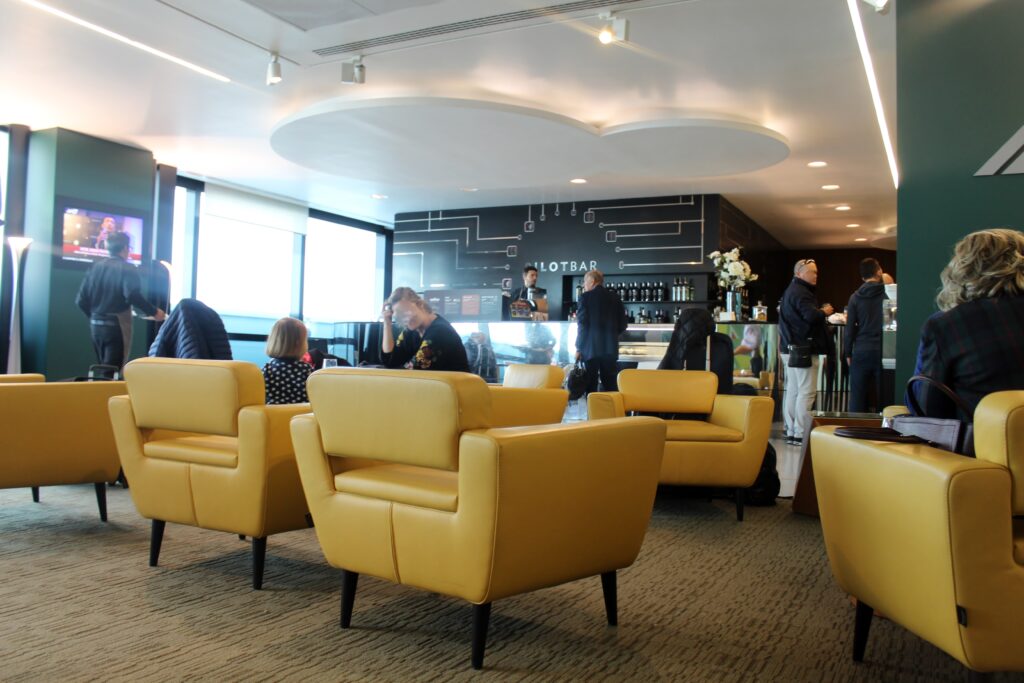 Another excellent thing about this lounge is that there is a check-in area with 3-4 desks, which you can use if you are eligible to visit the lounge. So you can come here also to check in, drop off your checked luggage and then have something to drink. The only thing missing is a dedicated security control in the lounge. When you are ready to leave you need to exit the lounge and go back to the departure hall. However the good news is that the security control is not far away and there is a fast track channel for premium passengers.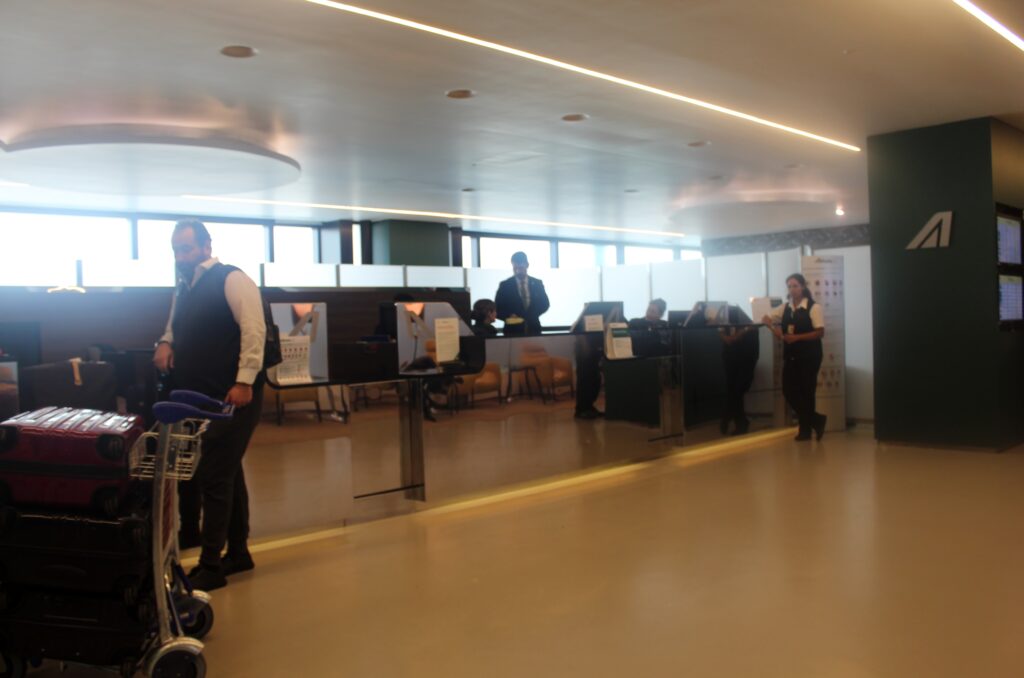 In the Schengen area



Casa Alitalia Piazza Venezia Lounge
This is the main lounge for Alitalia and Skyteam passengers travelling to Schengen destinations, located in concourse D. Among the four Alitalia lounges at the airport this is probably the worst, which does not mean that it is bad. But it is surprisingly small for being the only airside Schengen lounge and it has the old lounge concept. The lounge is located in Concourse D, which means quite a walk if your flight departs from Concourse B, and especially if it is a high-numbered B-gate.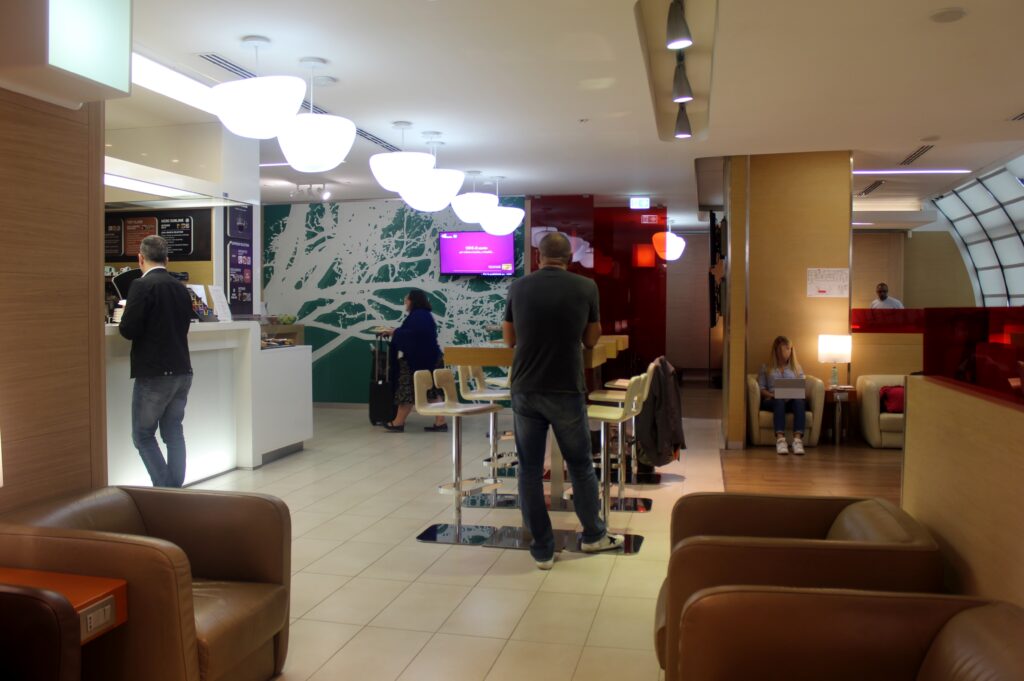 But there is a small but rather nice selection of Italian cold food and snacks available for self service as well as a manned bar where you can order alcoholic drinks, cocktails and freshly-brewed coffee.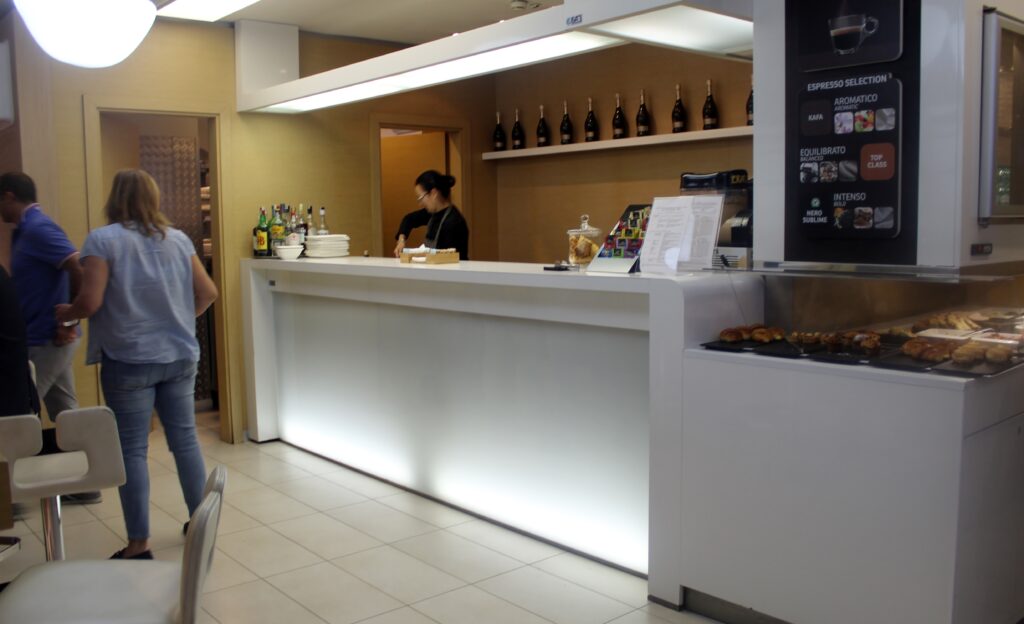 In the non-Schengen area
Casa Alitalia Piazza Di Spagna Lounge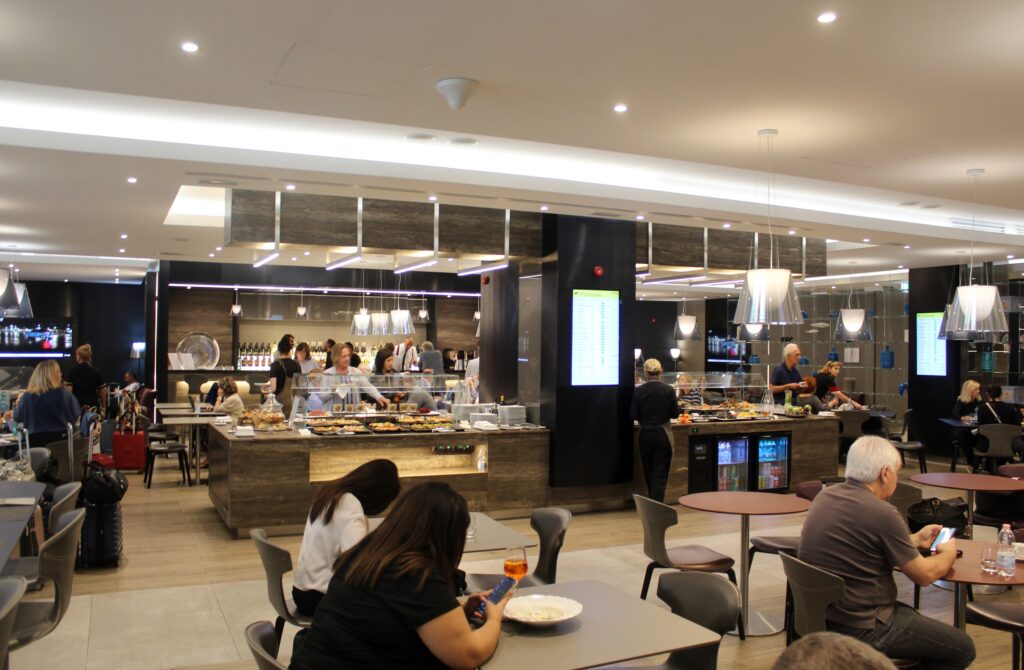 This is the newest lounge at the airport which opened in connection with the opening of the new Concourse E. The lounge has a great design with plenty of facilities and a very spacious buffet area with lots of things to eat, including pizza and a very nice selection of desserts. The only real drawback about this lounge is that it can get very crowded, especially at those times during the day when there are many longhaul departures.
There is also a manned bar in the lounge where you can order different wines, prosecco, spirits and cocktails. And the lounge bar has a great design.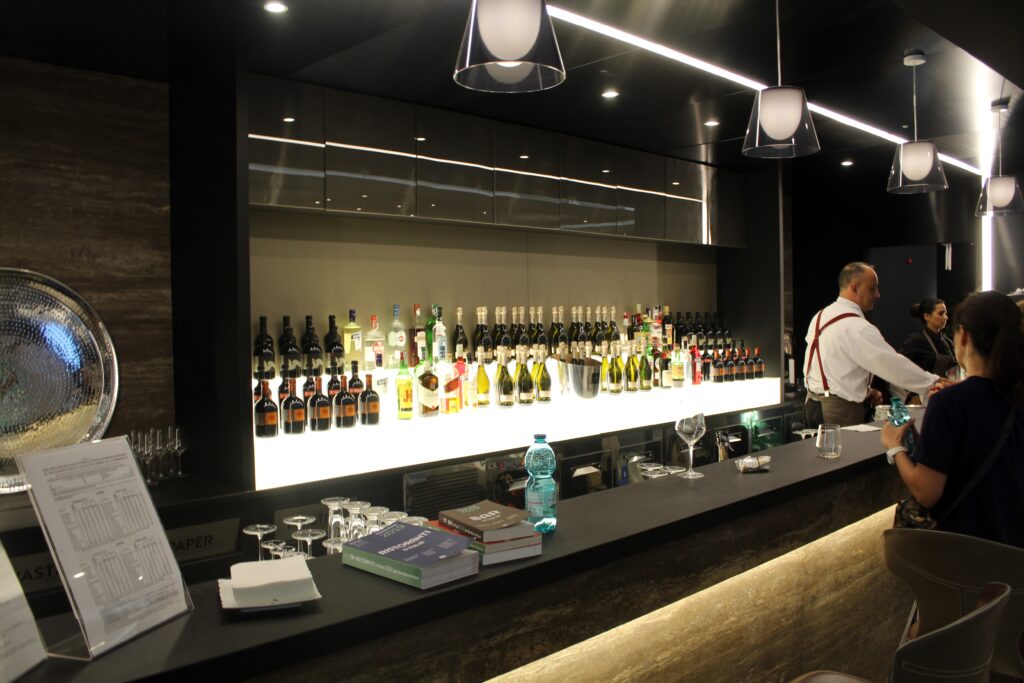 Casa Alitalia Piazza Del Popolo Lounge
This was the first Alitalia lounge to open with the brand new Casa Alitalia lounge design, so this is the original one. It is located in the non-Schengen area in the satellite terminal building, also regarded as Concourse E (Concourse E is basically two completely different buildings, this building has gate numbers for E30 to E50). To get there you will need to take an automatic train from the main terminal complex.
This is my favourite lounge among the four Alitalia lounges in Rome, and since the Casa Alitalia Piazza Di Spagna opened far fewer passengers make it to this lounge in the satellite building.
You can use this lounge irrespective of non-Schengen gate, however if your flight happens to depart from a Concourse E gate in the main terminal terminal building, which means gates E1-E29, you will need to take the automatic train back and then pass through transfer security. It is not a problem in any way, there are plenty of signs indicating how to get back and where to go and it will not cause any problems, but you will need to allow sufficient time to get to the gate and for the transfer security control. But if you have plenty of time it is definitely worth going out here.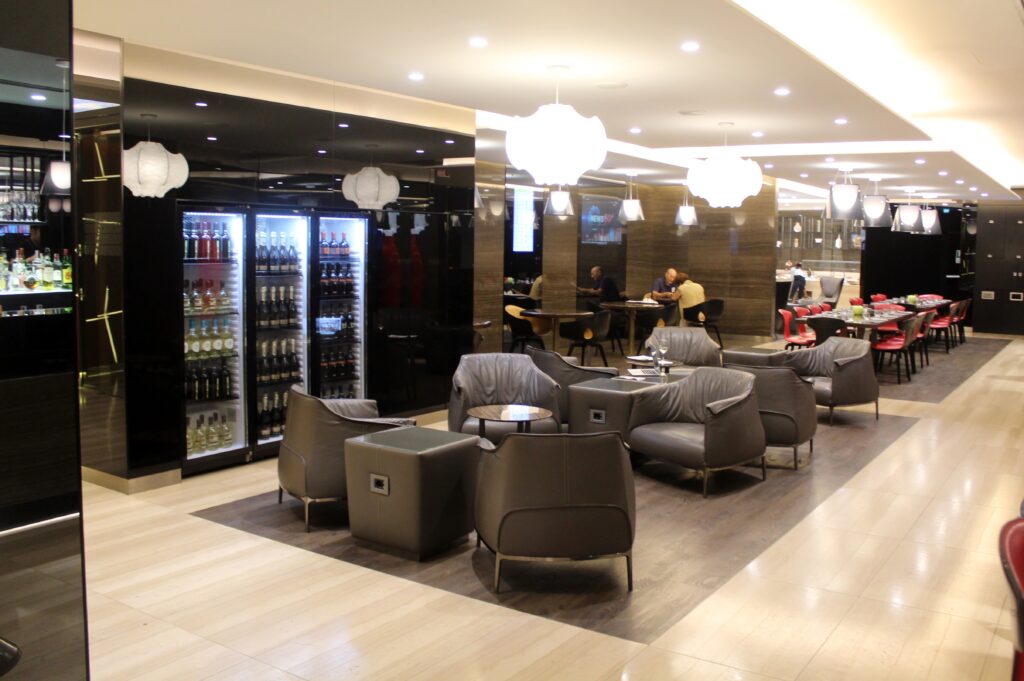 The interior in the Piazza Del Popolo Lounge is nothing but fantastic. The lounge is completely windowless, but that is just a good thing. Very nice furniture, a manned bar, a very nice selection of food and snacks and plenty of facilities.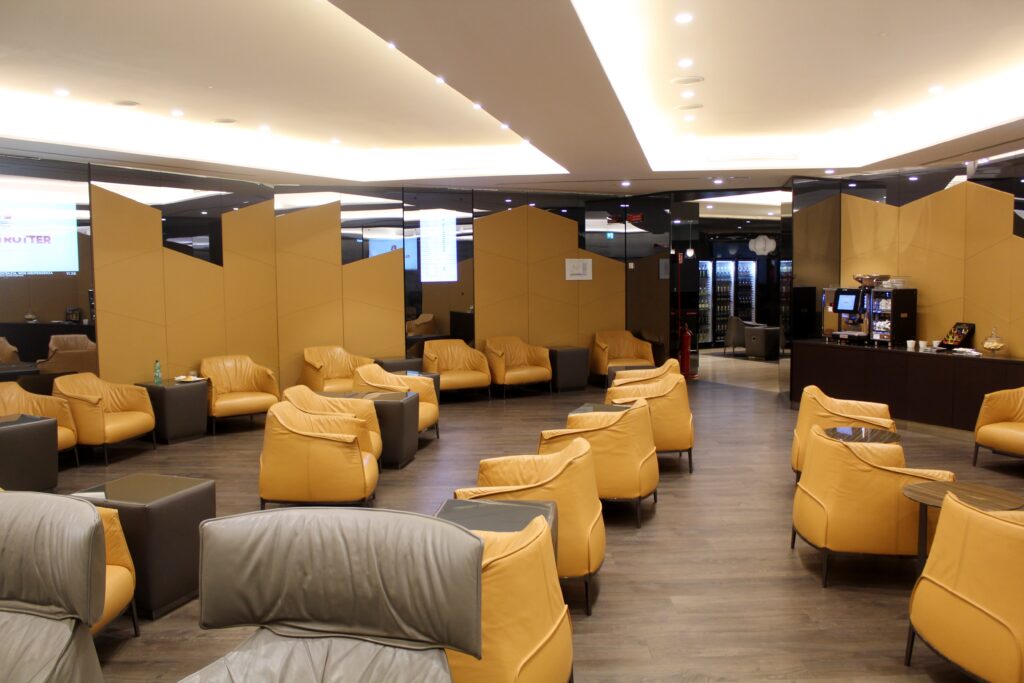 So to sum up…
Best lounge: The Casa Alitalia Piazza Del Popolo Lounge
Worst lounge: The Casa Alitalia Piazza Di Venezia Lounge