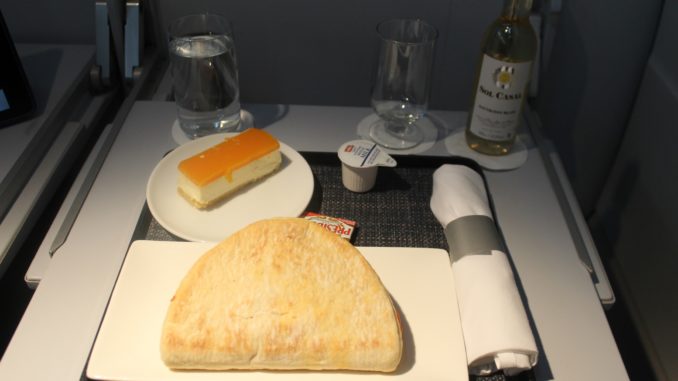 Departure experience

I was transferring from an international flight to a domestic flight at London Heathrow terminal 5. This obviously meant having to pass immigration at Heathrow and then a security control to reach the transit hall and the departure gate.
As a BA gold card holder I decided to skip the standard transfer route through the flight connection centre. Instead I followed the signs for arrivals, passed through passport control (where there are plenty of e-passport gates which are often quicker) and then through the baggage claim hall and customs.
Once landside I made use of the British Airways First Wing leading directly from the departure hall and first class check-in area to the Galleries First lounge. There was not a person in line at the security control and in fact it turned out to be slightly quicker, and certainly nicer, than using the regular transfer route.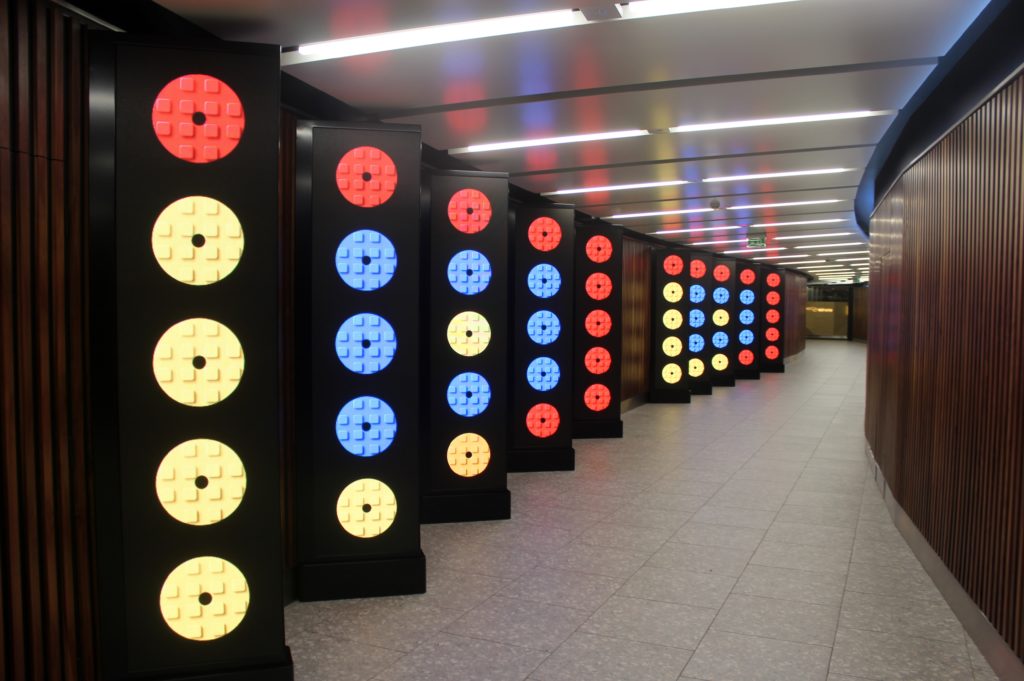 At 8.30 pm it was very quiet in the Galleries First Lounge. Most shorthaul aircrafts had already departed for the day. There were just a few longhaul flights and a few domestic flights still to depart. The full self-service buffet was still available though with hot food, finger sandwiches and snacks and of course there was a full bar selection with champagne and decent wines.
The flight
London Heathrow-Glasgow
British Airways flight BA 1496
Departure: 21.35
Arrival: 23.00
Business Class/Club Europe
Airbus A320
Seat 01F

Boarding started 20 minutes before departure time at around 9.15 pm. Proper priority boarding was announced for business class passengers as well as British Airways Silver and Gold, OneWorld Emerald and Sapphire members using a separate lane, and this was properly enforced by the ground staff.
On all domestic flights out of London Heathrow domestic passengers need to have a biometric photo taken at the same time as the boarding card is scanned when going airside. For me this was done at the First Wing. When boarding the flight at the gate a new photo is taken of the passenger, which is matched with the first photo.
First impression

The aircraft used to Glasgow was an Airbus A320 and quite interestingly it had the old cabin design with the old seats. These are quite rare nowadays. We were only a handful passengers in business class, or Club Europe as British Airways call it, so there was plenty of space.
A punctual pushback from terminal 5 with an expected flight time of just over an hour to Glasgow.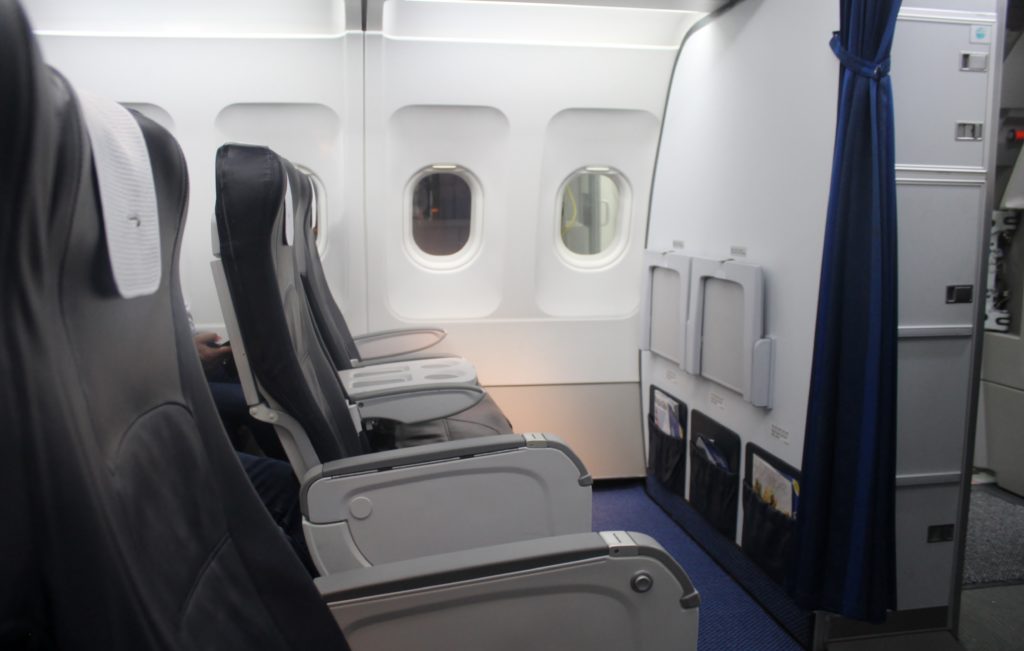 Seat and cabin

The seats onboard were the old British Airways shorthaul seats which are quite rare nowadays as they have mostly been replaced by the new British Airways cabin design with the thinner seats.
The older-style seats are actually very comfortable and usually have slightly more legroom. I had prebooked 01F on the flight, a front row seat, so there was a good amount of legroom anyway. There was no one sitting in 01D and as on all British Airways shorthaul flights in business class the middle seat was blocked and had a cocktail table.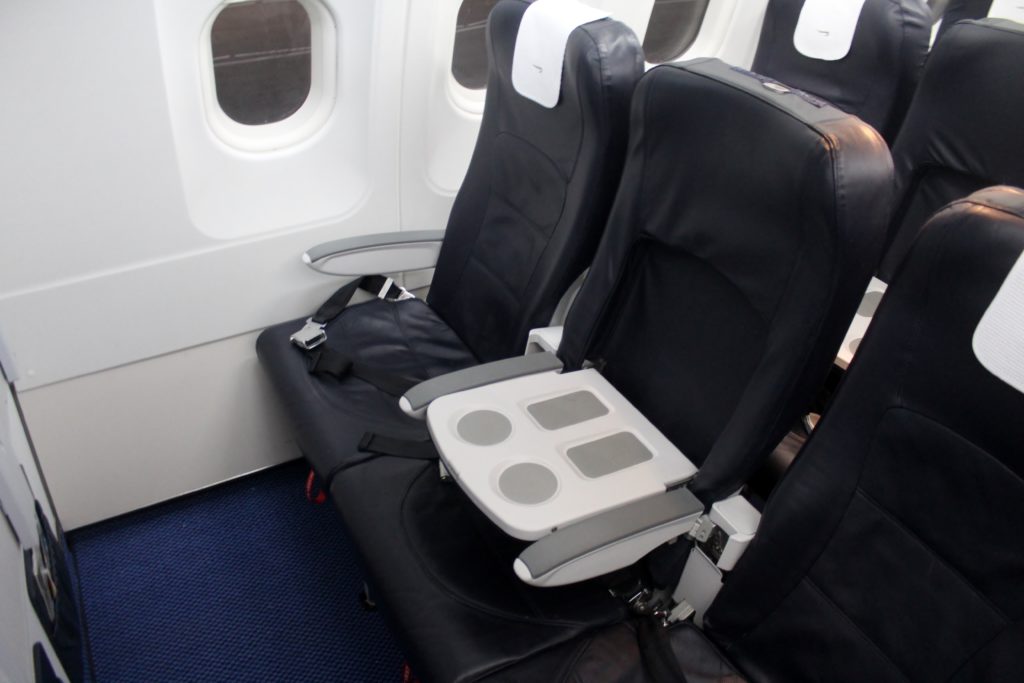 Food and drinks

The inflight service started as soon as the seatbelt sign had been switched off. A rather decently-sized cheese panini was offered on a tray together with a lemon mousse dessert. This was perfectly adequate for a one-hour flight departing at 10 pm.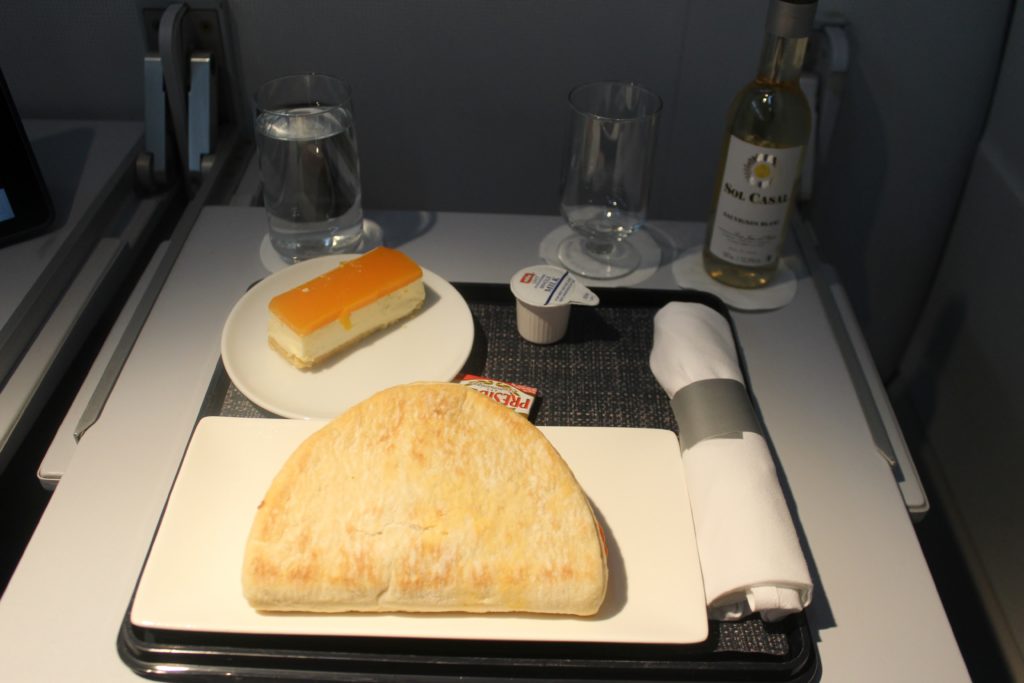 A full bar service was also offered with beer, wine, soft drinks and spirits and later coffee and tea were offered. I had a bottle of white wine to drink. Later during the flight, as we still had some time left until landing, I ordered a gin and tonic. Nowadays they have two brands of gin in business class, Gordons and Tanqueray. And they have the excellent Fever-Tree tonic water.
The service

The service was very friendly and courteous by the female purser who served in business class. The service was efficient to maximise the flight time but also very attentive. Several checks were done in the cabin during the flight in case we wanted something else to drink. Nothing whatsoever to complain about for a one-hour late evening flight.
Arrival experience

With a punctual pushback at Heathrow and no wait for takeoff we landed in Glasgow a few minutes ahead of timetable. Sitting on the first row and travelling with only hand luggage I was landside within a few minutes after landing.
Final impression

A pleasant flight with a decent meal service for a domestic flight, a friendly and courteous service from the crew and a punctual departure and arrival. And the new First Wing at Heathrow is a great way to start the trip.