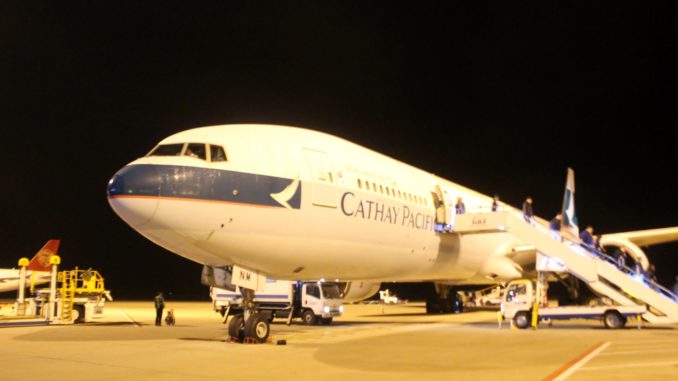 Departure experience

I arrived at Hong Kong airport already in the early afternoon, well before the departure to Shanghai at 5.30 pm, mostly to have plenty of time to enjoy the lounges at the airport.
As OneWorld Emerald I could use the Cathay Pacific first class check-in, located at the far end of the terminal building. Although it has a nice design and obviously never any lines there is nothing special about it. But at least there are plenty of staff in the area, including porters who will take care of any luggage, tag it and make sure it is sent to the flight as there are no baggage belts in the first class check-in area.
As I only had hand luggage the check-in process was quick. The immigrations rules for China were checked and finally I received a boarding pass and an invitation for any Cathay Pacific lounge of my choice in the transit hall, including the first class lounges.
There is no fast track channel through security in Hong Kong although there have been rumours Cathay Pacific will introduce one. But both security and passport control went fairly quickly.
Hong Kong is a great airport for OneWorld travellers flying business or first class or holding a top-tier frequent flyer card as there are many great OneWorld lounges. Cathay Pacific have several excellent lounges, both business and first class lounges, and then there is the great Qantas lounge.
I started with a visit to the Cathay Pacific The Wing First Class Lounge, located to the left just after passport control. This was once the flagship lounge of Cathay Pacific and regarded as one of the best lounges in the world. Nowadays it feels a bit less impressive and most people would rank The Pier as a much better lounge in most aspects.
The first class section of The Wing has a nice champagne bar though which is manned and which offers three different champagnes. During this visit the three champagnes on offer were Baron de Rotschild, Veuve Cliquot and Moët and Chandon Rose. The service was friendly and it is usually possible to order something else from the waiter working at the champagne bar.
After half an hour I continued to The Pier First Class Lounge, which has become a favourite. It has a lovely design, very friendly staff and great facilities. Although it is a very elegant and stylish lounge it is also a very relaxed place designed a bit like an apartment with several living rooms where you should make yourself feel like home.
I had a very pleasant lunch in The Dining Room and finished the meal with a drink at the cocktail bar.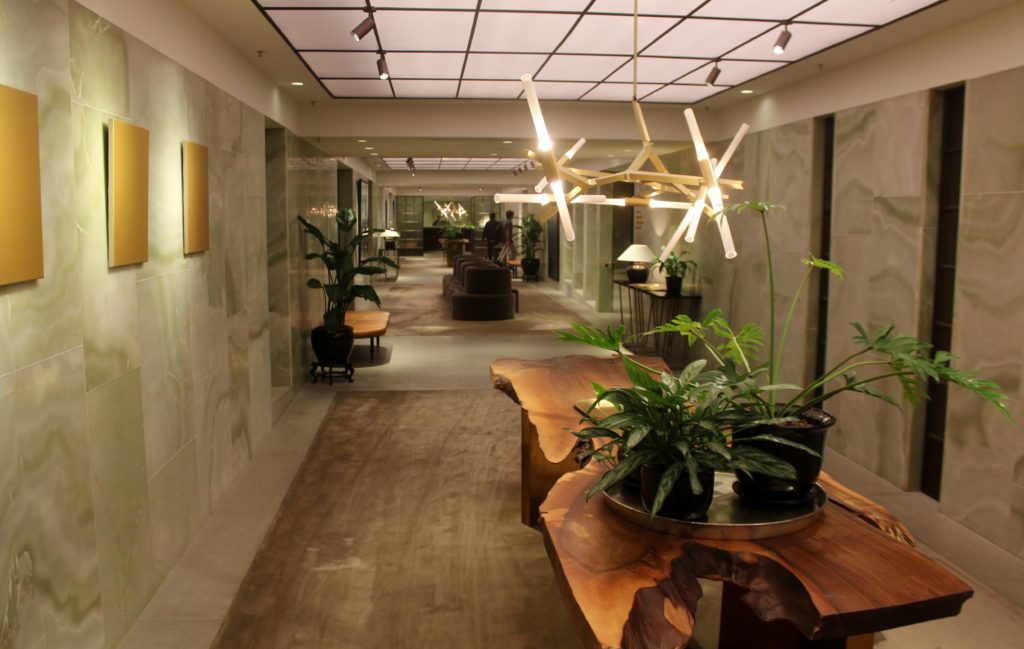 The flight
Hong Kong-Shanghai Pudong
Cathay Pacific flight CX 364
Departure: 17.30
Arrival: 20.00
Business Class
Boeing 777-300
Seat 16G

An hour before scheduled departure time an announcement was made in the lounge that the flight was going an hour delayed due to a late arrival. When I arrived at the gate around 30 minutes before the new scheduled departure time the aircraft had just parked at the gate, the passengers were disembarking, the new crew were waiting at the gate and the cabin obviously had to be cleaned. There was no way an hour would be enough.
The ground staff worked quickly though and boarding started at around 6.30 pm with proper priority boarding divided into two groups with two different lines at the gate. One for Marco Polo Platinum members and OneWorld Emeralds, which I was invited to join and which was allowed onboard first. Then there was a second priority line one for business class and other top-tier frequent flyers.
First impression

Both Cathay Pacific and Cathay Dragon (Dragonair) fly Hong Kong-Shanghai with at least a flight every hour during most of the day and they use a wide variety of aircrafts which are often subject to last minute changes.
This time the flight was operated by Cathay Pacific using a Boeing 777-300 with the regional business class product onboard. The seats are more like shorthaul business class seats with far less legroom and they are nowhere as advanced and fancy as the longhaul business class seats. But for a two-hour flight they do their job and of course you never know when will get a last minute aircraft change.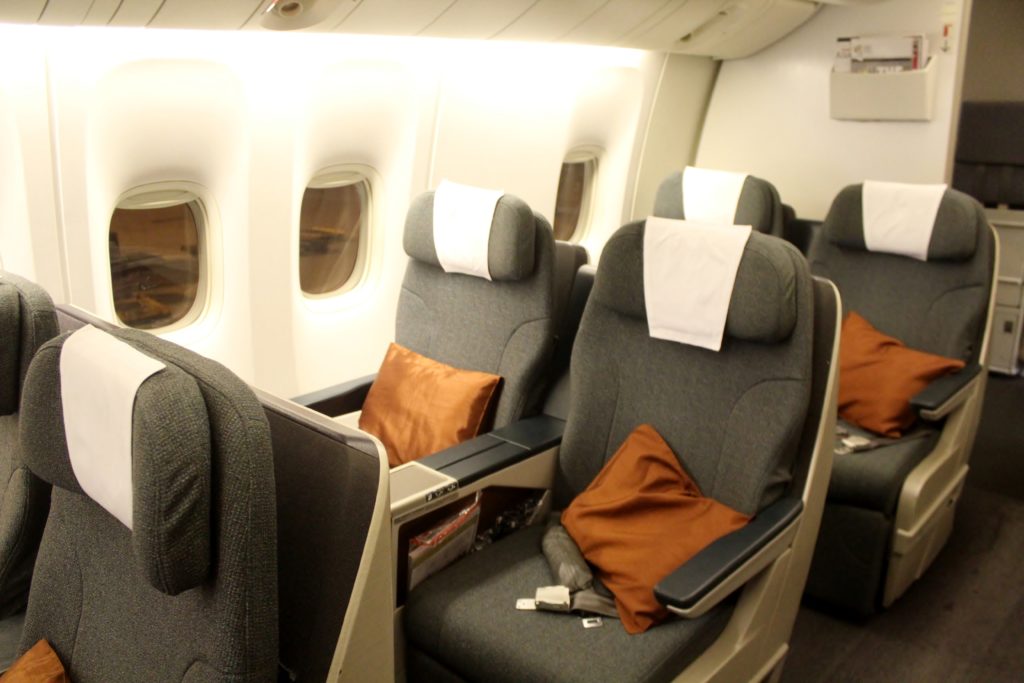 Boarding was fairly quick. Newspapers were offered at the aircraft door and once most business class passengers were seated pre-departure drinks were offered including champagne, orange juice and water. The crew really worked hard to get the aircraft ready as quickly as possible to minimise the delay.
Unfortunately, just as we pushed from the gate something went wrong with the lighting system in the cabin which all of a sudden got a life on its own, automatically shutting down the lights in the cabin every 30 seconds or so. The purser turned on the cabin lights from the panel in the galley and a few moments later the system turned them off again. It was quite hilarious to watch. Eventually the crew managed to reset the system and the problem was solved. The purser also sent a message through the inflight entertainment system which appaeared on all personal screens apologising for the problems.
Seat and cabin

There were 42 seats in the business class cabin on the Boeing 777-300 aircraft with a 2-3-2 configuration, which is a major difference from the Boeing 777 aircrafts used on longhaul flights where there is a 1-2-1 configuration.
The regional business class seats have a seat pitch of 45 inches. Far more than in economy class but not enough to be able to pass the seat neighbour without him or her having to get up and leave his or her the seat. The seats are also just standard recliner seats, not fully flat.
Food and drinks

Once airborne menus were handed out and the purser passed through the cabin greeting the passengers in the cabin and especially the top-tier passengers. Hot towels were also offered
A trolley then passed through the cabin offering a first cocktail and some nuts. I asked for a gin and tonic.
The meal concept was the standard one offered on Cathay Pacific shorthaul business class flights with a flight time up to 2-3 hours with a small starter, main course and usually fresh fruits or ice cream for dessert.
A few minutes later the meal trays were handed out with the starter, seared tuna with potatoes and vegetables. A rather small portion and interestingly no tables cloths were used. Bread rolls were offered from a basket as well as a glass of water and various drinks from the trolley. I asked for a glass of wine to drink. They had two reds and two whites and of course also champagne, Piper Heidsieck Cuvée Brut. I asked for a glass of Sauvignon Blanc, a white wine from the Allan Scott Estate.
There were three choices of main course. Pan fried halibut with steamed jasmine rice, Roasted lamb with polenta mash, and Baked miso chicken with steamed Japanese rice. I chose the chicken which was very tasty. More wine was also offered.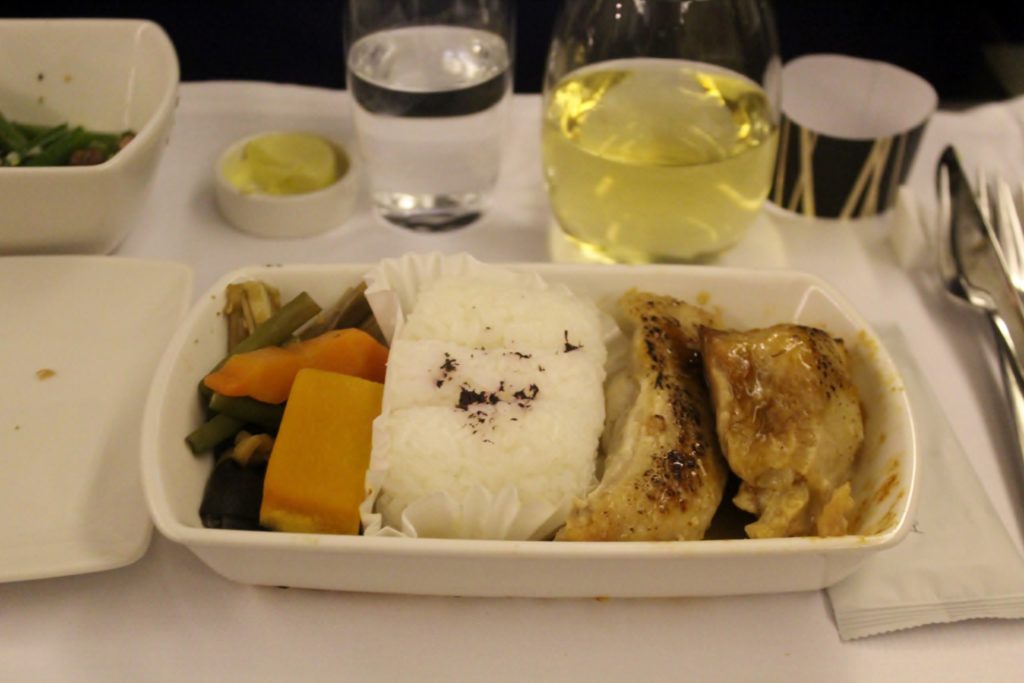 Finally Häagen dazs ice cream was served with two different flavours. I tried the strawberry cheesecake. Coffee and tea were also offered and more drinks.
On the whole the meal was good and perfectly adequate for the length of the flight and they managed the whole meal service without any stress. I just wish the starter would have been a bit larger. And it looked a bit strange to get an almost empty tray with the starter in a small bowl.
Inflight entertainment
The aircraft had the standard StudioCX inflight entertainment system with plenty of on-demand options including movies, tv-series, documentaries, music albums and games. The screen was touch-screen but a bit smaller than the screens available on the longhaul aircrafts. Noise-cancelling headphones were provided.
The service

The service was friendly, attentive and well-organised, just the way as it usually is on Cathay Pacific flights.
Arrival experience

We made up some time during the flight and landed just an hour late at Shanghai Pudong airport. The Hong Kong-Shanghai route is a terrible one when it comes to on-time performance. There are often air traffic restrictions and delays are fairly common, so as the captain pointed out with a bit of sarcasm just before landing, "a one hour delay is not too bad after all".
As we arrived late we had apparently lost our assigned parking space at the terminal building and were directed to a remote stand with a bus transfer to the terminal.
I had an international transfer so I could use the line at passport control for transfer passengers with not a person in line. I was landside less than 30 minutes after touching down.
Final impression

The Cathay Pacific regional product is not as nice as the longhaul business class product with a fairly standard shorthaul seat. But Cathay Pacific is a nice airline to fly on and they once again delivered a reliable product with friendly and attentive service from the crew and a decent meal service for a two-hour flight. And their lounges in Hong Kong are terrific