The Pier First Class Lounge in Hong Kong has become a favourite in the world. It is a very stylish and elegant lounge with excellent facilities and great staff but it is also a very relaxed and informal place where you should feel at ease and make yourself at home. There is also a special scent in the reception area and a very relaxing lounge music is played in the lounge. Overall Cathay Pacific have done a terrific job with the lounge concept and got it just right.
I started my lounge visit with a drink at the cocktail bar, a Mojito. Snacks, sandwiches and soft drinks can be found in The Pantry but guests who want to eat properly should head to The Dining Room where a la carte dining is offered.
The Dining Room was fairly empty this afternoon. I was immediately approached by a waiter who showed me to an empty table and provided me with the menu. He asked me if I wanted something to drink while having a look and I ordered a glass of white wine, a Sauvignon blanc called Waipara Hills from New Zealand.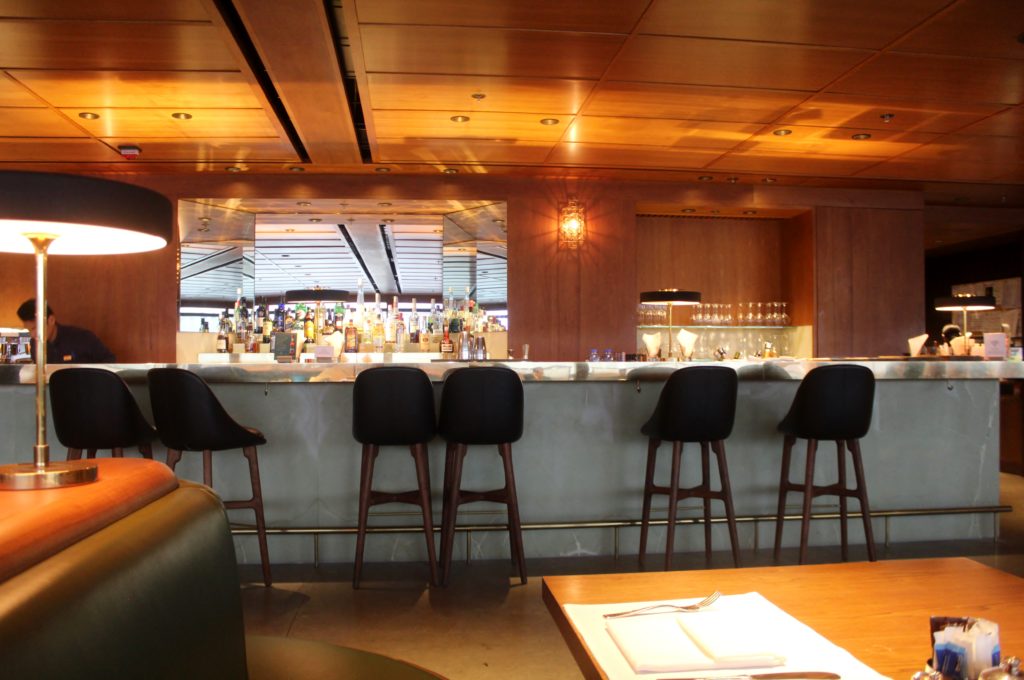 The drink list on the menu usually includes two reds and two whites but there are several more wines available, but you need to ask the staff about them. The full wine selection is also shown on the wine and cocktail list at the cocktail bar. There is also a bar counter in the restaurant where there are more alcoholic drinks available other than those indicated on the menu.
The menu is quite decent with plenty of options and fortunately it changes regularly, which is good news for frequent flyers. However there are a few dishes that are always on the menu such as the Angus Beef Burger and the Wonton Noodles.
I started with an antipasti platter with salami, prosciutto, mortadella and coppa ham. Very nice presentation on a black tray.
As main course I chose the sautéed beef tenderloin with eggplant, shallot and black pepper. This was served with rice and turned out to be more of an Asian dish than expected. Quite tasty though. More wine was also offered.
Finally I ordered a dessert and decided to try the seasonal berries pavlova with passion fruit coulis. Quite small but fairly nice. I also ordered a double espresso with the dessert.
Very friendly and attentive service as always in the restaurant and the a la carte menu is indeed fairly extensive with both Asian and Western dishes. The only drawback is the drinks list. Although not bad by any means it is not really on a first class level.
Another aspect of the service in restaurant, which can be either positive or negative, is that the food is prepared and delivered to the table fairly quickly. Although it may be a good thing for passengers with limited time in the lounge in my case the food arrived a bit too quickly. I got my main course before I had even finished half of my antipasti platter.
As there was a delay for the flight I went back to the cocktail bar after I had finished my meal to order another cocktail, a perfect way to end a very nice lunch. This time I went for a Piña Colada from the cocktail list.
All-in-all another very pleasant visit to The Pier lounge in Hong Kong. I hope to be able to come back here many more times in the future.