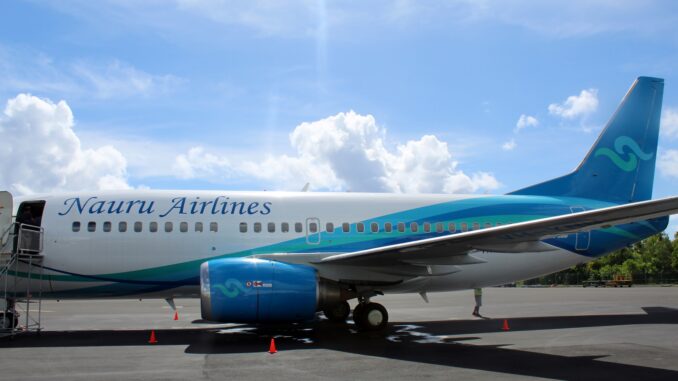 Solomon Airlines is the national airline of the Solomon Islands with its hub at Honiara airport. However with only one Airbus A320 in the fleet for international services, and with fairly long distances to most international destinations, the capacity with just one jet aircraft is rather limited. As a consequence they frequently wet lease aircrafts from other airlines, such as in this case, from Nauru Airlines.
This is a review of a flight in Solomon Airlines economy class from Tarawa in Kiribati to Honiara in the Solomon Airlines, operated by Nauru Airlines. So two exotic airlines in one!
Departure experience

The day did not start particularly well. There are no taxis in Kiribati and the buses (which are not really buses but vans) are slow and not suitable if you travel with luggage as there is simply no space. So most hotels in Kiribati provide transportation to and from the airport and on the positive side my hotel did not charge for it. So far so good.
The hotel staff informed me we would leave the hotel in Betio two hours before departure at 8 am. I thought this sounded a bit late since it takes about an hour just to get to the airport due to the somewhat poor road conditions. But the staff told me it should be enough. However on this day there were two international departures from Bonriki airport, one at 10 am and one at noon, and the staff could simply not decide how to organise the transfers for all passengers.
Eventually, after nearly half an hour wait, an American man, who appeared to be a regular at the hotel, was given the keys to one of the cars and he drove me and two others to the airport. It was all a bit surrealistic that a hotel guest was to drive me to the airport, but he seemed cool with it and surprisingly comfortable with driving in Kiribati and on the left hand side. He was well aware that I was running out of time and did his best to make up some time, but it was hard as there are speed restrictions in all the villages you pass on the way to the airport.
After a nerve-wracking drive we reached the airport at 9.29 am, with 31 minutes to go until my flight departure. There is only one flight per week to Honiara and although there was a Fiji Airways flight leaving two hours later I am not sure if there is even a ticket office at the airport. I was incredibly nervous and stressed, to say the least.
At the entrance to the terminal building, or rather the entrance to the terminal shed (as the terminal was under reconstruction) a security guard first wanted to see my ticket. Afterwards he asked me to place my suitcase on a table and to open it for him. There is no x-ray at the airport for checked luggage so they have to check all bags manually. When he was happy I was finally allowed to proceed to the check-in desk in the tiny tiny check-in room.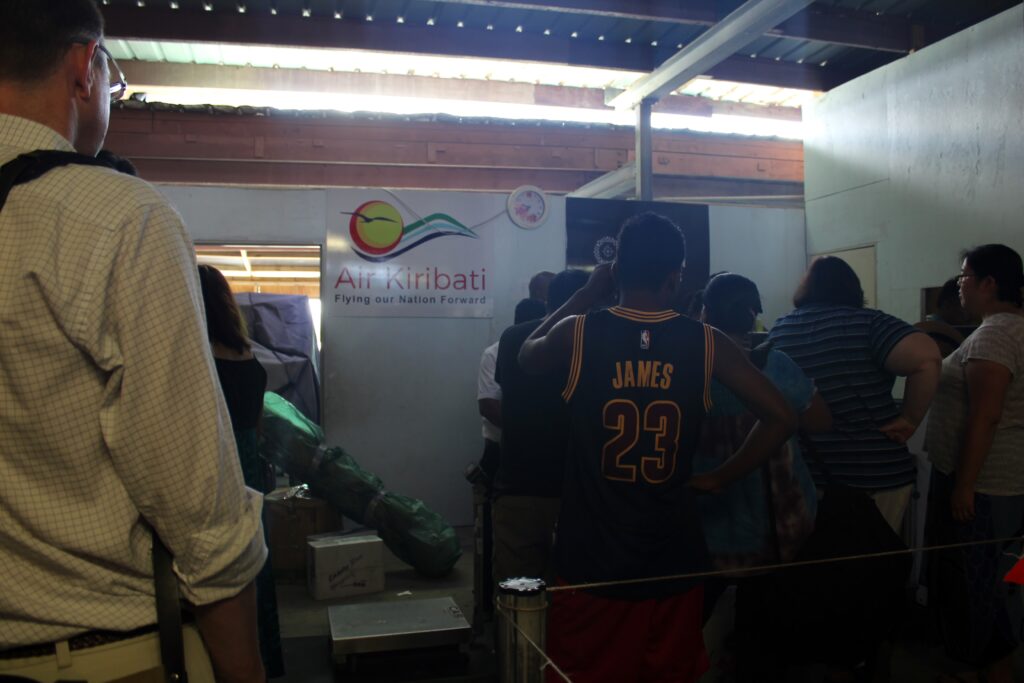 With 26 minutes to go I reached the single check-in desk assigned for the Solomon Airlines flight to Honiara. There were only three desks in the room and the same desk was used (or was to be used) as the priority check-in desk for the Fiji Airways flight to Nadi two hours later.
I was prepared to get the "sorry, check-in is closed" but there was a couple in front who had just been checked in so I kept my fingers crossed everything would be fine also with me, and it was.
Without a comment the woman took my passport and started checking me in, as the very last passenger on the flight. My suitcase was tagged and manually brought through the door behind the check-in desks to the apron and to the aircraft, a distance of no more than 30 metres. I also asked to get a window seat on the flight, to get a view, and being the last passenger to check in she arranged for a window seat on an empty row, although she said it meant I would be sitting quite far at the back of the cabin.
The passport control was located in the same tiny room as the check-in desks and right behind was another small room with the security control, followed by another tiny room which was used as a gate and boarding area.
There was really nothing else 'airside'. No shops, no cafes, no restaurants, not even a departure board. It was really very old school, but it worked. Even the toilets were rather primitive, located in a separate barrack. But in all fairness the terminal was under reconstruction and hopefully something better is to come.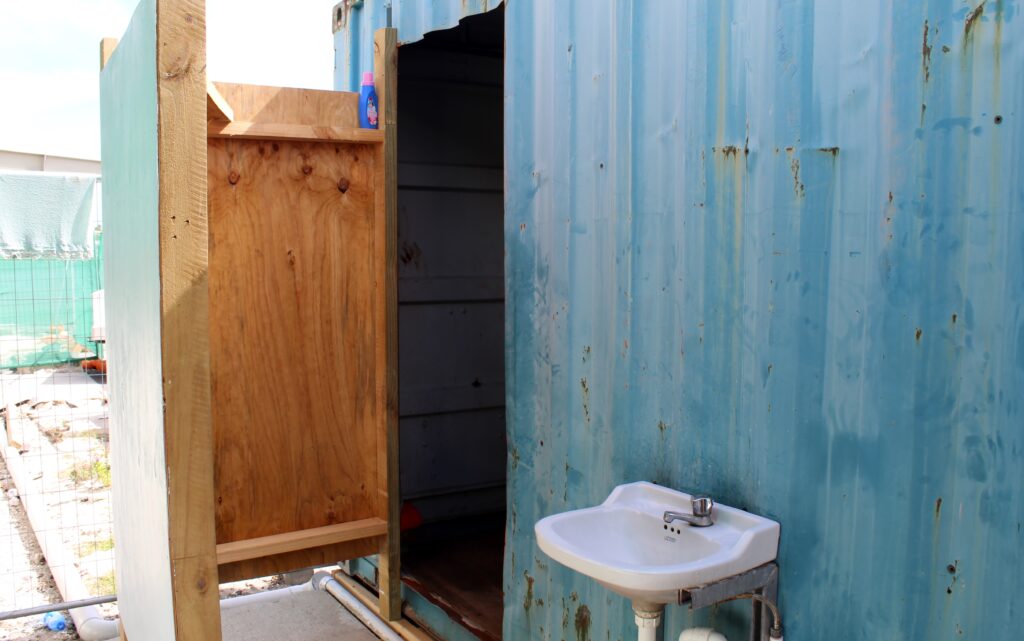 But no matter what you may think about the airport experience, no matter how old, worn and dodgy the whole place was, it did work, the staff were friendly, and most importantly, I did make the flight, arriving 26 minutes before departure at the check-in desk with a bag to checkt. That would have been completely unimaginable at virtually any international airport in Europe.
The flight
Tarawa-Honiara
Solomon Airlines flight IE 721, operated by Nauru Airlines
Departure: 10.00
Arrival: 11.45
Economy Class
Boeing 737-300
Seat 14F

While boarding at the single airport gate the gate agent also checked my passport and not just the cover page but also to make sure I had passed passport control and left the country properly, since you could easily have bypassed it in the check-in room. But everything was in order and I was allowed to board.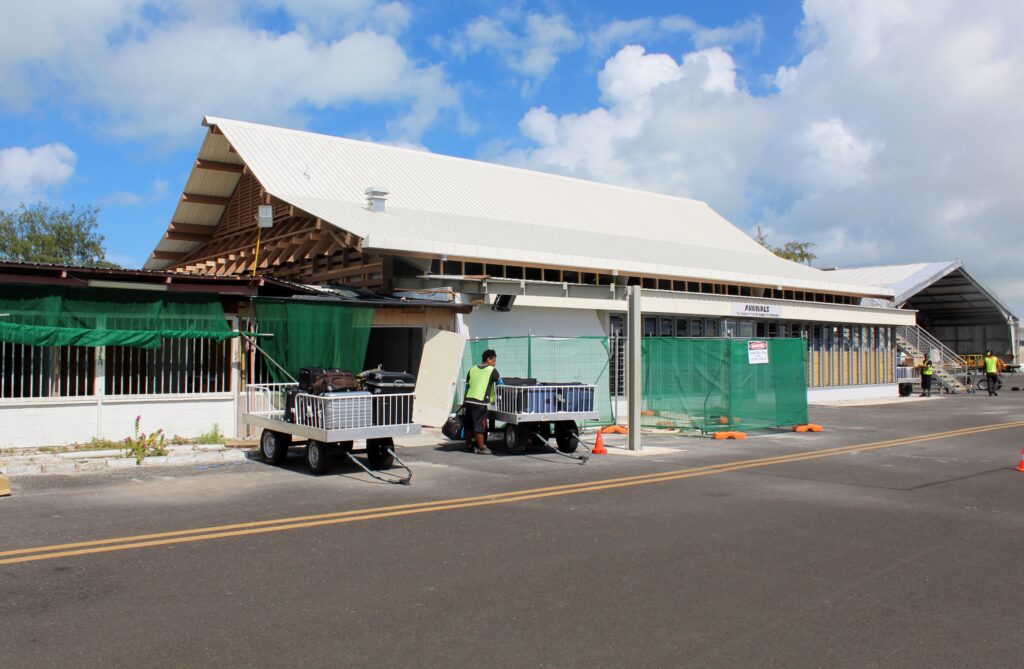 First impression

The weather was the best possible and I walked the short distance from the terminal building to the aircraft, a Boeing 737-300 operated by Nauru Airlines.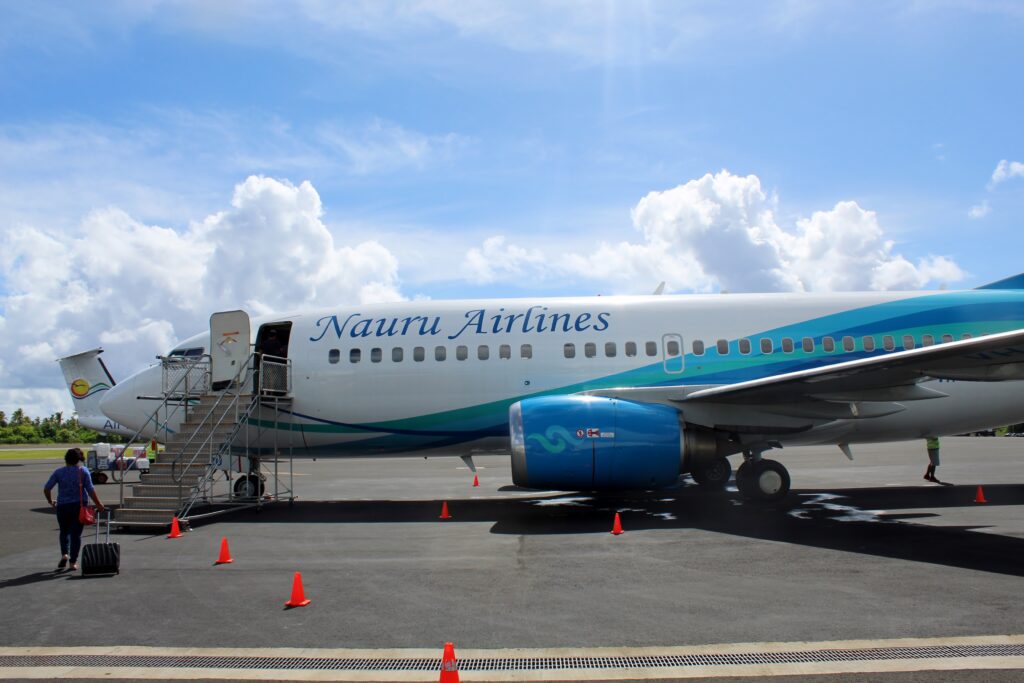 A friendly male purser greeted me at the entrance and directed me to my seat, and that window seat "quite far at the back" turned out to be 14F, on row 14, which was really not too bad.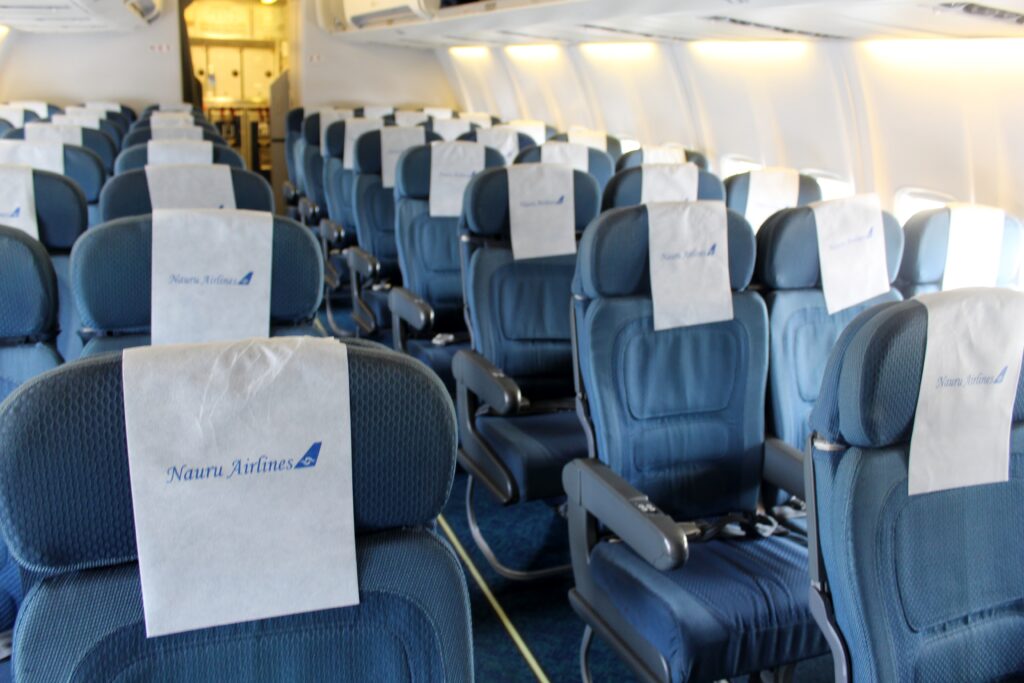 The load to Honiara was very light, probably no more than 30-40%, and most of the rear part of the cabin was completely empty, although some passengers later moved to this section to get some more space.
But a very positive surprise was that the crew offered a pre-departure drink even in economy class with some water. Much appreciated on this hot day, and I was incredibly relieved I had made the flight.
We pushed back right on time at 10 am, taxied to the western part of the runway, just by the beach. With some more international air traffic and some more visitors to Kiribati that would be a fantastic place for spotters. We took off to the east with a magnificent view of the Tarawa atoll minutes after takeoff. You can really see how narrow the atoll is and the difficulty to even find enough space for a runway capable of handling at least a Boeing 737 or an Airbus a320.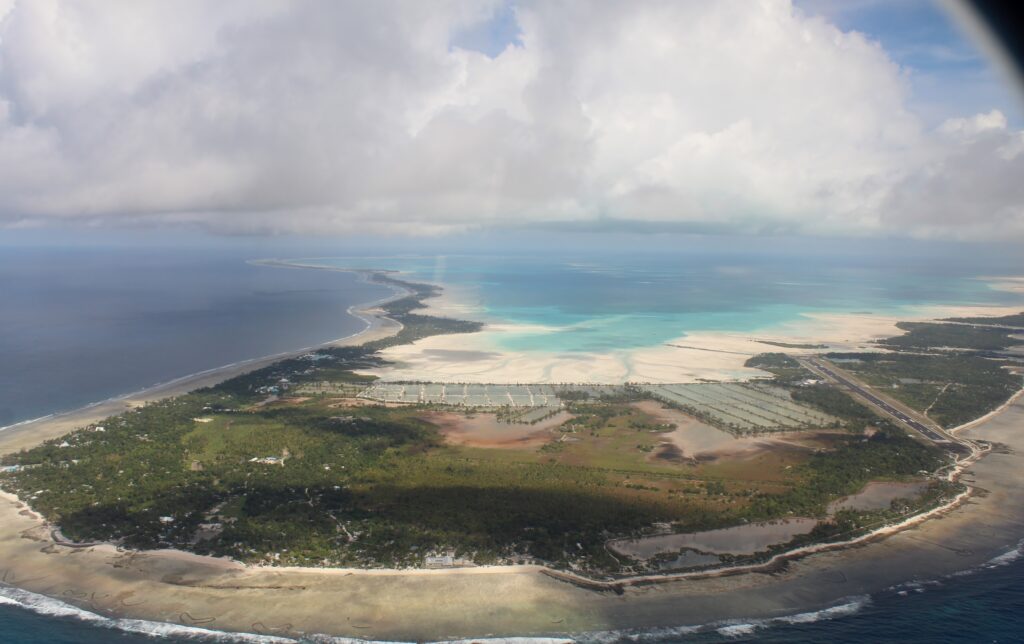 The flight time between Tarawa and Honiara was expected to be two hours and 50 minutes.
Seat and cabin

The Boeing 737 had a 3-3 configuration in economy class and thanks to the light load and the good job of the check-in agent I got my own row on row 14. The seats were fairly comfortable with decent legroom, not much to complain about.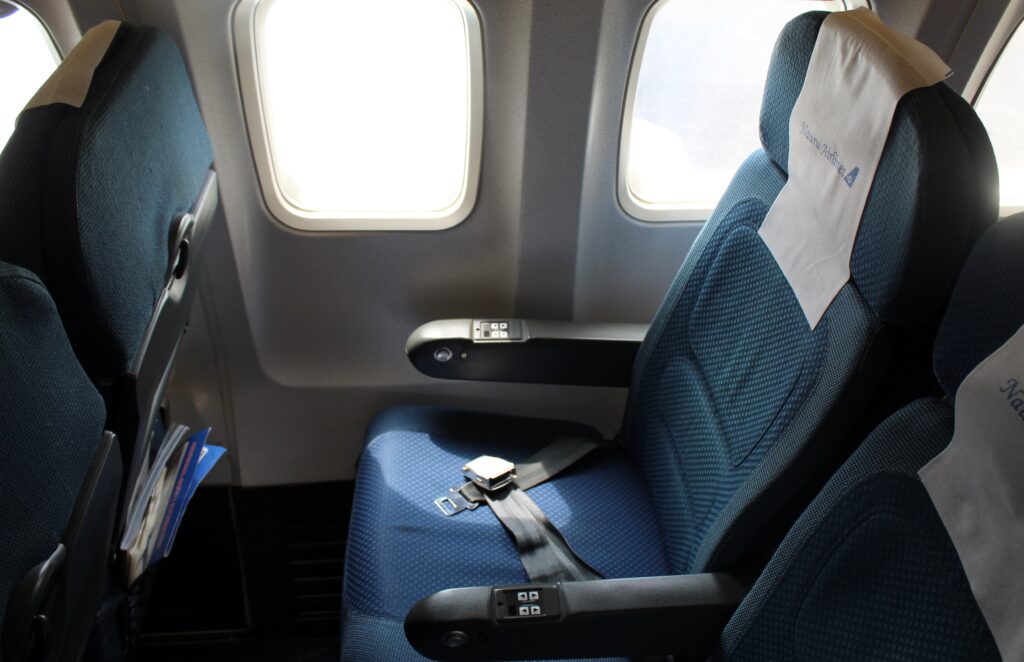 There was also a business class cabin at the very front with proper business class seats in a 2-2 configuration. But the seats looked ancient and the legroom really did not seem much greater than the excellent legroom we got in economy class. But of course the business class seats were wider and also had a small cocktail table.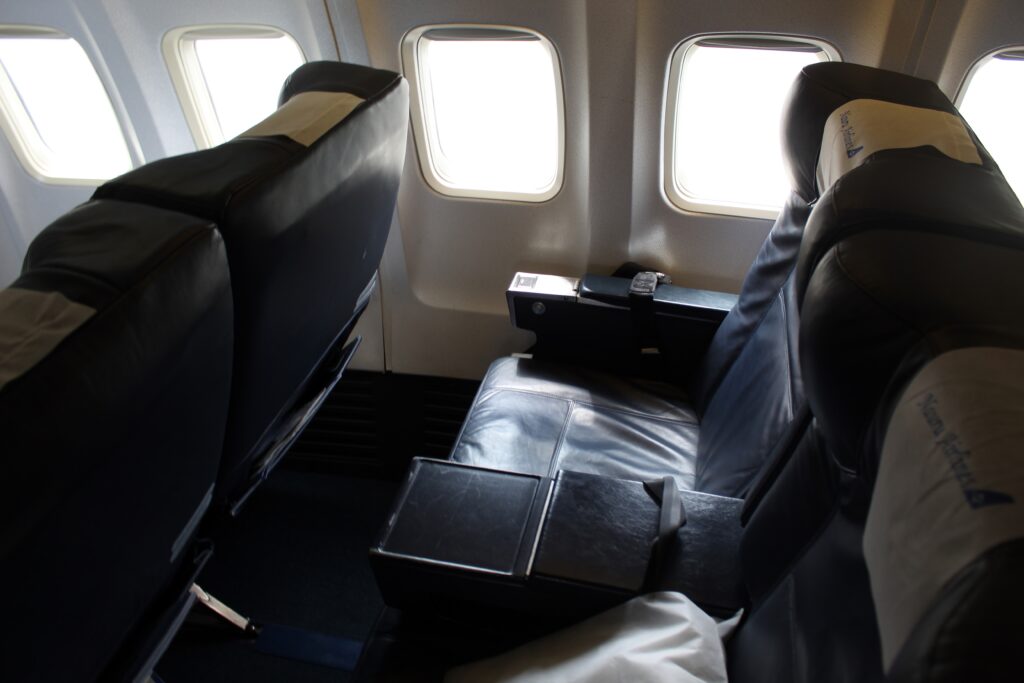 Food and drinks

After an excellent hot breakfast in Fiji Airways economy class to Kiribati and some decent economy class meals and snacks on Air Calin I expected a similar standard on Solomon Airlines/Nauru Airlines. And well they did offer something for free onboard, a choice of three different boxes, but all containing unhealthy snacks. There was nothing substantial to eat inside and after an early start of the day I was really hoping to get at least a reasonable sandwich.
Beer, wine, soft drinks, coffee and tea were also offered, with several drink rounds during the flight, and they were certainly very generous with the wine servings.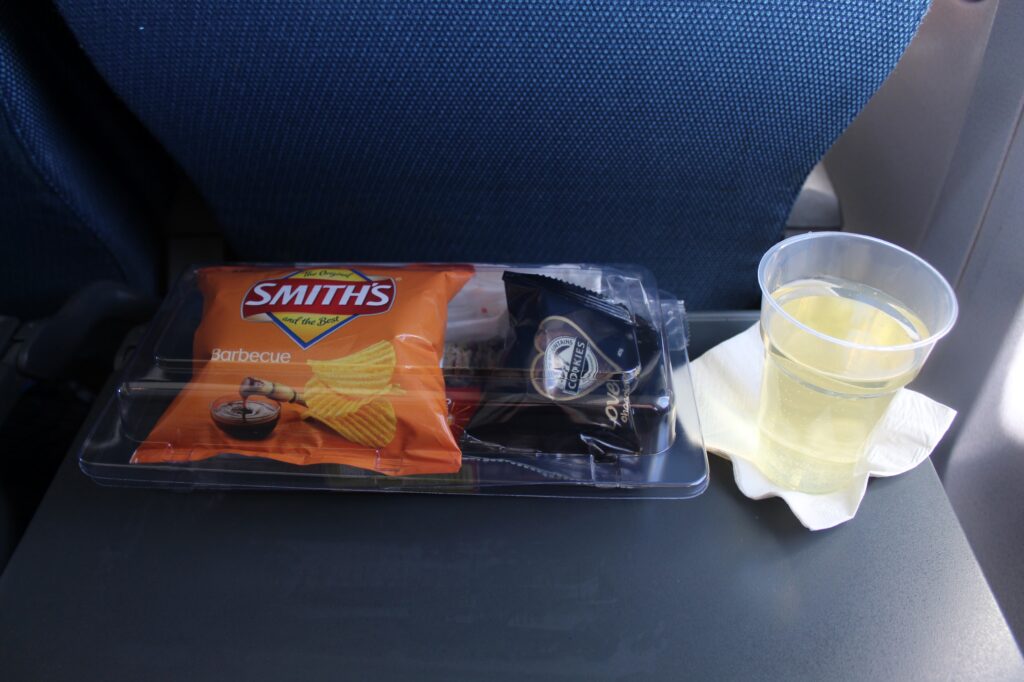 Inflight entertainment
There was no inflight entertainment system onboard, even though there was a socket for ear phones and four buttons on the armrest, so most likely they can offer some kind of music/audio system.
However the inflight magazine from Nauru Airlines was quite interesting to read, and this is what the network map looked like.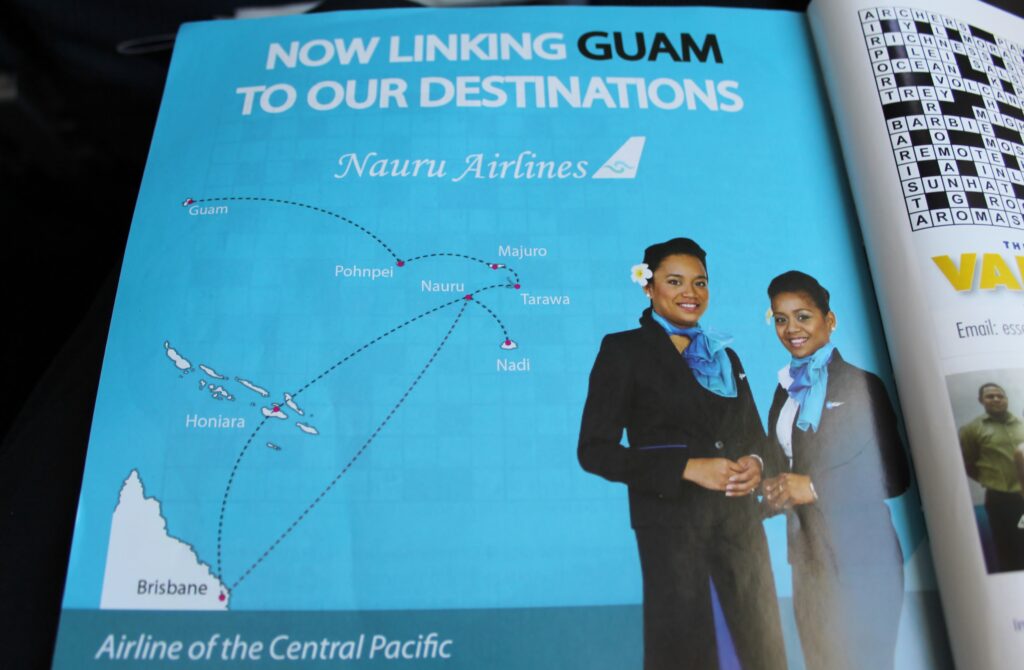 The service

The cabin crew were very friendly and with a light load and a long flight time they had time for several drink rounds and did not seem to mind having a leisurely chat with the passengers.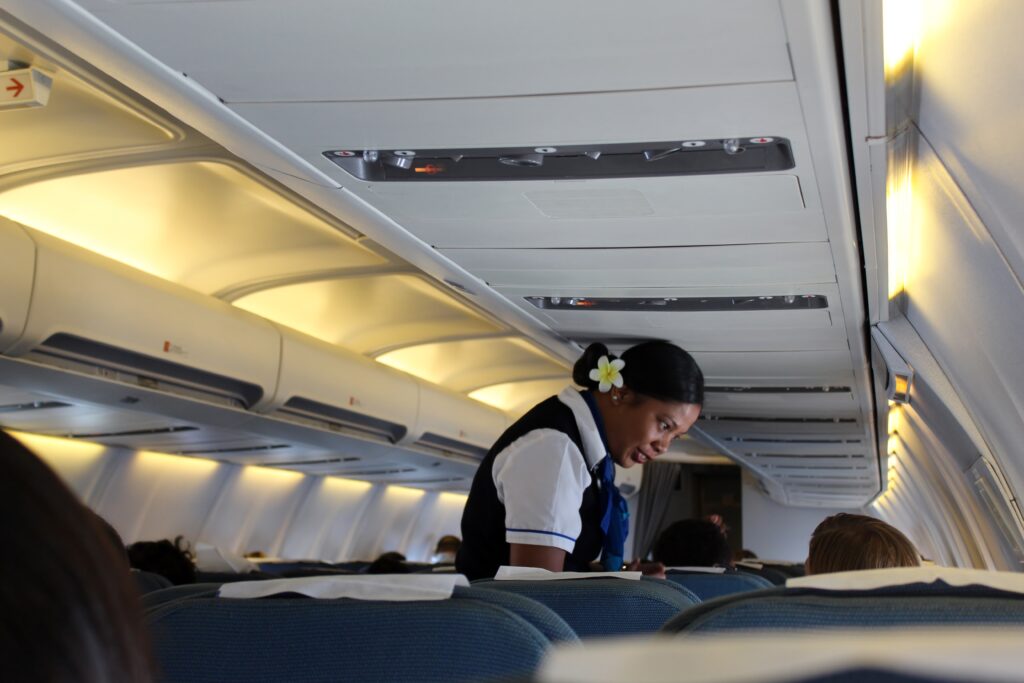 Nauru Airlines, as the name suggests, is the national airline of Nauru, a small South Pacific country (one of the smallest countries on earth) with no more than around 11,000 inhabitants. During several decades Nauru was a very wealthy nation thanks to their phosphate resources, but when the phosphate reserves were exhausted the country fell into a deep recession, which still continues today.
For many Nauruans working on the national airline is probably one of the better jobs you can get in Nauru and most likely a pride for both themselves and the family and for the nation as a whole. And the cabin crew on this flight definitely gave the impression of being proud of what they did, flying the flag of Nauru outside the country. They did a very good job.
Arrival experience

The weather in the Solomons was mostly cloudy, so there was little to see during the approach.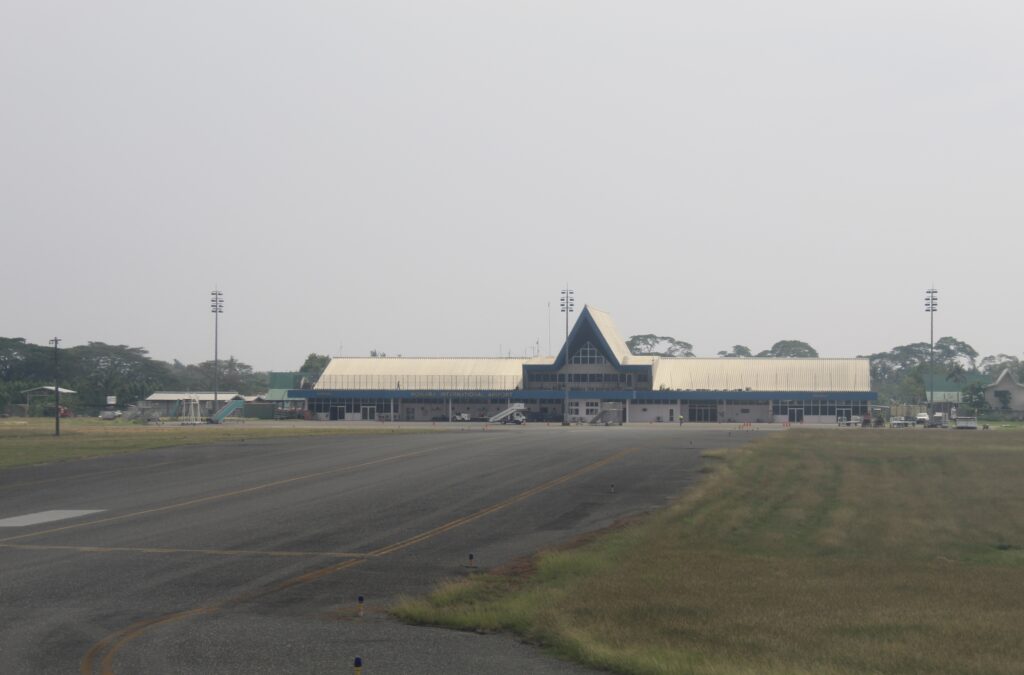 We landed right on time at Honiara International Airport, previously called Henderson Field, and walked on the apron the short distance from the aircraft to the terminal building. A large number of passengers were just in transit in Honiara, continuing an hour later to Brisbane on the same aircraft. They were directed to a door marked 'Transit' leading to the transit hall for departing passengers.
Those of us ending our journey in Honiara were asked to proceed towards the door marked 'Arrival' where immigration took place.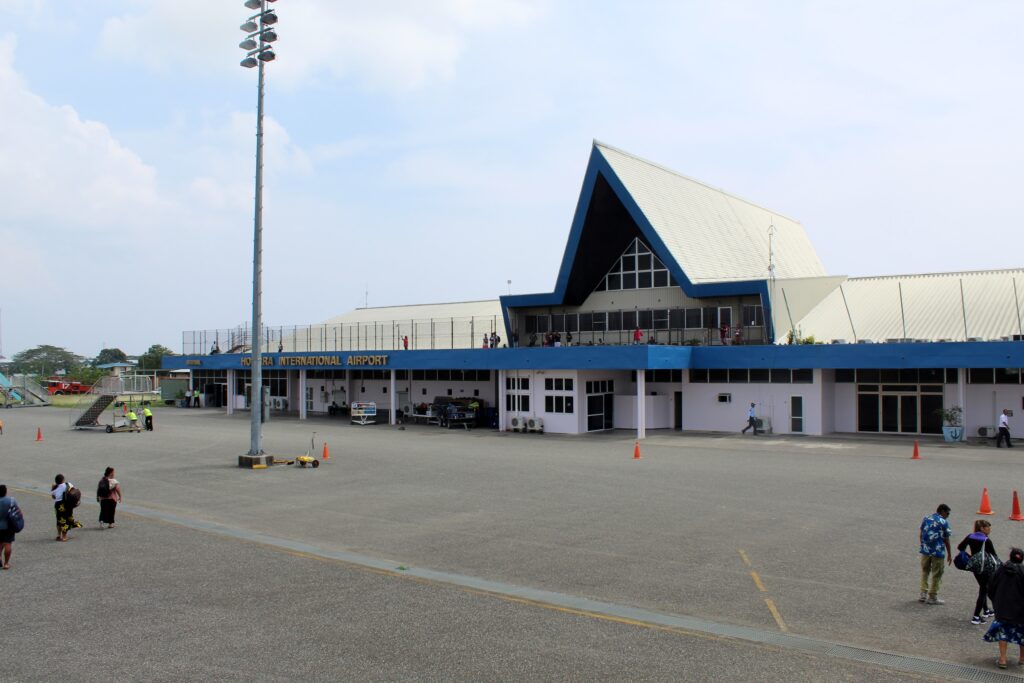 With many passengers in transit to Brisbane baggage delivery started very quickly and although I was never seriously worried my suitcase had been left behind in Kiribati it was still a relief to see it appearing on the belt.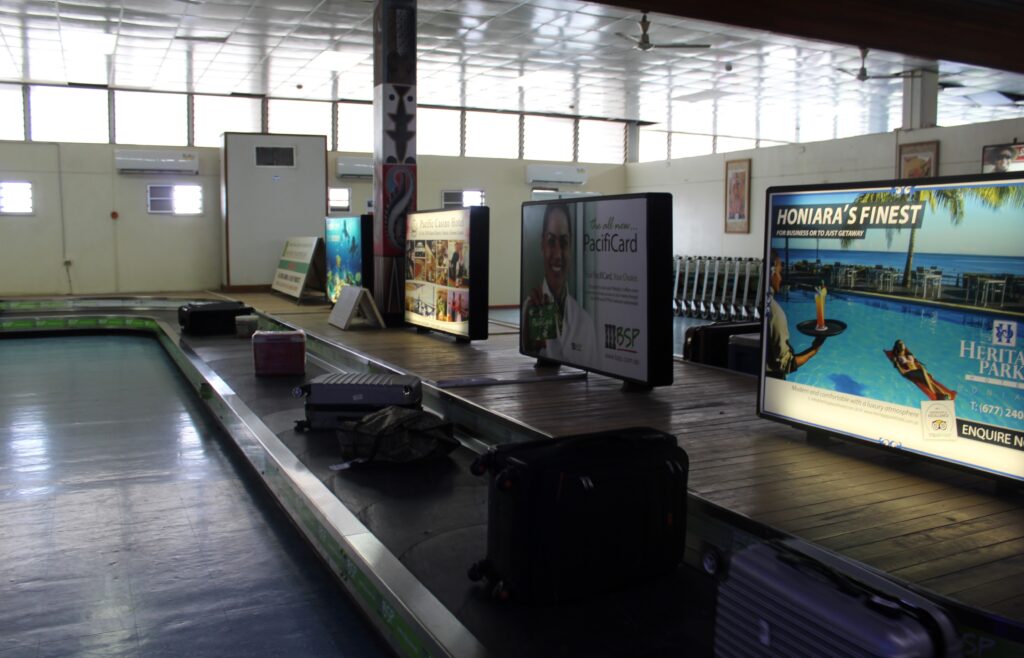 I exchanged some money and took a taxi to my hotel in downtown Honiara.
Final impression

A very exotic experience on a very unusual airline with a very friendly crew. But although lots of things were done differently everything worked out perfectly at the end and I am still amazed I made the flight, despite the problems in Kiribati. That would surely never have happened in most other parts of the world.