Departure experience

I was in transfer between two international flights at Moscow Sheremetyevo airport with both flights using terminal D.
The transfer formalities at Sheremetyevo are fairly straight-forward nowadays with a passport control (also for transfer passengers), a check of the boarding pass (which they stamp) followed by a very quick security control. I was airside in the transit hall within just a few minutes after touchdown.
There are plenty of lounges at Sheremetyevo airport with no less than three lounges in terminal D. On top of that you can also rather easily visit the lounges in terminal E and terminal F. All terminal are connected airside and you can move freely between them without any boarding pass checks or the need to pass a transfer security control.
The two original Aeroflot lounges in terminal D called Blues and Jazz with the exotic nightclub feeling have now closed and have merged into one lounge called St Petersburg Lounge.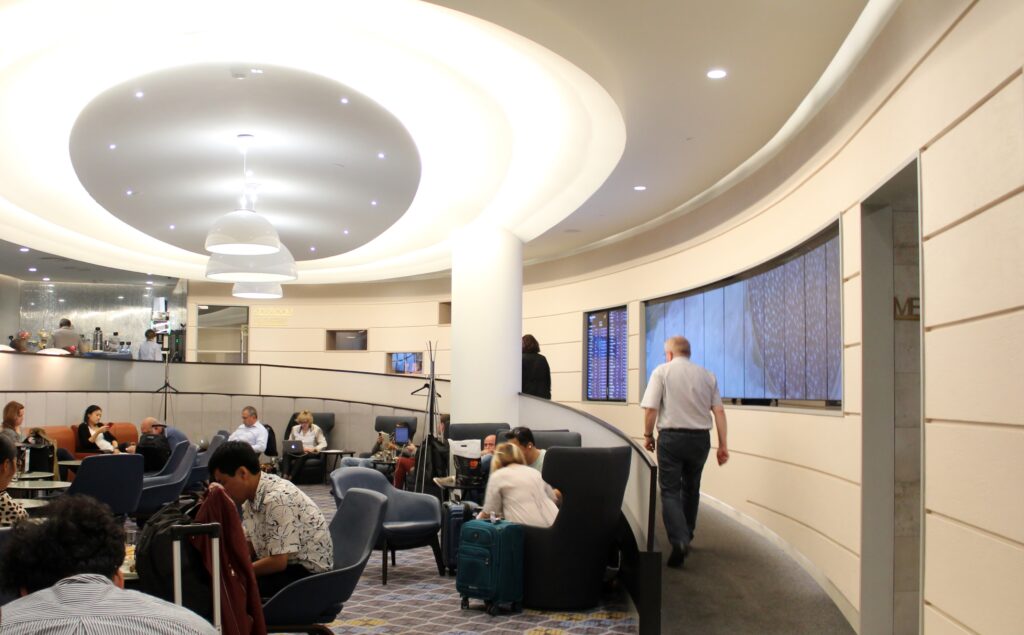 There is also another new lounge in terminal D called Moscow Lounge, divided into two floors although many guests probably fail to notice there is a second floor. The lounge is rather stylish and fairly spacious, although it can become very  crowded at peak times. Nowadays all lounges at SVO have manned bars where you can order cocktails and spirits, at a charge, but beer and wine are still complimentary and available for self service.
Generally speaking the food selection seemed to be slightly better in the St Petersburg Lounge than in the Moscow Lounge, although it seems like all lounges at the airport have the same catering provider.
The flight
Moscow SVO-Rome FCO
Aeroflot flight SU 265
Departure: 18.40
Arrival: 21.35
Economy Class
Airbus A320
Seat 14D

Boarding started very early already 40 minutes before scheduled departure time, which I had not really expected. When I arrived at the gate boarding was already well underway. There was a separate lane for Sky Priority passengers, which I could use as Skyteam Elite Plus, but there was no one waiting at the gate anyway.
First impression

An Airbus A320 was to take us from Moscow to Rome this evening. The cabin made a good first impression and was in an excellent condition with the dark blue leather seats and a pleasant cabin lighting. And of course the bright orange and rather elegant Aeroflot cabin crew uniforms do make a good first impression.
I had seat 14D on the flight. I usually prefer a seat further forward in the cabin but as I booked the ticket fairly late there was no better aisle seat available. I was seated next to a young Russian couple heading to Italy on holiday.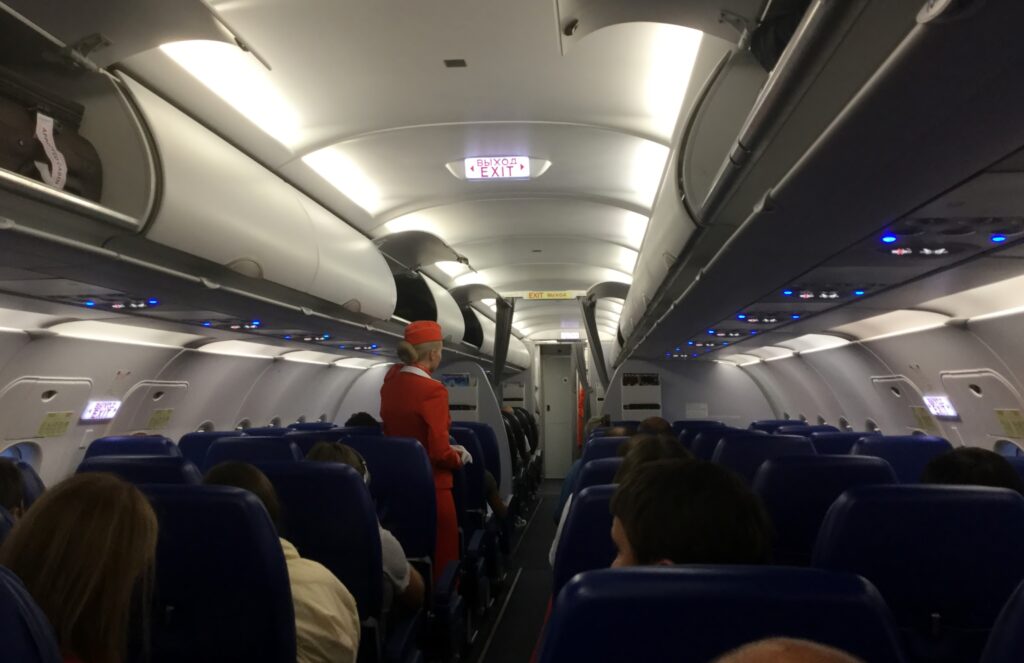 With the early start of the boarding process and with most passengers onboard well ahead of our scheduled departure time we also pushed back a few minutes early with a flight time of three hours and 30 minutes to Rome.
Seat and cabin

In contrast to most European carriers Aeroflot has a fixed division between business class and economy class also on their shorthaul fleet. There are proper business class seats available in the forward cabin in a 2-2 configuration, so for obvious reasons there will always be a fixed number of business class seats and hence also a fixed number of economy class seats.
There are two different configurations of the Airbus A320 with either five rows of business class with a 2-2 configuration, which means 20 business class seats in total, or two rows of business class with a 2-2 configuration, which means 8 business class seats in total. This aircraft had the first configuration with a larger business class cabin.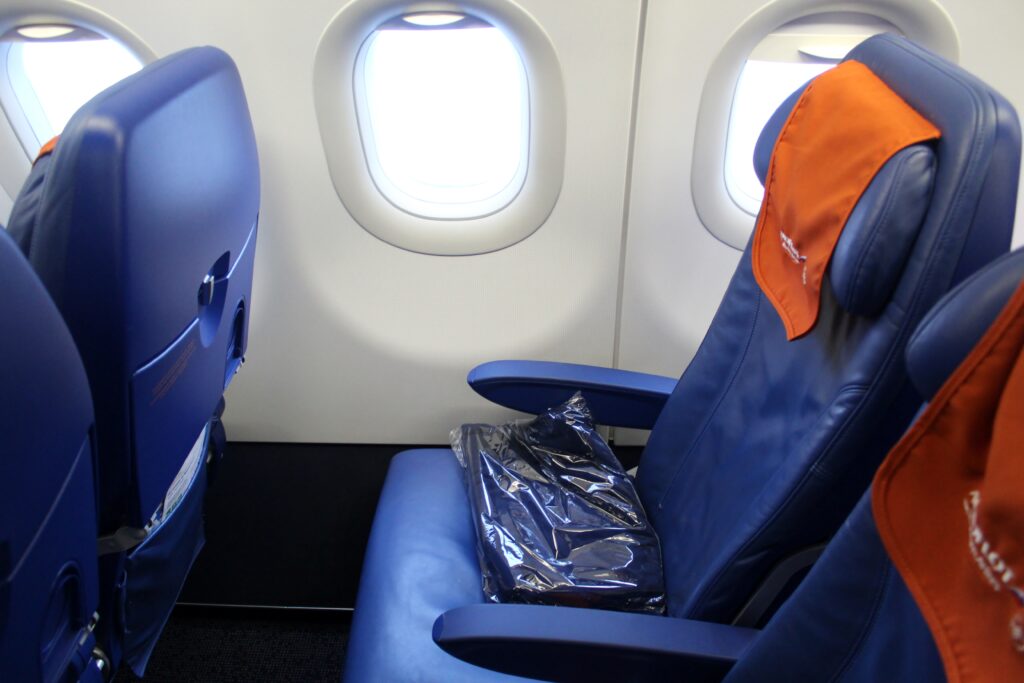 There were 120 seats in economy class stretching from row 6 to row 25 and I was seated on row 14. The seat itself was comfortable. It is rather nice to fly on a European airline not using those slim Recaro seats on their shorthaul fleet, as so many European airlines do nowadays. The legroom was 32 inches, which was adequate.
Food and drinks

On the very positive side there was a proper and complimentary meal service on the flight to Rome in economy class, even with a rather nice-looking and colourful printed menu.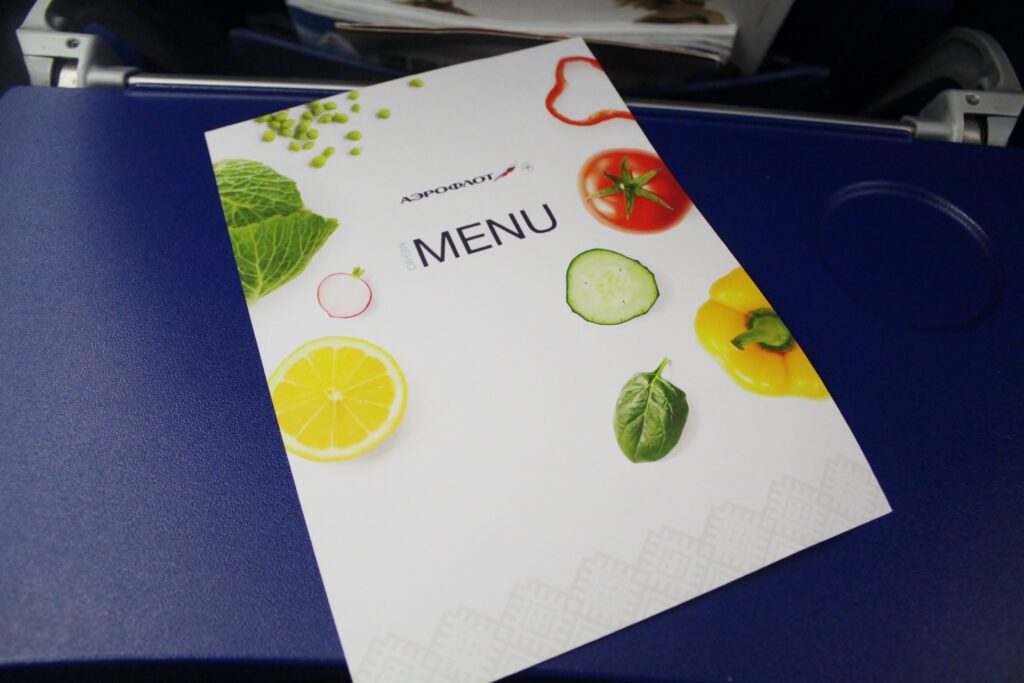 The menu had both the breakfast options and the lunch and dinner options, depending on the time of the day.
Given a departure time at 6.40 pm there was a dinner service to Rome which included salmon for starter, two choices of main course (either chicken and beef) and eventually a dessert.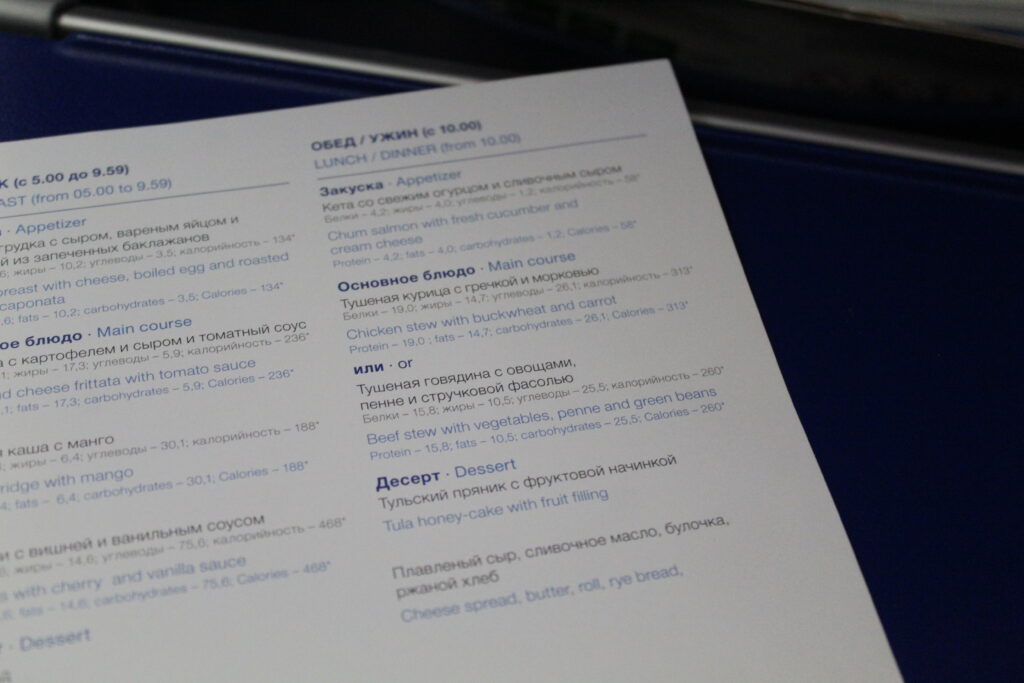 The menu also had the drink list with various soft drinks but also complimentary wine and beer, which Aeroflot only offer on mediumhaul flights. On shorthaul flights only non-alcoholic drinks are offered in economy class.
Eventually the meal trays were handed out and shortly afterwards drinks were offered.
And below is the dinner without the plastic and the foil. Chum salmon with fresh cucumber and cream cheese for starter. Among the two options I chose the chicken for main course. The chicken stew with buckwheat and carrot. And finally a Tula honey-cake with fruit filling for dessert. There was also a bread roll, cheese and biscuits.
Of course an economy class meal is rarely anything to get terribly excited about and the presentation is usually nothing like the one you get in business class, but I seriously cannot fault this dinner in anyway. The salmon starter was excellent and the chicken stew, although not the best of presentations, was tasty. And of course it was nice to get both a printed menu and an option of main course.
I asked for a glass of white wine to drink with the meal and a glass of water, both served in paper cups. Coffee and tea were also offered but there really was no space left on the tray table. Later I pressed the call button to ask for a cup of coffee and also if it was possible to get a refill of the wine, which it was.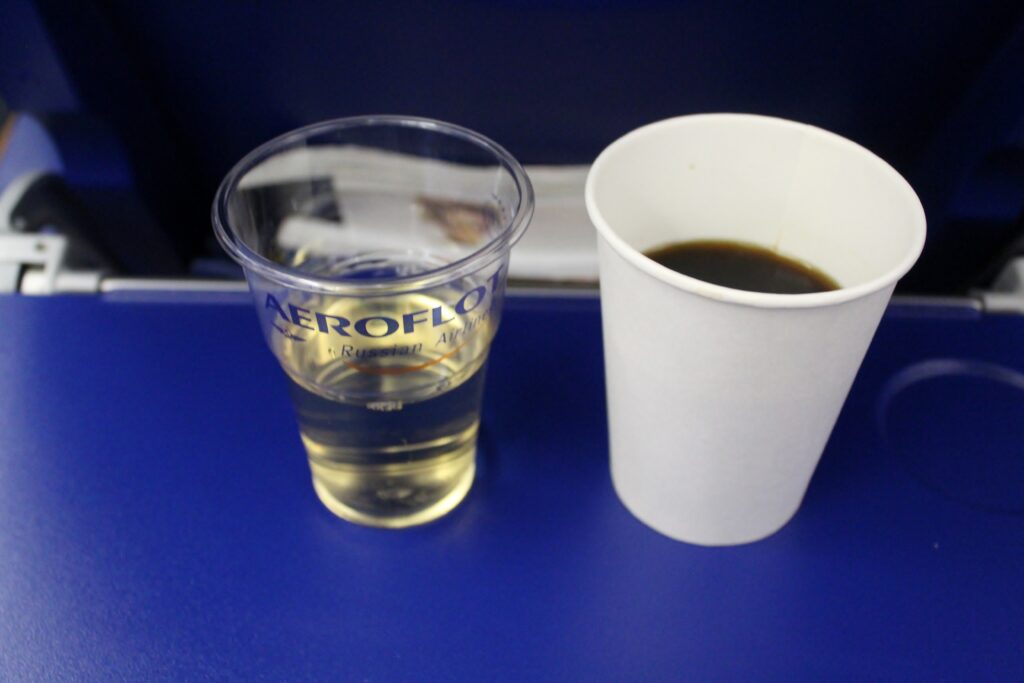 The service

Very friendly and pleasant service onboard. I have written it before, there is seems to be a generation shift going on at Aeroflot. Many younger people join the airline who have a much more open-minded, down-to-earth and liberal approach to the service and the passengers, especially compared to some of their older colleagues. Young flight attendants who are just as charming and smiling as the cabin crews you will find on any other European airline.
To be honest I have never really had a bad experience with Aeroflot, at least during all the flights I have taken in the 21st century, but you can come across some older cabin crew members who will keep a straight face. That does not necessarily mean bad service, just that you will not really experience any warm smiles or any charm. But again, times are changing and a new generation is joining the airline.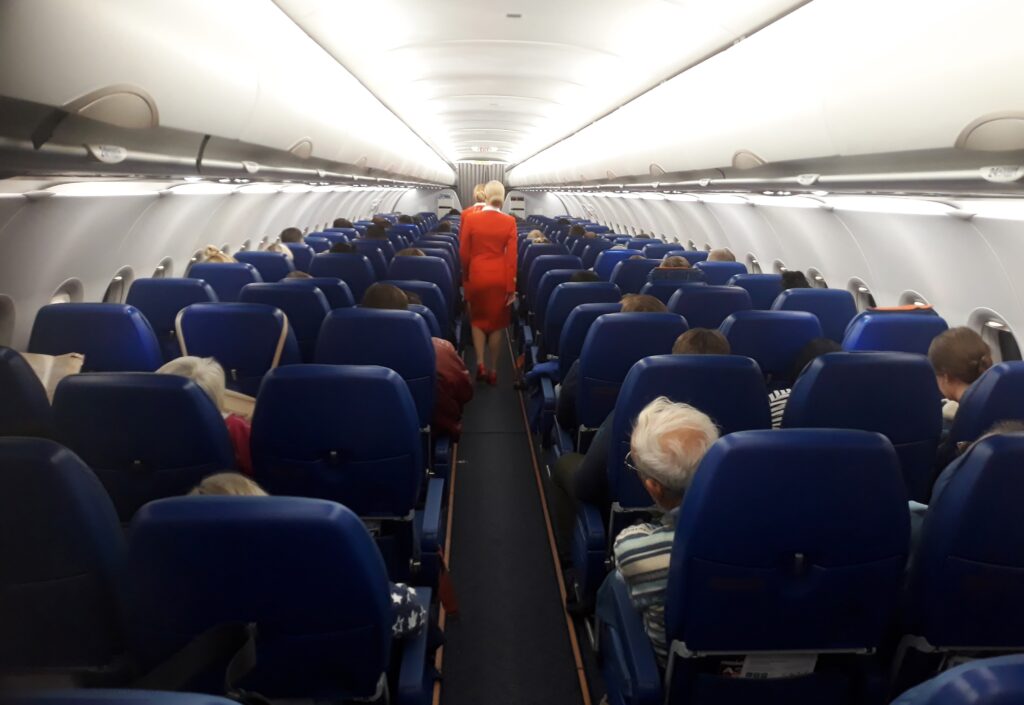 Arrival experience

The rest of the flight was uneventful. The cabin was dimmed and most passengers tried to get some rest.
With the early boarding and pushback we also landed early at Rome Fiumicino airport. With an EU-passport I could use the automatic passport machines whereas most of my fellow passengers, most of them Russian who need a visa for the Schengen area, had to join the regular lines for the manned desks. With no checked luggage I was quickly on my way from the airport.
Final impression

An impressive experience for a shorthaul flight in economy class. A full complimentary meal service with a printed menu, a three courses meal with two options of main course and complimentary beer and wine. Friendly service and the cabin was in an excellent condition. Nothing whatsoever to complain about.