Where is it?

The lounge is located in the transit hall of the main terminal building, to the left after security control just around the corner opposite gates B15 and B16.
How do I get in?

SAS Plus passengers get access as well as EuroBonus Gold, Diamond and Star Alliance Gold flying SAS the same day.
As the lounge is unmanned during parts of the day and access is provided through a turnstile it is important that passengers entering with a gold card has the frequent flyer number properly entered in the booking.
What's it like?

The SAS Cafe Lounges are smaller lounges located at regional airports in Scandinavia, airports where it would not be possible or reasonable to operate a full-service lounge. The Cafe Lounge in Bergen opened in August 2017 at the same time as the new terminal building.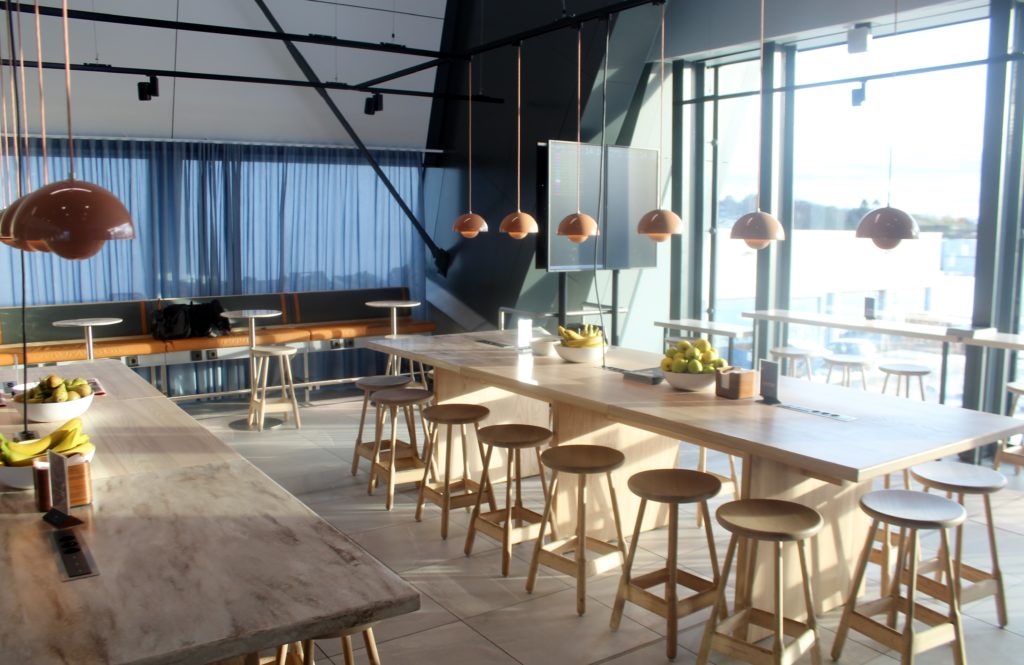 The Cafe Lounge in Bergen has a new design compared to the previous cafe lounges with mostly lighter colours. Even though the lounge is only 100 sqm large it feels very airy and spacious. There is also a limited apron view through the windows and through the turnstile entrance.
There are three large tables with seats and also sofas along most walls with individual tables.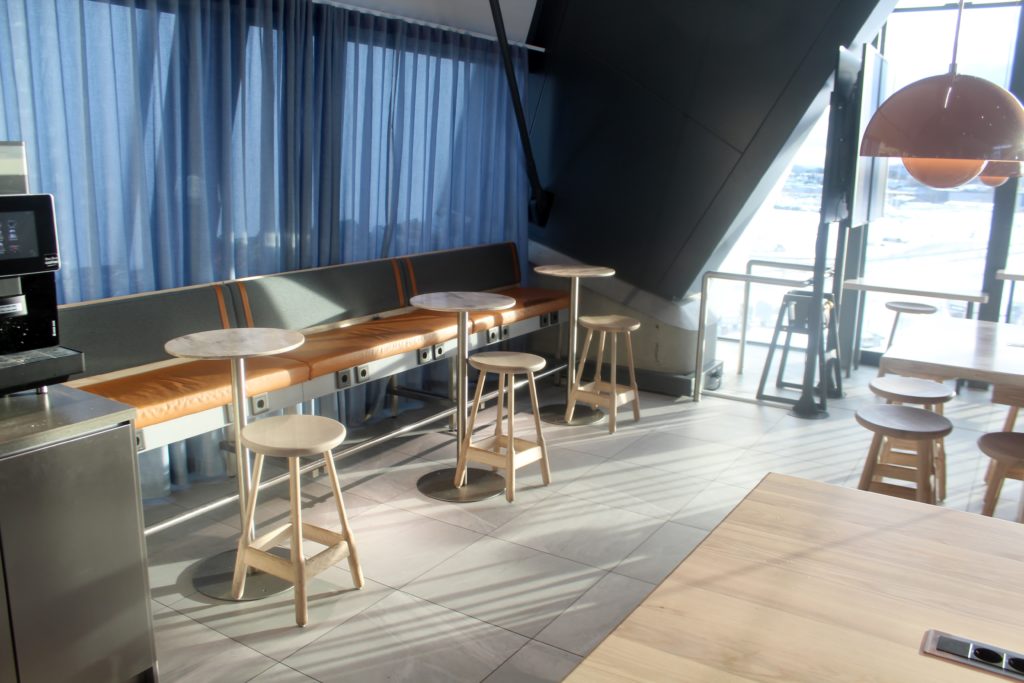 Food and drinks

There is a small self service buffet with drinks and snacks. Just like in the other Cafe Lounges food is limited cinnamon buns, wheat buns, cookies, fresh fruits, crisps and nuts. There is nothing substantial to eat.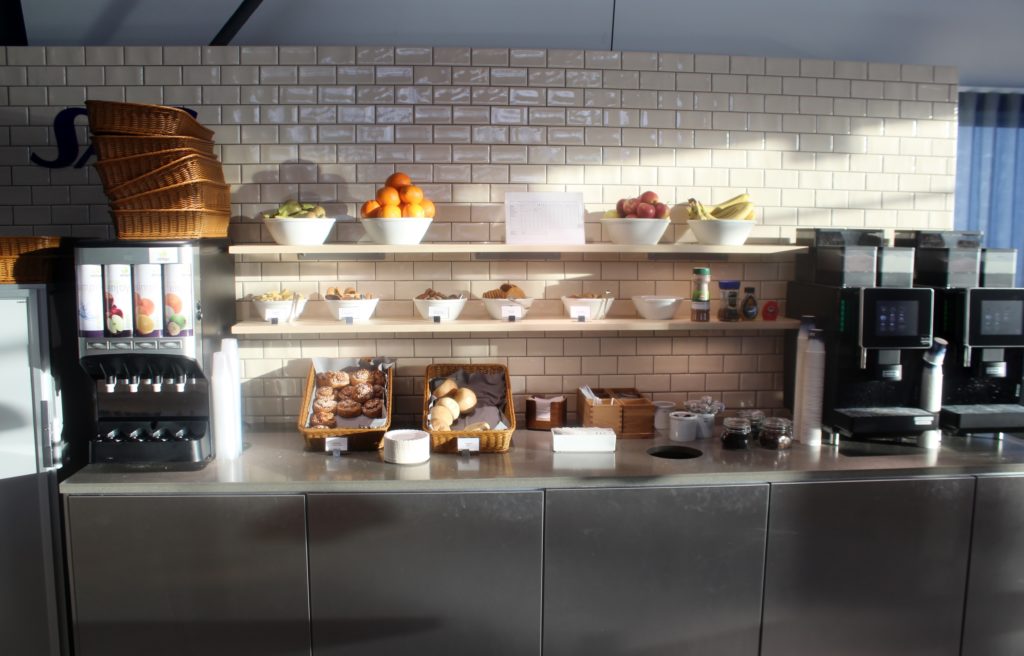 There are two coffee machines and a juice dispenser. Tea is also available.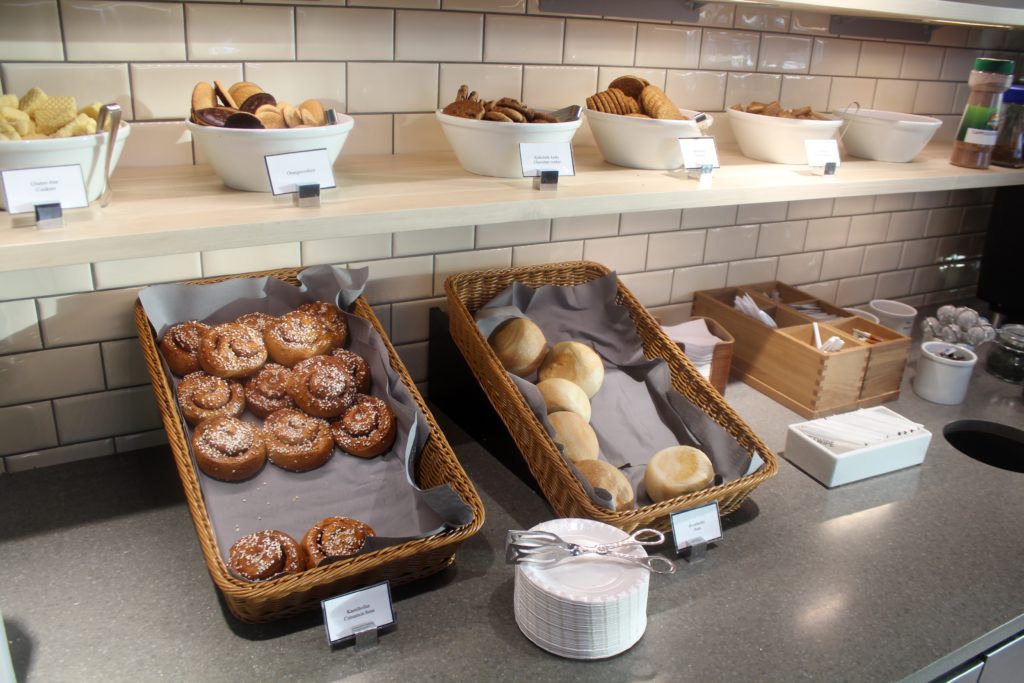 Facilities

Free wireless internet is available but there are no internet computers. Newspapers can be downloaded for free using to a table or mobile phone using the SAS app.
Restrooms are located just outside the lounge. No boarding calls are made inside the lounge but there are departure screens to follow.
Final impression

A surprisingly pleasant lounge. The new design is very stylish and this is definitely the nicest SAS Cafe Lounge so far. Some light snacks, soft drinks and coffee.