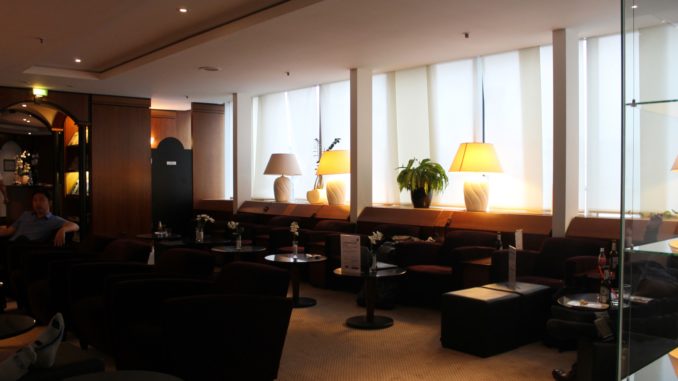 Where is it?

Luxx Lounge is located in terminal 1 at Frankfurt airport. It is the only third-party lounge in terminal 1, all other lounges in the terminal are run by Star Alliance carriers and are generally not available to passengers unless you travel in business class/first class or hold a gold card.
On top of this The Luxx Lounge is located landside, which means it can be accessed by all passengers, irrespective of terminal, and most likely also on arrival. However departing passengers should allow plenty of time to reach the gate after the visit and should leave the lounge possibly 45-60 minutes before scheduled departure time (depending on the time of the day and the destination) in order to have time for security control and passport control (the latter for non-Schengen flights).
The location of the Luxx Lounge is in the departure hall of terminal 1, on a balcony above the check-in areas. The lounge can be reached using the escalators or the stairs between check-in areas B and C. There are plenty of signs.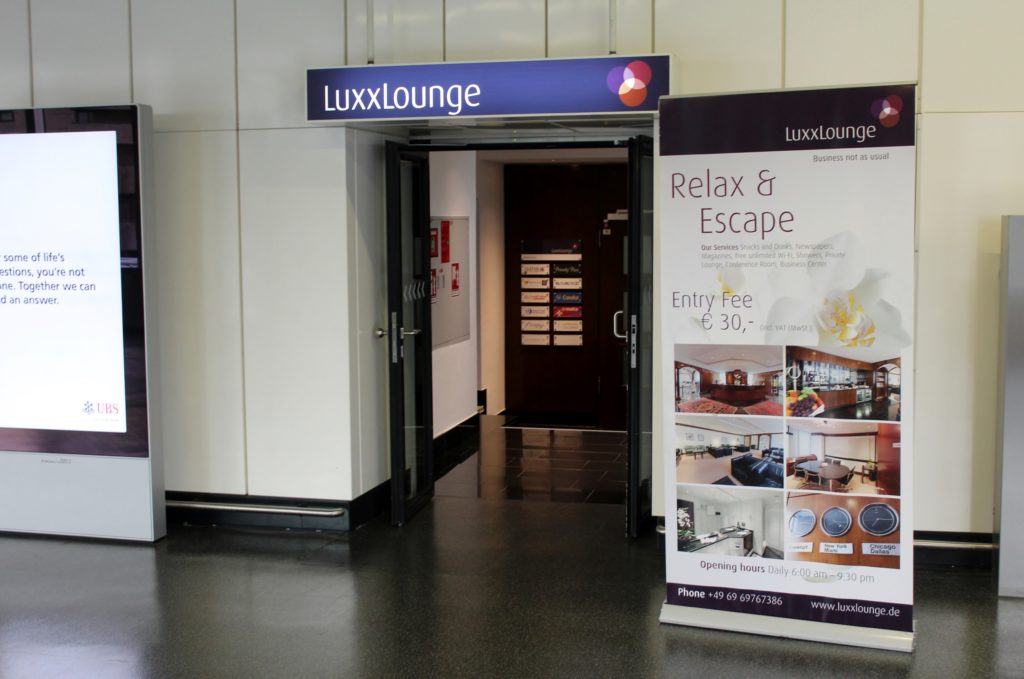 How do I get in?

Although a handful of airlines are mentioned on the sign next to the entrance this is mostly a pay-in lounge. You can enter using various lounge schemes such as Priority Pass and Diners Club or by paying directly at the entrance.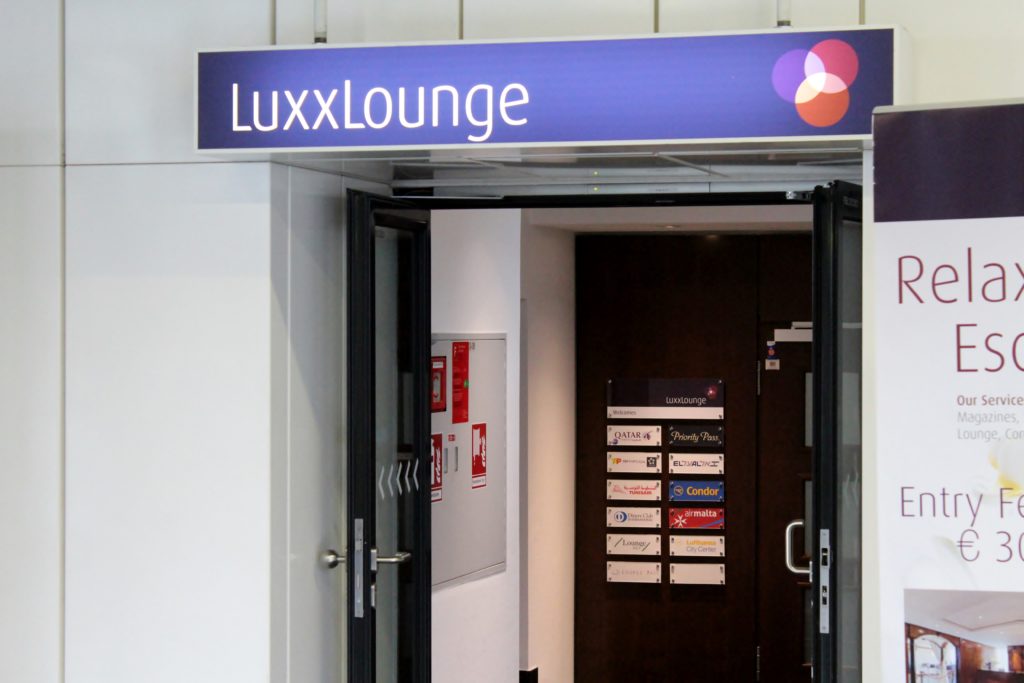 What's it like?

The lounge feels more like an apartment than an airport lounge. The layout is like a long corridor, stretching both to the left and the right from the reception and lobby area, with several rooms placed one after another. The reception area is right in the middle, although the section to the left of the reception was closed during the visit.
Right after the reception, after making a right turn, there is a lounge with armchairs and tables where you can relax with something to drink. Afterwards there is a long corridor with restrooms and showers on the left hand side, followed by a room with the self-service buffet where there is also a dining area with seats and tables. Finally there is one last room with armchairs.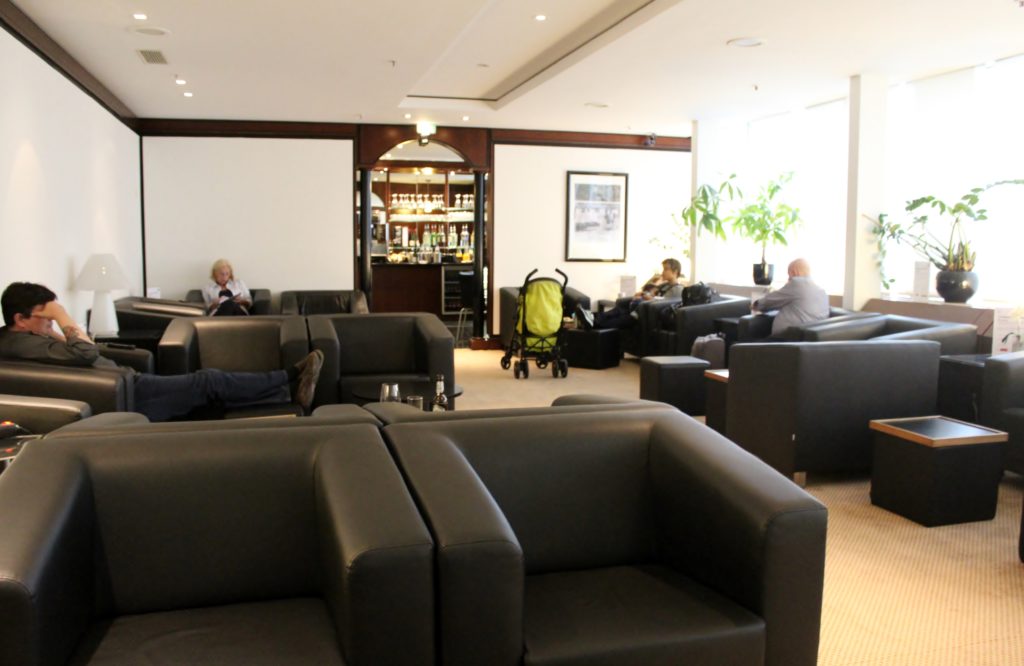 The design is simple and is starting to show its age but the lounge is tidy and overall fairly elegant. Most furniture are in green or brown and they have done their best to give it a homey feeling so you should forget that you are in fact inside one of the largest airports in Europe, which you do.
Being located landside the lounge is also not really a natural stop for the average departing passenger who arrives at the airport 90 minutes prior to departure, but rather for people who arrive early at the airport or who have a long layover before or after a flight and want to freshen up, relax and have something to eat and drink.
Food and drinks

The self-service buffet area offers some hot and cold dishes, mostly traditional German food like sausages, bread rolls, cheeses, cakes, fruits and snacks.
The drinks selection includes beer, wine, spirits, soft drinks, coffee and tea. Premium drinks are available for purchase, such as champagne.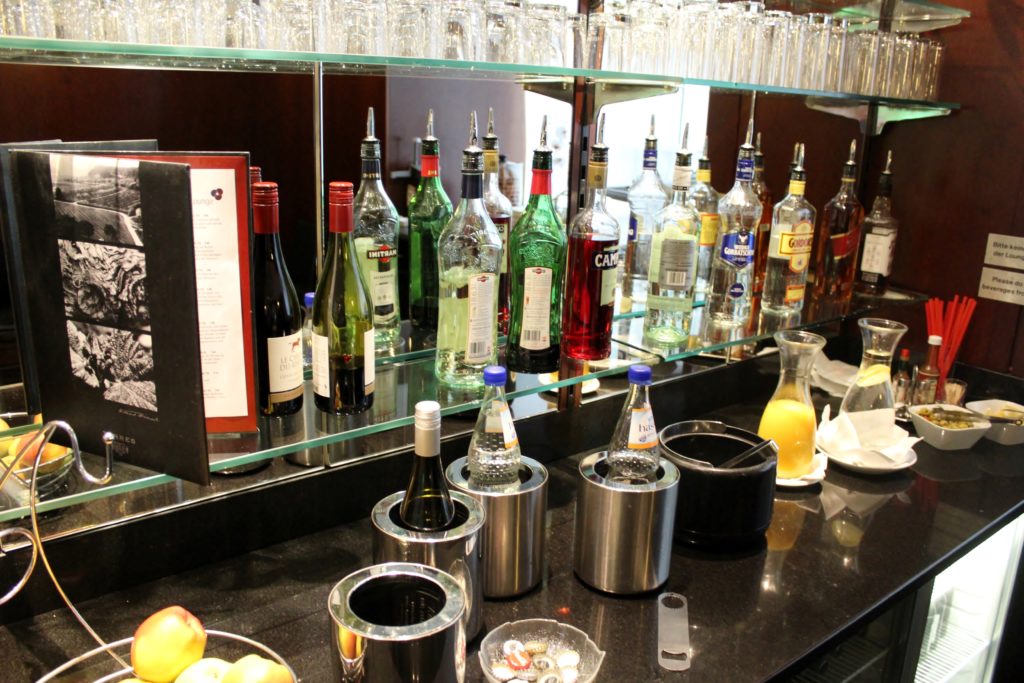 Facilities

Showers and restrooms are available in the lounge.
Free wireless internet is available and there is a standard selection of newspapers and magazines.
Final impression

A rather ordinary lounge which is starting to show its age but which feels more like an apartment than an airport lounge. A nice retreat for passengers with a longer layover before or after a flight.